Things to Do in Yucatan Peninsula: The 20 Best Places to Visit
Are you planning to visit Yucatan during your stay in Mexico?
With its paradisiacal beaches, great archaeological sites, colonial cities, and breathtaking natural sites, it is a beautiful place to include in your vacation. You will undoubtedly have plenty to do during your stay!
To help you plan your perfect trip, I've prepared my guide of the 20 best things to do in Yucatan, the huge peninsula that includes the Mexican states of Yucatan, Quintana Roo and Campeche as well as parts of Belize and Guatemala.
You will find all of the places of interest listed below on the Mexican side of the peninsula, including all the practical information you need to plan your trip and my best advice to help you make the most of your holiday!
So, what are the best things to do in Yucatan Peninsula? Where to go?

Visiting Yucatan Peninsula: The Must-Sees
1. Chichen Itza
Declared a UNESCO World Heritage Site and one of the seven new wonders of the world, the Mayan city of Chichén Itzá is an exceptional site to visit in Yucatan.
El Castillo, or the Great Pyramid, is at the center of this incredible site. It is 24 meters high, and at the top sits a small temple with a stone throne.
Not to be forgotten is the Tzompantli , the Temple of the Warriors, featuring one thousand giant columns, a gigantic Mesoamerican ballgame court, and an astronomical observatory called El Caracol .
While you're visiting Chichén Itzá, make sure to see Cenote Ik Kil, one of the most beautiful cenotes in Mexico !
Also worth reading:

How to Visit Chichen Itza + My best tips!
My advice
Chichén Itzá is one of the most popular tourist sites in Yucatan. Many buses full of travelers often arrive at the same time and form long queues. Don't waste your time waiting in line!
Book your tickets to visit Chichen Itza in advance here:
There are many ways to visit  Chichen Itza :
By Bus

: A bus ride will take you 3 hours from Cancun, 3 hours and 45 minutes from Playa del Carmen, 2 hours and 30 minutes from Tulum, and 1 hour and 50 minutes from Mérida. The bus drops you off right at the entrance of the site.

By Car

: From Cancun, you just have to follow the 180D, but you will have to take into account the tolls (about 700 pesos roundtrip) and the parking fee (80 pesos).

By Excursion

: I recommend

booking this excursion to Chichén Itzá

that includes pick-up from your hotel, the visit to

Chichén Itza and Cenote Ik Kil , a buffet lunch, and free time in Valladolid.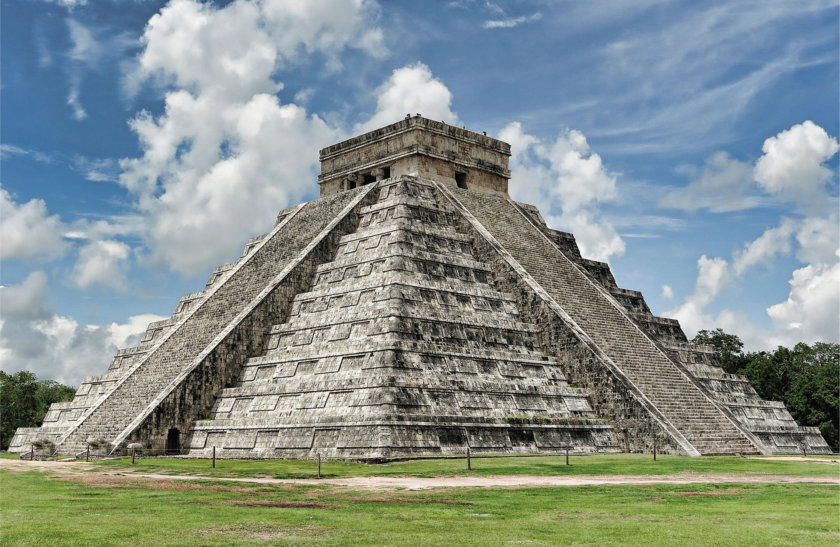 2. Cycling in Coba
Coba was once a powerful Mayan city and a great rival to Chichén Itzá. At its peak, it is estimated that it covered 80 square kilometers and was home to some fifty thousand inhabitants—quite impressive for its time! This beautiful city hidden within the jungle is a must-see site in Yucatan.
You can visit Coba on foot, but I highly recommend visiting by bike ! It is much more pleasant experience and also makes it easier to move between the different structures.
The main attraction is the Nohoch Mul. Standing at 42 meters, it is the tallest pyramid in the Yucatan Peninsula after Calakmul. There are also three magnificent cenotes in Coba: Tamcach Ha (or Tankach-Ha), Multun Ha, and Choo-Ha. The only way to get there from the archaeological site if you don't have a car is by bike! 
To Visit Coba:
Entrance: 100 pesos

Parking: 60 pesos

Bicycle: 60 pesos

Bicitaxi (tricycle taxi) with Driver: Starts around 140 pesos

Getting to Coba

: The site is on Route 180 between Tulum (45 minutes away) and Valladolid (55 minutes away).
For increased convenience and comfort, I suggest taking a day trip and arranging for pick-up at your hotel in the Riviera Maya .
This will include transportation from the Riviera Maya, a visit to Coba, a traditional lunch, swimming in two cenotes, a guided tour of the Tulum ruins, and free time in Tulum! Book your excursion here:

3. Swimming with Turtles in Akumal
Akumal is home to some of the most beautiful beaches in Yucatan Peninsula spread over several bays: to the north are Media Luna and Yal-Ku , and to the south are Akumal Bay and Aventuras Akumal.
The most popular tourist areas are the beaches in the south, as they are home to three unique species of turtles and manta rays all year round.
The main reason people flock to Akumal is to swim with the turtles !
As soon as you arrive, you will be told that a life jacket and guide are required, but this is not true. You will have to pay for entrance to the beach (100 pesos), but the rest is optional.
However, in order to see as many turtles as possible, I recommend going to the protected area.
You must go with a guide who knows the best spots and will make sure that the turtles are not stressed by the presence of swimmers. They can show you how to be respectful of your distance and how to treat the wildlife appropriately.
I would suggest this snorkeling trip in Akumal (featuring turtles, fish, and coral) that includes pick-up at your hotel, and they will then take you to explore a cave and swim in a cenote!
You can easily book this excursion here:
Other Things to See and Do in Akumal:
Visit the Akumal Monkey Sanctuary

, a jungle wildlife refuge with monkeys, snakes, toucans, parrots, and more. It's best to

boo

k

in advance to get up to a 20% discount.

Snorkel at Yal-Ku,

a shallow lagoon (1-3 meters deep) protected from the waves with lots of exotic fish! Book your tickets for Yal-Ku Eco-Park here

Explore the Aktun Chen Caves,

where you can zip-line through the forest under the watchful eye of monkeys, visit a 5-million-year-old underground cave, and swim in its cenote.

Snorkel

in the shallow waters of Yal-Ku, Las Redes, Arrecife de Dick, and Arrecife Motocicleta.

Go diving

in the deep waters of Tzimin-Ha, Xaak, or Gonzalo Reef.

Relax in

Xcacel and Chemuyil

, two heavenly white sand beaches just 10 minutes south of Akumal.
Don't miss my list of the Top 17 Things to Do in Akumal!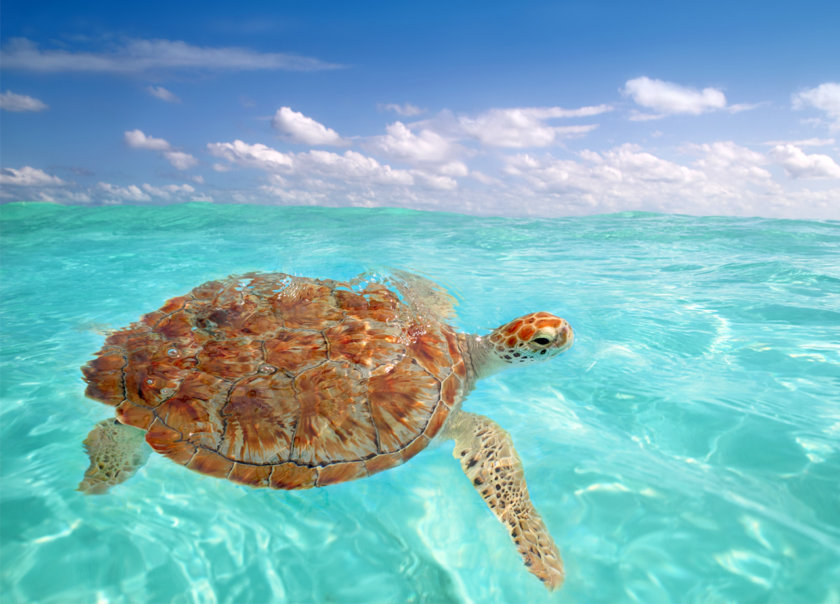 4. The Protected Island of Contoy
Off the coast of Cancun is Isla Contoy , a small 9-kilometer-long island paradise in Yucatan.
This protected area is an important refuge for many birds (there are 152 species of migratory birds here!) and a nesting place for turtles.
In order to protect its biodiversity, visiting via a tour is mandatory, and access is limited to only 200 visitors per day.
The tour to Contoy usually departs from Cancun around 10 am.
The boat first stops at a snorkeling spot before arriving at Contoy (a 1-hour trip).
Once there, you have the choice to follow the guide for a tour of Contoy (30 minutes) or go directly to the beach.
After enjoying some free time on the island, you will be served a traditional Yucatan meal : Tikin Xic fish.
On the way back to Cancun, you will have the chance to explore freely during a stop at Isla Mujeres (1 hour and 15 minutes). This is a great opportunity to see the famous Playa Norte!
You can easily book the excursion to Contoy with all above activities and lunch included here:
Also check out my full article on the excursion to Isla Contoy! 

5. Bioluminescence in Holbox
Bioluminescence is a natural phenomenon that occurs in many places around the world. Certain living organisms emit light from their bodies, providing a beautiful nighttime spectacle in an almost fairy-tale-like atmosphere.
From July to January, Holbox is one of the most beautiful places to see bioluminescence in the Yucatan, especially on the beach of Punta Cocos. Holbox is one of the most beautiful islands in Mexico and has much to offer. I recommend staying at least two days to enjoy its splendor!
Things to Do in Holbox:
Discover its colorful

street art

Enjoy the

sandy beach

and stay in one of the small hotels on the island

Explore the wild beaches away from the tourists at

Punta Mosquitos

Take a boat trip to

Isla Pajaros,

Ojo de Agua Yalahau,  and Isla de la Pasion

 

Going for a ride to go

snorkeling at Cabo Catoche

Swim with whale sharks near the

Yum Balam Reserve
Apart from the incredible bioluminescence phenomenon, Holbox is a beautiful island to visit all year round, whether it's for one, two, or three days. You can also check out my article Visit Holbox: Top 9 Things to Do and See!
If you are short on time during your visit, I suggest booking this excursion to Holbox from Cancun that includes pick-up from your Riviera Maya hotel.
It's a full-day trip that includes lunch, a boat trip to Isla Pajaros , Isla Pasion , and Yalahau Lagoon,  and free time in Holbox to give you a chance to enjoy its long sandy beaches!
You can book the excursion here:

6. Bathing in a Mayan Cenote
Cenotes are natural wells that were sacred in Mayan times.
Sometimes outside and easily accessible, sometimes well hidden in caves, many cenotes have become very touristy while others remain barely known.
Visiting a cenote is the perfect opportunity to swim in cool water, snorkel, and dive.
For just swimming (and taking nice pictures), I recommend Cenote Samula in a cave near Valladolid. In the same park is the Cenote Xkeken , which is also worth seeing!
If you like diving , you will find your happiness at Chac Mool near Playa del Carmen or near Tulum at the Dos Ojos , El Pit , Angelita, and Carwash cenotes.
Cenotes perfect for family fun include both Cenote Azul in Playa del Carmen or Gran Cenote in Tulum.
And these are just a few examples. There is no shortage of options, as it is estimated that there could be as many as ten thousand cenotes in the Yucatan Peninsula!
To learn more about specific cenotes, I recommend reading my article

The 20 Most Beautiful Cenotes to See in Yucatan!
My advice
Most cenotes only accept cash , so be prepared. I also recommend bringing a quashoes (water shoes) to wear at the cenote, as there are always slippery rocks and they will help keep you safe!

7. Party in Cancun
What has made Cancún one of the best tourist destinations in Yucatan is its all-inclusive hotels facing the stunning Caribbean Sea that are also close to its vibrant nightlife .
Cancun is a famous Spring Break destination in March and is home to other major events such as the Wine and Food Festival and the Jazz Festival .
There is no shortage of places to party in Cancún: the Mandala , the City Nightclub (the largest nightclub in the country), or the mythical Coco Bongo are just a few options . You can buy your tickets to Coco Bongo here:
You can also simply head to the "Party Zone" or "Party Center," a street corner on Kukulcan Boulevard with several bars and clubs.
For something completely different,

Xoximilco Cancún

is a

Mexican-themed

theme park with mariachis, colorful trajinera boat rides, traditional Mexican food, and an open bar (beer and tequila). Book here:
Things to Do and See in Cancun:
The archaeological sites of

El Rey, El Meco,

and the

Temple of the Scorpion

(Yamil Lu'um)

The

Mayan Museum

dedicated to Mayan culture

Buy souvenirs at the

Mercado 28

The

Torre Escenica

that offers a panoramic view of the city and the sea from a height of 110 meters

Snorkel or dive at

MUSA

(Cancun Underwater Museum). You can book the tour here! 

Enjoy the

many beaches of Cancún,

such as Playa Tortugas (for a festive environment), Los Delfines, Playa Langosta, Playa Linda, Playa Caracol, and Playa Marlin

Explore

Rio Secreto,

an incredible underground network of rivers and caves to discover.

Book here with lunch included!

Isla Blanca Beach,

located at the tip of Cancun between the Chacmuchuc Lagoon and the Caribbean Sea. Besides being

the most beautiful beach in Cancún

, it's a good kitesurfing spot as well!
You can also check out my articles:

8. The Colorful Streets of Merida
Mérida is a beautiful colonial city reputed to be the safest city in Mexico. It is the capital of the state of Yucatan and stands out for its rich architectural heritage, wealth of museums, and colorful houses.
There is a lot to see and do in Merida , including:
The

Plaza Grande, the main square,

with the Montejo House, the cathedral, the Macay Museum, the Passage of the Revolution, and the Government Palace

The

Palacio Canton

, a magnificent building that houses the Regional Museum of Anthropology of the Yucatan

Attend the

serenata yucateca

at Parque Santa Lucia (Thursday at 9 pm) to hear beautiful Yucatan folk music

Discover Mexican culture at the colorful

Museum of Popular Art

Admire the

captivating

facades

of Mérida's houses, especially on

Calle 64

Visit the enormous

Mayan World Museum

with its one thousand archaeological pieces

Take a trip to the market and participate in a

typical Yucatan cooking

class.

Book here!

Take the

guided bus tour,

called a

"guagua,

" to discover the must-sees and the non-touristy areas
A great starting point is to visit the Ruta Puuc, as it links ancient Mayan cities sharing the same architectural style, the main ones being Uxmal, Kabah, and Sayil .
To find out more about this vivid city and its surroundings, check out

my complete guide to Mérida!

9. Enjoying One of the Best Beaches in the World on Isla Mujeres
Isla Mujeres is an island off the coast of Cancun known for its colorful houses and long sandy beaches.
Among them, Playa Norte is considered to be in the TOP TEN best beaches in the world!
It is an ideal place to swim in crystal clear water and watch a breathtaking sunset.
Isla Mujeres is also a fantastic destination for diving and snorkeling enthusiasts, as it is close to the second largest reef in the world . 
To get to Isla Mujeres, you have to take a ferry from Cancún (Puerto Juarez). The seats on the ferry are very limited, so I strongly recommend you book it as soon as possible!
To book your roundtrip ferry ticket to Isla Mujeres (return ticket valid for 6 months after your outbound date), click here:
It is also possible to take an excursion to Isla Mujeres by catamaran from Cancun that includes diving, free time on the beach, drinks, and lunch. A full-day, all-inclusive excursion! Book here:
To find out more about this beautiful island,

here is my guide to the 21 best things to do in Isla Mujeres

.

10. Playa del Carmen
One might be tempted to think that Playa del Carmen is just a "little Cancún," but it is a fabulous destination of its own!
They are both resorts that attract families and couples alike, but Cancún is primarily focused on young, party-oriented tourists like the spring breakers .
In my opinion, Playa del Carmen offers the best of both worlds .
On the one hand, it's a small and dynamic city with many restaurants, beach clubs, bars and clubs, including the famous Coco Bongo.
On the other hand, Playa del Carmen is much smaller than Cancún, very walkable, and offers a wider variety of hotels than just the big all-inclusive resorts.
Some would say its biggest advantage is Playa del Carmen's ideal location between several of Yucatan's most important places of interest.
In fact, it is located at the intersection of two major highways, making it easy to get around the Riviera Maya or return to the interior of the peninsula.
What to See and Do in Playa del Carmen:
La

Quinta Avenida

, the main street of Playa del Carmen, is always very lively with many shops, restaurants, and bars.

Parque los Fundadores

, where traditional Mayan dance performances are held

The

beaches of Playa del Carmen

: Playa Paamul, Playa Paraiso, Playa Tukan, and Playa Mamitas. I personally prefer Playa Xcalacoco (a 15 minute drive away), which is quieter.

The

Museum of 3D Wonders

is an amazing museum with fifty three-dimensional paintings—the perfect place to take pictures!

Website

The

cenotes

near Playa del Carmen like the

Cenote Azul,

Cenote Cristalino, Jardin del Eden, Tajma-há, and Chaak Tun

Xplor Park,

an adventure park in the jungle with caves and underground rivers. My favorite!

Buy the XP all-inclusive pass

now

!

Xcaret,

one of the most popular places in the

Riviera Maya,

is a

large ecological park

with an aquarium, an underground river, a Mayan village, and many activities to do.

Buy your tickets here!

Playacar

is a chic resort known for its beautiful beaches, golf course, and the ruins of Xaman-Ha from the 16th century. It's a great spot for kitesurfing!
My advice
The
best way to enjoy the parks
is to stay at the
Xcaret Hotel
❤️
In addition to meals, you will have full access to all the parks for free! (Xcaret, Xplor, Xplor Fuego, Xenses, Xoximilco, Xel-Ha and Xenote)
For more information, check out:
The Ultimate Guide to Playa del Carmen Without Breaking the Bank!

The 12 Best Cenotes in Playa del Carmen!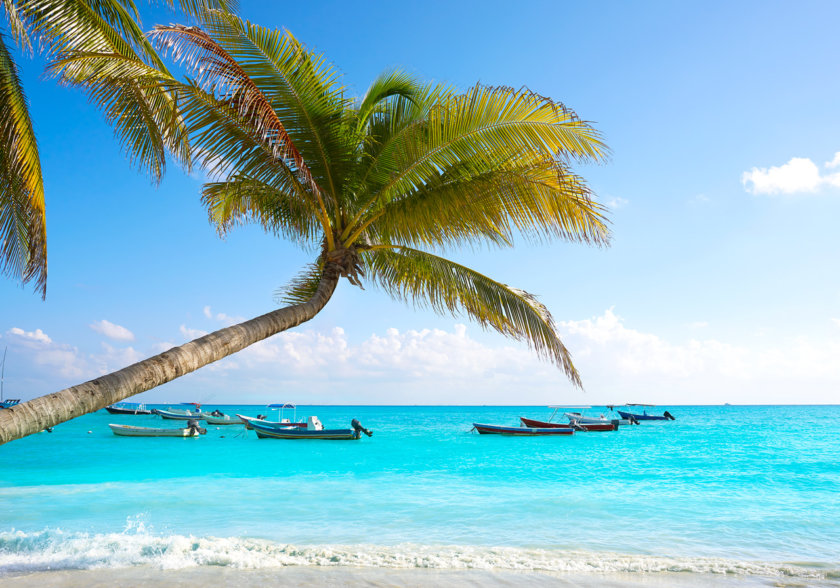 11. Visit the City of Valladolid
A small town with colonial charm, Valladolid is a must-see on any Yucatan trip itinerary.
It is an obligatory stop between the east coast of Yucatan Peninsula (Cancún, Playa del Carmen, Tulum, Sian Ka'an) and Chichén Itzá, Rio Lagartos, Ek Balam, Izamal , Mérida, and Campeche .
Here are some things not to be missed in Valladolid :
San Bernardino de Siena Convent

, also known as Sisal Convent, which is considered one of the

most beautiful monasteries in Yucatan

.

Parque Francisco Canton Rosado,

the main square where you can find the

San Servacio Church

and several

Mexican street food

stalls

Calle 41A,

or

Calzada de los Frailes

, is undoubtedly the best photo spot in Valladolid with its colorful houses!

The

Choco Story Museum

, a high-quality dynamic museum centered on the history of chocolate and its importance for the Mayas. Perfect for the whole family!

La

Casa de los Venados

, a private museum just off the main square with a great collection of Mexican folk art

Valladolid's cenotes

are among the most beautiful in the Yucatan: Xkeken (also called Dzitnup), Samula, Zaci, Suytun, and San Lorenzo Oxman. Click here to read about

the 21 most beautiful cenotes in Valladolid.
For more information about all the attractions and my practical tips, here is my guide to the 25 best things to do and see in Valladolid !
Out of all the incredible things to do in Valladolid , my favorite by far is the Cenote Maya Native Park .
It's an ecotourism park nestled in the jungle that offers several unforgettable activities between zip-lining, Tarzan ropes, and abseiling (26 meters) down to the cenote with the biggest vault in the Yucatan !
Afterward enjoying the park's offerings, we participate in a Mayan blessing ritual with a shaman before enjoying a traditional buffet prepared with organic ingredients.
The entrance fee includes all activities, the Mayan ceremony, and the meal. An unforgettable half-day adventure—book here!

12. The Seabed of Cozumel
A large island in the Caribbean surrounded by beautiful coral reefs, Cozumel is a must-see destination in the Yucatan, especially for avid snorkelers and divers!
There are many exciting things to see and do in Cozumel :
Chankanaab National Park,

where you can zip-line, see its garden (home to 350 species of plants), and most importantly, snorkel and dive. Buy your tickets here!

The

archaeological site of San Gervasio,

where the sanctuary of Ixchel, goddess of fertility, is located

Enjoy beautiful beaches

like Playa San Francisco, Playa Encantada, Playa San Juan (perfect for children), Playa Hernan, Playa Santa Maria, and Playa Palancar.

Playa Palancar

is my favorite, as it is the most pristine and is close to the two most important

reefs in Cozumel

: Colombia and Palancar. It's perfect for snorkeling and diving!

Discover

Punta Sur

, the largest ecological reserve in Cozumel.

Take a

jeep tour of Cozumel.

The

 tour takes you to

Punta Sur

, Colombia Lagoon, and the Punta Celarain lighthouse and includes snorkeling, tequila tasting in a distillery, and lunch in a beach club!

To book, click here

.

Catamaran trip to El Cielo

to see the

starfish

with a stop at the

Palancar Reef.

Book it here!

   

Swim at

Chen Rio

, a natural pool with calm waters between the rocks.

Playa Mia Grand Beach Park,

on a large deserted beach, has many activities suitable for the whole family.

Take a catamaran tour to discover

Laguna Colombia

.

Kitesurfing at

Laguna Ciega near

Isla de la Pasion

Discover Mayan astronomical knowledge at the

Cha'an Ka'an

Planetarium.

Take a

ride in the Atlantis submarine

to see the underwater biodiversity at a depth of 30 meters. Book it here!

Visit the

Pueblo del Maiz

, a reproduction of a pre-Hispanic village, with live dancing and music.
To learn more about this beautiful island, read my article Cozumel: Top 15 Must-Sees!
The absolute best way to enjoy Cozumel is to take a snorkeling tour. I recommend this tour that takes you snorkeling near three different reefs—and all the equipment you need is included!
Water and soft drinks are available on the boat, and beers are included after the snorkeling.
On the way back to Cozumel, you can enjoy the luxury of the El Cid de la Ceiba Hotel and have a couple of drinks!

13. Treat Yourself to a Yoga Session in Tulum
Tulum is a small town with a bohemian chic atmosphere and is a very trendy destination at the moment! Travelers come here from near and far to relax on its long sandy beaches and visit the ruins of Tulum.
But most notably, Tulum is also the most important yoga and relaxation destination in Yucatan.
There are several studios that offer classes for all levels and many hotels that offer yoga. Tulum is also a shopper's paradise with many trendy shops mainly located on the Beach Strip next to the beach. And what about its fine sandy beaches and its numerous cenotes? All in all, it's an unforgettable destination!
To learn all the

best things to do in Tulum

, here are some of my tips:

My Ultimate Guide to Tulum!

14. Catamaraning in Bacalar
In the south of Yucatan, on the border with Belize, are the Bacalar Islands, a beautiful, idyllic destination on the Yucatan Peninsula.
Despite its popularity, Bacalar somehow still escapes mass tourism. The main reason people come here is to enjoy the large 7 Colors Lagoon with its cenotes , the Pirates' Channel, and the Bacalar Rapids . To enjoy the turquoise waters of Bacalar, you can take a small group catamaran trip to the Cenote Negro, the Bird Island, and the Pirates' Channel that includes snorkeling and fruit served onboard.
A dream excursion! Book it by clicking here :
My advice
There are no beaches in Bacalar; instead, there are " balnearios " that allow access to the lagoon for swimming and snorkeling. For more information about the best balnearios and all the activities to do in Bacalar , see my Ultimate Guide to Bacalar !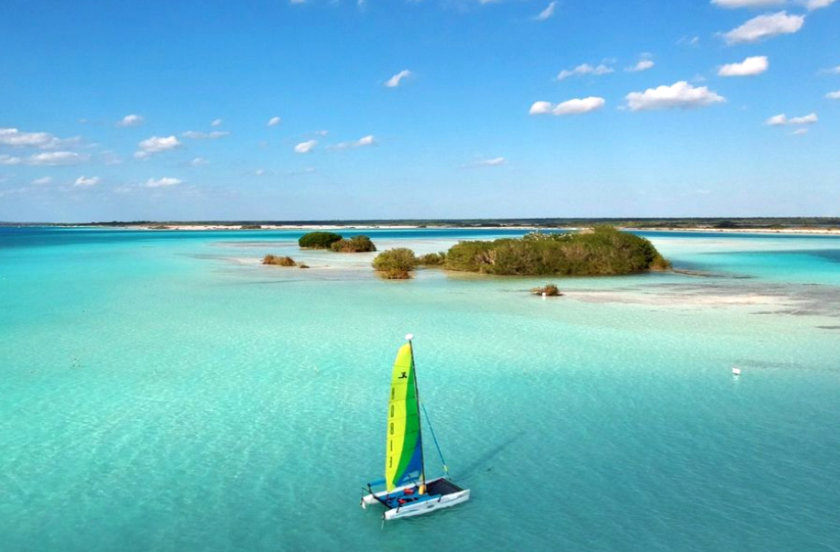 15. Water Adventure in an Ecotourism Park
There are several beautiful ecotourist parks in Yucatan, and it would be a shame not to take advantage of them. Here are some of the best:
Xel-Ha

is a large water park with a river, lakes, and caves to explore on foot, by bike, snorkeling, and even zip-lining! Ideal for spending a fun day with the family.

Book here.
Xcaret

is similar but features more attractions related to Mexican culture, including the incredible

Xcaret Mexico Espectacular

show.

Buy tickets here

!
Rio Secreto

is an incredible

underground passage

formed by a river and houses several caves to discover on foot, by swimming, by bike, and by abseiling. A must-see place in Yucatan and a real change of scenery!

Book here.

16. Explore Calakmul Like Indiana Jones
The Yucatan is full of beautiful Mayan sites, and my absolute favorite among them is Calakmul .
It is a Mayan city hidden in a jungle that has been declared a Biosphere Reserve , making it the second largest green lung in North America!
Calakmul was one of the most powerful cities of the Mayan world , much like Palenque in Chiapas or Tikal in Guatemala .
Now a UNESCO World Heritage Site, it is a fantastic location that surprisingly receives very few tourists .
And unlike other similar sites in Mexico, here you can climb freely on the different structures and pyramids!
In Calakmul, you can feel like a real adventurer!
What to See in Calakmul:
Chan Chi'ich

, the residential area

Chii'k Naab,

 a gathering place for celebrations

The Great Acropolis

that is divided into two areas, one semi-public and one private, where the entire Calakmul elite resided

The

Great Square

, the central square of the city

Structure II

, the largest pyramid on the site (50 meters tall) and

one of the most important pyramids in the Mayan world

Structure I,

the

second largest pyramid on the site

(40 meters tall) that offers an impressive view

The

Small Acropolis

and

Structure III

, each of which is smaller but equally fascinating
To find out more about this great site, its attractions, and how to get there, visit my article How to Visit the City of Calakmul !

My advice

You can visit the site freely and choose one of the three possible itineraries (2 hours, 3 hours, or 4-5 hours) by following the signs that indicate the way.

If you would like the services of a guide, you will have to indicate your preference at the entrance of the reserve before arriving at Calakmul.

.

You can book the excursion to Calakmul from Bacalar, Chetumal, or Xpujil with pick-up from your hotel by clicking here :

17. Watching the Flamingos in Celestun
The Celestun Biosphere Reserve is a large protected area known for being home to three hundred different species of birds, including thousands of flamingos during the winter (November to April).
This is probably the best place to see flamingos in Mexico! In addition, the flamingos that reside here are an intense pink color due to the concentration of carotene in the water. 
To visit the reserve, you must first go to Celestun , a fishing village facing the Gulf of Mexico. Then head to the Turistico Celestun pier to take a small boat to get to the reserve (a 1 hour and 30 minute guided tour).
I highly recommend this excursion to Celestun from M é rida with roundtrip transportation from your hotel, a guided tour of the reserve, a boat ride, and lunch on the beach. Book here:
For more information, please visit my

Complete Guide to See the Pink Flamingos of Celestun

!

18. The Yellow City of Izamal
Izamal is a small colonial town in Yucatan doubly nicknamed "The Yellow City" because of its ochre-colored buildings and "The City of Hills" for its many pyramids.
This is a destination with a lot of charm, many handicraft workshops, and a characteristic golden color that promises great photos!
Things to See and Do in Izamal:
Visit the imposing ocher-colored convent of

St. Anthony of Padua

. At 8 p.m. Monday through Saturday, there is a sound and light show that highlights Mayan culture.

Visit the market

to taste local specialties such as panuchos or salbutes.

Admire the view from atop the

Kinich Kakmo Pyramid

, the tallest in Izamal! There are also other pyramids to see, such as

Itzamatul

. Both are free!
My advice
To learn more about this eye-catching yellow colonial town, here is my article of the 11 Best Things to Do in Izamal!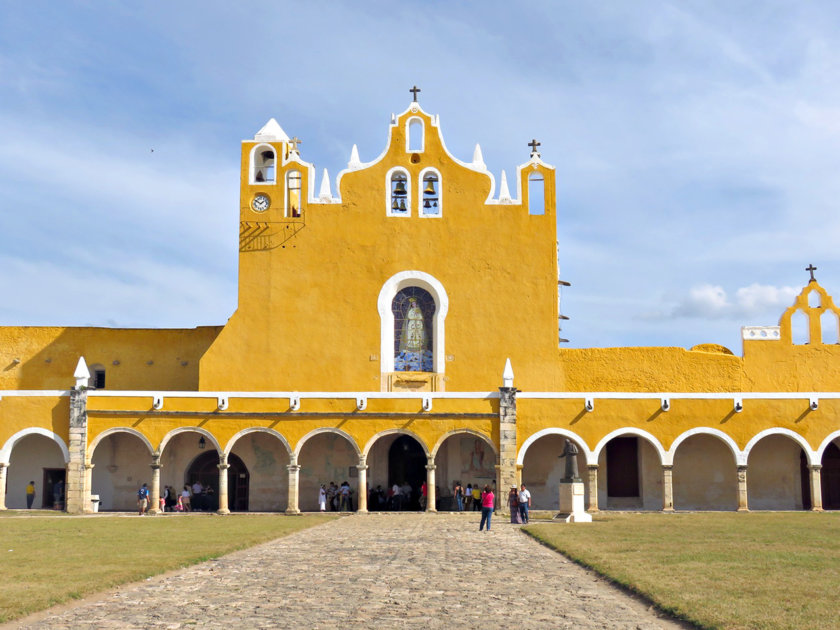 19. Discover Puerto Morelos
Located between Cancun and Playa del Carmen, Puerto Morelos is simply a must-see on a Yucatan vacation due to its incredible seaside charm.
It's a small quiet fishing town where you can spend a perfect day exploring its beautiful coral reef and eating freshly caught seafood!
Not to Be Missed in Puerto Morelos:
Puerto Morelos Reef

National Park,

where you can kayak, windsurf, dive, and snorkel to see hundreds of colorful kinds of coral and fish

The Dr. Alfredo Barrera Marin Botanical Garden,

a large protected area where you can see monkeys, coatis, and many plants, not to mention its suspension bridge and ancient Mayan site

Enjoy the beaches of Puerto Morelos

with their tranquil waters suitable for families with children and water sports enthusiasts (eg, windsurfing).

Dive to the C-56 Juan Escutia

, a warship 25 meters underwater. It is even possible to enter certain sections of the vessel, such as the engine room.

Explore the cenotes

hidden in the jungle such as La Noria or Verde Lucero.

Visit the Artisan Market

to support the local economy.

Selvatica Park,

recognized as the

best adventure park in Latin America

and one of the

35 best adventures in the world

by Travel + Leisure magazine

.

Buy your tickets here!
You can also read my Complete Guide with 13 Things to Do in Puerto Morelos!

20. The Pink Lake of Las Coloradas
In the Ria Lagartos Biosphere Reserve, between the states of Yucatan and Quintana Roo, lies one of the most photogenic places on the Yucatan Peninsula: Las Coloradas!
The region's salt deposits that give the water its unique pink hue.
For photography enthusiasts, a visit to Las Coloradas is a golden opportunity to take beautiful pictures.
From January to September (and especially April, May, and June), you can also witness an additional spectacle: the gathering of the largest population of flamingos in Mexico to breed!
My advice
However, it is important to note and understand that Las Coloradas is owned by a salt extraction company that empties the salt twice a year.
The intensity of the color depends on the concentration of salt in the water, and the extraction is not always done at the same time each year.
Thus, it is difficult to guarantee that the water will be an intense pink when you visit Las Coloradas, but it is a worthwhile adventure nonetheless!
Between 12 p.m. and 3 p.m., the pink color is always more intense.
How to Visit Las Coloradas:
By Car

: You must first go through Tizimin, which is 1 hour from Las Coloradas (Highway 295), 2 hours and 15 minutes from Cancún and Playa del Carmen, 2 hours from Mérida, or 1 hour and 30 minutes from Valladolid.

By Bus

: Take a bus to Tizimin (an ADO Oriente bus), then a taxi or colectivo to Las Coloradas.

Take an Excursion to Las Coloradas

: I recommend this tour with air-conditioned transportation from your hotel, a visit to

Cenote Hubiku

, a

boat

trip

to Las Coloradas

, and lunch included.

To book, click here

:
My advice
It is also possible to go to
Las Coloradas
from
El Cuyo
, a small fishing village that is not very touristy but has beautiful beaches.
I invite you to read My Ultimate Guide to El Cuyo to learn all about this little hidden paradise!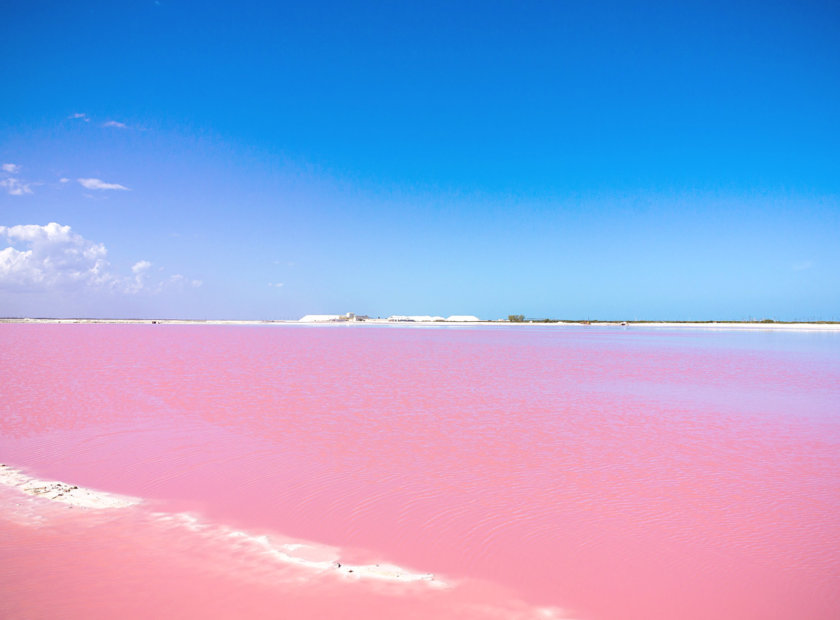 How to Get to Yucatan
You first have to fly to Cancún (via Iberia, Aeromexico, Interjet, KLM, Air Europa, etc.), as that is the international airport of the Yucatan. There are also several domestic airports in Yucatan in Mérida, Chetumal, Cozumel, and Campeche .
To find a cheap flight to Cancun as well as the best domestic flights in Mexico, I recommend using our flight comparison tool in partnership with Skyscanner. It is guaranteed to get you the best price!
How to Get Around in Yucatan
By Bus
Traveling by bus is an easy  and cheap way to get around Yucatan.
I recommend ADO, which is one of the best bus companies in Mexico with several departures to many destinations. I suggest checking the schedules listed on their website , as fares can vary enormously depending on the time!
By Colectivo
Colectivos are another widely used means of transportation in Yucatan and throughout Mexico. These are vans that can accommodate 12 to 15 people. They cover several routes (including bus routes) and have the advantage of stopping wherever you ask them to along the way. Very practical! They are also cheaper than buses, but you have to wait for them to fill up with passengers before you can leave and you can't get bring big suitcases with you, as there is no room.
By Rental Car
Renting a car is for sure the best way to explore Mexico and make the most of your stay!
While it's not super useful to visit the city, having a car is a must to discover the rest of the country.
To rent a car, personally, I always use Rentalcars.com, for a few reasons:
You can easily compare the rental cars prices between all the agencies: for sure the easiest way to find the best rate!
Cancellation is often offered free of charge: no need to worry if you change your mind
Rentalcars offers full insurance coverage at a lower price than the rental companies, so it's an instant saving with no effort
Simply click on the green button to find your rental car at the best price:
By Plane
As I mentioned above, there are several airports in Yucatan Peninsula that offer internal flights: Mérida, Chetumal, Cozumel, and Campeche in addition to Cancún, of course.
This is convenient for those who don't have much time on their trip or who want to see as much as possible during their stay in Mexico.
Practical Map of the Yucatan
Here are all the attractions I mentioned together on one map. This will make it easier to organize your trip to Yucatan!

When to Go to Yucatan
There are three main things to consider when choosing the best time to visit the Yucatan: the influx of tourists, the potential for hurricanes, and the weather.
Yucatan has a tropical climate that hovers around 25°C year-round, but the humidity can really make a difference!
The "dry" season, which is the most pleasant , lasts from December to April.
However, this is also the high season, so prices will be higher .
March to early April is Spring Break, and at this time of year the beaches are invaded by young Americans who come to party in the sun.
July and August are very hot and humid and quite busy for tourists.
The low season is from mid-April to mid-July and September to November. However, it's also the rainy season and potentially hurricane season from May to October.
With these factors in mind, it's up to you to make your choice!
In my opinion, the best time to visit Yucatan is from November to early December —after the hurricane season, before the high tourist season, and when it's a pleasant temperature!

How Safe is the Yucatan Peninsula?
Generally speaking, the Yucatan Peninsula is very safe.
But as it is a huge peninsula of 181,000 square kilometers, some areas are naturally safer than others!
On the Mexican side, the states of Yucatan and Campeche are widely considered among the safest in Mexico .
Quintana Roo is a bit less safe, but the incidents largely do not occur in the tourist areas and do not target tourists .
Of course, pickpockets are present here, as they are in all tourist destinations, so it is always best not to attract attention and be vigilant:
Avoid wearing designer clothes or jewelry

Do not wear your camera around your neck (or only in tourist areas and during the day)

Do not walk around with your smartphone in your hand

Always watch your belongings at the beach

Try to only use ATMs (automated teller machines) inside banks

Book your trip now and save money!
You're traveling in Mexico? These articles will help you!
Discover all my articles about Mexico: All my articles to help you plan your trip to Mexico are listed there.
You're using Pinterest? Here is the picture to pin!