Things to do in Playa del Carmen: The 30 Best Places to Visit
Visiting Playa del Carmen is perfect if you want to enjoy a smaller and quieter city than Cancun.
Located at the heart of the Riviera Maya, close to the best tourist attractions, Playa del Carmern features long beaches, theme parks and magnificent cenotes.
To help you plan your stay and make sure you don't miss out on anything during your visit, here is my guide of the best things to do in Playa del Carmen. I have included all the must-see places and the best activities to do with friends, family, or as a couple.
I've also included my restaurant and hotel recommendations for all budgets, all the practical information you need to make the most of your stay and a section about money (where to change, etc.).
So, what are the best things to do in Playa del Carmen? Where to stay?
1. Strolling on Quinta Avenida
Quinta Avenida is a must-see street in Playa del Carmen.
It is a lively and colorful 5 km long pedestrian street, lined with stores, souvenirs, cafes, restaurants, exchange houses, agencies, an ADO bus station as well as the famous Parque Fundadores.
It also allows access to the beach by taking the small streets that cross it.
Start by locating it upon your arrival to Playa del Carmen as it will be your best reference point!
PS: If you are looking for Mexican handicrafts, go to Textiles Mayas Rosalia. There you can find quality textile crafts designed by a women's cooperative from Chiapas.

2. Fundadores Park
Parque Los Fundadores is located on Quinta Avenida, facing the sea and the beach, a few steps away from the colorful letters of the Playa del Carmen (great for taking pictures!) and the pier to catch the Ultramar ferry to the island of Cozumel.
It is one of the oldest parks in the city, where all kinds of events are held and where you can find the statue of the Mayan Portal that has become the symbol of the city. By the way, I recommend you to see the Papantla Flyers during the day (a ritual that was declared Intangible Cultural Heritage of Humanity by UNESCO), and the pre-Hispanic dances at night.
Both are free!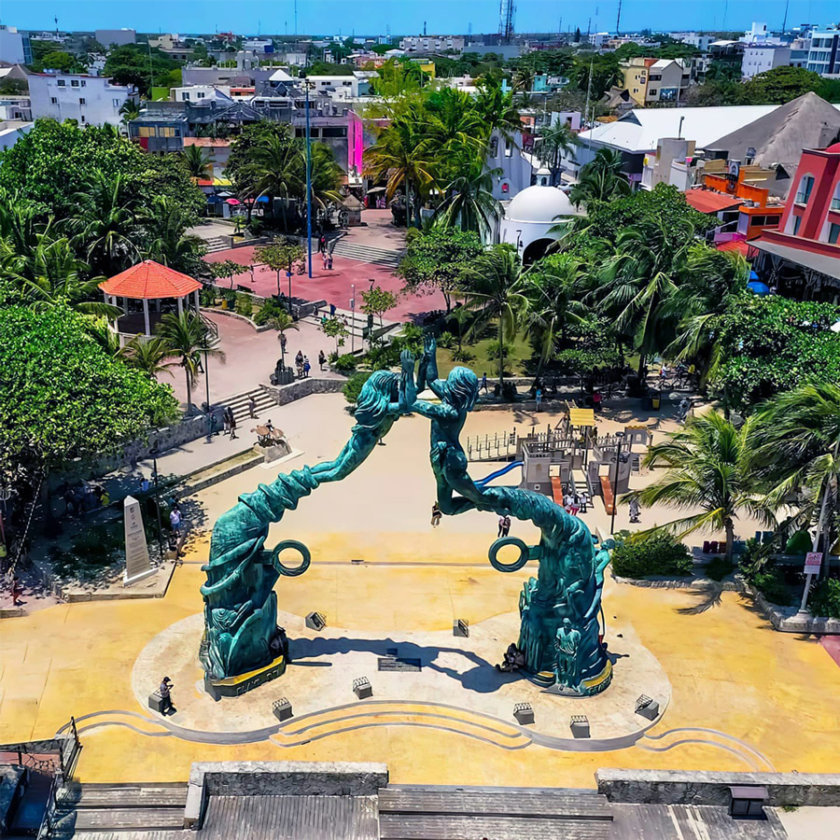 3. Swimming in a cenote
Cenotes are natural water wells that exist in the thousands throughout the Yucatan Peninsula. The ancient Maya considered them the gateway to Xibalba, the world of the dead.
Today, hundreds of cenotes have been conditioned so that visitors can dive and swim safely in their crystal clear waters.

To familiarize yourself with all the most beautiful cenotes in the area, I invite you to read my guide to the Best Cenotes in Playa del Carmen!
For example, a must-see cenote in Playa del Carmen is the underground cenote Chaak Tun (just 10 minutes away from downtown), whose 2h30 guided tour allows you to snorkle while exploring the beautiful caves.
Another interesting option is to go to Chikin Ha, where you can explore a cenote in a cave, swim in the clear waters of an open cenote and zip-line through the jungle.
If you visit the Playa del Carmen with your family, you can go to Cenote Azul, Cenote Cristalino and Gran Cenote, which are ideal spots for young children.

4. Spending the day at an amusement park
Xplor is the perfect place for active people (families, friends, etc.) who like adrenaline: with 14 zip lines, 4×4 jungle and caves, rafting, hanging bridges, etc. – Get Your All-Inclusive Pass to Xplor now!
Xcaret is a very large park focused on nature and Mexican culture. I love it because there are so many activities to do that it is impossible to do everything in one day! Buy your tickets to Xcaret – with lunch, over 40 activities and the must-see Xcaret Mexico Espectacular show!
Xel-Ha is an eco-responsible water park ideal for those visiting the Playa del Carmen with their family: with cenotes, caves, snorkeling, biking, and more, with a special section for kids – Buy your Xel Ha All Inclusive Pass with 20 activities, breakfast and lunch.
Xsenses is an interactive park, somewhat surreal, with activities designed for families with children (ideally from 6 years old) where they stimulate all your senses through different scenarios and ecosystems. Perfect for a half-day visit, buy your ticket for Xsenses now!
My advice
The
best way to enjoy the parks
is to stay at the
Xcaret Hotel
❤️
In addition to meals, you will have full access to all the parks for free! (Xcaret, Xplor, Xplor Fuego, Xenses, Xoximilco, Xel-Ha and Xenote)

5. Discover the best beaches
Of course there are many beautiful beaches in Playa del Carmen.
We have to mention Playa Mamitas and Parque Fundadores beach, which are very easy to get to (and very crowded) since they are in the middle of the touristic area.
But these are, in my opinion, the best beaches to visit in Playa del Carmen:
Punta Esmeralda: a (still somewhat) hidden, and free treasure. There is a small cenote that joins the sea water forming a natural pool. Perfect for families and is accessible for people with reduced mobility.
Playacar: great beach with calm waters in a very exclusive area. If you don't stay the night there, it is not accessible by car… but you can go on foot, by passing the ferry dock to Cozumel.
Xpu Ha: one of the nicest beaches in Playa del Carmen, that is only 25 minutes away from downtown. Quiet enough, with no rocks in the water, with available lounge chairs and umbrellas, snorkeling, kayaking, restaurants.
Xcacel: a dream place to visit if you like pristine beaches! It is an absolutely beautiful beach, clean, with white sand, perfect to go with friends or a partner but not necessarily with children as there is nothing on site.
Playa Maroma: 20 km away from Playa del Carmen is the beach of Punta Maroma, an exclusive beach where you can snorkel in its coral reef, take a catamaran ride, ride jet skis, etc. Perfect for the whole family!

6. Relaxing at a beach club
There are several beach clubs in Playa del Carmen if you are looking to enjoy the beach in comfort.
Lido Beach Club is a classic! You are likely to come across it while walking along the beach because it is so central. Excellent service, very good food (with vegetarian options) and a nice beachfront atmosphere. It's best to arrive early because it gets crowded.
Of course, there are other beach clubs in Playa del Carmen such as Kool Beach Club, Mamita's Beach club, Martina's Beach Club, Coralina Daylight Club, etc. There is something for every taste and budget!
You can walk around and take your pick, but be sure to ask for the price (and if the entrance fee can be used as credit at the restaurant/bar), as it can go up very quickly!

7. Snorkeling
Because of its clear waters and proximity to the Mesoamerican Reef (which is the second largest coral reef in the world), there are several great places for snorkeling and scuba diving in the Riviera Maya.
For diving in the Playa del Carmen area, I recommend:
For snorkeling: just 20 minutes from town you will find several reefs for all types of divers (Barracuda, Tortugas, Sabalos, Jardines, Pared Verde, Moc Che)
There is also the Mama Viña wreck, and the Cueva del Pargo, where crabs, lobsters and fish like to hide.

8. Discovering an underwater museum
The MUSA is not just any museum, it is the largest underwater museum in the world!
There are 500 sculptures that have been placed between 4 to 8 meters under water to provide a new habitat for aquatic fauna and flora that were suffering from the disappearance of the corals.
There are three "showrooms" at Manchones, Nizuc and Punta Sam, which can be explored by snorkeling, scuba diving (with tank) or simply with a glass bottom boat.
From Playa del Carmen, you must first go to Cancun. Here you can book a diving tour to Manchones with transportation and diving equipment:

9. Going out to party
Cancun is known as the main party destination in Mexico, but Playa del Carmen is not far behind.
For example, you can go dancing at the famous Coco Bongo Club (with circus shows, theaters, music, etc.), Mandala, La Vaquita, or Club 69, which is a gay dance club.
For a drink I really recommend Trujillos Cantina de Selva, which is beautiful restaurant, especially at night with its tropical garden atmosphere, good cocktails, and interesting menu, which includes some vegan options.
If you are looking for a beach bar, the Fusion Beach Bar & Cuisine offers a relaxing atmosphere with reggae music, or there is the Zenzi with live salsa music starting from 7.30pm.
You can also walk around and choose a place: most of the bars are located on Quinta Avenida, 10th street and 12th street.

10. Take a free walking tour
Free walking tours are available throughout several tourist destinations around the world. They operate under tips-only-basis and offer a good overview of the city.
I suggest you take the free guided tour of the Playa del Carmen with Estación Mexico: departures are at 10am and 5pm daily, in front of the ADO station on Quinta Avenida (in English and Spanish).
I have done several tours with them in Mexico City and really enjoyed them!

11. Swim with whale sharks
Swimming with whale sharks is an activity you can't miss in Playa del Carmen because it is a unique experience!
Don't let the name scare you, whale sharks are the largest fish in the world and feed off of plankton and microorganisms.
Fortunately, they have nothing to do with Jaws, but are very impressive as they can reach up to 20 meters in length.
This activity can be done from May to September
You can book the whale shark tour, which includes pick up from your hotel in Playa del Carmen, a guide, equipment, some snacks and lunch in Playa Norte (Isla Mujeres), here:

12. Finding the most beautiful murals
Walking along the Quinta Avenida, you'll notice that street art is very present on the facades of the Playa del Carmen, making the city center even more lively and colorful.
The city has been welcoming Mexican and international artists for several years now, and especially since the start of the Dreamers Art Festival in 2015.
If you want to make your own walking tour, I invite you to discover my list of the best street art in Playa del Carmen (beware, it's always possible that some of it has changed, it's ephemeral art!).
It's one of my favorite things to do in Playa del Carmen, and it's 100% free!


13. Mayan Temazcal
Temazcal means "house of sweat" in Nahuatl.
It is a traditional steam bath, long used by the peoples of Mesoamerica to purify the body and spirit.
It is a small round hut with an opening that serves as the entrance, and the space is heated with wood or stones, water and medicinal herbs.
Before entering the temazcal you are first purified with copal, a resin that burns like incense, then you sit inside forming a circle with the other participants, and the temazcalero will accompany you throughout the ceremony with songs.
As the temazcal has become popular among travelers, it can now be found in some spas and hotels such as the Pixan or the Hilton SpAzul.
For a more traditional experience, I recommend Pueblo Sacbe, a jungle community outside Playa del Carmen that offers several ceremonies, a meditation area and some cenotes. It's a great place to unwind and clear your mind!

14. Go on an ATV adventure
If you like adrenaline and going off the beaten path, this is an activity you can't miss in the Riviera Maya!
A guide will give you safety goggles and after driving your ATV about 29 km in the jungle, you can cool off in a clear watered cenote.
You can book the buggy tour with pick up at your hotel in Playa del Carmen here:
The tour lasts 3 hours
This is a perfect activity for the whole family, but is not recommended for pregnant women and children under the age of 4

15. Visiting a museum
The Museum of Wonders 3d is an interactive museum to visit with friends, family, or even as a couple, where you can spend time taking fun pictures.
It is an initiative of the artist Kurt Wenner, who has filled from top to bottom the floors and walls of the museum with artworks that play with perspective and depict all kinds of scenarios and art classics.
His optical illusion tricks are explained through a projection at the beginning of the visit, it's amazing!
Moreover, it is the ideal place to spend 1h30-2h if it is raining or even too hot.

The Frida Kahlo Museum is a colourful museum featuring Frida's life, her art, her imagination and her relationship with Diego Rivera.
There is also a restaurant in the museum with a playful, Frida-inspired side of Mexican cuisine.


16. Go to the Fish Spa
Walking down Quinta Avenida, you will see several places that display a "Fish Spa" sign with chairs and pools filled with tiny fish.
You sit comfortably, wash your feet and then place them in the water while the fish come and eat the dead skin. Personally, I felt like I was in a foot bath filled with sparkling water!
This is a great activity to do in Playa del Carmen to relax after walking in the sun, and it's pretty fun to do with friends.
However, you should check 2 things before choosing: the quantity of fish (I saw some almost empty!) and the price because it varies a lot.
I suggest you the one at the corner of Quinta Avenida and Calle 1 which is the cheapest one I found at 250 pesos for 1 person or 400 pesos for 2 for about 20 min

17. Rent a jet ski
It is very easy to rent a jet ski in Playa del Carmen and the Riviera Maya. Prices are usually around 70-80$usd for 30 minutes, so take advantage of it!
If you like outdoor activities, you can also book this jet ski tour in Maroma Beach and a ATV ride. It's the best way to enjoy a good dose of adrenaline in the sea or on land.
Book the jet ski and ATV tour with pick up from your hotel in Playa del Carmen here:

18. Taking a food tour
One thing that has always surprised me in Playa del Carmen is the lack of markets as it is such a strong cultural symbol in Mexico.
And I'm talking about a real market, chaotic, with ladies telling you "¿que se le ofrece güerita?", "¡pásele güerita!"
Since I live in Mexico, I am very attached to this local aspect so that is why I jumped at the opportunity to go on a food tour in Playa del Carmen!
We followed Alma, a local chef, who took us to buy fresh ingredients at her favorite places and then welcomed us into her home to prepare several typical Mexican dishes.
All the dishes were very tasty, but I especially loved the relaxed atmosphere and good mood, with a nice cold margarita!
You can book the tour with a Mexican cooking class in Playa del Carmen here:

19. Flying over the Caribbean Sea
Imagine parasailing over Punta Maroma, which is one of the most beautiful beaches in the Riviera Maya.
This is one of the best things to do in Playa del Carmen, as it is an opportunity to let yourself be carried away by the wind and see, from the sky, the beautiful sandy beach and turquoise water.
You can book the parasailing flight with pick up in Playa del Carmen, with snacks and refreshments here:
My advice
Never done parasailing before? Know that it is a
slow ascent
and that all safety measures are always followed.
All participants must also wear a life jacket and a harness.

20. Isla Mujeres
Isla Mujeres is one of the most beautiful islands in Mexico!
You can spend a day in Isla Mujeres from Playa del Carmen, snorkeling in the second largest coral reef in the world and enjoying Playa Norte, considered one of the best beaches in the world!
You can spend the morning at Garrafon de Castilla Park, stroll through the Punta Sur Sculpture Park, discover its colorful streets, taste the Tikin Xic fish at Lancheros Beach and much more.
If you want to know more about Isla Mujeres, here are my Top 21 things to do in Isla Mujeres
To get there from Playa del Carmen, first go to Puerto Juarez (1h) and then take the ferry to Isla Mujeres (20 min)
Places on the ferry are limited, so I recommend that you reserve them in advance.
To book your round trip ticket to Isla Mujeres (valid for 6 months after the departure date), click here:
My advice
If you want to fully enjoy Isla Mujeres without worrying about transportation, you can also book this
tour with pick up at your hotel in Playa del Carmen
.
It includes breakfast and a buffet lunch, 45 min of snorkeling, an open bar, and free time in Isla Mujeres to enjoy Playa Norte. Book the tour here: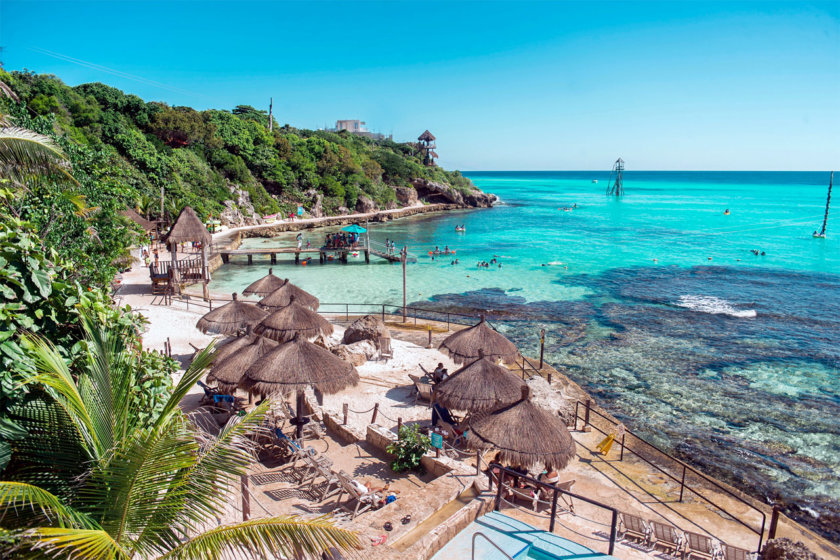 21. Contoy Island
Contoy is a small island paradise that is home to one of the most beautiful beaches in the Riviera Maya.
To protect this important nesting site for turtles and seabirds, only a few biologists and coast guards live on the island, and visits are limited to 200 people per day. That is why it is mandatory to go with an organized tour.
I took a tour to Isla Contoy from Playa del Carmen (which I had never heard of) and it turned out to be an amazing experience, as I really felt like I was in one of the last unspoiled paradises of the very touristic Riviera Maya.
It is a very full day that includes hotel pick up, breakfast, boat transportation with drinks, snorkeling at the Ixlache reef, free time at Isla Contoy with lunch, and free time (1h30) at Isla Mujeres.
You can book the tour directly here:
If you want to know more about this beautiful island, here is my Complete guide to Isla Contoy
As access is limited to only 200 people per day, I recommend that you don't wait until the last minute to book!

22. Ride a quad bike in the jungle
I had already done a quad bike ride in Canada before, and since I thought the experience was amazing, I wanted to try it again in the jungle of the Riviera Maya.
I convinced my friends and their teenage kids to join me and, in the end, they all loved it!
Sometimes you can go pretty fast, but the pace up to you! What is certain is that it is safe and the off-road vehicles are easy to handle.
We rode about 30 km, some with single ATVs and others with two-seaters. Then we were taken to a cave full of stalactites and a cenote where we can swim for about 30 minutes to cool off.
The only thing I could say about the activity is that I would have liked it to last longer (2h30-3h)!
Book the jungle quad bike tour with pick up at your hotel in Playa del Carmen, visit a cave and swim in a cenote by clicking here:
Be prepared to get a little dirty, as these are dirt roads and, depending on the season, there may be a lot mud. But that makes the activity even more fun!

23. Exploring the Rio Secreto Caverns
Besides being an unforgettable activity to do with your friends and family, this is also one of the most beautiful places to see in Playa del Carmen.
Voted the best natural reserve in Mexico and Central America in the World Travel Awards, Rio Secreto offers the opportunity to discover part of its great underground world.
It is a 1h30 hour guided tour in which you follow a guide with a helmet and headlamp, plus a thermal suit, to discover the magnificent caves and clear-watered cenotes of the Rio Secreto Caverns.
Book here your entrance to Rio Secreto, which includes lunch, with the option to choose pick up at your hotel if you wish: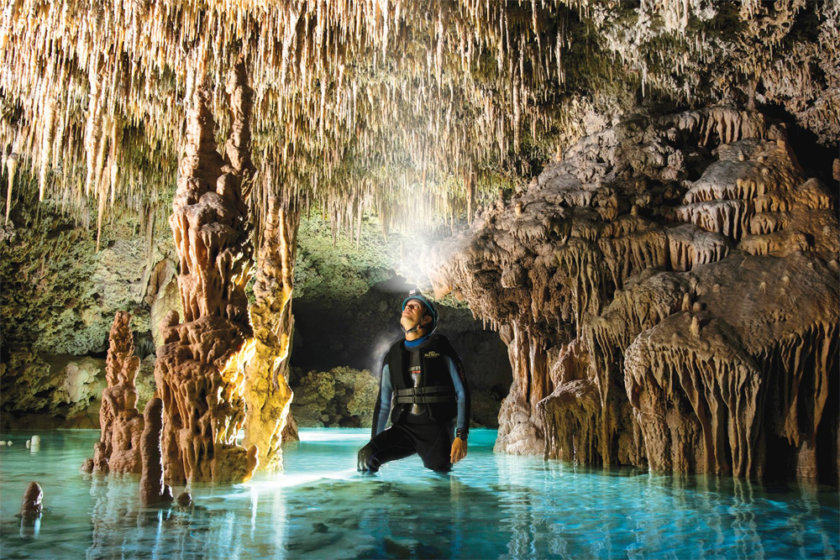 24. Discover Cozumel Island
Declared a Biosphere Reserve for its rich marine and terrestrial biodiversity, the island of Cozumel is considered one of the best places in the world to dive.
It is true that there is a lot to do because it is a big island, but you can visit Cozumel in one day from Playa del Carmen!
To make the most of the day I propose two options:
Option 1: discover Cozumel's best snorkeling spots, including El Cielo, known for its numerous starfish – book the snorkeling tour here, with lunch!
Option 2: take the jeep tour to Punta Sur reserve with snorkeling, free time on the beach, lunch at a beach club and tequila tasting. – Book the Punta Sur tour as a small group or private excursion.
For the best things to do on the island, here is my guide: Top 15 things to do in Cozumel!
How to visit Cozumel from Playa del Carmen:
Ferry without a car: 45min-1h by ferry from the Terminal Marítima Navega with Ultramar or Winjet Fast Ferry
Ferry with car: by ferry from Punta Venado Calica with Transcaribe or Ultramar Carga
Many tours to Cozumel include pick up from your hotel

25. Tulum
Tulum is a must-see destination in the Riviera Maya with its famous beachfront ruins, long white sand beaches, beautiful cenotes and bohemian atmosphere.
The good news is that it is only 1 hour away from Playa del Carmen, so you can make the round trip in one day and have time to visit its main tourist attractions.
How to visit Tulum in one day from Playa del Carmen: start with the archaeological site of Tulum, then go to a cenote to refresh yourself. In the afternoon, take a walk along the Tulum Beach Strip and enjoy the beach (e.g. Playa Paraiso, Las Palmas).
To learn all about Tulum, I invite you to read:
If you prefer to take a tour of Tulum from Playa del Carmen, I recommend this tour that includes the Tulum ruins (guided tour and free time included), a visit to a cenote with air-conditioned transportation from your hotel. Book it here: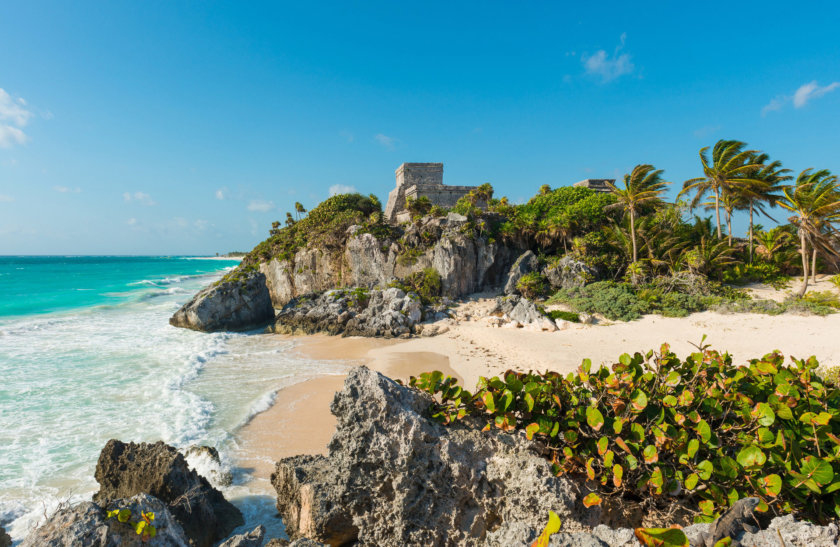 26. Chichen Itza
Chichen Itza was the most important city of the Yucatan Peninsula of its time and is now a UNESCO World Heritage Site and one of the New 7 Wonders of the Modern World.
In a 2h-3h visit you will see El Castillo which is the main pyramid of the site, the astronomical observatory El Caracol, the Mesoamerican ballgame court, and many other buildings.
Here is my Complete Guide to Chichen Itza, with all my tips and practical information!
Entrance fee: 571 pesos for foreigners, 283 pesos for nationals, 85 pesos for Yucatan residents
How to visit Chichen Itza from Playa del Carmen:
By ADO bus (3h30), only one bus per day – departure 8h and return 16h30, 380 pesos per ticket
By car (3h30), take highway 307 along the Riviera Maya, then highway 180D. Parking costs 80 pesos
This is one of the most touristic places in Mexico, so I suggest you buy your skip the line tickets for Chichen Itza
Another option to not worry about transportation and avoid taking up 7 hours of your day with travelling, is to take a tour to Chichen Itza with pick up from Playa del Carmen. I recommend:
The tour to Chichen Itza with a guided visit, a stop to the Ik Kil cenote, a buffet lunch and a stop in Valladolid – book it here!
Or the Chichen Itza tour with early access to avoid the crowds, a guided tour and lunch – book it here!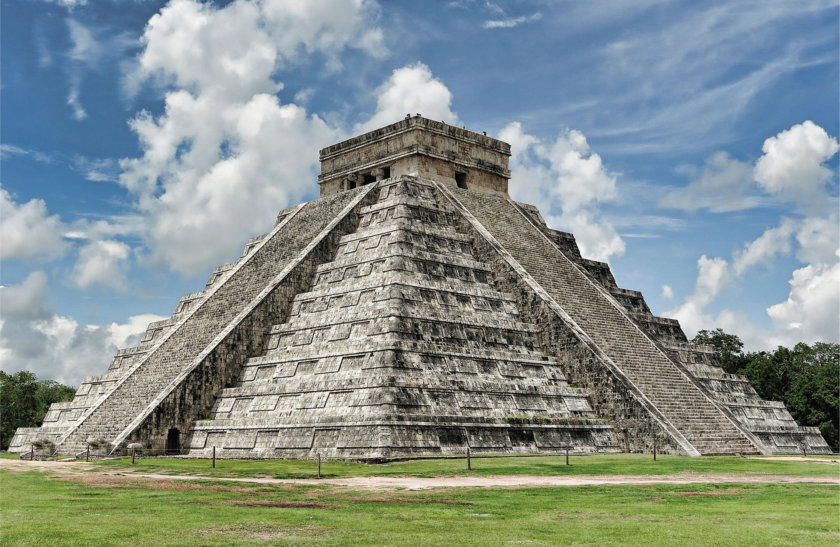 27. See the tallest pyramid in Yucatán
In the Yucatan jungle, surrounded by toucans and monkeys, lies Coba, which was the great rival of Chichen Itza and one of the most important cities of the Mayan world.
For easy access to the different structures of the archaeological site, it is best to rent a bicycle (60 pesos) at the entrance or a bicycle cab (140 pesos for 2 persons).
Don't miss out on the opportunity to see Nohoch Mul, the tallest pyramid in the state of Quintana Roo and the second tallest in the entire peninsula.
If you have time to spare (and a car), there are also 3 cenotes in Coba: Tamcach Ha (or Tankach-Ha), Multun Ha and Choo-Ha.
My tip
For a complete experience, you can take this
tour to Coba and Tulum with hotel pick-up
.
Includes a guided visit to Coba, a traditional lunch with chocolate tasting, a swim in the Dzonot Wayak cenote and a visit to Tulum.
[/su_box]

28. Swimming with turtles
Akumal is known as the best place to swim with turtles near Playa del Carmen… and even in Mexico!
No need to worry about the turtles: they are protected species so the activity is done responsibly, following some rules so as not to stress them.
In fact, it is mandatory to go with a guide who will take you to the area where they are fed in Akumal Bay.
You can book here the swim with turtles in Akumal, which also includes pick up from your hotel, with a visit to a cenote and a cave: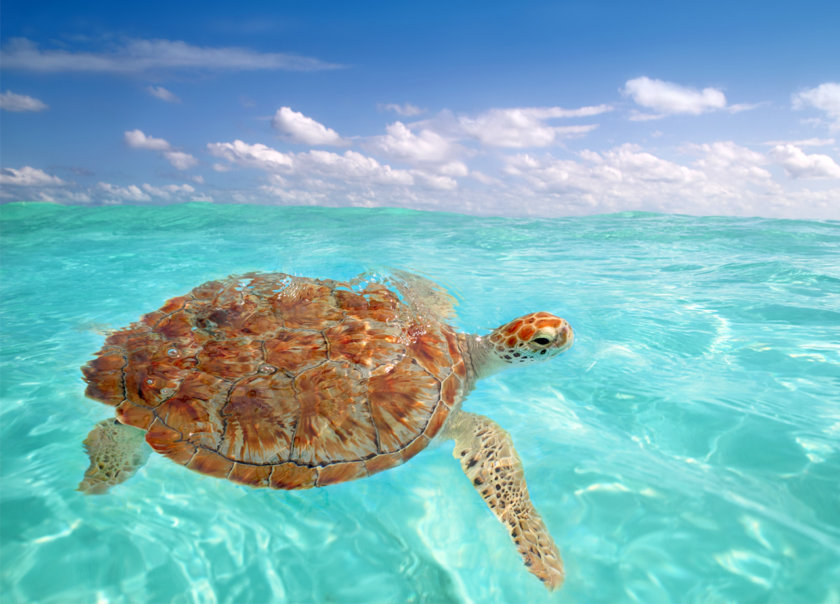 29. Puerto Morelos
Puerto Morelos is a quiet little town only 30 minutes away from Playa del Carmen, where you can spend half a day or a full day.
It is a great place to visit with the family, as you can snorkel in the Puerto Morelos Reef National Park and discover several cenotes in the famous Cenotes Route.
It also has the best adventure park in Latin America (more details in the next point).
If you want to know the best things to do in Puerto Morelos, here is my Definitive Guide to Puerto Morelos!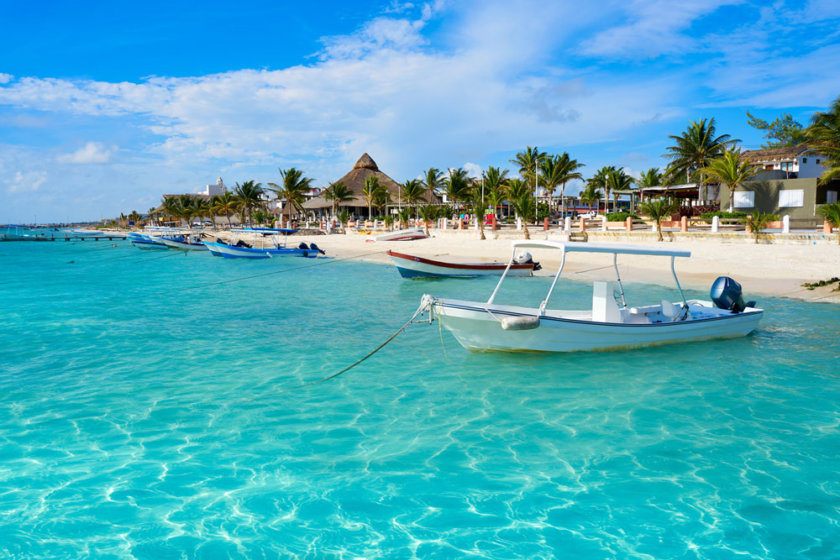 30. Enjoy one of the best adventure parks
Selvatica Park in Puerto Morelos was voted the Best Adventure Park in Latin America at the World Travel Awards and one of the 35 best adventures in the world by Travel+Leisure magazine!
It's an ideal place to live out a jungle adventure with the largest zip line circuit in the peninsula, hanging bridges, bungee, quads, cenote, etc.
My favorite activity? Tarzania, which is a combination of a roller coaster and a zipline that stretches 700 meters
You can go on your own or book your Selvatica tickets with hotel pick up here, includes zip lines, Tarzania, safari truck ride to a cenote and lunch:

31. Take a catamaran ride
This is a must-do activity if you are traveling to Playa del Carmen with friends or with your partner.
It is a luxury catamaran cruise (4h) that takes you diving in the second largest reef in the world, with an open bar and lunch on board.
Since the number of participants on the catamaran is limited, it is perfect for those who like to party without feeling overcrowded …. which happens too much in the Riviera Maya!
Book the luxury catamaran tour with hotel pick up here:

What to do when it rains in Playa del Carmen
Did your plans for the day fall through because of the weather? Don't worry, Playa del Carmen offers some great activities when it rains:
Bathing in a cenote: many cenotes are underground, so it is an ideal activity to avoid the rain in Playa del Carmen. – Read my article about the Playa del Carmen's best cenotes
Visit a museum: in addition to the many art galleries, you can spend between 1h30 and 2h at the Museum of Wonders in 3D, or go to the Frida Kahlo museum
Shopping: there are many stores on Fifth Avenue, so it can be a good time to buy some souvenirs! To really avoid the rain, you can also go to the Centro Maya, Plaza Las Americas or Quinta Alegria malls
Go to the movies: always a good option with the family, and you can enjoy the air conditioning. For example at Cinemex in Centro Maya or Cinépolis in Plaza Las Américas
Going to the spa: of course you don't have to wait for rain to enjoy a massage or a treatment with natural products, but it's always a good option when it goes!

How to travel to Playa del Carmen on a budget
It must be said that the Riviera Maya is a relatively expensive tourist region compared to the rest of the country.
But, fortunately, it is possible to enjoy Playa del Carmen on a budget!
For all the free activities and my money-saving tips (hotel, transportation, restaurant, etc.), check out my Complete Guide to Traveling on a Budget to Playa del Carmen!
Where to stay in Playa del Carmen?
Che Playa Hostel & Bar Adults Only: great hostel to meet other travelers and party, with a rooftop terrace that has a bar and a small pool, with several offered activities. Clean, with good wifi and a great welcome. From only 13 $usd for the dormitory or 37 $usd for a private room!
Hotel Lunata: a charming hotel with hacienda style decoration, which is hidden on Quinta Avenida, very close to the beach. Quiet, with a garden, rooms with balcony, and has very friendly service. From only 82 $usd per night!
Porto Playa Condo Beach Club: here you will find a spacious apartment ideal for a family, with fully equipped kitchen, living room and terrace. The hotel has a large swimming pool, a gym and a restaurant, starting at 172 $usd per night!
The Reef Playacar Resort & Spa: located on the beautiful beach of Playacar, just a few minutes from Fifth Avenue. Ideal for a romantic stay, with a beautiful tropical garden, two pools, a gym and a spa. 200 $usd with the "all inclusive" formula.
Hotel Xcaret Mexico All Parks All Fun Inclusive: it is definitely the best hotel in Playa del Carmen! Ideal for couples and families with children as this luxury hotel offers an exceptional package including meals and access to its parks (Xcaret, Xplor, Xplor Fuego, Xenses, Xoximilco, Xel-Ha and Xenote). Starting at 860 $usd per night, all inclusive.
Playa del Carmen without Sargassum
It is true that sometimes the Riviera Maya is invaded by masses of seaweed called sargassum. It is a topic that is being talked about more and more, as these accumulations have increased in recent years due to global warming and pollution.
The big problem is that it is impossible to know when and where they will appear, and it can change from one day to the next.
So how do you avoid sargassum, what is the best time of the year and the best place to enjoy the beach without algae?
There is no magic answer, but there are some solutions. The first thing to do is to look at the Red de Monitoreo del Sargazo de Quintana Roo Facebook Page(Quintana Roo Sargasso Monitoring Network) where you will find maps with the status of the beaches.
If Playa del Carmen is yellow, orange or red, here are some alternatives to consider:
Cozumel: there is never sargassum on the west coast of Cozumel which is in front of Playa del Carmen (40 min by ferry)
Isla Mujeres, Holbox and Isla Contoy: these islands are much less affected by algae than the Riviera Maya coast (although it can also happen)
Caleta Tankah in Tulum: a small beach club with a cenote and a cove on the beach where no seaweed enters
Bacalar a large and beautiful lagoon where algae cannot enter
Swimming in a cenote: there are many cenotes in Playa del Carmen and the Riviera Maya where there is never algae!
Enjoy a pool: there are several nice ones open to the public. I recommend the Las Hijas Beach Club (no entrance fee), the Be Playa Hotel (250 pesos minimum consumption) or the Thompson Playa del Carmen for a more luxurious atmosphere overlooking the sea.
My advice
Normally, the
sargassum season
in the
Riviera Maya
runs from
April to September
.
So if you travel to Playa del Carmen at this time, it is more likely that there will be sargassum on the beach, but with a little luck maybe you won't find any!

Where to eat in Playa del Carmen
There are plenty of restaurants and street food for all budgets in Playa del Carmen.
I invite you to read my complete guide Where to eat in Playa del Carmen with my 19 personal recommendations!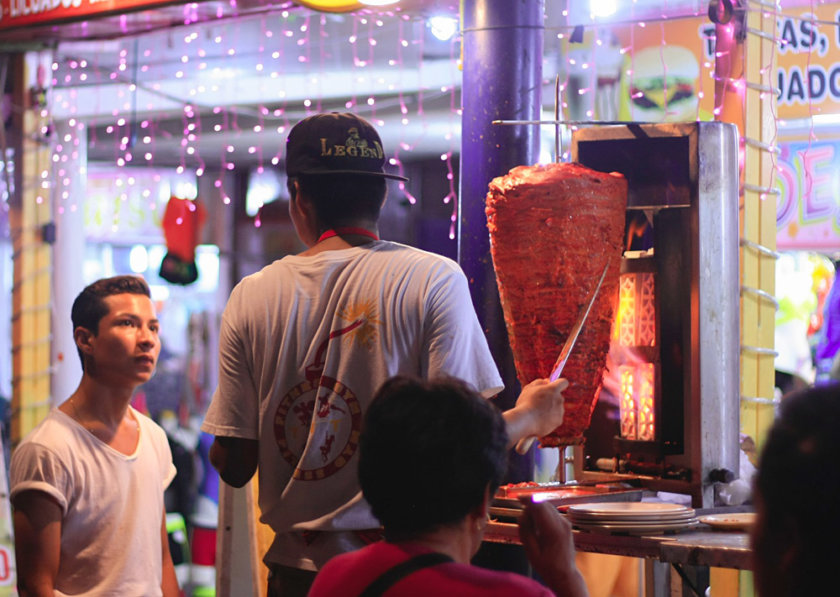 How long should you stay in Playa del Carmen?
Playa del Carmen is a paradise of sand, adventure and culture, and you could spend weeks enjoying its charms!
But if you only have a few days in Playa del Carmen, don't worry: I have some great suggestions for how to spend Playa del Carmen in 1, 2, or 3 days.
What to do in Playa del Carmen in 1 day
If you have only 1 day in Playa del Carmen, follow this program:
In the morning, enjoy the beautiful beaches of Playa del Carmen like Mamitas, Playa 88, Punta Esmeralda
For some adrenaline, you can try parasailing, a catamaran tour, a buggy and cenote tour, or ATV and speed boat adventure.
Stroll along Quinta Avenida, the city's main pedestrian street, where you can find lively bars and restaurants, street art, cool boutiques
Experience the nightlife of Playa del Carmen. For an amazing show you can go to Coco Bongo – Get your tickets here!
2 days in Playa del Carmen
If you want to visit Playa del Carmen in 2 days, follow the program above for day 1.
And for the second day, I have 2 amazing options for you:
Option 1: Spend the day in Tulum
In the morning, visit the Tulum ruins, one of the best-preserved coastal Maya sites, and admire the stunning views of the Caribbean Sea
Relax on the Tulum beaches and walk on the Beach Strip, where you can find many restaurants, chic beach clubs, and stylish boutiques, and the famous wooden sculpture "Ven a la Luz"
Explore the Tulum cenotes, like Cenote Dos Ojos, Gran Cenote, Cenote Calavera or Cenote Zacil-Ha
My top pick for Tulum tour (click here to check it out!) includes transportation from your hotel, the guided tour of the ruins, enjoy a secret cenote, lunch in the jungle, and snorkeling with the turtles in Akumal Bay!
Option 2: Take a trip to Cozumel
If you love nature, Cozumel Island might be the perfect option for you, with beautiful beaches, crystal waters and amazing coral reefs.
You'll never run out of fun things to do in Cozumel:
Punta Sur Eco Beach Park is my top pick in the island, and the biggest eco reserve in Cozumel. You can enjoy the beach, Laguna Colombia, Celarain lighthouse (with awesome views!)– Book the jeep tour to Punta Sur here!
For families: I recommend to check out Chankanaab Adventure Beach Park (Get your tickets here!) or Playa Mia Grand Beach Park
Cozumel is a paradise for snorkel and dive lovers, with its amazing coral reefs and marine life. You can't miss Palancar Reef and El Cielo, a sandbar with starfish in the sea. – Book your snorkeling tour here!

3 days in Playa del Carmen
With three days in Playa del Carmen, you can enjoy all the highlights:
follow day 1's program
visit Tulum on day 2
and Cozumel on day 3, as explained above!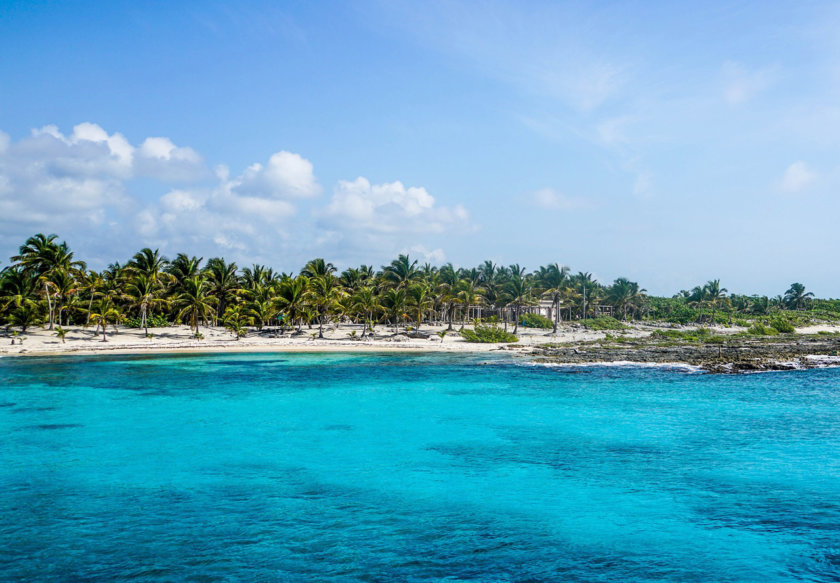 Where is Playa del Carmen located?
The city of Playa del Carmen is located on the Caribbean coast, in the Yucatan Peninsula, in Mexico, more specifically in the center of the Riviera Maya, between Cancun and Tulum, in front of the island of Cozumel.
It is strategically located at the intersection of the Tulum-Cancun/Mexico 307 highway, which runs along the Riviera Maya, and the Kantunil-Cancun/Mexico 180D highway, which leads to the interior of the peninsula: it is the ideal place to get around easily!
How to get to Playa del Carmen by plane?
You first have to fly to Cancún because there is no airport in Playa del Carmen.
It is a large airport that receives many flights from Europe and North America, with the major known companies (Air Transat, Air Canada, Iberia, Aeromexico, Interjet, KLM, etc.). It will be very easy to find tickets at the date that suits you.
To find a cheap flight to Cancun as well as the best domestic flights in Mexico, I recommend using our flight comparison tool in partnership with Skyscanner. It is guaranteed to get you the best price!
How to get to Playa del Carmen?
Playa del Carmen is 1 hour away from Cancun, 1 hour from Tulum and 1 hour and 50 minutes from Valladolid.
From downtown Cancun: approximately 1 hour – by car, by ADO bus from the cancun bus station or by colectivo Playa Express (in front of the ADO station)
From Cancun's hotel zone: 1h15 by car, or to get there by public transportation you must first go to the downtown ADO bus station (by cab, or by local bus Route 1 or Route 2)
From Cancun airport: most travelers arrive in Playa del Carmen from Cancun airport. – Go to the next point where you will find all the details
From Tulum: 1 hour – if you don't have a car, you can take an ADO bus or colectivo from downtown Tulum or from the entrance to the ruins
From Valladolid: 1h45 by car via Kantunil-Cancun/Mexico 180D and Mexico 305D, or 2h05-2h55 by ADO bus (preferably choose a direct bus)
Getting around Playa del Carmen and the surrounding area
Whether by car, bus or colectivo (shared vans), it is very easy to get to Cancun, the Riviera Maya (e.g. Tulum, Puerto Morelos, Akumal, water parks) or even to cities in the interior of the peninsula (e.g. Valladolid, Merida, etc.).
Bus: There are two ADO bus stations in Playa del Carmen: Playa del Carmen turistica (main station) and Playa del Carmen alterna. Remember this when you buy your tickets!


The colectivos: no matter the destination, they all leave from the station located in front of the Chedraui near Avenida Benito Juarez, more exactly Calle 1 Sur x Avenida 45 norte
They are parked according to the destination: on the left for Tulum and on the right for Cancun. Either way, you can ask without any problem.


How to get from Cancun airport to Playa del Carmen?
The trip from Cancun to Playa del Carmen takes 1h20, these are the different options to get there:
By car: if you are renting a car in Cancun, the trip is very easy to Playa del Carmen. Just follow the Highway 307 Cancun – Chetumal
ADO bus: several departures a day from terminals 2, 3 and 4. No need to make a reservation, you can buy the ticket on arrival (216 pesos). It drops you off at Quinta Avenida.
Official airport cab: about 1200 pesos
Private transportation: for more comfort, this is a very good option if you are traveling with your family or a group of friends, as it is an air-conditioned van with a capacity of 8 people.
Rent a car in Playa del Carmen
Renting a car is for sure the best way to explore Mexico and make the most of your stay!
While it's not super useful to visit the city, having a car is a must to discover the rest of the country.
To rent a car, personally, I always use Rentalcars.com, for a few reasons:
You can easily compare the rental cars prices between all the agencies: for sure the easiest way to find the best rate!
Cancellation is often offered free of charge: no need to worry if you change your mind
Rentalcars offers full insurance coverage at a lower price than the rental companies, so it's an instant saving with no effort
Simply click on the green button to find your rental car at the best price:
When to visit Playa del Carmen?
The best time of the year to visit Playa del Carmen is from late October to mid-December, since there are not many tourists and the temperature is pleasant.
The high tourist season runs from late December to March-April, with especially busy periods for New Year's and Spring Break with the arrival of tourists from the United States.
If you are wondering when to go to Playa del Carmen, the most important thing to keep in mind is the rainy and hurricane season, which runs from June to October, and especially in the months of August (late), September and October. I personally recommend avoiding this period, especially for a short trip of 1 or 2 weeks in the Riviera Maya as it is impossible to predict in advance if a storm will turn into a hurricane.
Note: In the past I have traveled in October to the Riviera Maya, without a hurricane, and with little rain, so it is also a matter of luck!
My advice
Between the end of October and the beginning of November
, Mexico celebrates the 
Day of the Dead
, making it an excellent time to visit the region!
To learn more about the Day of the Dead celebrations in Playa del Carmen, check out my ultimate Day of the Dead guide! 

What is the temperature in Playa del Carmen?
The weather in Playa del Carmen is warm and humid, with an average of 78,8 F (26°C) all year round, and a good sea breeze that makes the atmosphere pleasant.
With water temperatures hovering around 77-84F (25°C-29°C), there is no doubt that it is a must-see destination in Mexico for beaches and swimming.
But a tropical climate always has a rainy season. As I mentioned earlier, this season runs from April to October (or even until mid-November).
In September and October, the rains are more intense and the risk of hurricanes is higher.
November to March is cooler: this is the best time to visit Playa del Carmen!
All about money in Playa del Carmen
What is the local currency?
The Mexican peso (MXN) is the official currency of Mexico.
Can I pay in US dollars?
The short answer is: yes, many places accept US dollars (travel agencies, restaurants, stores). But it is important to know that the rate is never favorable and it is much better to pay in Mexican pesos.
If you are Canadian – like me – don't change your money twice ($cad-$usd-mxn). It's useless! Keep your Canadian dollars and exchange them directly into pesos when you get there.
Is it possible to pay in Canadian dollars?
I was once told that some businesses on Fifth Avenue accept Canadian dollars, but I haven't seen them personally. And anyway, the rate won't be favorable, that's for sure!
Are euros accepted?
Euros are rarely accepted in Playa del Carmen. Don't change your euros to US dollars, you can change them directly to Mexican pesos.
Where to change money?
First of all, avoid changing money in your home country. You will get a better rate at an exchange house in Playa del Carmen.
Do's and don'ts of exchanging money in Playa del Carmen:
At the airport
It is best to avoid exchanging at the Cancun airport, but it is a good option to have some cash in pesos, for example to pay for your transportation to Playa del Carmen.
At the airport, I suggest you to withdraw at an ATM instead of going to an exchange house.
At the hotel
Of course, it is very easy to exchange money at the hotel, but the exchange rate is usually quite bad. It is useful when you need to get something quickly, but avoid exchanging a lot of money.
Money exchange
You will find many exchange houses on Fifth Avenue, compare them and make your choice.
I found one of the best rates on the corner of Calle 2 Norte and Quinta Avenida (a green sign, diagonally across from Ah Cacao). Another good option is the Cibanco, right next to the ADO station, in front of the Mcdonald's.
But in the end the rates are quite similar, so unless you have a large amount of money to change, I don't think it's worth wasting a lot of time comparing to save just a few pesos.
Banks
Some banks like Banco Azteca offer a good rate, but if you are not Mexican don't forget your passport which you will need to show. It is the only foreign identity document accepted.
The big advantage is that it's very safe, so it's very practical if you want to change large amounts of money.
The disadvantage is that there are fewer banks than exchange houses and depending on the time of day, there can be a lot of people waiting. It is best to arrive early.

Do I have to tip in Playa del Carmen?
Yes.
I know that in Europe tipping is not so common, but Mexico is a North American country where tipping is normal, and even more so in tourist places.
Remember that in Mexico salaries are low and many people live on tips (even more so with the Covid crisis that has drastically affected tourism)
You can figure 10% in restaurants or even 15-20% if you really enjoyed your experience. Of course, some people give more, but it's personal and also depends on your budget.
Note: it is unacceptable for someone to demand a tip, it must always be voluntary.
Where to buy souvenirs?
Walking along Quinta Avenida you will find a lot of stores selling all kinds of colorful souvenirs: key chains, magnets, mugs, t-shirts, etc.

My advice
If you want to pay less for your souvenirs, go directly to
Walmart
.
Let's be honest: it's exactly the same, but at least you don't get ripped off as much because the prices at Quinta Avenida have gotten too high.
If you want to find something a little different, it gets more complicated!
While looking around, I finally found Kih (Facebook/Instagram) where you can find quality crafts, clothes, mugs, etc. Of course, it's a different budget.
As I walked in, I noticed you could see through the floor: it's a cenote! And you can also go behind the store to see the garden. It's like an oasis in the middle of Playa del Carmen.

Practical Map of Playa del Carmen
Here are all the attractions I mentioned together on one map:

Book your trip now and save money!
You're traveling in Mexico? These articles will help you!
Discover all my articles about Mexico: All my articles to help you plan your trip to Mexico are listed there.
You're using Pinterest? Here is the picture to pin!