31 Best Things to do in Mexico City: All best Places to Visit
You're planning to visit Mexico City during your next trip?
Great idea!
Also known as Federal District o CDMX, the capital of Mexico is surrounded by several mountain ranges at an altitude of 2250 m.
Founded in the 14th century by the Mexica with the name of Mexico-Tenochtitlan, it was the capital of the aztec empire until 1521, when it was conquered by the Spaniards.
However, it was also the place where Hernán Cortés decided to build the city of Mexico City, the Capital of New Spain and held the title until the end of the War of Independence in 1821.
Today, CDMX is a vibrant, historic, and modern city with so much to offer visitors.
To make sure you don't miss anything on your next visit to the CDMX and can make the most of it, here is my guide to Mexico City with all the things you can do and see in the great capital.
Here you'll find my best tips and tours, the 31 best places to visit in Mexico City and some ideas of activities for the whole family.
I also propose some itineraries to visit Mexico City in 1, 2, or 3 days, along with my best hotel recommendations for all budgets. In short, everything you need to know to organise your trip!
And now, what to do in Mexico City?
Visiting Mexico City: The 31 must-see tourist attractions
1. Plaza de la Constitución
The Zócalo or Plaza de la Constitución has been declared a Unesco World Heritage Site.
It is the largest square in Latin America and a major tourist attraction in Mexico City, because it houses all the main buildings of the capital.
Here is what to see in the Zócalo, one of the most important tourist attractions in Mexico City:
The Metropolitan Cathedral: It

 is the

Largest cathedral in Latin America

and one of the most important catholic buildings in the world. An imposing building with fourteen chapels, it was built over the ruins of the

Templo Mayor

of the Aztec city of

Tenochtitlan. Admission is free, but I recommend you visit the cathedral's bell towers for 30 pesos.
National Palace:

has been the seat of government since Aztec times (even Montezuma's palace was there!). Part of the building has been transformed into a museum and houses

frescoes by Diego Rivera

such as

"The History of Mexico"

. Free admission, but ID is required.

The

Old Portal of Merchants:

Occupies one side of the square with several commercial buildings dating back to the 16th century. Here you can find shops, hotels, and luxury restaurants.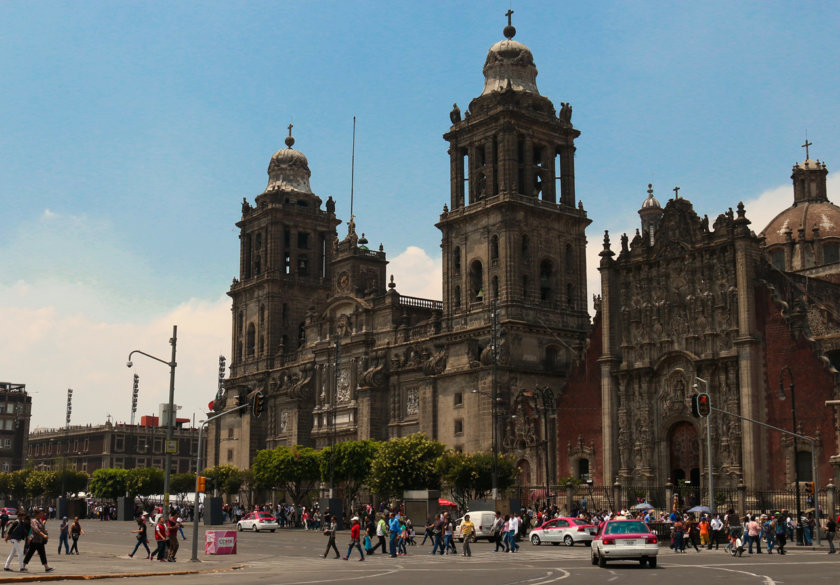 2. The Templo Mayor
Just behind the cathedral is the "Templo Mayor", which was the main temple of the city of Tenochtitlan.
However, it wasn't until the late 1970s that its location was accidentally discovered during construction work – can you imagine, the pyramid was 45 metres high!
To better understand the importance of the Templo Mayor, you can visit the museum, which has many pre-Hispanic objects, such as the monolith of Coyolxauhqui, the goddess of the moon.
It's open every day (except Mondays) from 9am to 5pm. Admission is 90 pesos.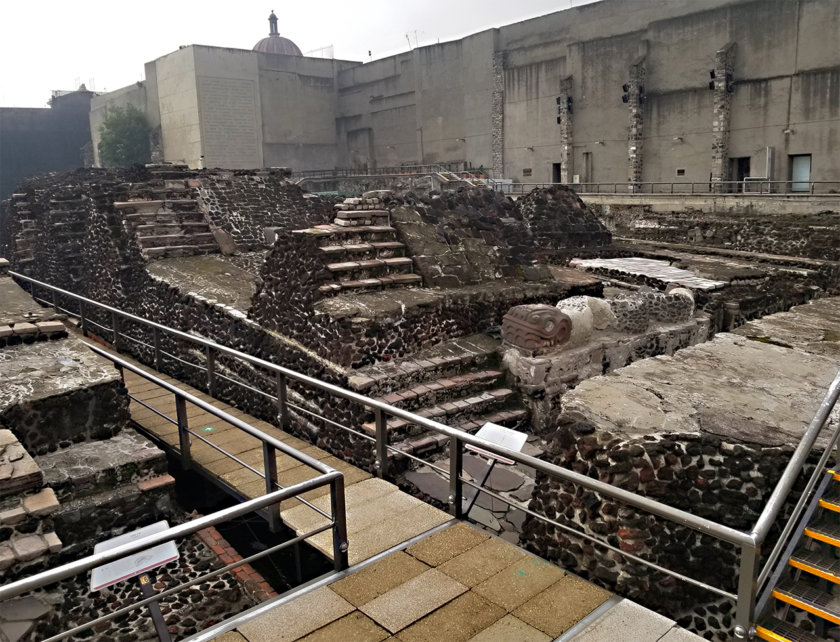 3. Colegio de San Ildefonso
The Antiguo Colegio de San Ildefonso was one of the largest educational institutions in New Spain.
Years later it became a preparatory school and later a university. Great figures such as Frida Kahlo studied there. And it was precisely there that she met Diego Rivera, who went to paint his first mural "La Concepción" in the Teatro Simón Bolívar.
There are also works by great artists such as Jean Charlot, Fernando Leal, David Alfaro Siqueiros, Ramón Alva de la Canal, Fermín Revueltas and José Clemente Orozco.
Address: Justo Sierra 16, Historic Centre of Mexico.

Open Tuesday – Sunday from 11h to 18h (last admission is at 17h30)

Admission is 50 pesos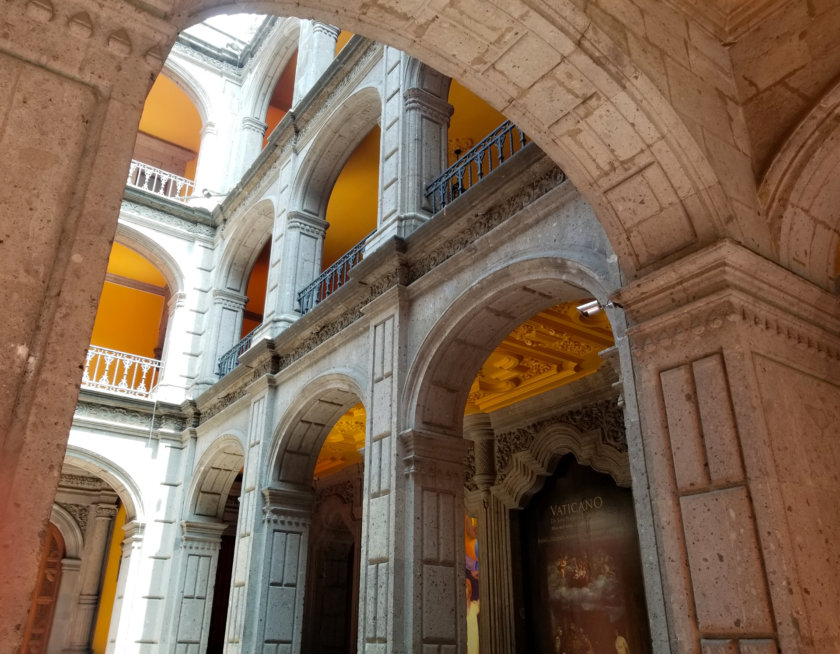 4. Latin American Tower
Taking the pedestrian street Madero from the Zócalo, you will arrive at the "Latin American Tower"one of the city's tallest skyscrapers in the city.
The ascent to the observation deck is definitely one of the main tourist attractions in Mexico City.
Here is what you will find:
36th floor:

Bicentennial Museum

(20 pesos adults, 10 pesos children)

37th floor:

café and souvenir shop

38th floor:

permanent exhibition

"The city and the tower through the centuries"

40th floor: a modern bar called

"40th floor"

ideal for a drink in the evening

41st floor: restaurant-bar

Miralto

with large windows to enjoy a magnificent view while having a bite to eat.

42nd and 43rd floors: two spaces with large windows and

temporary exhibitions.

44th floor: the

mirador latino,

an open terrace with the best view!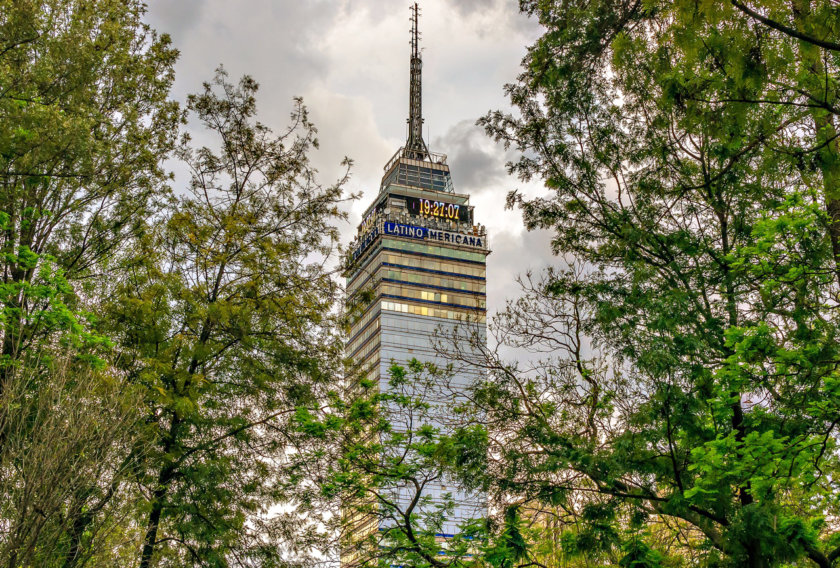 5. Attending the Ballet Folklorico de Mexico show
The Ballet Folklorico de Mexico is a must-see show in Mexico City!
It presents legends, dances, songs and traditions from different states of Mexico through a colourful show in the famous Palacio de Bellas Artes .
You can buy your tickets for the show here
My tip
Those who know me know that I always fall asleep during shows (yes, even in front of Cirque du Soleil 😆- it's my inner granny). But there is one exception: this folk show.
I take everyone who comes to visit me because I find it equally fascinating as an introduction to Mexican folklore for a first trip to Mexico as for someone who already knows the country well.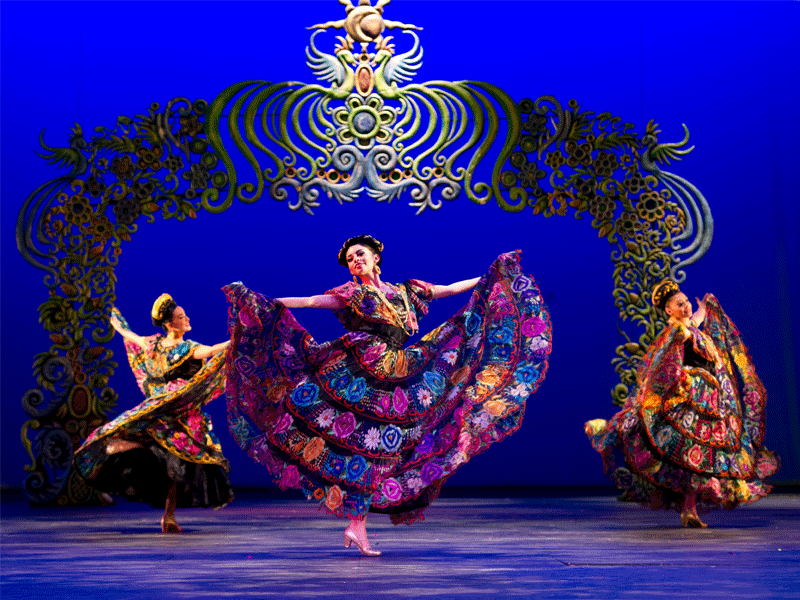 6. The Palace of Fine Arts in Mexico
A few metres from the Torre Latino is the Palace of Fine Arts, a magnificent building built in the early 1900s.
The imposing exterior is in the style of art nouveau and the interior is art deco. It was made of white Italian marble and houses paintings done by Diego Rivera, David Alfaro Siqueiros, José Clemente Orozco and Rufino Tamayo .A real jewel to visit in Mexico City.
Inside the palace you can find the Museum of Fine Arts (85 pesos, Sundays free), the Museum of Architecture (55 pesos, Sunday free) and the theatre where the Ballet Folklorico de Mexico performs.
Address: Avenida Juárez corner Eje Central Lázaro Cárdenas, Mexico. Tue – Sun from 10am to 6pm. Website
In front of the palace stretches the Alameda Central with its white walkways, lively fountains and impressive sculptures. At the end of it all is the Diego Rivera Mural Museum (admission 40 pesos, Sunday free), with Rivera 's "Dream of a Sunday Afternoon in the Central Alameda".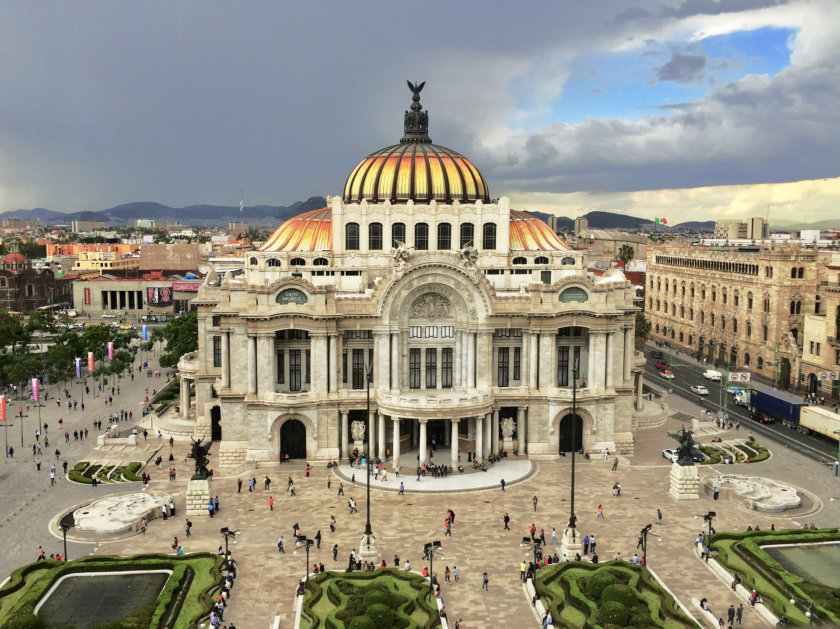 7. National Museum of Art (MUNAL)
A few steps away from Bellas Artes, in front of the Manuel Tolsá Square, you will be able to see a building that is considered one of the most important architectural works of the early 20th century in the country.
It houses an art collection of 3000 pieces (16th to 20th centuries).
Address: Calle de Tacuba 8, Historic Centre of Mexico City. Admission is $85 pesos. Tue – Sun from 10am to 5:30pm. Web Site
My advice
Few
tourists know it, but on weekends there are free concerts, enjoy them
!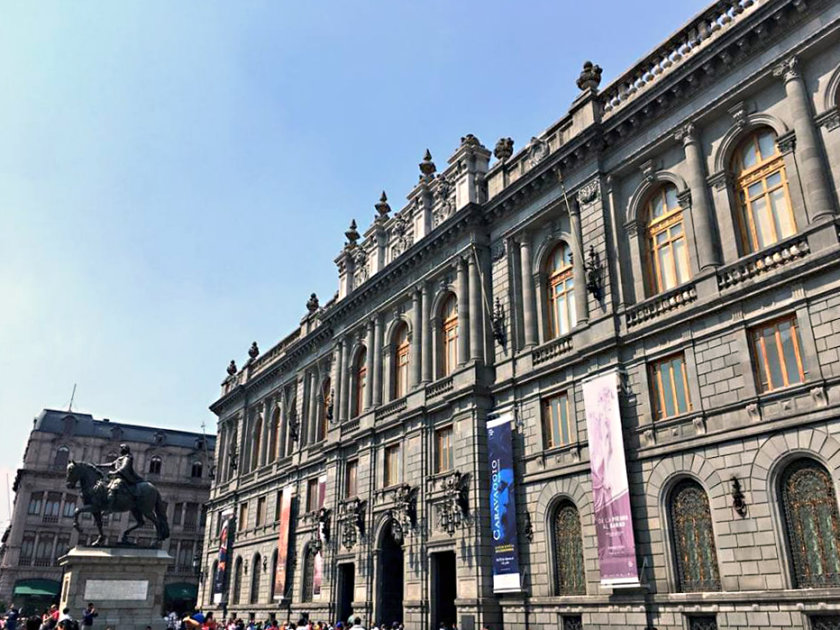 8. The Mariachis of Plaza Garibaldi
La Plaza Garibaldi is the best place to see mariachis in Mexico City.
Singers and musicians happily dress in traditional Mexican mariachi garb to perform a variety of songs, allowing themselves to be photographed and videotaped by tourists and onlookers (be prepared to tip!).
The atmosphere is certainly particular, as Garibaldi is a very popular place, and although you will often come across drunken characters, especially on weekends, it is undoubtedly a real institution in the capital.
In my opinion, this is one of the most important places to visit in Mexico City!
The best thing you can do to enjoy Garibaldi is to relax on a terrace and enjoy the music. I recommend the Salon Tenampa, a traditional Mexican cantina (1925).
In the Garibaldi Square you will also find the Museum of Tequila and Mezcal with two halls, one dedicated to Tequila and Mezcal, and the other to The history of the mariachis and the Garibaldi Square.
My advice
In terms
of safety, it's definitely better to go to
Plaza Garibaldi
during the day, although its atmosphere is really at night
.
If you decide to go at night, it is best to take a taxi directly to the place and avoid walking through the surrounding streets.
A good option to make the most of the night safely is to hire this service to Plaza Garibaldi that includes pick-up from your hotel and a drink 😉
Book it here: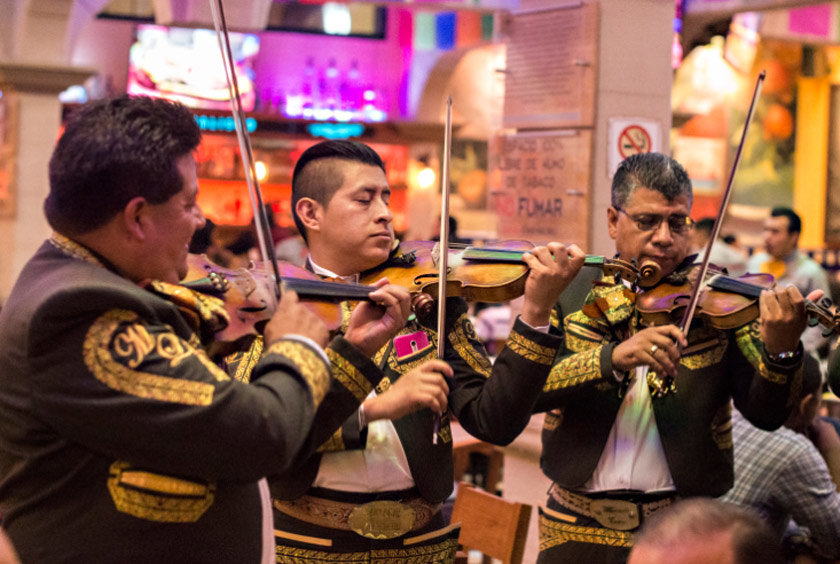 9. Watching a Lucha Libre fight
Along with the mariachis the Lucha Libre is, without a doubt, the other image that forms part of the collective imagination when one thinks of Mexico.
The origin of mexican professional wrestling dates back to the french intervention in Mexico inspired by Greco-Roman wrestling (1861-1867).
The famous masks came later, at the beginning of the 20th century. Most of them represent gods, historical heroes, animals and other characters that are proudly embodied by the wrestlers.
What an electrifying atmosphere! These are the places to visit in Mexico City to enjoy the Lucha Libre:
Arena Mexico:

Also known as the

Cathedral of Lucha Libre

, it is a huge venue with a capacity to hold up to 16 000 spectators

. It

w

as built in the fifties and it is here that you can see the

greatest Mexican wrestlers

.

Wrestling:

Tuesday 19h30, Friday 20h30 and Sunday 17h.

Address: Dr. Lavista 187, Doctores, Mexico City.
Arena Coliseo:

It is older and smaller than

Arena Mexico

, which is why its counterpart was built. Today, many spectators still flock to watch the fights. Fights:

Saturdays 19h30.

Address: República de Perú 77, Downtown Mexico City.
If you haven't already bought a mask at the market, you're sure to find some for sale outside the arenas.
You can only take pictures of the fight with your phone, as cameras are prohibited.

Rows 1 to 3 are forbidden for minors.
My advice
The arenas are located in areas that are not exactly known for their safety, especially at night, so on your way out, avoid staying too long, walk around the area and quickly hail a taxi
.
You can book your ticket for the wrestling show, which includes pick-up from the historic centre with a guide, entrance, a wrestler's mask and a shot of tequila!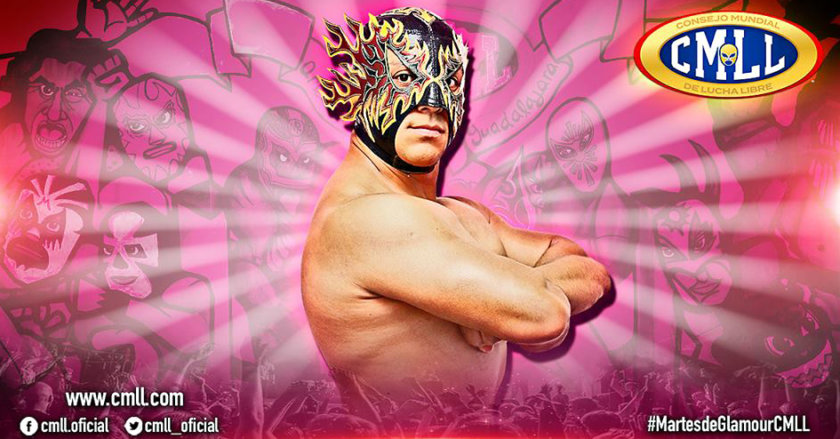 10. Celebrating the Day of the Dead
The Day of the Dead is an important tradition that is part of Mexico's popular culture.
If you are in Mexico City between 31 October and 2 November, you can attend the big Day of the Dead parade, or see the beautiful offerings in the neighbourhood of Coyoacán.
My advice
To learn all about this wonderful celebration I invite you to read my Definitive Guide to the Day of the Dead in Mexico!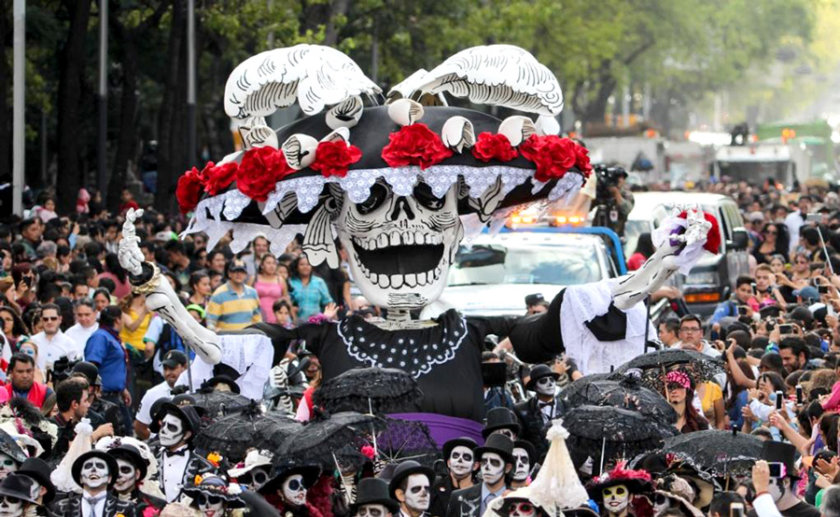 11. Discovering Street Art
Mexico City is far from being a grey city. On the contrary, it is a dynamic city where many Mexican and international artists decide to leave their colourful mark.
You can easily see beautiful examples of street art walking through the streets of the Colonias Roma, Condesa, Juarez, but also in other places like the historic centre, the Doctores, etc.
To discover the street art of Mexico City, its artists, and their messages, I suggest this guided bike tour that will take you through various areas of the capital. And you can also take the opportunity to try some street food!
You can book it here:
You can also read My article about street art in Mexico City

12. The Roma and Condesa neighbourhoods
For me, they are the most attractive neighbourhoods in Mexico City!
You can find beautiful streets with big trees, Art Nouveau, Art Deco, and Modernist style houses, along with art galleries, shops, cafés, restaurants and trendy bars, all in a very bohemian atmosphere.
If there is a difference to be made, I would say that La Roma is more rebellious and La Condesa has more style. In both you will find good examples of urban art from Mexico.
Go to the Mercado Roma, to the Medellin Market or to the La Condesa tianguis (street market).
There are several places you should not miss: Alvaro Obregón street, Plaza Luis Cabrera, Cibeles Fountain, Jardín Pushkin, Avenida Amsterdam, Parque México, Plaza Río de Janeiro, Parque España, Fuente de Cibeles
My advice
Both are good neighbourhoods
to
stay in Mexico City
, both are known for their safety and for their wide variety of hotels and restaurants
.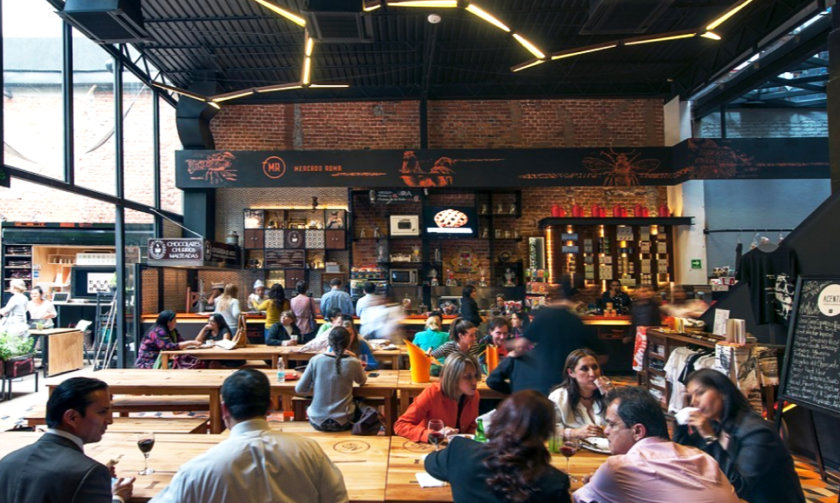 13. Plaza de las Tres Culturas
The Plaza de las Tres Culturas (Place of the Three Cultures) owes its name to the presence of elements of 3 cultures:
Tenochtitlan culture:

pyramids and Aztec ruins. Here was the famous

Tlatelolco market,

with products from all over Mesoamerica!

Spanish culture:

The church and convent of Santiago from colonial

times.
Modern Mexican culture:

Tlatelolco Tower where the University Cultural Centre and the UNAM's 68th anniversary memorial are located

.
It is quite unusual to see all this in the same place. It is a good idea to have a guide to understand its importance and transcendence.
Address:

Eje Central Lázaro Cárdenas corner Flores Magón, Nonoalco, Tlatelolco, Mexico City.

Open every day from 8 am to 5 pm. Admission is 75 pesos. Web site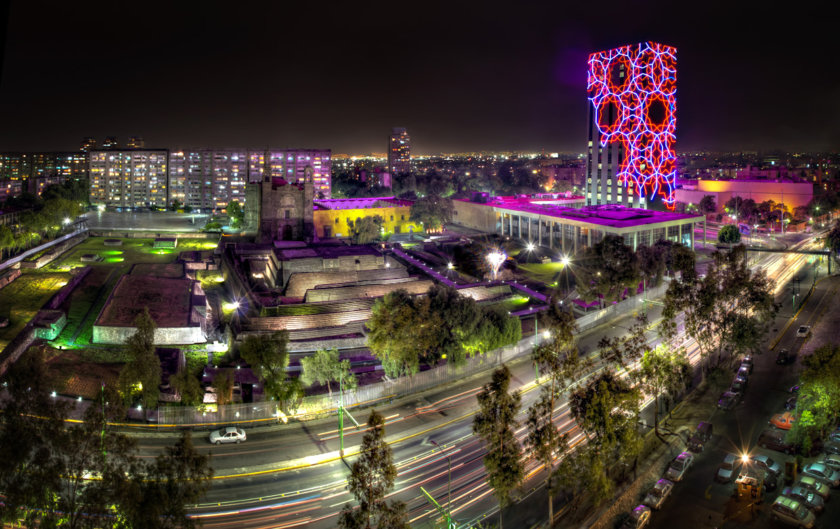 14. Basilica of Our Lady of Guadalupe
With around 20 million visitors a year, it is the most visited Catholic monument after St. Peter's Basilica in the Vatican.
The basilica is dedicated to the Virgin of Guadalupe, the patron saint of Mexico City, Mexico, and Latin America . It is definitely a place to see and visit in Mexico City!
There are two main buildings: The old basilica, completed in 1709, and the new basilica, completed in 1976 because the old building threatened to collapse due to subsidence of the ground.
Today, the building has been reinforced, but as soon as you enter, you can feel the pressure of the structure, it is impressive!
The new basilica is a modern structure that can accommodate up to 40,000 people . Masses are celebrated all day long. You have to go down to see the most important relic of the place: the ayate de Tepeyac with the image of the Virgin.
Also located on the site are: The Parish of Santa Maria de Guadalupe, "Capuchinas", the Capilla del Pocito (Chapel of the Little Well)  and the Old Parrish of the Indians.
Address:

Plaza de Las Americas 1, Villa de Guadalupe, Gustavo A. Madero, Mexico City. Free admission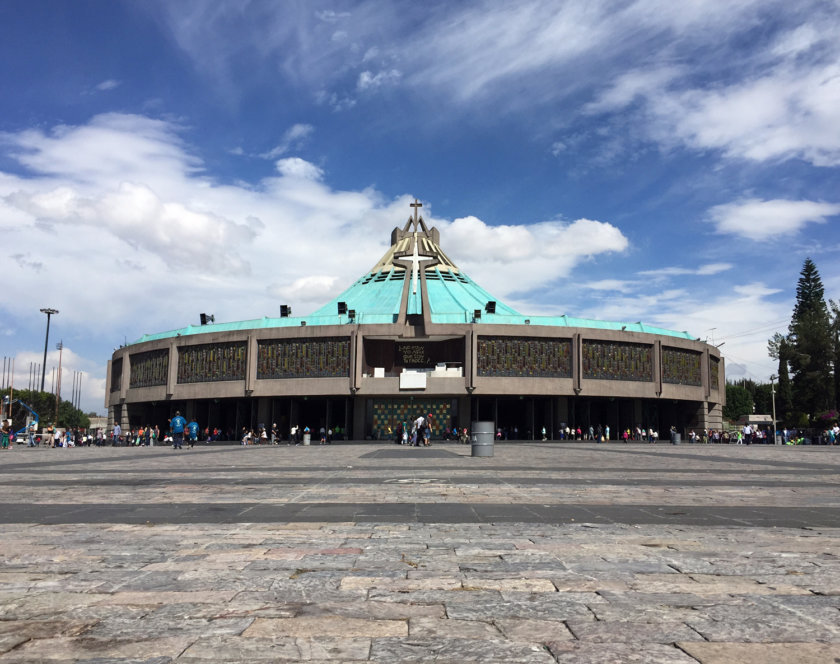 15. Museum of Popular Art
Right in front of the Alameda Central is located an important art deco style building called Museo de Arte Popular.
It contains 2600 pieces of mexican folk art (ceramics, silver, wood, glass, paper, etc.) classified by themes: fantasy, roots of popular art, daily life, and the sacred, as well as a room with temporary exhibitions.
Address:

Revillagigedo 11, Colonia Centro. Open from Tuesday to Sunday from 10am to 6pm

Admission is 60 pesos, with free admission for children under 18 and seniors, and free admission on Sundays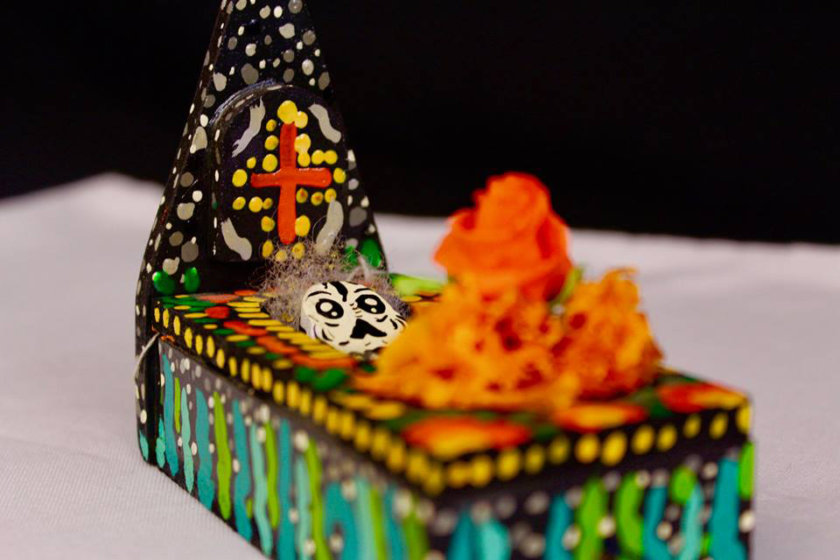 16. San Juan Market
Located in the heart of the city center and with 150 years of existence, this is one of the oldest markets in the Mexican capital, which has become an important place to visit in Mexico City for food lovers.
If you have a curious palate, this is the place to visit because, in addition to the usual products, you will find several exotic meats such as ostrich, iguana, crocodile, paca (a large rodent that lives in tropical areas of America), armadillo and even skunk.
And even more: you can find a huge multitude of insects! Scorpions, crickets (chapulines), agave worms (or maguey worms), frogs, snails, and others that have been eaten since pre-Hispanic times.
Not feeling so adventurous? Then you can choose from one of the kiosks selling cheese and charcuterie. I've made some interesting discoveries of Mexican cheeses and charcuteries, which you can taste on the spot, accompanied by a good glass of wine with mexican cheeses on site!
Address:

2ᵃ Calle de Ernesto Pugibet 21, Colonia Centro, Mexico City. Monday to Sunday from 9 a.m. to 5 p.m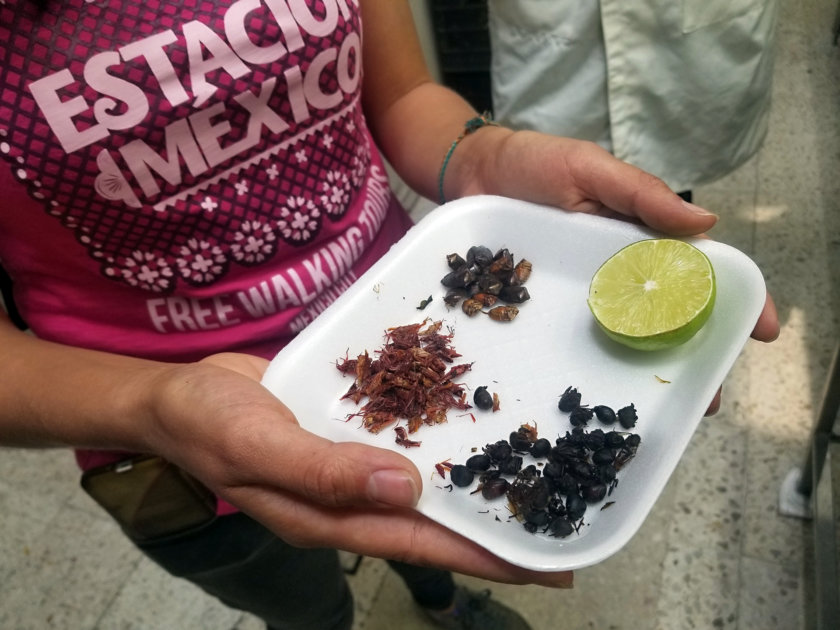 17. Monument to the Revolution
From the Alameda Central taking the Avenida Juárez after the Avenida de la República one comes across an impressive structure located in the centre of the Plaza de la Republica: the Monumento a la Revolucion (Monument to the Revolution).
It is a mausoleum dedicated to the heroes of the Mexican Revolution, among them, Pancho Villa. It is considered the highest triumphal arch in the world.
You will also find: the Museum of the Revolution with a collection of 400 pieces, the panoramic elevator, the intermediate viewpoint (65.7 m) to admire the 360º view and the Lantern with a fantastic view of the surroundings.
When night falls, don't miss the play of water and lights of the Centennial Fountain in the Plaza de la República.
Address:

Plaza de la República, Mexico City.

Admission is 120 pesos or 100 pesos for children under 13 years old

Open Monday to Thursday from 12h to 20h, Friday to Saturday from 12h to 21h, and Sunday from 11h to 20h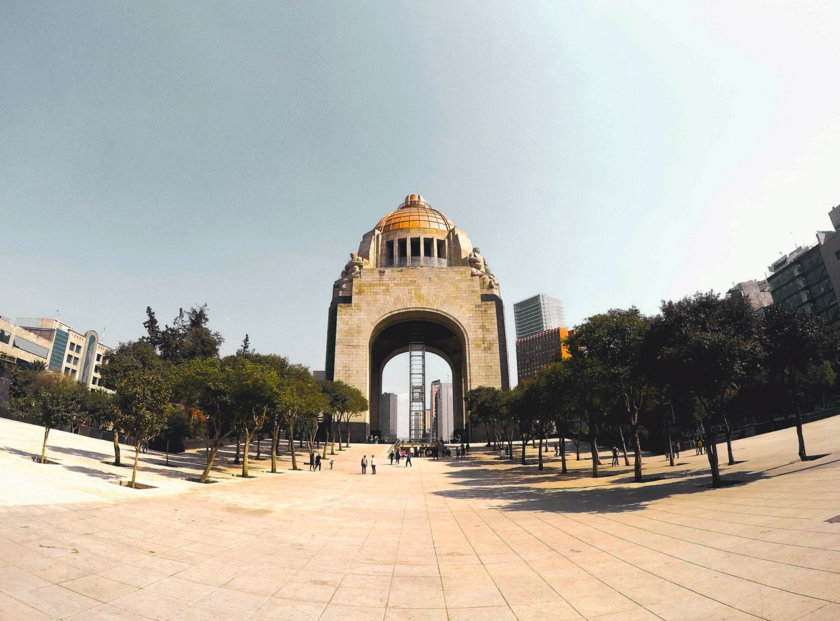 18. Zona Rosa
Located in Colonia Juárez, the zona Rosa of Mexico City is one of the most touristy and lively corners of the capital.
In fact, it has several hotels, restaurants, galleries and exchange offices, although people tend to go there mainly for partying, it also has several cabarets, discos and bars to suit all tastes.
This is the gay district of Mexico City, located mainly around Amberes St. If you are looking for atmosphere, the Zona Rosa will not disappoint you!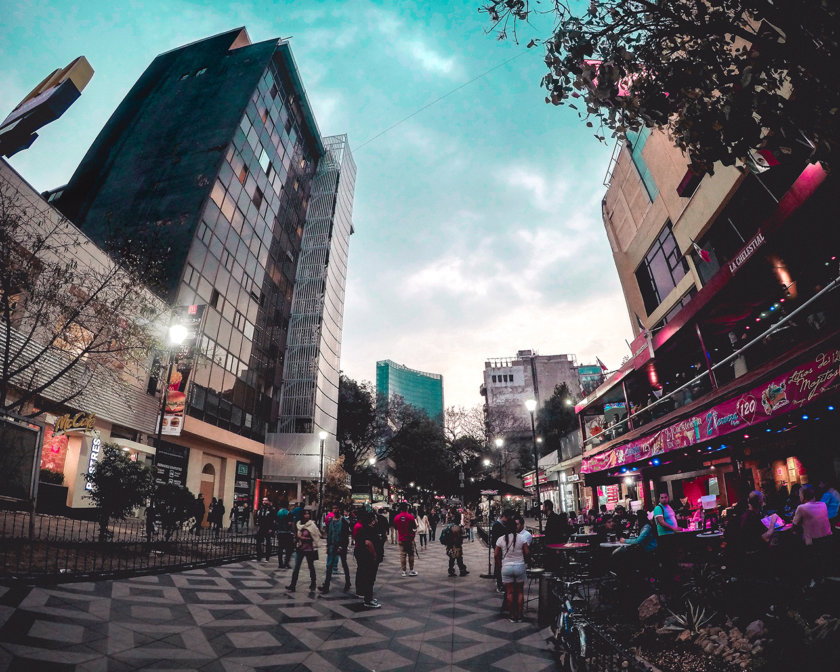 19. Ángel de la Independencia and Paseo de la Reforma
The Angel of Independence at Paseo de la Reforma is one of the great symbols of Mexico City.
Inaugurated in 1910 for the centenary of the Mexican independence represents Niké, the Greek goddess of the Victory. It is a seven-ton bronze statue covered in twenty-four carat gold.
The Paseo de la Reforma is the most important avenue of the capital.
It has an extension of 15 km, connects several areas of the city, and is home to important sites of interest in Mexico City such as the Angel of Independence, the tallest skyscraper in Mexico City – Torre Reforma tower, the Diana Cazadora Fountain or the monument to Cuauhtémoc.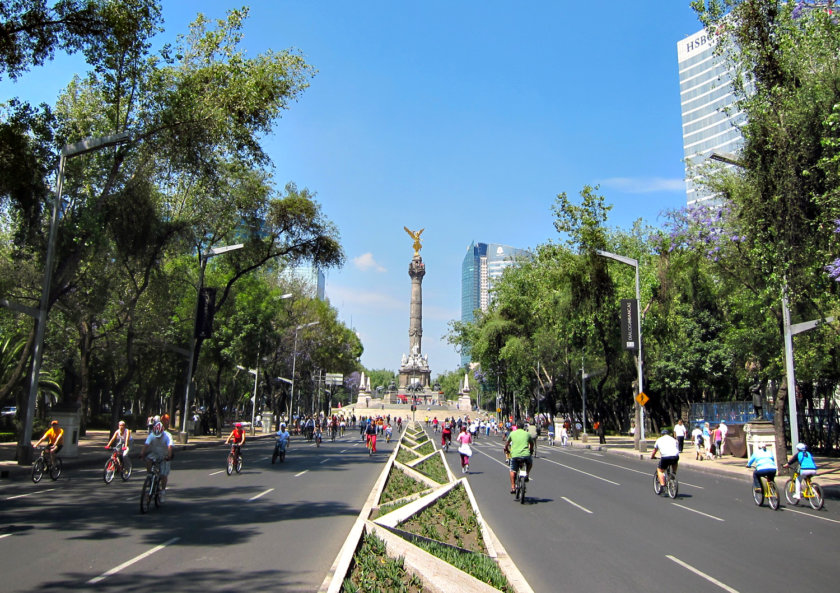 20. Glorieta de los Insurgentes
It is one of the main roundabouts in Mexico City, located at the intersection of Chapultepec and Insurgentes avenues.
It is a large pedestrian area that connects the Zona Rosa with the colonia Roma Norte through ten passageways.
It contains several small shops and the Insurgentes metro station. Sooner or later, we all end up passing through there!

21. Chapultepec Castle
The Castillo de Chapultepec was the residence of emperor Maximilian and his wife Carlota in 1864.
The castle contains furniture, tapestries, gardens, 17th and 18th century paintings, works by Orozco and Siqueiros (artists of Mexican muralism), and the National Museum of History.
From the castle you have a great view of Mexico City!
Admission is 90 pesos, and free for

children under 13 years and adults over 60 years old

Open from Tuesday to Sunday, from 9am to 5pm.
You can also book your visit to Chapultepec Castle and the Museum of Anthropology, including guide and tickets, here:
I want to book the visit to Chapultepec Castle and the Museum of Anthropology!I buy my tickets with guided tour easily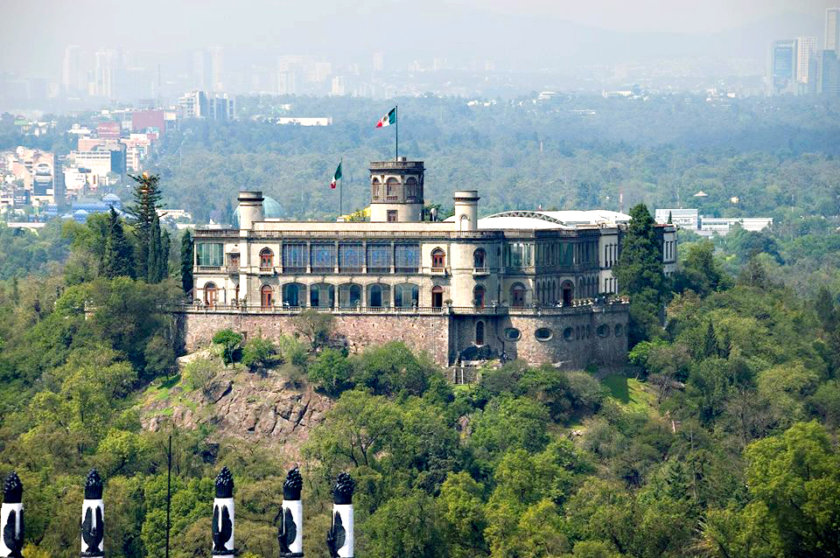 22. Bosque de Chapultepec
The Chapultepec Park, also called Bosque de Chapultepec, is an immense green space of 500 hectares that includes a hill.
It is the second largest urban park in Latin America and has several sculptures, fountains, gardens, a lake, restaurants, and museums.
This is what you can see in Chapultepec:
Chapultepec Castle:

a magnificent 18th century palace on top of the hill, offering a breathtaking view of the surrounding area

.
National Museum of Anthropology

: one of the most important museums of the American continent, it has an immense collection on the different

cultures of Mesoamerica

and the

indigenous peoples of present-day Mexico. Buy your tickets here!
Museum of Modern Art:

has a collection of

modern Mexican art

(from 1895 to 1955),

as well as temporary exhibitions

. Admission 70 pesos. Open Tue-Sun from 10.15 am to 5.30 pm. Website
Museo de arte contemporáneo Rufino Tamayo:

a collection of 315 works by the

most renowned artists of the second half of the 20th century,

such as Picasso and Miró

.

It also hosts temporary exhibitions.

Admission: $85 pesos. Website
Botanical Garden:

Where you will find beautiful examples of cacti, agaves, and orchids.
Natural History Museum:

dedicated to

biodiversity. Open Tue-Sun from 10 h to 5pm. Admission $32 pesos, $15.00 pesos for children from 3 to 12 years old, and free admission for adults over 60 years old and children under 3 years old . Website
Centro Cultural Casa del Lago:

located in a building near the lake, it houses a small gallery,

and offers shows and special events

. Open Tue-Sun, from 11am to 6pm. Website
The National Auditorium: it

is considered one of the most important performance halls in the world and can hold up to 10000 people.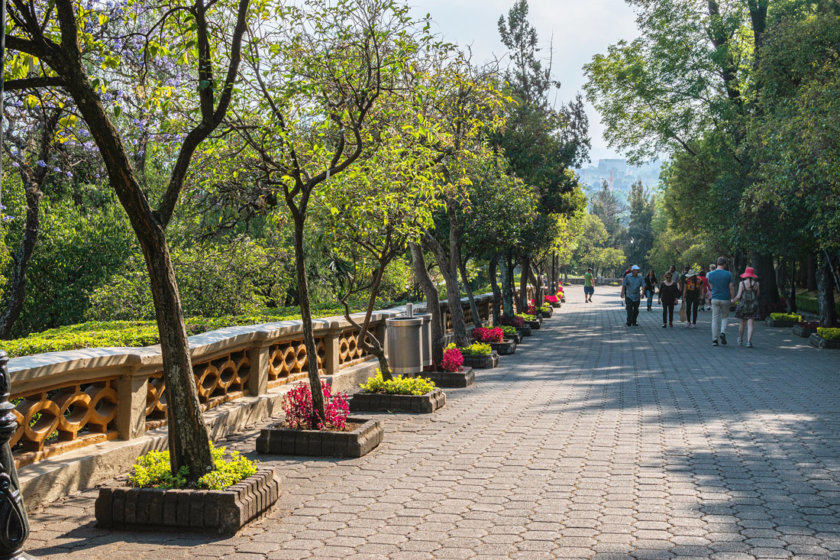 23. National Museum of Anthropology
Love at first sight! With its 23 rooms for exhibits on 8 acres, this is the largest museum in Mexico and one of the most important museums in the world.
The museum is divided into two sections: the archaeological collection and the ethnography collection.
The

archaeology collection

includes artifacts from the different cultures that have formed Mexico, divided into different rooms: the American settlement, the preclassic period of the Central Altiplano, Teotihuacan, the Toltecs, Mexicas (Aztecs), the Oaxacan Cultures, the Gulf Coast cultures, the Mayas, the Western cultures, and the Northern cultures.

The

ethnographic collection I

found was the most interesting, as it allows you to understand the cultural identity of the indigenous peoples that make up Mexico, with their way of life, their traditional clothing and textiles, handicrafts, beliefs, agriculture, and much more!
There is also a collection of very impressive artifacts such as:
The Sun Stone (cuauhxicalli), one of the most famous works of Aztec art.
A replica of Montezuma's headdress, the feathered crown of Montezuma II
The statue of Xochipilli, a statue carved around the 16th century representing the Aztec goddess of art, games and dance.
The replica of the Tomb of King Pakal

(Mayan governor, "K'inich Janaab Pakal I"), the original being located in

Palenque, Chiapas

. There is a magnificent jade mask and several objects that were also uncovered when the mausoleum was discovered in 1952.

The

Mayan Hall

contains several reproductions such as the Chac Mool of

Chichen Itza

, paintings of

Bonampak,

or the temple of

Hochob

in the region of

Campeche

in the garden

.
You cannot understand the scale and richness of this museum before setting foot in it. In fact, it deserves the top position of places to see and visit in Mexico City!
Open Tue-Sat from 10am to 5pm (I suggest you arrive at 10am because there is so much to see).

Web site
Book your tickets to the Anthropology museum here: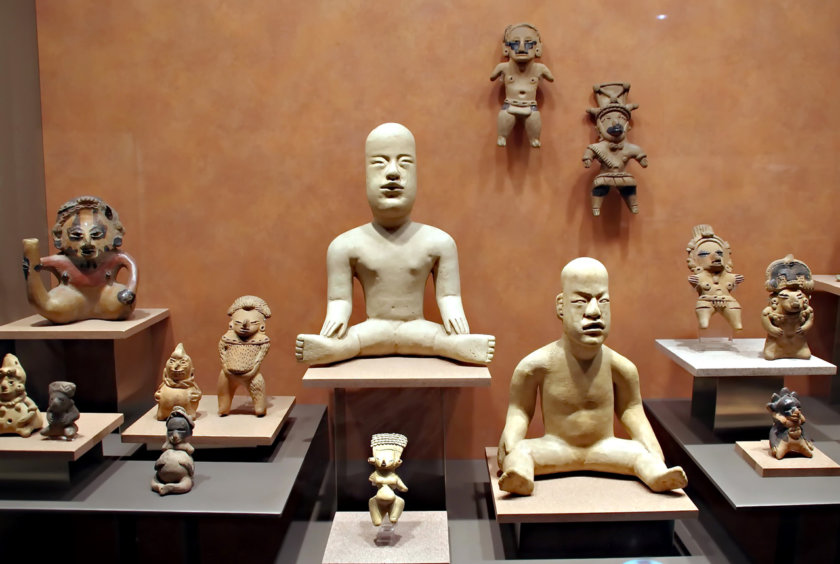 24. Polanco
Polanco is the elegant neighborhood of Mexico City. There are embassies, restaurants, boutiques and hotels, luxury, but also beautiful green areas. A safe and pleasant place to walk in Mexico City.
Here's what to do and see in Polanco:
Museo Soumaya:

a free museum with unique architecture. It has a collection of 66,000 pieces done by great painters and sculptors, truly a

must-see in Mexico City!
Museo Jumex:

the largest private collection of contemporary art in Latin America!

Shopping: Avenida Presidente Masaryk

is one of the most expensive streets in the capital. It is home to several luxury boutiques. Also visit

the Palacio de Hierro

and the

Antara Shopping Mall.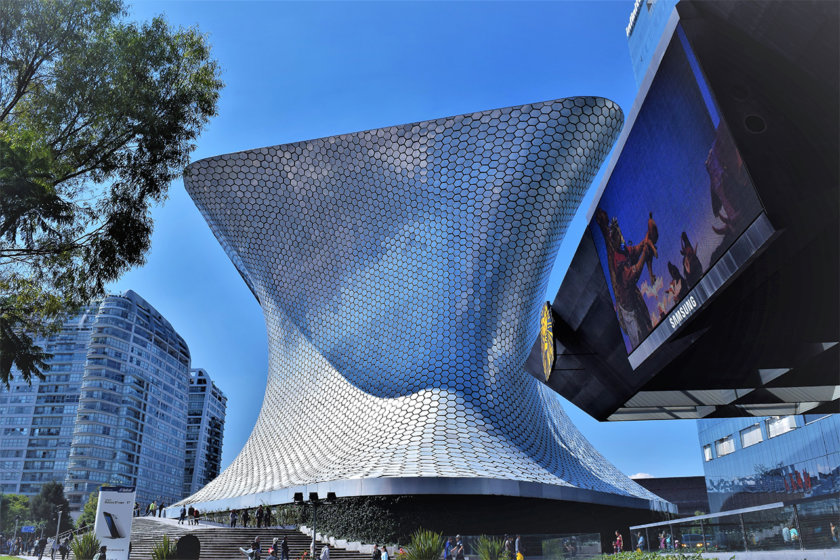 25. Coyoacán and the House of Frida Kahlo
 Coyoacán is one of my favorite places in the city!
It is a traditional neighborhood of cobblestone streets and small plazas with churches.
It has a bohemian atmosphere, with many cafes, art galleries, cultural centers, and restaurants. Coyoacán is better known as the neighborhood of Frida Kahlo.
The area is frequented by artists and intellectuals, but also by families who, during the weekend, come to stroll through the different markets and enjoy the entertainment offered by street performers (mimes, clowns, etc.).
Here are some of the main tourist attractions of Coyoacán:
Francisco Sosa Street: it

links the

Church of San Antonio de Padua

with the

Jardin del Centenario

.

There are several beautiful houses and important attractions including the Fonoteca

Nacional

, the

Casa de Cultura Jesús Reyes de Heroles

and

the Plaza Santa Catarina.
Plaza Jardín Hidalgo:

is the

second most visited place in the capital

.

It is home to the

Jardín del Centenario

and

the Fuente de los Coyotes

, the

San Juan Bautista church,

and the

Museo Nacional de las Culturas Populares (National Museum of Popular Cultures).
Frida Kahlo Museum: Frida's famous Casa Azul (blue house)

where she lived with

Diego Rivera.

In addition to discovering the house and the objects of her daily life, you will be able to see part of her work and that of other artists who frequented the place.
Viveros de Coyoacán:

A large

green space

where a great variety of tree species grow for reforestation. It is an ideal place to walk, run, and get a good dose of oxygen.
Don't forget to visit the local markets where you can find good, beautiful and cheap food, the small flowery streets, and the charming squares.
Read more: My complete guide to visit Coyoacán

with attractions, restaurants, and hotel recommendations!
My advice
It is now mandatory to buy the tickets in advance and enter at the time on the ticket. You can book them here: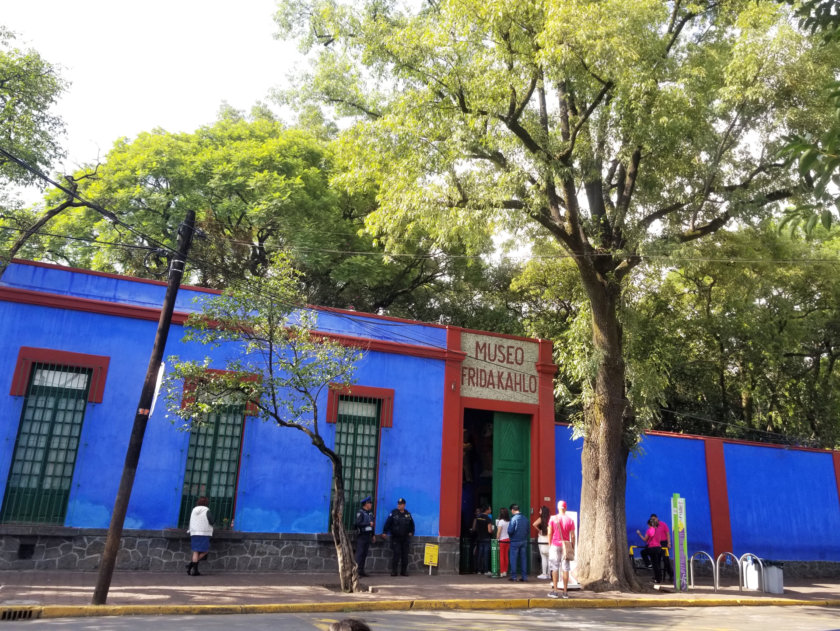 26. Azteca Stadium
The Azteca Stadium is one of the most famous stadiums in the world.
It is the only one that has hosted two FIFA finals: Italy vs. Brazil in 1970 and Germany vs. Argentina in 1986. It is possible to attend a match of Club America, the Mexico City team, or the Mexican national team called the Tricolor.
You will find all the dates on the official website
Address:

Calz. de Tlalpan 3465, Coyoacan, Mexico.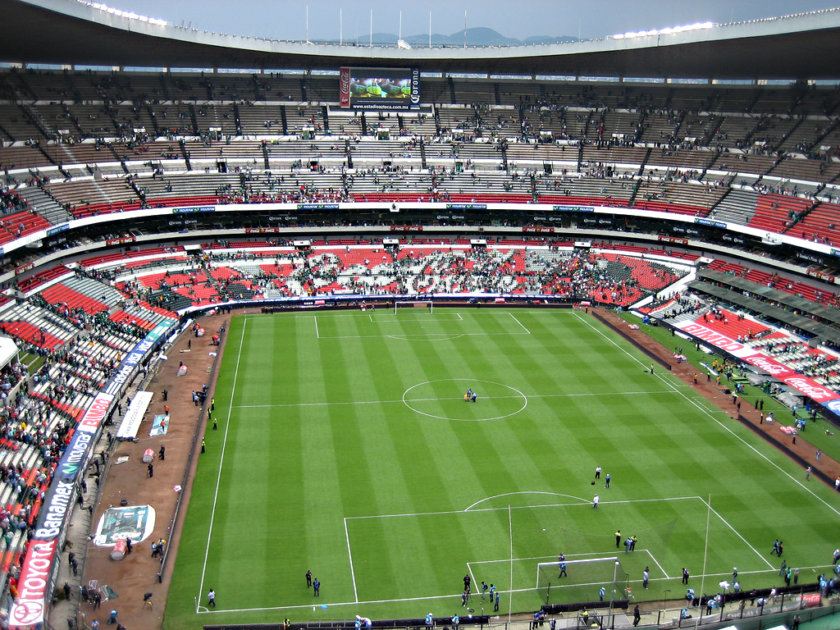 27. San Angel and Chimalistac
In the same spirit as Coyoacán (but less touristy) are the typical neighborhoods of San Ángel and Chimalistac. They are contiguous neighborhoods in the south of Mexico City with narrow, cobblestone and flowery streets, old buildings, plazas, gardens, and local markets.
What to see in San Angel:
The

architectural heritage, in

baroque, neoclassical and neocolonial styles: Casa del Mayorazgo de los Fagoaga, Centro Cultural San Angel, Casa del Obispo Madrid, Casa de Chucho el Roto, Casa de la Plaza de los Licenciados, Casa de la Marquesa de Selva Nevada, Casa Blanca, Casa del Risco or Casa Azul (not to be confused with Frida's Casa Azul).

Casa del Risco:

18th century residence located in front of the San Jacinto Garden, which contains 600 pieces of sculpture and painting

.
Plaza del Carmen:

a beautiful square, a meeting point for painters

Museo del Carmen:

with the most important collection of colonial religious art in Mexico

.
Casa Estudio Diego Rivera and Frida Kahlo Museum
What to see in Chimalistac:
Walk along the beautiful Santa and Calle de Hipo streets
Federico Gamboa Square

(or Plaza Chimalistac)

Cámara del Secreto:

Also called

Ermita del Secreto, it

was built by the Carmelites in 1620 to provide a place to meditate or pray in total calmness

.
Casona de Chimalistac:

an old house that holds numerous books and manuscripts on the history of Mexico

.
Table Park:

a beautiful and peaceful green space
If you don't want to miss any of these picturesque corners of Mexico City, you can take this guided tour of San Angel and Chimalistac that includes the pick up at your hotel: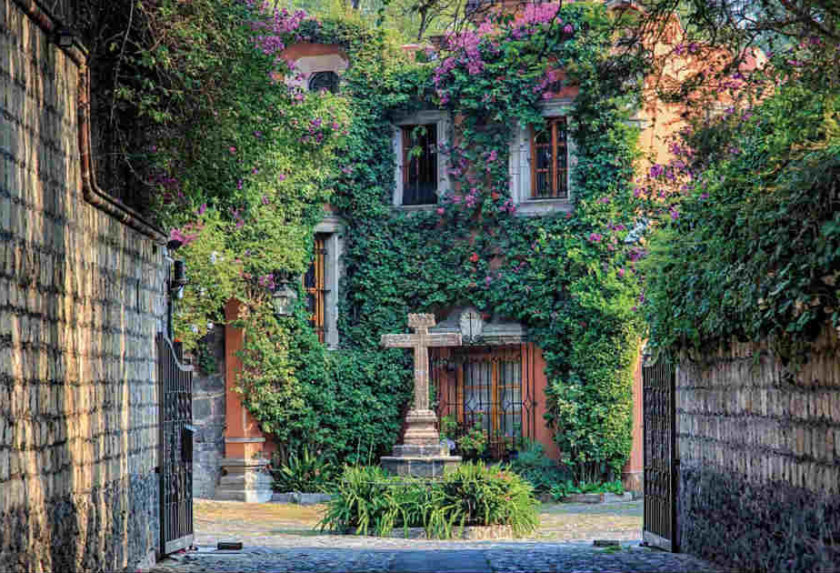 28. Trajinera ride in Xochimilco
Several centuries ago, different bodies of water covered the region.
In order to provide sustenance to the dense population, the Aztecs filled portions of the lake with chinampas, a kind of artificial island that served for cultivation.
Over time, the lake became narrower and narrower and what remains of it today are the canals of Xochimilco.
Today you can tour the canals in one of the famous trajineras (traditional and colorful wooden boats).
On your journey through the canals, you will find several boats with food and drink vendors and mariachis! Imagine the festive atmosphere (especially on weekends) a multitude of colorful boats and traditional Mexican music! It is a unique activity to do in Mexico City.
I invite you to read my complete

guide

Xochimilco

: how to take a ride in a trajinera + other activities
Things to see also in Xochimilco:
Xochimilco Market:

the ideal place to go to buy fresh supplies much cheaper than in the canals

.
Isla de las Muñecas:

an island open to the public where the hermit Julian Santana Barrera has collected thousands of dolls. It takes two hours to get there by boat.

Dolores Olmedo Museum

: The largest collection of Diego Rivera's works located in a 17th century hacienda.
Beware of the price! Obviously you have to negotiate, but it is good to know that the government has set a maximum price per hour of $500 pesos, but prices are negotiated on the spot. It is not a price per person, but per boat, no matter the number of people.
My advice
To visit Xochimilco you can get there by yourself (by Uber or 1h30 by metro – Xochimilco station) or opt for a
guided tour of Xochimilco
with transportation included and visit to Coyoacán
:
You can book it here: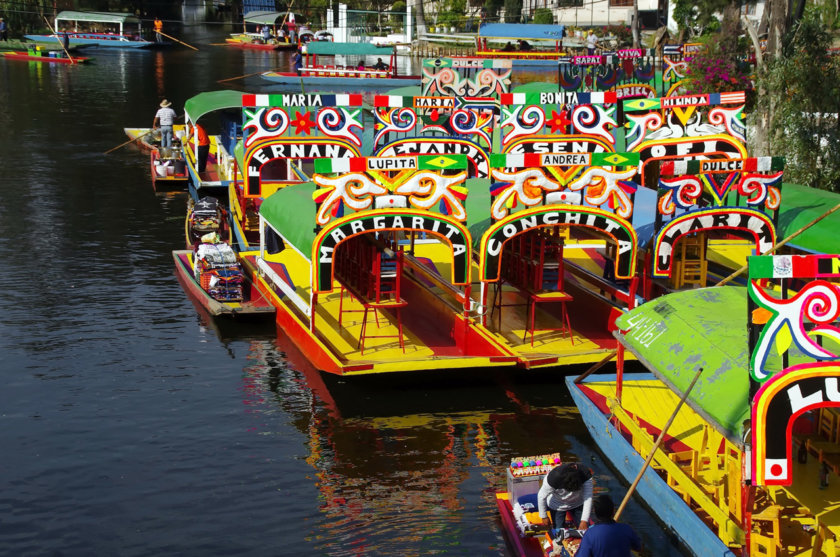 29. Teotihuacan
Built from the year 100, Teotihuacan was one of the largest cities of its time. At its peak, under the reign of the Aztec empire, it had up to 250,000 inhabitants! It had great commercial and political influence in Mesoamerica.
Today it is one of the main places to visit near Mexico City and one of the most important archaeological sites in Mexico .
What to see in Teotihuacan:
The Pyramid of the Sun

,

the highest of all (65 m) and the Pyramid of the Moon (45 m),

the Pyramid of the Moon (

45 m) – for now, it is not possible to climb the pyramids

The Citadel,

formed by the Great Plaza and the temple of Quetzalcoatl (or Temple of the Feathered Serpent), which was the heart of the city

.
The Avenue of the Dead
The Palace of Quetzalpapálotl

where the elite resided

The Palace of the Jaguars and the Temple of the Feathered Snails
The Teotihuacan Museum
Visiting Teotihuacan
You can take a

bus to Teotihuacan

at Terminal del Norte, gate 8 (departures every 20 minutes. One hour trip, $50 pesos. Buy a round trip). It is best to arrive early because there is a lot to see.

Opens daily from 9 am to 5 pm.

Admission is 90 pesos. Includes the museum.

I invite you to read my complete guide

Teotihuacan

: how to visit the pyramids
My advice
I suggest you take this
guided tour to Teotihuacan
with transportation from Mexico City, which will allow you to avoid long lines to enter
:
And for the ultimate experience, you can take the hot air balloon flight over Teotihuacan with hotel pick up, coffee, buffet breakfast, toast, and flight certificate.
You can book it here: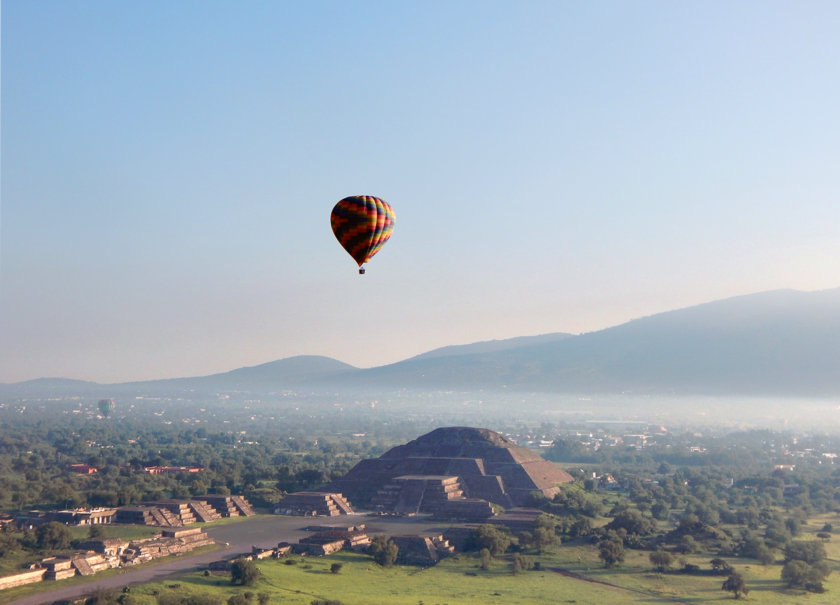 30. Exploring the great works of muralism
Chances are you've already heard of Diego Rivera, Frida Kahlo's husband.
He is one of the most recognized artists of Mexican muralism, along with José Clemente Orozco and David Alfaro Siqueiros, which is an artistic movement that developed in the early 20th century.
In downtown Mexico City you can find beautiful examples of muralist works, such as in the Secretaría de Educación Pública, the Colegio de San Ildefonso, and the Palacio Nacional.
Don't miss Diego Rivera's "The History of Mexico" at the National Palace!
If you are interested in art, I recommend you take the guided tour on Mexican muralism, which will allow you to learn a lot about this movement.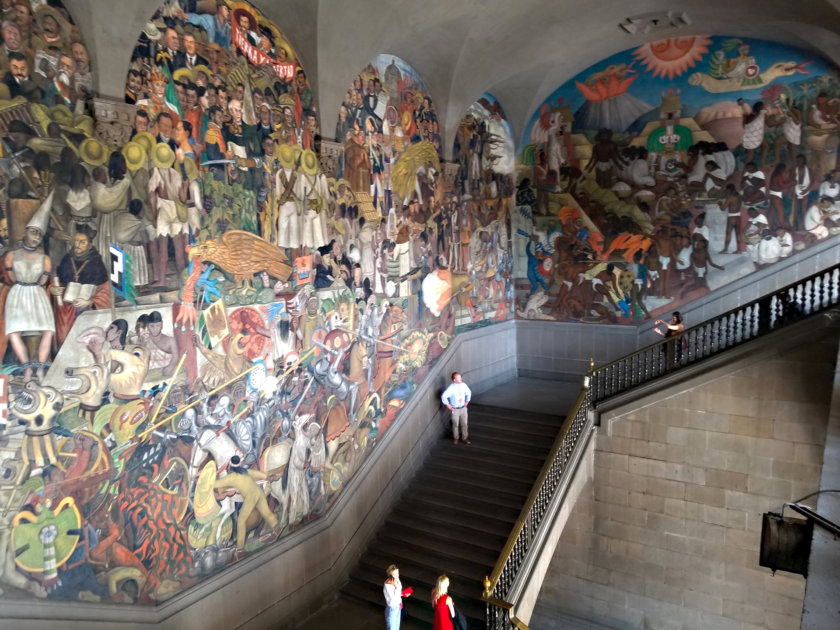 31. Discovering Mexican cuisine
It is no coincidence that Mexican gastronomy has been listed as a UNESCO World Heritage Site.
It is a very varied cuisine, with a mainly pre-Hispanic and European identity, with African, Caribbean, Middle Eastern, and Asian influences.
Mexico City is the ideal place to taste, and understand Mexican cuisine. Here are my suggestions:
Visit Mexico City as a family
Traveling as a family? Here's what to do in Mexico City with kids:
1. Museum of antique Mexican toys
MUJAM is an unusual, chaotic, yet fascinating museum.
There are 45,000 pieces spread over six rooms on several floors, with corners dedicated to Barbie, King Kong, dolls, robots, the circus, and wrestling. From small figures to large structures, there's so much to look at!
Before leaving, don't miss the parking lot decorated with impressive murals.
Address:

Dr. Olivera 15, Col. Doctores, Mexico City.

Open Mon-Fri from 9 am to 6 pm, Sat from 9 am to 4 pm, and Sun from 10 am to 4 pm.

Admission is 75 pesos
My advice
You can walk around the area during the day, I didn't have any problems, but it is perceived that the neighborhood (Colonia Doctores) is not as safe as its neighbor, La Roma
.
Avoid going with valuables or get there directly in Uber.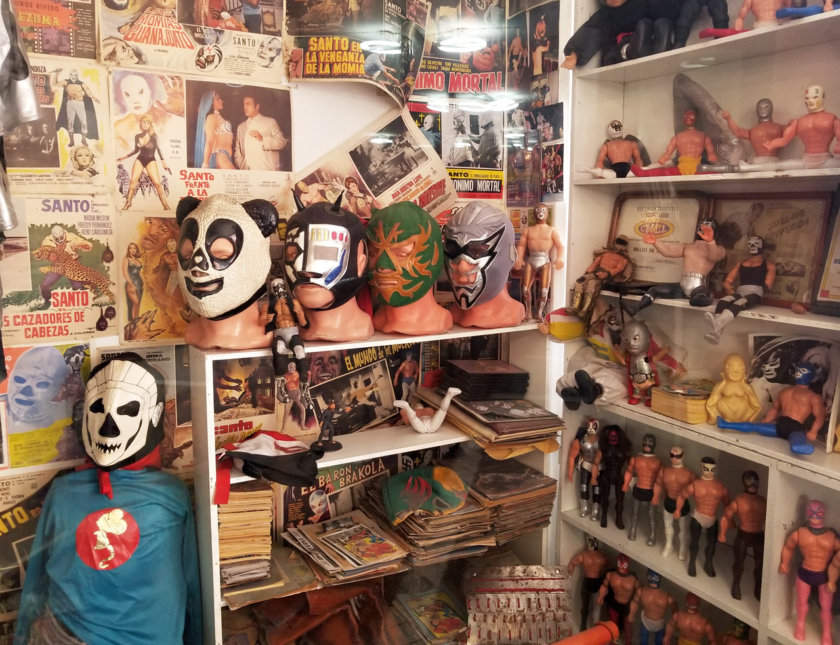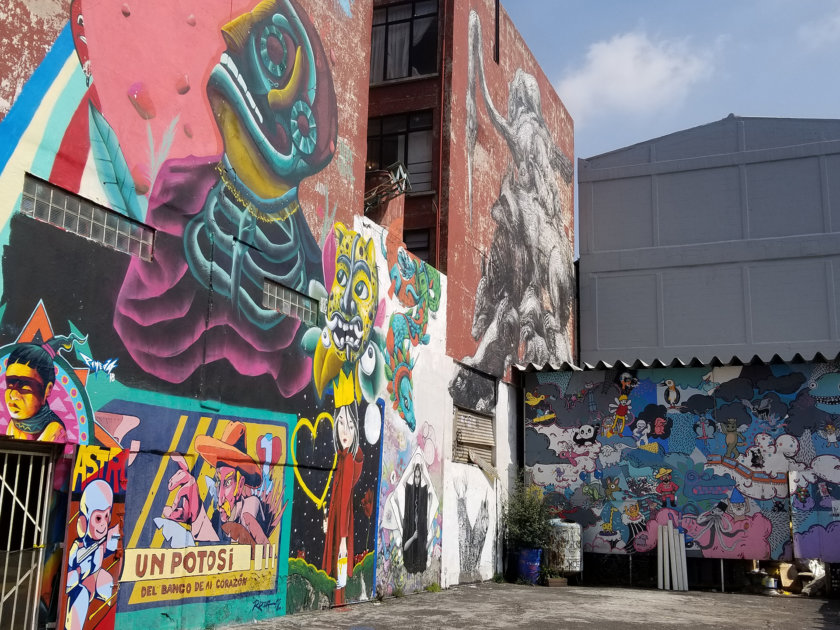 2. Papalote Children's Museum
Located in Chapultepec Park, the Papalote is a museum with exhibits on science, technology and art, designed especially for children.
There are around 288 interactive exhibits spread over six thematic rooms, each with a space dedicated to younger children (5 years old and under) . There is also a Mayan garden with a pyramid to explore.
In addition, the museum houses are some of the largest IMAX theaters in the world.
This is, without a doubt, the place to visit with children in Mexico City!
3. Natural History Museum
Also located in Chapultepec the museum contains about 2275 pieces related to biodiversity, and a collection of 55,000 insects.
But the big star! A replica of the skeleton of a Diplodocus carnegii, a dinosaur that lived in the western United States, 150 million years ago!
Admission is 32 pesos, 15 pesos for children 3 to 12 years old
4. Six Flags Park
Here there are attractions for the whole family, some of them being very adrenaline-pumping (such as CraZanity, which breaks the world record for the highest pendulum in the world – 164ft!).
But there are also areas for children such as Bugs Bunny Boomtown and DC Super Friends.
Click on the link below to buy your: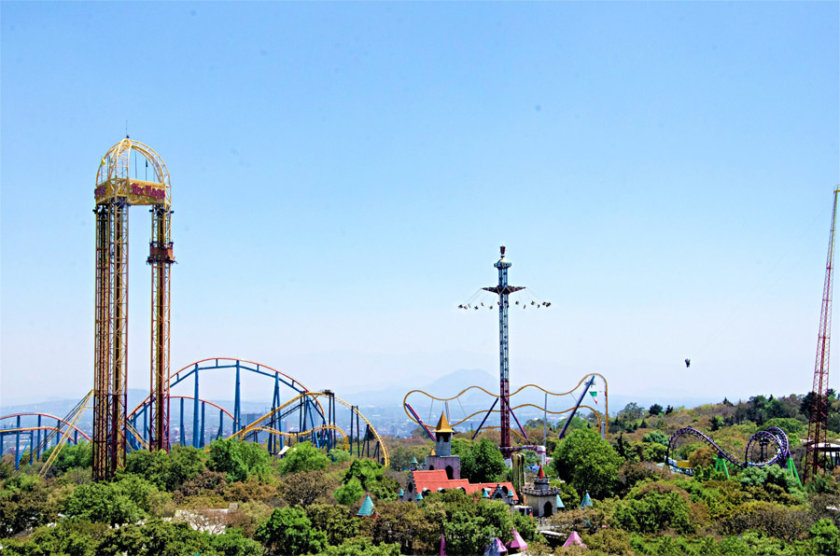 5. Universum
A museum dedicated to science and technology, which belongs to the National Autonomous University of Mexico (UNAM). It has thirteen rooms with exhibits on different topics: health, evolution, the universe (there are moonstones that have been donated by NASA!), the brain, etc.
Also, don't miss the Golem, a robot designed to interact with children.
Admission is 90 pesos, 80 pesos for children under 12 years old , and children under 2 years old do not pay ticket.
How many days to visit Mexico City?
Mexico City is a huge city, even a month would not be enough to discover all it has to offer!
To help you make the most out of your stay in Mexico City, here are my suggested itineraries for visiting Mexico City in 1, 2, or 3 days:
What to do in Mexico City in 1 day
The Capital is immense and if you don't have more than 1 day in Mexico City, you will have to choose.
Fortunately, with a little organization, you will be able to see several must-see sites.
Early in the morning, head to the viewpoint of the Latin American Tower

for a breathtaking view of the city.

Take the pedestrian street

Francisco I. Madero

(on the way take a picture of the

Casa de los Azulejos!)

to the

Zocalo.

Visit the

Cathedral

and take the tour of the

Templo Mayor,

everything is very close.

Discover

National Palace

with works of great Mexican artists such as

Diego Rivera.

It should be lunchtime by now, so head over to the

San Juan Market

where you can sample the famous insects. If that doesn't appeal to you, there are also several cheap kiosks (tacos, seafood, etc.). One block from the market is the

Pulqueria Los Duelistas

perfect for tasting some

pulque,

a traditional fermented drink.

Then visit the magnificent

Palace of Fine Arts

and stroll through the

Alameda Central.

If you still have energy, visit the

Museum of Popular Art.

It's time to leave the center to get to know the neighborhoods:

Roma and Condesa.

Feel free to get lost in these streets, among stores, cafes, and street art. This is the perfect place to have a drink at night.
Don't miss my ultimate itinerary: 1 Day in Mexico City
2 days in Mexico City
On the first day, follow the suggested program above.
On the morning of day two, go to

Teotihuacan.

This visit will take you all day, but it is really worth it, there is so much to see!

After some rest (you'll need it after Teotihuacan), go to a lucha libre fight!
Check out my detailed article: 2 Days in Mexico City
3 days in Mexico City
If you are looking for an itinerary in Mexico City for 3 days, you can follow the program for day 1 and 2:
Spend the entire morning of the third day at the great

National Museum of Anthropology

Stroll through the

Chapultepec Park

and visit the

Chapultepec Castle

Now head south and discover the

Coyoacán neighborhood,

you are sure to find a nice restaurant for lunch

Walk through its streets and squares, and don't forget to visit the

Frida's  Casa Azul

At night you will find many

 very nice bars to have a drink
Discover my extensive article: 3 Days in Mexico City
Staying in Mexico City
Hostel Mundo Joven Catedral (historic center): one of the best hostels in Mexico City. Clean dorms and rooms, amazing rooftop terrace with bar, great atmosphere and an exceptional view over the cathedral and the Zocalo, starting at 15$usd for a dorm and 32 $usd for a private room!
Hotel Villa Condesa (Condesa): if you are looking for a romantic hotel in Mexico City, this is a little oasis in the heart of La Condesa. It is an elegant house with small green terraces and tastefully decorated rooms. Rooms are spacious, breakfast is very good and the service is particularly attentive. Around 160$usd per night!
Casa Goliana (Roma Norte): high-end hotel with the best value for money in its category, located in an early 20th century house, typical of the Roma area. Rooftop terrace, comfortable rooms, very attentive staff, and good breakfasts. Around 190$usd per night
Four Seasons Hotel Mexico City (Juarez): this 5 star hotel is one of the best hotels in Mexico City, ideal for a business trip or a romantic stay. Located on Paseo de la Reforma between Colonia Juarez and Roma Norte. A large indoor garden, gym, swimming pool, spa, restaurant, and bar, Around 640$usd per night!
My advice
For the best areas and hotels in Mexico City for all budgets, check out my complete guide: Where to stay in Mexico City?
Rent a car in Mexico City
Renting a car is for sure the best way to explore Mexico and make the most of your stay!
While it's not super useful to visit the city, having a car is a must to discover the rest of the country.
To rent a car, personally, I always use Rentalcars.com, for a few reasons:
You can easily compare the rental cars prices between all the agencies: for sure the easiest way to find the best rate!
Cancellation is often offered free of charge: no need to worry if you change your mind
Rentalcars offers full insurance coverage at a lower price than the rental companies, so it's an instant saving with no effort
Simply click on the green button to find your rental car at the best price:
Getting around Mexico City
Turibus (hop on and off all day)
This is the city's tourist bus. As there is a lot of walking in Mexico City so it is a good way to save a little energy and have easy access to the tourist sites of Mexico City.
The

Turibus

offers

4 circuits in Mexico City

that can be done with the same ticket.

You can buy a one-day or two-day ticket, which allows you to get on and off the bus as many times as you want.
Buy your tickets here:
Metrobus
The Metrobus network is very extensive, with 7 lines and many lanes reserved for single use, making it a very convenient way to travel cheaply.
Relatively few tourists use the Metrobus, probably because it is hot and crowded (be careful with your pockets), however, it is a very practical option.
Before boarding you must buy

the Tarjeta de la Ciudad (

or

MB)

for 21 pesos, which includes one ride, then you have to load it. Each trip costs 6 pesos

The ride to the airport (Ruta Norte, line 4) costs 30 pesos

You can

download the Mexico City Metrobus map here.
Uber
I can't deny it: it's my favorite option!
Especially because Uber is usually cheaper and safer than regular cabs and they have always provided me with a good service.
It allows you to go almost everywhere safely (very useful especially at night!), and you can always see on the app's map exactly where you are (and the route the car follows).
Ecobici
A public bike system (some are electric) that offers an ecological option to get to different places to visit in Mexico City. It has 480 bike stations with room for 6800 bikes in 38 km².
First you must register at one of the Ecobici customer service centers (with a passport). Then go to a bike terminal (with a credit card). Prices include unlimited use of bicycles for trips of maximum 45 min.
The ecobici rates in Mexico City are for 1, 3, and 7 days, or 1 year.
How to find the best price for your flight ticket
Mexico City Airport officially named Benito-Juárez International Airport receives a lot of national and international flights. It is the most important airport in Latin America!
To save money on flight tickets, you can use our flight comparator for Mexico, in partnership with Skyscanner: it's the guarantee to pay the best price for your international and domestic flights!
How to get from Mexico City airport to your hotel?
There are several safe ways to get from the Benito Juarez International Airport to your hotel.
By private transportation
A good and safe option to get from the airport to the hotel is to book a private car with a driver. It can accommodate up to 3 people.
To book, click here:
By Metrobus (line 4)
Buses arrive every 15 minutes from 4:30 am to midnight, for 30 pesos.
Departures from Terminal 1 (between gates 6 and 7) or Terminal 2 (first floor, gate 3).
Approximately 1 hour to reach the historic center. Beware, if you are not staying in the historic center you will have to change lines or take a cab, so it is not an option I recommend at night.
By uber or cab
At the Mexico City airport there are several cab ranks. First you pay at the cab window and they tell you where the cab stand is.
For the moment, Uber can drop you off at the airport but it is not allowed anymore to pick you up at the airport so you have to take an official cab from the airport to your hotel.
Where to change money in Mexico City?
Surprising but true, the best place to change money in Mexico City is the airport!
I have tested many money exchange offices in Mexico City and the airport always offers a slightly better rate.
Be careful: this is not the case in other cities in Mexico, like Cancun airport for example.
When to visit Mexico City
One of the great advantages of the capital is that you can visit all year round!
Winter

is cool, but quite pleasant
Summer,

especially from June to September, is rainy, but not paralyzing. It can be quite gray (the sun appears for a few hours around noon) and rain falls almost every afternoon (around 4 p.m., rarely in the morning or for long). It's the same almost every day, so it's just a matter of being well organized.
The best time to visit Mexico City is from March to May when the city is at its most beautiful and flowery. It is not too hot and there is practically no rain.
November is also a good time to visit Mexico City because during the first two days of the month the famous Day of the Dead festivities are celebrated.
Tourist map of Mexico
Here is a handy map with everything there is to see in Mexico City, with all the mentioned attractions, restaurants, and hotels!
Book your trip now and save money!
You're traveling in Mexico? These articles will help you!
Discover all my articles about Mexico: All my articles to help you plan your trip to Mexico are listed there.
You're using Pinterest? Here is the picture to pin!