Playa del Carmen in 3 Days: What to Do, Where to Eat, and Where to Stay
If you're planning to spend 3 days in Playa del Carmen, you're in for a treat!
Whether you're looking for a relaxing getaway, a cultural immersion, or an active vacation, you'll find something to suit your taste.
But how can you make sure you don't miss anything in Playa del Carmen? Don't worry, I'm here to help!
I have designed for you the ultimate itinerary to visit Playa del Carmen in 3 days with the best places to visit and activities, as well as all my best tips and hotel recommendations for every budget.
So, are you ready to discover the best things to do in Playa del Carmen in 3 days? Where to stay?
Day 1: Discover the Downtown and the Beach
In the morning: Enjoy the beach and the sea
Start your day with a tasty breakfast at one of the many cafes and restaurants on or near Quinta Avenida (Fifth Avenue), the main pedestrian street in Playa del Carmen.
My personal favorites are La Cueva del Chango for Mexican specialties like chilaquiles or huevos rancheros, and Choux Choux Café for more international options (they're famous for their pastries, but I loved the Benedict egg with salmon!).
I recommend getting there early because it can be busy. Luckily, the wait is never very long because they have a lot of tables.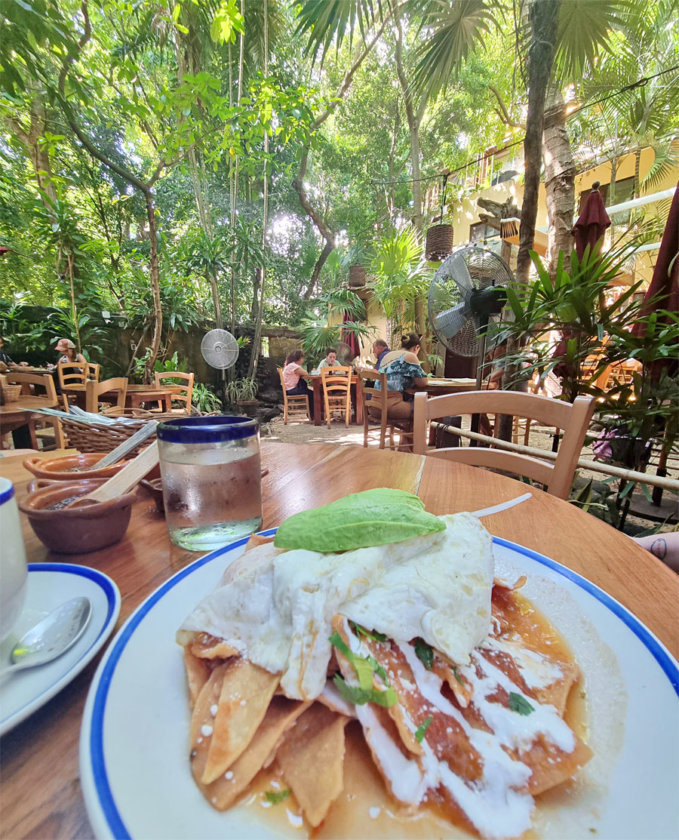 After breakfast, head to the beach and enjoy some sun and sea. Playa del Carmen has several public beaches that are free to access.
Playa Mamitas is very central, but you can also walk a bit further (20-30min) to other less crowded beaches like Playa Avenida Colosio, Playa 88 or Punta Esmeralda.
My advice
 You can rent a sun bed and an umbrella, or just lay down your towel on the sand, but there is usually little shade available. Make sure to bring sunscreen, hat, and sunglasses to avoid sunburns!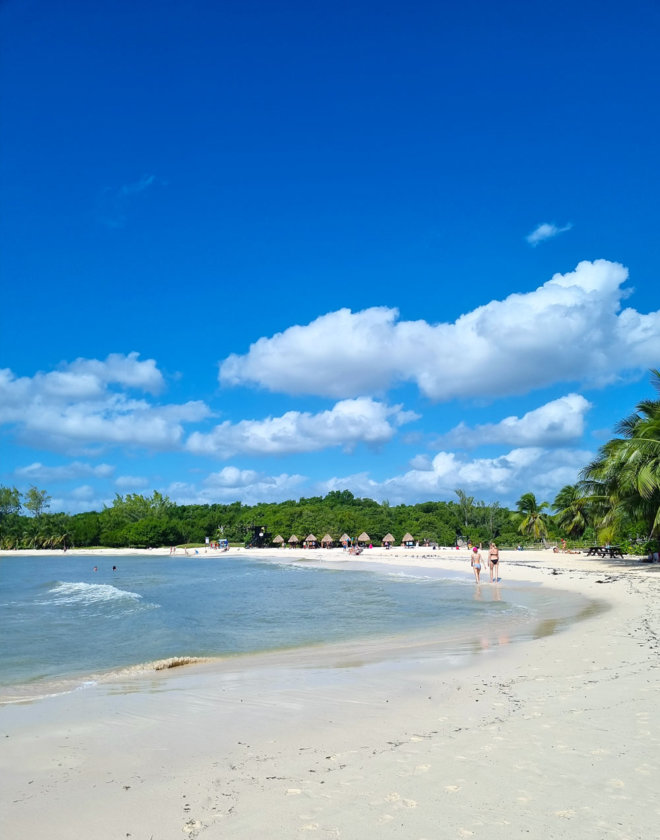 There are also many beach clubs that offer food, drinks, music, and amenities for a fee. You can stroll around and choose your favorite, but make sure to ask about the price (and if you can use the entrance fee as credit at the restaurant/bar), as it can increase rapidly!
Some of the most popular beach clubs in Playa del Carmen are:

If you're feeling adventurous, you can also try jet skiing, parasailing, go on an ATV and Speed Boat Adventure, or a Buggy and Cenote tour!
If you prefer a more laid-back adventure, you can enjoy a catamaran tour that lets you snorkel in the Great Mayan Reef and unwind at the exclusive Maroma Beach Club. Reserve your spot here:

In the afternoon: Discover the downtown area
Stroll along the Quinta Avenida (Fifth Avenue) where you'll find many shops and boutiques. You'll also enjoy the vibrant atmosphere created by the street vendors and performers.
You can visit the Parque Fundadores, where you'll see a statue of a Mayan portal and a traditional dance performance by the Voladores de Papantla.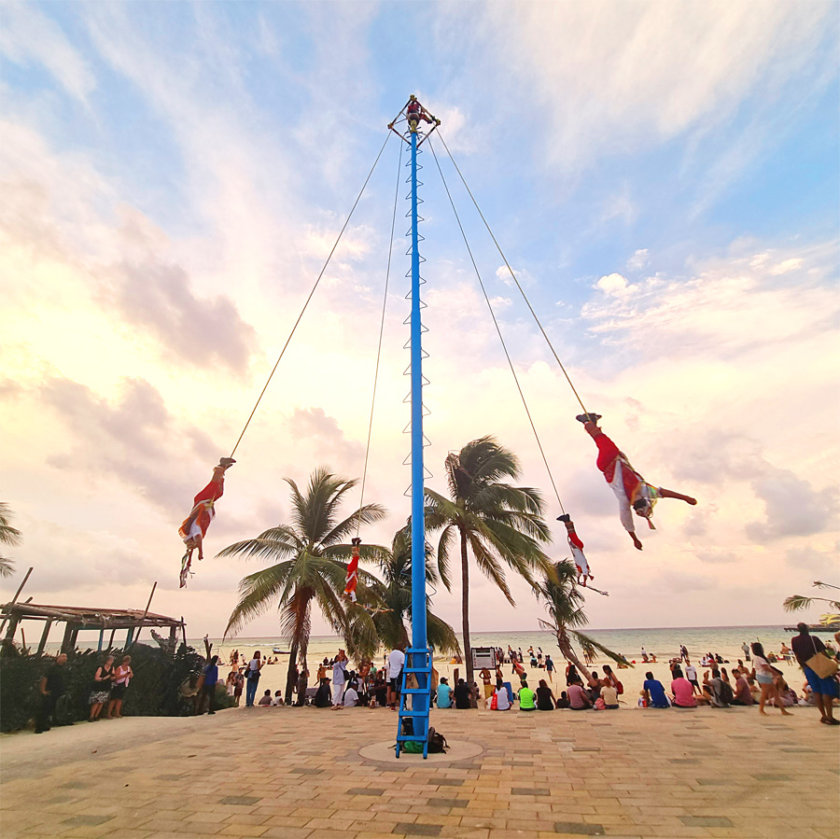 You can also check out the 3D Museum of Wonders, where you can take pictures with optical illusions and interactive art. It actually looks easier than it is to take great shots, but it's a lot of fun!
To be honest, I always stay a bit longer after finishing, just to enjoy the air conditioning! 😉

In the evening: Get ready for some Nightlife Fun
Playa del Carmen offers a vibrant bar and club scene that suits all kinds of music and vibes.
The best places to go dancing are the famous Coco Bongo Club (get your tickets here!), Mandala and La Vaquita.
For good drinks, I highly recommend Trujillos Cantina de Selva, with a tropical garden vibe, and for a more laid-back atmosphere, you can go to Fusion, a bar on the beach with reggae music and a great service.

Day 2: Visit Tulum and Cenotes
If you have Three Days in Playa del Carmen, you can take a day trip to Tulum for your second day, a nearby town that is famous for its stunning Mayan ruins and bohemian atmosphere.
In the morning: Tulum Archaeological Site
The main attraction of Tulum is its archaeological site, which is located on a cliff overlooking the Caribbean Sea.
You can admire the impressive structures that date back to the 13th century, such as the Temple of the Frescoes, the Temple of the Descending God, and the Castillo (the main pyramid). You can also enjoy the stunning views of the turquoise water and the white sand beach below.
After visiting the ruins, you can head down to the beach and relax under a palm tree or take a dip in the sea. There are many beach clubs that offer food, drinks, and amenities, such as Ziggy Beach, Papaya Playa Project, and La Zebra.
You can also rent a bike and explore Tulum, which has a laid-back and artsy vibe. You'll find many cute cafes, restaurants, shops, and galleries, especially on the Tulum Beach Strip.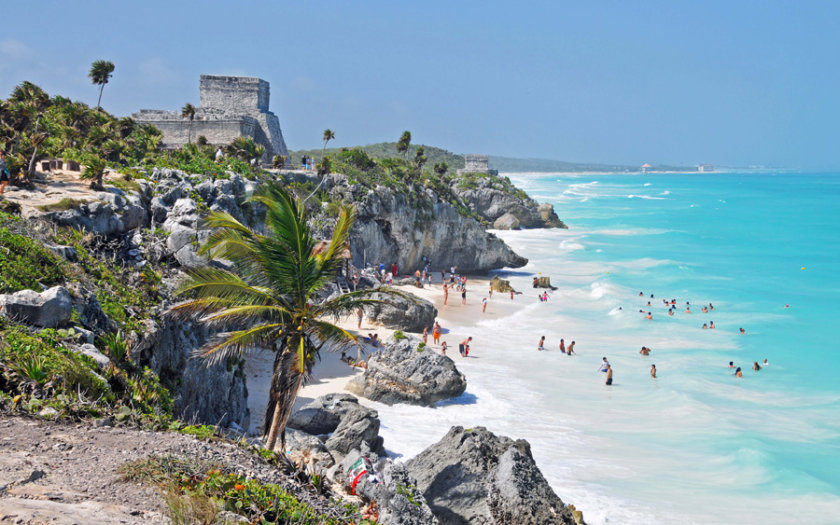 Afternoon: Cenotes in Tulum
Another highlight of Tulum is its cenotes, which are natural sinkholes filled with fresh water. The cenotes were sacred to the ancient Maya people, who believed they were portals to the underworld, called Xibalba.
You can swim, snorkel, or dive in these crystal clear pools and admire the underwater formations and wildlife. Some of the most beautiful cenotes in Tulum are Cenote Dos Ojos, Cenote Calavera, and Gran Cenote.

Evening: Enjoy tacos and street food
After a full day of exploring Tulum, head back to Playa del Carmen and treat yourself to some delicious tacos and street food.
You'll find many stalls that sell authentic Mexican dishes, such as tacos al pastor, cochinita pibil, quesadillas, tortas, elotes and more.
I love the tacos al pastor from Tacos El Ñero, the carnitas tacos from Carnitas Teresita and the elotes on the corner of Calle 2 Nte and Avenida 15. El Fogón is another good choice with a lot of variety and big servings.
And don't forget the marquesita for dessert! It's a thin wafer, rolled like a taco, filled with various toppings such as cajeta, jam, chocolate or cheese. My suggestion is the one on the corner of Calle 6 Norte & 10 Avenida Norte, right by the Oxxo.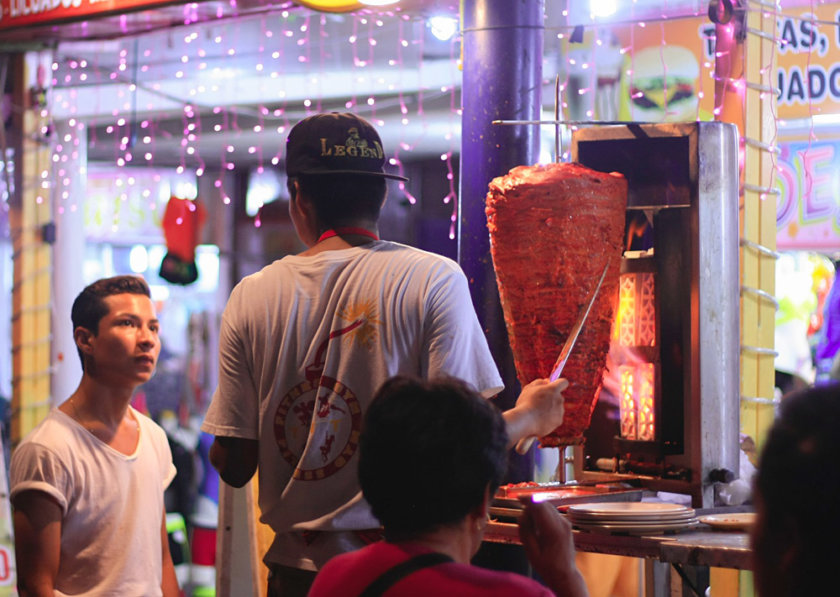 Day 3: Explore Cozumel Island
Continue your Playa del Carmen 3 day Itinerary, and visit Cozumel.
Take the ferry (45 min) from the pier near Parque Fundadores – Get your ferry ticket here!
Isla Cozumel is a tropical paradise with white sand beaches, and the second-largest coral reef system in the world, with stunning marine life and clear turquoise waters.
You can snorkel or dive and see a variety of colorful fish, turtles, rays, and more. Some of the best spots to snorkel or dive are Palancar Reef, Chankanaab Park, and El Cielo.
Here are the best tours and activites in Cozumel:
Chankanaab National Park

(get your tickets here!) -With full access to the park and a one tank dive, suitable for both certified and noncertified divers

Discover

Punta Sur, the largest ecological reserve in Cozumel and my favorite place on the island❤️– Book the jeep tour to Punta Sur here!

Catamaran trip to El Cielo

to see the starfish,

with

snorkeling in Palancar Reef

and

party on the beach with open-bar –

Book it here!

Enjoy beautiful beaches

like Playa San Francisco, Playa Encantada, Playa San Juan (perfect for children), Chen Rio, Playa Hernan, Playa Santa Maria, and Playa Palancar.

Take a

ride in the Atlantis submarine

to see the underwater biodiversity at a depth of 30 meters. Book it here!
Tour on a glass bottom boat with snorkeling to 3 reefs (click here to book!). This is a great option for families.
To learn more about this beautiful island, read my article Cozumel: Top 15 Must-Sees!
My advice
Renting a car or a scooter
is a great idea if you want to see Cozumel on your own. The island is huge!
Last time I went to Cozumel, I was on a low budget so we rented a scooter with my friend. It was fun, but considering the distances, with the wind, the sun, and the speed bumps, next time I would definitely consider a Jeep, to be more comfortable!

In the evening: Say goodbye to Playa del Carmen!
Head back to Playa del Carmen in the evening, dine at one of the many restaurants along 5th Avenue or near the beach, and enjoy a rooftop bar or lounge with a view of the night sky.
Some of the best rooftop bars in Playa del Carmen are The Fives Rooftop, The Deck 5 Pool and Skybar, and the Palm at Playa.
What to do in Playa del Carmen in 4, 5, 6 days, or a week
I hope you enjoyed my guide on how to spend 3 days in Playa del Carmen.
If you are lucky enough to have more time, here are more great activities to do around Playa del Carmen: One thing is sure, you won't get bored! 😉
My advice
You can also check out my other
Playa del Carmen guides:
1. Chichen Itza
It is worth visiting this impressive and fascinating archaeological site, which is a UNESCO World Heritage Site and one of the New 7 Wonders of the World!
Chichen Itza is about 2h30 from Playa del Carmen by car, and ADO bus.
Or you can easily book a tour here: it includes the pick up at your hotel, guided visit of Chichen Itza, lunch, free time in cenote Ik Kil and a stop at the colonial city of Valladolid;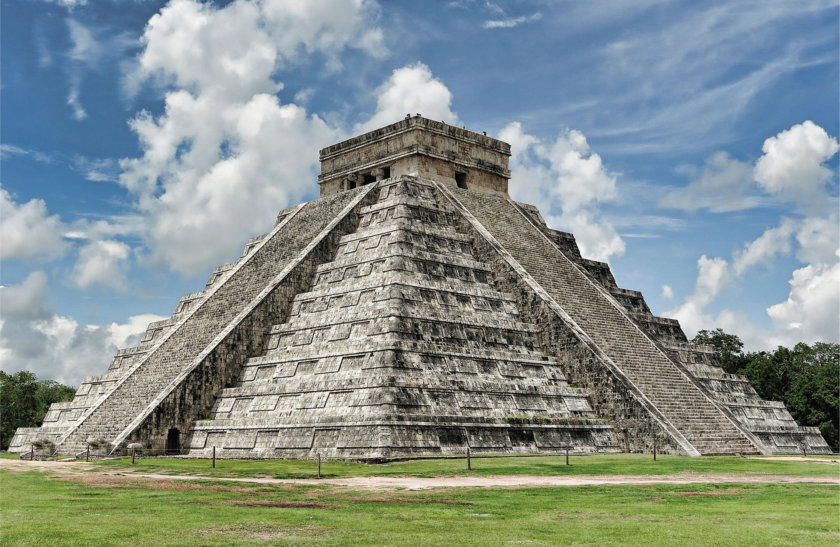 2. Have a blast at an amusement park
Whether you are with your family or your friends, you can have a great time at the many fun parks in the Riviera Maya! 
My advice
Don't miss the best way to enjoy the parks: stay at the
Xcaret Hotel
❤️and get
free access to all the parks and meals
! (Xcaret, Xplor, Xplor Fuego, Xenses, Xoximilco, Xel-Ha and Xenote)
Here are my top 2 picks:
Xplor is the perfect place for active people (families, friends, etc.) who like adrenaline: with 14 zip lines, 4×4 jungle and caves, etc.
Don't miss My Ultimate Guide to Xplor Park here if you want to discover everything about Xplor!
Some activities were so fun that I repeated them, which made me stay there for the whole day, but you could do everything in half a day

Xcaret is a very large park focused on nature and Mexican culture with over 40 different activities!
Before leaving, you can't miss Xcaret Mexico Espectacular, a wonderful show with 300 performers that showcases the Maya's historical journey.
1 full day is absolutely necessary to do the park, and trust me, it is impossible to do everything in one day
Buy your tickets to Xcaret – with lunch, activities and the Xcaret show!
I would definitely say Xcaret is the best choice for families in Riviera Maya because there are activities for all ages

3. Isla Contoy
Isla Contoy has one of the best beaches in Mexico that I have ever seen!
I clearly remember gettin closer to Contoy Island on the boat and asking myself, is this a dream? Am I in a movie set?
This island, located close to Cancun and Isla Mujeres, is a secret paradise where you can relax on the white sand and swim in the turquoise waters.
It is a natural reserve and an important nesting site for turtles and seabirds. This is why it is only inhabited by a few biologists and coast guards, and the visits are restricted to 200 people per day.
You need to book a tour with an authorized agency to visit it. I went on a tour to Isla Contoy from Playa del Carmen and it was a wonderful experience, as I felt like I was in one of the last untouched paradises of the very touristy Riviera Maya.
It is a full day tour that includes hotel pick up, breakfast, boat transportation with drinks, (short) snorkeling at the Ixlache reef, free time at Isla Contoy with lunch, and free time (1h30) at Isla Mujeres.
If your vacation dates are fixed, I recommend booking now, because there are few spaces available.

4. Sian Ka'an
This huge paradise of biodiversity covers more than 5000km² and is both a Natural Biosphere Reserve and a UNESCO World Heritage Site. It is located close to Tulum, and you can access it from Muyil or Punta Allen, which have different attractions.
Punta Allen is great for the beach, saltwater lakes, coral reefs, and dolphins.
You need a high-clearance vehicle to get there. The best option is going to Tulum and join a day tour, which includes transportation, the boat ride (3h) to see dolphins and turtles, free time to enjoy the water, and lunch. You can book it directly here:
Muyil lets you explore the inside of the reserve and see freshwater lagoons, swamps, and Mayan ruins.
Muyil is much closer to Tulum and the visit can easily be done in a short trip. To get there by public transport, take an ADO bus to Chunyaxché and get off at Muyil (20min).
You can also join a tour from Tulum. I suggest this guided tour which includes pick up in Tulum, lunch, the ruins of Muyil, and a boat ride on the freshwater lagoons. Book it here: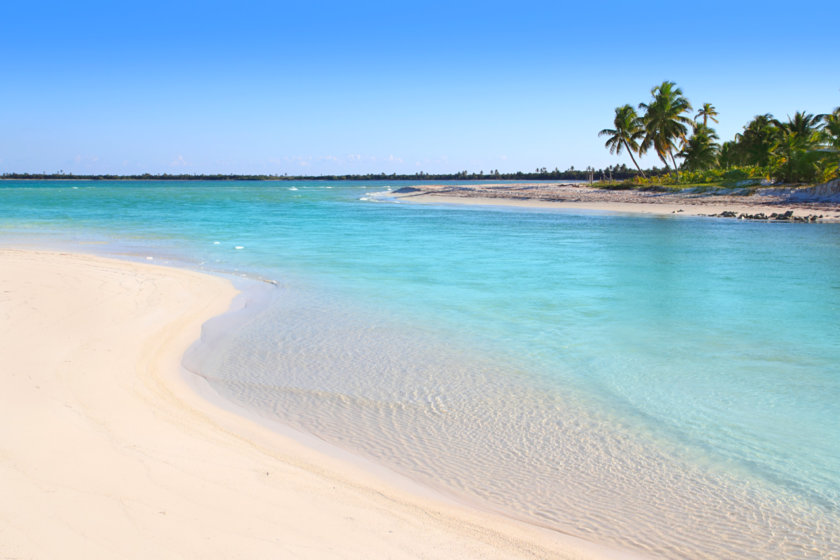 5. Swim with the turtles in Akumal
Akumal is renowned as the best place to swim with turtles near Playa del Carmen… and even in Mexico!
The turtles are a protected species so the activity is done responsibly, following some rules to prevent stressing them. You need to go with a guide who will take you to the area where they are fed in Akumal Bay.
You can book here the swim with turtles in Akumal, which also includes pick up from your hotel, with a visit to a cenote and a cave:
But there's more to Akumal than swimming with the turtles!
It has some of the

most beautiful beaches in Yucatan Peninsula, spread over between Akumal Bay and Half Moon Bay (Bahia Media Luna). 
You can Snorkel in Yal-Ku Lagoon  – Book your tickets for Yal-Ku Eco-Park here!

Visit the Akumal Monkey Sanctuary

, a jungle wildlife refuge with monkeys, snakes, toucans, parrots, and more

Explore the Aktun Chen natural park, where you can zip-line through the jungle, visit an underground cave and swim in a cenote
My advice
To discover the best activities and tips for visiting Akumal, don't miss My Ultimate Guide to Akumal!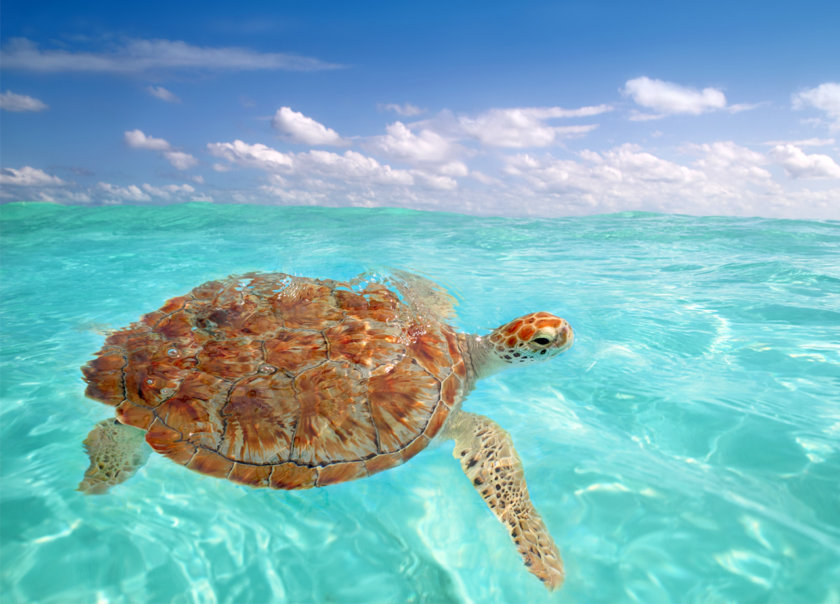 Where to stay in Playa del Carmen for three days
Che Playa Hostel & Bar Adults Only: great hostel to meet other travelers and party, with a rooftop terrace that has a bar and a small pool, with several offered activities. Clean, with good wifi and a great welcome. From only 13 $usd for the dormitory or 37 $usd for a private room!
Hotel Lunata: a charming hotel with hacienda style decoration, which is hidden on Quinta Avenida, very close to the beach. Quiet, with a garden, rooms with balcony, and has very friendly service. From only 82 $usd per night!
Porto Playa Condo Beach Club: here you will find a spacious apartment ideal for a family, with fully equipped kitchen, living room and terrace. The hotel has a large swimming pool, a gym and a restaurant, starting at 172 $usd per night!
The Reef Playacar Resort & Spa: located on the beautiful beach of Playacar, just a few minutes from Fifth Avenue. Ideal for a romantic stay, with a beautiful tropical garden, two pools, a gym and a spa. 200 $usd with the "all inclusive" formula.
Hotel Xcaret Mexico All Parks All Fun Inclusive: it is definitely the best hotel in Playa del Carmen! Ideal for couples and families with children as this luxury hotel offers an exceptional package including meals and access to its parks (Xcaret, Xplor, Xplor Fuego, Xenses, Xoximilco, Xel-Ha and Xenote). Starting at 860 $usd per night, all inclusive.
How to get to Playa del Carmen
Playa del Carmen is located in the Riviera Maya, about 55 kilometers (34 miles) south of Cancun.
The easiest way to get to Playa del Carmen is to fly to the Cancun International Airport (CUN), which has direct flights from many international and domestic cities.
To find a cheap flight to Cancun as well as the best domestic flights in Mexico, I recommend using our flight comparison tool in partnership with Skyscanner. It is guaranteed to get you the best price!
From the Cancun airport, you have several options to reach Playa del Carmen:
You can rent a car and drive along the Highway 307. The journey takes about an hour.
Renting a car is for sure the best way to explore Mexico and make the most of your stay!
While it's not super useful to visit the city, having a car is a must to discover the Riviera Maya and the rest of the country.
To rent a car, personally, I always use Rentalcars.com, for a few reasons:
You can easily compare the rental cars prices between all the agencies: for sure the easiest way to find the best rate!
Cancellation is often offered free of charge: no need to worry if you change your mind
Rentalcars offers full insurance coverage at a lower price than the rental companies, so it's an instant saving with no effort
Simply click on the green button to find your rental car at the best price:

You can take a taxi, available outside the airport terminals and they can take you directly to your hotel or resort.
You will have to negotiate the price before getting in the taxi, because as a tourist, they may try to charge you more than the normal rate.
Uber is NOT an option: they are not allowed in the airport (nor in the resorts, as far as I know), and there has been a lot of tension in Cancun between the taxi drivers and Uber drivers…
My advice
If that's the option you're considering, I would definitely recommend
booking your shuttle online in advance
.
This can save you time and money, as well as ensure a smooth and hassle-free arrival! Book it here:

 You can also check with your hotel or resort if they offer airport transportation within their all-inclusive package.
Some establishments provide free or discounted transfers for their guests. You can contact them directly or through their website to arrange your transportation.
My advice
Check out my guide: How to Choose the Perfect Hotel or Resort in Playa del Carmen for Your Budget
You can take a bus operated by ADO, which is a reliable and comfortable service. The buses depart every 10 minutes from the airport and arrive at Playa del Carmen in about 1h20.
You can buy your bus ticket online, but I strongly recommend buying it at the airport, because you never know if your plane is going to be late, or how long it will take to cross the customs.
My advice
Some taxi drivers may tell you there's no more bus, but it's not true! It happened to me, and my friends, on different occasions. Just ignore them, they're trying to sell their service. 

Where to eat in 3 days in Playa del Carmen
I already shared some of my favorites places to eat in this article, but if you want to discover all of my recommendations (breakfast, lunch-dinner, dessert, cheap eats, where to get a drink), check out my guide: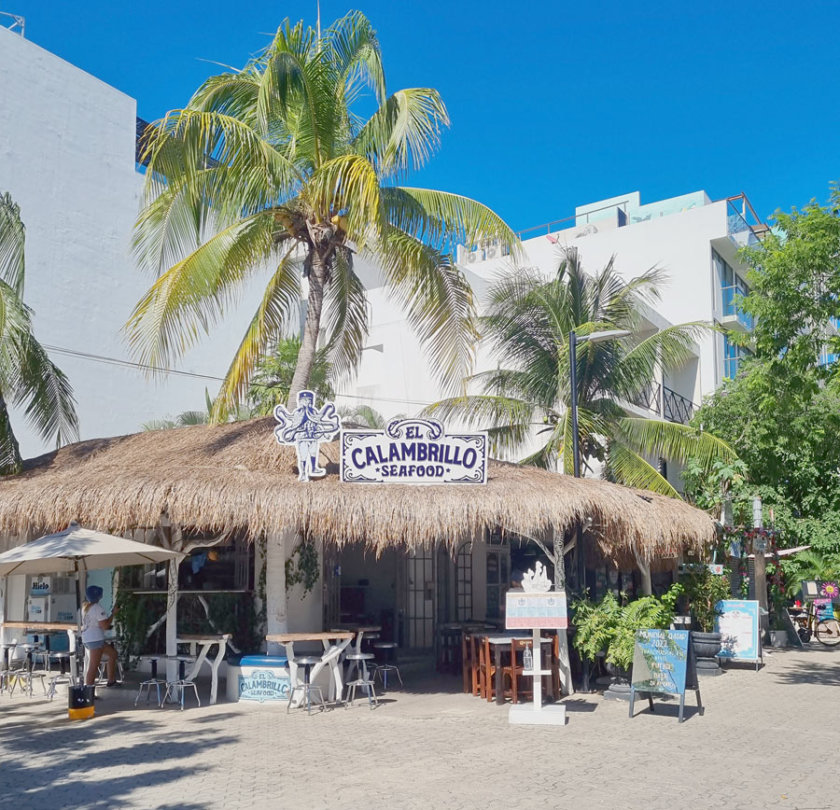 Book your trip now and save money!
You're traveling in Mexico? These articles will help you!
Discover all my articles about Mexico: All my articles to help you plan your trip to Mexico are listed there.
You're using Pinterest? Here is the picture to pin!