The Best Itinerary for 9, 10 or 11 Days in Yucatan
Are you planning to visit the Yucatan Peninsula in 10 days?
To help you plan your trip, I have created a 10-day itinerary in Yucatan that will let you discover the most amazing places of the peninsula.
With archaeological sites, colonial cities, cenotes and beautiful beaches: I'm sure you will love the program!
From Cancun, you will first leave the coast to visit the famous Mayan city of Chichen Itza and the yellow city of Izamal.
Next, you will visit Merida, where you can visit the Uxmal archaeological site and admire the pink flamingos of Celestun. Then, you will return to the Riviera Maya to relax on the stunning beaches of Tulum, explore the Sian Ka'an reserve and swim with the turtles in Akumal.
You will travel along the coast to Playa del Carmen and Puerto Morelos, then take the ferry to the island of Cozumel where you will spend the last few days before returning to Cancun for your flight back.
As always, for each stage, I have included my tips and practical information, as well as the best hotels for your budget.
What to do in Yucatan in 10, 11 or 12 days? Where to stay?
1) Cancun (1 day)
Welcome to Cancun!
This Caribbean city has the biggest airport in the region and receives many international flights every day from North America, Europe and other parts of the world, so it will be very easy to find your flight!
As soon as you arrive at the airport, get your rental car.
For your 10 days road trip in Yucatan, I suggest you use the comparison tool of Rentalcars.com. It's the simplest way to get the best deal!
Click on the button below to compare prices:
If you prefer to do your 10-day vacation in Yucatan without a car you can book here your transfer from the airport to your hotel, with air conditioning and wifi:
Another option that is slower but cheaper, is to take the ADO bus to downtown Cancun and then take the r-1 bus which goes through the hotel zone. Once you have checked in at the hotel, you can:
Enjoy the sun on Cancun's beaches such as Playa Tortugas, Playa Los Delfines, Playa Langosta, Playa Linda, Playa Caracol, Playa Marlin.
Visit the archaeological site of El Rey, near Playa Delfines
Discover Isla Blanca, located at the end of Cancun, a great place for kitesurfing… and my favorite beach in Cancun!
Climb the Scenic Tower for its panoramic view at 110 m high
Visit Mercado 28, a great market with restaurants and souvenirs
Check out my guide: The 30 Best Things to Do in Cancun!
If you're looking for a fun night out in Mexico, you should check out Xoximilco Cancun.
For 3 hours you ride in a colorful trajinera, with Mexican food and open bar (tequila, beer and soft drinks), all accompanied by music, including mariachis! 🥳 Please note that this is a family-friendly party, suitable for ages 5 and up.
Get your tickets for Xoximilco here:
Spend the night in Cancun.
Where to stay in

Cancun?
Mayan Monkey Cancun: great hostel with a festive atmosphere in Cancun's hotel zone, very close to the beach and bars. Terrace, outdoor pool, bar with happy hour, air conditioning, ping-pong, good wifi. Private rooms and dorms, from only 24$usd!
Bed and Breakfast Pecari: if you are looking for more comfort, I recommend without hesitation this establishment. It is a beautiful Bed and Breakfast located in a quiet street near the city center and the ADO bus station, with a relaxation area by the pool, spacious rooms, and a good breakfast, starting at 50$usd per night!
Beachscape Kin Ha Villas & Suites: rooms, suites, and villas for 2 to 12 people with direct access to the beach. Outdoor pool, children's pool, gym, restaurant, beach bar. Breakfast included, starting at 218$usd per night.
The Royal Sands Resort & Spa: spacious rooms and suites with ocean views, in the heart of Cancun's hotel zone. Large outdoor pool, gym, spa, fine restaurants, sports bar and many activities. All inclusive, starting at 485 $usd per night
My Advice
For more options, you can visit my article about the
best hotels and resorts in Cancun
and find your perfect hotel. Here is the link:
Where to stay in Cancun?

2) Chichen Itza and Izamal (1 day)
Morning– Today, you will continue your 10-day tour of the Yucatan Peninsula by visiting the famous Mayan city of Chichen Itza, the main tourist attraction of the Yucatan.
This iconic site of the Mayan culture is a UNESCO World Heritage Site and one of the New Seven Wonders of the Modern World.
You will see El Castillo, the main pyramid dedicated to the god Kukulcan, the astronomical observatory El Caracol, the Mesoamerican ballcourt, the Tzompantli dedicated to the worship of the dead, and the Temple of the Warriors with the Thousand Columns.
If you want to know more about the attractions of Chichen Itza, check out my guide: How to Visit Chichen Itza
It takes about 2 to 3 hours to visit Chichen Itza and I suggest you go there early in the morning to avoid the heat and the crowds, as it is a very popular site.
You can get your tickets to Chichen Itza with skip the line access here:
How to get to Chichen Itza from Cancun:
By car: 2 hours and 20 minutes on the 180D. Fee 80 pesos
By public transportation: 3h by ADO bus, it drops you off at the entrance
By organized tour: a very good option if you don't have a car is to take the tour to Chichén Itzá from Cancún with pick up at your hotel – book it here!
Afternoon– Visit the charming town of Izamal, which gets its nickname "yellow city" from the beautiful color of its facades.
Start at the Convent of San Antonio de Padua, which is the symbol of the city. Surrounded by 75 arches, its atrium is the second largest in the world after St. Peter's Square in the Vatican.
Walk through Parque Itzamná, the main square, and Parque 5 de Mayo, where you will find a cafeteria and a handicrafts store.
Don't miss the pyramid of Itzamatul and the Kinich Kakmó pyramid, one of the tallest in the Yucatán, both of which are free to visit!
For lunch, I recommend the Kinich restaurant, which is known as one of the best restaurants for traditional Yucatecan cuisine.
If you have time left, explore the San Ildefonso neighborhood, the very traditional Los Remedios neighborhood, and the El Gallito neighborhood.
My advice
At 8 pm there is a
video mapping
show that presents the history of the city. There are projections in
5 places in Izamal
, starting with the
Parque de los Cañones
.
Ticket 100 pesos, from Thursday to Saturday.
I invite you to read: The 11 Best Things To Do in Izamal!
Spend the night in Izamal
How to get to Izamal from Chichen Itza:
By car: 1 hour on Highway 180D to Kantunil, then Highway 53 to Izamal
By public transportation: 2h30 taking a bus or colectivo from Pisté to Hoctún, and then another one to Izamal
Where to stay in Izamal?
Departamentos X'Kanlol: very clean and well located rooms in the center near the bus station, with garden and bicycle rental, from only 25 usd per night!
Hotel San Miguel Arcangel: the best budget hotel in Izamal, perfectly located in front of Parque 5 de Mayo. I loved its green patio and colonial style decor. Breakfast included, from only 51 usd per night!
Hotel Boutique Kocai: beautiful Mayan-style ecological cabins located in the center of Izamal with pool, hammocks, garden and restaurant. From 83 usd per night
Hacienda Sacnite: a hacienda that has preserved its authentic rustic character, but with an intimate, elegant and romantic atmosphere. With large gardens, many plants and palm trees, a beautiful swimming pool, this is one of the most charming hotels in the Yucatan! From 103 usd per night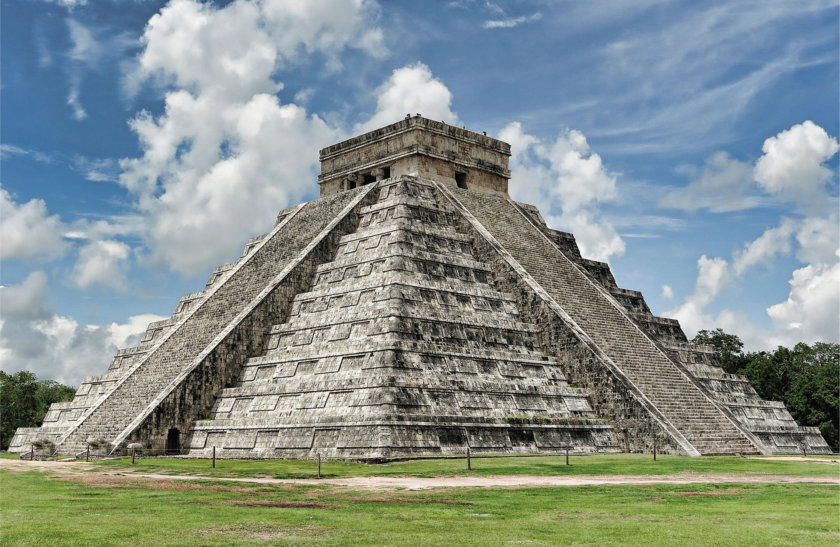 3) Merida (2 days)
Day 1– On the next part of your trip to Yucatan, explore the region of Merida.
In the morning, discover Uxmal, which was an important Mayan city allied to Chichén Itzá.
It is considered an architectural jewel of the Puuc style, which stands out, among other things, for the richness of its carved stone facades.
What to see on your visit to Uxmal:
The Pyramid of the Magician, the main pyramid of Uxmal
The Great Pyramid and its Temple of the Guacamayas (Templo de las Guacamayas)
The Governor's Palace, a great place to take pictures
The Mayan ball court
Other structures such as the Quadrangle of the Birds, the Nunnery Quadrangle, the House of Turtles
To discover everything about Uxmal, here is My Definitive Guide To Uxmal!
Just 20 minutes from Uxmal is Kabah, another Puuc-style site.
It is very off-the-beaten-path and much smaller than Uxmal, but its main building called "Codz Poop" or Palace of the Masks is impressive.
How to get to Uxmal from Merida:
By car: 1h15 by Federal Highway 261 to Santa Elena. Parking costs 80 pesos. Kabah is a little further along the same road, 20 minutes from Uxmal.
By bus: 1 departure per day to Uxmal (9h05) from the TAME terminal and return at 15h. The trip lasts 1h30-2h, ticket 84 pesos.
With a tour: this is your best option to not have to worry about transportation! The tour from Merida includes air-conditioned transportation, guided visit to Uxmal and free time, and visit to Kabah.
Book the tour to Uxmal here:
In the afternoon, head back to Merida, to explore this beautiful capital of the state of Yucatan.
You can walk through its historic center: start with the Plaza Grande with the cathedral, the Casa de Montejo which is the oldest in the city and the Museo Macay, a contemporary art museum. And all for free.😉
Take Calle 64 to see the colorful houses and then walk along Paseo de Montejo, a wide avenue whose construction was inspired by the Champs Elysees in Paris.
In the evening, you can enjoy Santa Lucía park, lined with restaurants with terraces and music.
My advice
Another interesting activity to get to know the city is to take the
tourist bus
.
This is what I did during my visit because it was too hot, and I loved it!
It is a 1h30-2h tour, in a small bus called "guagua" that looks like a colorful streetcar. The tour is narrated by a guide, and takes us to see the main monuments and some neighborhoods outside the historic center.
For more information, check out my guide: Top 20 Things To Do in Merida
Spend the night in Merida
How to get to Merida from Izamal:
By car: 1h taking the YUC 11 highway and then the Gulf Coastal Highway/Valladolid – Merida/Mexico 180 W
By bus: 1h30 with Autocentro Buses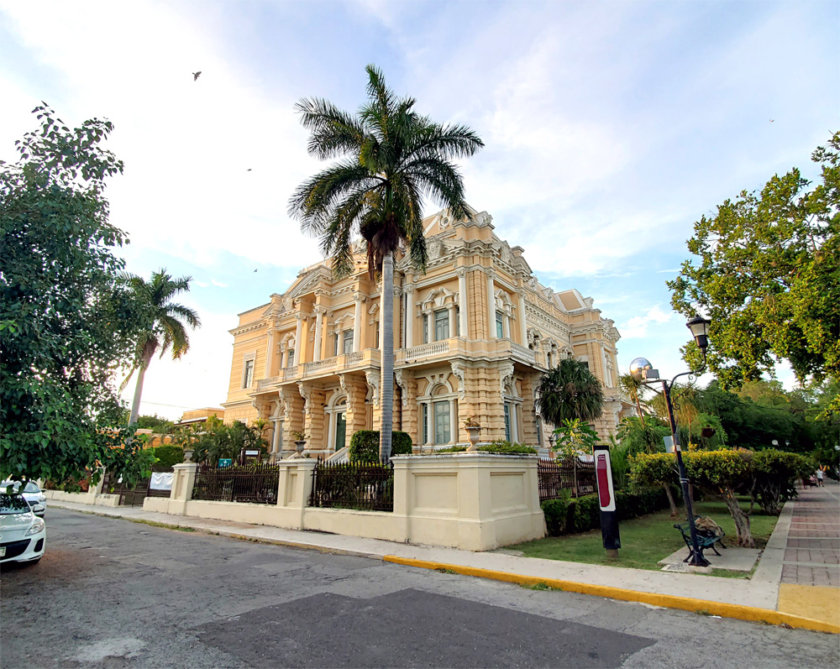 Day 2- Spend the day in Celestun, a beautiful tourist destination in Yucatan known mainly for being the best place to see pink flamingos in Mexico.
First you need to go to the fishing village of Celestun and board a small boat that will take you to the Ria Celestun Biosphere Reserve. The boat tours depart from the Parador Turistico Celestun (1h30) or from the beach (2h30).
This reserve is home to some 300 species of birds, including a large colony of flamingos, which can be seen mainly from November to April.
Another option is to book a day tour from Merida with pick-up at your hotel, which includes the boat ride to see the pink flamingos, time for a swim in a natural pool, free time in Celestun and lunch on the beach.
You can book the tour here:
Some more reading: How To See The Flamingos of Celestun?
After visiting the reserve, you can also:
Walk around the small town of Celestun, see its main square, discover its handicrafts
Do ecotourism in the Jaltun Park with its hiking trails, botanical garden, kayaking, etc
See the pink salt pans of Celestun. The extraction of salt in these pools dates back to the time of the ancient Maya. To get there, go to the Ex-Hacienda Real de Salinas
Relax on the beach of Celestun, with calm waters and far fewer tourists than in the Riviera Maya.
There are also several nice bars and restaurants along Celestun beach for a good time.
My advice
If you go to Celestún by car, you can take the opportunity to stop in the towns of Hunucma, Kinchil and Tetiz which are on the road to Mérida.
Spend the night in Mérida
How to get to Celestún from Mérida:
By car: 1h15 on Highway 281
By public transport: 2h30 from Terminal Noreste, bus 70 pesos – departures every hour from 6am. Or by colectivo near the terminal, 40 pesos – less frequent departures
Take a tour: as I mentioned above, this is the most convenient option as it includes pick up from your hotel in Merida, boat ride through the reserve, free time and lunch on the beach – a really nice and comprehensive excursion!

Where to stay in Merida?
These are my suggestions for lodging in Mérida:
Nomadas: the best hostel in Merida with a very nice atmosphere, located in the center of Merida. It has a swimming pool surrounded by hammocks and plants, possibility of classes (yoga, cooking classes, etc.). Starting at only 18$usd per night!
El Gran Hotel: ideally located in the very center of Merida, right next to the cathedral. It is a very charming hotel, where time seems to have stopped with its colonial look and beautiful woodwork. There's a restaurant, the rooms are spacious and the wifi works well. Good value for money, starting at only 59$usd per night!
Hotel Hacienda Merida VIP: this small, luxurious hotel is the ideal place to spend a few romantic days in Merida. Located in the historic center, it is an elegant hacienda-style building, illuminated by candlelight at nightfall. Here you will find a charming swimming pool, comfortable rooms, a restaurant, and a bar. Starting at 165 $usd per night
Hotel Boutique Mérida Santiago: this is a small, comfortable hotel with a colorful hacienda look, modern and with a traditional Mexican touch. There's a swimming pool with sun loungers and umbrellas. With excellent homemade breakfasts and spacious rooms, it is the ideal hotel if you are looking for comfort without falling into luxury. Starting at 197 $usd per night
4) Tulum (3 days)
Head back to the Riviera Maya where you will spend a few days in Tulum, a tropical paradise of white sand.
Day 1 – Today, explore the town of Tulum, starting with the archaeological site of Tulum located by the Caribbean Sea.
In 1h-1h30, you can visit the wall, the Castle which is the main structure, the Temple of the Frescoes, the Temple of the Descending God, and several other structures.
After the visit, go to a cenote to cool off. Cenotes are natural water wells that the Maya considered sacred, and today, many of Yucatán's cenotes are open to the public for swimming, snorkeling and scuba diving.
If you are traveling with your family, you can go to the Gran Cenote, the Dos Ojos Cenote, cenote Zacil-Ha.
For a wilder cenote, I suggest Nicte-Ha, Taak Bi Ha, Cristal or Escondido.
To find the cenote that suits you best, here is my Guide To The Best Cenotes In Tulum!
In the afternoon, stroll along Tulum's Beach Strip in the tourist area, where there are several nice stores, cafes, bars and restaurants. This is the perfect place for lunch.
As this route goes along the coast, you will already be close to the fine sand and you can relax at Playa Paraiso or Playa Las Palmas.
At night, there are several bars in Tulum with a good vibe such as Casa Jaguar, Gitano, Papaya Playa Project, etc.
For the Best Things To Do in Tulum, don't miss My Ultimate Guide To Tulum!
How to get to Tulum from Merida:
By car: 3h15, on Carretera 180 to Kantunil, then follow 180D to Valladolid and 180a Chemax-Coba. Follow Chemax-Coba and 109 to Tulum.
By bus: 4h with the ADO bus from the  CAME terminal, I suggest you take the first bus at 6:40 am so you don't lose too much time in your day! The Mayab bus company also makes the trip, but it is longer (5h-5h30).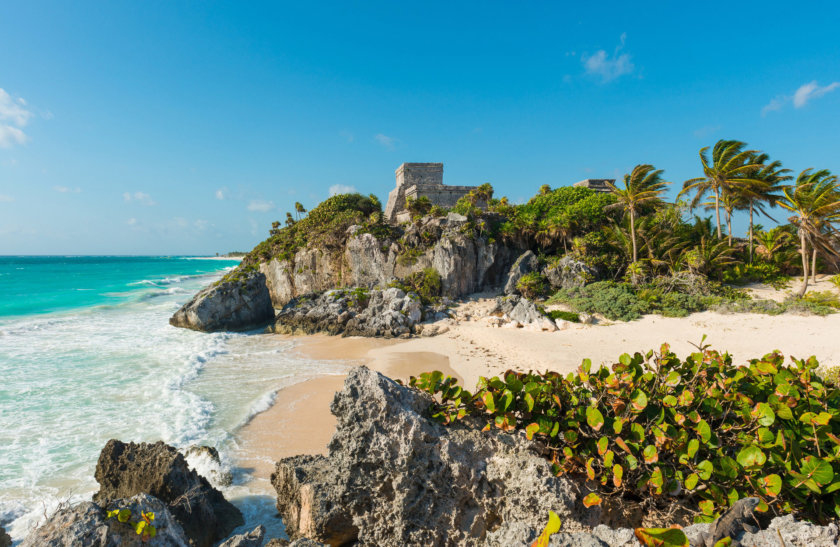 Day 2 – The Sian Ka'an reserve
The Sian Ka'an Biosphere Reserve is a must-see for a 10-12 day trip to Yucatan as it is a wonderful haven of biodiversity.
Between the sea and the rainforest, you can find more than 300 species of birds, 100 species of animals and 1000 species of plants.
There are two ways to visit Sian Ka'an, depending on your time and interests:
The day tour to Punta Allen lets you see the beach, saltwater lagoons, watch dolphins and snorkel the coral reefs.
This is truly the destination that offers the most comprehensive tour of Sian Kaan!
The only problem is that you need a 4×4 car to get there (the road is in bad shape) or walk from Tulum.
You can book here the tour to Punta Allen with pick up from your hotel, which also includes lunch:
2. A half day in Muyil lets you see the Sian Ka'an jungle, with its swamps, freshwater lagoons and the Mayan ruins of Muyil.
It is a much shorter visit that I would only suggest if you are tight on time but the advantage is that Muyil is easy to reach (20 min from Tulum) by car or by taking the ADO bus to Chunyaxche.
You can book this tour to Muyil from Tulum, which includes the visit to Sian Ka'an and lunch:
In the surroundings of the Sian Ka'an Reserve you can also visit:
Boca Paila: a beautiful beach at the entrance of the reserve, between the Caribbean Sea and Muyil Lagoon, towards Punta Allen
Kaan Luum: a lake located in the middle of the jungle with an 269 ft deep cenote.
Nopalitos Lagoon
Overnight in Tulum.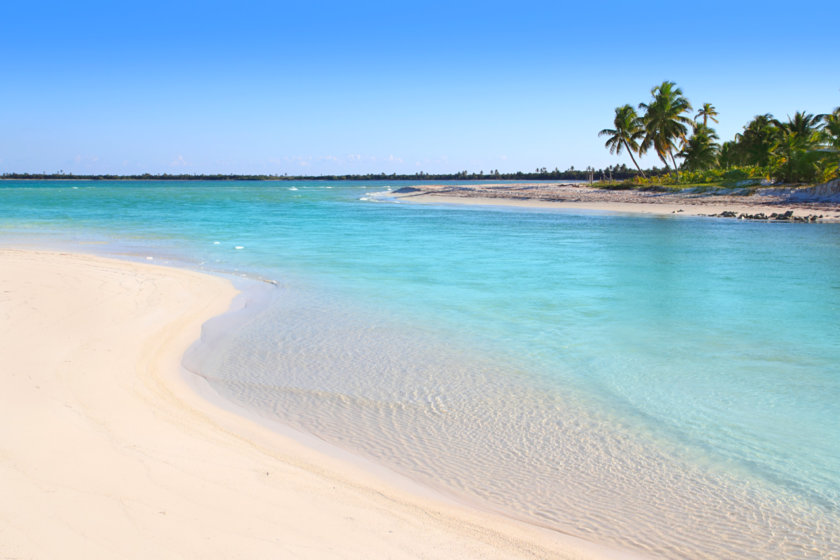 Day 3 – In the morning, head to Akumal, the best place to swim with turtles in Quintana Roo!
During the snorkeling, you will see three types of turtles, lots of fish and corals.
Here, the turtles are protected, so you need to take a tour with a guide who will make sure you follow certain rules to avoid stressing them.
You can find an agency on the beach or, if you want a more complete experience, you can take this tour with pick up at your hotel.
It includes snorkeling with the turtles in Akumal Bay, swimming in a cenote and visiting a cave. Book it here:
Besides snorkeling, you can also enjoy the beaches of Akumal, the Half Moon Bay and the Yal-Ku Lagoon.
To find out all the activities you can do in Akumal, check out my Ultimate Guide To Akumal!
On your way back to Tulum, I recommend stopping at Xcacel and Chemuyil beaches which are only 10 min away from Akumal.
They are two unspoiled beaches with white sand and clear water, very off-the-beaten-path. 😍
Important: there is nothing on those beaches (no facilities, no restaurant), so bring what you need, like your towel, snacks, enough water and, if possible, an umbrella. And they close at 5h30 pm!
Spend the night in Tulum.
How to get to Akumal from Tulum:
By car: 25 min on highway 307 towards Cancun
By public transportation: take a colectivo from the main street of Tulum to Playa del Carmen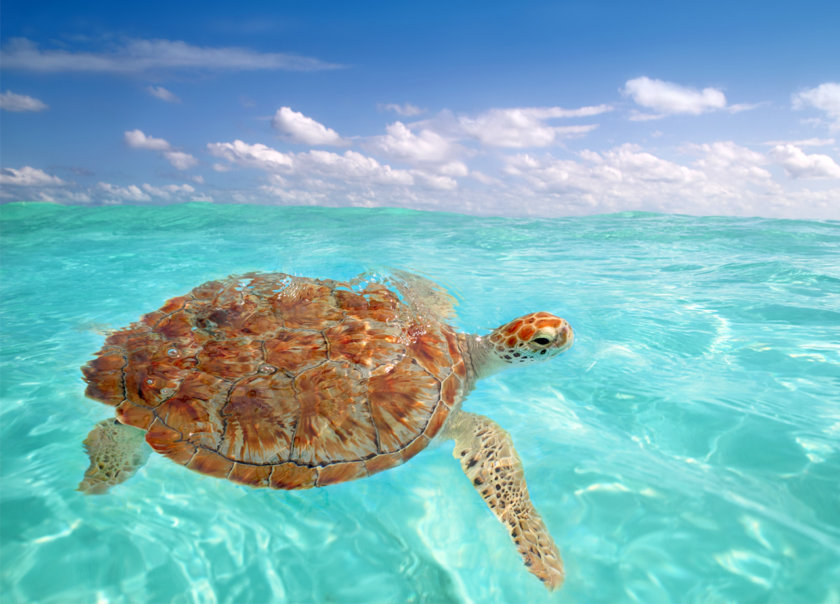 Where to stay in Tulum?
Mayan Monkey Tulum: an excellent value for money. Nice modern hostel with a good atmosphere, a pool, bar and garden. Including fast wifi, kitchen access, yoga classes, coworking spaces, and bike and motorcycle rentals. Dorms and private rooms starting at only 24 $usd per night.
Casa Almendro: if you are looking for a little more comfort, you will like this small cheap hotel in the center of Tulum. It's a green oasis with a rooftop terrace with chairs and hammocks. There are king size beds and breakfast is included, from only 50 $usd per night!
Diamante K: is a high-end hotel but at a very fair price, which is exceptional in Tulum, especially for a hotel with direct access to the beach in the hotel zone! Bohemian chic atmosphere, including a restaurant, hammocks and beds on the private beach, and a massage service. Bungalows are 207 $usd per night.
Habitas Tulum: this small eco-friendly hotel with a chic design is ideal for a romantic stay in Tulum. It is a true oasis of peace, hidden among the palm trees, with a magnificent swimming pool and a private beach. There are also yoga classes on the terrace at sunset. From 371 $usd per night!
Kanan Tulum- Adults Only: this is the ultimate option for a luxury stay in Tulum. It is an ecological hotel for adults only, located on a beautiful private beach with hammocks and beds. With a fantastic rooftop terrace with a bar; the hotel also has an excellent restaurant, great rooms and a very friendly welcome. From 566 $usd per night!
5) Playa del Carmen (1-2 days)
It's time to say goodbye to Tulum, and drive along the coast of the Riviera Maya to Playa del Carmen.
Since you have limited time left on your Yucatan roadtrip and there is so much to do in Playa del Carmen, I suggest you pick the option that appeals to you the most:
Option 1– Discover the underground caves of Rio Secreto (half day)
Rio Secreto is one of my favorite activities in Yucatan.
You get to explore  an underground river located in a nature reserve, which is part of a large 25 miles cave system.
The guided tour involves walking and swimming in crystal clear waters, surrounded by a multitude of stalactites and stalagmites.
And since the tours are only done in small groups, with mandatory reservation, you can really appreciate nature!
Don't forget your swimsuit.
Book your tickets to Rio Secreto here, which include the guided visit, and lunch with local products:
Estimate about 3h30 for Rio Secreto (visit+lunch) and still, you will have plenty of time to walk around Playa del Carmen.
You can also head to Xpu-Ha beach, one of the most beautiful beaches of the Riviera Maya, and take the opportunity to visit the Cenote Azul right in front of it.
Rio Secreto is 12 minutes from Playa del Carmen. You have to go to Tulum, by car (Highway 307), ADO bus or colectivo.
Overnight stay in Playa del Carmen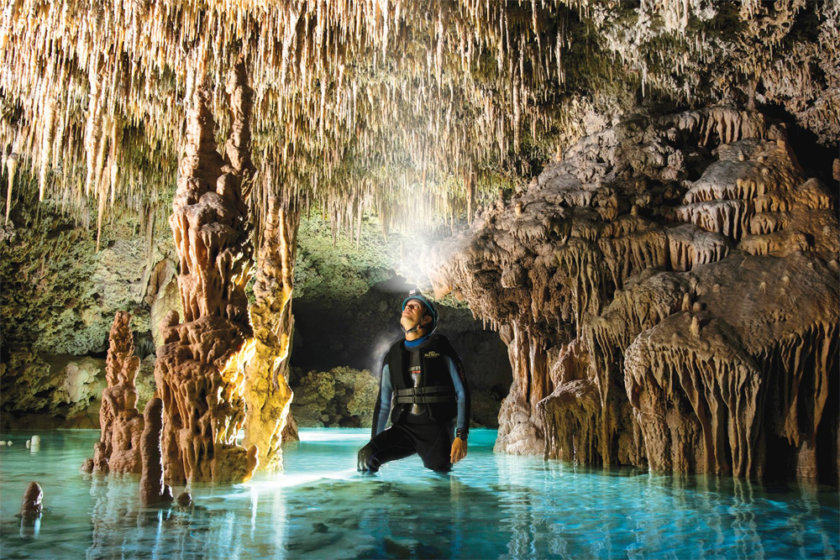 Option 2 – Xcaret Park (1 full day)
Xcaret is definitely one of the best things to do in 10 days in Yucatan! It is a huge park of 80 hectares with eco-friendly and cultural themes, located between the jungle and the Caribbean Sea.
And, because it is surrounded by nature, you can expect to see many animals such as crocodiles, tapirs, flamingos, iguanas and monkeys.
It is advisable to get there early, as there is so much to see and do in Xcaret.
I've never managed to do it all in one day, so you'll have to choose what interests you most:
The large aquarium with some 5,000 marine organisms, including many corals
The 1000 year old Mayan ruins of Polé
The underground rivers Rio Azul, Rio Maya and Rio Manati. It is best to pick only one of them, as you will need between 40 min and 1 h to swim and float (with life jacket!) in each one.
The jungle trail to discover the sacred trees of the Mayas, and the orchid and bromeliad museum
The boat ride on the Paradise River
Enjoy the Xcaret beach, the natural pools and the lagoon
The children's playground with water slides, a network of tunnels, suspension bridges, obstacles and a labyrinth
The panoramic tower offering a 360° view,  262 ft high
An immersion in Mexican culture with: a colorful Mexican cemetery, a traditional Yucatan hacienda, the Mexican folk art museum, chapels, an ancient Mayan village with pre-Hispanic dances
Finally, don't miss "Mexico Espectacular"!
It is a 2-hour show with 300 artists presenting the history, culture and traditions of Mexico.
Get your tickets for Xcaret here, which include the Mexico Espectacular show and pick-up:
If you want to visit Xcaret on your own, you can drive for about 15 minutes on highway 307 from Playa del Carmen to Tulum. You can also take the bus from the ADO terminal on Quinta Avenida, or colectivo to Tulum from the corner of Calle 1 Sur and Avenida 45 norte.
You can also get your tickets to Xcaret with the Mexico Espectacular show, but without transportation:
I buy my tickets to Xcaret (without transportation)"I
Spend the night in Playa del Carmen
My advice
The
best way to enjoy the parks
is to
stay at the Hotel Xcaret❤️
.
Besides meals, you will have full and free access to all the parks (Xcaret, Xplor, Xplor Fuego, Xenses, Xoximilco, Xel-Ha and Xenote)

Option 3 – Playa del Carmen and Puerto Morelos (1 day)
Start your day with a visit to Puerto Morelos.
This charming town is only 400 m away from the second largest barrier reef in the world, which makes it a great destination for diving enthusiasts and beach lovers.
Puerto Morelos is also the gateway to the famous Ruta de los Cenotes, a 35 km road that leads to many cenotes.
To learn more about the cenotes of Puerto Morelos and other things to do, you can check out my Top 13 Things To See In Puerto Morelos!
If you are looking for some adventure, I recommend you to go to Selvatica Park, which has been awarded as the best adventure park in Latin America and one of the 35 best parks in the world by Travel+Leisure magazine.
It is a 5h activity with pick up from your hotel and lunch, which includes 10 zip lines, swimming in a cenote and access to the Tarzania, a mix of zip line and roller coaster.
Book your tickets to Selvatica here:
After Puerto Morelos, you can go back to Playa del Carmen to explore the city:
Enjoy the beaches of Playa del Carmen such as Playa Mamitas, Playacar, Playa Tukan, Playa Paraiso, Playa Paamul
Go to Punta Esmeralda, with free beach and cenote, very peaceful during the week!
Walk along Quinta Avenida, the lively main avenue, with restaurants, shops, bars, street entertainment
Look for the most beautiful street art murals (there are many!)
Watch the dance of the voladores and the Aztec dance in the Parque de los Fundadores, both free of charge
Visit the Frida Kahlo Museum
You can also read my articles:
Playa del Carmen: What To Do On a Budget
Playa del Carmen: The 12 Cenotes You Can't Miss!
Spend the night in Playa del Carmen.
To get to Puerto Morelos from Playa del Carmen, it takes 30 minutes by car on Highway 307 towards Cancun; or you can take a bus towards Cancun and get off at Puerto Morelos and then take a cab or another bus to Puerto Morelos beach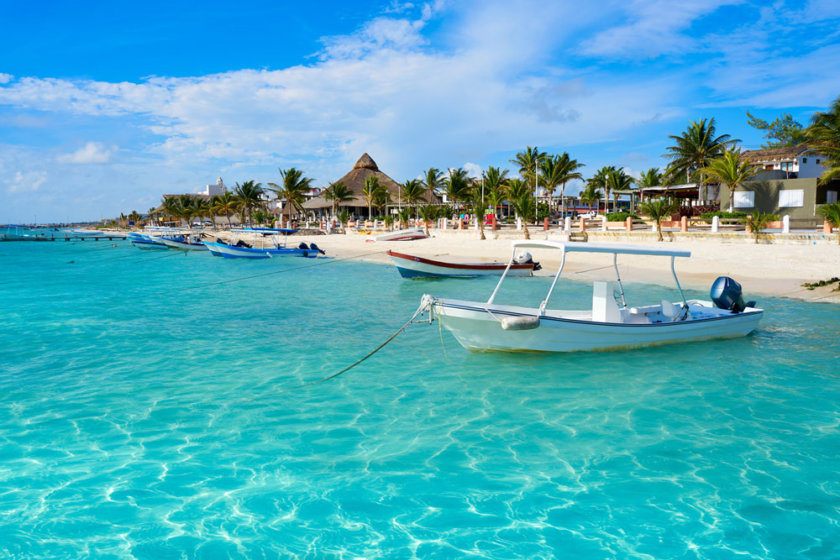 Where to stay in Playa del Carmen?
Che Playa Hostel & Bar Adults Only: great hostel to meet other travelers and party, with a rooftop terrace that has a bar and a small pool, with several offered activities. Clean, with good wifi and a great welcome. From only 13 $usd for the dormitory or 37 $usd for a private room!
Hotel Lunata: a charming hotel with hacienda style decoration, which is hidden on Quinta Avenida, very close to the beach. Quiet, with a garden, rooms with balcony, and has very friendly service. From only 82 $usd per night!
Porto Playa Condo Beach Club: here you will find a spacious apartment ideal for a family, with fully equipped kitchen, living room and terrace. The hotel has a large swimming pool, a gym and a restaurant, starting at 172 $usd per night!
The Reef Playacar Resort & Spa: located on the beautiful beach of Playacar, just a few minutes from Fifth Avenue. Ideal for a romantic stay, with a beautiful tropical garden, two pools, a gym and a spa. 200 $usd with the "all inclusive" formula.
Hotel Xcaret Mexico All Parks All Fun Inclusive: it is definitely the best hotel in Playa del Carmen! Ideal for couples and families with children as this luxury hotel offers an exceptional package including meals and access to its parks (Xcaret, Xplor, Xplor Fuego, Xenses, Xoximilco, Xel-Ha and Xenote). Starting at 860 $usd per night, all inclusive.
My tip
If you want more options, take a look at My ultimate guide to the best hotels and resorts in Playa del Carmen!
6) Cozumel (2-3 days)
Welcome to Cozumel, the last stop on your 10-day Yucatan Peninsula road trip.
Many travelers do the round trip in one day from Playa del Carmen, but since it's one of the largest islands in Mexico and there's a lot to see, I suggest staying at least 2 or 3 days in Cozumel to explore it well.
Here is my recommended itinerary:
Day 2 – Start by discovering the best spots to dive in Cozumel.
The island is considered one of the best diving and snorkeling destinations in the world!
You can check out, for example: the reefs of Palancar, Columbia, Paraiso, Punta Tunich, Chankanaab, Santa Rosa, the Devil's Throat (an underwater cave) and the wreck Felipe Xicoténcatl.
And don't miss El Cielo, which is named after the starfish at the bottom of its clear and shallow waters.
To protect El Cielo and its starfish, the site is only reachable by boat, with an organized tour that lasts 4 hours.
You can book here the tour to El Cielo with pick up at your hotel, which also includes a snorkeling stop at Palancar Reef, beer and margaritas:
Overnight in Cozumel.
How to get to Cozumel from Playa del Carmen:
You have to take the ferry for 45 min-1h.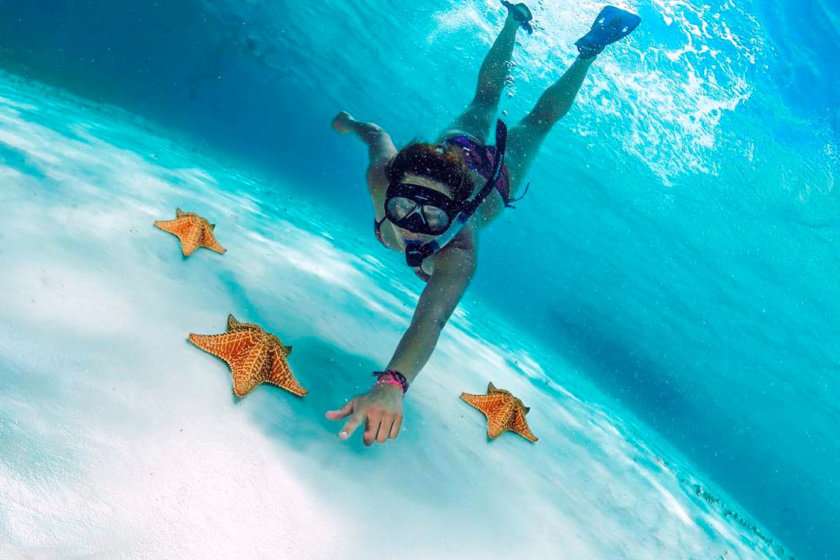 Day 2– Enjoy the day in Punta Sur
With its 1000 hectares of white sand beaches, lakes, jungle and palm trees, Punta Sur is the largest ecological reserve in Cozumel.
It has a rich biodiversity, as well as the archaeological site El Caracol and the Celerain lighthouse, which offers a stunning panoramic view, if you climb the 133 steps.
To visit Punta Sur you can take this jeep tour that takes you to the lighthouse, snorkeling, and free time on one of the most beautiful beaches in Cozumel.
It also includes lunch at a beach club and a tequila tasting.
You can book the small group tour here:
Or with private tour here:

Day 3 – Relax on the beach or at Chankanaab Park
Today is the last day of this Yucatan itinerary so I suggest you choose between:
Exploring Cozumel's most beautiful beaches such as Passion Island, Chen rio, Playa San Francisco or Playa Encantada
Going to Sky Reef or Palancar beach clubs
If you're traveling to Yucatan with your family, I recommend Chankanaab Park where you can do several activities in one place (beach, snorkeling, games, zip line, etc.)
You can get your tickets to Chankanaab here:
To learn about all the tourist attractions in Cozumel, you can also consult My Article With The 15 Best Things To Do in Cozumel 😉

Where to stay in Cozumel?
Staying in Cozumel is a very good idea if you want to enjoy the island in a privileged way since most visitors come only for the day.
Hacienda Boutique Mi Casa tu Casa B&B: one hacienda-style house with authentic and colorful Mexican charm, outdoor pool and jacuzzi. Very good traditional breakfast and an excellent welcome from the hosts, from only 82 usd per night!
Villas El Encanto Cozumel: for more comfort, I suggest this hotel that offers air-conditioned apartments and bungalows with kitchenette and terrace. Nice garden, swimming pool, hammocks and lounge chairs. It offers excellent value for money, at only 115 usd per night.
Allegro Cozumel All-Inclusive: is an all-inclusive hotel in Cozumel ideal for families. Located on San Francisco beach with many activities available (beach volleyball, yoga, snorkeling, kayaking, etc), a playground and a kids club, 3 swimming pools, one of them with slides. From 205 usd per night all-inclusive.
Meliá Cozumel All Inclusive: to enjoy the tranquility, this is an all-inclusive hotel with a beautiful private beach, spacious rooms, full spa, two pools, one of them only for adults with bar. I recommend the room with ocean view, from 280 usd euros per night all inclusive!
7) Departure from Cancun
After discovering best things to do in Yucatan in 10 days, you will have to go back to Cancun to catch your flight.
From Cozumel, take the ferry to Playa del Carmen (1h) and then the highway or the ADO bus (1h) to Cancun airport.
Have a safe journey home! ✈️
Rent a car in Yucatan
Renting a car is for sure the best way to make the most of your 10-day stay in Yucatan!
To rent a car, personally, I always use Rentalcars.com, for a few reasons:
You can easily compare the rental cars prices between all the agencies: for sure the easiest way to find the best rate!
Cancellation is often offered free of charge: no need to worry if you change your mind
Rentalcars offers full insurance coverage at a lower price than the rental companies, so it's an instant saving with no effort
Simply click on the green button to find your rental car at the best price:
My tips for your 10 day road trip in Yucatan:
In Mexico there are two kinds of roads: toll and free.
I recommend you to use the toll roads as much as possible because they are better maintained, faster and safer.
Avoid driving at night. And if you have to drive at night for some reason, always take the toll road.
To estimate the cost of your trip, use the website Traza Tu Ruta. It's very handy!
To pay at the toll booths, I suggest you get the TAG (Pase telepeaje – see points of sale here) that you can easily recharge through the app (Android – Iphone).
Don't leave your car unattended (especially at night). It's better to pay for a parking lot if your hotel doesn't have a private one.
Public transportation in Yucatan
The good thing about the Yucatan Peninsula is that it's quite easy to travel by public transportation, with its system of buses and colectivos (8-10 person vans)
My tips to explore Yucatan in 10 days without a car:
The benefit of the colectivo is that you can stop almost anywhere on the road (by telling the driver in advance where you need to get off)
The benefit of the bus is that you can easily hop on with your suitcase (or backpack), as there is more room and the schedules are fixed
The ADO bus company is very reliable with schedules. Check the ADO website to check times and buy your tickets: it's often cheaper to buy them online than at the terminal.
Depending on the city, there may be more than one bus terminal. Make sure you know where your bus leaves from!
Going to Yucatán by plane
Cancun airport has many international flights from Europe and North America. The city of Merida also has several domestic flights.
To find a cheap flight ticket to Cancun or a domestic flight you can use our flight comparison tool, in partnership with Skyscanner: it's the best way to get the lowest price!
Tourist map: The Best Places to Visit in 10 days in Yucatan
Book your trip now and save money!
You're traveling in Mexico? These articles will help you!
Discover all my articles about Mexico: All my articles to help you plan your trip to Mexico are listed there.
You're using Pinterest? Here is the picture to pin!