Things to do in Cancun: The 30 Best Places to Visit and Highlights
You're planning to visit Cancun and you're looking for the best things to do?
You're at the right place!
Located on the Yucatan Peninsula in Mexico, Cancun offers a wide range of attractions and activities, from the mesmerizing Underwater Museum of Art to the Mayan ruins of Chichen Itza and the eco-adventure park of Xcaret.
In this guide, I will tell you everything about the the 30 Best things to do in Cancun, along with tips and recommendations to make the most of your trip.
The article also includes the best activities to do with kids, how to explore Cancun on a budget, where to taste the delicious local cuisine, as well as my suggestions of the best accommodations depending on your budget.
So, what are the best places to visit in Cancun? Where to stay?
1. Explore Cancun's Hotel Zone
One place you definitely shouldn't miss during your Cancun trip is the Hotel Zone. This bustling tourist hub, also known as Zona Hotelera, is lined with luxury hotels, resorts, bars, clubs, and stunning beaches.
As you stroll along the Hotel Zone, you'll be amazed by the crystal-clear turquoise waters and the soft, white sand.
Be sure to spend a day or two exploring the beautiful beaches such as Playa Delfines, Playa Tortugas, and Playa Marlin, where you can swim, sunbathe, or indulge in watersports like jet skiing and parasailing.
In the evening, head to the lively bars and clubs to experience Cancun's famous nightlife. Don't forget to try some delicious local cuisine at the numerous restaurants lining the area. The Hotel Zone has something for everyone, making it an essential part of your Cancun adventure.

2. Visit Downtown Cancun
Aside from the Hotel Zone, you should definitely venture into Downtown Cancun for a more personal and authentic experience.
Known as El Centro, this lively area allows you to immerse yourself in the true Mexican culture. As you stroll through Mercado 28, you'll find a treasure trove of handcrafted souvenirs, traditional clothing, and local street food waiting for you to explore.
Don't forget to treat yourself to some delicious tacos or a refreshing agua fresca as you take in the bustling atmosphere.
For a relaxing break, I recommend visiting Parque de Las Palapas, a favorite spot among locals for enjoying live music, food vendors, and various events.
Make sure to add this vibrant and colorful part of Cancun to your itinerary!

3. Snorkel at the Underwater Museum of Art
Among the best things to do in Cancun, you absolutely shouldn't miss the opportunity to snorkel at the Underwater Museum of Art, commonly referred to as MUSA. This extraordinary attraction boasts over 500 submerged sculptures that create a mesmerizing underwater landscape.
MUSA is more than just an intriguing art exhibit; it also serves as an artificial reef that supports coral growth and marine life conservation.
To truly appreciate this remarkable underwater gallery, I recommend taking a guided snorkeling tour that allows you to see the sculptures up close. For a more immersive experience, you can also opt for a scuba diving excursion.

4. Have Fun at Playa Langosta
If you are looking for a relaxing and family-friendly beach in Cancun, Playa Langosta is a great option.
Located on the northern side of the Hotel Zone, this beach has calm and shallow water, white sand, and plenty of activities to enjoy.
You can rent jet skis or banana boats from the vendors on the beach, do parasailing, or just swim and sunbathe on the shore. There are also public restrooms, showers, and a playground for kids. The beach is popular with locals, so you can experience the authentic Cancun vibe.
You can also hop on a ferry to Isla Mujeres from here, or join a catamaran tour to snorkel and explore the nearby reefs.
Playa Langosta is one of the best beaches in Cancun for having fun and relaxing!

5. Refresh yourself in a Cenote
Another must-do activity while in Cancun is to swim in a cenote. These natural sinkholes, filled with fresh water and surrounded by lush jungle, are a truly magical experience and a top choice for those wondering what to do in Cancun.
Formed by the collapse of limestone bedrock, cenotes were once considered sacred by the ancient Mayans and used for various rituals. Today, they provide visitors with a refreshing escape from the heat and a chance to explore the beauty of the Yucatan Peninsula's unique landscape.
Some of my favorite cenotes near Cancun are Cenote Dos Ojos (Tulum), Cenote Verde Lucero (Puerto Morelos), and Cenote Azul (Playa del Carmen).
Each of these offers a distinct experience, whether you're looking for crystal-clear waters, impressive rock formations, or a secluded paradise. Don't miss the chance to take a dip in one of these enchanting natural wonders!

6. Explore Chichen Itza
When in Cancun, you should definitely take the time to visit Chichen Itza, one of the new seven wonders of the world and a UNESCO World Heritage Site.
This ancient Mayan city is a testament to the incredible architectural and astronomical knowledge of the Mayan civilization.
The most iconic structure at Chichen Itza is El Castillo, also known as the Temple of Kukulcan. As you explore the site, you'll also discover other remarkable structures such as the Great Ball Court, the Temple of the Warriors, and the El Caracol observatory.
To get from Cancun to Chichen Itza, you have several options
You can rent a car and drive to Chichen Itza, which takes around 2.5 hours. Parking costs 80 pesos.
You can also take a public bus from Cancun's ADO Bus Terminal, but keep in mind that there is only 1 bus per day (departure 8h and return 16h30).
The most convenient way to visit Chichen Itza is to join a guided tour, which typically includes round-trip transportation, a knowledgeable guide, and often a stop at a cenote or the colonial town of Valladolid.
I suggest this tour with pick up from your hotel, a guided tour of Chichen Itza, the beautiful cenote Ik Kil, a buffet lunch and a stop in Valladolid.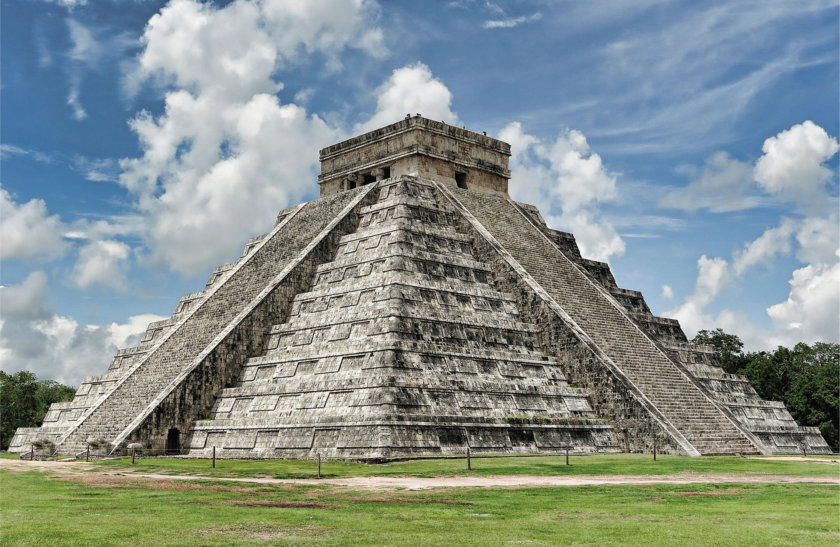 7. Experience Xcaret Park
One of my personal favorite activities in Cancun is visiting Xcaret Park, an eco-archaeological theme park that's perfect for a fun-filled day.
This family-friendly attraction truly captivated me with its wide range of activities, allowing me to connect with nature, learn about Mayan culture, and enjoy various entertainment options.
I absolutely loved snorkeling in the park's underground rivers, exploring the Coral Reef Aquarium, visiting the butterfly pavilion, and even walking through a re-creation of a Mayan village.
Don't miss Xcaret Mexico Espectacular, a wonderful show with 300 performers that showcases the Maya's historical journey. It's a great way to end your day.
How to get from Cancun to Xcaret:
By bus: you can take the ADO bus from Cancún to Xcaret (1h30), départures 7h30, 7h50, 9h, 10h30, and only one return at 21h30 so remember to buy your tickets in advance!
By car: You can drive (1h15) from Cancún to Xcaret Park taking MEX-307
By shuttle: Some tickets include transportation from your hotel. I think it's totally worth it not to worry about the transport (and especially the return).
Find the ticket that works best for you here (they all include the night show and the buffet):
My advice
The
best way to enjoy the parks
is to stay at the
Xcaret Hotel
❤️
In addition to meals, you will have full access to all the parks for free! (Xcaret, Xplor, Xplor Fuego, Xenses, Xoximilco, Xel-Ha and Xenote)

8. Xplor Park
Spending half-day or a full-day at Xplor is definitely one of the best things to do in Cancun!
Xplor Park belongs to the same company that runs Xcaret, and offers a variety of activities for all ages and tastes, such as zip-lining, driving amphibious vehicles and exploring caves.
Xplor Park is a great option for families, couples, or solo travelers who want to have some fun and adventure in a natural setting. You will enjoy the stunning scenery, the adrenaline rush, and the friendly staff.
My advice
If you want to learn more about Xplor Park, with my personal experience and the
difference between Xplor and Xcaret
, check out
My Ultimate Guide on Xplor
.
How to get from Cancun to Xplor:
Xplor Park is located about an hour away from Cancun, in the heart of the Riviera Maya.
By car: 1h, take the Federal Highway 307 (the park is just past Playa del Carmen)
By bus + colectivo: first, take an ADO bus to Playa del Carmen (1h), then take a colectivo at the corner of Calle 1 Sur and Avenida 45 norte (to Tulum). Don't forget to tell the driver you will get off at Xplor.
To book the ticket you want, just click on the link below. They all include the full acess to activities, hotel pick-up in the Riviera Maya, the equipment and the buffet!

9. Enjoy  Xoximilco Cancun
One of the most memorable nights I had in Cancun was when my friends and I decided to go to Xoximilco Cancun.
Inspired by the famous floating gardens of Mexico City, Xoximilco Cancun is a lively and colorful celebration of Mexican traditions, music, and good vibes.
We boarded a beautifully decorated trajinera (traditional Mexican boat) and cruised through the canals, surrounded by lush vegetation and sparkling lights. The atmosphere was electric, as we were serenaded by different live bands playing traditional Mexican music, like mariachi, marimba, and bolero.
While the food was good, the real highlight of the evening was the amazing ambiance created by the music, the animation, and the company of our fellow travelers. We danced, laughed, and sang along, embracing the authentic Mexican spirit and making unforgettable memories.
Our guide was great and the open bar (especially the tequila) helped for sure! 😆
You can have fun with your loved ones and experience the culture by doing this amazing activity in Cancun. Book it here:

10. See JOYÀ by Cirque du Soleil
As someone originally from Montreal, I was especially thrilled to discover that Cirque du Soleil, the world-renowned circus troupe from my hometown, has a permanent show in Cancun called JOYÀ.
I couldn't pass up the opportunity to attend this extraordinary performance, and let me tell you, it was an unforgettable experience that should be on every traveler's list of things to see in Cancun.
Set in an intimate, custom-built theater at the Vidanta Riviera Maya resort, JOYÀ is a visual feast that combines breathtaking acrobatics, stunning costumes, and mesmerizing music in a way that only Cirque du Soleil can deliver.
The show tells the story of a young girl who embarks on a fantastical journey to uncover the secrets of her family's past, drawing inspiration from Mexico's rich history and culture.
It's without a doubt one of the best things to do in Cancun!
My advice
For an even more memorable experience, you can choose to
enjoy a gourmet dinner
before the show. This truly immersive experience combines culinary delights with the awe-inspiring performance, making for a one-of-a-kind night out in Cancun.
You can select from various packages (show only, show and meal, or VIP) when you purchase your ticket:

11. Try Cancun's Street Food
When you visit Cancun, don't miss the chance to try Cancun's street food. It's a delicious way to taste the local cuisine and experience authentic Mexican flavors. Some of the must-try dishes include tacos, ceviche, and cochinita pibil.
As you explore the city, make sure to stop at a street food vendor or a local market to enjoy these mouthwatering delights. Trust me, your taste buds will thank you!
Here are a few Cancun street food favorites you should try:
Tacos al Pastor: A popular Mexican street food, Tacos al Pastor features marinated pork cooked on a vertical spit, similar to shawarma or gyro. The meat is thinly sliced and served on a small corn tortilla with pineapple, onions, cilantro, and a variety of salsas. This dish is a true flavor explosion and a must-try when in Cancun.
Ceviche: This refreshing seafood dish is made with fresh fish or shrimp marinated in lime juice, combined with tomatoes, onions, cilantro, and sometimes avocado. Ceviche is typically served with tortilla chips or saltine crackers, and it's the perfect light meal to enjoy on a hot day by the beach.
Cochinita Pibil: A traditional Yucatecan dish, Cochinita Pibil is made with slow-roasted pork marinated in a mix of achiote paste, sour orange juice, and spices. The meat is wrapped in banana leaves and cooked in an underground oven until tender and flavorful. It's usually served with pickled red onions and habanero salsa on a warm corn tortilla.
Marquesitas: For dessert, don't miss the chance to try Marquesitas, a popular street food treat in the Yucatan Peninsula. These crispy, rolled crepes are filled with sweet or savory ingredients such as Nutella, cajeta (caramelized goat milk), or even Edam cheese. They're made to order, and you can watch the vendor prepare them right in front of you.
And feel free to ask locals for their recommendations on where to find the best spots. After all, nothing beats getting insider tips from the people who know the city best!
For a real immersion in Mexican cuisine in Cancun, you can also take this Taco & Local Beer Tasting Tour or Street Food and Urban Art Tour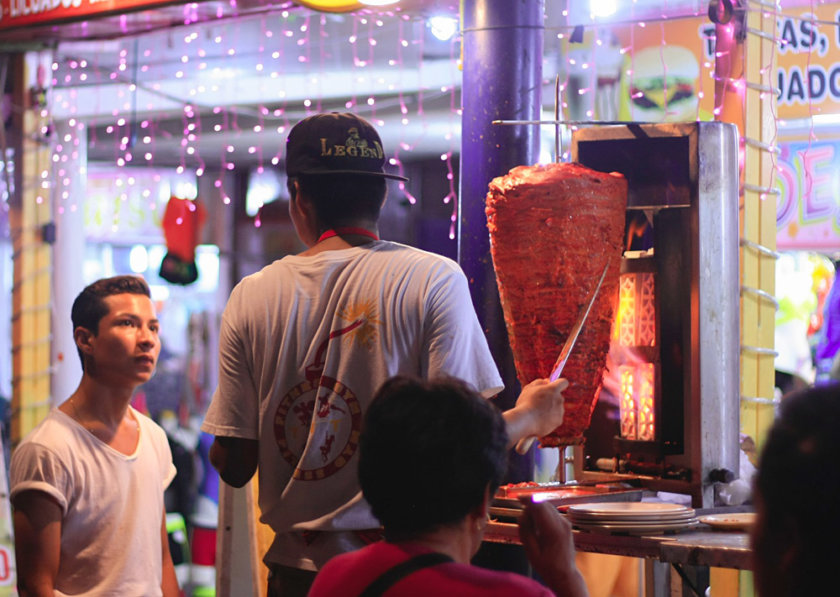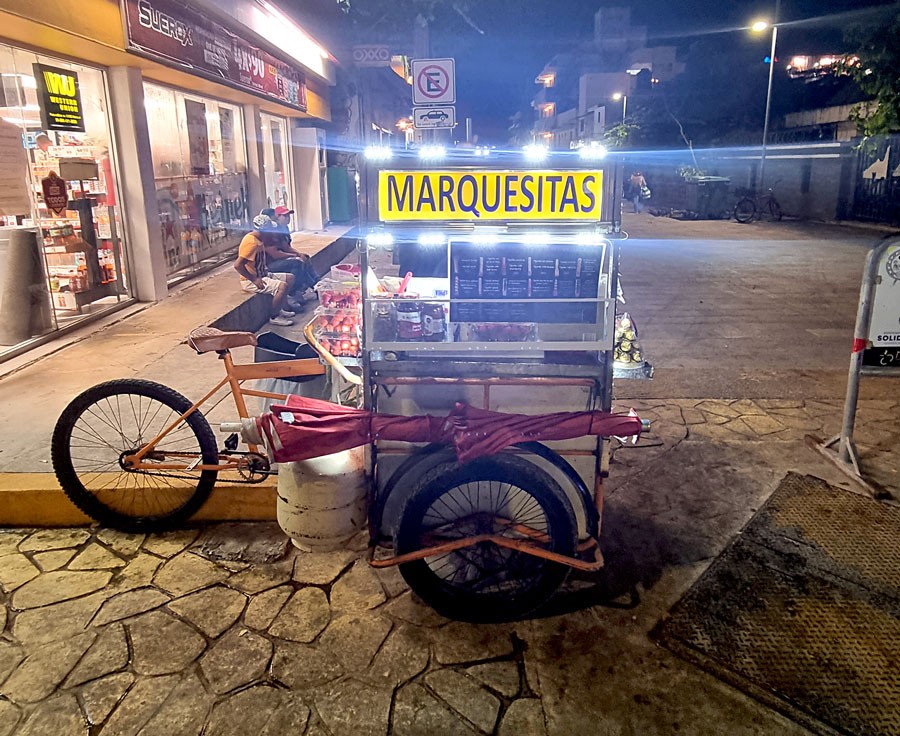 12. Shop at La Isla Shopping Village
If you're in the mood for shopping, head over to La Isla Shopping Village, a mall with over 150 stores, restaurants, and entertainment options like the Ripley's Museum, the Sky Wheel, The Wax Museum, Kid's Paradise, Chocolate Factory, Tequila Museum and the Mirror Maze!
With its open-air design, canals, and lush greenery, La Isla offers a unique and pleasant shopping experience. You'll find everything from luxury brands to local handicrafts, ensuring that you can find the perfect souvenir or gift to take back home.

13. Go to Mercado 23
Going to Mercado 23 is one of the best things to do in Cancun if you want to see the real life of the locals and enjoy some traditional flavors (as tacos, tortas, tamales, and juices.)
You will also have a chance to practice your Spanish and bargaining skills. Mercado 23 is a colorful and lively place that you should not miss!
Mercado 23 is a local market where you can find fresh produce, meat, cheese, spices, flowers, and more. It is a great place to experience the authentic Cancun vibe and culture, as well as to buy some souvenirs and crafts at reasonable prices.
The market is open every day from 6 a.m. to 6 p.m.

14. Dive in Cozumel
Cozumel is a diving paradise, with some of the most amazing coral reefs and marine life in the world. Jacques Cousteau praised it as one of the top 10 dive spots in the world, and it is easy to see why when you dive into the clear turquoise water.
From shallow reefs to deep walls and caves, Cozumel has over 40 dive sites and hundreds of species of fish, coral, mollusks, marine mammals, and plants to discover.
Cozumel has dives for all levels, from beginners to experts. I personally loved the Palancar Reef, where I saw some of the most colorful corals, sponges and tropical fish I have ever seen.
Cozumel Island is located in the Caribbean Sea, about 50 km from Cancun. To get there, you need to take a ferry:
First, go to Playa del Carmen (1h10): if you don't have a car, you can take a bus or a colectivo that leave regularly from downtown or the hotel zone of Cancun.
In Playa del Carmen, take the ferry to Cozumel (45 min): the ferry pier is located on 5th avenue. You need to book your ferry ticket here!
The absolute best way to enjoy Cozumel is to take a snorkeling tour. I recommend this tour that takes you snorkeling near three different reefs with all the equipment you need, water and soft drinks on the boat, beers  included after the snorkeling:

15. Go to Isla Mujeres
Another must-visit destination while in Cancun is Isla Mujeres, a picturesque island known for its stunning beaches such as Playa Norte, vibrant marine life, and laid-back atmosphere.
A perfect day trip destination, Isla Mujeres offers activities such as snorkeling, scuba diving, swimming with whale sharks, and simply relaxing on the beach.
Don't forget to visit the southern tip of the island, Punta Sur, where you'll find a beautiful sculpture garden and breathtaking views of the turquoise Caribbean waters.
To get to Isla Mujeres from Cancun, follow these steps:
Choose a ferry departure location: Ferries depart from various locations in Cancun, including Puerto Juarez, the Hotel Zone, and Playa Tortugas. You can buy your round trip ticket to Isla Mujeres here (valid for 6 months after the departure date)
Board the ferry: The ferry ride takes about 15-20 minutes, offering a scenic journey to the island.
Explore the island: Once you arrive, you can rent a golf cart, bike, or scooter to discover the island's attractions.
Trust me, a visit to Isla Mujeres is definitely one of the best things to do in Cancun, so don't miss out on this charming island getaway!

16. Laguna Nichupte: A Natural Oasis in Cancun
If you are looking for a natural oasis in Cancun, you should visit Laguna Nichupte, a large lagoon that covers an area of more than 3,000 hectares.
Laguna Nichupte is located on the east coast of Cancun, behind the hotel zone. It is one of the best examples of natural paradise, as it represents a large area of natural reserve for the mangrove ecosystem and the different animal species that live there.
Laguna Nichupte is composed of seven lakes, among which stand out Laguna del Amor, Laguna Bojorquez, Laguna San Jose and Laguna Ciega. It also communicates with the Caribbean Sea through two channels: Sigfrido and Nizuc.
In its waters you can practice various activities, such as fishing, kayaking, canoeing, skiing, diving, snorkeling, etc. The view from there is amazing, so it is an ideal place to enjoy the Caribbean sunset.
During the day, you can explore the mangroves and islands of Laguna Nichupte, and see different types of flora and fauna, such as flamingos and crocodiles.
Laguna Nichupte is a hidden gem that offers you the opportunity to enjoy the beauty and diversity of this unique habitat. You will also learn about the conservation efforts that are being done to protect this natural wonder. Don't miss this opportunity to discover one of the top-rated tourist spots in Cancun.

17. Learn about Mayan Culture at the museum
If you are looking for some activities in Cancun that will teach you more about the region's rich history, you should not miss the Mayan Museum of Cancun.
The museum showcases the rich archaeological heritage of the ancient Mayan civilization, featuring not only the most important artifacts from Quintana Roo state, but also a selection of iconic pieces from other sites such as Palenque, Chichén Itzá, and Comalcalco.
It also includes access to the archaeological site of San Miguelito (13th-16th centuries) that was used for residential, administrative and ceremonial purposes by the Maya who traded with other regions along the Caribbean coast.
The most impressive structure in San Miguelito is the Chaak Palace, a tall pyramid with four staircases and carvings of the rain god Chaak. Another interesting feature is the Dragon Complex, where you can see hieroglyphics of a bird and a crocodile on a small building.
18. Surf at Playa Chac Mool
If you want to learn to surf in Cancun, go to Playa Chac Mool, located in the Hotel Zone.
You can rent a surfboard or a boogie board on the beach, or take a surf class. You will also make friends with other surfers and locals.
I had a blast surfing at Playa Chac Mool. Even if it was hard for me (waves are not huge or scary, I think I'm just bad at it 🤣), it was very fun. I fell a lot, but I also rode some waves and felt amazing. My instructor Santi was helpful and encouraging. I would do it again for sure!
My advice
My instructor made surfing at Playa Chacmool amazing, but he said
Playa Gaviota Azul
is better for beginners. Apparently the waves are calmer there than in other places, so I want to go there next time!
Gaviota Azul Beach has public access between Plaza Forum By The Sea and the beach club, in Punta Cancun.

19. Relax at Playa Delfines
One of the best beaches in Cancun, Playa Delfines offers soft, white sand, crystal-clear turquoise water, and a view of the iconic Cancun sign.
This picturesque beach is perfect for a day of relaxation and sunbathing, or you can take a dip in the warm Caribbean Sea to cool off. Unlike some of the other more crowded beaches in the Hotel Zone, Playa Delfines has a more laid-back vibe, making it a great spot to unwind and escape the hustle and bustle.
Don't forget to snap a photo with the colorful Cancun sign as a souvenir of your visit!

20. Party at Coco Bongo
If you're looking for a night of unforgettable entertainment, head to Coco Bongo, a legendary nightclub in Cancun's Hotel Zone. This unique venue features a mix of live performances, DJs spinning the latest hits, and even acrobats flying through the air.
With confetti raining down and a high-energy atmosphere, Coco Bongo promises a night you won't soon forget. Make sure to arrive early and consider purchasing a VIP pass for a better view and faster access to the venue.
Buy your tickets here! – chose between: Regular, Premium, Gold, Front row and Double Gold tickets, and it also gives you access to the beach club.

21. Visit Xel-Ha Park
Xel-Ha Park is one of the best things to do near Cancun, as it combines fun, nature, and culture.
It is an eco-friendly park where you can tube down the lazy river, bike through the jungle, or zip-line into the water, sunbathe on the beach, or explore the hidden bays and cenotes. What I liked the most about Xel-Ha Park was snorkeling in the cove and seeing all the colorful fish and corals!
You can also enjoy unlimited food and drinks at the park's restaurants and juice bars.
There are different ways to get from Cancun to Xel-Ha, depending on your preference and budget. Here are some possible options:
By car: You can drive from Cancun to Xel-Ha via MEX-307 in about 1 hour and 48 minutes.
By bus: You can take a bus from Cancun to Xel-Ha operated by Autobuses Mayab or ADO (2h20). Several departures are available in the morning. For the return trip, ADO has three schedules: 16h55, 18h and 18h10 – and I really recommend buying your ticket in advance.
Booking a tour: a tour to Xel-Ha from Cancun saves you hassle and time. You can skip driving, parking, and queuing. You can book your Xel-Há All-Inclusive ticket here!

22. Explore Tulum Ruins
Located just a couple of hours south of Cancun, the Tulum Ruins are a must-visit for history enthusiasts and nature lovers alike.
This ancient Mayan city is perched on a cliff overlooking the stunning Caribbean Sea, offering breathtaking views and a unique cultural experience.
Wander among the well-preserved structures, including El Castillo, the Temple of the Frescoes, and the Temple of the Descending God.
After exploring the ruins, you can relax on the nearby Playa Ruinas (the Ruins beach), where you'll find soft sand and crystal-clear water.
Here is how to get to Tulum ruins from Cancun:
Car Rental: The drive takes around 1 hour and 45 minutes. You can park in the designated parking area near the entrance to the ruins.
Bus: Take the ADO bus from Cancun to Tulum ruins (make sure you choose "Tulum zona arqueologica" and not just "Tulum" as the destination). The bus ride takes 2.5h
Tour: Book a guided tour to Tulum ruins that includes transportation from Cancun. This option allows you to relax and learn more about the site from a knowledgeable guide.
Colectivo: Take a colectivo (shared minibus) from Cancun to Playa del Carmen and then another one from Playa del Carmen to Tulum. This is a more affordable option, but it may take longer due to multiple stops and transfers.
Remember to bring sunscreen, water, and a hat, as the ruins can get quite hot during the day.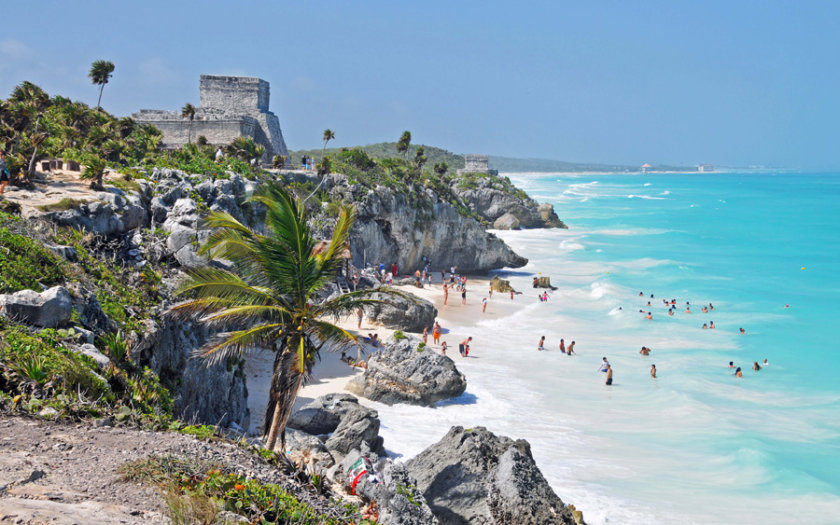 23. Rio Lagartos: A Flamingo Sanctuary
If you want to see one of the most impressive natural spectacles in Cancun, you should visit Rio Lagartos, a biosphere reserve that hosts the largest colony of pink flamingos in Mexico. Rio Lagartos is a coastal lagoon that is home to more than 300 species of birds, as well as crocodiles, sea turtles, dolphins and other wildlife.
The best way to explore Rio Lagartos is by taking a boat tour with a local guide, who will show you the different ecosystems and wildlife of the reserve. You will see hundreds of flamingos feeding and flying in the lagoon, as well as other birds like pelicans, herons, egrets and spoonbills. You will also have the chance to swim in a natural mud bath that has healing properties for your skin.
Rio Lagartos is a paradise for nature lovers and birdwatchers, where you can admire the beauty and diversity of this unique habitat. You will also learn about the conservation efforts that are being done to protect this natural wonder. Don't miss this opportunity to discover one of the most amazing places in Cancun. Book your tour now!
My advice
It is possible to see flamingos all year round, but the ideal time to visit Rio Lagartos is during the nesting season, from April to June.
How to get from Cancun to Rio Lagartos:
Rio Lagartos is located about 250 km (155 miles) from Cancun, in the north of the Yucatan Peninsula.
In my opinion, going to Rio Lagartos by car (3h15 one way) or by bus (Cancun-Tizimin + Tizimin – Rio Lagartos) takes too much time in just one day! That's why I recommend joining a tour that handles the transportation for you.
You can book this tour to Rio Lagartos that includes transportation, lunch and a boat ride. It also includes a visit to Las Coloradas, a nearby salt lake that has a striking pink color due to the algae and bacteria that live there.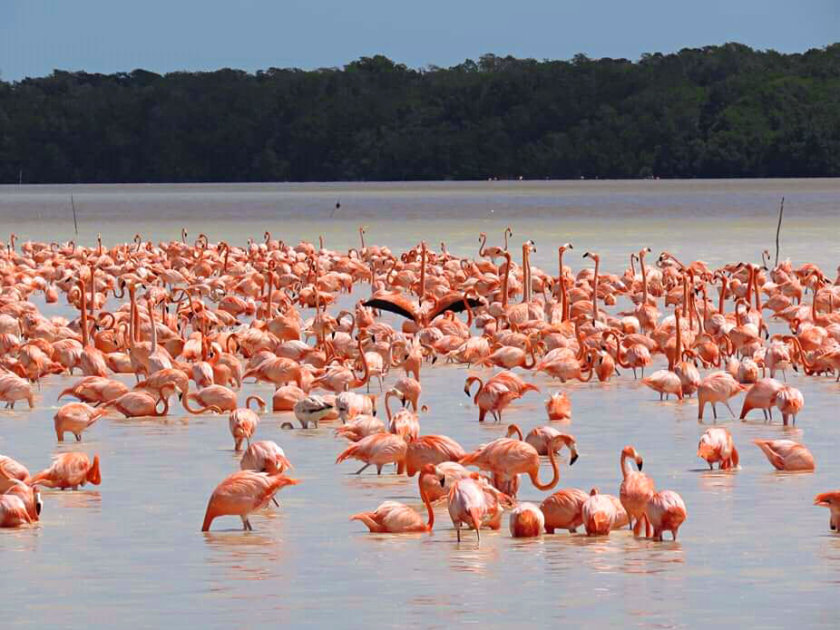 24. Isla Blanca: Cancun's Hidden Corner of Paradise
If you are looking for a quiet and remote beach getaway in Cancun, you should visit Isla Blanca, a long thin peninsula that has a lagoon on one side and the ocean on the other.
Isla Blanca is a sandy paradise that stretches for about 20 km (12 miles) north of downtown Cancun. It is mostly frequented by locals and their families, so you can enjoy an authentic and chill atmosphere.
The best part of Isla Blanca is that you can choose between two different sides, the lagoon side and the ocean side:
The lagoon side is calm and shallow, perfect for swimming, kayaking, paddle boarding or kitesurfing. You can also see some wildlife like flamingos, crocodiles and big bugs.
The ocean side is more wild and windy, ideal for surfing, fishing or sunbathing. You can also enjoy some stunning sunsets from this side.
Isla Blanca is a hidden gem that offers you the opportunity to enjoy a peaceful and secluded beach escape in Cancun. You will love the contrast between the lagoon and the ocean, and the feeling of being away from the crowds and the noise. Don't miss this amazing place to see in Cancun.
How to get to Isla Blanca: 
 There is no public transport to this area. You can get there by driving yourself or by taking a tour.
You will need to drive along a 9 km (5.6 miles) sand road that runs through the peninsula and ends about 6 km (3.7 miles) from its northern tip.

25. Take a Day Trip to Valladolid
Valladolid is a charming colonial town with colorful buildings and a cenote nearby. It is one of the oldest and most beautiful cities in Yucatan, and a Pueblo Magico (Magical Town) of Mexico.
You can explore the main square, the San Servacio church, the Calzada de los Frailes, the San Bernardino convent, and the Casa de los Venados museum, a private home that displays a huge collection of Mexican folk art. I was amazed by the variety and creativity of the pieces!
It is a great place to experience the culture and history of Yucatan. You will love its architecture, its atmosphere, and its people. Valladolid is definitely a must-see when you visit Cancun!
Most people do Valladolid and Chichen Itza in the same day (usually Chichen Itza in the morning and Valladolid in the afternoon) but there are also many other activity options such as Cenote Maya Native Park, Cenote Suytun, Ek Balam, Cenotes Xkeken and Samula, etc.
How to get to Valladolid from Cancun: 
Car: drive from Cancun to Valladolid in about 1 hour and 44 minutes.
Bus: you can take the ADO bus from Cancun Centro station to Valladolid (1h30). There are buses every hour from 4 am to 9.30pm.
Tour: This is the best way to travel if you want to see more than just Valladolid. You can join a tour from Cancun that includes Valladolid as well as other places like Chichen Itza, Ek Balam or Cenote Zaci. The tour will provide transportation, guide, entrance fees and sometimes lunch.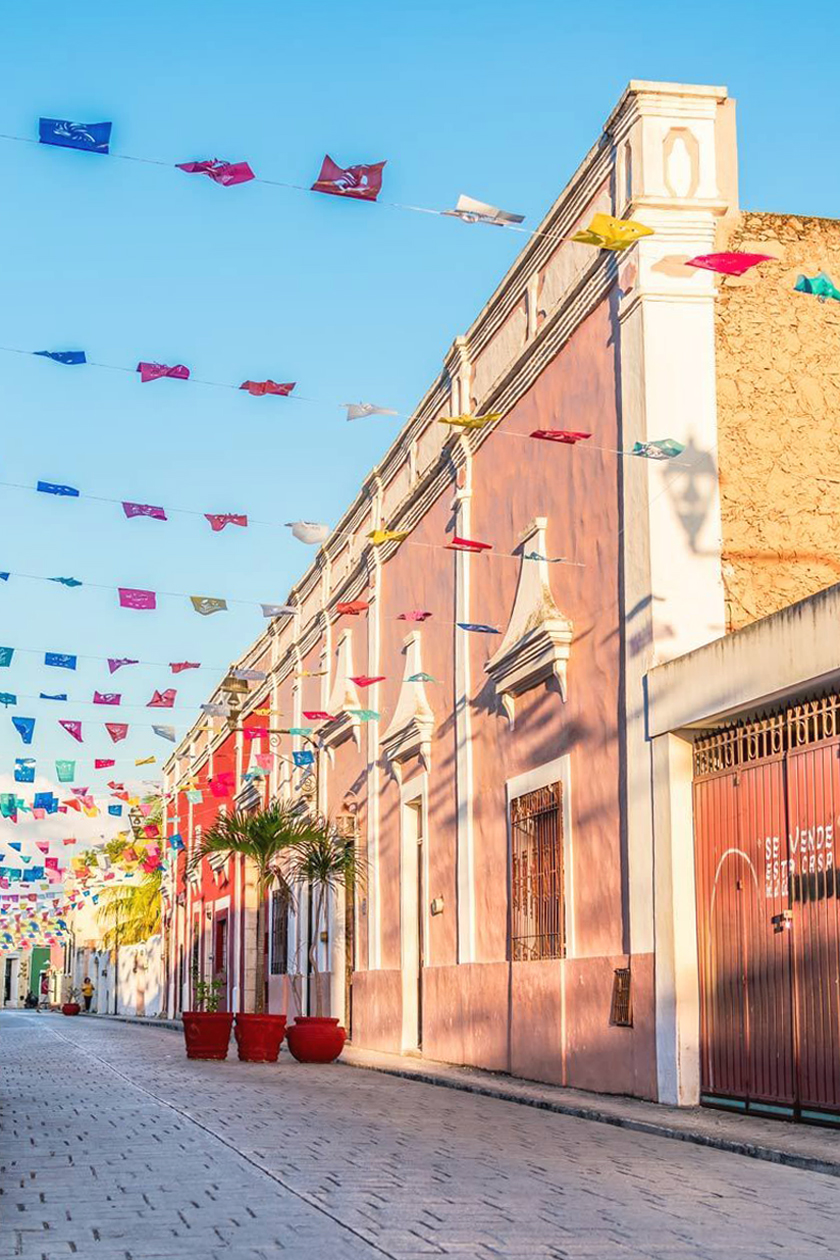 26. Rio Secreto: A Hidden Gem in Cancun
If you are looking for a unique and unforgettable adventure in Cancun, you should not miss Rio Secreto, a natural reserve and eco-tour that takes you to explore a stunning underground river with thousands of dramatic stalactites and stalagmites.
It's like stepping back in time to witness something mysterious and truly spectacular.
Rio Secreto is more than just a tour, you will feel a real connection with nature, and you will also learn about the preservation and conservation efforts that Rio Secreto does to protect this natural wonder.
The whole experience lasts about four hours, and it is suitable for people of all ages and fitness levels. You will need to wear a wetsuit, a helmet with a lamp, water shoes and a life jacket.
Visits only take place in small groups in order to preserve the site and booking is compulsory. It includes the guide, equipment, transportation, lunch and access to the nature trails and museum.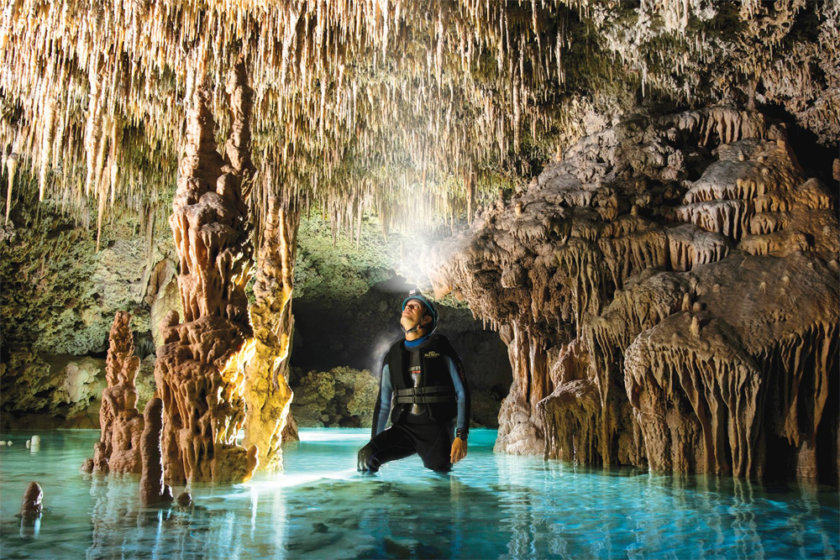 27. Watch the Sunset from Torre Escenica
One of the best ways to enjoy the beauty of Cancun is to watch the sunset from Torre Escenica, a rotating observation tower that offers spectacular views of the Caribbean Sea, the Nichupte Lagoon and the Cancun Hotel Zone. You will see the sky changing colors from orange to pink to purple, while the city lights up below you.
Torre Escenica is located at the Embarcadero Isla Mujeres by Xcaret, at km 4.5 of the Hotel Zone. It is an extraordinary ride, as a capsule slowly rises to 80 m (262 ft) high, spinning on its axis, allowing you to see 360° of Cancun's scenery.
You will be able to spot Isla Mujeres, the turquoise bay and the mangrove area in the lagoon.
The best part is that your access is included when you buy your ferry ticket at Xcaret Xailing. You can also buy a separate ticket for Torre Escenica for 15 USD per person.
The tower is open from 9 am to 9 pm, so you can choose the time that suits you best.
Don't forget your camera and capture some amazing photos of your vacation.

28. Cobá: A Mayan City in the Jungle
If you are interested in the history and culture of the ancient Maya, you should visit Cobá, one of the most important archaeological sites in the Yucatan Peninsula. Cobá is a sprawling city that was once home to more than 50,000 people. It is located about 135 km (84 miles) from Cancun, in the middle of the jungle.
The best way to explore Cobá is by walking or renting a bike, as the site covers an area of 80 km2 (31 sq mi).
You will see different buildings and monuments that reflect the Maya's architectural and artistic skills. The most impressive one is the Nohoch Mul pyramid, the 2nd highest in the Yucatan Peninsula (42m, 138 ft), just after Calakmul.
My advice
You may find some outdated blogs that say you can climb the Nohoch Mul, but this has been forbidden since 2020! Despite that, Cobá is still a great place to visit.
Cobá is a fascinating place that reveals the secrets of the Maya civilization and its connection with nature. You will learn about their religion, astronomy, mathematics and social organization. You will also feel the mysticism and energy of this ancient city. Don't miss this opportunity to discover one of the most amazing places in Cancun.
How to get to Cobá from Cancun:
By driving yourself along the coastal highway south to Tulum, then turn inland (1h45)
By taking a bus from Cancun to Tizimin and then another bus to Cobá
By booking this tour that includes transportation from your hotel, lunch, a guided visit of Coba and Tulum, and a cenote

29. Isla Contoy
Isla Contoy is located about 32 km (20 miles) from Isla Mujeres and 50 km (31 miles) from Cancun. It is a hidden treasure where you can relax on the soft white sand and swim in the clear turquoise waters.
Isla Contoy is a natural reserve that limits the number of visitors to 200 per day, so you can enjoy the peace and tranquility of this paradise.
It definitely ranks among my favorite beaches in Mexico! You won't regret visiting this stunning place in Cancun.
To visit Isla Contoy, you need to book a tour with an authorized company. The tour usually includes a stop at Isla Mujeres, a visit to the Ixlache reef for snorkeling, lunch on the island and free time to explore. If you have your vacation dates set, I highly recommend booking now:
Click here to book:

30. Swim with Whale Sharks
If you are looking for a thrilling and unforgettable adventure in Cancun, you should join a full-day whale shark encounter tour.
Whale sharks are the largest fish in the world, measuring up to 12 m (40 ft) long and weighing up to 20 tons. They are gentle giants that feed on plankton and small fish, and they migrate to the Yucatan coast every summer.
You will feel the adrenaline and awe of being close to these gentle giants, and you will also learn about their biology, behavior and conservation.
You can get to see these amazing creatures by booking this snorkeling tour that includes transportation, breakfast, lunch, drinks, snorkeling equipment and a professional guide.
You will be picked up from your hotel and taken to the marina, where you will board a boat and head to the whale shark area near Isla Mujeres.
You will have the opportunity to swim and snorkel with these majestic animals in 15-minute rounds, following the safety rules and respecting their environment.

Where to stay in Cancun?
Mayan Monkey Cancun: hostel with a festive atmosphere in Cancun's hotel zone, very close to the beach and bars. Terrace, outdoor pool, bar with happy hour, air conditioning, ping-pong, good wifi. Private rooms and dorms, from only 24$usd!
Bed and Breakfast Pecari: if you are looking for more comfort, I recommend without hesitation this establishment. It is a beautiful Bed and Breakfast located in a quiet street near the city center and the ADO bus station, with a relaxation area by the pool, spacious rooms, and a good breakfast, starting at 50$usd per night!
Beachscape Kin Ha Villas & Suites: rooms, suites, and villas for 2 to 12 people with direct access to the beach. Outdoor pool, children's pool, gym, restaurant, beach bar. Breakfast included, starting at 218$usd per night.
The Royal Sands Resort & Spa: spacious rooms and suites with ocean views, in the heart of Cancun's hotel zone. Large outdoor pool, gym, spa, fine restaurants, sports bar and many activities. All inclusive, starting at 485 $usd per night
My tip
For more options, you can visit my article about the
best hotels and resorts in Cancun
and find your perfect hotel. Here is the link:
Where to stay in Cancun?
Best things to do in Cancun with kids
Cancun is a family-friendly destination with plenty of activities to keep kids entertained.
Here are some top Cancun attractions and activities to enjoy with your little ones:
Interactive Aquarium Cancun: Get up close and personal with a variety of marine life, from colorful fish to sea turtles. There's also a touch tank and dolphin encounters available for an additional fee.
Ventura Park: This amusement and water park offers thrilling rides, water slides, and a wave pool. It's a great way to spend a fun-filled day with the family.
Beach time: Spend a relaxing day at one of Cancun's many beautiful beaches with a calm water, such as Playa Delfines or Playa Tortugas. Don't forget to pack sunscreen and beach toys!
The SubSee Explorer: it is a unique vessel that blends a yellow submarine and a glass-bottomed boat in which you can explore the stunning Nichupte Lagoon.
Xcaret: This eco-archaeological park is a must-visit for families. With over 50 attractions, Xcaret offers a mix of adventure, culture, and entertainment. Kids will love the underground rivers, wildlife encounters, and cultural performances. Don't miss the spectacular nighttime show, "Xcaret México Espectacular."
The Jolly Roger Pirate Show : you'll witness a thrilling pirate battle, acrobatics, fireworks and live music. You'll also enjoy a gourmet dinner and open bar on a replica of Columbus' ship!

Best things to do in Cancun on a Budget
Even on a tight budget, you can still enjoy a memorable Cancun vacation. Here are some affordable activities and attractions:
1. Visit public beaches: Cancun is home to several beautiful public beaches that are free to access, such as Playa Delfines and Playa Langosta
2. Explore local markets: visit Mercado 28 or Mercado 23 for an authentic Mexican shopping experience and to find affordable souvenirs
3. Take a stroll down Avenida Kukulkan: This main thoroughfare is perfect for a leisurely walk, with public art installations, shopping centers, and restaurants along the way
4. Visit the El Rey Ruins: These Mayan ruins are located within Cancun's hotel zone and offer a glimpse into the area's history. Entry is only 65 pesos per person
5. Book accommodations outside the hotel zone for better deals: check out downtown Cancun!
6. Eat at local eateries or street food stalls for delicious and affordable meals
7. Use public transportation, such as buses or colectivos, to save on transportation costs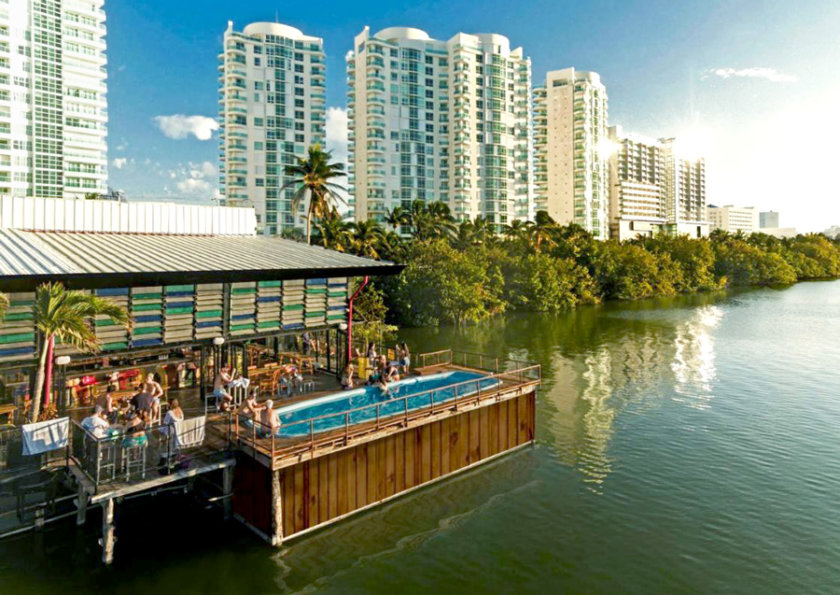 Where to party in Cancun?
Coco Bongo, one of the best places to party in Cancun! This nightclub combines nightlife with stunning acrobatics and pop-culture performances like 'Michael Jackson', 'Spider-Man', and other performers while you dance and drink. Coco Bongo is open every night from 10:30 pm to 5 am. You can buy your tickets here! – You can chose between: Regular, Premium, Gold, Front row and Double Gold tickets, and it also gives you access to the beach club.
Coco Bongo Beach Party is a beachside show and disco in Cancun with amazing entertainment, drinks, and confetti. You can party with live acts and sea views on Tuesdays and Thursdays from 1pm to 6pm. Tickets cover open bar, beach club, and show.
The City Cancun, the largest nightclub in Latin America. This club can host up to 6,000 people and has three levels, nine bars, and a huge dance floor. The City Cancun hosts international DJs, live concerts, and themed parties. The club is open on Fridays and Saturdays from 10:30 pm to 5 am.
Mandala Night Club, a chic and exotic club with an open-air design. Mandala Night Club has a VIP area, a terrace, and a stage for live shows. The club plays electronic, house, and hip-hop music and has a dress code of casual elegant. Mandala Night Club is open every night from 9:30 pm to 5 am.
Señor Frog's, a fun and casual bar and restaurant with a party atmosphere. Señor Frog's has live music, karaoke, contests, games, and souvenirs. You can enjoy burgers, nachos, tacos, and cocktails while you have fun and let yourself go. Señor Frog's is open every day from 12 pm to 2 am
H Roof, a very nice club with a huge 50 ft ceiling screen and an awesome sound system. The club plays electronic and house music and has a VIP area. H Roof is open on Thursdays, Fridays, and Saturdays from 10 pm to 5 am
Congo Bar, a fun and casual bar with live music, karaoke, contests, games, and souvenirs. You can enjoy burgers, nachos, tacos, and cocktails while you have fun and let yourself go. Congo Bar is open every day from 9 pm to 4 am.

Where to enjoy a drink in Cancun?
Cancun is known for its amazing nightlife, but you can also have a good time at many bars if you are not into clubs.
In the Hotel Zone, don't miss Cotorritos, a brewery with awesome beers and cocktails. The music, the games, and the views from the terrace are amazing. Also, go to Hard Rock Café, a bar inspired by "Forrest Gump".
The music memorabilia and the view of the Caribbean Sea are stunning. Both places are great for having fun with friends and enjoying Cancun's nightlife.
If you prefer to experience the authentic Cancun vibe, El Caballito Bar is the place to go! Enjoy the lively atmosphere with banda music (regional Mexican music), delicious bbq dishes, friendly service and affordable prices.
Where to eat in Cancun?
Cancun has a lot of restaurants, for every preference and budget. These are my favorite ones, in the downtown and the hotel zone:
Cancun Hotel Zone
Downtown Cancun
Food Safety Precautions
Drinking water: Stick to bottled or purified water, and avoid tap water to prevent potential health issues.
Hygiene: Choose restaurants and street food stalls that appear clean and have a high turnover of customers.
How long should you stay in Cancun?
Cancun is a paradise of sun, sand and culture, and you could spend weeks exploring its wonders! But if you only have a few days in Cancun, don't worry.
I have some great suggestions for how to spend Cancun in 1, 2, or 3 days:
What to do in Cancun in 1 day
If you have only 1 day in Cancun, here are my suggestions for 2 exciting itineraries:
Option 1- Friends and Family
Option 2- Romantic Getaway
2 days in Cancun
If you want to visit Cancun in 2 days, here is my suggestion:
Day 1
Snorkel in  the Cancun Underwater Museum
Head to the best beaches such as Playa Delfines, Playa Tortugas, or Playa Chac Mool where you can relax or do fun activities like jet skiing, parasailing, flyboarding, driving a speedboat
In the evening, enjoy drinks at La Isla Shopping Village or Plaza Forum
Then, get ready to party at one of the many nightclubs in Cancun's Hotel Zone, like The famous Coco Bongo!
Day 2
3 days in Cancun
If you want see Cancun in 3 days, the first and the second day, follow the same plan as I suggested.
Then on the 3rd day:
Visit the beautiful island of Isla Mujeres (book your ferry tickets here!). There is so much to do that you can easily spend the day on the island:
visit Playa Norte, one of the most beautiful beaches of Mexico
Punta Sur Sculpture Park
Parque Garrafon (zip line, pool, hammocks, snorkeling, kayak)- You can get the VIP tickets to Garrafon Park that give you access to a private area with premium food and drinks
Another great option is to take a trip to Isla Contoy: this island is one of my favorite places in Mexico and a true paradise!
Relax on the pristine beaches, swim in the crystal clear water and admire the lush vegetation. Savor a delicious lunch of grilled fish and fresh fruits on the island.
You must book your tour in advance as the island only allows a limited number of visitors per day and can only be accessed by boat. To make a reservation, click here: Book the Isla Contoy tour

How to Get to Cancun?
Flights
Cancun International Airport (CUN) is well-connected to major cities worldwide. Many airlines offer direct flights, while others may have layovers in Mexico City or other hubs.
To find a cheap flight to Cancun as well as the best domestic flights in Mexico, I recommend using our flight comparison tool in partnership with Skyscanner. It is guaranteed to get you the best price!
How to switch terminals
You can take the free shuttle that circles the airport terminals if you need to change terminal for any reason (ex: meet friends).
Don't listen to the cab drivers who may tell you that it is not working or that it will take too long, they are lying! I have experienced this several times, you just need to wait a bit.
You can also walk between the terminals if you prefer (ex: 13 min walk between Terminal 2 and 4)


How to reach your hotel from the airport
You have several options to go from the Cancun airport to your hotel:
Taxis in Cancun airport are reliable in the sense that they are official and safe, and they will take you to your destination without any stops or detours.
However, they can also be too expensive if you don't book them online in advance, as the local rates are much higher than the online rates. You can save money and avoid hassle by making a reservation for a taxi online before you arrive in Cancun.
You can book your transfer here:

You have the option of booking your tickets online on the ADO website, but to avoid any problems with flight delays, I suggest doing it on site once you get there.
You will arrive at the ADO station in downtown Cancun after a one-hour bus ride.
Then, you have two options to go to your hotel in the hotel zone: a cab or the R-1 local bus (here), which is cheaper.

Rent a Car in Cancun
Renting a car is for sure the best way to explore Cancun and make the most of your stay!
While it's not super useful to visit the city, having a car is a must to discover the rest of the country.
To rent a car, personnally, I always use Rentalcars.com, for a few reasons:
You can easily compare the rental cars prices between all the agencies: for sure the easiest way to find the best rate!
Cancellation is often offered free of charge: no need to worry if you change your mind
Rentalcars offers full insurance coverage at a lower price than the rental companies, so it's an instant saving with no effort
Simply click on the green button to find your rental car at the best price:

Best Tips to Enjoy Cancun
– Plan your trip during the shoulder seasons (April-May or September-November) to enjoy fewer crowds and more affordable prices.
– Respect local customs and traditions, particularly when visiting religious or historical sites.
– Learn some basic Spanish phrases to help you communicate with locals and show respect for their culture.
– Always carry cash in small denominations for tipping and small purchases.
Cancun vs Playa del Carmen: which one is better?
Both Cancun and Playa del Carmen are popular vacation spots in Mexico's Yucatan Peninsula, but each offers a unique experience to its visitors.
Choosing between the two largely depends on your personal preferences and the type of vacation you're seeking.
Cancun is known for its lively atmosphere, luxurious all-inclusive resorts, and vibrant nightlife.
It's perfect for those who love to party and are seeking an energetic vacation experience. Additionally, Cancun's Hotel Zone features beautiful beaches, shopping centers, and various entertainment options.
If you're looking for a destination with a wide range of activities and a bustling atmosphere, Cancun might be your best choice.
On the other hand, Playa del Carmen offers a more relaxed and laid-back atmosphere. The town has a charming, bohemian vibe with its pedestrian-only street, Quinta Avenida, lined with boutiques, restaurants, and bars.
The beaches in Playa del Carmen are also beautiful, and tend to be less crowded than those in Cancun. If you prefer a more cultural experience and a chance to explore the Riviera Maya's natural wonders, such as cenotes and eco-parks, Playa del Carmen might be the better option for you.
Ultimately, the choice between Cancun and Playa del Carmen depends on your personal preferences.
If you want a lively, action-packed vacation, choose Cancun.
If you're looking for a more relaxed and culturally immersive experience, Playa del Carmen is the better option.
What is the difference between Cancun and Riviera Maya?
They are very different in terms of size, vibe, attractions, and accessibility.
Cancun is a large and touristy city located on the northeast tip of the Yucatan Peninsula. It has a population of nearly one million people and a famous hotel zone that stretches along a narrow strip of land between the Caribbean Sea and a lagoon.
Cancun is known for its nightlife, shopping, and all-inclusive resorts. It also has an international airport that makes it easy to reach from many destinations.
Riviera Maya is a region that covers about 75 to 100 miles of coastline south of Cancun. It consists of several small towns and villages, each with its own charm and personality. Some of the most popular ones are Playa del Carmen, Tulum, Akumal, and Cozumel.
Riviera Maya is known for its natural beauty, cultural diversity, and archaeological sites. It offers a more laid-back and authentic experience than Cancun. However, it does not have its own airport, so you need to take a bus or a car from Cancun to get there!
Book your trip now and save money!
You're traveling in Mexico? These articles will help you!
Discover all my articles about Mexico: All my articles to help you plan your trip to Mexico are listed there.
You're using Pinterest? Here is the picture to pin!