Things to do in Tulum: The 21 Best Places to Visit
If you're looking for a chic bohemian vibe, white sand beaches, Mayan ruins and crystal clear cenotes, you'll for sure love visiting Tulum!
It's definitely a must-see destination in Mexico for travelers who want to escape the crowded all-inclusive hotels of Cancun and Playa del Carmen.
To help you make the most of your stay, I have prepared for you this guide of the best things do in Tulum, with my hotel recommendations for every budget, and the best itineraries to visit Tulum in 1, 2 or 3 days.
So, what are the best places to visit in Tulum?
Let's find out!
Visit Tulum: All Must-See Attractions
1. The ruins of Tulum
One of the most iconic attractions of the Riviera Maya is the ancient ruins of Tulum.
This walled city (6th-15th centuries) was a sacred site for the worship of the Descending God, and a strategic point for land and sea trade of the Mayas.
It may not be the most impressive archaeological site in the region, but it is truly unique for its stunning location overlooking the Caribbean Sea.
It is also located in the Tulum National Park, the only protected area in this very touristy region between Cancun and Tulum!
What to see in the archaeological zone of Tulum:
The wall with the watchtowers
The Castillo, facing the sea, which is the main building of the site, used as a landmark to navigate and avoid the large coral reef!
The Temple of the Frescoes, which is the best preserved and most interesting structure, especially for its artistic richness (paintings, engravings, sculptures).
The Temple of the Descending God.
The House of the Columns, House of Halach Uinic, House of the Chultun, House of the Cenote, etc.
And don't forget to go down to the beach of the ruins (included in the entrance fee) to enjoy the Caribbean Sea and get a different perspective of the archaeological site.
How to visit Tulum ruins
Entrance fee: 90 pesos (cash only). Free for Mexicans under 13 years old, retired and disabled people. Free on Sunday for Mexicans and permanent residents.
If you want to hire a guide, you can also read the signs in English/Spanish.
The site is open daily from 8:00 to 17:00 (last entrance at 16:00).
To get to the ruins of Tulum from town: 10 minutes by car from Tulum town or by combi (taken in front of the 7 Eleven on Carretera Federal 307, 20$MXN).
To go to the ruins from Playa del Carmen: by ADO bus (1h, 58-110 pesos depending on the time) – as a destination, choose "Tulum archeological zone" and not just "Tulum".
To get to the entrance of the archaeological zone you will have to walk 700m or take the small train (20 pesos).
To visit the Tulum ruins (1h guided tour + 1h free), book this tour that also includes a cenote and pick up from your hotel:

2. Dive into a Mayan cenote
The cenotes are natural fresh water pools that were sacred to the Mayas who believed they were a gateway between the earthly world and the underworld.
Today, swimming in a cenote is one of the best things to do in Tulum!
There are thousands of cenotes in the Yucatan Peninsula and they come in all shapes and sizes: some are perfect for families with kids and beginner swimmers, others are only suitable for experienced divers.
Gran Cenote and Cenote Dos Ojos are the most popular, but there are others much more peaceful like Nicte-Ha and Calavera, ideal for enjoying nature.
What is The Best Cenote in Tulum?
[/su_box]

3. Relax on white sand beaches
Along with Holbox and Contoy, Tulum has some of the most beautiful beaches of the Yucatan Peninsula!
Soft sand, warm, calm and crystal clear water: here you have the perfect combination to create paradise on earth.
There are many beaches along the coast, some very touristy and others less known.
These are, in my opinion, the 6 best beaches in Tulum:
3.1 Playa Ruinas
Of course, the ruins beach is the most famous beach in Tulum!
I recommend going there early because it is a tourist site that gets crowded quickly and the beach is not very big, but it is nice to combine the archaeological visit with some relaxation.
Don't be scared of the iguanas, they are harmless but it is better not to get too close to them.
You can also take a boat ride from the beach to see the ruins and go to the reef to snorkel.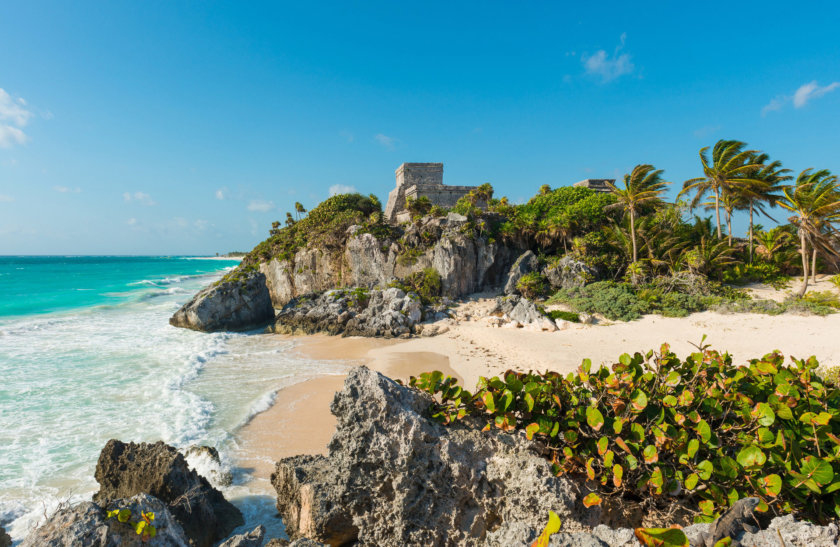 3.2 Paraiso Beach
Playa Paraíso is only 1 km from the ruins, in the Tulum National Park.
The water is calm and the nearby reef offers a good place to snorkel and observe turtles, fish, etc.
And here you find the famous leaning palm tree, an iconic place in Tulum for a good picture!

3.3 Las Palmas Beach
Next to Playa Paraiso, you'll find Playa Las Palmas, another popular beach because of its easy access from downtown Tulum and for being a great spot for kitesurfing and windsurfing.
There are cafes, restaurants, hotels.
3.4 Xcacel Beach
Xcacel Beach is a beautiful white sand beach that used to be part of a large protected natural reserve with palm trees and mangroves.
From May to October, it is a place where sea turtles nest and where you can join activities for the release of baby turtles from September to late November.
It is a paradisiacal place for snorkeling and diving because there is a coral reef just 50m from the beach and a shipwreck to the south.
Entrance fee: foreigners 105 pesos, nationals 51 pesos, Quintana Rooenses 35 pesos.
How to get to Playa Xcacacel: 20min from Tulum by bus, following Highway 307. You can also get there by colectivo, leaving from 7 Eleven located on 307 ($30 pesos). Remember to tell the driver in advance that you get off at Xcacel, on the beach access side.
There are no services on the beach (restaurant, bar, umbrellas) and it closes at 5:30 pm.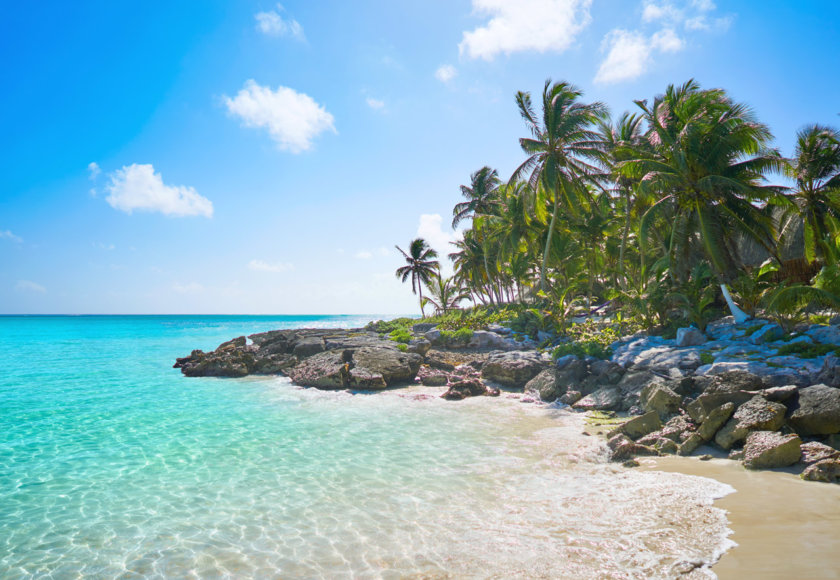 4. Bicycle ride
With a nice weather and easy access to the main tourist attractions, Tulum is perfect for biking.
There is a bike lane of just over 3 km that goes to the end of Avenida Coba.
I went to Gran Cenote by bike. If I had been more energetic that day, I could have easily continued along the same road (Highway 109 to Coba) to the Zacil-Ha and Carwash cenotes, for example.
You can also go by bike to the ruins of Tulum and Playa Paraiso, they are only 15 minutes from downtown.
Further away but also reachable by bike from Tulum: the ruins of Muyil (1h15), Coba (2h30) and the Cenote Dos Ojos (1h10).
It is a sustainable and convenient way to explore the city, its surroundings and the beach, but be ready for the sun and the heat, especially in summer!
Many hotels offer bikes to their guests, but if this is not your case, it is very easy to find a bike rental shop in Tulum.
Renting a bike costs around 250$MXN per day or 550$MXN for an electric bike. You can also rent scooters.
My tip
I recommend this guided bike tour of Tulum that takes you to the Escondido, Cristal and Gran Cenote cenotes, with a delicious brunch!

5. Enjoying Tulum without sargassum
In the last few years, the coast of Quintana Roo has been quite affected by sargassum (brown algae). That's a shame for Tulum which is especially famous for its clear waters and white sandy beaches…
But there is one place in Tulum where there is never sargassum: Caleta Tankah!
It is a small beach club, not very touristy, with a restaurant, lounge chairs, umbrellas, hammocks and a small cove facing the Caribbean Sea where the seaweed does not get in.
You can also visit a cenote in the middle of the jungle about 164 ft from the beach.
The water is completely transparent, not very deep and the place is very peaceful because there is hardly anyone.
Tankah is located 6 km (10 min) from the center of Tulum. From the entrance you have to walk 0.3 miles
It costs 300$MXN to enter, it includes sun loungers and umbrellas. You don't have to buy anything and parking is free.
My tips
It is
impossible to know in advance
where there will be sargassum, but your best tool will be the
Quintana Roo Sargasso Monitoring Network
which publishes a daily map with the status of the beaches.
Honestly, it is a wonderful service for the community!

6. Eat like a local
Do you want to taste the best local food in town?
With this tour you will have the opportunity to tour the best food spots in Tulum with a local guide and discover the emblematic dishes of the Yucatan Peninsula. 😋

7. Kitesurfing
If you want to kitesurf in Tulum, there are schools on the beach that offer lessons for all levels and equipment rental.
With its long white sand beaches with no rocks, a temperature of around 25C, and 15 to 25 knots of wind all day long, Tulum is a great place for kitesurfing, especially from December to May!

8. Party in Tulum
Tulum is one of the most famous party destinations in Mexico, but with a completely different vibe than Playa del Carmen and Cancun.
I recommend the Batey – Mojito & Guarapo Bar and their passion fruit mojito, de-li-cious!
They have live music every day and a great atmosphere with travelers from all over the world.
One of the best places to party in Tulum is the Papaya Playa Project, which is a boutique hotel on the beach.
You can go there during the day to chill on the beach or at night to one of their DJ events.

9. Strolling on the Beach Strip
About 15 minutes from downtown is a place you can't miss in Tulum: the Beach Strip.
It is the hippie-chic area with luxury hotels on the beach, good restaurants, bars, cafes and stores.
Here everything is more expensive than in the center of Tulum, but it is also the most beautiful area of Tulum to walk around and enjoy the scenery.

10. Experience the Mayan temazcal
From nahuatl "temazcalli", meaning house where one sweats, the temazcal is a steam bath of pre-Hispanic origin.
It is a sauna with medicinal herbs that is set up in a mud or stone hut and aims to purify the body and soul.
You can still experience it in different parts of Mexico, with or without the ceremony that goes with it.
There are several places with temazcal in Tulum that last about 1h30, such as Delek Tulum, Maya Tulum Retrat and Spa or Azulik for example.
But be ready to pay, it's not cheap!

11. Enjoy a drink in the heights
The Tulum Tower is a 115 ft tower that offers a panoramic view over the city, the ruins, the jungle and the sea.
Opened in 2018, it was designed by French engineers and meets the safety standards of Europe.
The concept is very cool: you go up gradually, enjoying the view, then the tower rotates while a guide tells you about the history of the region and you have a drink.
This is a unique experience that lasts no more than 10 minutes, but it is something you shouldn't miss in Tulum (if you're not scared of heights) and it is also an amazing place to take photos.
Open from 9am to 5pm.
It's better to book in advance, especially in high season, as there are only 16 spots.

12. Discover the Art of Tulum
With a rich culture that attracts many nationalities, it is not surprising that Tulum hosts so many artistic events.
For example, Art with Me is an international art, music and cultural festival. It brings together businesses, tourists and the local community to carry out environmental and cultural initiatives.
There is also the Tulum Art Club which is the first contemporary art and cultural space in the Riviera Maya.
Finally, I suggest you to visit Sfer IK. It is an interdisciplinary creative sphere with exhibitions of international visual artists, workshops and courses.
They even have creative workshops for children, so it's a good activity to do in Tulum with the family.
My tips
To get your photo taken at Tulum's most famous sculpture "Ven a la Luz" you have to go to the Ahau hotel (Entrance 60 pesos)

13. Take a yoga class
Tulum is Mexico's main yoga and relaxation destination.
There are several yoga studios in Tulum for those who wish to learn or practice their passion even on vacation.
I tried yoga for the first time at Yoga Dicha Studio and I enjoyed my experience very much.
If you like yoga a lot, a friend also recommended me the Tribal Tulum which offers unlimited access for the week and you can even stay in one of their lofts.

14. The archaeological site of Cobá
Coba is definitely one of the best places to visit near Tulum. It was a powerful Mayan city, as important as its rival Chichen Itza, which had up to 50,000 inhabitants at its peak.
It covered about 80 km2 and had a network of 50 roads in its territory.
Today it is a must-see in Yucatán, which you can explore on foot or by bike, and it has the second tallest pyramid on the peninsula called Nohoch Mul (42m).
There are also 3 cenotes in Cobá: Tamcach Ha, Multun Ha, Choo-Ha.
Most visitors don't even know that there are cenotes at the Coba archaeological site, so they are not crowded.
How to visit Coba:
By car: 45 min. from Tulum on Highway 109 towards Valladolid, parking 60 pesos
By bus: 1 hour from ADO terminal in Tulum, departure at 10:10 am – return at 3:10 pm, 100$MXN each way
Entrance fee : 100 pesos, bike rental 60 pesos, bike taxi with driver 140 pesos
My advice
For a complete experience, I recommend this
tour with pick up from your hotel
.
It includes a guided visit to Coba, a traditional lunch, a chocolate tasting in a Mayan village, the Dzonot Wayak cenote and the ruins of Tulum. Book it here:

15. Explore Punta Laguna
Just 20 minutes from Coba, you'll find the natural reserve of Punta Laguna, or in Mayan "Otoch ma'ax yetel kooh", the home of the puma and the monkey.
Here the Mayan community has developed a variety of responsible tourism activities that allow you to discover the daily life of the community, learn about their culture, traditions, gastronomy and Mayan beekeeping.
The second part is dedicated to a tour of the jungle where you can see the spider monkeys in their natural habitat.
Finally, the experience continues with outdoor activities: ziplining over the lagoon and swimming in a sacred cenote… where there are human skulls!
This park is a must-see in Tulum because it is much more authentic than other sites and can easily be combined with a visit to Coba.
Book the Punta Laguna tour here:

16. Boca Paila
Boca Paila is not only one of the best beaches in Tulum, but also a hidden gem that has escaped the massive tourist development of the area.
This natural beauty with crystal clear water and white sand is located within the Sian Ka'an Reserve, between the Muyil Lagoon and the Caribbean Sea.
It is a perfect place for walking, swimming, but also for bird watching and fishing.
How to get to Boca Paila:
Boca Paila is 12 miles south of Tulum. Just follow the road from the hotel zone to Punta Allen. You can only get there by car or taxi, as there is no public transportation.

Only 15 minutes away from Tulum, very close to the Sian Ka'an Reserve you'll find in the jungle one of the best kept secrets of the area: the Kaan Luum Lagoon.
It's a lake of stunning green and blue hues, that also features a cenote that reaches a depth of 262ft.
You can't swim in the cenote because it is reserved for diving, but the whole surrounding area is very nice because the water is shallow (maximum 5ft)!
My advice
At the moment Kaan Luum is not well known by foreigners and is mostly visited by locals and Mexican tourists.
That's why I suggest you to go during the week when there are fewer people.
To know everything about this hidden gem, you can read My Definitive Guide to Kaan Luum!

18. Sian Ka'an: Muyil or Punta Allen
Biosphere Reserve and UNESCO World Heritage Site, Sian Ka'an is a paradise of biodiversity and one of the most beautiful places to see in Tulum. It is a protected area of more than 5000km², it is bigger than the island of Cozumel!
It faces the sea, and it is surrounded by mangroves, tropical forests and swamps
The two main access points are Muyil and Punta Allen which offer two very different experiences.
Punta Allen is located on the coast and is the perfect destination to enjoy the beach, lagoons, dolphin watching and snorkeling in the coral reefs.
The road from Tulum to Punta Allen is more difficult and you need a 4×4 car. You can get there by public transportation, but it is quite long and takes more than a day.
The best way to go to Punta Allen from Tulum is definitely by joining an excursion.
My favorite tour of Sian Ka'an includes hotel pick up, boat ride (3h) to see the dolphins and turtles, free time to enjoy the beach and lunch at Punta Allen. Book it here:
Muyil lets you explore the jungle of Sian Ka'an, with swamps, freshwater lagoons and Mayan ruins.
Muyil is easier to reach than Punta Allen and the visit takes half a day from Tulum. To get to Muyil by public transport, you can take an ADO bus towards Chunyaxché (20min).
To visit Muyil from Tulum, I suggest this guided tour that takes you to the ruins of Muyil and includes lunch and a boat ride on the beautiful freshwater lagoons.
Book this tour with pick up from your hotel: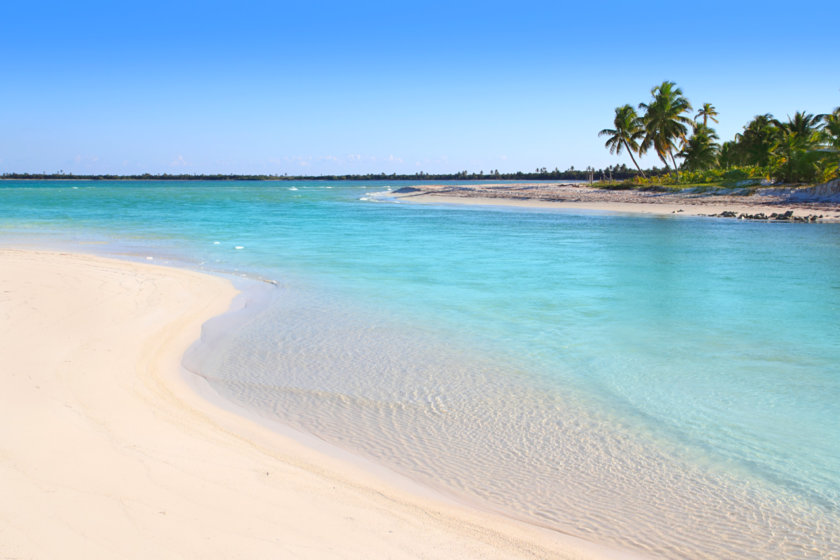 19. Swimming with turtles in Akumal
Akumal is a beach resort north of Tulum and one of the most famous beaches in the Riviera Maya.
It is known for its white sand, crystal clear water, coral reef, and especially for the presence of turtles that come to feed among the rocks.
It is a perfect bay to swim with the turtles in their natural habitat and to see multicolored fish, manta rays, etc.
You can also visit Akumal to swim in the Yal-Ku Lagoon (3 km from the entrance) and discover the caves of Aktun Chen Park!
My advice
Since the
turtles are protected
, it is mandatory to do the activity
with a guide
.
You can hire the service at Akumal beach or go with a tour that includes pick up at your hotel.
I recommend you take this snorkeling tour in Akumal (turtles, fish, corals) with pick up at your hotel, which will take you to explore a cave and swim in a cenote.
You can book it here:
To know all the best things to do in Akumal, check out My Ultimate Guide to Akumal!
How to get to Akumal:
25 Km from Tulum and 40 Km from Playa del Carmen, taking highway 307
By public transportation: take a colectivo from the main street of Tulum and then walk 1km to the beach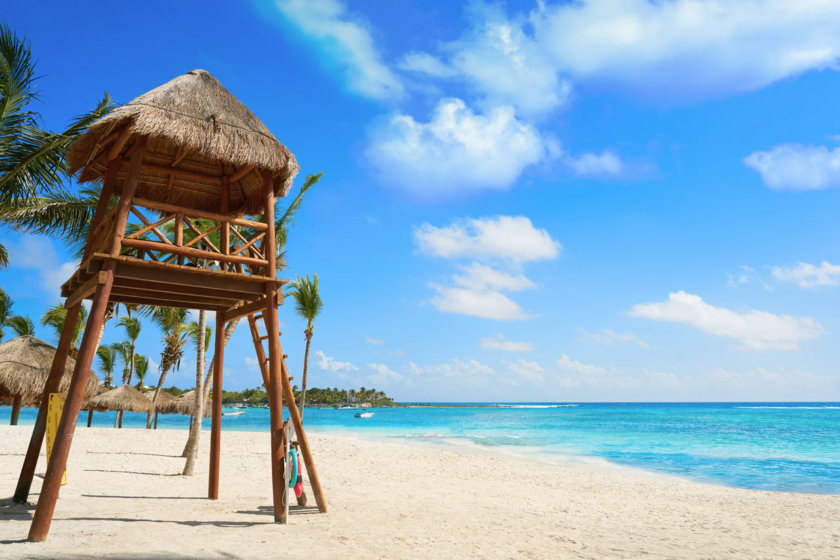 20. Xpu-Ha
Located between Playa del Carmen and Tulum, Xpu-Ha is one of the most beautiful beaches in Quintana Roo!
Few travelers know about it and yet it is a small paradise of fine sand, hammocks and turquoise water.
You can go for a walk, relax on the beach, have a drink in one of the small bars, snorkel (you can rent equipment on site), kitesurf, and even enjoy a massage (30 min or 1 hour).
Cenote Azul is very close, so it is a good idea to combine the two visits!
My tip
There are
3 entrances to Xpu-Ha
. Coming from Playa del Carmen, the 2nd is the Playa Xpu-ha Beach Club and the 3rd is the
cheapest entrance
(50$MXN).
The beach clubs are perfect for enjoying the beach in comfort, but if you prefer to save money, take the last entrance.
How to get to Xpu-Ha:
By car: on Federal Highway No. 307, 25 min from Playa del Carmen or 30 min from Tulum. There is private parking on site.
By public transportation: take a colectivo from Playa del Carmen (Carretera Federal corner with Avenida Juarez) or Tulum (from the main street). 35$mxn

21. Xel-Ha Park
This is the place to go in Tulum with your family!
It is a wonderful aquatic and ecological park where you can dive, snorkel, ride bikes, zip line, visit cenotes and caves.
There is even a children's area, a water slide and a 40 meter high observation tower.
The basic"Xel-Há All Inclusive" ticket includes access to activities, breakfast and lunch, soft drinks, all necessary equipment, towels and parking.
Book your tickets right here!

What to do in Tulum when it rains?
Mystika is an immersive museum in Tulum that presents the Mayan culture and natural sanctuaries of Mexico in a surreal artistic atmosphere. It is an extraordinary experience.
You can book your tickets here:

The best thing to do in Tulum when it rains is to go to the cenotes!
Of course, I'm not talking about the outside cenotes, but the inside cenotes found in caves like Cenote Dos Ojos, Gran Cenote or Cenote Taak Bi Ha for example.
Check out my guide: The Best Cenotes in Tulum!

Where to stay in Tulum – The best hotels
Is it better to stay in the hotel zone of Tulum or in town? Both have their advantages!
Tulum's hotel zone has beautiful hotels, often with direct access to the beach. On the other hand, you will need a higher budget.
Accommodation in downtown Tulum is usually much cheaper and close to everything (markets, banks, restaurants, bars, etc.).
Here are my best hotel recommendations in Tulum, for all budgets:
Mayan Monkey Tulum: an excellent value for money. Nice modern hostel with a good atmosphere, a pool, bar and garden. Including fast wifi, kitchen access, yoga classes, coworking spaces, and bike and

motorcycle

rentals. Dorms and private rooms starting at only 24 $usd per night.
Casa Almendro: if you are looking for a little more comfort, you will like this small cheap hotel in the center of Tulum. It's a green oasis with a rooftop terrace with chairs and hammocks. There are king size beds and breakfast is included, from only 50 $usd per night!
Diamante K: is a high-end hotel but at a very fair price, which is exceptional in Tulum, especially for a hotel with direct access to the beach in the hotel zone! Bohemian chic atmosphere, including a restaurant, hammocks and beds on the private beach, and a massage service. Bungalows are 207 $usd per night.
Habitas Tulum: this small eco-friendly hotel with a chic design is ideal for a romantic stay in Tulum. It is a true oasis of peace, hidden among the palm trees, with a magnificent swimming pool and a private beach. There are also yoga classes on the terrace at sunset. From 371 $usd per night!
Kanan Tulum- Adults Only: this is the ultimate option for a luxury stay in Tulum. It is an ecological hotel for adults only, located on a beautiful private beach with hammocks and beds. With a fantastic rooftop terrace with a bar; the hotel also has an excellent restaurant, great rooms and a very friendly welcome. From 566 $usd per night!
How many days to visit Tulum?
As the city is only 45 min-1h from Playa del Carmen, it is very easy to visit Tulum in 1 day.
But there is so much to see and do in the surrounding area that I suggest you stay longer if you can.
These are the 1, 2 or 3 day itineraries to Tulum that I recommend to make the most of your stay:
Tulum in 1 day
Here's what to do when you only have one day in Tulum:
In the morning
-Start with a visit to the archaeological site of Tulum (1h-1h30)
-Refresh yourself in a cenote. Here you will find my list of the best cenotes in Tulum, but if you only have one day in Tulum, I suggest the Gran Cenote as it is easily accessible by car or bike from the ruins. On the same route (109) is also the Cenote de la Calavera.
In the afternoon
-Head to Tulum's Beach Strip, the hotel area for strolling and eating, with many restaurants and shops.
-It's time to enjoy the beach! There are several beaches in Tulum, but if you are short on time I recommend Playa Paraiso or Playa las Palmas which are easily accessible.
-Another option is to go directly to the Zulum hotel to enjoy the restaurant and the beautiful beach, paying a minimum of 250$mxn.
At night
There are many options to go out in Tulum and have a drink: Papaya Playa Project, Casa Jaguar, Gitano, Diablito Cha Cha Cha and many more places!
My tips to spend 1 day in Tulum
If you move around by public transportation and plan to go to another destination for a few days (for example, to Bacalar), there is a luggage storage at the ADO terminal in Tulum. It's quite handy so you don't have to carry all your stuff!
The bars and restaurants in the hotel zone are the nicest in Tulum. They are also more expensive than those in the center, so keep that in mind when choosing.
For a perfect day in Tulum without worrying about transportation, I suggest this tour that includes a visit to the Tulum ruins and Dos Ojos cenote, the two main tourist attractions in Tulum!
Book the Tulum tour with hotel pick up now:
Tulum in 2 days
If you have two days in Tulum, you can take your time.
On the first day, I recommend you follow the same itinerary, but without the cenote.
Visit the ruins of Tulum in the morning, then stroll along the Breach Strip and enjoy the beaches in the afternoon.
For the second day:
Morning
Take advantage of going to a cenote while there are few people (before 11 am).
I recommend the cenotes on Highway 109: Cenote Calavera, Gran Cenote or, further towards Coba, Cenote Zacil-Ha and Carwash. Since they are on the same route, it is ideal if you want to go to several cenotes.
In the afternoon
Visit to the archaeological site of Coba (2 hours)
Return to Tulum to enjoy Tankah Cove. With its beautiful private beach, natural freshwater pool, jungle cenote and beachfront restaurant, you can spend several hours at the beach club.
Tulum in 3 days
If you have 3 days in Tulum, follow the same itinerary for the first two days and on the third day discover the Sian Ka'an Biosphere Reserve.
As the reserve is huge, you will have to choose between visiting the jungle of Sian Ka'an by Muyil or visiting the coast of Sian Ka'an through Punta Allen.
Both places are amazing!
Tourist map of Tulum
Here is the map of Tulum with the attractions mentioned in the article.
When to go to Tulum?
It is very hot and humid from May to August.
High season is from January to March, when there are many more tourists and prices are usually higher.
Hurricane season is from June to November. Hurricanes are not very common but the risk is higher between September and October.
The best time to visit Tulum is from late October to December, when you can enjoy the pleasant weather and avoid the crowds!
Is Tulum safe?
Yes, in general safety in Tulum is not an issue.
It is much calmer than Cancun and even Playa del Carmen.
Of course, as everywhere else in the world, it is best to be careful and never leave your personal belongings unattended.
I also suggest you watch out for the little scams that are common in all tourist areas.
So it's better to check the prices in advance (for example with Tulum cabs which do not have a taxi meter).
For your safety in Tulum, I recommend using only ATMs inside banks, as they are more secure and reliable
How to get to Tulum
Tulum is located 130 km south of Cancun and 60 km south of Playa del Carmen on highway 307 that runs through the Riviera Maya.
Here are all the ways to get to Tulum:
From Cancun
–By bus: 2 hours by ADO, Cristobal Colon or OCC bus. Departures every hour from 5:30 am to 9:30 pm. 180$MXN one way (may vary according to time)
–By colectivos: it is the cheapest way to go from Cancun to Tulum, but there is no direct colectivo. You have to take a van from Cancun to Playa del Carmen (42$MXN) and then, at the same place, another van from Playa del Carmen to Tulum (45$MXN). The last stop is in front of the ADO bus terminal in Tulum on Highway 307.
–By car: 1 hour and 53 minutes on Mexico Highway 307 that goes along the Riviera Maya.
From Cancun airport
–By bus: departures from terminals T2, T3 and T4 (check the schedules on the ADO website), 2 hours trip, 276 MXN one way.
–By van: there is an air-conditioned van transfer service that picks you up at Cancun airport and drops you off at your hotel in Tulum.
Click here to book the round trip service:
From Playa del Carmen
–By car: 55 minutes on Mexico Highway 307
–By colectivo: The colectivos to Tulum are located near the Chedraui and Benito Juarez Avenue, at the intersection of Calle 1 Sur and Avenida 45 Norte – see the location on the map here! (45$MXN)
–By bus: 1 hour by ADO bus, several departures per day. I recommend booking in advance on the website to save money and choose the departure time that suits you because prices vary a lot.
How to get by plane to Tulum?
There is no airport in Tulum. The closest airport is in Cancun.
Therefore, you have to take a flight to Cancun (ex: Iberia, Aeromexico, Interjet, KLM, etc.), and then transfer from Cancun to Tulum.
To find a cheap flight to Cancun, I suggest you use our flight comparator in partnership with Skyscanner, it's the guarantee to pay the best price!
Rent a car in Tulum
Renting a car is for sure the best way to explore Tulum and make the most of your stay!
To rent a car, personally, I always use Rentalcars.com, for a few reasons:
You can easily compare the rental cars prices between all the agencies: for sure the easiest way to find the best rate!
Cancellation is often offered free of charge: no need to worry if you change your mind
Rentalcars offers full insurance coverage at a lower price than the rental companies, so it's an instant saving with no effort
Simply click on the green button to find your rental car at the best price:
Book your trip now and save money!
You're traveling in Mexico? These articles will help you!
Discover all my articles about Mexico: All my articles to help you plan your trip to Mexico are listed there.
You're using Pinterest? Here is the picture to pin!