One day in Playa del Carmen
You're planning to spend one day in Playa del Carmen?
Awesome choice!
In order to help you plan your stay, I have prepared for you the perfect itinerary to visit Playa del Carmen in 1 day.
This charming beach town offers a mix of sun, sand, sea and fun.
So if you only have one day to visit Playa del Carmen, you might wonder how to make the best of it. After all, it's one of the most popular and fastest-growing destinations in the Riviera Maya, and there's so much to see and do!
But don't worry: I have been there many times and I am here to help!
As someone who loves this place, I know how hard it can be to choose what to do and where to go. That's why I have written this article: the perfect one-day itinerary in Playa del Carmen.
Here, you will find the best things to do during your 24 hours in Playa del Carmen, my best tips to enjoy your time and my suggestions of accommodation for all budgets.
1 day Itinerary in Playa del Carmen
Morning: Get breakfast and enjoy the beach
To make the best of your 1 day in Playa del Carmen, get up early!
1. Get a good breakfast
Playa Del Carmen has plenty of options for satisfying your appetite. You can find local and international cuisine, from traditional Mexican dishes to vegan and gluten-free options.
These are some of the top spots for breakfast: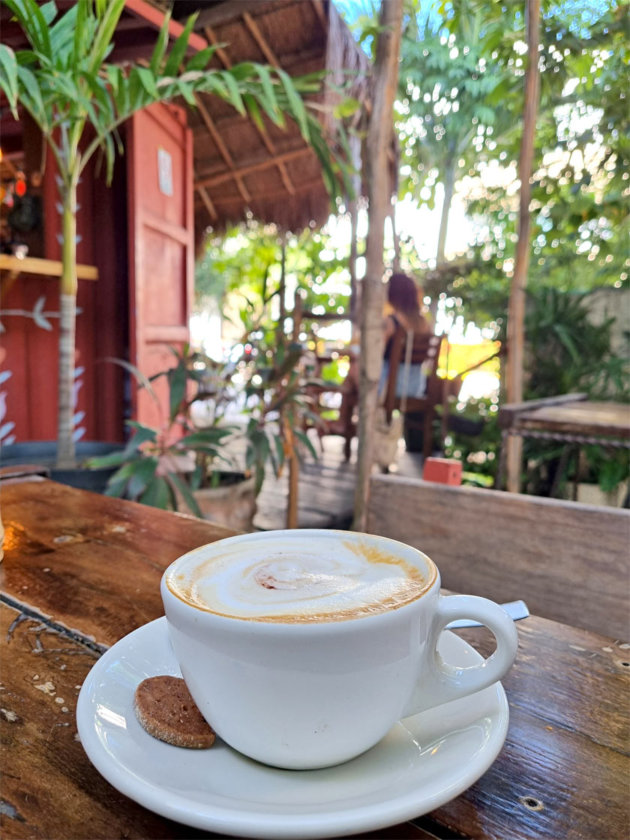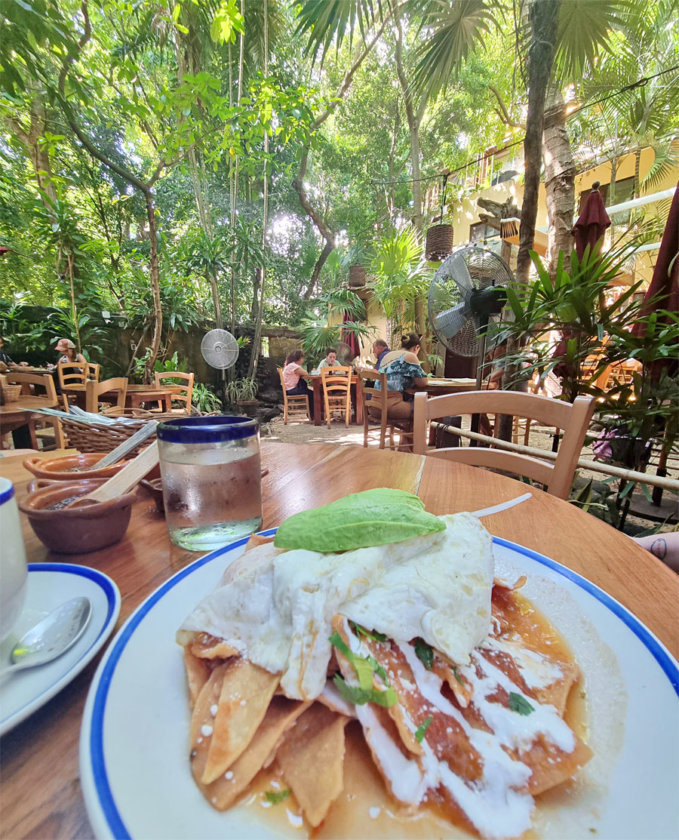 2. Beach time
After breakfast, it's time to hit the beach and enjoy the sun, sand, and sea. Playa Del Carmen has some of the best beaches in Mexico, with soft white sand and clear blue water.
Playa del Carmen is a paradise for beach lovers, with many options to suit different tastes and moods.
If you want to be close to the center of the action, you can choose from the beaches that go from Parque Fundadores to Playa Mamitas, including Playa Constituyentes. These beaches have many beach clubs to enjoy, such as Lido Beach Club, Zenzi, Mamita's, Coralina, and more.

For more calm and less tourists, you can explore these beaches (from closest to farthest from the center): Playa Avenida Colosio, Playa Paraíso, Playa 88 or Punta Esmeralda.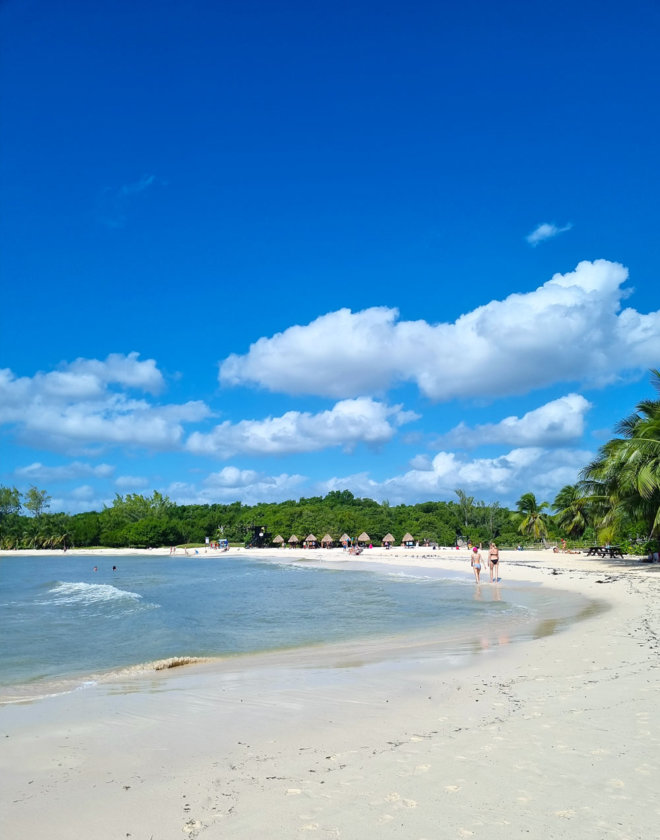 3. Fun tours and activities 
If you want to do more than sunbathe on the beach, there are plenty of fun things to do in Playa del Carmen!
Just click on the link to book your favorite:

Afternoon: Quinta Avenida
After spending some time at the beach or a tour, you might want to explore more of Playa Del Carmen's culture and shopping scene (and enjoy some air conditioning!😄)
The best place to do that is Quinta Avenida (Fifth Avenue), which is the main street that runs parallel to the beach. Quinta Avenida is a pedestrian-only street that is full of shops, cafes, restaurants, bars, art galleries, street performers, musicians and more.
You can walk along Quinta Avenida and browse the various stores and boutiques that sell everything from souvenirs, handicrafts, clothing, jewelry, to art. You can also find some of the best local and international brands, such as Zara, H&M, and more.
Quinta Avenida is also a great place to experience the local culture and vibe of Playa Del Carmen. You can see some of the street art and murals that decorate the walls and buildings.

Evening: Delightful Dining
After a long day of exploring and enjoying Playa Del Carmen, you will probably be hungry and ready for dinner.
Playa del Carmen has a lot of amazing restaurants for any price range, and you'll easily find great options just walking through the streets. But these are the ones I have tasted and enjoyed the most: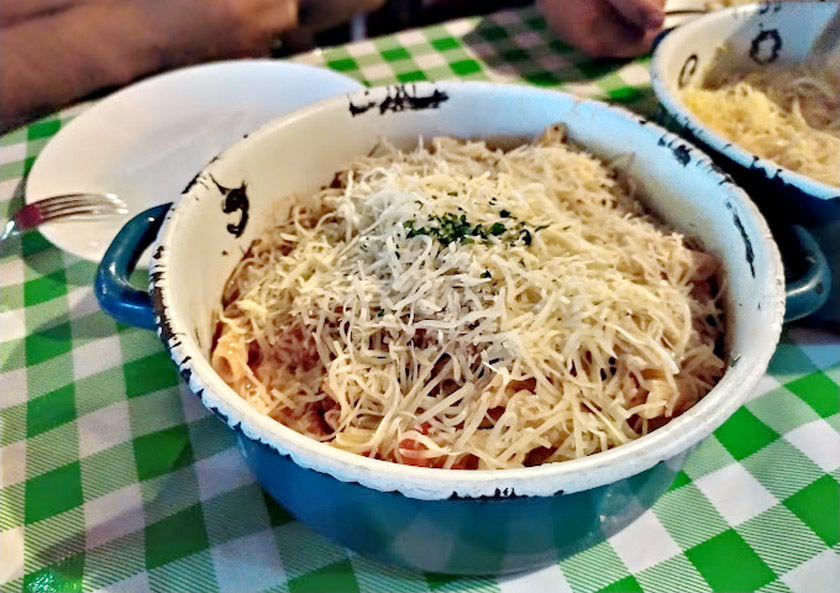 Night: Experience the Nightlife
After dinner, you might want to experience the nightlife in Playa Del Carmen.
The city has some of the best nightlife in Mexico, with bars, clubs, lounges, live music venues and you will find plenty of options around Quinta Avenida and Calle 12 Nte.
For a really fun experience, I recommend going to the Coco Bongo: more than just a club, it's a show around pop culture, with acrobats, impersonators (The Mask, Michael Jackson, etc), dancers, balloons, etc. – Buy your tickets here!

One Day Trip in Playa del Carmen: the Best Hotels
Che Playa Hostel & Bar Adults Only: great hostel to meet other travelers and party, with a rooftop terrace that has a bar and a small pool, with several offered activities. Clean, with good wifi and a great welcome. From only 13 $usd for the dormitory or 37 $usd for a private room!
Hotel Lunata: a charming hotel with hacienda style decoration, which is hidden on Quinta Avenida, very close to the beach. Quiet, with a garden, rooms with balcony, and has very friendly service. From only 82 $usd per night!
Porto Playa Condo Beach Club: here you will find a spacious apartment ideal for a family, with fully equipped kitchen, living room and terrace. The hotel has a large swimming pool, a gym and a restaurant, starting at 172 $usd per night!
The Reef Playacar Resort & Spa: located on the beautiful beach of Playacar, just a few minutes from Fifth Avenue. Ideal for a romantic stay, with a beautiful tropical garden, two pools, a gym and a spa. 200 $usd with the "all inclusive" formula.
Hotel Xcaret Mexico All Parks All Fun Inclusive: it is definitely the best hotel in Playa del Carmen! Ideal for couples and families with children as this luxury hotel offers an exceptional package including meals and access to its parks (Xcaret, Xplor, Xplor Fuego, Xenses, Xoximilco, Xel-Ha and Xenote). Starting at 860 $usd per night, all inclusive.
How to get to Playa del Carmen from Cancun
Playa Del Carmen is located about 68 km (42 miles) south of Cancun International Airport (CUN), which is the main airport for the Riviera Maya region.
There are several ways to get to Playa Del Carmen from Cancun Airport:
Bus (cheapest option): You can take the ADO bus from Cancun Airport to Playa Del Carmen Bus Terminal (1h). The bus runs every 30 minutes from 8:30 am to 11:30 pm.
I recommend buying your tickets on arrival (not previously on the ADO website), because you never now exactly at what time you are going to be free (after customs, etc.)

Taxi: You can take a taxi from Cancun Airport to Playa Del Carmen but this is not a good option because you always have to negotiate and they tend to abuse prices for tourists.
I guess they take advantage because Uber is banned, so there is less competition and regulation for the cab drivers!
Also, I don't trust the cab drivers because on many occasions they have lied to me and my friends that the bus is not available, just to get us to pay for their service.
Fortunately, we already knew it was a lie, but I still think that's a dishonest and unnecessary attitude if you offer a good service at a fair price.

Shuttle (the best option): you can book a shuttle from Cancun Airport to your Playa Del Carmen hotel.
This is the best alternative to the taxi, because it gets you directly to your hotel, but at a more decent price.
You should secure your shuttle reservation online in advance. If you already have your dates, you can do it here:
Car Rental: You can rent a car from Cancun Airport and drive to Playa Del Carmen (45 min on Highway 307)
Renting a car is for sure the best way to explore Mexico and make the most of your stay!
While it's not super useful to visit the city, having a car is a must to discover the Riviera Maya and the rest of the country.
To rent a car, personally, I always use Rentalcars.com, for a few reasons:
You can easily compare the rental cars prices between all the agencies: for sure the easiest way to find the best rate!
Cancellation is often offered free of charge: no need to worry if you change your mind
Rentalcars offers full insurance coverage at a lower price than the rental companies, so it's an instant saving with no effort
Simply click on the green button to find your rental car at the best price:
How to get to Playa del Carmen from Tulum
If you are already in the Riviera Maya, you'll find that it's very easy to travel between different cities and attractions.
There are different ways to get from Playa Del Carmen to Tulum, depending on your budget, time, and preference. Here are some of the most common options:
Colectivo (cheapest option): This is a shared minibus that shuttles people between Playa Del Carmen and Tulum. It costs about 45 pesos per person and takes 1h (departing on the main highway in Tulum).
The colectivos leave when they are full and they are almost always full quickly. They run from early in the morning to late in the evening. The colectivos are not very comfortable but they are a great way to experience the local culture.
My advice
 If you have a suitcase rather than a back pack, use the bus instead of the colectivo because there is limited space and the driver might refuse you anyway.

Bus: you can take an ADO bus between Playa Del Carmen and Tulum (1h). It is a comfortable and reliable option, with AC and reclining seats.
Since it's a popular route, it may get crowded, so I recommend buying your tickets online (click here) instead of waiting at the bus station.
Car Rental: driving from Tulum to Playa del Carmen takes 45 min-1h (depending on traffic).
As I alreay said, renting a car gives you more freedom and flexibility to explore Playa Del Carmen and Tulum at your own pace. Compare the rental cars prices between all the agencies by clicking here!

My tips to enjoy Playa Del Carmen in 1 day:
1. Plan ahead: this is very important since you don't have much time! It's better to have a clear idea of what you want to see and do in Playa Del Carmen and book your hotel, tickets, tours, and transportation online to save time.
2. Bring the essentials: Playa Del Carmen is a sunny and tropical destination, so you'll need to pack accordingly. Some of the things you should bring are: sunscreen, sunglasses, hat, swimsuit, towel, water bottle, camera, cash (pesos), and comfortable shoes.
You might also want to bring a light jacket or sweater for the evenings or if you plan to visit some indoor places with AC. Be careful with AC after being under the sun!
3. Use pesos instead of dollars: Although many places in Playa Del Carmen accept US dollars, you will get a better exchange rate and avoid confusion if you use Mexican pesos instead.
You can exchange your money at a bank or an ATM, or use your credit card if it doesn't charge foreign transaction fees. Avoid exchanging money at the airport or at street vendors, as they usually offer unfavorable rates.
Also, make sure to have some cash on hand for tips, taxis, colectivos, and street food.
4. Be aware of your surroundings: Playa Del Carmen is generally safe, but as in any tourist destination, you should still pay attention to your surroundings. Be careful with pickpockets – Always keep your wallet and bag close to you and avoid walking alone at night or in dark streets.
5. Don't do drugs or get too drunk: I don't want to sound like your mom, but I've heard some (not-so-funny) stories lately. Playa Del Carmen has a lively nightlife scene and you should definitely enjoy it; but always be careful, never accept drinks from strangers or leave your drink unattended.
Is 1 day enough in Playa Del Carmen?
One day in Playa Del Carmen is enough to get a glimpse of this amazing place, but not enough to explore everything it has to offer.
If you have more time, I recommend staying at least 3 days in Playa Del Carmen to fully experience its beauty and charm. You can also use Playa Del Carmen as a base to visit other nearby destinations, such as Tulum, Akumal, Puerto Morelos, Holbox, Isla Mujeres, and more.
Check out my other useful guides about Playa del Carmen here:
Playa Del Carmen has many more attractions and activities that you can enjoy, such as:
1. Tulum: This is a charming town located south of Playa Del Carmen. You can visit the ancient Mayan ruins overlooking the sea, the stunning Tulum beach, and the trendy Tulum town with its shops, restaurants, and bars.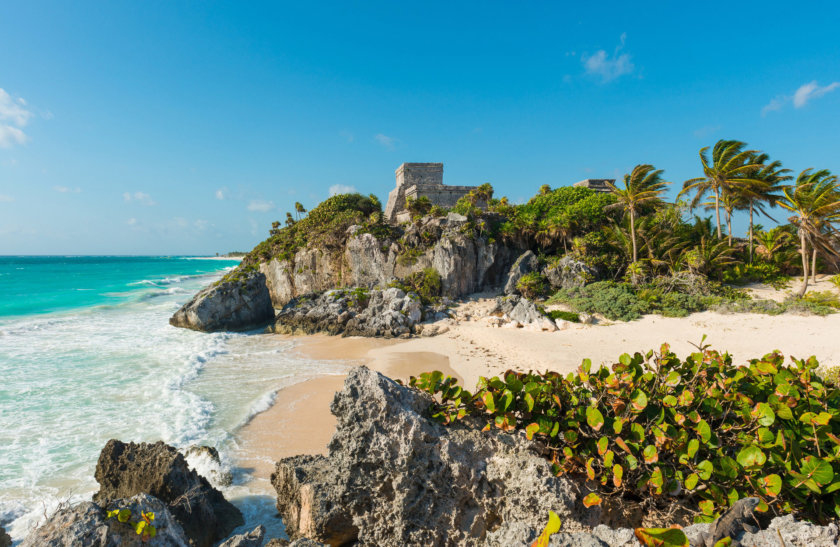 2. Xcaret Park: it is a huge park that celebrates nature and Mexican culture with more than 40 different activities!
Before you go, you should definitely watch Xcaret Mexico Espectacular, a wonderful night show with 300 performers that tells the story of the Maya's historical journey.
Choose the ticket that suits you best here (they all come with the night show and the buffet):

3. Chichen Itza: this is a UNESCO World Heritage Site and one of the New Seven Wonders of the World, as well as one of the most impressive and famous Maya archaeological sites in Mexico!
You can admire the stunning structures such as the Temple of Kukulkan, the Observatory, the Sacred Cenote, and the Great Ball Court. Don't miss the chance to see the serpent shadow that appears on the pyramid during the spring and autumn equinoxes.
To get to Chichen Itza from Playa del Carmen, you can either drive for 2h30, or take the only daily bus (8h-16h30).
The easiest way to visit Chichen Itza is to book a tour from Playa del Carmen (click here!) with transportation, guided tour of Chichen Itza, with free time at cenote Ik Kil and the colonial city of Valladolid.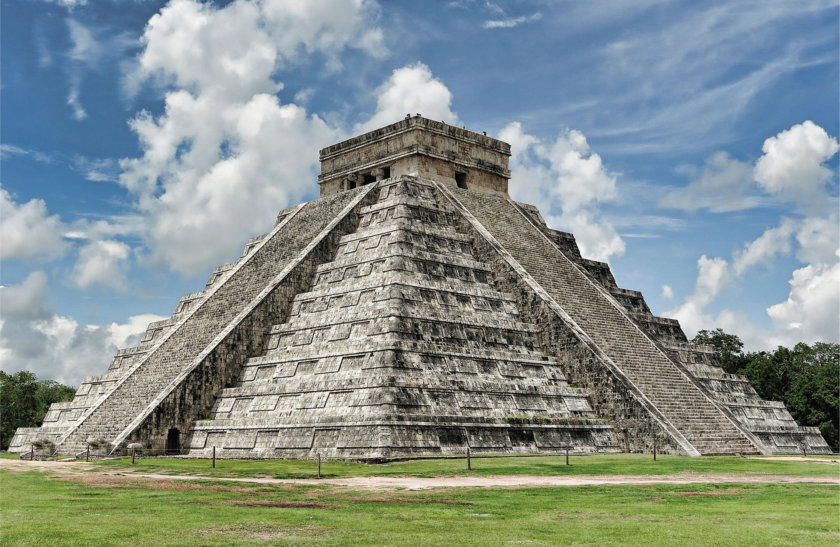 4. Cenotes: these are natural sinkholes filled with fresh water where you can swim, snorkel, dive, or just admire these wonders of nature.
If you are looking for stunning cenotes near Playa del Carmen, you should check out Cenote Azul, Jardin del Eden and Cenote Cristalino. You can also explore the incredible Chaak Tun, a hidden underground cenote in Playa del Carmen.

5. Cozumel Island: This is a beautiful island located off the coast of Playa Del Carmen, surrounded by beautiful coral reefs.
You can take a ferry from Playa Del Carmen (close to Parque Fundadores) and explore the island's beaches, reefs, parks, and more.
Here are some of the best tours and activities in Cozumel:

6. Isla Mujeres: This is a small island located north of Cancun with a laid-back vibe, white sand beaches, crystal clear water, and colorful coral reefs.
You can take a day trip to Isla Mujeres and enjoy its amazing attractions: you can snorkel in the world's second largest coral reef and relax at Playa Norte, visit Garrafon de Castilla Park, explore the Punta Sur Sculpture Park, admire its colorful streets, and much more.
My advice
If you want to
fully enjoy Isla Mujeres
you can also
book this snorkel tour
that includes pick up at your hotel in
Playa del Carmen
, 45 min of snorkeling, open bar, breakfast and buffet lunch, with free time in Isla Mujeres:

How to find a cheap flight to Cancun
The easiest way to get to Playa del Carmen is to fly to the Cancun International Airport (CUN), which has direct flights from many international and domestic cities.
To find a cheap flight to Cancun as well as the best domestic flights in Mexico, I recommend using our flight comparison tool in partnership with Skyscanner. It is guaranteed to get you the best price!
Book your trip now and save money!
You're traveling in Mexico? These articles will help you!
Discover all my articles about Mexico: Here you will find all my articles to help you plan your trip to Mexico.
You're using Pinterest? Here is the picture to pin!