How to Spend One Day in Cancun (Things to do + Itinerary)
You're planning to visit Cancun and you're looking for the best 1 day itinerary?
Then look no further!
Cancun is a popular destination for sun-seekers, beach-lovers and party-goers. But there is more to this city than just sand and nightlife.
Cancun also offers a rich cultural heritage, natural wonders and amazing activities.
And if you only have one day in Cancun, you really need to optimize your day to make the most of your stay!
So, in my guide of the best things to do in Cancun, I told you everything about the best places to visit and activities you can do in or around the city. Now, we will choose the best of the best and plan your 1-day trip!
To help you plan your stay, I haven't created 1, but 2 itineraries, for different types of travelers: one for fun-loving friends and families, and the other one for a romantic holiday.
So what are the best places to visit in Cancun in 1 day? Where should you stay?
Let's plan your visit!
Cancun Itinerary 1:  Friends and Family
Morning: Explore the Mayan Ruins
If you only have 1 day in Cancun: start your day early!
Head to one of the nearby Mayan ruins, such as Chichen Itza, Tulum or Coba.
These ancient sites will amaze you with their history, architecture and art. You can learn more about the Mayan civilization and culture from a local guide or an audio tour.
You can opt for Tulum a beautiful Mayan site, located on a cliff overlooking the turquoise Caribbean Sea.
There, you can admire the views from the Castillo, the main temple, and explore the other buildings and murals. Tulum is also known for its beautiful beaches, where you can relax and swim after your visit.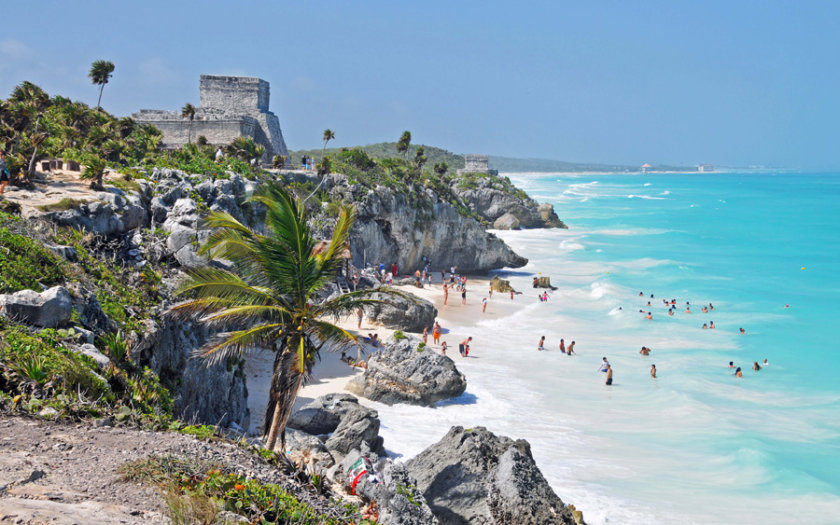 Another option is to go to Chichen Itza, the most famous and impressive Mayan archaeological site in Mexico.
It's a UNESCO World Heritage Site and one of the New Seven Wonders of the World.
There, you can marvel at the iconic pyramid of Kukulkan, the Temple of the Warriors, the Observatory and the Ball Court.
My favorite tour includes pick up from your hotel, a guided tour of Chichen Itza, the beautiful cenote Ik Kil, a buffet lunch and a stop in Valladolid.
You need to book it here: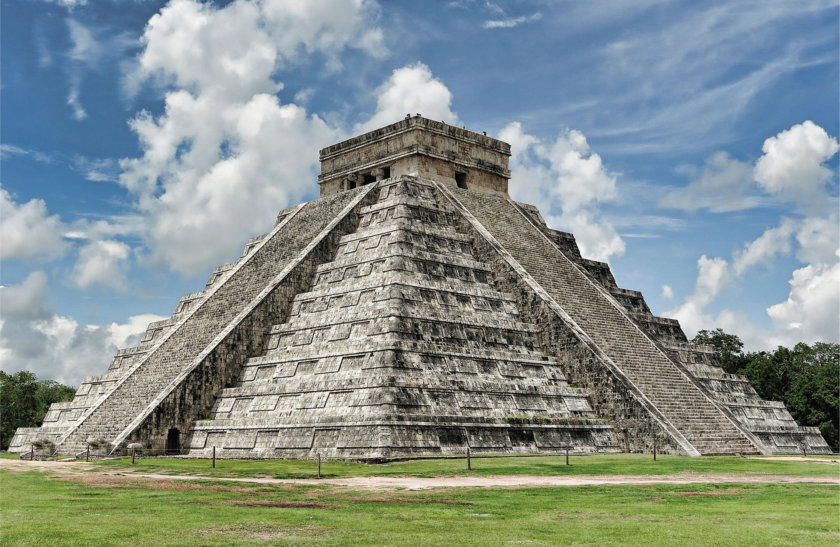 Coba is a less crowded and more adventurous option for visiting the Mayan ruins.
You can rent a bike or a pedicab and ride through the jungle to see the different structures and monuments. You can also find Nohoch Mul, the 2nd tallest pyramid in the Yucatan Peninsula.
You need to book this tour (click here) that includes transportation from your hotel, lunch, a guided visit of Coba and Tulum, and a cenote!

Afternoon: Relax on the Beach or Try an Adventure
After exploring the ruins, it's time to relax on one of Cancun's beautiful beaches. You can swim, sunbathe, snorkel or surf in the clear blue water.
Some of the best beaches in Cancun are Playa Delfines, Playa Tortugas, Playa Chac Mool and Playa Marlin.
You can find public access points, facilities and services along the Hotel Zone. You can also rent a lounge chair from one of the hotels or resorts for a fee.

If you want to add some thrill to your afternoon, you can book an adventure tour with one of the many operators in Cancun.
You can choose from a variety of options, such as zip-lining through the jungle canopy, parasailing over the ocean, rent a jet ski, or drive a speedboat and snorkel in the coral reefs of Punta Nizuc.
In my opinion, the best is the ATV, Zipline, & Cenote Combo Tour in the Mayan jungle, with pickup from your hotel in Cancun:

Evening: Enjoy the Nightlife and Cuisine
Cancun has a vibrant nightlife and cuisine scene that you don't want to miss. You can find a variety of restaurants, bars, clubs and shows to suit your taste and budget.
You can enjoy some authentic Mexican food, such as tacos, enchiladas or mole, or try some international dishes.
You can also sip on some margaritas, tequila or mezcal while listening to live music or watching a performance. You can also join a pub crawl or a party bus to meet other travelers and have fun.
Some of the best places to eat in Cancun are Harry's Steakhouse & Raw Bar, Wander Rooftop and Restaurante República.
You can find traditional and modern Mexican cuisine, as well as seafood, steak and vegetarian options. You can also sample some local specialties, such as cochinita pibil, sopa de lima or ceviche.
If you're looking for some entertainment, you can check out some of the shows and events that Cancun offers.
You can watch the famous Cirque du Soleil show Joya, which combines acrobatics, music and storytelling. Or you can experience the Mexican culture at Xoximilco, where you can ride a colorful boat and enjoy a fiesta with food, drinks and live music.
For those who want to party all night long, Cancun has plenty of options to choose from. You can find some of the most popular clubs and bars in the Party Zone (Punta Cancun) of the Hotel Zone: Coco Bongo, The City or Mandala.

Cancun Itinerary 2: Romantic Getaway
Morning: Visit the Cancun Underwater Museum
One most fascinating things to do in Cancun in 1 day is to visit the Underwater Museum, also known as MUSA.
This museum features over 500 sculptures that are submerged in the sea, creating an artificial reef that attracts marine life. You'll be amazed by the art and the wildlife that you'll encounter. 
The Cancun Underwater Museum was created by British artist Jason deCaires Taylor, who wanted to raise awareness about the environmental issues affecting the coral reefs. He used eco-friendly materials and techniques to create realistic and expressive sculptures of humans, animals and objects.
Some of the most famous sculptures include The Silent Evolution, a group of 450 life-size figures; The Banker, a man buried under a pile of coins; and The Dream Collector, a man surrounded by bottles containing messages.
You can visit the museum from different locations in Cancun, such as Isla Mujeres, Punta Nizuc or Punta Sam. You can choose from different options to see the sculptures, depending on your preferences and skills.
The Underwater Museum is a must-see attraction for anyone who loves art and nature. It's a unique way to experience the beauty and diversity of the underwater world.
It's also a great way to support the conservation and restoration of the coral reefs. Don't miss this opportunity to see one of the most amazing museums in the world.

Afternoon: Shop and Lunch at La Isla Shopping Village
After enjoying the underwater museum, it's time to shop and have lunch at La Isla Shopping Village, one of the most popular and upscale malls in Cancun.
You can find a variety of stores, restaurants, cafes and entertainment options at this open-air mall.
You can browse for souvenirs, clothes, jewelry or art, or treat yourself to some spa services. You can also enjoy some delicious food, from Mexican to Italian to sushi, or grab a coffee or a cocktail.
La Isla Shopping Village is located in the heart of the Hotel Zone, overlooking the Nichupte Lagoon. It has a charming and elegant atmosphere, with canals, bridges and fountains.
You can find over 150 stores, including international brands like Zara, Nike, Swarovski and Hugo Boss, as well as local boutiques and handicraft shops.
You can also find some unique attractions, such as the Interactive Aquarium, the Wax Museum, where you can see lifelike figures of celebrities and historical figures; and the Tequila Museum, where you can learn about the history and production of Mexico's national drink.
If you're hungry or thirsty, you have plenty of options to choose from at La Isla Shopping Village. You can find some of the best restaurants in Cancun, such as Thai Lounge, Cenacolo, and Elefanta. You can also find some casual and fast-food options.
It´s a nice place to shop and wander around if you have some spare time.

Evening: Watch the Sunset and Dance the Night Away
Cancun has some of the most stunning sunsets in the world, and you don't want to miss them.
You can watch the sunset from one of the many beaches, or take a sunset cruise on a catamaran or a yacht. You'll be mesmerized by the colors and the views.
Experience nature's beauty and sounds on a kayak adventure through the mangrove canals and the Nichupté lagoon. You can book your sunset kayak experience here!
If you want a more romantic and luxurious experience, you can also book a sunset cruise that goes from Cancun to Isla Mujeres and returns. Snacks, drinks and music await you as you admire the scenery.

After contemplating the beauty, it's time to dance the night away at one of Cancun's famous nightclubs. You can find a club that suits your style and mood, from salsa to techno to hip-hop. You can also enjoy some drinks, shows and fireworks.
Cancun has a vibrant nightlife that will keep you entertained and energized. You can find a club that matches your vibe and have a blast with your friends or other travelers.
Cancun is a city that never sleeps, and you'll love every minute of it. Whether you're looking for culture, nature, adventure or fun, you'll find it in this amazing city. One day in Cancun may not be enough to see and do everything, but it will definitely leave you wanting more.
My Advice
 Don't miss the chance
to learn more about Cancun
with these articles:
1 day in Cancun: where to stay?
Mayan Monkey Cancun: hostel with a festive atmosphere in Cancun's hotel zone, very close to the beach and bars. Terrace, outdoor pool, bar with happy hour, air conditioning, ping-pong, good wifi. Private rooms and dorms, from only 24$usd!
Bed and Breakfast Pecari: if you are looking for more comfort, I recommend without hesitation this establishment. It is a beautiful Bed and Breakfast located in a quiet street near the city center and the ADO bus station, with a relaxation area by the pool, spacious rooms, and a good breakfast, starting at 50$usd per night!
Beachscape Kin Ha Villas & Suites: rooms, suites, and villas for 2 to 12 people with direct access to the beach. Outdoor pool, children's pool, gym, restaurant, beach bar. Breakfast included, starting at 218$usd per night.
The Royal Sands Resort & Spa: spacious rooms and suites with ocean views, in the heart of Cancun's hotel zone. Large outdoor pool, gym, spa, fine restaurants, sports bar and many activities. All inclusive, starting at 485 $usd per night
My tip
For more options, you can visit my article about the
best hotels and resorts in Cancun
and find your perfect hotel. Here is the link:
Where to stay in Cancun?
Rent a car in Cancun
Renting a car is for sure the best way to explore Cancun and make the most of your stay!
While it's not super useful to visit the city, having a car is a must to discover the rest of the country.
To rent a car, personally, I always use Rentalcars.com, for a few reasons:
You can easily compare the rental cars prices between all the agencies: for sure the easiest way to find the best rate!
Cancellation is often offered free of charge: no need to worry if you change your mind
Rentalcars offers full insurance coverage at a lower price than the rental companies, so it's an instant saving with no effort
Simply click on the green button to find your rental car at the best price:
How to find a cheap flight to Cancun
Cancun International Airport a large airport that receives many flights from Europe and North America, with the major known companies (Air Transat, Air Canada, Iberia, Aeromexico, Interjet, KLM, etc.). It will be very easy to find tickets at the date that suits you.
To find a cheap flight to Cancun as well as the best domestic flights in Mexico, you should use our flight comparison tool in partnership with Skyscanner. It is guaranteed to get you the best price!
You have several options to go from the Cancun airport to your hotel:

Book your trip now and save money!
You're traveling in Mexico? These articles will help you!
Discover all my articles about Mexico: All my articles to help you plan your trip to Mexico are listed there.
You're using Pinterest? Here is the picture to pin!