Yucatan Itinerary: 14, 15 or 16 Days  – Best Things to Do + Tips
Do you want to visit Yucatan Peninsula in two weeks? That's a great idea!
To help you plan your trip, I have a 14-15 days itinerary in Yucatan that will take you to the most important attractions of this Mexican peninsula.
Starting from Cancun, you will discover the most beautiful Mayan cenotes, white sand beaches and the colonial cities of Yucatan.
Swim with turtles in Akumal, explore the Sian Ka'an Reserve, visit famous archaeological sites like Tulum and Chichen Itza, and relax on Holbox Island and Isla Mujeres!
I will give you my practical tips for each stage that will help you enjoy your trip, as well as suggestions on the best accommodations for every budget.
So, what can you do in Yucatan in 2 weeks? Where can you stay?
1) Cancun and Playa del Carmen (1 day)
Cancun is the ideal starting point for a 2 week road trip to the Yucatan, as it is very easy to find an international flight!
The first thing you should do as soon as you arrive is to rent a car, which will be very handy to move around freely during your stay.
In fact, although there is the option of public transportation, traveling by car gives you the chance to see much more in a short time.
For my part, I use the Rentalcars.com comparator for my rentals: it's the easiest way to get the best price!
Click on the button below to compare prices:
If you don't plan to rent a car in Cancun you can book your airport transfer here to arrive safely to your hotel:
Cancun is quite busy, so I recommend you go directly to Playa del Carmen (1 hour drive) to enjoy the sun in a smaller city and get closer to the next day's destinations.
Here are some ideas of activities to do in Playa del Carmen in less than a day:
Stroll along Quinta Avenida, the long main street, which is pedestrianized and very lively
Enjoy the beaches: Playa Paamul, Playa Paraiso, Playa Tukan, Playa Mamitas, Playacar or Punta Esmeralda
Attend traditional dance shows (free) at the Parque de los Fundadores (Founders Park)
Visit the Frida Kahlo Museum
You can also read:
The 12 Cenotes you Can't Miss in Playa del Carmen
Spend the night in Playa del Carmen.
How to get to Playa del Carmen from Cancun: 1 hour on Federal Highway 307.
Where to sleep in Playa del Carmen?
Che Playa Hostel & Bar Adults Only: great hostel to meet other travelers and party, with a rooftop terrace that has a bar and a small pool, with several offered activities. Clean, with good wifi and a great welcome. From only 13 $usd for the dormitory or 37 $usd for a private room!
Hotel Lunata: a charming hotel with hacienda style decoration, which is hidden on Quinta Avenida, very close to the beach. Quiet, with a garden, rooms with balcony, and has very friendly service. From only 82 $usd per night!
Porto Playa Condo Beach Club: here you will find a spacious apartment ideal for a family, with fully equipped kitchen, living room and terrace. The hotel has a large swimming pool, a gym and a restaurant, starting at 172 $usd per night!
The Reef Playacar Resort & Spa: located on the beautiful beach of Playacar, just a few minutes from Fifth Avenue. Ideal for a romantic stay, with a beautiful tropical garden, two pools, a gym and a spa. 200 $usd with the "all inclusive" formula.
Hotel Xcaret Mexico All Parks All Fun Inclusive: it is definitely the best hotel in Playa del Carmen! Ideal for couples and families with children as this luxury hotel offers an exceptional package including meals and access to its parks (Xcaret, Xplor, Xplor Fuego, Xenses, Xoximilco, Xel-Ha and Xenote). Starting at 860 $usd per night, all inclusive.
My tip
If you want more options, take a look at My ultimate guide to the best hotels and resorts in Playa del Carmen!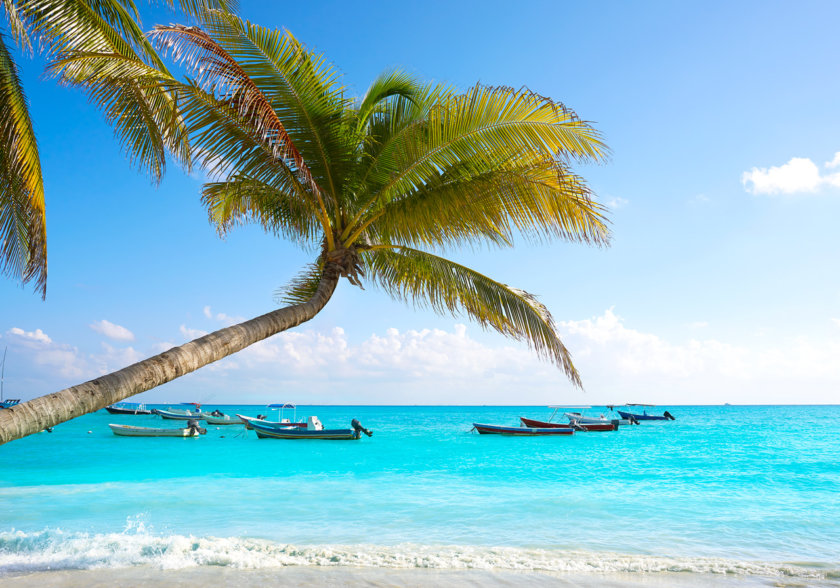 2) Tulum (4 days)
Day 1 – Rio Secreto and Xpu-Ha
The second day of your 15-day itinerary in Yucatan will let you discover the Mayan underground world.
Start the day by visiting the Rio Secreto, an underground river that is one of the most beautiful natural sites in Mexico!
It is part of a large cave system of more than 40 km, which was considered sacred by the Mayas.
It is a guided activity (1h30) that lets you explore this unique place among crystalline waters, stalactites and stalagmites, swimming and walking about 1970 ft.
You will have a locker to store your belongings during the visit and also water shoes, a helmet with a flashlight and a wetsuit, because the water is cold. Don't forget your swimsuit!
Book the Rio Secreto tour, which includes lunch (and optional pick up at your hotel), by clicking the green button:
In the afternoon, after surfacing and having a good lunch, head to Xpu-Ha.
It's one of the most beautiful beaches in the Yucatan!
It is very quiet, especially during the week, and offers a dream setting for lounging, walking and snorkeling.
If you want to be super-comfortable, you can find beach clubs (ex: La Playa Xpu-ha Beach Club), but you can also just go there with a towel and some snacks.
If you have some time, you can also take a trip to Cenote Azul (less than 5 minutes from Xpu-Ha), a beautiful open-air cenote that families love.
In the evening, head to Tulum where you will spend a few days.
If you want to have a drink, you will find several nice bars there.
To get to Rio Secreto from Playa del Carmen: 12 min on Federal Highway 307 towards Tulum.
To get to Xpu-Ha from Rio Secreto: 15 min taking Federal Highway 307 towards Tulum.
To get to Tulum from Xpu-Ha: 36 min on Highway 307.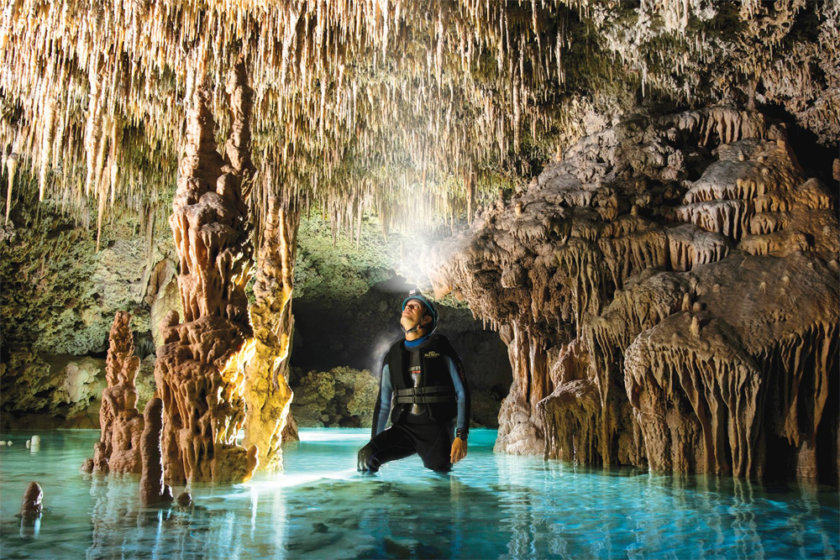 Day 2 – Akumal and Xcacel
Depart from Tulum in the morning and head to Akumal.
Akumal has calm and clear waters, and it is part of the Mesoamerican Reef, the second largest reef in the world.
The reef is home to a rich variety of marine life, and it is the best place to swim with turtles in Mexico.
This is an eco-friendly activity, because it follows a set of specific rules and the turtles are protected.
You need to do the excursion with a guide, who will take you to the best spots to see the turtles without disturbing them. Book your spot here:
Akumal Bay and Half Moon Bay are two amazing places that you should not miss. They have beautiful beaches where you can relax and enjoy the sun. If you love snorkeling, you will also love Yal-Ku Lagoon.
In the afternoon, head to Xcacel, a pristine white sand beach that is part of a protected nature reserve in the Riviera Maya.
From May to October, it is a key turtle nesting site, and you can join some activities to release them between September and November.
The coral reef is only 160 ft from the shore, which makes it a wonderful place for snorkeling.
If you want to explore more, you can also go to Chemuyil beach, right next to Xcacel, which is also very peaceful.
My advice
Xcacel and Chemuyil
are two natural beaches that offer a tranquil and rustic experience. They
do not have any services
like umbrellas, sun loungers, or restaurants.
If you are looking for a more comfortable beach, you have many options nearby: Playa Paraiso, Playa Las Palmas, Playa Pescadores, and Playa Santa Fe.
Overnight in Tulum.
To get to Akumal from Tulum: take highway 307 towards Cancun (25 min).
To get to Xcacel from Akumal: 9 min on route 307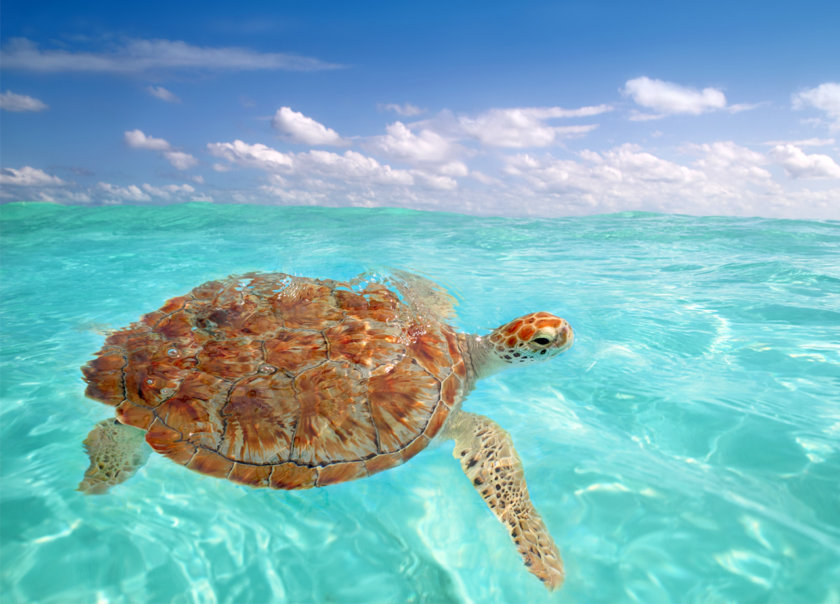 Day 3 – Discover Tulum and its most beautiful attractions!
One of the best ways to start your day is by visiting the Tulum ruins.
They are a stunning sight, as they stand on a cliff overlooking the turquoise Caribbean Sea. You can also access a beautiful beach below the ruins, where you can swim and relax.
The Tulum ruins were once a thriving Mayan city, dating back to the 6th century. It was a strategic trading center, connecting the land and sea routes.
Some of the highlights are El Castillo (the Castle), which is the largest and most impressive structure, the Temple of the Frescoes, which has colorful paintings on its walls, the Temple of the Descending God, the House of the Columns, and many more.
The entrance fee to the Tulum ruins is 90 pesos, and parking is 80 pesos per hour or 150 pesos per day.
To get to the Tulum ruins from town: take a 10-minute car ride or a combi (from the 7 Eleven on highway 307, 20 pesos). You will have to walk 15 min to the entrance or take the shuttle.
After the visit, don't miss the chance to refresh yourself in a Mayan cenote.
If you are traveling with your family, the best options are Gran Cenote, Cenote Zacil-Ha, or Cenote Dos Ojos.
If you are looking for a more adventurous experience, go to the Nicte-Ha, Taak Bi Ha, Cristal, or Escondido cenotes.
Another great option is to visit Tulum with a day tour that has it all: hotel pick-up, expert guide, ruins, beach, and cenote. Book your tour here: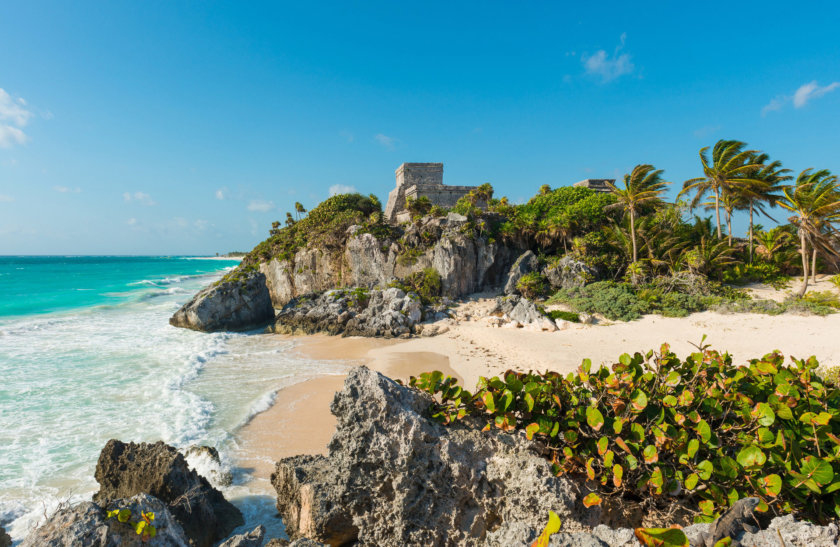 Day 4- Today, explore the Sian Ka'an Natural Reserve.
Sian Kaan is a biosphere reserve and a UNESCO World Heritage Site. It is a must-see for all nature lovers during a two-week stay in Yucatan.
It is one of the most beautiful places in Yucatan, with a diverse ecosystem of beach, mangrove, and tropical forest. You can access Sian Kaan from two different points: Punta Allen and Muyil.
Each one offers a different experience, but you can only visit one in a day. Here are some things to consider before you choose:
Punta Allen is a fishing village and the starting point for exploring the beach, the salt lakes, and seeing dolphins and manatees.
The road to Punta Allen is a bit rough and the best option is to join a tour. It includes hotel pick-up, boat ride (3 hours), free time for swimming in the water, and lunch. Book it here:
Muyil is closer to Tulum so it is more easily accessible. There you can visit the interior of Sian Kaan, among ruins, freshwater lakes and jungle.
I recommend this excursion which includes hotel pick up, visit to Muyil ruins and Xlapak temple, a hike, a boat ride through the ancient Mayan canals and lunch. Book it here:
My advice
Which one to choose if you go on your own?
By public transport, choose Muyil (20 minutes by bus to Chunyaxché) because Punta Allen is too far and it would take you more than a day to get there.
If you go by car, I recommend Punta Allen which allows you to do more activities. But you will definitely need a 4×4 car!
Where to sleep in Tulum?
Mayan Monkey Tulum: an excellent value for money. Nice modern hostel with a good atmosphere, a pool, bar and garden. Including fast wifi, kitchen access, yoga classes, coworking spaces, and bike and

motorcycle

rentals. Dorms and private rooms starting at only 24 $usd per night.
Casa Almendro: if you are looking for a little more comfort, you will like this small cheap hotel in the center of Tulum. It's a green oasis with a rooftop terrace with chairs and hammocks. There are king size beds and breakfast is included, from only 50 $usd per night!
Diamante K: is a high-end hotel but at a very fair price, which is exceptional in Tulum, especially for a hotel with direct access to the beach in the hotel zone! Bohemian chic atmosphere, including a restaurant, hammocks and beds on the private beach, and a massage service. Bungalows are 207 $usd per night.
Habitas Tulum: this small eco-friendly hotel with a chic design is ideal for a romantic stay in Tulum. It is a true oasis of peace, hidden among the palm trees, with a magnificent swimming pool and a private beach. There are also yoga classes on the terrace at sunset. From 371 $usd per night!
Kanan Tulum- Adults Only: this is the ultimate option for a luxury stay in Tulum. It is an ecological hotel for adults only, located on a beautiful private beach with hammocks and beds. With a fantastic rooftop terrace with a bar; the hotel also has an excellent restaurant, great rooms and a very friendly welcome. From 566 $usd per night!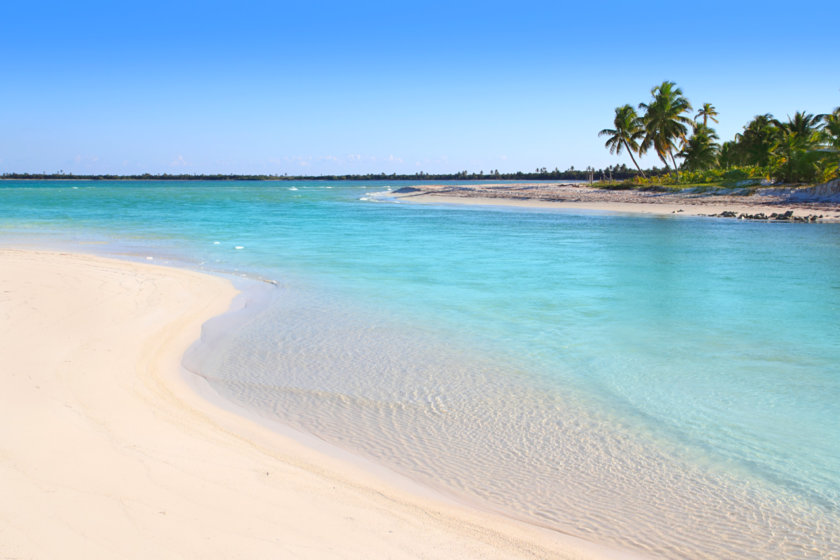 3) Valladolid (2 days)
Day 1 – The archaeological site of Cobá and the city of Valladolid
Leave the coast and head inland to the Mayan site of Cobá, another site you shouldn't miss if you spend 14, 15 or 16 days in Yucatán.
Cobá was a powerful Maya city that that competed with Chichén Itzá.
It was huge, covering more than 80 km2 and having 50,000 people living there!
It also has the second tallest pyramid in the entire Yucatan Peninsula, the Nohoch Mul (138 ft high). You can see the different buildings in the jungle by walking or renting a bike.
Few visitors know that there are also 3 underground cenotes in Cobá: Choo Ha, Tamcach Ha (or Tankach-Ha) and Multun Ha (or Multum Ha).
Cenote Choo Ha is the closest to the village of Cobá and the most suitable for children, because it has shallow water areas.
The entrance fee to Cobá is 100 pesos, bike rental is 50 pesos, cenotes are 100 pesos each.
In the afternoon, you can visit the beautiful colonial city of Valladolid, which will be your base for the next few days.
Now you have moved from the State of Quintana Roo to the State of Yucatán!
Here are some of the highlights of Valladolid:
Visit the main square with the church of San Servacio and the Francisco Canton park.
Cool off in the large cenote Zaci located in the historic center.
Stroll along the Calzada de los Frailes to the Convent of San Bernardino and watch the light show at 9 p.m.
Explore the Casa de los Venados, a private museum in a huge colonial mansion that houses a large collection of Mexican folk art.
Take a tour of Choco-story, an interactive museum dedicated to chocolate (great for the whole family!)
Check out my guide: The Top 25 Things to Do in Valladolid!
Spend the night in Valladolid.
To get to Cobá from Tulum: take a 45-minute drive on Highway 109 to Valladolid. Parking 70 pesos. Or take a 1-hour ADO bus (departure at 10:10, 100 pesos).
To get to Valladolid from Cobá: take a 1-hour drive on Highway 180, or take a colectivo from Cobá (you will have to take a cab from town to the ruins).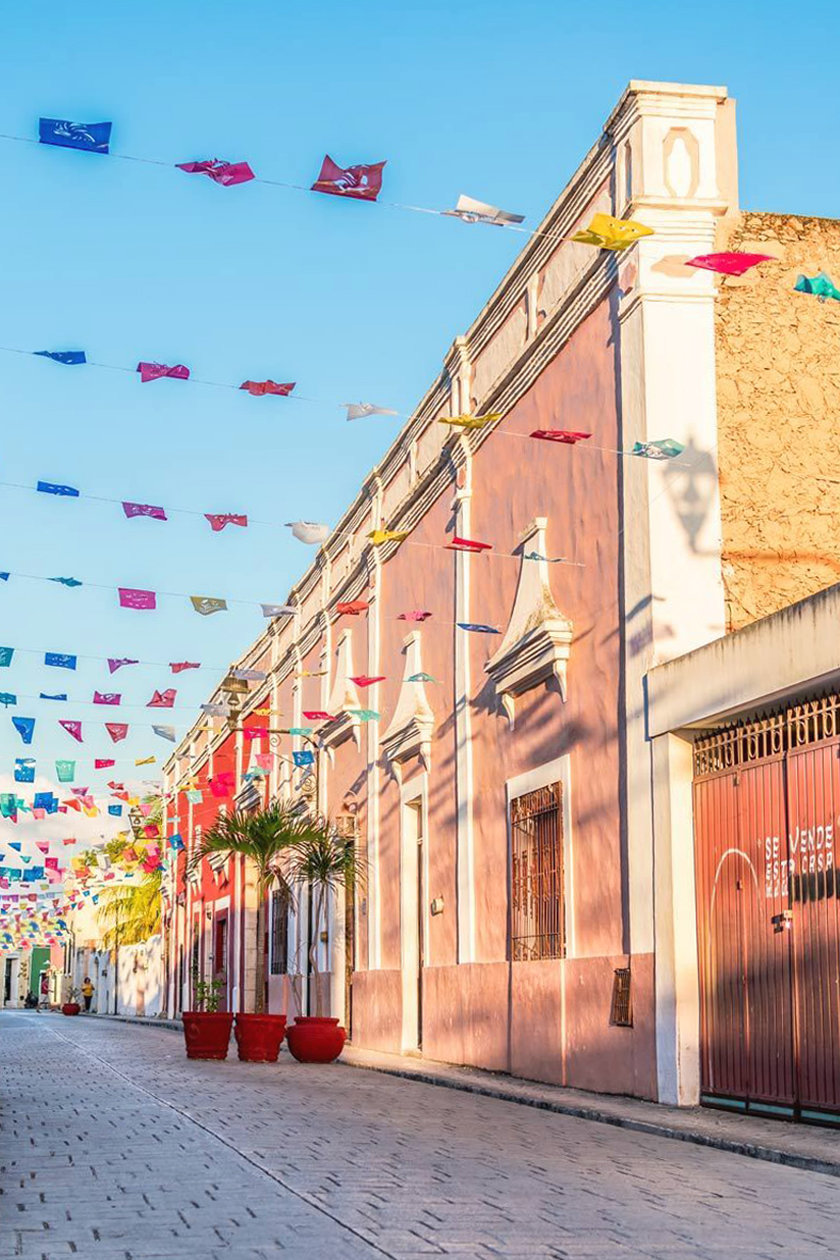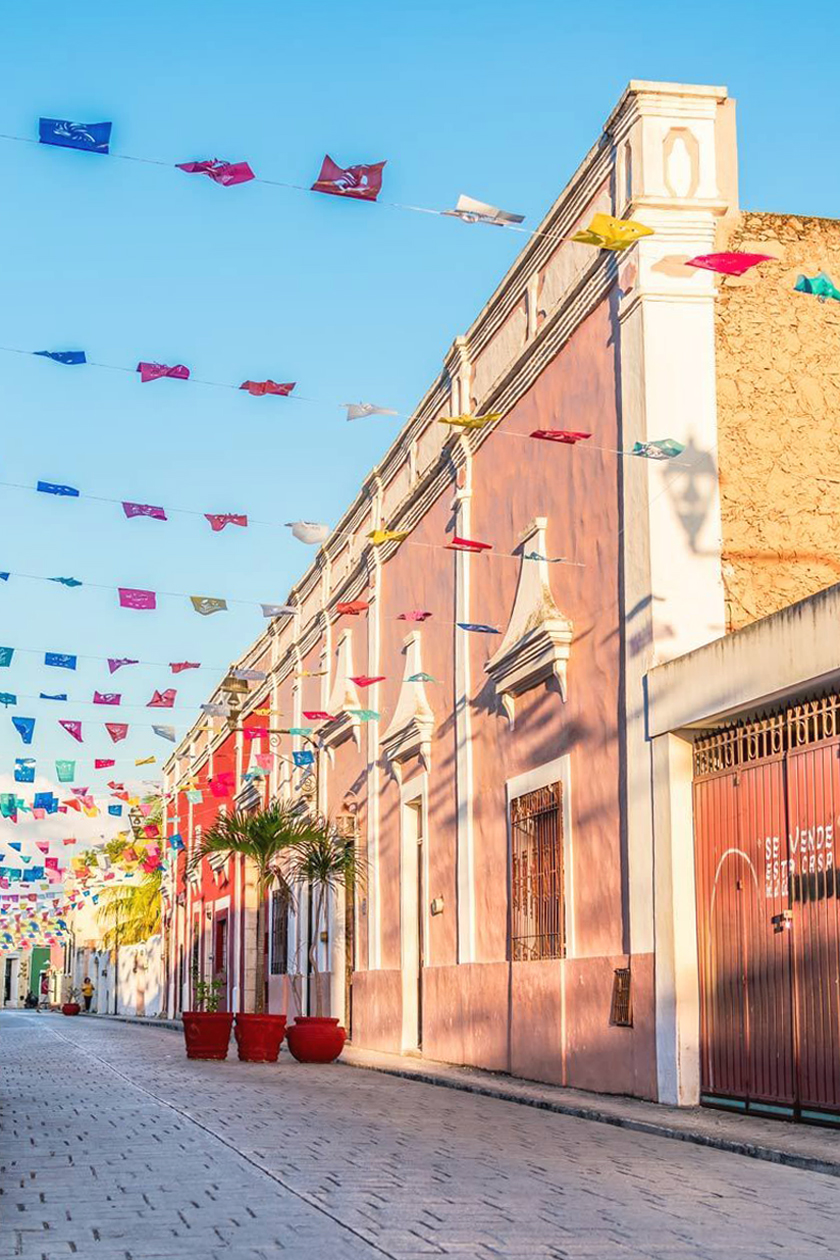 Day 2 – The ruins of Ek Balam and Las Coloradas
Today, you will continue your 15-day Yucatan road trip to Ek Balam, the "black jaguar" in Yucatecan Maya. It is one of the most beautiful places to visit in Mexico!
Ek Balam is a magnificent Mayan city hidden in the jungle, not yet overrun by tourism. You can enjoy a breathtaking view from the top of the Acropolis, which was one of the most important constructions of Mesoamerica.
Inside this pyramid, the famous tomb of its leader Ukit Kan Lek Tok (8th century) was found with more than 7000 objects.
In addition to the Acropolis, you can also see at Ek Balam:
The Mayan ball game
The Mayan Arch which was the entrance gateway
The Oval Palace
The Platform of the Stelae
The Twin Pyramids
After the visit to Ek Balam (1h30-2h), take the same road back to the coast, towards Rio Lagartos.
This is where Las Coloradas Lake is located, known for its pink color that makes it so photogenic!
Take the opportunity to take a boat ride through the Ria Lagartos Biosphere Reserve where there are 395 species of birds, including large colonies of flamingos from January to September.
My advice
There are several cenotes that you can easily integrate into your day.
For example, I suggest the beautiful X-Canché cenote near Ek Balam (170 pesos) or the Kikil cenote (150 pesos foreigners, 100 pesos nationals) managed by the local community.
For the best cenotes, check out my article The 21 Most Beautiful Cenotes in Valladolid!
Spend the night in Valladolid.
Getting to Ek Balam from Valladolid: 30 minutes by car on Highway 295 and then the Ek Balam Highway. The taxis "colectivos" leave from the corner of Calle 44 and Calle 37. 70 pesos per person (if you find someone to share it with) or 280 pesos for the whole car.
To get to Río Lagartos from Ek Balam: 1h20 by car on highway 295. By public transport; first take a cab to Tizimín, then a Noreste bus to Río Lagartos (departures 6h30, 10h30, 13h and 16h30 – be careful, the last bus back leaves at 16h15).
Where to sleep in Valladolid?
Candelaria Hostel: The best budget option in Valladolid! A colorful hostel that is very well located in the centre, with a garden, access to the kitchen, and a bike rental. Good breakfast options are also included, from 17 $usd for a bed in a shared dorm or 38 $usd for a private room.
Real Haciendas: A small, charming, yet very quiet hotel with a swimming pool, clean rooms with comfortable king size bed, and a very good welcome. Starting from 57 $usd per night.
IMIX Hotel: A typical colonial house in the centre of Valladolid on the beautiful Calzada de los Frailes, nicely decorated with spacious rooms. Breakfast included, starting from 127 $usd per night.
Le Muuch Hotel: A hotel located 5 minutes away from the main park Francisco Canton Rosado. Excellent service, with indoor and outdoor swimming pools with hammocks, rooms with garden view, air conditioning, and a bar and restaurant. A la carte breakfast included, starting from 140 $usd per night.
Hotel Zentik Project: This is definitely one of my favorite hotels in Mexico and the best hotel in Valladolid! Beautiful Mayan-style cabanas with murals done by local and international artists. There's a restaurant and bar, an outdoor pool with hammocks, and a saltwater pool in an underground cave. Very good breakfast included, starting from 380 $usd per night.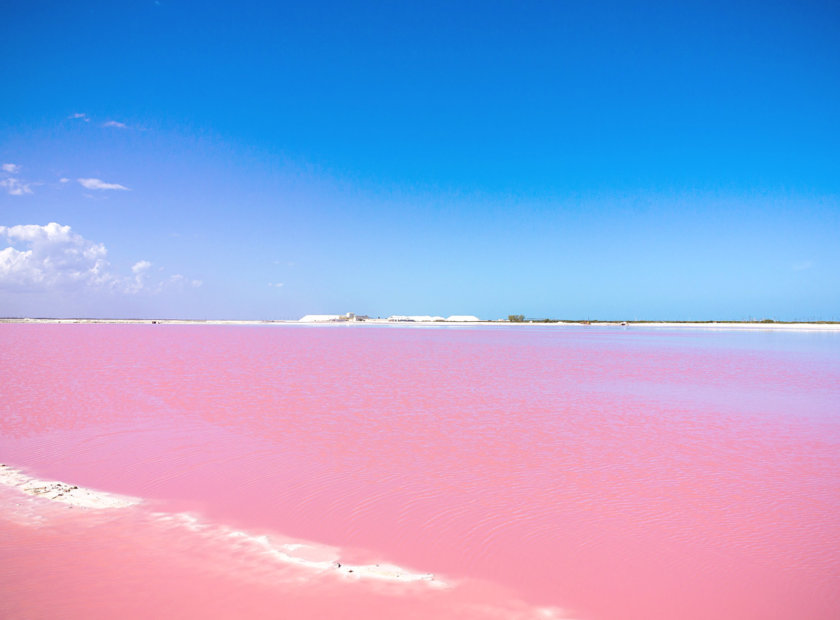 4) Merida (4 days)
Day 1 – Chichen Itza and Izamal
Start your day with a visit to the famous city of Chichen Itza.
This UNESCO World Heritage Site and one of the New Seven Wonders of the World is a must-see on any trip to Mexico!
It's a popular site, but it's well worth it. And if you get there early (before 10 am), you can beat the crowds.
To skip the long lines, I recommend getting these fast-track tickets to Chichen Itza here:
What to see in Chichen Itza:
The Temple of Kukulcan or El Castillo, the most iconic and photographed building on the site.
The Great Plaza, where you can find all the main buildings of Chichen Itza.
The Astronomical Observatory or El Caracol, where the Maya "priests" studied the stars to make important decisions.
The tzompantli, an altar where the Maya impaled the heads of their enemies.
The Mayan ball court, a ceremonial game that is the largest in Mesoamerica!
The many temples, palaces and houses such as the Temple of the Jaguars Warriors, the Temple of Venus, the
Temple of the Eagles and Jaguars, the Red House, the Akab Dzib and many more.
The site is very large and you can spend 2 to 3 hours there. If you go with a guide, the visit lasts about 1h30-2h.
If you want to cool off after the visit, just 2.5 miles from Chichén Itzá is the cenote Ik Kil, one of the Most Beautiful Cenotes in Yucatán.
Don't miss my article: Chichén Itzá: The Definitive Guide + My tips
Then you can visit Izamal, nicknamed the Yellow City, which is one of the most beautiful destinations in Yucatan.
It is a small colonial town with a lot of charm and tradition.
Things to see and do in Izamal:
Stroll through the traditional neighborhoods of San Ildefonso, Los Remedios and El Gallito.
Take a tour of Itzamná Park, which is the main square, and the beautiful 5 de Mayo Park.
Visit the convent of San Antonio de Padua, today the symbol of the city (free)
Climb to the top of the Kinich Kakmó pyramid, one of the highest pyramids in Yucatán (free)
Check out: The 11 Best Things To Visit in Izamal!
After visiting Izamal, head to Mérida for the night.
Getting to Chichén Itzá from Valladolid: 40 min drive on the Gulf Coast/Mexico Highway 180 E; bus or colectivo 50 min
Getting to Izamal from Chichén Itzá: 1 hour drive on 180 to Kantunil, then 53 to Izamal. By public transport, take a colectivo Oriente from Pisté to Hoctun (1h20), then a bus from Hoctun to Izamal (20 min).
Getting to Merida from Izamal: 55 min drive on the 180 to Merida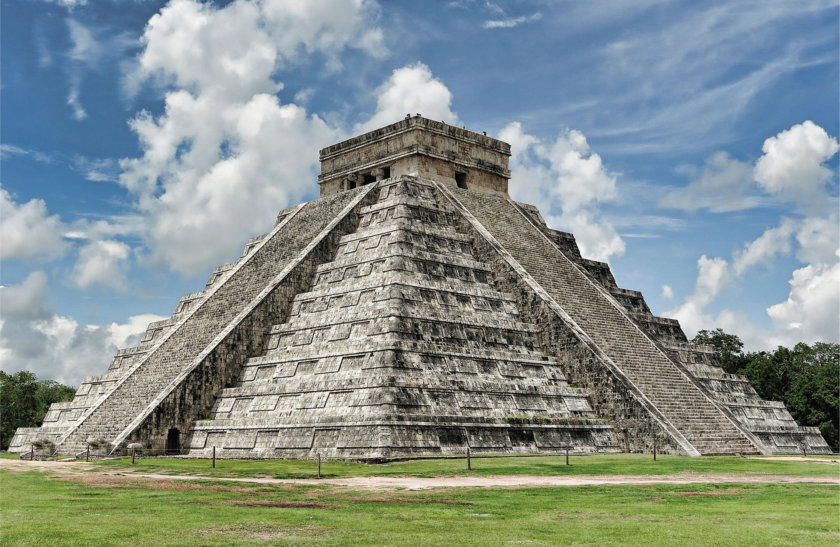 Day 2 – Visit Merida, the capital of Yucatan and the safest city in Mexico!
Here are some ideas for activities in Mérida, but you might not have time to do them all in one day:
Explore the Plaza Grande, where you can see the Casa de Montejo, the Cathedral and the Museo Macay, all for free!
Go up to the 2nd floor of the Palacio de Gobierno and enjoy the view from above, as well as the 27 murals.
Wander through Mérida's market. There are actually several, but I recommend the Lucas de Gálvez, which has a great local vibe.
Walk along Paseo de Montejo, which was once inspired by the Champs Elysees. Visit the Canton Palace which hosts the amazing Regional Museum of Anthropology of Yucatan.
Visit the great museum of the Mayan World with its 1000 archaeological pieces. It is 20 minutes from downtown by car, or you can take a bus to 60th street.
In the afternoon or evening, check out the charming Santa Lucia park with its restaurants and terraces.
If you want an authentic local experience, I suggest this guided market tour, which includes a typical Yucatan cooking class in the home of a local family! Book it here.
Check out: Top 20 Things To Do and See in Mérida!
Spend the night in Mérida.
Day 3 – In the morning, visit the archaeological site of Uxmal, a powerful Maya city that allied with Chichén Itzá.
As a UNESCO World Heritage Site, Uxmal showcases the amazing Puuc style buildings that make it one of the most beautiful Maya sites in Yucatán.
What to see in Uxmal:
The Pyramid of the Soothsayer, the most impressive structure in Uxmal, 37 meters high.
The Great Pyramid, which offers a splendid view of the surrounding area
The Palace of the Governors
Other buildings such as the Nun's Quadrangle, the Bird's Quadrangle and the House of the Turtles
Nearby, you can also visit:
The Choco-Story Chocolate Museum, a great attraction for families, located right across the street from the site.
The site of Kabah, another fine example of Puuc architecture, just 20 minutes from Uxmal. Book your tour to Uxmal and Kabah here!
To learn all about Uxmal, here is My Definitive Guide to Uxmal!
In the afternoon, return to Mérida, where you can see the sights of Mérida that you missed the day before!
Spend the night in Mérida.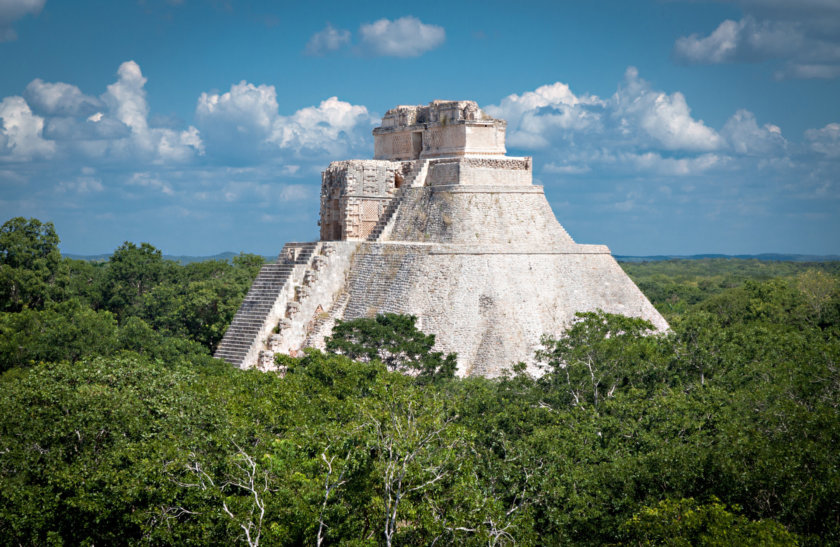 Day 4 – Continue your Yucatan road trip to Celestun: the best place to see flamingos in Mexico!
This peaceful town is the starting point for boat trips to the Ria Celestun Biosphere Reserve, a biodiversity hotspot that is home to 300 species of birds.
Once there, you have two options for a flamingo tour:
West of the bridge, just before returning to Celestun (duration 1h30).
From the beach, next to the main square (duration 2h15-2h30)
Both tours are very similar, but the longer one lets you see more wildlife as it runs along the coast.
After the flamingo tour, you can relax on the long sandy beaches with calm waters, and very few tourists!
There are also several excellent seafood restaurants to enjoy the day.
You can read my guide How To See Flamingos in Celestun?
How to get to Celestún from Mérida: the town is 1h30 by car on highway 181. By public transport, take the ADO bus from Terminal Noreste (or at Calle 50 and 65), travel time: 2h30.
You can also take a tour to Celestun from Mérida, which includes pick up at your hotel, boat ride to see the flamingos, visit to the mangroves and lunch on the beach. Book it here:
Spend the night in Merida.
Where to sleep in Merida?
Nomadas: the best hostel in Merida with a very nice atmosphere, located in the center of Merida. It has a swimming pool surrounded by hammocks and plants, possibility of classes (yoga, cooking classes, etc.). Starting at only 18$usd per night!
El Gran Hotel: ideally located in the very center of Merida, right next to the cathedral. It is a very charming hotel, where time seems to have stopped with its colonial look and beautiful woodwork. There's a restaurant, the rooms are spacious and the wifi works well. Good value for money, starting at only 59$usd per night!
Hotel Hacienda Merida VIP: this small, luxurious hotel is the ideal place to spend a few romantic days in Merida. Located in the historic center, it is an elegant hacienda-style building, illuminated by candlelight at nightfall. Here you will find a charming swimming pool, comfortable rooms, a restaurant, and a bar. Starting at 165 $usd per night
Hotel Boutique Mérida Santiago: this is a small, comfortable hotel with a colorful hacienda look, modern and with a traditional Mexican touch. There's a swimming pool with sun loungers and umbrellas. With excellent homemade breakfasts and spacious rooms, it is the ideal hotel if you are looking for comfort without falling into luxury. Starting at 197 $usd per night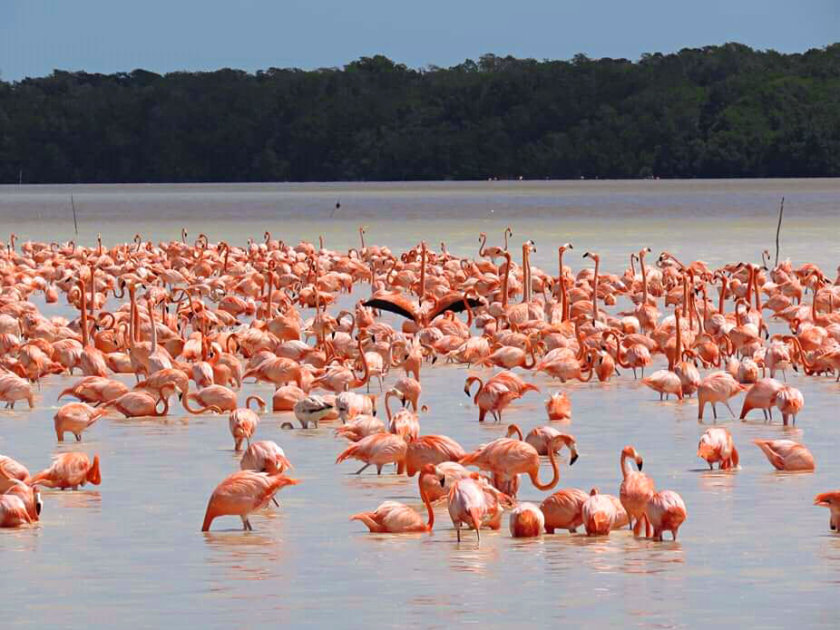 5) Holbox Island (2-3 days)
After several busy days, here comes a well-deserved relaxing stop on your two-week Yucatan itinerary!
Holbox is a small paradise island located between the Gulf of Mexico and the Caribbean Sea.
This is the best place to relax in the sun and enjoy the warm water, away from the hustle and bustle of the Riviera Maya.
You can spend just one day on a round trip in Holbox, but if you want to get the most out of it, I recommend spending two or three days.
There is a lot to do and see in Holbox:
Explore its streets to discover its colorful street art.
Enjoy its long beaches of fine sand, such as Punta Mosquitos, away from tourists.
Take a boat tour (3h) to discover Isla Pájaros, Ojo de Agua Yalahau and Isla de la Pasión.
Swim with whale sharks in the Yum Balam reserve (between June and September).
Enjoy the natural spectacle of bioluminescence at Punta Cocos. Book the bioluminescence tour now!
Snorkel at Cabo Catoche, where you will find lots of fish and corals.
Getting to Holbox from Merida: 3h50 by car taking the 180D to Cancun, then QROO5 to Chiquila. Then you have to take the ferry to Holbox (30 minutes trip, departure every 30 minutes), you can leave your car in the parking lot.
Where to sleep in Holbox?
Kin Camping: This is the best place to sleep cheap in Holbox! They are tents (camping) with double beds, hot water, a good atmosphere, hammocks, and a bar. They also propose several fun activities, from only 28 $usd  per night!
Casa Chujuk: A hotel offering excellent value for money, which is becoming increasingly difficult to find in Holbox! Very clean and bright rooms, with comfortable mattresses, a small pool to cool off, and good wifi, from 50 $usd per night!
Ensueño Holbox & Beach Club: Suites and flats with kitchenette for up to 5 people. Roof terrace, two swimming pools, a beach club with good food and music! Breakfast is included, from 130 $usd per night!
Beachfront Hotel La Palapa – Adults only: A nice hotel very well located near the centre, with a beachfront, and a quiet beach that has excellent cocktails at the bar. Spacious rooms and very good service. Excellent breakfast included, from 250 $usd per night!
Villas Flamingos: Located on a private beach on Isla Holbox, this 4-star hotel offers cozy and colorful bungalows with private terrace and hammock. From 387 $usd per night, breakfast included. Strong points: the stunning sea view, the relaxing atmosphere, the friendly staff, the delicious food. This is my suggestion for a peaceful and charming stay in Holbox!
6) Isla Mujeres (2 days)
Isla Mujeres is the most famous island in the Mexican Caribbean, and a great way to end your 2 week trip in Yucatan.
It is only a short ferry ride from Cancun, which makes it easy to get to the airport when you have to leave.
But don't wait too long to book your ferry ticket, because they can sell out fast. You can book your round trip ticket to Isla Mujeres here:
What to do in Isla Mujeres in 2 or 3 days:
Enjoy the North Beach, considered one of the 10 best beaches in the world (a day bed costs around 200 pesos a day).
Visit Garrafon Natural Park, a dream place with all the facilities by the sea, ideal for snorkeling, kayaking or ziplining – Buy these tickets to Garrafon Park (for a day) which already include the round trip ferry tickets.
Garrafón de Castilla: an inexpensive beach club with great waters and restaurant (60 pesos, includes snorkeling gear).
Punta Sur with its sculpture garden and temple dedicated to Ixchel.
Discover less touristy beaches such as Playa Pescador, Playa Tiburón, Playa Paraíso, Playa Na Balam, etc.
Spend the day at Kin-Ha Park or Parque de los Sueños, a quiet beach club where you can rent kayaks, paddle boards and enjoy the pool with bar (400 pesos of which 300 pesos are refundable).
Snorkel at El Farito and Manchones reef.
Chek out my guide: The 21 Things to Do in Isla Mujeres!
Isla Contoy
 If you want to visit a natural paradise, you could also go to
Isla Contoy
. This island is a protected area that
only allows 200 visitors per day
.
You can enjoy its white sand beaches, palm trees and calm waters. On your way back to Cancun from Isla Contoy, the boat will stop at Isla Mujeres. You can get off there and spend 1 or 2 nights if you want 😉
To visit Contoy, you need to book a tour. The tour includes pick up from your Riviera Maya hotel, snorkeling, free time on Isla Contoy with lunch, and free time on Isla Mujeres. Book it here:
Check out my guide: How To Visit Isla Contoy (The Ultimate Guide + My Tips)
Getting to Cancun from the port of Chiquilá (Holbox): 2h trip via Kantunilkin – Chiquilá QROO 5, then Kantunil-Cancun/Mexico 180D
The car is not ideal for getting around Isla Mujeres, because you can hardly find parking. I recommend to leave the car in the big parking lot of Puerto Juarez in Cancun and rent a scooter, a bicycle or a golf cart in Isla Mujeres.
Where to stay in Isla Mujeres?
I don't recommend you to arrive at Isla Mujeres without a reservation because prices go up easily and everything fills up quickly.
Here are some of my recommendations of hotels for all types of budgets:
Nomads Hotel Hostel & Beachclub: a gorgeous new hotel located in front of the sea, beautifully decorated, with pool, hammocks, bar and terrace. Nice rooms from 99 euros, but collective dorms cost only 10 usd per night! An incredible price for this kind of service.
Posada Paso del Sol: small hotel with very good value for Isla Mujeres. Clean, comfortable bed, good location near the ferry, Playa Norte and restaurants. from 73 usd a night!
Privilege Aluxes: this is a beautiful all-inclusive hotel on Isla Mujeres, reserved exclusively for adults. It is located on a sandy beach very close to Playa Norte, and has 2 pools, 2 restaurants, a beach bar, a spa, air-conditioned rooms and a king size bed. From 203 euros a night or 275 usd a night all inclusive!
Mia Reef Isla Mujeres Resort: is known for its unique location on El Yunque Islet. It is surrounded by water and has a private beach as well as a pool, bar and restaurant. The hotel is less luxurious than the Privilege Aluxes, but welcomes children (there is even a babysitting service and a game room). From 300 usd per night all-inclusive.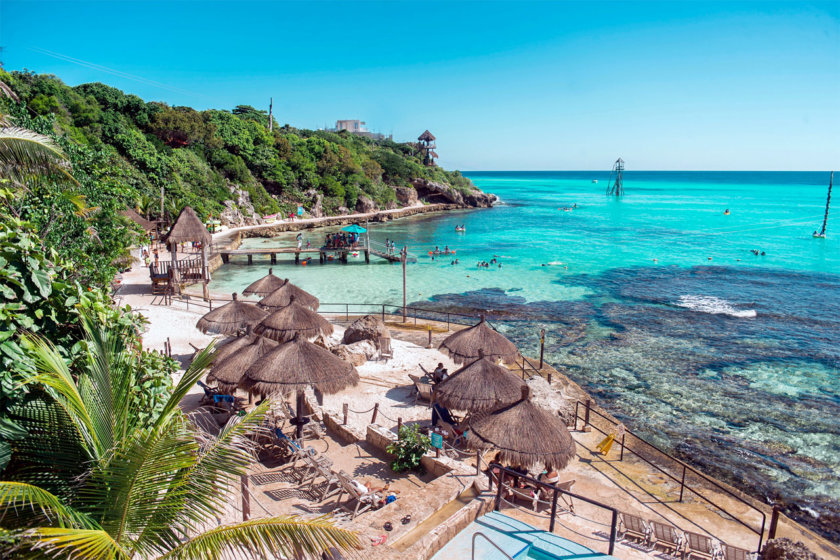 Want to rent a car for your trip to Yucatan?
Renting a car is for sure the best way to explore the Yucatan Peninsula and make the most of your stay!
To rent a car, personally, I always use Rentalcars.com, for a few reasons:
You can easily compare the rental cars prices between all the agencies: for sure the easiest way to find the best rate!
Cancellation is often offered free of charge: no need to worry if you change your mind
Rentalcars offers full insurance coverage at a lower price than the rental companies, so it's an instant saving with no effort
Simply click on the green button to find your rental car at the best price:
Yucatan Peninsula by public transportation
The great advantage of the Yucatan Peninsula is that it is quite easy to get around by public transportation.
Here's what you need to know if you plan to do this 15-day tour of Yucatán without a car:
The ADO bus company is the most reliable and offers many connections throughout the peninsula. It is better to buy tickets on the ADO website to get a cheaper price than at the ticket office.
The colectivos (white 10-passenger vans) run on certain routes, especially along Federal Highway 307, which runs along the Riviera Maya (e.g. Cancun, Playa del Carmen, Tulum).
In Playa del Carmen you can find the colectivos to Cancun or Tulum at the corner of Calle 1 Sur and Avenida 45 norte (click here to see on map). In Cancun you can take the "playa express" in front of the ADO station.
Always tell the colectivo driver where you want to get off or he will skip you, unless it is the last stop
Once there, I recommend that you check the bus and colectivo schedules, as they are not always frequent.
Find a cheap flight to Cancun
Cancun is a popular destination for travelers from Europe and North America. You can find many international flights to Cancun airport.
If you want to save money on your flight ticket to Cancun, use our flight comparison service with Skyscanner. You will get the best price guaranteed!
My last tips for a 2 week trip to Yucatan
Visit the archaeological sites in the morning to avoid heat and crowds, and enjoy the cenotes and beaches in the afternoon.
Bring cash (preferably Mexican pesos) because cards are not always accepted (e.g. at the cenotes) and there may not be ATMs nearby.
Buy a Mexican sim card to have access to GPS and, most importantly, to be able to communicate when you need to. The best option is to go to the Oxxo (personally, I always choose the Telcel company). Don't buy it at the airport, it's more expensive!
You will find that Mexicans are very friendly! Feel free to ask them questions, ask for directions or just chat with them
If you plan to travel by car to Yucatan, be careful and avoid driving at night or leaving valuables in your car.
Very important: get travel insurance for Mexico! Everything goes well until a problem arises, whether it is health, car or plane flight…
Map: the perfect itinerary for 2 weeks in Yucatan
Book your trip now and save money!
You're traveling in Mexico? These articles will help you!
Discover all my articles about Mexico: All my articles to help you plan your trip to Mexico are listed there.
You're using Pinterest? Here is the picture to pin!