Visiting El Cuyo (Yucatan): Best things to do + Where to stay
Nestled along the Gulf of Mexico, El Cuyo is a serene fishing village offering miles of exquisite sandy beaches. This unspoiled paradise on the Yucatan coast is still largely off the radar of many tourists.
People visit El Cuyo to relax, enjoy kitesurfing, walk on the beach, or just sit on the sand listening to the waves.
Without lively bars or bustling beach clubs, party-loving tourists often return quickly to the Riviera Maya upon realizing that El Cuyo isn't the place for them.
But if you're on the lookout for a tranquil retreat, yearning to savor the serene beach vibes, then El Cuyo is a place you must consider for your next Mexican trip!
This comprehensive guide will help you in planning your stay in El Cuyo, where you will discover the must-see attractions and must-do activitie.. You will also find the best restaurants and hotels for all budgets
Because of El Cuyo's remote location, I have also included handy details on how to get there via bus or car.
So, ready to uncover the treasures of El Cuyo?
1. Explore the town
At just under 3 km (1.86 mi), El Cuyo is small enough to be explored on foot in about 30 minutes. The quaint and colorful traditional wooden houses are eye-catching.


Adding to the vibrancy of the town are several houses adorned with stunning murals. The transformation extends to the police station in the main square, which is currently being treated to a lively new coat of paint!



2. Enjoy a drink with a sea view
Despite being a tropical paradise, El Cuyo remains underdeveloped from a tourism perspective, meaning there are no beachside restaurants or bars.
This is largely because El Cuyo staunchly adheres to the Mexican law stating that beaches are public spaces. In many other places in Mexico, businesses take over the beach and sometimes block public access, which is totally illegal.
But, don't worry! You can still enjoy a refreshing drink with a beautiful view in El Cuyo: the rooftop of La Casa Cielo restaurant.
As one of the rare spots in town licensed to sell alcohol and accepting cards, it quickly became my favorite during my 4-day stay in El Cuyo.
From its upstairs terrace, you can enjoy a beautiful view of palm trees, sand, and beach. The service is great and the cocktails are delicious. Plus, there's a rooftop terrace that's even quieter and equipped with comfortable lounge chairs.
And if you're not up for alcohol, they also serve fresh juices, coffee, and delicious food, starting from breakfast.


3. Cool off
El Cuyo can be quite warm, and the beach has few options for dining, drinking, or cooling off in the shade. The only exception is a handful of palapas near the pier.
That's why I was delighted to find La Playita, a cozy spot that offers micheladas (typical Mexican drink that is made with light beer, lime juice, salt, and spicy sauces) and paletas. They have a variety of flavors, and the coconut popsicle was amazing.


What's more, it's very close to the beach, the pier and the colorful letters: a perfect place for a photo op at El Cuyo😉.

4. Enjoying the beaches
If you are a sea lover, you will be amazed by El Cuyo's endless beaches.
The beach is easily accessible from anywhere in town. Just follow any of the trails or walk along the road that goes to the pier, and you will reach the center of El Cuyo's beach paradise.


The dock area also has some palapas where you can relax under the shade.
On weekends, the palapas may be packed with local families who come to enjoy El Cuyo's beautiful beaches, so it's a good idea to get there early. But on weekdays, you will feel like you have the place all to yourself!

Besides the main beach, you can go even further. Here are some recommendations to make you feel (almost) as lonely as Tom Hanks in Cast Away:
Go to the end of Avenida Veraniega, past the LunArena Hotel, and you will find two paths that lead to a beach where there is no one: check it on google maps here y here. – Rent a bike, a quad or a golf cart, it will be easier!

There are also several ways to access the pristine beaches that belong to the nature reserve from here.
The one you can easily find on Google Maps that is closest to town is Playa Escondida, but when you venture further out, you can find other accesses: here y here for example (these are the approximate coordinates I recorded when I was there) – I really recommend renting a quad for this route!

My last suggestion is to take a boat tour that will take you to Punta Caracol, a pristine white sand virgin beach located here, in the middle of nowhere, between El Cuyo and Holbox. If you are lucky, you might see some dolphins and manta rays 😍
You can write to Blanca Medina and Julian Gomez from Tours and Fishing El Cuyo (whatsapp +52 1 986 118 7276) or with Saúl from Aventúrate El Cuyo (whatsapp: +52 1 986 100 8907)
5. Kitesurfing
Another thrilling activity that you can't miss in El Cuyo is kitesurfing.
In fact, it is an excellent destination for kitesurfing in Mexico as it offers optimal wind conditions more or less all year round.
The best time to kitesurf in El Cuyo is from November to August, and it is recommended to wear a wetsuit (maximum 2 mm) from November to March.
With long and almost empty beaches, a low water level and a sandy bottom, it is also an ideal place for beginners.
You can easily find kitesurfing schools in El Cuyo just walking down the street or on the beach.


If you still don't dare to kitesurf, but want to enjoy the water, you can also rent a kayak or a stand up paddle.
For example, at La Casa Cielo, my hotel in El Cuyo, guests can use kayaks (1 or 2 people) for free, or rent stand up paddle boards for $20 per hour. There are also many other places that offer these rentals.

6. Visit to Rio Lagartos and Las Coloradas
The Ría Lagartos Biosphere Reserve is a must-see attraction in El Cuyo.
This is a vast reserve of about 50,000 hectares that spans between the Caribbean and the Gulf of Mexico.
It is famous for its flamingo colonies, but it also hosts a rich biodiversity (birds, reptiles, fish) thanks to its mangroves, coastal lagoons and wetlands.
Just to clarify: Rio Lagartos is the name of the municipality that includes the town of Las Coloradas (and the famous pink lagoons), and Ría Lagartos is the name of the reserve. Yes, it is confusing, especially since there is also a town called Rio Lagartos 😅
You can either go there by yourself or take a tour from El Cuyo, but I personally recommend hiring a guide to make the most of it since the road is quite long (round trip 77km or 48 miles) and it's hot.
However, to help you choose the option that suits you best, here is all the information you need to visit Ría Lagartos on your own or with a guide from El Cuyo:
1. With a guided tour:
I booked the tour to Ría Lagartos and Las Coloradas from El Cuyo with Aventúrate El Cuyo (whatsapp: 52 986 100 8907) and I had a great time.
They offer the tour in a double ATV (you drive) or in a buggy (the guide drives): we chose the buggy and that's what I recommend to avoid being too exposed to the sun, as the tour lasts 5 hours.
I admit that I'm not 20 years old anymore and I prefer comfort over sunburn, but driving the ATV must be fun 😆

Josué first took us to some hidden beaches in the reserve. There was nothing and no one there, just fine sand and some shells.

He pointed out the pink flamingos, which we saw throughout the tour, and shared some interesting facts about their nesting, their habits, etc.
My photography skills are definitely not up to their shyness, but there were plenty of them!


Finally, we reached the end of the long dirt road (which was an adventure in itself in some parts) and arrived at Las Coloradas.
If you want to climb up to the Las Coloradas viewpoint to get a better view of the pink lagoons, and take a nice picture for Instagram, you have to pay 300 pesos.
I didn't want to pay, or go up, but I was amazed to see that the water is really pink, even when you're down below!
A quick photo, and we headed back to El Cuyo.
Josué was a really great guide, very friendly, patient, and flexible with our pace and preferences.
Book with Saul or Josue from Aventúrate El Cuyo:
Whatsapp: 52 986 100 8907
Tour price: 1200 pesos per person in buggy or 1800 pesos per person in ATV (prices may vary)


2. On your own:
If you want to visit the reserve from El Cuyo by yourself, you have to enter here.
Don't go with your rental car. It is very important to have an off-road vehicle (for example, rent an ATV), otherwise you could get stuck in the mud. And above all, stick to the main road.
We saw a tourist who got stuck in the mud, in the middle of nowhere, because unless you know the area, it is almost impossible to tell which areas are floodable.
He was very lucky that we found him with our buggy, because walking 15 km under the sun to get help in El Cuyo is not fun (especially since he was already red as a lobster 😕).

On the way there, you will have the beaches on your right (they are hidden by vegetation, but there are some entrances, so keep an eye out on the road), and on your left, you will see the flamingos.
If you decide to go all the way to Las Coloradas, as I remember, it is about 2 hours (one way), so make sure you have enough gas.
It is very important to tell the person who rents you the ATV where you are going, especially since there is no sign on the road.
The sun is very strong and there is no shade: take a good sunscreen, a long-sleeved shirt, enough water, good sunglasses and a hat or cap.
7. Go fishing
There are several options for fishing in El Cuyo.
You can fish from the pier or take a boat tour.
What you can catch: corvina, curel, pargo, sierra, snook, mojarra, grunt, barracuda, catfish, grouper, mackerel, tuna, tarpon, etc. Of course, the farther you go from the shore, the bigger and more varied the fish.
You will find some service providers offering fishing tours in El Cuyo.
I recommend you contact Blanca Medina and Julian Gomez from Tours and fishing El Cuyo (whatsapp +52 1 986 118 7276) who offer boat trips (maximum 6 people) that last 4 to 5 hours.
The activity includes bait, ice, water and coconuts, breakfast and the preparation of a ceviche on the boat with what you have caught.

8. Bird watching
If you are a bird lover, you will be happy to know that, besides the large colonies of flamingos, there are some 400 species of birds in the Ria Lagartos Reserve, such as the Yucatan wren, the Mexican sheartail (hummingbird) and the Rose-throated tanager.
This is the area with the most recorded birds in Yucatan, no less!
To see beautiful specimens and take good photos, it is best to take a guided tour in a small group in the reserve, for half a day or a full day.
To be able to admire beautiful specimens and take good photos, it is best to take a guided tour in a small group in the reserve, for half a day or a day.
You can contact Jesús from Yalmakan: whatsapp +52 1 986 100 1687

9. Exploring UMA San Manuel
Just before arriving at El Cuyo, as there is only one road, you will inevitably pass through the UMA San Manuel (Unidad de Manejo y Aprovechamiento de la Vida Silvestre).
This is a biodiversity protection zone (including the majestic jaguar!) that covers 160 hectares within the Ría Lagartos Biosphere Reserve.
From El Cuyo, you can do several ecotourism activities to explore the wildlife and plants: hiking (600 pesos per person – 3h), biking (250 pesos per person), kayaking (600 pesos per person -2h) and camping.
You can contact Jesús from Yalmakan: whatsapp +52 1 986 100 1687

10. Climbing
I was quite surprised to see a climbing tower between the palm trees and the beach.
But it makes sense that there are many active travelers visiting El Cuyo, as well as families, so I guess it is an activity that many visitors enjoy.
There are climbing routes for different levels, initiation courses for beginners, and children from 4 years old are welcome.
Open from Thursday to Sunday or on other days by reservation
For schedules and prices, you can visit the website of Cuyo Climbing

Where to stay in El Cuyo – The best hotels
There are apartments, houses and hotels that are available for nights, weekends or weeks. Few of the accommodations are actually beachfront, but it's fair to say that you are never far from the beach in El Cuyo.
Some of the accommodations are very basic, others are very nice and comfortable. You should know that the best hotels tend to book up fast, so I recommend you to book ahead.
Here are my suggestions of hotels for different budgets:
Villas El Tio: a great budget hotel in El Cuyo, 5 min from the beach, very clean and equipped room with kitchen and fridge, TV, wifi, very friendly staff, from $65 USD per night!
Casa Cuyo: for a bit more comfort, this is a nice little hotel with a cozy and relaxed atmosphere, terrace, restaurant on site, from 77 $usd per night! 
Casa Mate: small cozy cabins, to have your feet in the sand, a step away from the sea. Intimate atmosphere, excellent service, very good restaurant (and with the possibility to choose full board). Breakfast included, from 115 euros per night


La Casa Cielo is the best hotel in El Cuyo and the perfect place for a romantic trip. A well designed, beachfront hotel with lounge chairs, palm trees, a nice small pool, jacuzzi, two terraces and a good restaurant. One of the few places in El Cuyo that has an alcohol license and accepts cards. I stayed there 3 nights and loved it. Breakfast included, from 150 euros per night.
My advice
Check out: my full experience at La Casa Cielo!

Camping in El Cuyo
If you are traveling on a budget, you can also camp in El Cuyo, near the beach.
For example, Camping del Ritmo has 9 spacious tents with fan, lamp, single or double mattress with sheets and pillows.
You also get: access to the kitchen, toilets with hot water, barbecue, hammocks, chairs and table, as well as bicycle and kayak rental.
Pets are welcome.
Price per night: 250 pesos adult, 100 pesos teenager and 50 pesos children
Whatsapp: 984 106 5183

How to get around El Cuyo
Since this is a small town that stretches for 2.5 km, you can easily walk.
But if you plan to explore the beaches, I suggest you rent a bike, ATV or golf cart (which is definitely better for shade because the Yucatan sun is so strong!)
Rent a bike in El Cuyo:
Contact Jesús: whatsapp +52 1 986 100 1687
50 pesos per hour or 250 pesos for 24 hours
Rent a golf cart in El Cuyo:
Contact Cande Pascuarella of Palaparide. Whatsapp: +52 984 876 4916
2h 600 pesos or 3h 750 pesos at the time of my visit (of course prices may vary)

How to get to El Cuyo
El Cuyo has managed to protect itself from mass tourism thanks to its geographical location.
The village is located between Cancun and Valladolid, but the route is not direct: after leaving Cancun in the direction of Valladolid, you have to take another road for 1h30 to the right.
By car
The most convenient way to get to El Cuyo is definitely to rent a car to save time.
I recommend you to go through Popolnáh instead of Kantunilkín to avoid the multitude of "topes" (speed bumps). The GPS will probably make you go through Popolnáh (but double check it, just in case).
From Merida it takes 3h20 passing through Tizimin.
You have two options: take Highway 176 directly to Tizimín, or take Highway 180 to Valladolid (to visit the city and/or Chichén Itzá) and then take Highway 295 to Tizimín.
My advice for driving to El Cuyo:
Fill up your tank at the gas station in Colonia. There is a very small gas station in El Cuyo, but it closes at 6 pm and does not always work
Do not drive at night, as the road is quite narrow (only one lane in each direction), it is not lit at night, and crocodiles (or other animals) may cross.
During the day, be very careful with dogs lying in the street – they are very relaxed! And also very close to the cars…
You will probably come across checkpoints, one of them in the village of Montezuma. Sometimes they let you pass without saying anything, but they may also ask you questions about your trip (reason for the visit, etc.) or even check the trunk. This is perfectly normal, so cooperate and answer questions calmly.
As in most of Mexico, there are many bumps (called "topes") in the road, so don't drive too fast because you will get some unpleasant surprises.
In some areas there is no GPS signal on the road, so I advise you to download a map or write down the directions. In the end it is not very complicated and the directions are quite clear, but it is still better to have the information at hand.
The toll for this route is 150 pesos per car, but the best way to know the current rate is to check the Traza tu Ruta website.
Many travelers decide to travel the Yucatan by car, either with family, as a couple or with friends.
To rent a car, personally, I always use Rentalcars.com, for a few reasons:
You can easily compare the rental cars prices between all the agencies: for sure the easiest way to find the best rate!
Cancellation is often offered free of charge: no need to worry if you change your mind
Rentalcars offers full insurance coverage at a lower price than the rental companies, so it's an instant saving with no effort
Click on the green button to find your car in Mexico:

By public transportation (bus)
If you have some extra time, you can also visit El Cuyo by bus.
There are no direct buses to El Cuyo, so you will need to make some connections. Here are the possible routes:
From Holbox:
Take the ferry to the port of Chiquilá
Take the bus to Tizimín and get off in Colonia (duration 1h45). There are four departures a day at 5:30, 7:30, 13:30 and 16:30 (times may vary on Sundays)
From Cancun:
Take a Mayab or Noreste bus to Tizimín from the Cancún bus terminal. Make sure your bus goes through Colonia. There are several departures a day (duration 2h30).
Get off in Colonia and take a Noreste bus to El Cuyo (duration 45 min – cost 50 pesos)
From Playa del Carmen: 
The easiest way is to take a bus or van from Playa Express to Cancun and follow the same route as above.
From Valladolid:
Take an Oriente bus to Tizimín from the ADO bus terminal. There are several departures a day. You can also take a colectivo (shared taxi) from Calle 40 between Calle 37 and Calle 35. They leave every 15 minutes.
From Tizimín:
Take a Bus Noreste to El Cuyo (duration 1h45 – cost 80 pesos). There are six departures a day from the Tizimín bus station at 5:00, 9:00, 10:30, 13:30, 16:30 and 18:00. The return buses from El Cuyo to Tizimín leave at 5:00, 7:30, 9:00, 11:15, 12:00, 15:30 and 18:00.
You can buy the Noreste bus ticket from Colonia to El Cuyo at the Tizimín terminal (located at the corner of the ADO terminal – Calle 46 x Calle 47)
To check the latest schedules, you can contact Noreste by Whatsapp +52 999 217 6513
From Merida:
Take an ADO bus to Valladolid (they are frequent), then another bus to Tizimín and then a Tizimín-El Cuyo bus (see above)
Some tips for traveling to El Cuyo by bus:
If you want more information about the Noreste bus schedules, you can also send them a Whatsapp message: +52 999 217 6513
I recommend leaving early to make sure you catch the connecting buses on time
In winter, Quintana Roo is one hour ahead of Yucatan, so keep that in mind when planning your buses
For the return trip, you can take the bus from the corner of the main park in El Cuyo to Colonia
Schedules and ticket prices may change at any time, so it is important to verify them before your trip. I try to keep them as updated as possible, but it's not always easy by myself! 😆
With a private transfer
To make your trip more convenient, you can book a car with driver to pick you up from Cancun, the Riviera Maya or any other location.
I recommend that you save the contact information I share here, because when I left from Puerto Morelos, I couldn't find anyone who could take me to El Cuyo (not even my hotel in Puerto Morelos or El Cuyo).
I was a bit panicked -and regretting that I didn't plan ahead, since El Cuyo is not a very popular destination😆. But luckily, I found Saul and Joshua from Aventúrate El Cuyo who offer transfers between El Cuyo and Cancun/The Riviera Maya.
Whatsapp: 52 986 100 8907
The price depends on the number of people and the departure point. We were 2 people and we paid 2600 pesos from Puerto Morelos (2022).
Where to eat in El Cuyo
For breakfast
If you are looking for a breakfast spot, Naia is a cozy cafe with a beach vibe, sand and plants. They offer classic breakfasts, as well as vegan and gluten-free choices.
They make everything from scratch, including the almond milk and coconut milk. The food is delicious and fairly healthy, but be prepared to share the space with many other tourists.
There are not many places like this in El Cuyo yet, so it's understandable that everyone flocks to the same spot.
Another similar option is Anahata Café & Bistro.

For lunch
For a local, tasty and affordable restaurant, you can try one of these places: El Amigo Willy, La Lupita, La Negrita, Doña Marta and La Conchita.
I only had the chance to eat at La Conchita. It is a laid-back place with a terrace, music, and long tables to share.
I ordered the fish filet with butter (160 pesos) and enjoyed the fried plantain side dish so much that I asked for another serving (35 pesos).

For dinner
You should be aware that there are not many restaurants open at night in El Cuyo.
La Limonaia is a small Italian restaurant that is famous for its pizzas (140-180 pesos). They also have pastas, salads, fish and meat dishes.
I recommend the creamy burrata with fig salad and Serrano ham (180 pesos). The braised salmon fillet (280 pesos) was also very tasty.

How long should you stay in El Cuyo?
It depends on how fast you travel and what you want to see.
It is a village, so you can easily explore El Cuyo in 1 day (even if you take the tour to Rio Lagartos).
But since it takes a while to get there, I would suggest spending 2 or 3 days in El Cuyo so you don't have to drive too much in a short time. The main reason to go to El Cuyo is to relax.
Money in El Cuyo
El Cuyo is a charming destination in Mexico, but it has limited options for paying with credit cards. To avoid any inconvenience, I suggest bringing enough cash for your trip.
There are no ATMs or banks in El Cuyo, so you will need to withdraw money before you arrive.
I would also suggest to pay for your hotels in advance online. That way, you won't have to carry too much money with you. 😬
If you are coming from Cancun or another Riviera Maya destination, you can easily find an ATM or a bank there.
If you pass through Tizimin, you can also stop by a bank (e.g. Santander, Citibanamex).
Internet in El Cuyo
Internet is not very reliable in El Cuyo, and sometimes it is completely unavailable. Even if you have a mobile data plan, you might not get any signal.
It's similar to Holbox, where the internet connection depends on luck and weather conditions.
The bottom line is: El Cuyo is not a good destination for digital nomads, but it's a great place to take a break from screens and enjoy nature. Your overworked brain will appreciate it 😉 .
Safety in El Cuyo
El Cuyo is a very safe destination in Mexico because it is a small and friendly community where everyone knows each other.
You don't have to worry about your bike being stolen if you leave it outside. The only predators you need to watch out for are the mosquitoes. 🦟
Sargassum in El Cuyo
Sargassum is a natural phenomenon that affects many beaches in the Caribbean. It's hard to predict when and where the seaweed will show up, whether it's on the Yucatan coast or in the Riviera Maya.
However, El Cuyo has a great advantage over other places:
The owner of La Casa Cielo told me that the sargassum in El Cuyo is different from the sargassum that reaches Playa del Carmen, which is much thicker and harder to remove. He said that most of the sargassum in El Cuyo disappears by itself as the day goes by.
I was skeptical, but I saw it with my own eyes.
Of course, some days there is more sargassum than others, but you can always wait for a few hours or explore the beaches further away.
In any case, it's nothing compared to the huge piles of sargassum you see elsewhere!
When to go to El Cuyo
You can visit El Cuyo any time of the year, but if you are into kitesurfing, the best time to go is from October to March.
After March, the wind becomes weaker and the weather gets hotter.
I went there in late January and the temperature was perfect.
My personal opinion about El Cuyo
During my visit to El Cuyo, I remembered what winemaker Hugo d'Acosta, whom I met in Baja California, said: "bad roads, good tourists".
He was right, as the town is not easy to reach, the travelers who make the effort to get there are those who appreciate this peaceful coastal town.
You come here to relax, to walk along the beach, to listen to the sound of the waves. And for the more adventurous, of course, kitesurfing!
There is no bar here, no beach club, so partygoers quickly go back to the Riviera Maya realizing that this is not the place for them. Besides, getting an alcohol license is very hard in El Cuyo.
The internet is very unreliable, and after dark there is not much to do except stay in your room, read a book or sit on the beach and look at the starry sky. That's the benefit of being in a safe place with little light pollution 😉.
Many people say that El Cuyo reminds them of Holbox or even Tulum 15 or 20 years ago, when they were quiet little towns with beautiful and almost deserted beaches.
In fact, the locals of El Cuyo are proud of keeping their identity and don't want their community to follow the footsteps of their neighbors.
As more and more travelers look for alternative destinations to escape the tourist overcrowding of Cancun, the Riviera Maya and (yes, also) Holbox, now is the time to visit El Cuyo!
What to bring to El Cuyo
good sunscreen because the Yucatan sun is very strong
mosquito repellent because they are fierce if you visit the Ría Lagartos reserve, and also in El Cuyo, where they appear at dusk
enough cash because, as I said before, only a few places take cards and there are no ATMs or banks
a reusable water bottle, as water is not potable in El Cuyo, but some hotels have a water dispenser at the reception. Less plastic. ❤️
there are no supermarkets in El Cuyo, only small shops that have a limited selection of products. So if you drive and have rented an airbnb/house, it's better to stock up before (e.g. in Tizimin, Playa del Carmen, Cancun, etc.)
there is no pharmacy as such in El Cuyo. They are shops that sell many things and have a pharmacy section. So don't worry about basic medicines (e.g. ibuprofen), but for the rest I suggest you bring them in your luggage.
What to see around El Cuyo
El Cuyo is a distant village, but there are several destinations you can visit near El Cuyo as part of your Yucatan itinerary. Here are some of them:
Holbox
The island of Holbox is a beautiful destination near El Cuyo, with its long sandy beaches and calm waters.
You can spend 1, 2 or 3 days there to enjoy the best beaches from Punta Cocos to Punta Mosquito, while exploring its street art and sipping a good margarita at a beach club.
Some people have asked me what is the difference between Holbox and El Cuyo, but they are two very different destinations!
Apart from the long sandy beaches, which I think is the only thing they share, El Cuyo is a small and quiet village and Holbox is a touristy island, with lots of restaurants, bars and beach clubs.
How to get to Holbox from El Cuyo:
By car: 1h50 via Colonia, then Kantunilkin, to the port of Chiquilá, then take the ferry
By bus: take the bus to Tizimin, then a bus Northeast Tizimin-Chiquilá (departures 4:30, 10:05, 12:30). Then ferry Chiquilá-Holbox (departures every 30 minutes)
My Tip
You can also go from
El Cuyo to Holbox by boat
(one way). You can contact Luis via Whatsapp +521 9861116679.
Departure in the morning from the gas station (see here), only if weather conditions allow.
Price is 3000 pesos per boat, for up to 5 people (price may change without notice).

Cenote Kikil
Cenote Kikil is a hidden gem located in Tizimín, between Valladolid and Río Lagartos.
It is a 50m (164 ft) deep open cenote that has been well preserved, without major alterations, and its wild side makes it very attractive.
There are also small rustic cabins and a restaurant open for breakfast and lunch.
Everything is run by a cooperative of 13 families, so feel free to go there to support this nice local initiative ❤️
Entrance fee: 150 pesos for foreigners, 100 pesos for Mexicans, or a 200 pesos package that includes access to the cenote and a meal at the restaurant.
Read also: The best cenotes in Valladolid!

Ek Balam
Located in the jungle 20-30 minutes from Valladolid, Ek Balam is not very crowded and yet it is one of the most fascinating archaeological sites in Mexico.
This Mayan capital was built in the 8th century by the governor Ukit Kan Lek Tok, and it has several temples, two palaces and a Mesoamerican ballcourt.
Don't miss the chance to climb the Acropolis, one of the largest buildings in Mesoamerica, and enjoy a stunning view of the surroundings.
It is a must-see, especially now that there are fewer places where you can climb to the top of the temples.
Entrance fee: 494 pesos
Less than 2 km from Ek Balam is the X'canché cenote, which you can easily reach on foot or by bike. Entrance is 170 pesos.

Valladolid
Valladolid is a lovely and colorful colonial city with lots of charm. It is very enjoyable to stroll around, and it is also a convenient stop on the way to Chichén Itzá.
You can visit the convent of San Bernardino de Siena, the Francisco Canton Rosado Park with the church of San Servacio, the beautiful Calzada de los Frailes and the Casa de los Venados museum.
To learn everything about the city, check out my Guide to the 25 Best Things to do in Valladolid!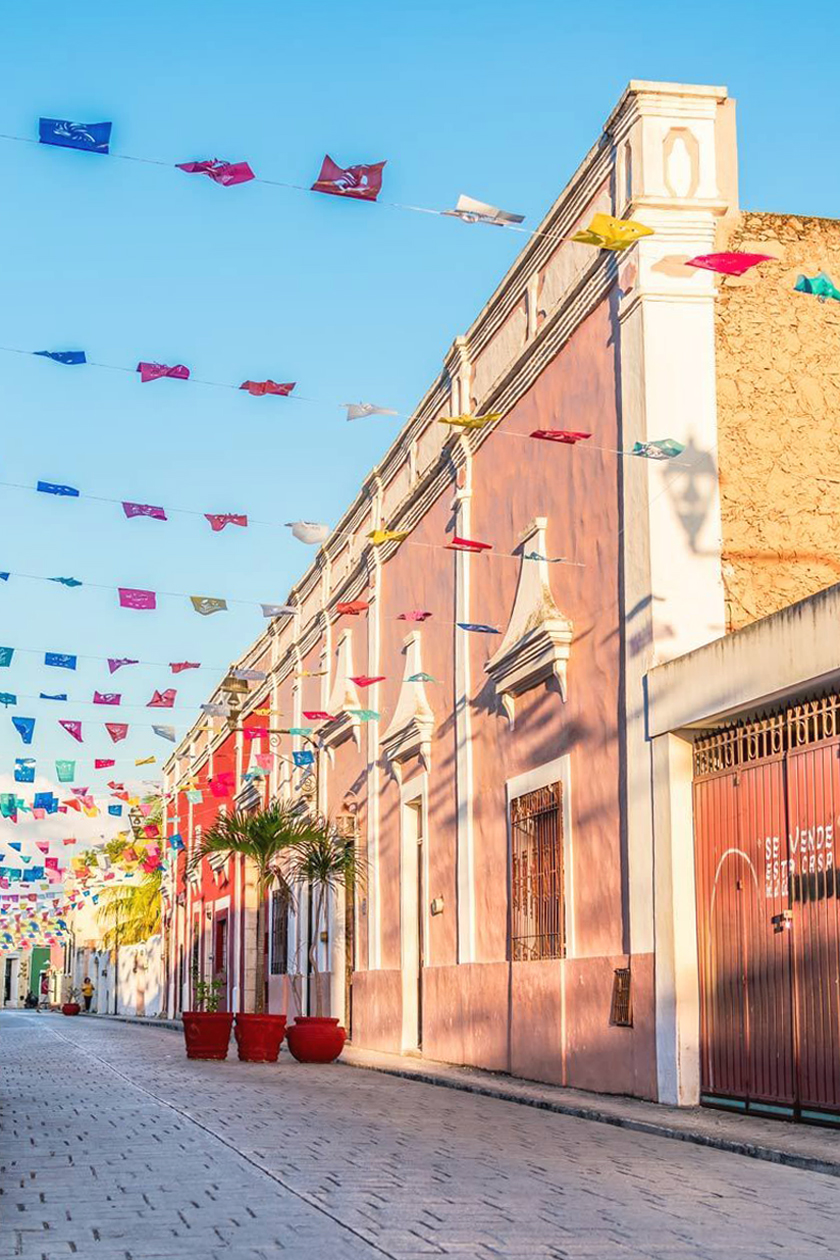 Find the best deal for your flight to Cancun
The closest airport to El Cuyo is Cancun (2h30). It's a major airport with many national and international flights from several big European and North American cities.
Another option is Mérida airport (3h30), which mostly operates domestic flights.
To find a cheap flight to Cancun or Mérida, I suggest using our flight comparison tool, in partnership with Skyscanner: it's your guarantee of getting the best price!
Book your trip now and save money!
You're traveling in Mexico? These articles will help you!
Discover all my articles about Mexico: All my articles to help you plan your trip to Mexico are listed there.
You're using Pinterest? Here is the picture to pin!