The Best Itinerary for 10, 11 or 12 Days in Mexico
You're planning to spend 10 days in Mexico and you're looking for the best itinerary?

You're at the right place!
To help you plan your trip, here is my suggested 10-day itinerary for Mexico to see the most of this great country in a short time.
Starting in Mexico City, you'll visit Teotihuacan, and then head to Chiapas for a few days.
You will discover the best places there to visit such as San Cristobal de las Casas, the Montebello Lakes, El Chiflón, the Sumidero Canyon, and Palenque.
The last part of the trip will be dedicated to Yucatan and the Mayan Riviera with Merida, Chichen Itza, Valladolid, and Tulum before heading to Cancun for your return flight.
For each stage, I've included my best tips on how to make the most of your time, all the practical information you need for your visits and my best hotel recommendations.
So, what are the best things to do in Mexico in 10-12 days? Where to stay?
1) Mexico City (2 days)
Day 1 – Welcome to Mexico City, the great capital of Mexico!
It is a vibrant city with much to offer and is the perfect place to start your 10-day trip to Mexico.
If you only have two days in Mexico City, this is the program I recommend:
First, head to the Zócalo, which is the main square where the cathedral is located. It took 240 years to build and is considered the largest cathedral in Latin America!
Visit the Templo Mayor, which was the great pyramid of the Aztec capital Tenochtitlan
Admire the great works of the painter Diego Rivera in the National Palace. Admission is free, but an identity document is required.
Then, take the pedestrian street Francisco Madero and stop for photos at the Casa de los Azulejos, with its beautiful façade covered with tiles made of Talavera pottery of Puebla.
Visit the Palace of Fine Arts, a true symbol of the city. It houses the Museum of Fine Arts, the Museum of Architecture, and a theatre where the famous Ballet Folklorico de Mexico performs. Buy your tickets for the Ballet Folklorico Show here!
Explore the San Juan Market to discover some of the local produce and different dishes offered (tacos, etc.). There is even a section of the market with insects. You can try the roasted and salted chapulines (grasshopers).
Visit the National Museum of Anthropology, which is one of the most important museums in the world, and the beautiful Chapultepec Castle in Chapultepec Forest. Buy your tickets for guided tours here!
Frida Kahlo's house in Coyoacán and the canals of Xochimilco – Book the Coyoacán and Xochimilco tour here!
In the afternoon, you can stroll through the Roma and Condesa neighbourhoods with their shops, parks, cafes, art galleries, and street art. Here you can easily find a good restaurant!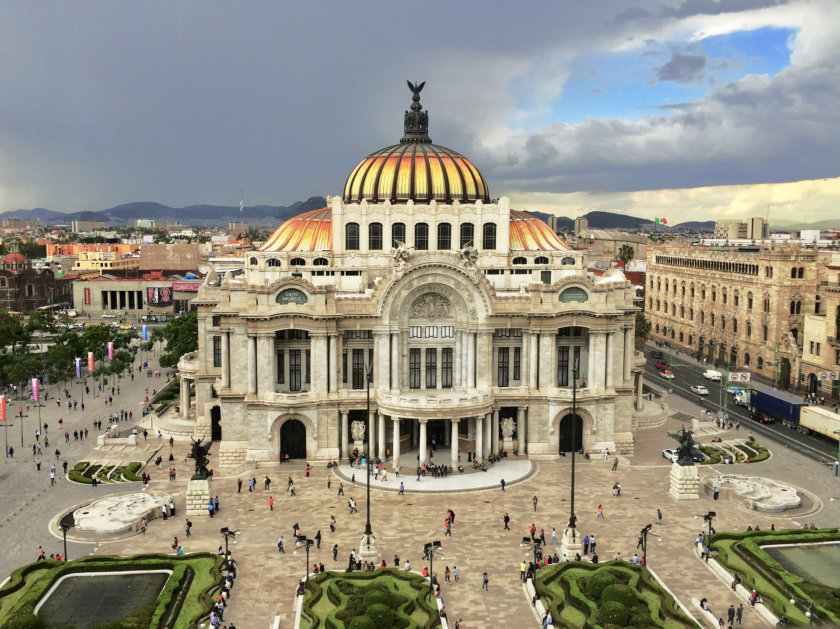 Day 2 – Teotihuacán
This morning, head to Teotihuacan
Established around 100 BCE, it was, at its peak, one of the largest cities in the world for its time.
Declared a UNESCO World Heritage Site, it is one of the most important archaeological sites in the country and, of course, a must-see on a 10-day tour of Mexico. There is a lot to see in Teotihuacán:
The Pyramid of the Sun, the tallest pyramid (65 m) in Teotihuacan and the largest in volume in the world.
The Pyramid of the Moon (45m) – its top is the best place to take pictures of Teotihuacan!
The Citadel, consisting of the Great Plaza and the temple of Quetzalcoatl
The Avenue of the Dead
The Palace of Quetzalpapáloltl, where the elite resided.
The Palace of the Jaguars
The Temple of the Feathered Snails
The Museum of Teotihuacan
I invite you to read my complete guide: How to visit the pyramids of Teotihuacan
As it is a site full of history, I recommend you to take a guided tour so you don't miss all the interesting information.
I suggest this tour to Teotihuacan that leaves from Mexico City and includes the guided tour in the morning (to avoid crowds), and a tasting of mezcal, tequila and pulque, 3 typical Mexican drinks.
Book the tour here:
My tip
 Another unforgettable experience in
Teotihuacan
is the hot air balloon
flight over the pyramids
.
The flight starts at sunrise and lasts approximately one hour. You can book it here, and it includes pick-up from your hotel:
If you prefer to go on your own to Teotihuacan:
By car: 1 hour on the Mexico-Pachuca Highway, then the Carretera de Cuota San Juan Teotihuacan.
By public transport: 1 hour by bus from the Terminal del Norte Bus Station, gate 8, departures every 15-20 minutes.
In the afternoon, after visiting Teotihuacan, return to Mexico City. In the evening, you will be able to see the mariachis in the Plaza Garibaldi or the famous lucha libre with masked wrestlers. Don't stay up too late though because tomorrow you're off to Chiapas!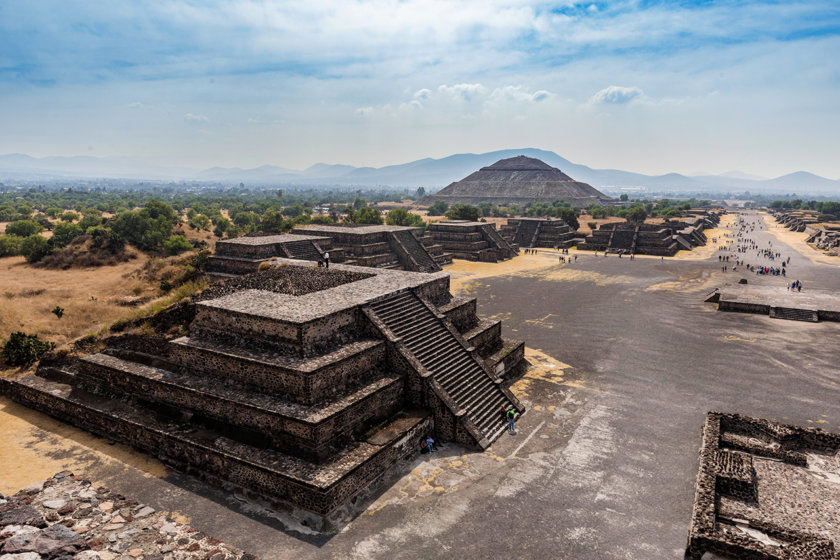 Staying in Mexico City
Hostel Mundo Joven Catedral (historic center): one of the best hostels in Mexico City. Clean dorms and rooms, amazing rooftop terrace with bar, great atmosphere and an exceptional view over the cathedral and the Zocalo, starting at 15$usd for a dorm and 32 $usd for a private room!
Hotel Villa Condesa (Condesa): if you are looking for a romantic hotel in Mexico City, this is a little oasis in the heart of La Condesa. It is an elegant house with small green terraces and tastefully decorated rooms. Rooms are spacious, breakfast is very good and the service is particularly attentive. Around 160$usd per night!
Casa Goliana (Roma Norte): high-end hotel with the best value for money in its category, located in an early 20th century house, typical of the Roma area. Rooftop terrace, comfortable rooms, very attentive staff, and good breakfasts. Around 190$usd per night
Four Seasons Hotel Mexico City (Juarez): this 5 star hotel is one of the best hotels in Mexico City, ideal for a business trip or a romantic stay. Located on Paseo de la Reforma between Colonia Juarez and Roma Norte. A large indoor garden, gym, swimming pool, spa, restaurant, and bar, Around 640$usd per night!
My tip
For the
best areas and hotels in Mexico City
for all budgets, check out my complete guide
:
Where to stay in Mexico City?
2) San Cristobal de las Casas (3 days)
Welcome to Chiapas, a big and beautiful state of Mexico.
Day 1- San Cristobal de las Casas
In the morning, head to the airport to take a flight from Mexico City to Tuxtla Gutierrez (1h40).
When you arrive at Tuxtla Gutiérrez airport, you will have to take a transfer from the airport to San Cristóbal de las Casas (2h) where you will be staying for the next few days.
You will find that it is a city of great cultural richness and is very pleasant to walk around, as well as being a good starting point to visit several must-visit attractions in Chiapas.
Start with the Zócalo, the city's central square, where the cathedral is located.
Visit the Centro de Textiles del Mundo Maya, a museum with an incredible collection of 500 pieces of Mayan textiles from Chiapas and Guatemala. There is also a handicraft market right next door.
You can go to Na Bolom, an association that works for the protection of the Lacandon people, and to the Guadalupe Church, which offers a beautiful view of the city and the mountains after climbing its 79 steps.
Stroll along the pedestrianized Real de Guadalupe street with several restaurants and cafes, some with terraces. You can also stop at La Posheria, where you'll find 15 flavours of pox, a traditional Chiapas distillate (my favourite was the coffee flavour).
To learn all about the city, here's my article: The 15 Best Things to do in San Cristóbal de las Casas!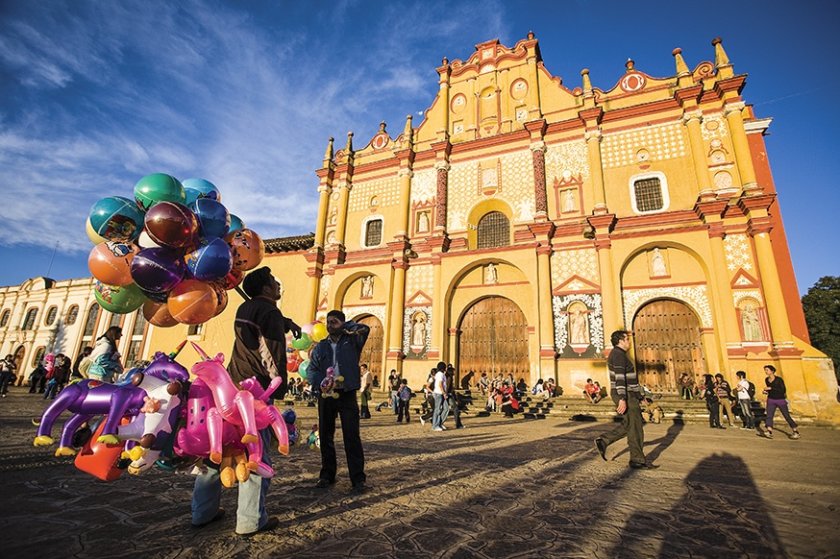 Day 2- Montebello Lakes and El Chiflón Waterfalls
For this second day in Chiapas, I suggest you to discover two beautiful natural sites.
Early in the morning, start by visiting Cascadas El Chiflón: here, between the mountains and the jungle, there are waterfalls fed by the turquoise waters of the San Vicente river.
Just follow the approximately 1 km path along the 5 waterfalls El Suspiro, Ala de Angel, Velo de Novia (the highest, 380 ft !), Arcoiris, and Quinceañera.
Read more: How to visit El Chiflón?
Next, continue your visit to the Lagunas de Montebello National Park. It is a large protected area, classified as a Unesco Biosphere Reserve and Ramsar site
It is home to 59 lakes and as it is impossible to see them all, I suggest the same itinerary as I have done:
–Lake Tziscao: it is the largest and deepest lake in the park and is located on the border with Guatemala. There are small restaurants there.
–Lake Pojoj: a beautiful lake with its island "Orquideas" where you can go by raft (1h, 100 pesos) or rent a kayak (1h, 80 pesos)
–Cinco Lagos: my favourite! It is actually 5 lakes connected by hills that offer a magnificent panorama.
–Lago Montebello: the ideal lake to end your visit with a hot chocolate in your hand, with its wooden dock and its picturesque landscape.
You can also read: My complete guide to the Lakes of Montebello
How to get to El Chiflón and Montebello from San Cristóbal:
By car: 2h to El Chiflón on the road to Comitán de Domínguez. Then to go to Montebello Park (1h40) you have to return to Comitán, and then take the 190 and 307. Be careful because there are many curves and speed bumps on the road.
By public transport: I don't recommend it because you have to take several buses and colectivos. You have to take into account the long distances, the waiting time and the possibility of not being able to find transport on the way back…
Day tour: this is the option I chose from San Cristóbal because it is the easiest considering that the road is long and a bit complicated.
I recommend this guided tour (from 8h to 20h) in a small group with pick up at your hotel, free time in El Chiflón and a visit to several Montebello Lakes.
You can book the tour here: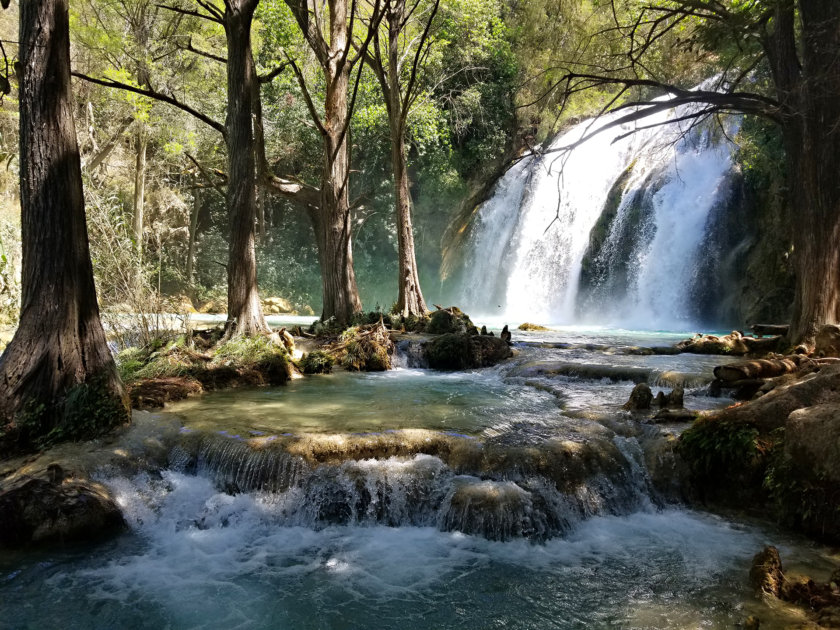 Day 3 – Sumidero Canyon
Today, discover another must-see natural site of a 10-day road trip in Mexico: the Gran Cañón del Sumidero!
You can discover this canyon formed 35 million years ago by boat and/or by visiting the viewpoints, but I really recommend you do both, as the views are completely different.
The boat tour lasts 2h30 and will take you along the Grijalva river, where you can see some birds, monkeys and crocodiles, as well as the Cueva de Colores and the Árbol de Navidad waterfall.
The viewpoints offer a magnificent view of the canyon from above. There is a route that passes by all 5 viewpoints, where you can stop as there are car parks.
For all the details about the piers and viewpoints, here is my guide How to visit the Sumidero Canyon?
How to get to the Sumidero Canyon from San Cristobal:
By car: take the Libramiento Norte highway and follow the sign "Calzada Al Sumidero" to the northeast
By public transport: it is a bit complicated. For the boat, you have to go to the dock of Chiapa de Corzo (1h15 by bus to Tuxtla Gutierrez + 45 min by bus to the main square of Chiapa de Corzo). To get to the viewpoints, you have to take the R-69 bus which leaves you 100 metres from the park, then you have to walk. The first viewpoint is 2 km from the hill… the last one is 16 km away.
With an organised tour: this is the option I chose (like most people) and I loved the experience. The tour includes transportation from San Cristobal de las Casas, the boat ride, the visit to the viewpoints, and a free visit to the beautiful town of Chiapa de Corzo.
You can book the tour here:
I book the Sumidero Canyon Tour now!I buy my ticket to visit the canyon easily

Where to stay in San Cristóbal de las Casas
The Coffee Bean Hostel: a very cozy hostel with nice common areas, a restaurant and bar, a garden, terrace with hammocks, pool tables and several breakfast options, starting at 12 $usd in a shared dorm!
Parador Margarita: only 3 blocks from the main square and the bus station, it is a small haven of peace with a garden and very comfortable beds. Wifi and breakfast are included, only 46 $usd per night!
Hotel Diego de Mazariegos: a magnificent 18th century mansion with a preserved Mexican colonial style, a charming interior courtyard with a fountain and classic decoration in warm tones. The hotel has two restaurants and a bar. Wifi and breakfast included, from only 73 $usd per night!
Casa Lum Hotel Boutique my favourite accommodation in San Cristobal de las Casas! It is a small and sophisticated hotel decorated between modernity and traditional design. Includes a great restaurant, a terrace with a panoramic view over the city and a garden. A few steps from the main square, it is the ideal place for lovers, from 164 $usd per night!
3) Palenque (1 day)
Today your 10 day Mexico vacations continue into the jungle, with monkeys and exotic birds, to explore Palenque, which was one of the most important Mayan cities of its time.
In the morning – Leave early, as the trip to Palenque takes between 5h and 5h30.
The good news is that there are several interesting stops along the way.
After 2h40, when you reach Ocosingo, take the road to the Mayan site of Toniná.
It is higher than the Pyramid of the Sun in Teotihuacan and offers a magnificent view of the surrounding area!
Return to Ocosingo and follow the 2h route to the waterfalls of Agua Azul Waterfalls located in the Biosphere Reserve of the same name.
They are turquoise waterfalls, surrounded by lush vegetation. Here you can take amazing pictures and swim in the guarded areas.
Finally, an hour away is Misol-Ha, the last stop before Palenque. This is a 30-metre waterfall surrounded by jungle, where you can swim. You can even walk behind the waterfall and explore the cave.
Afternoon – After half an hour, you will finally arrive in the city of Palenque!
It will probably be time for lunch so take a well-deserved break and eat something to replenish your energy.
It's time to visit the Mayan city of Palenque, a UNESCO World Heritage Site and considered one of the most important archaeological sites in the world.
Start with the Museum of Palenque (closed on Mondays), one of the most important museums dedicated to Mayan archaeology, which will allow you to understand the full importance of the site.
You can see:
The Palace, the largest complex in Palenque with an observation tower offering a beautiful view of the site
The Temple of the Inscriptions the most important structure of Palenque where the tomb of the ruler K'inich Janaab' was found K'inich Janaab' Pakal (7th century) with several objects including a jade mask.
The Temple of the Cross Complex with the Temple of the Cross, the Temple of the Sun and the Temple of the Foliated Cross
For more information, I invite you to read: How to visit the archaeological site of Palenque
Spend the night in the city of Palenque.
How to get to Palenque from San Cristobal de las Casas:
By car: take Highway 199 through Ocosingo (5h). Misol-Ha and Agua Azul are on Highway 199 but for Toniná take the detour to Highway 218 in Ocosingo.
By public transport: departures at 5h and 8h in the morning for the direct bus to Palenque (9 hours travel time). For Misol-Ha and Agua Azul, you can take a colectivo to Ocosingo, then another colectivo to Palenque.
Again, considering that the trip is very long, the easiest way is to take a tour from San Cristobal de las Casas. It includes pick-up from your hotel, breakfast, visits to Agua Azul, Misol-Ha and Palenque.
You can book directly here:
Where to stay in Palenque
Mitico El Castillo: the most unusual hotel that looks like a movie decor. It's a castle that houses a room, a shared room, a swimming pool, and a kitchen. This is the best cheap hotel in Palenque, starting at only 14 $usd for a bedroom or 38 $usd for a room!
Cabañas Kin Balam Palenque: another budget hotel in Palenque that has the advantage of being in the jungle, with fruit trees and exotic animal sounds and within walking distance of the ruins. Includes a pool and a restaurant, starting at only 24 $usd for a dorm or 43 $usd for a private room!
Adriana Villas: an oasis of tranquility ideal for couples, with rooms and villas in the jungle, a swimming pool, hammocks, large gardens, and a rooftop terrace. With delicious breakfasts included, starting at 80 $usd per night!
Chan Kah Resort village: ideal for relaxing during a family trip to Palenque, offering excellent value for money. Bungalows for 2 to 4 people, 2 large natural pools, a bar, restaurant and spa, from only 100$ usd for a bungalow!

4) Merida (2 days)
Say goodbye to Chiapas and continue your 10-day stay in Mexico to Merida, the capital of the state of Yucatan.
Day 1- Visit Merida
As the trip is quite long from Palenque (8h), I recommend taking the night bus to avoid losing a day.
If you have a car, it is best to leave early in the morning to arrive in the early afternoon. For safety, remember that you should never drive at night in Mexico.
Depending on the time you have, here is what you can see in Merida:
The Plaza Grande with the Casa de Montejo, the cathedral and the Macay Museum
Go to the first floor of the Palacio de Gobierno for a nice view of the plaza
The great museum of the Mayan world and its collection of 1000 archaeological pieces
The Museum of Anthropology of Yucatan located in the Palacio Canton
The Paseo de Montejo, a large avenue with beautiful buildings
Parque de Santa Lucia, a lively plaza at night with several restaurants
Calle 64 with beautiful colourful façades, the ideal place to take pictures
Take the tourist bus: El Carnavalito, a typical trolleybus offering a 1h30-2h tour, or the Turibus, a double-decker bus
To discover the typical cuisine of Yucatan, you can also take this food tour in the center of Merida. Book the activity here:
I book the market visit + food tour in Merida!I book my place for the food tour in Merida
I also recommend you to read my Top 20 things to see and do in Mérida!
Spend the night in Mérida! How to get to Merida from Palenque:
By car: it's a 7-hour drive. Take the 186 to Escárcega, the 180D to Campeche and then the 180 to Mérida. If you want to take a break, it is best to stop in Campeche.
By public transport: 8h30 trip, 2 departures with the ADO bus (8h and 20h). To avoid wasting too much time, I recommend taking the night bus.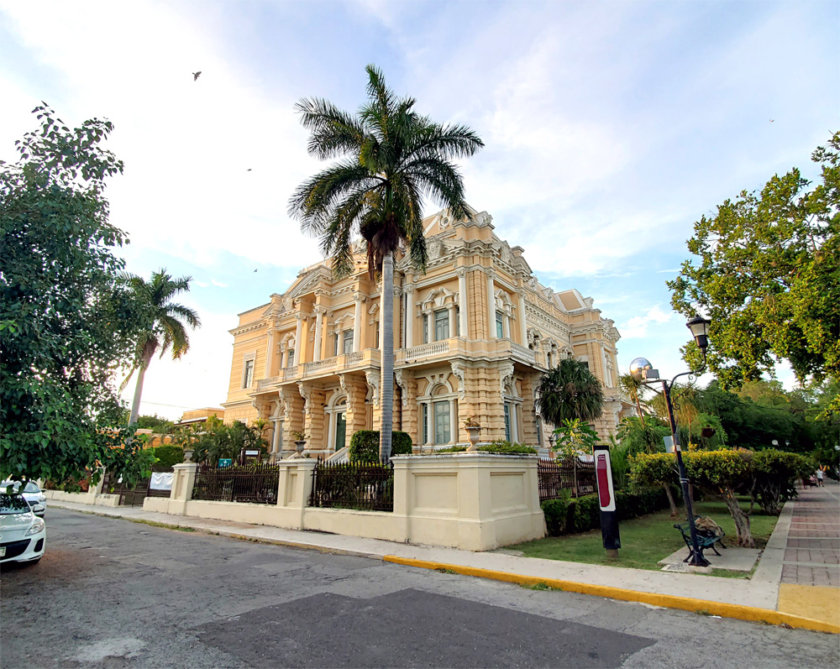 Day 2 – Option 1: The archaeological site of Uxmal
There is a lot to see in the Merida region, but as you only have 10 days to visit Mexico, I suggest you choose between visiting Uxmal or Celestun. Let's start with Uxmal.
A mighty Mayan city allied to Chichen Itza, it has been classified as a UNESCO World Heritage Site and is today considered one of the most beautiful Mayan sites in the Yucatan for its architecture.
On the site, you can see:
The Pyramid of the Magician, which is the main pyramid of Uxmal
The Great Pyramid and its Temple of the Guacamayas
The Governor's Palace, a great place to take pictures
Other structures such as the Quadrangle of the Birds, the Nunnery Quadrangle, and the House of Turtles
To find out all about Uxmal, here's My Ultimate Guide to Uxmal!
Just opposite the entrance to Uxmal is the Choco-Story chocolate museum
About 20 minutes away is Kabah, another site from the same period. Although much smaller, it is hardly touristy and also contains some architectural gems.
You can take this tour from Mérida with pick-up from your hotel, which includes a guided tour of Uxmal, free time, and a visit to Kabah.
Book the Uxmal tour here:
If you prefer to go on your own:
By car: take Federal Highway 261 towards Santa Elena (1h15) to Uxmal. Kabah is 20 minutes from Uxmal, on the same road.
By bus: 1 departure per day to Uxmal at 9h05 from the TAME terminal. Journey time 2h. Return at 15h.
Overnight in Merida.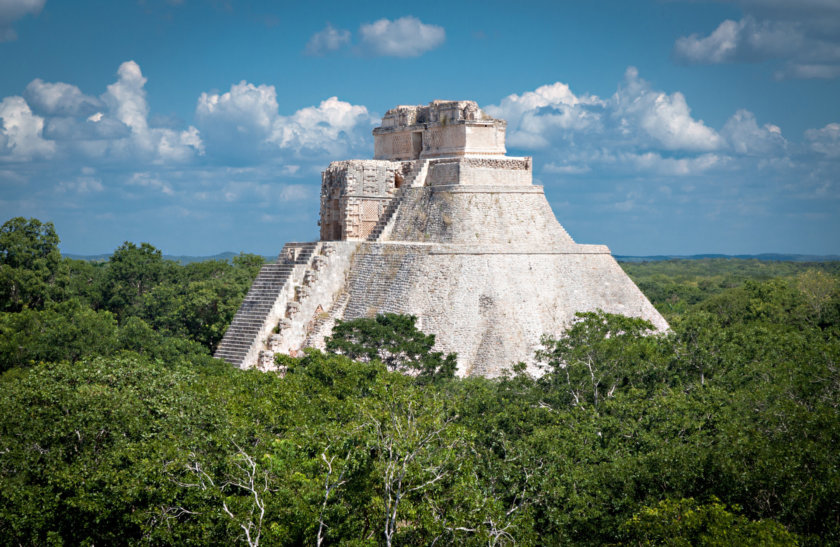 Day 2 – Option 2: The pink flamingos of Celestún
There are an estimated 25,000 flamingos in the Yucatan, and Celestun is the best place to see them.
To get up close, take a boat ride to the Ría Celestún Biosphere Reserve, a large protected area with 300 species of birds.
You can leave from the beach (2h30) or west of the bridge before reaching Celestún (1h30).
You can also book a tour to Celestun from Merida with pick up from your hotel, which includes the boat trip through the reserve. After the tour to the Celestun reserve you can also enjoy the beach before returning to Merida.
Read also: How to see the flamingos in Celestun?
How to get to Celestun from Merida without a guided tour:
By car: 1h15 on Highway 281
By public transport: 2.5 hours from the Terminal Noreste, departures every hour
Overnight in Merida.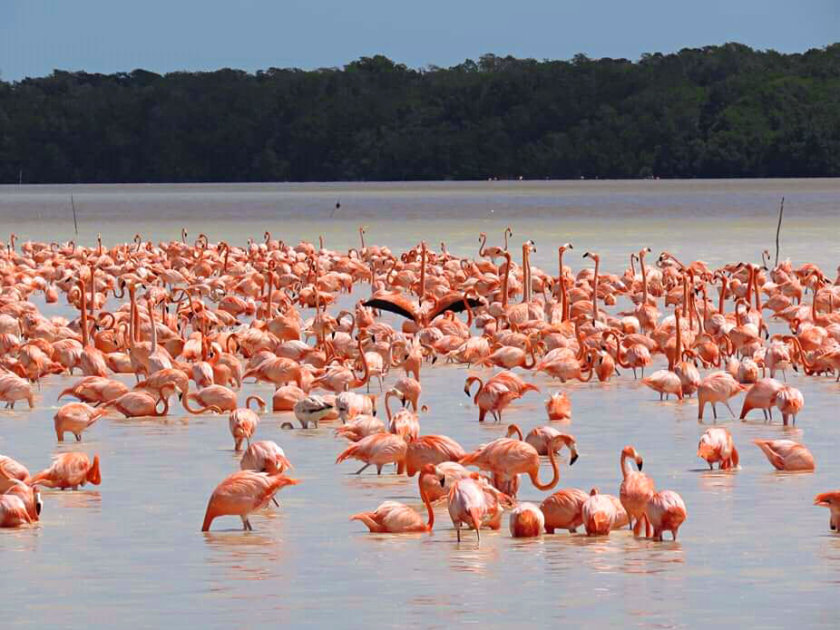 Where to stay in Mérida
Nomadas: the best hostel in Merida with a very nice atmosphere, located in the center of Merida. It has a swimming pool surrounded by hammocks and plants, possibility of classes (yoga, cooking classes, etc.). Starting at only 18$usd per night!
El Gran Hotel: ideally located in the very center of Merida, right next to the cathedral. It is a very charming hotel, where time seems to have stopped with its colonial look and beautiful woodwork. There's a restaurant, the rooms are spacious and the wifi works well. Good value for money, starting at only 59$usd per night!
Hotel Hacienda Merida VIP: this small, luxurious hotel is the ideal place to spend a few romantic days in Merida. Located in the historic center, it is an elegant hacienda-style building, illuminated by candlelight at nightfall. Here you will find a charming swimming pool, comfortable rooms, a restaurant, and a bar. Starting at 165 $usd per night
Hotel Boutique Mérida Santiago: this is a small, comfortable hotel with a colorful hacienda look, modern and with a traditional Mexican touch. There's a swimming pool with sun loungers and umbrellas. With excellent homemade breakfasts and spacious rooms, it is the ideal hotel if you are looking for comfort without falling into luxury. Starting at 197 $usd per night
5) Chichen Itza and the Riviera Maya (2-3 days)
The last leg of this 10-day trip through Mexico will take you to the famous city of Chichen Itza and the beautiful Riviera Maya region.
Day 1 – Chichen Itza and Valladolid
In the morning, leave Merida to visit Chichen Itza, once an important Mayan capital.
Declared a UNESCO World Heritage Site and recognised as one of the New Seven Wonders of the Modern World, it is one of the great symbols of Mexico.
What to see in Chichén Itzá, in 2h-3h:
The Temple of Kukulcan or El Castillo, the main pyramid of Chichen Itza built in honour of the god Kukulcan.
The astronomical observatory from where the "priests" studied the stars
The Mayan ball court, which is the largest and best-preserved in Mesoamerica
The Temple of the Warriors and the thousand columns
The tzompantli which was an altar where the heads of enemies were impaled
Entrance fee: 571 pesos for foreigners, 283 pesos for nationals, 85 pesos for Yucatan residents
I recommend reading: Chichén Itzá: the definitive guide + My tips
To avoid long lines, I suggest you buy these skip-the-line tickets to Chichen Itza here:
I buy my fast access tickets for Chichen Itza! I buy my skip-the-lines tickets to Chichen Itza
After Chichén Itzá, visit the colonial city of Valladolid, one of the most beautiful cities in Mexico!
Start by cooling off in Cenote Zací, a large semi-open cenote surrounded by rock walls and plants.
If it's time for lunch, there is a good restaurant serving typical Yucatecan cuisine right at the top of the cenote. If you eat for 100 pesos, the cenote is free!
Next, explore the main square with the Francisco Canton park, the San Servacio church and the Municipal Palace to see its murals.
Visit the Museo de San Roque (free), which presents the history of the city, and then walk along the Calzada de los Frailes to the San Bernardino Convent.
I suggest you also read: Top 25 things to do in Valladolid
Then head to Tulum, in the Riviera Maya.
Maybe today is too late to enjoy the beaches, but you can do it tomorrow!
You can stroll along Tulum's Beach Strip, which runs along the beach, and where there are shops, nice restaurants, and cafes.
In the evening, you'll find several bars with a great atmosphere, such as the Batey – Mojito & Guarapo Bar and the Papaya Playa Project on the beach.
Spend the night in Tulum.
How to get to Chichen Itza from Merida:
By car: 1h30 hours drive, take highway 180 and then highway 180D towards Valladolid. Take exit Dzitás – Pisté/YUC 79 towards Chichén-Itzá/Pisté/Dzitás.
By public transport: departures at 6:30, 8:30 and 9:15 by ADO bus, journey time 1h45
How to get to Valladolid from Chichén Itzá:
By car: 45 minutes on Highway 180E
By public transport: 45 minutes by ADO bus or colectivo bus
How to get to Tulum from Valladolid:
By car: 1h30 trip, take Carretera 180 to Chemax, follow Chemax-Coba and then Carretera 109 to Tulum
By public transportation: 1h30 trip with ADO, departures at 14:00, 15:12, 16:00 and 18:30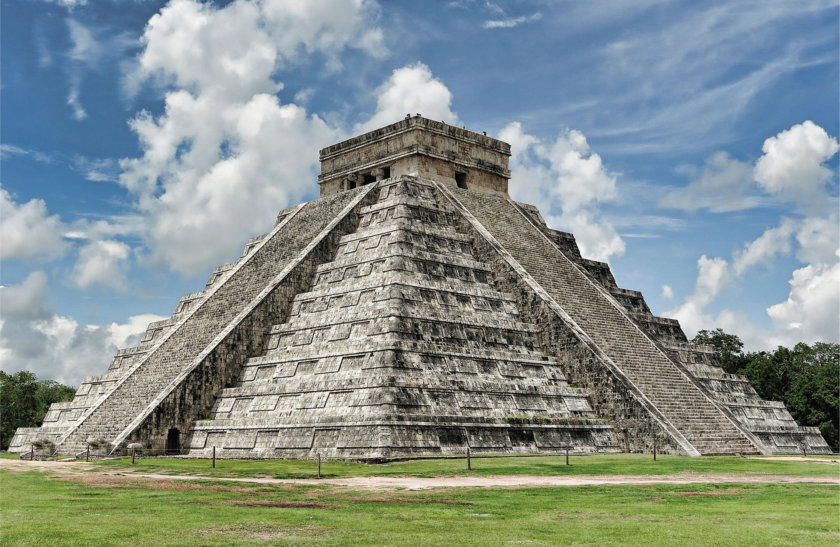 Day 2- Visit Tulum
Welcome to Tulum, Mexico's boho chic town known for its miles of white sandy beaches with calm, clear waters.
In the morning, visit the ruins of Tulum located in front of the Caribbean Sea.
You can see the Castle which is the main structure, the Temple of the Frescoes, the Temple of the Descending God, and don't forget to go down to the beach of the ruins which is included in the entrance fee!
But it would be a shame not to visit the other beautiful beaches of Tulum. You can go to Playa Paraiso or Playa Las Palmas.
You can also leave the beach to go snorkelling in one of Tulum's cenotes such as Gran Cenote, Cenote Carwash, Cenote Zacil-Ha, Cenote Dos Ojos, etc. There is so much to see!
Spend the night in Tulum.
Read more: The 21 best things to discover in Tulum!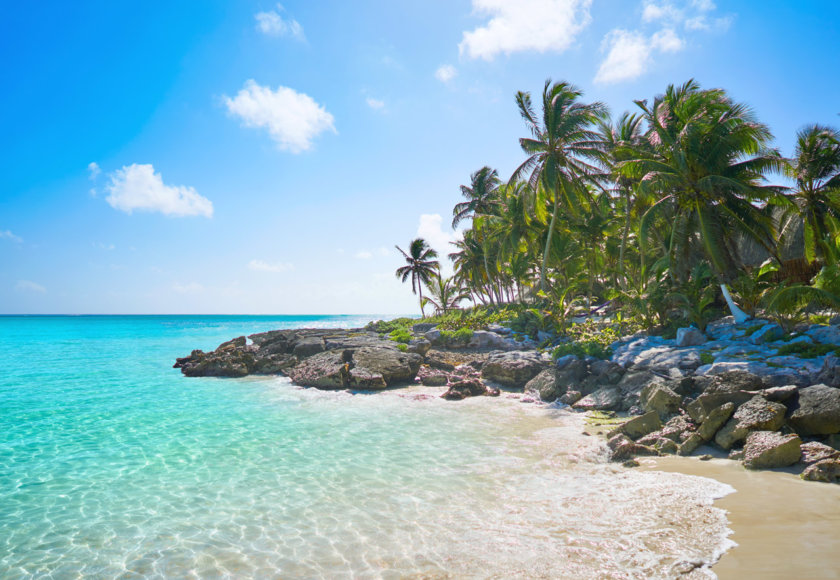 Day 3- Akumal
If you still have a free day, don't hesitate to go to Akumal, the best place to swim with turtles in Mexico!
The good news is that the turtles are protected, so it is mandatory to go with a guide who will explain to you how to approach them without disturbing them.
You can hire a guide on the beach or go with a tour that includes pick up from your hotel:
I book the snorkel with the turtles now! I want to swim with the turtles responsibly
You can also enjoy the beautiful beaches and snorkel at Akumal Bay, Half Moon Bay and Yal Ku Lagoon.
I suggest you read: The 17 best things to do in Akumal!
Spend the night in Tulum. How to get to Akumal from Tulum:
By car: 25 minutes taking Carretera 307 towards Cancun.
By public transport: Take a colectivo (20min) in the direction of Playa del Carmen along the main street of Tulum, and let the driver know in advance that you will be getting off in Akumal.
Where to stay in Tulum
Mayan Monkey Tulum: an excellent value for money. Nice modern hostel with a good atmosphere, a pool, bar and garden. Including fast wifi, kitchen access, yoga classes, coworking spaces, and bike and

motorcycle

rentals. Dorms and private rooms starting at only 24 $usd per night.
Casa Almendro: if you are looking for a little more comfort, you will like this small cheap hotel in the center of Tulum. It's a green oasis with a rooftop terrace with chairs and hammocks. There are king size beds and breakfast is included, from only 50 $usd per night!
Diamante K: is a high-end hotel but at a very fair price, which is exceptional in Tulum, especially for a hotel with direct access to the beach in the hotel zone! Bohemian chic atmosphere, including a restaurant, hammocks and beds on the private beach, and a massage service. Bungalows are 207 $usd per night.
Habitas Tulum: this small eco-friendly hotel with a chic design is ideal for a romantic stay in Tulum. It is a true oasis of peace, hidden among the palm trees, with a magnificent swimming pool and a private beach. There are also yoga classes on the terrace at sunset. From 371 $usd per night!
Kanan Tulum- Adults Only: this is the ultimate option for a luxury stay in Tulum. It is an ecological hotel for adults only, located on a beautiful private beach with hammocks and beds. With a fantastic rooftop terrace with a bar; the hotel also has an excellent restaurant, great rooms and a very friendly welcome. From 566 $usd per night!
6) The return from Cancun
It's time to finish this 10 days road trip in Mexico. Say goodbye to the beautiful beaches of Tulum and head to Cancun airport for your return flight.
How to get to Cancun airport from Tulum:
By car: 1h30 taking the 307 Highway through the Riviera Maya towards Punta Nizuc-Cancun. Take the Cancun airport exit.
By public transport: 2h by ADO bus, with departures at 7.10am, 9am, 11am, and 3pm. Choose your destination carefully when you buy your tickets: don't get confused between Cancun airport and downtown Cancun (it happened to me!😆)
How to find the best price for your flight tickets
Mexico's two major international airports are in Mexico City and Cancun. They receive many flights from Europe, North America and other parts of the world, as well as many domestic flights. So both cities are very good arrival and departure points for this trip to Mexico.
To find a cheap flight ticket to Mexico City or Cancun, or a domestic flight to Mexico, you can use our flight comparator, in collaboration with Skyscanner: Guaranteed to give you the best price!
How to get around Mexico?
If you want to visit Mexico in 10 days, your priority should be to save time, as the distances to be covered are very long. You should alternate between road and air travel (when possible) and always confirm departure times if you are taking the bus.
It is important to understand that the Yucatan Peninsula is quite easy to travel by public transport, but Chiapas is much less easy to get around, as you will be visiting remote natural sites.
That's why I recommend you to take advantage of the tours that leave from San Cristóbal, which is what I did, and they are very convenient!
Rent a car in Mexico
Many travellers decide to rent a car to visit Mexico. It is true that it is very convenient to explore such a big country in total freedom!
But like any budget to consider, it is very important to compare the different options to find the best car at the lowest price.
That's why I recommend you use Rentalcars.com:
The site presents a clear comparison of the different agencies' prices: a quick and easy way to find the best rate!
Cancellation is often offered free of charge: very practical if you change your mind
Rentalcars offers full insurance coverage at a lower price than the rental companies, so it's an instant saving with no effort
Click on the green button to find your car at the best price:
Map: My 10-day road trip in Mexico
Book your trip now and save money!
You're traveling in Mexico? These articles will help you!
Discover all my articles about Mexico: All my articles to help you plan your trip to Mexico are listed there.
You're using Pinterest? Here is the picture to pin!