Things to do in Cozumel: The 15 Best Places to Visit
Cozumel is the third largest island in Mexico, has been declared a Biosphere Reserve by Unesco and is recognized as one of the best diving destinations in the world.
Although it is only 30 minutes from Playa del Carmen and receives several cruise ships, you can find many wild and untouristy places.
This is very surprising for the Riviera Maya!
Here you can sleep in a luxury hotel or spend the day at a beach club, find a pristine beach or go on a jungle adventure.
In this ultimate guide to Cozumel, you will find everything you need to know about the best attractions, activities, and hotels for all budgets, as well as how to visit Cozumel in 1, 2 or 3 days and have an amazing time.
So, what to do in Cozumel?
1. Punta Sur Reserve
Punta Sur is a stunning nature reserve at the southern tip of Cozumel. It covers 1,000 hectares of white sand beaches, lakes and palm trees.
It's the largest ecological reserve in Cozumel and a haven for many kinds of amphibians, reptiles, exotic birds and mammals.
The star of the park is the crocodile, which you can observe from a lookout point or with a guided boat tour that is included in the entrance fee.
You can visit the archaeological site of El Caracol (1200-1400) and the Celerain lighthouse, which can be accessed by climbing 133 steps to enjoy an exceptional 360-degree view of the beaches and the sea.
There is even a beautiful white sandy beach with crystal clear waters. 😍
It is one of my favorite beaches in Mexico because it is practically virgin, but it has all the facilities to enjoy it: hammocks, chairs, restrooms, snorkeling equipment rental and a snack bar.
How to visit Punta Sur
Entrance fee: 19$usd, children from 4 to 12 years old 13$usd
Open from Monday to Saturday from 9am to 4pm.
I recommend this jeep tour to Punta Sur that includes the visit to Celarain lighthouse and El Caracol ruins, lunch at a beach club, tequila tasting, snorkeling and free time on the beach. Book it here:


2. Chankanaab
Chankanaab is a gorgeous park and beach club that is one of Cozumel's top tourist attractions.
It's the perfect place for the whole family to have fun with nature and the beach.
You can spend all day here, as there are so many things to do:
Snorkel in one of the most beautiful reefs in the area and see the underwater statues of the Virgin and Christ
Admire the crystal clear waters of the Chankanaab lagoon with its 60 species of tropical fish and corals
Discover the 60 replicas of Mayan, Aztec and Toltec sites, including El Caracol in Punta Sur
Stroll through its botanical garden with 350 species of tropical plants
Relax on the white sandy beach under the palm trees
Fly over the scenery on the zip line
Kayak and paddle board… and much more!
How to visit Chankanaab
Open from 8am to 4pm from Monday to Saturday, a cab costs 300 pesos to get there from downtown.
Get this ticket to Chankanaab with full access to the park and a diving session with a certified instructor to explore the beautiful seabed of Cozumel:

3. Diving
Scuba diving is a must-do activity in Cozumel that you don't want to miss!
That's because the island has a well-deserved reputation for being one of the best diving and snorkeling spots in the world.
The Cozumel Reef National Park covers the south of Cozumel and is part of the Mesoamerican Barrier Reef System, the second longest barrier reef in the world.
It has an impressive biosdiversity (turtles, 26 species of coral and 300 species of fish!) and waters with very good visibility.
Here are some of the best known sites of the island, ideal for all levels: the reefs of Palancar, Columbia, Paraiso, Punta Tunich, Chankanaab, Santa Rosa, Garganta del Diablo (an underwater cave) and the shipwreck Felipe Xicoténcatl.
-For safe diving in Cozumel, I recommend this 2 hour tour that takes you to 3 reefs.
You can swim or stay on board and enjoy the views and drinks. It is a perfect tour for beginners and families, book it here:
-For a much more complete experience, take this electric bike tour of Cozumel.
First you will discover a cenote in the jungle, then you will visit the Mayan botanical garden before arriving at Sky Reef beach.
You will do a 50-minute snorkeling session at Tormentos Reef, enjoy free time on the beach and participate in an introductory workshop on artisanal tequila, with tasting! 😋
Book the tour here:

4. Enjoying the most beautiful beaches
The island is famous for being a great diving destination, but its beautiful beaches are also must-see places to visit in Cozumel.
You can enjoy a true white sand paradise. It's hard to choose, but here are my favorites:
Passion Island: it's a small private island of just 2 km with mangroves, beautiful reefs and long white sandy beaches. You can get there by boat (15 min from Cozumel) and I recommend getting there early so you can enjoy all the facilities.
Chen rio: it's a well kept secret! It has lush vegetation, natural pools with crystal clear waters and a good seafood restaurant.
Playa Palancar: it's one of the most pristine beaches of Cozumel, although it has a beach club (free entrance and no minimum consumption 😎). It's quite a touristy beach because of the beauty of its waters and its proximity to the Palancar and Colombia reefs.
Playa San Francisco: an ideal beach for families. There is a beach club where you can rent kayaks, paddle boards, jet skis, snorkeling equipment or enjoy the floating games. Also, the piña coladas are very good.
Playa Encantada: a quiet beach with golden sand and calm waters, it's located near the south of the island, near the Punta Celarain lighthouse and the archaeological site of El Caracol.

5. El Cielo and its starfish
El Cielo is one of the most beautiful places in Cozumel!
It is a white sand bank 800 meters long, surrounded by beautiful, transparent and shallow waters.
To protect this little paradise, it can only be reached by boat or catamaran, and it is mandatory to take an organized tour of about 4 hours.
The tour takes you first to the Palancar reef for snorkeling, and then to El Cielo with its crystal clear waters of just 1m where you can see rays, turtles and several starfish. Hence its name, "The Sky".
You can book here the tour to El Cielo which includes pick up from your Riviera Maya hotel, snorkeling equipment, snacks, beers and margaritas:
Please be a responsible traveler: it's very important not to touch the starfish!🙏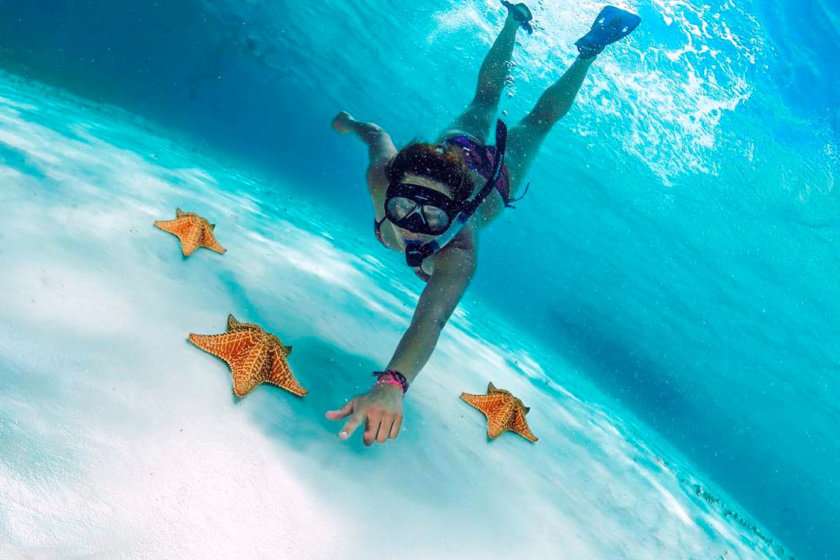 6. Venturing into the jungle
If you like adventure with a dose of adrenaline, this is your chance to explore another side of Cozumel, driving your ATV through the narrow jungle trails!
The day's program includes tequila tasting, a visit to a Mayan village, cave exploration and a swim in a cenote with beautiful stalactites.
Book the tour here:
My advice
Bring a change of clothes, you will get dirty!
😎

7. San Gervasio
San Gervasio is Cozumel's main archaeological site.
Although the part open to the public is relatively small (especially compared to Chichen Itza, Tulum and Coba), it has great historical significance.
Before the conquistadors arrived, San Gervasio was a pilgrimage site dedicated to Ixchel, the goddess of fertility – it was as important to the Maya as Jerusalem!
People came here to honor the goddess Ixchel, but it was also a strategic place for trade and politics.
Today we can see several structures dating from the 7th to the 17th century, such as buildings, plazas and temples.
Of course San Gervasio is not as impressive as other famous Mayan sites, but it is also much less crowded and has a wild charm that I love.
My advice
I recommend hiring a guide to get all the interesting information, but since they don't cover the whole site, don't forget to visit the rest on your own!
Open from 9am to 3pm from Monday to Sunday.
Admission 188 pesos/ $10.50 USD, free for children under 3 years old.

8. Take a Food Tour
If you like to discover authentic places when you travel, I recommend you this guided tour.
The guide takes you to the market and several small places that are not touristy.
It's a chance to see local Cozumel life, learn more about the history and culture of Mexico, talk to the locals and, of course, try some of the island's specialties.
For me this was one of the best activities in Cozumel!

9. Cozumel Museum
It is a small museum dedicated to the history, culture and ecosystem of Cozumel.
There are also two temporary exhibitions of local and international artists and a room dedicated to the Cozumel Carnival.
I recommend a visit to the souvenir store which offers good prices on jewelry (surprisingly!) and the restaurant on the 2nd floor overlooking the sea and boats.
Open from 10am to 2pm and from 4pm to 8pm on Tuesdays, Thursdays and Sundays
Admission $11 usd, children under 3 years free

10. Visit a pearl farm
This is an unusual activity in Cozumel that few tourists know about.
Cozumel Pearl Farm is a family project that was created to study and sustainably cultivate the Pinctada Radiata, an oyster capable of producing pearls.
Over the years, they have started to offer exclusive tours for up to 8 people.
First they take you by boat (45min) to the farm which is located on a white sand islet between the Caribbean and the lagoon of Bahia Ciega, north of Cozumel.
The visit starts with a presentation of the project, the cultivation process, the research, etc. Then, the guide will take you snorkeling in the crystal clear waters to see the oysters and the beautiful reef formations.
After that, you can enjoy the pristine beach and hammocks, beer and hamburger included!
They even have a small jewelry shop if you want to buy pearls.
Visit the Cozumel Pearl Farm:
Tours from Monday to Saturday, departing at 10 am and returning at 4 pm.
Maximum 8 people per tour (per day), so it is very important to book in advance.
It is also possible to sleep on site (camping).

Family Activities in Cozumel
There are lots of things to do in Cozumel with kids and teens!
11. Mia Grand Beach Park
You can't miss this water park on the beach!
You can easily spend half a day or a whole day here, as there is plenty to do besides the pool bar, beach and restaurant.
Basic access includes the pirate-themed kiddie pool, slides, kiddie pool, floating park, kayak, catamaran and water bike rentals.
There are even replicas of Mayan structures submerged 5 m deep that you can see while snorkeling.
And there's also a ping pong table, volleyball and soccer field.
My advice
Next to
Playa Mia
is also
The Mayan Cacao Company
, a museum dedicated to cacao. You can take the
tour with tasting
, a
chocolate making workshop
, or a
chocolate and margarita workshop
.
🍸

12. Pueblo del Maiz
This is a pre-Hispanic theme park featuring Mayan culture, history and traditions.
This is a fantastic activity to do with kids in Cozumel, but no matter what age they are, I guarantee they´ll love the visit as it is very interactive.
You will discover the Mayan world, their rituals with dance and music, and the importance of different products such as corn, cacao and henequen, an agave that enriched Yucatan in the 19th century.
You will even see the Mesoamerican ball game, an important ritual sport practiced by many peoples of Mesoamerica.
Admission $16usd, includes one hour tour, activities and tastings.

13. Going on a submarine
This is one of the best activities to do in Cozumel with kids: diving 30 meters underwater in a submarine!
The Atlantis XII takes you to explore the Chankanaab Reef, which is part of the second largest coral reef in the world.
Sitting comfortably, you can admire through its windows a multitude of colorful fish, manta rays, turtles, corals and the wreck Felipe Xicotencatl, with explanations in English and Spanish.
It's an accessible experience for both young children (minimum 4 years old, height 3 ft) and older ones, and ideal for those who want to discover the seabed without having to dive so deep.
Book in advance, as places are limited. You can do it here:
My advice
Don't worry about safety: the submarine is certified every year by the American Bureau of Shipping and is manned by a professional crew that is in constant communication with the surface.

14. Discover Mexico Park
It is an interactive open-air museum with models of all the most important monuments in Mexico: Chichen Itza, the ruins of Tulum, the Cathedral of Mexico, etc.
It is a must-see in Cozumel, as it allows you to get to know the most important places in Mexico.
There is even a representation of the Voladores de Papantla an impressive ritual dance that has been declared a World Heritage Site by UNESCO.

15. Cha'an Ka'an Planetarium
Cha'an Ka'an means to observe the sky, and that's what this immersive 360° show offers.
It presents different concepts of the universe and the Mayan cosmovision. There is also an interactive area, special activities for children, a restaurant (good and cheap).
Plus, it's right next to the ferry, so it's an interesting (and air-conditioned!) stop you can make while waiting for the ferry to depart.
Admission 157 pesos, children 131 pesos from 4 to 12 years old. 3D shows are for ages 6 and up
Show in English and Spanish

How many days to visit Cozumel?
There is so much to see and do in Cozumel!
Ideally you should spend 3 days in Cozumel to have time to explore its beautiful beaches, dive sites and amazing ecological parks.
To make the most of your stay, here are my suggestions for 1, 2 and 3 day itineraries in Cozumel:
1 day in Cozumel
If you only have one day in Cozumel, you can't miss the most beautiful dive sites in Cozumel.
I recommend this one day tour that includes pick up at your Riviera Maya hotel, lunch, diving at Palancar Reef and El Cielo, known for its starfish.
Book it here:
2 days in Cozumel
If you have two days in Cozumel, take the snorkeling tour on the first day, and go to Punta Sur the second day.
I recommend this jeep tour that will take you to Punta Sur and the Celarain lighthouse, with snorkeling, free time on the beach, lunch at a beach club and tequila tasting!
Click here to book the small group tour and secure your spot:
Or with private tour here:
3 days in Cozumel
If you have 3 days in Cozumel, follow the above program and on the third day you can explore the many beaches like Passion Island, Chen rio, Playa San Francisco or Playa Encantada.
For more comfort, you can also enjoy the facilities of the beach clubs such as Sky Reef or Palancar.
If you are traveling with your family to Cozumel, Chankanaab Park is a great option, as the park offers many activities in one place (snorkeling, beach, zip line, botanical garden, etc.).
Buy your ticket to Chankanaab here which includes full access to the park and a snorkeling session with a guide:
Where to stay in Cozumel? – The best hotels
Staying in Cozumel is a very good idea if you want to enjoy the island in a privileged way since most visitors come only for the day.
Hacienda Boutique Mi Casa tu Casa B&B: hacienda-style house with authentic and colorful Mexican charm, outdoor pool and jacuzzi. Very good traditional breakfast and an excellent welcome from the hosts, from only 82 usd per night!
Villas El Encanto Cozumel: for more comfort, I suggest this hotel that offers air-conditioned apartments and bungalows with kitchenette and terrace. Nice garden, swimming pool, hammocks and lounge chairs. It offers excellent value for money, at only 115 usd per night!
Allegro Cozumel All-Inclusive: is an all-inclusive hotel in Cozumel ideal for families. Located on San Francisco beach with many activities available (beach volleyball, yoga, snorkeling, kayaking, etc), a playground and a kids club, 3 swimming pools, one of them with slides. From 205 usd per night all-inclusive.
Meliá Cozumel All Inclusive: to enjoy the tranquility, this is an all-inclusive hotel with a beautiful private beach, spacious rooms, full spa, two pools, one of them only for adults with bar. I recommend the room with ocean view, from 280 usd euros per night all inclusive!
Sargassum-free Cozumel
For the past few years, sargassum (brown seaweed), which accumulates on the beaches, has been more and more frequent on the coast of Cancun and the Riviera Maya.
The problem is that no one can predict when and where it will arrive, which makes hotels, agencies and, of course, travelers desperate.
So it's a bit a matter of luck, but some destinations are much less exposed to sargasso.
This is the case of Cozumel, where there is never sargassum.
To be more precise, there is no sargassum on the west coast of Cozumel, that is on the beaches in front of Playa del Carmen.
Sometimes there is a little bit in other places, for example in Punta Sur and the east of the island.
Cozumel on a Budget: all my tips for saving money!
In general, the island is quite expensive, but there is always a way to save money to take care of your budget in Mexico. 🤓
Here are my tips for saving money in Cozumel:
Buy your ferry ticket online: it's cheaper to buy it on Ultramar's website than at the terminal.
Bring your own snorkel gear: renting it will cost you about 5$usd (90 pesos) each time, but it's cheaper to buy it on Amazon, or at a store like Walmart or Soriana.
Choose your beach club wisely: some like Sky Reef and Palancar don't make you pay the entrance fee or a minimum consumption.
Don't pay for the beach: go to the free public beach, right next to Playa Mia
Eat cheap: there are several cheap restaurants like La Pacifica (opens at 3pm), Fondita Don Jose, Crazy King Burrito or the Cozumel market. It is better to stay away from the restaurants near the pier, which are always more expensive.
Find a cheap bar: I loved the Money Bar with a terrace facing the sea, no minimum consumption, and 2 for 1 promotions from 5 pm with live music. Or buy a few beers and go to the public beach next to the bar. It's the same view, with palm trees!
Prices in Cozumel are almost always quoted in $usd and pesos. Keep in mind that if you pay in $usd you will not get the best exchange rate.
How to get to Cozumel
The island of Cozumel is about 14 km from Playa del Carmen and 60 km from Cancun.
Here is how to get there by ferry, by car and by plane:
By ferry
The most common way to get to Cozumel is by ferry from Playa del Carmen, which is 60 minutes from Cancun.
The departure is from the Navega Maritime Terminal (Benito Juarez Avenue, next to the Parque de los Fundadores).
The trip lasts 45 min-1h and you can choose between 2 companies:
Ultramar: is the most comfortable ferry. One way ticket 200 pesos, 160 pesos for children (6-11 years old), free for 5 years old and younger. Departure every hour, from 7 am to 11 pm. 1 piece of luggage up to 25 kg (45cm + 70cm + 27cm) is allowed.
Winjet Fast Ferry: cheaper than Ultramar, at 160 pesos per ticket, 125 pesos for children under 18 years old (cheaper to buy online than at the terminal!). Departure every hour, from 7am to 10pm.


By car
Visiting Cozumel with a rental car is a very good idea, as the island is large and cabs are very expensive.
You can rent a car directly in Cozumel or when you arrive in Cancun, as you can take your car by ferry.
The car ferry leaves from the port of Punta Venado in Calica, 15 minutes from Playa del Carmen, very close to Xcaret Park.
It arrives at the cargo boat dock in Cozumel.
Two companies offer this service:
To rent a car, personally, I always use Rentalcars.com, for a few reasons:
You can easily compare the rental cars prices between all the agencies: for sure the easiest way to find the best rate!
Cancellation is often offered free of charge: no need to worry if you change your mind
Rentalcars offers full insurance coverage at a lower price than the rental companies, so it's an instant saving with no effort
Simply click on the green button to find your rental car at the best price:

By plane
Cozumel's airport receives international and domestic flights.
The only company that operates the direct flight from Cancun to Cozumel (20min) is Mayair, which also flies from Merida to Cozumel (1h).
The other flights from Cancun to Cozumel all have a stopover in Mexico City, so check the route when booking, as the stopover can be very long.
If you are coming from the capital, the direct flight from Mexico City to Cozumel takes 2 hours, with Interjet or Volaris.
To find a cheap flight to Cozumel or Cancun, as well as the best domestic flights in Mexico, I recommend you to use our flight comparator in collaboration with Skyscanner, it's the guarantee to pay the best price!
If you are not planning to rent a car and you are staying in Cozumel, you can take a cab to your hotel or book this private air-conditioned shuttle service from the airport:
Getting around Cozumel
Some of Cozumel's best attractions are close to downtown, but the island of Cozumel is very big and it is impossible to do everything on foot!
Here are the different ways to get around Cozumel:
Take a taxi: cabs are pricey on the island (more than anywhere else in Mexico) so it's best to avoid them as much as possible, unless it's for a direct trip, to the hotel for example.
By car: this is the most comfortable way to visit Cozumel. As I already mentioned, you can take your rental car on the ferry or rent a car directly in Cozumel.
Rent a scooter: renting a scooter in Cozumel offers a lot of flexibility and driving is very easy since the landscape is flat. It's important to compare as you can get prices between 40 and 60 $USD per day.
By bike: ideal for those who are fit (distances are long, it's windy and hot), but biking is a very enjoyable way to visit Cozumel. About 20-25$usd for the day.
By bus: about 17 Uniper Cozumel vehicles (air-conditioned vans with wifi) travel around Cozumel on 11 different routes. It takes about 40 minutes to cross Cozumel. It's comfortable and cheap.


Is Cozumel safe?
Cozumel is a peaceful and generally safe island.
There are no serious crimes against tourists on the island, but you should always be careful as in any tourist place:
avoid carrying a lot of money or valuables
keep your valuables in a safe if possible
never leave your bag unattended (e.g. on the beach)
do not walk on the beach at night
When to visit Cozumel?
Cozumel has a pleasant weather all year round, but some months are better than others to visit the island. Here is a breakdown of the weather and tourist seasons in Cozumel:
November to February: This is the best time to visit Cozumel in terms of weather, as you can enjoy sunny and mild days. However, this is also the peak tourist season, so expect more crowds and higher prices.
March to June: This is the low season in Cozumel, but the weather starts to get hot and humid, with occasional rain showers. The upside is that there are fewer tourists, lower prices, and usually the rain doesn't last for long.
July to October: These are the months to avoid Cozumel, as it is the rainy season and there is a high chance of storms. The weather is very wet and unpredictable, and you won't be able to enjoy the beaches and marine life if it rains.
My advice
During late October and early November
, Mexico celebrates the 
Day of the Dead
. It's an excellent time to visit the region.
For more information about Day of the Dead celebrations in Cozumel, don't miss my ultimate guide on the Day of the Dead!   
Cozumel vs Playa del Carmen? – The Differences
Many travelers are skipping Cancun and opting for other destinations in the Riviera Maya. Playa del Carmen is the top choice among them.
Cozumel is a vast island with plenty to see and do and various hotels that offer a comfortable stay.
So what are the differences between Playa del Carmen and Cozumel?
Playa del Carmen has become very touristy in recent years, with a multitude of hotels, bars, restaurants, shops and beach clubs.
Playa del Carmen is ideally located to discover the other sights of the Riviera Maya and Yucatan, by car, bus or colectivo.
Cozumel has preserved its natural beauty, unlike Playa del Carmen and Cancun.
It's a beautiful island with a great diversity of landscapes, from rocky shores to pristine beaches, and it has established itself as one of the best places in the world for diving and snorkeling.
I think Cozumel's beaches are much better because they are not crowded with hotels and bars like in Playa del Carmen, and the water is crystal clear.
When it comes to restaurants, Playa del Carmen has more options and at a lower price (on average).
Yes, admittedly Cozumel is a bit more expensive in general, that's why I have shared all my money saving tips in the article 😉
The party in Cozumel is mainly concentrated in the beach clubs, in a more relaxed and tropical atmosphere. In Playa del Carmen, people come to party, so there is a lot of choice, including the big and well known clubs like Coco Bongo.
To know everything about Playa del Carmen:
Book your trip now and save money!
You're traveling in Mexico? These articles will help you!
Discover all my articles about Mexico: All my articles to help you plan your trip to Mexico are listed there.
You're using Pinterest? Here is the picture to pin!