Xplor Park in Playa del Carmen: An Unforgettable Adventure Awaits!
Are you looking for an exciting adventure during your trip to the Riviera Maya?
Look no further than Xplor Park in Playa del Carmen! This amazing adventure park offers a wide range of thrilling activities, such as zip-lines, ATVs, underground rivers, and more to make your excursion a truly memorable one.
In this article, I'll provide you with tips and advice on how to make the most of your visit to this iconic park.
From transportation options to must-try activities, here's everything you need to know about Xplor Park in Playa del Carmen.
Book your tickets for Xplor
To book your tickets for Xplor Park at the best price without reading the article (although I recommend it!), here is a summary of the available tickets.
You just have to click on the name of the ticket to book it:
What to Do and See at Xplor Park
Xplor Park offers six thrilling activities for you to choose from. These include two zip-line circuits, two amphibious vehicle courses, a hammock zip-line, and an underground river swim or paddle. Each activity offers its own unique experience, so be sure to try them all!
Amphibious Vehicles: I enjoyed an awesome adventure driving an amphibious vehicle through the park's lush jungle. I was glad that I didn't have to drive and my friend did because she is far more adventurous on the road than me.
We faced bridges, water and even a cave on a muddy road that was 5 km of pure thrill. It was a wild and exhilarating ride!
It doesn' matter if you're a pro or a beginner driver, and you don't need to know how to drive manual

Hammock Zip-line: it is like a short zip line that you ride sitting on a hammock that can reach a speed of up to 20 km/h.
I had a blast zipping through the air on a comfy seat, feeling the wind in my hair and then plunge into the water at the end of the ride.
It was so much fun and exhilarating, I did it three times just to cool off!

Underground River: I was stunned by the gorgeous shapes of the rocks as I went through the caves and tunnels of this incredible underground world, filled with stalactites, stalagmites, fossils and crystal-clear waters.
There are two ways you can explore the underground river:
swimming (called Underground Expedition)
paddling on a raft (called Balsas)
These are two different attractions and I really recommend doing both.
I loved walking and swimming at Underground Expedition, but I found the Balsas a bit challenging. I expected it to be like a canoe but it was harder (and I'm pretty bad at canoeing!😂).
I think the paddles could use some improvement in their design because it was hard to navigate for everyone, not just for us.
Since we laughed so much with my friend because we were struggling with the hand paddles, it was totally worth it!

Zip-line Circuits: I had the most amazing time flying on two incredible zip-line circuits, with 14 zip-lines that took me from 8 to 45 meters high (26 ft-147 ft) above the ground.
The views of the jungle are breathtaking as you zip through the canopy at speeds of up to 30 km/h.

Toboganxote: It is not opened yet, but I could get a glimpse from the zip line. It is huge!
It combines four different ways to slide. You will start on a raft at 135 ft (41 m) high and enter a sphere where you will swing like a pendulum until you exit towards a wave and reach the highest point before plunging into a whirlpool.
Then you will spin and be launched into a 72-ft vortex, the biggest in Latin America, and slide back and forth until you splash into the wave pool.


What to Eat and Drink at Xplor Park
Xplor Park is an all-inclusive adventure park, which means you can enjoy unlimited food and beverages at the buffet restaurant and 2 smoothie stations.
I usually hate buffets, but the variety and quality of the food and drinks available are impressive!
You can choose from a wide selection of dishes, including salads, soups, pasta, pizza, grilled meat, and desserts. For refreshments, you can enjoy juices, coffee, and hot chocolate throughout the day.
To maintain your energy levels and stay hydrated throughout the day, try to eat light meals before and after the activities, drink plenty of water and electrolytes.

The Xplor Map
This is the map that can be found on site. There are also many signs and employees everywhere so it's impossible to get lost!😉


What to See Near Xplor Park
Xplor Park is located in a strategic area that offers many other attractions and activities for visitors.
Here are some nearby places you can explore:
Xcaret Park
A natural and cultural park that showcases the best of Mexico's history, traditions, and biodiversity.
You can enjoy shows, exhibits, snorkeling, and more. You'll find a variety of attractions such as an aquarium, a butterfly pavilion, and a traditional Mexican cemetery. This park is perfect for a day of family fun and cultural exploration.
And you can't miss Mexico Espectacular: it is one of the most spectacular shows in Cancun and Riviera Maya, featuring more than 300 artists on stage
It takes you on a journey through the rich history and culture of Mexico, from the pre-Hispanic era to the present day, and showcases some of the most important traditions and costumes of each state of Mexico, such as the Voladores de Papantla, the Pineapple Dance and the Mariachi.
My Advice
To learn more about the
differences between Xcaret and Xplor
check out the section
Xcaret vs Xplor
Xcaret is the most popular park, so you have several ticket options. They all include the night show and the buffet. You can pick the one that suits you best:

Xel-Ha
Xel-Há is a natural aquatic park that offers a wide range of water-based activities for visitors of all ages.
This park is perfect for a day of relaxation and adventure, surrounded by a lush jungle and crystal-clear waters. At Xel-Há, you can snorkel in the largest natural aquarium in the world, swim with dolphins, float down a lazy river, or experience the thrill of the zip-lines and cliff jumps.
The park also features an all-inclusive package, providing access to unlimited food and beverages at various restaurants throughout the park.
Xel-Há is an excellent choice for those looking to enjoy the beauty of the Riviera Maya while engaging in exciting water activities.
You can reserve your Xel-Ha Park tickets and save time by skipping the line:

Xavage
Xavage Park is an adventure park that offers a variety of activities for thrill-seekers and families alike.
You can choose between Basic or All-Inclusive admission and enjoy unlimited access to the activities of your choice.
You can paddle a kayak through the only water canals in Cancun, test your skills on a ropes course with four different levels, fly on a horizontal zip-line, ride a jet boat with surprising twists and turns, raft down the only whitewater rapids in Cancun and Riviera Maya, or drive a monster truck through a 15-obstacle circuit.
You can also have fun at the Splash Zone with waterslides, bridges, fountains and a wading pool for the little ones. Xavage Park also includes unlimited snacks, buffet meals and non-alcoholic beverage.

Xenses Park
At Xenses, you can enjoy a half-day adventure that challenges your senses and takes you to incredible places that seem unreal.
You can experience two circuits of activities: the Path of Doing and the Path of Feeling, where you can encounter different ecosystems, optical illusions, natural phenomena and more.
This park is perfect for families and has activities for everyone. The youngest age recommended is 5 years old. It also has a splash zone with water slides, bridges and fountains for the little ones. Snacks, buffet meals and non-alcoholic beverages are included.

If you're visiting Playa del Carmen, you should definitely take the time to explore Tulum, an ancient Mayan city with a breathtaking view of the Caribbean Sea.
You can wander among the well-preserved ruins such as the Temple of the Frescoes and the Castillo, learn about the fascinating Mayan civilization, and then unwind on the stunning beach with its crystal-clear turquoise waters.
While visiting Tulum, take the opportunity to explore the nearby cenotes like Gran Cenote or Dos Ojos, providing a refreshing break from the heat and a chance to swim in crystal-clear waters.
Here is my personal list of the best tours of Tulum (just click on the link to reserve the tour you want):
Don't miss my detailed article on the Ruins of Tulum!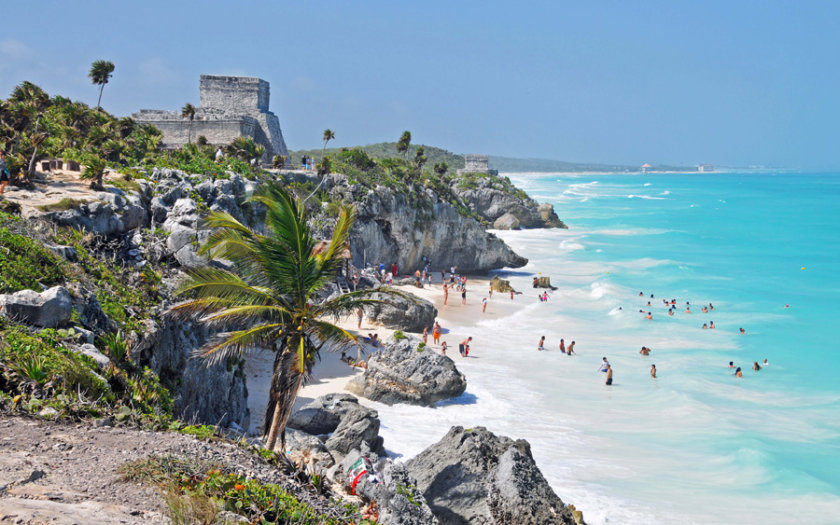 If you're up for a day trip, consider visiting Chichen Itza, one of the New Seven Wonders of the World and a UNESCO World Heritage Site.
You can marvel at the majestic pyramid of Kukulkan, also known as El Castillo, explore the sacred cenote, and discover the secrets of Mayan astronomy and mathematics like the Observatory and the Temple of the Warriors.
You can buy your tickets here: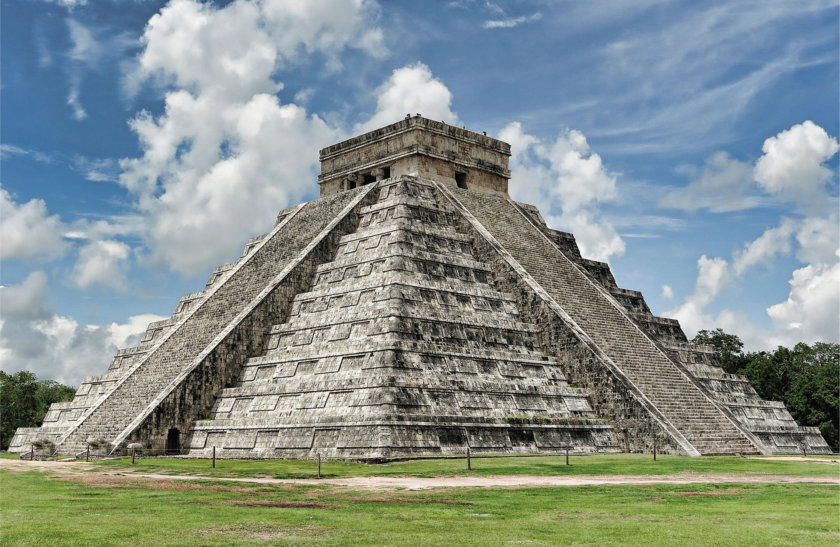 Xcaret vs Xplor: which one is better?
Xcaret and Xplor are both run by the same company, but they are very different in what they offer. Let me break it down for you.
Xcaret is a park that celebrates the culture, history and wildlife of Mexico.
It's like a huge open-air museum where you can see and do so many things. I loved watching the colorful show Mexico Espectacular, exploring the exhibitions, learning about the Mayan civilization, and interacting with animals and plants. I also enjoyed swimming and snorkeling in the crystal clear water of the Caribbean Sea and the underground rivers.
Xcaret is a perfect park for families and people who want to discover the beauty and diversity of Mexico.
Xplor is a park that challenges you to have an adrenaline-filled adventure.
It's like a giant playground where you can zip line, drive ATVs, raft, swim and splash in the dark caves. I had a lot of fun flying over the jungle, driving through the woods and tunnels, paddling or swimming in the underground river, and splashing into a cenote on a hammock.
Xplor is an ideal park for adults and older kids who want to have fun and excitement in nature.
So which park is better? Well, it depends on what you're looking for.
If you want to learn more about Mexico and enjoy its culture and wildlife, go to Xcaret. If you want to have an action-packed adventure and feel the thrill of nature, go to Xplor. Or better yet, go to both! You won't regret it!
You can book the Xplor and Xcaret combo ticket here (valid for 2 days). It includes full access to the parks, pick-up from your hotel, and buffet:
What is the difference between Xavage and Xplor?
I had a tough choice between the two parks because they looked similar. Ultimately, I went for Xplor because it was very close to Playa del Carmen. But next time I'm going to try Xavage!
Here are the main differences:
Xavage offers 7 activities: kayak, ropes course, zip-line, jet boat, rafting, monster truck and splash zone. Xplor has 5 activities: zip-line, amphibious vehicle, rafting (well, it's paddling on a raft, it's not really rafting), swimming in underground river, hammock splash
Xavage is more suitable for extreme thrill seekers, as it has more challenging and unpredictable activities. Xplor is more suitable for ziplining and underground exploration enthusiasts.
Xavage has a more flexible admission option, as you can choose between basic or all-inclusive packages and pay only for the activities you want to do. Xplor has only one admission option that includes all the activities, although you can chose the Fuego option starting at 5pm.
Ready to go to Xavage? You can reserve your tickets here (clicking on the date lets you choose with or without transport):
How to Get to Xplor Park
Reaching Xplor Park is quite easy, as there are several transportation options available. In this section, we'll go through the different ways you can get to the park, so you can choose the one that best suits your needs and preferences.
1. By Car: If you prefer the flexibility of driving, you can rent a car in Playa del Carmen or Cancun and drive to Xplor Park.
The park is located on the Federal Highway 307, about 6 kilometers south of Playa del Carmen and 75 kilometers south of Cancun. There is a free parking lot available for visitors.
Renting a car is for sure the best way to explore Mexico and make the most of your stay!
While it's not super useful to visit the city, having a car is a must to discover the rest of the country.
To rent a car, personally, I always use Rentalcars.com, for a few reasons:
You can easily compare the rental cars prices between all the agencies: for sure the easiest way to find the best rate!
Cancellation is often offered free of charge: no need to worry if you change your mind
Rentalcars offers full insurance coverage at a lower price than the rental companies, so it's an instant saving with no effort
Simply click on the green button to find your rental car at the best price:

2. By Bus: Another option is to take the ADO bus from Playa del Carmen or Cancun to Xplor Park.
Buses run frequently throughout the day and the journey takes around 15 minutes from Playa del Carmen and 1 hour 30 minutes from Cancun.
To get to Xplor by bus, you need to go to the ADO Terminal Turistica Playa Del Carmen on 5th Avenue.
You can purchase your bus tickets on the ADO web site in advance and select Xcaret as your destination. The bus will drop you off right in front of Xcaret entrance, which is across the street from Xplor.
My Advice
 The
only bus that goes back to Playa del Carmen and Cancun
from the Xcaret entrance leaves at 9:35 pm.
However, you have the option to buy a one-way ticket and return by colectivo instead. 

3. By colectivo: I chose to take a colectivo to Xplor from Playa del Carmen because it was the cheapest option.
I was on a tight budget so I bought my Xplor ticket (with no transportation) and went to the colectivo station located at the corner of Calle 1 Sur and Avenida 45 norte and asked for the colectivo going to Tulum.
The one way ticket cost me 25 pesos.
Colectivos don't have a set schedule like buses, so you can hop on whenever you want! I prefer this option rather than the bus for its flexibility.
To go back to Playa del Carmen or Cancun, you just need to stand by the road and wait for one to stop.
My Advice
Very important: remember to let the driver know where you want to get off before you board.

4. By booking a tour: Xplor Park also offers a shuttle service from Playa del Carmen and Cancun, which you can book when purchasing your park admission tickets.
The shuttle service includes round-trip transportation and offers a hassle-free way to reach the park without worrying about navigating on your own.
To make your decision easier, I have picked out the best Xplor packages for you. They all include the full acess to activities, hotel pick-up in the Riviera Maya, the equipment and the buffet!
To book the ticket you want, just click on the link below:
Park combo tickets:
Arriving at Xplor
If you didn't buy the Xplor Park All-Inclusive & Transport package, you'll have to look for the big Xplor sign on the road to find the entrance.

As soon as you arrive, the site is impressive because you are already in a cave!
You'll need to go to the ticket office and present your ticket. They will give you a helmet and a locker key.

Conclusion: Experience an Unforgettable Adventure at Xplor Park
In conclusion, Xplor Park is a must-visit destination for anyone seeking an unforgettable adventure in Playa del Carmen. From thrilling zip-lines and amphibious vehicles to underground rivers and natural wonders, the park offers a wide range of activities and experiences for visitors of all ages.
With the tips and advice provided in this article, you'll be well-prepared to make the most of your visit to Xplor Park and the surrounding attractions.
If you have any comments or questions about your experience at the park, or if you need more information about booking your tickets, feel free to share them below. Happy exploring!
My Tips for visiting Xplor Park
Here are some useful tips to help you make the most of your visit to Xplor Park:
1. Book your tickets online
To save money and time, consider booking your admission tickets online before your visit:
Xplor Park often offers combo packages that include transportation and admission to the park, as well as other nearby attractions like Xcaret Park and Xel-Ha. These packages can provide great value, especially if you plan on visiting multiple parks during your stay in Playa del Carmen.
2. Arrive early
To make the most of your day at Xplor Park, it's a good idea to arrive early, preferably as soon as the park opens at 9am. This will give you more time to enjoy the activities and attractions, and help you avoid long queues.
3. Wear appropriate clothing
Since you'll be engaging in various adventure activities, make sure to wear a bathing suit and Aquashoes (you can buy a pair on-site if you forget them).
It's also a good idea to bring a change of clothes and a towel for after your visit.
4. Bring essential items
Don't forget to pack essential items such as sunscreen, insect repellent, and a waterproof camera to capture the exciting moments during your visit.
5. Plan your day
Take some time to plan your day and the activities you want to try.
My suggestion would be to begin the morning with the Amphibious Vehicle, then do the aquatic attractions (Hammock Zip-line, Underground River) and end with the zip lines to dry!
Where to stay to visit Xplor Park?
The Xplor Park is very close to Playa del Carmen but you can also easily visit it from Cancun or Tulum. Here is my selection of the best hotels for all budgets:
Playa del Carmen
Che Playa Hostel & Bar Adults Only: great hostel to meet other travelers and party, with a rooftop terrace that has a bar and a small pool, with several offered activities. Clean, with good wifi and a great welcome. From only 13 $usd for the dormitory or 37 $usd for a private room!
Hotel Lunata: a charming hotel with hacienda style decoration, which is hidden on Quinta Avenida, very close to the beach. Quiet, with a garden, rooms with balcony, and has very friendly service. From only 82 $usd per night!
Porto Playa Condo Beach Club: here you will find a spacious apartment ideal for a family, with fully equipped kitchen, living room and terrace. The hotel has a large swimming pool, a gym and a restaurant, starting at 172 $usd per night!
The Reef Playacar Resort & Spa: located on the beautiful beach of Playacar, just a few minutes from Fifth Avenue. Ideal for a romantic stay, with a beautiful tropical garden, two pools, a gym and a spa. 200 $usd with the "all inclusive" formula.
Hotel Xcaret Mexico All Parks All Fun Inclusive: it is definitely the best hotel in Playa del Carmen! Ideal for couples and families with children as this luxury hotel offers an exceptional package including meals and access to its parks (Xcaret, Xplor, Xplor Fuego, Xenses, Xoximilco, Xel-Ha and Xenote). Starting at 860 $usd per night, all inclusive.
Tulum
Mayan Monkey Tulum: an excellent value for money. Nice modern hostel with a good atmosphere, a pool, bar and garden. Including fast wifi, kitchen access, yoga classes, coworking spaces, and bike and

motorcycle

rentals. Dorms and private rooms starting at only 24 $usd per night.
Casa Almendro: if you are looking for a little more comfort, you will like this small cheap hotel in the center of Tulum. It's a green oasis with a rooftop terrace with chairs and hammocks. There are king size beds and breakfast is included, from only 50 $usd per night!
Diamante K: is a high-end hotel but at a very fair price, which is exceptional in Tulum, especially for a hotel with direct access to the beach in the hotel zone! Bohemian chic atmosphere, including a restaurant, hammocks and beds on the private beach, and a massage service. Bungalows are 207 $usd per night.
Habitas Tulum: this small eco-friendly hotel with a chic design is ideal for a romantic stay in Tulum. It is a true oasis of peace, hidden among the palm trees, with a magnificent swimming pool and a private beach. There are also yoga classes on the terrace at sunset. From 371 $usd per night!
Kanan Tulum- Adults Only: this is the ultimate option for a luxury stay in Tulum. It is an ecological hotel for adults only, located on a beautiful private beach with hammocks and beds. With a fantastic rooftop terrace with a bar; the hotel also has an excellent restaurant, great rooms and a very friendly welcome. From 566 $usd per night!
Cancun
Mayan Monkey Cancun: hostel with a festive atmosphere in Cancun's hotel zone, very close to the beach and bars. Terrace, outdoor pool, bar with happy hour, air conditioning, ping-pong, good wifi. Private rooms and dorms, from only 24$usd!
Bed and Breakfast Pecari: if you are looking for more comfort, I recommend without hesitation this establishment. It is a beautiful Bed and Breakfast located in a quiet street near the city center and the ADO bus station, with a relaxation area by the pool, spacious rooms, and a good breakfast, starting at 50$usd per night!
Beachscape Kin Ha Villas & Suites: rooms, suites, and villas for 2 to 12 people with direct access to the beach. Outdoor pool, children's pool, gym, restaurant, beach bar. Breakfast included, starting at 218$usd per night.
The Royal Sands Resort & Spa: spacious rooms and suites with ocean views, in the heart of Cancun's hotel zone. Large outdoor pool, gym, spa, fine restaurants, sports bar and many activities. All inclusive, starting at 485 $usd per night
My tip
For more options, you can visit my article about the
best hotels and resorts in Cancun
and find your perfect hotel. Here is the link:
Where to stay in Cancun?
Book your trip now and save money!
You're traveling in Mexico? These articles will help you!
Discover all my articles about Mexico: All my articles to help you plan your trip to Mexico are listed there.
You're using Pinterest? Here is the picture to pin!