Tulum Archaeological Site: A Must-See Attraction on Your Trip to Tulum
Are you planning to visit Tulum during your next vacation?
Don't miss the incredible Tulum Archaeological Site!
This ancient Mayan city, perched on the breathtaking cliffs of the Caribbean coast, offers an unforgettable experience for history buffs and nature lovers alike.
To help you make the most of your visit, I have prepared a comprehensive guide to the Tulum Archaeological Site, including its history, the main structures to see, tips for your visit, nearby attractions and activites.
In this article you will also find a list of the best hotels in Tulum, Playa del Carmen and Cancun for different budgets.
So, are you ready visit the Tulum ruins? Let's dive in!
Visit Tulum: Book your tickets
To buy your tickets for the Tulum ruins at the best price, without reading the article (although I recommend it!), here is a summary of the available tickets.
You can click directly on the name of the ticket to book it:
A Brief History of the Tulum Archaeological Site
The Tulum Archaeological Site was once a thriving Mayan city known as Zamá, which means "City of the Dawn."
It was an important seaport for trade between the Yucatan Peninsula and the rest of the Mayan world, flourishing between the 13th and 15th centuries.
Tulum's strategic coastal location and its impressive fortifications, including a large wall that surrounds the city, made it a vital center for maritime commerce and a well-protected settlement. The city's decline began in the late 15th century, and it was eventually abandoned after the Spanish conquest of the region.
Today, the Tulum ruins offer a fascinating glimpse into the lives of the ancient Maya and their architectural prowess. The site is one of the best-preserved coastal Maya sites and a popular tourist destination.
What to see at the Tulum Archaeological Site
As you explore the Tulum ruins, you'll come across several impressive structures and points of interest that showcase the city's history and architectural style.
Here are some of the main highlights:
1. El Castillo (The Castle)
The most iconic structure at the Tulum Archaeological Site, El Castillo is a stunning temple that once served as a lighthouse, guiding Maya seafarers safely to shore. The temple's clifftop location offers incredible views of the Caribbean Sea and the surrounding area.
While climbing El Castillo is no longer allowed, you can still admire its impressive architecture and the stunning backdrop from various viewpoints around the site.

2. Temple of the Frescoes
The Temple of the Frescoes is another must-see structure in Tulum. This well-preserved building features beautiful frescoes depicting scenes from Maya mythology and religious ceremonies. The temple's interior also houses a small shrine dedicated to the Maya rain god, Chaac.
Make sure to take your time admiring the intricate artwork and the detailed carvings on the temple's exterior.
3. Temple of the Descending God
The Temple of the Descending God is named after the unusual figure carved on its facade, which represents a winged deity descending from the heavens. This temple is particularly fascinating due to its unique alignment with the setting sun during the spring and fall equinoxes.
If you're lucky enough to visit Tulum during these times, you'll witness a stunning display of light and shadow that illuminates the descending god figure.
4. The Great Palace (House of the Columns)
As one of the largest structures in Tulum, the Great Palace was likely an important residential and administrative building for the city's elite. The palace features several rooms, courtyards, and patios, offering a glimpse into the lives of Tulum's upper class.
Take your time exploring the palace and imagine the bustling activity that once took place within its walls.
5. The Wall and Watchtowers
The massive wall surrounding the Tulum Archaeological Site served as a protective barrier against invaders and helped maintain the city's status as a secure trading hub. The wall features several watchtowers where guards would have kept a vigilant eye on the surrounding area.
As you walk along the wall, take a moment to appreciate the strategic design and the effort that went into constructing this massive fortification.
6. The Ruins Beach (Playa Ruinas)
You should definitely visit the Tulum Ruins Beach for an unparalleled experience.
Not only will you enjoy the unique and stunning scenery, with the ancient ruins as a backdrop, but you'll also get to cool off in the turquoise Caribbean Sea after exploring the archaeological site.
Plus, you can take advantage of the less crowded and more peaceful atmosphere compared to other popular beaches in the area. Don't forget your swimsuit and towel!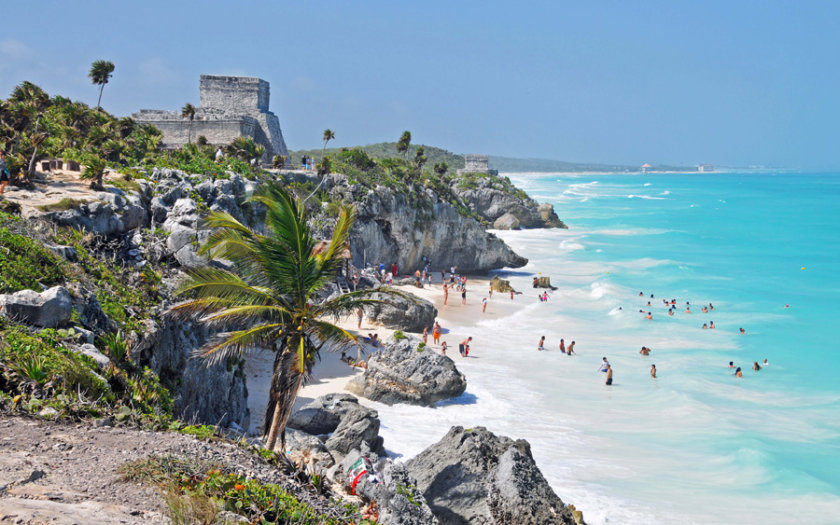 Practical Tips for Visiting the Tulum Archaeological Site
To make your visit to the Tulum ruins as enjoyable and hassle-free as possible, here are some practical tips to keep in mind:
1. Visit early in the morning or late in the afternoon to avoid the crowds and the heat.
2. Wear comfortable shoes, sunscreen, and a hat, as the site offers limited shade and you'll be doing a lot of walking.
3. Bring plenty of water and snacks, as there are no food or drink vendors within the site. However, there are a few options just outside the entrance.
4. Hire a local guide to learn more about the site's history and significance. You can book your guided tour of Tulum ruins here!
5. Combine your visit to the Tulum ruins with a trip to the nearby beach, as the site is just a short walk from the stunning Tulum ruins Beach (called Playa Ruinas). It's the perfect way to cool off and relax after exploring the archaeological site and the access is included in your ticket!
Other Attractions and Activities Near the Tulum Archaeological Site
While the Tulum ruins are a major draw for visitors, there are also plenty of other attractions and activities nearby to make your trip even more unforgettable. Here are some suggestions:
1. Cenotes
The Tulum area is famous for its cenotes – natural freshwater sinkholes that offer incredible opportunities for swimming, snorkeling, and diving.
Some of the most popular cenotes near Tulum include Gran Cenote, Cenote Calavera, and Cenote Dos Ojos. Make sure to include a visit to at least one cenote on your Tulum itinerary!
Some of the best cenotes in Tulum are:
Gran Cenote: This is one of the most popular cenotes in Tulum and it can get crowded. It's a large cenote with several sections connected by wooden bridges and tunnels. You can see stalactites, stalagmites and turtles in the water. It's about 5 km from Tulum town on the road to Coba
Cenote Carwash: This cenote used to be a place where taxi drivers washed their cars, hence the name. It's a shallow cenote with a lot of vegetation and wildlife. You can see lilies, lotuses, fish and birds. It's about 8 km from Tulum town on the road to Coba.
Cenote Calavera: it is also known as the Temple of Doom because of its three skull-shaped holes that let the sunlight in. You can jump into the water from different heights or use a ladder. It's located about 4 km from Tulum town on the road to Coba.
Cenotes Cristal y Escondido: These two cenotes are across the street from each other and you can visit both with one ticket. They are both open-air cenotes with clear water and fish. Cenote Cristal has a wooden platform and a rope swing, while Cenote Escondido is more secluded and surrounded by jungle. They are about 3 km from Tulum town on the road to Chetumal.
Cenote Dos Ojos: it is one of the most famous cenotes in the world and a magnet for divers. It's part of a huge cave system that has two main entrances: the Blue Eye and the Black Eye. You can see amazing rock formations and underwater caves in the water. It's about 22 km from Tulum town on the road to Playa del Carmen.
Cenote Azul: this large open-air cenote is perfect for families, with different depths and areas to swim and relax. You can see fish, plants and rocks in the water. It has a sandy bottom and some small caves to explore. It's located about 25 km from Tulum town on the road to Playa del Carmen.
To find out more, here is my guide of the best cenotes in Tulum!

2. Sian Ka'an Biosphere Reserve
If you're a nature lover like me, you'll absolutely adore the Sian Ka'an Biosphere Reserve. This UNESCO World Heritage Site, located just south of Tulum, covers more than 1.3 million acres of protected land.
It's a nature lover's paradise with diverse ecosystems such as mangroves, lagoons, and coral reefs.
I had the chance to spot a wide array of wildlife, including dolphins, turtles, and exotic birds, during my guided tour. Trust me, you don't want to miss the breathtaking beauty of Sian Ka'an.
The two main access points are Muyil and Punta Allen, which offer two very different experiences.
Punta Allen is a perfect destination for beach relaxation, exploring saltwater lakes, diving among vibrant coral reefs, and witnessing dolphins in their natural habitat.
To visit Punta Allen without a tour (difficult): drive south from Tulum on Highway 307 towards Muyil. After about 24 km (15 miles), turn left onto a paved road that leads to Sian Ka'an Biosphere Reserve's entrance. From there, it's approximately a 50 km (31 miles) drive on a bumpy, unpaved road to Punta Allen. Be aware that this road can be challenging

, especially during the rainy season, and a

high-clearance vehicle

is highly recommended.
I personally believe that best option to visit Punta Allen from Tulum is to sign up for a day tour. I recommend this tour which includes transfer from your hotel, a boat ride (3h) to watch dolphins and turtles, free time to enjoy the water, and lunch. You can book it directly here!
Muyil is a fantastic spot to check out the reserve's hidden gems, including freshwater lagoons, swamps, and Mayan ruins.
To visit Muyil without a tour (easy): take an ADO

bus to

Chunyaxché

and get off at Muyil (20min).

You can also take a tour to Muyil from Tulum which includes the pick-up at your hotel, lunch, the ruins of Muyil, and a boat ride on the freshwater lagoons. Book it here!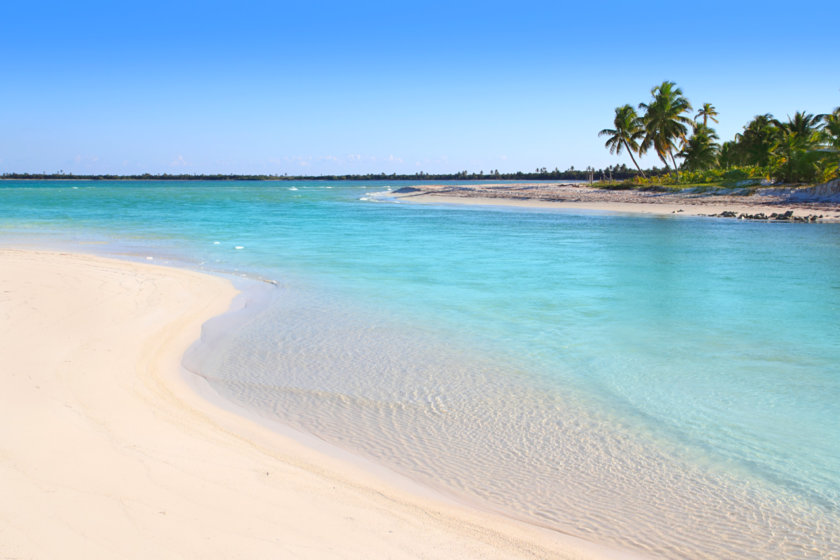 3. Tulum Beaches
Tulum is blessed with some truly amazing beaches, each offering its own unique charm.
Besides Playa Ruinas, Playa Paraiso, aptly named "Paradise Beach," has powdery white sand, crystal-clear turquoise waters, and swaying palm trees; it's a popular spot, so arrive early to claim your piece of paradise.
For a more laid-back experience, head to Playa Santa Fe, with its long stretch of beautiful sand and calm waters perfect for swimming. No matter which beach you choose, you're sure to create unforgettable memories in Tulum.

4. Explore Tulum's dining scene and nightlife by heading to the town center or the beach area, where you'll find a variety of restaurants, bars, and clubs offering delicious local and international cuisine, refreshing cocktails, and live music.
My favorite places to grab a drink in Tulum are:
Gitano Tulum: A trendy, jungle-enclosed bar and restaurant that offers a wide range of craft cocktails, with a focus on mezcal. You'll love the live music and the green garden vibe. And if you want to enjoy the beach, they have another spot there too.
Batey Mojito & Guarapo Bar: If you love mojitos, you have to check out Batey's in Tulum town. It's a fun, casual and lively place where they make amazing drinks with fresh sugarcane juice, called guarapo.
BAL NAK: it is a great restaurant but what really stands out are their cocktails, crafted with fresh fruits, herbs and spices. I recommend their signature creations like the Bal Nak' (mezcal, passion fruit, lime and chile), the Tulum (rum, pineapple, coconut and mint) or, the Mayan (tequila, mango, lime and habanero – my favorite!😀).

5. Rent a bike and explore the Tulum area at your own pace.
Many hotels and rental shops offer bicycles for rent, allowing you to easily visit the archaeological site, cenotes (especially Cenote Calavera, Cenotes Cristal and Escondido, Gran Cenote, Cenote Carwash), and beaches while enjoying the scenic surroundings.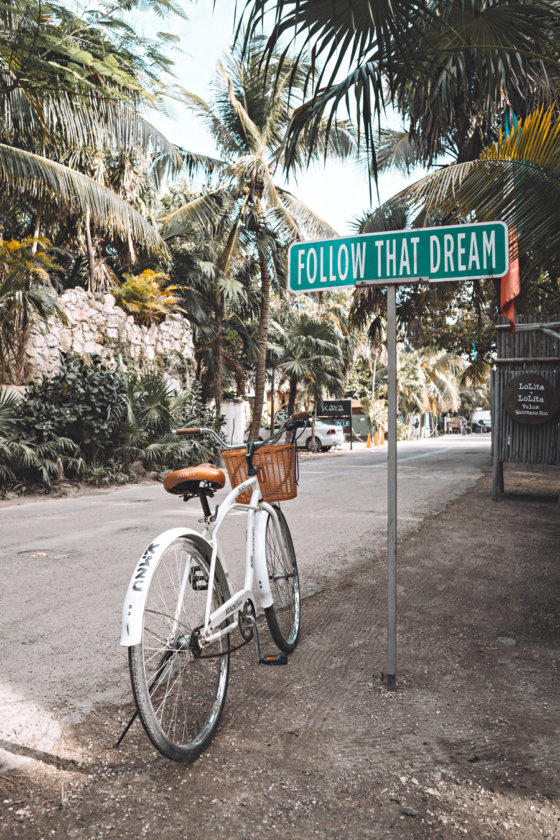 How to Get to the Tulum Archaeological Site
Tulum is located in the Quintana Roo state of Mexico, approximately 130 kilometers (80 miles) south of Cancun.
To visit the Tulum mayan ruins, you'll first need to get to Tulum itself. Here are some options for reaching Tulum and then the archaeological site:
1. Flights
The nearest airport to Tulum is the Cancun International Airport (CUN). Many airlines offer direct flights to Cancun from major cities in North America, Europe, and other parts of the world.
To find a cheap flight to Cancun as well as the best domestic flights in Mexico, I recommend using our flight comparison tool in partnership with Skyscanner. It is guaranteed to get you the best price!

2. Buses
You can take an ADO bus to Tulum. Buses run frequently throughout the day and the journey takes around 2h30 from Cancun and 1h10 from Playa del Carmen.
You can buy your bus tickets at the airport or online on the ADO website 
From Tulum, you can take a colectivo (shared minivan) or a taxi from the town center to the archaeological site. The ride should take around 10-15 minutes.
My tip
If you want to arrive straight to the ruins, I suggest you choose "tulum zona arqueologica" as destination instead of just "tulum" (the village) when choosing your
ADO bus tickets
😉 
Upon arriving at the parking lot (where buses or Colectivos drop off visitors), you'll find it's about a 15-minute walk to the entrance of the archaeological site.
If you're up for the challenge and can bear the heat, go ahead and walk. However, if you prefer a more comfortable option, a shuttle service called "el trenecito" is available for a nominal fee to take you to the entrance.

3. Car Rental
Renting a car is a great option if you want the freedom to explore the Tulum area at your own pace. You can rent a car at the Cancun airport or in Tulum itself. The drive from Cancun to Tulum takes approximately 1.5 to 2 hours and 1h from Playa del Carmen to Tulum, depending on traffic.
Many travellers decide to rent a car to visit Cancun. It is true that it is very convenient to explore such a big country in total freedom!
But like any budget to consider, it is very important to compare the different options to find the best car at the lowest price.
That's why I recommend you use Rentalcars.com:
The site presents a clear comparison of the different agencies' prices: a quick and easy way to find the best rate!
Cancellation is often offered free of charge: very practical if you change your mind
Rentalcars offers full insurance coverage at a lower price than the rental companies, so it's an instant saving with no effort
Click on the green button to find your car at the best price:
There's a parking fee of 160 Pesos at the Tulum Ruins.

4. Book a Tour
If you want to explore the Tulum Archaeological Site without any stress or hassle, you can book a tour that will pick you up from Cancun or Playa del Carmen and take you there in comfort.
You'll also get to enjoy the insights of a guide who can make your visit to the ruins more memorable and fun.
This is a great option if you don't want to deal with public transportation or finding your own way around!
This is my personal selection of the best tours of Tulum (you can click directly on the link to book the tour you are interested in):
Opening Hours
The Tulum Ruins are open daily, including holidays, from 8:00 AM to 5:00 PM. The last entry is allowed at 4 PM, but it's recommended to arrive earlier to have enough time to explore the site and enjoy the stunning views.
Best time to visit Tulum ruins
Want to see the Tulum Ruins without sweating buckets or bumping into hordes of tourists? Then go in the winter, when it's nice and cool.
But watch out, it's also peak season, so prices may be higher.
The best tip is to get there early, like 8 am early, when they open the gates. You'll have the place almost to yourself and snap some amazing photos.
Oh, and don't go on Sundays, unless you like sharing the ruins with thousands of locals who get in for free.
Tulum, Cobá or Chichen Itzá: which one is better?
When it comes to Chichen Itzá, Cobá and Tulum, I personally adore the three ancient Mayan cities for different reasons.
Chichen Itzá, with its iconic pyramid, El Castillo, and grand structures, never fails to impress me with its rich history and architectural prowess.
On the other hand, Tulum is unique due to its smaller, picturesque ruins perched on a cliff by the breathtaking Caribbean Sea. Plus, the site is surrounded by gorgeous beaches, cenotes, and lush jungle, making it the perfect combination of culture, history, and natural wonders.
Cobá offers an authentic experience within the dense Yucatan jungle. Its allure lies in the mysterious atmosphere and the remarkable Nohoch Mul pyramid, the tallest in the region.
Each site offers its own unique charm, making both must-see destinations in my book. Anyway, there is no need to choose between the three when you can visit all of them in one day!
You can book the Tulum, Cobá and Chichen Itzá tour here. It includes pick-up from your hotel, lunch and a cenote:
Where to stay to visit the ruins of Tulum?
The archaeological site is right next to Tulum, so staying there is very convenient. But you can also visit it from Cancun or Playa del Carmen with no trouble.
Here is my selection of the best hotels for all budgets:
Tulum
Mayan Monkey Tulum: an excellent value for money. Nice modern hostel with a good atmosphere, a pool, bar and garden. Including fast wifi, kitchen access, yoga classes, coworking spaces, and bike and

motorcycle

rentals. Dorms and private rooms starting at only 24 $usd per night.
Casa Almendro: if you are looking for a little more comfort, you will like this small cheap hotel in the center of Tulum. It's a green oasis with a rooftop terrace with chairs and hammocks. There are king size beds and breakfast is included, from only 50 $usd per night!
Diamante K: is a high-end hotel but at a very fair price, which is exceptional in Tulum, especially for a hotel with direct access to the beach in the hotel zone! Bohemian chic atmosphere, including a restaurant, hammocks and beds on the private beach, and a massage service. Bungalows are 207 $usd per night.
Habitas Tulum: this small eco-friendly hotel with a chic design is ideal for a romantic stay in Tulum. It is a true oasis of peace, hidden among the palm trees, with a magnificent swimming pool and a private beach. There are also yoga classes on the terrace at sunset. From 371 $usd per night!
Kanan Tulum- Adults Only: this is the ultimate option for a luxury stay in Tulum. It is an ecological hotel for adults only, located on a beautiful private beach with hammocks and beds. With a fantastic rooftop terrace with a bar; the hotel also has an excellent restaurant, great rooms and a very friendly welcome. From 566 $usd per night!
Cancun
Mayan Monkey Cancun: hostel with a festive atmosphere in Cancun's hotel zone, very close to the beach and bars. Terrace, outdoor pool, bar with happy hour, air conditioning, ping-pong, good wifi. Private rooms and dorms, from only 24$usd!
Bed and Breakfast Pecari: if you are looking for more comfort, I recommend without hesitation this establishment. It is a beautiful Bed and Breakfast located in a quiet street near the city center and the ADO bus station, with a relaxation area by the pool, spacious rooms, and a good breakfast, starting at 50$usd per night!
Beachscape Kin Ha Villas & Suites: rooms, suites, and villas for 2 to 12 people with direct access to the beach. Outdoor pool, children's pool, gym, restaurant, beach bar. Breakfast included, starting at 218$usd per night.
The Royal Sands Resort & Spa: spacious rooms and suites with ocean views, in the heart of Cancun's hotel zone. Large outdoor pool, gym, spa, fine restaurants, sports bar and many activities. All inclusive, starting at 485 $usd per night
My tip
For more options, you can visit my article about the
best hotels and resorts in Cancun
and find your perfect hotel. Here is the link:
Where to stay in Cancun?
Playa del Carmen
Che Playa Hostel & Bar Adults Only: great hostel to meet other travelers and party, with a rooftop terrace that has a bar and a small pool, with several offered activities. Clean, with good wifi and a great welcome. From only 13 $usd for the dormitory or 37 $usd for a private room!
Hotel Lunata: a charming hotel with hacienda style decoration, which is hidden on Quinta Avenida, very close to the beach. Quiet, with a garden, rooms with balcony, and has very friendly service. From only 82 $usd per night!
Porto Playa Condo Beach Club: here you will find a spacious apartment ideal for a family, with fully equipped kitchen, living room and terrace. The hotel has a large swimming pool, a gym and a restaurant, starting at 172 $usd per night!
The Reef Playacar Resort & Spa: located on the beautiful beach of Playacar, just a few minutes from Fifth Avenue. Ideal for a romantic stay, with a beautiful tropical garden, two pools, a gym and a spa. 200 $usd with the "all inclusive" formula.
Hotel Xcaret Mexico All Parks All Fun Inclusive: it is definitely the best hotel in Playa del Carmen! Ideal for couples and families with children as this luxury hotel offers an exceptional package including meals and access to its parks (Xcaret, Xplor, Xplor Fuego, Xenses, Xoximilco, Xel-Ha and Xenote). Starting at 860 $usd per night, all inclusive.
Book your trip now and save money!
You're traveling in Mexico? These articles will help you!
Discover all my articles about Mexico: All my articles to help you plan your trip to Mexico are listed there.
You're using Pinterest? Here is the picture to pin!