The New Maya Train in Mexico: Your Guide to an Incredible Adventure
Planning to explore the vibrant culture and stunning landscapes of The Yucatan Peninsula?
There's no better way to do it than on the new Mayan Train!
The Maya Train, or "Tren Maya", is a railway project that will connect five states in Mexico's southeast, covering a distance of approximately 1 500 kilometers (932 miles): Chiapas, Tabasco, Campeche, Yucatán, and Quintana Roo.
The stations will be strategically located near a variety of attractions, activities and experiences, such as 14 "Pueblos Magicos" (Magical Towns), 6 World Heritage Sites and 50 archaeological sites!
To help you plan your trip on the Mayan Train, I have prepared a comprehensive guide that covers everything you need to know.
In this guide, you will find out the detailed route of the train, with the main stations and the best attractions near them. You will also learn about the features and amenities of the train; the cost of tickets and how to book them; and the complementary projects that are planned around the Mayan Train.
Let's dive in!
What You Should Know Before You Hop on the Tren Maya
When will it be in operation?
The Tren Maya is expected to start operating in December 2023.
How much will the train cost?
The official prices are still pending, but the National Fund for the Promotion of Tourism (Fonatur) stated previously that tourists would pay between 40- 50 dollars; about 800-1,000 pesos.
The fare will depend on the distance traveled and will vary for local, domestic and foreign passengers, with locals paying the lowest rate.
When and where to buy tickets?
You can buy tickets for the Maya Train at the ticket office of any station or stop, online on the website or the Tren Maya App.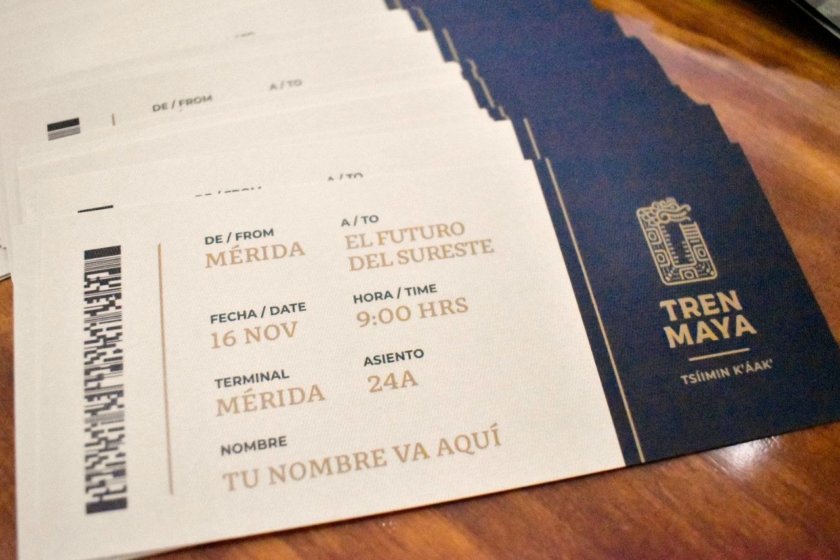 Inside the Maya Train: The Features and Services
The Maya Train will feature 42 X'trapolis trains, electric trains that will feature a distinctive design for Mexico, with a capacity of 300 passengers per car.
It will be able to carry 10,000 passengers per day and aims to attract three million tourists annually!
The Mayan Train will offer three categories of service: Xiinbal (regular), Janal (long journey) and P'atal (restaurant).
Xiinbal, the regular service
The large windows offer passengers a stunning view of the scenery along the journey. The seats are spacious, ergonomic and reclining, and have power outlets and storage for suitcases and bags.
There is also a designated area for bikes.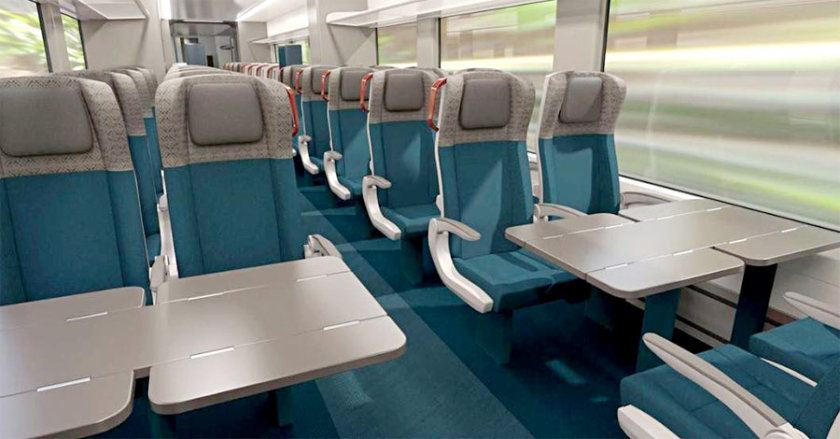 P'atal, the long journey service
The passengers traveling long distances will have access to comfortable cabins with bunk beds, private bathroom and shower.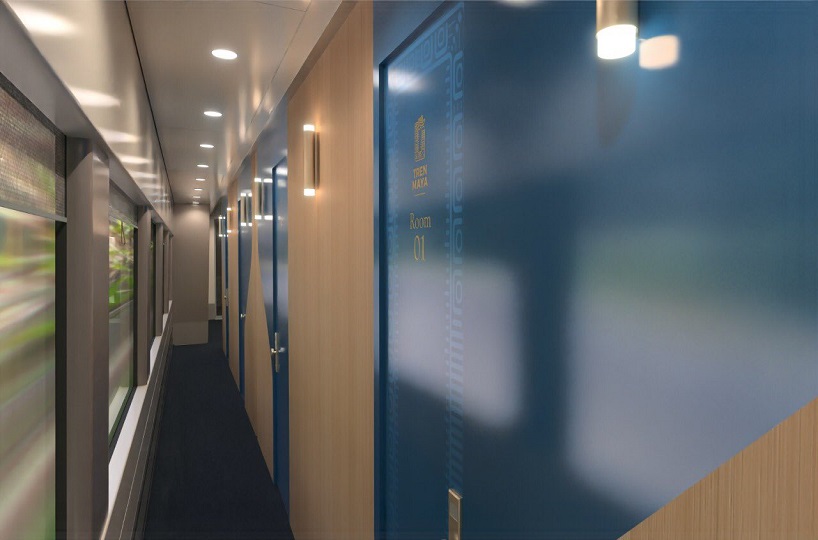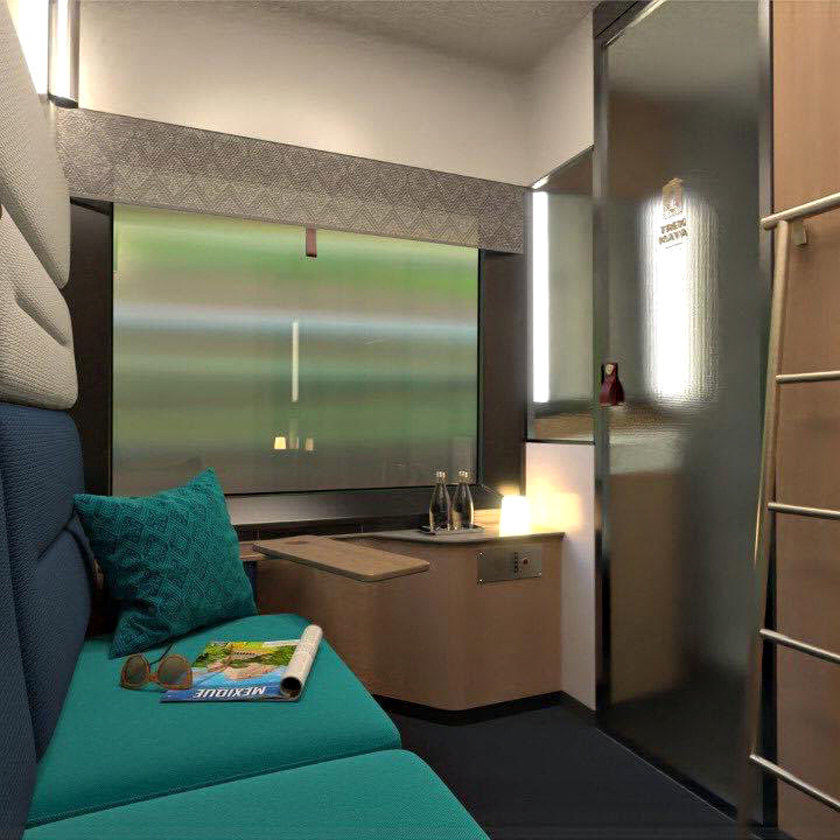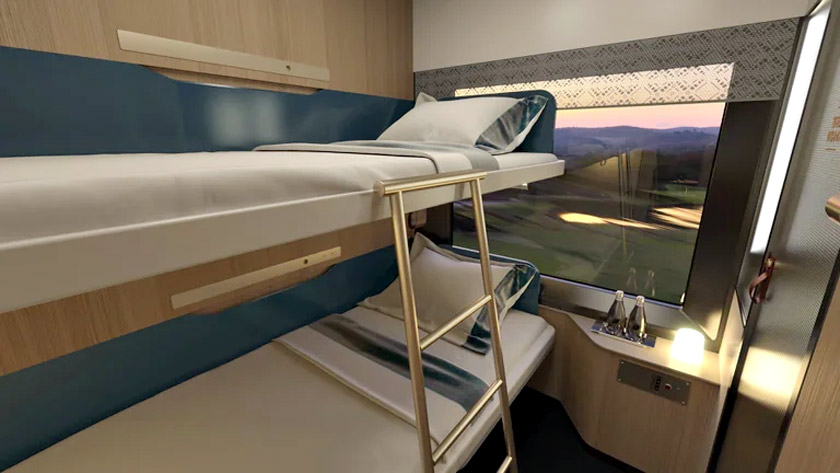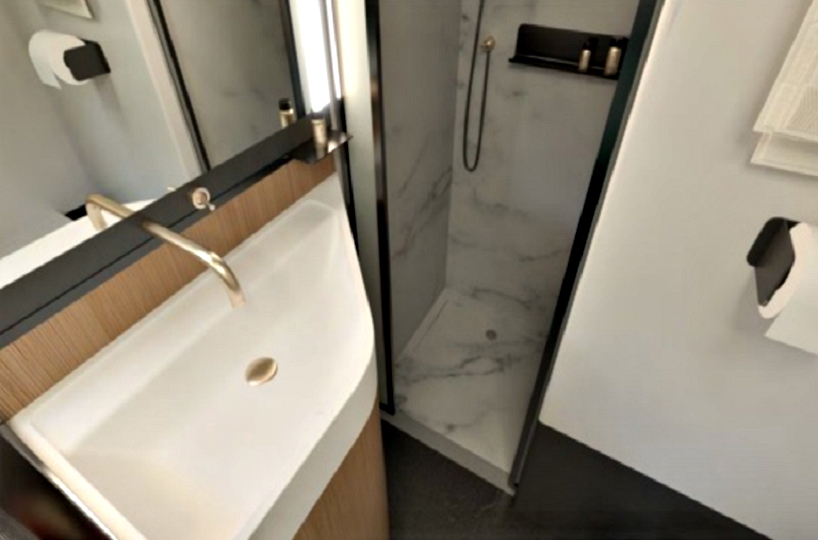 Janal, the restaurant service
The train's menu will feature more than 30 dishes for breakfast, lunch and dinner, showcasing the regional mayan cuisine such as chipilín tamales, motuleño eggs, panuchos, cochinita pibil, venison tzic, lime soup, papadzules, among others.
The train's dessert menu will offer traditional marquesitas, artisanal chocolates, cocada and dulce de nance (a fruit).
The train will also serve regional drinks such as coffee, pozol, water and chaya tea, pitahaya and lime waters, xtabentún, tequila, mezcal, wine, pulque and craft beers from Mexico.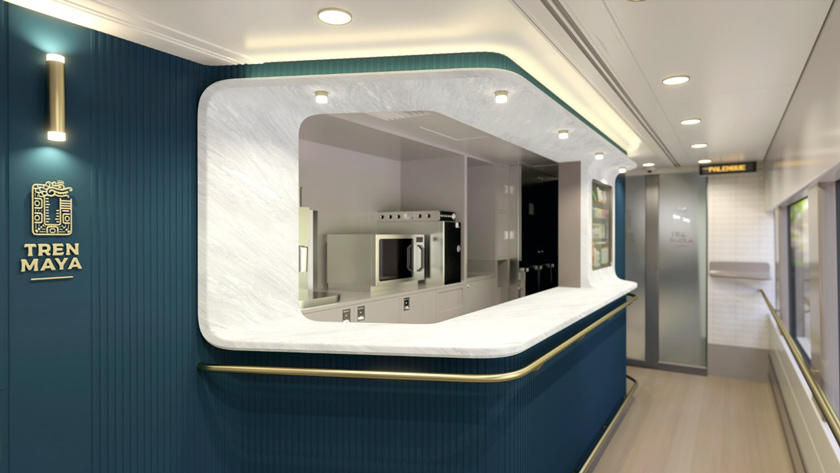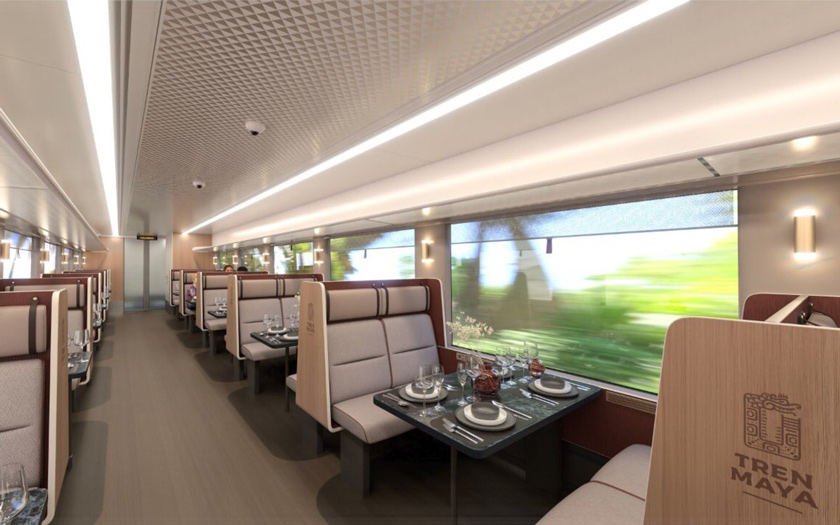 The Stations of the Maya Train: Itinerary and Attractions
The Maya Train will have 20 stations and 14 additional stops across the five states, covering a distance of approximately 1 500 kilometers (932 miles), with two routes that encircle the peninsula: one clockwise and one counterclockwise.
Here are some of the stations that the Maya Train will have:
1. Cancun Airport
Cancun is one of the main destinations of the Maya Train in Quintana Roo.
It has a big international airport that connects with many destinations around the world, and is one of the most famous beach resorts in the world, offering white sand, turquoise water and a lively nightlife. It is also a gateway to other attractions in the Caribbean, such as Isla Mujeres, Cozumel and Tulum.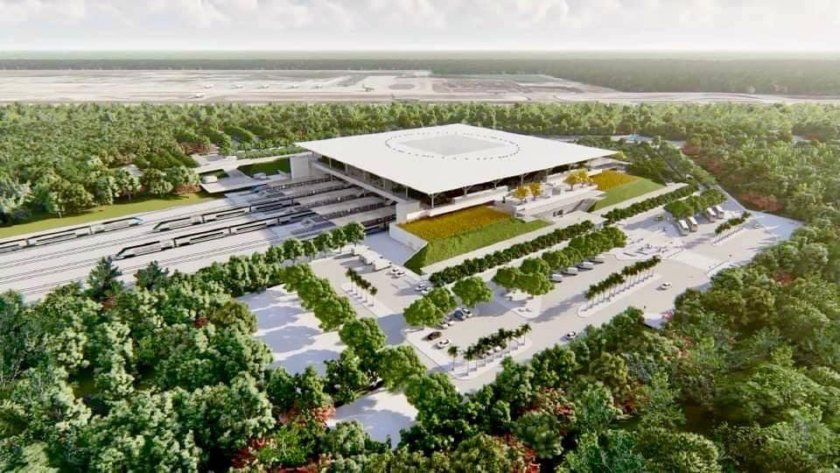 Puerto Morelos is a small town in Quintana Roo that is known for its easy access to the Ruta de los Cenotes, a road that connects dozens of beautiful cenotes that are ideal for swimming, snorkeling and diving.
It has a charming fishing village atmosphere and a coral reef that is part of the Mesoamerican Barrier Reef System.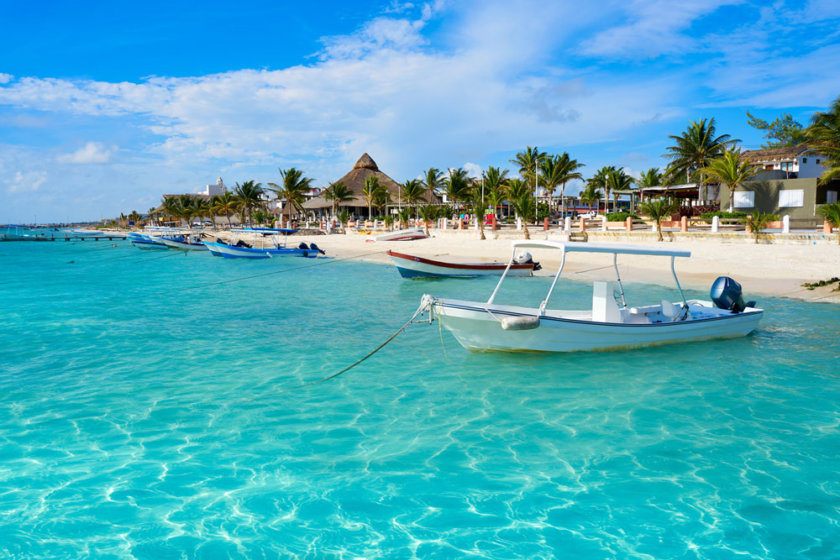 Playa del Carmen is one of the most popular tourist destinations in the Riviera Maya.
The city offers a wide range of accommodation, dining, shopping and entertainment options, as well as beautiful beaches and a vibrant nightlife. It is also close to other attractions such as Xcaret Eco Park and Xplor Adventure Park.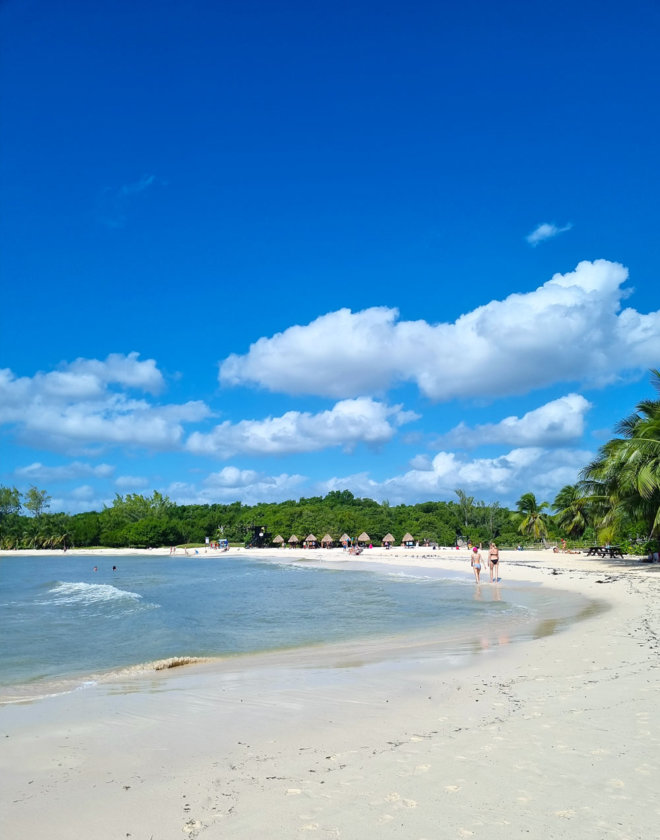 4. Tulum
A town in Quintana Roo that is famous for its Mayan archaeological site that overlooks the Caribbean Sea.
Tulum also has stunning beaches, bohemian vibes and eco-friendly resorts. It is a hotspot for yoga, wellness and alternative lifestyles.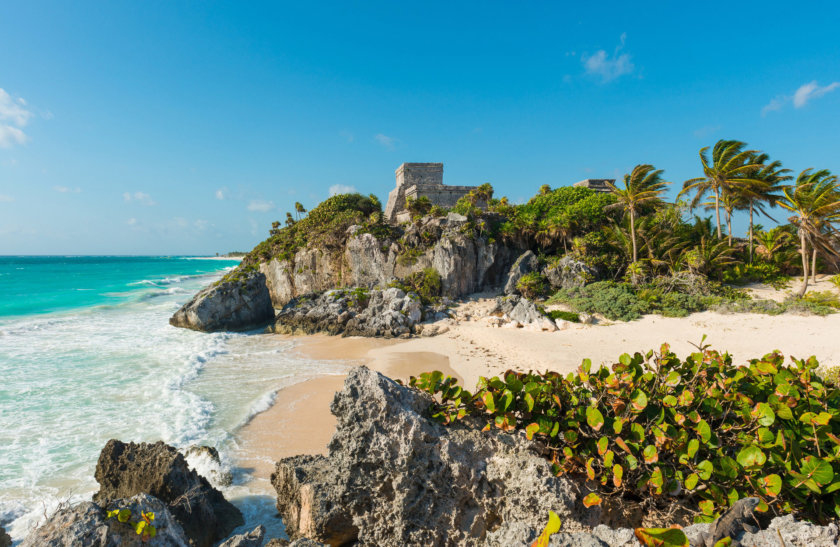 5. Tulum Airport
A brand new airport in Riviera Maya,  located about 15km from Tulum, and yes it will have its own train stop!
The airport is expected to be operational by 2024 and will have a capacity of 3 million passengers per year.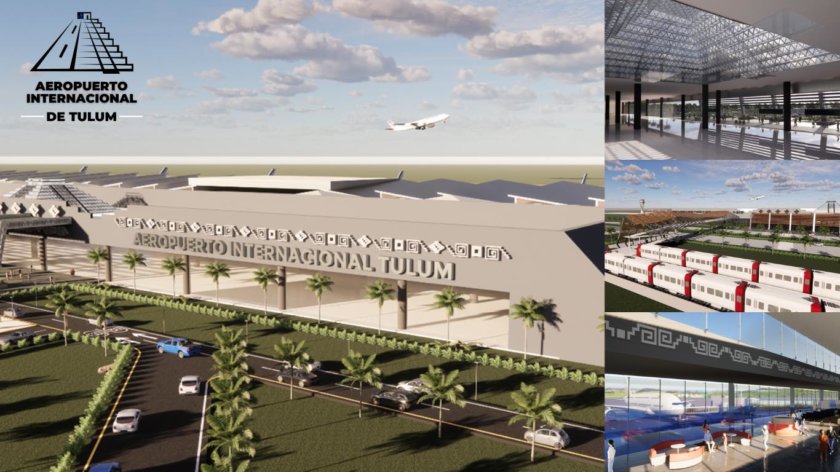 6. Bacalar
Bacalar is a small town in Quintana Roo known for its Lake of Seven Colors (Laguna de Bacalar), which has beautiful crystal-clear water.
You can enjoy a boat trip on the lagoon, visit the fortress of San Felipe, explore the Canal de los Piratas, a natural passage with white sand and beautiful blue tones, and the Rapidos de Bacalar, where you can swim, paddleboard or kayak in the water flows.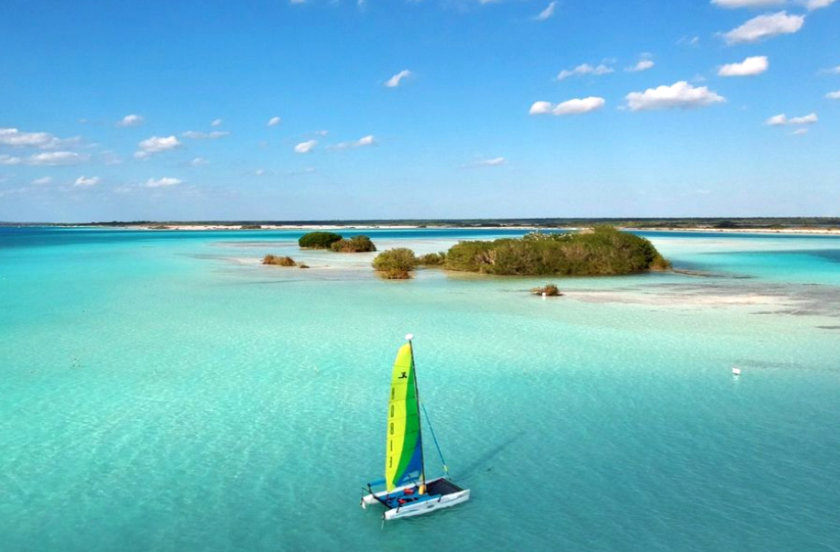 7. Chetumal
Chetumal, the capital city of Quintana Roo with an international airport (CTM), is a border city that faces Belize.
It is also close to Mahahual, a village with a more authentic and relaxing feel than other popular spots like Cancun and the Riviera Maya, although it can get busy when cruise boats visit the Costa Maya Port for the day.
You can explore the rich marine life of the Mesoamerican Barrier Reef, the second largest in the world, or simply relax on the soft sand and enjoy the breeze.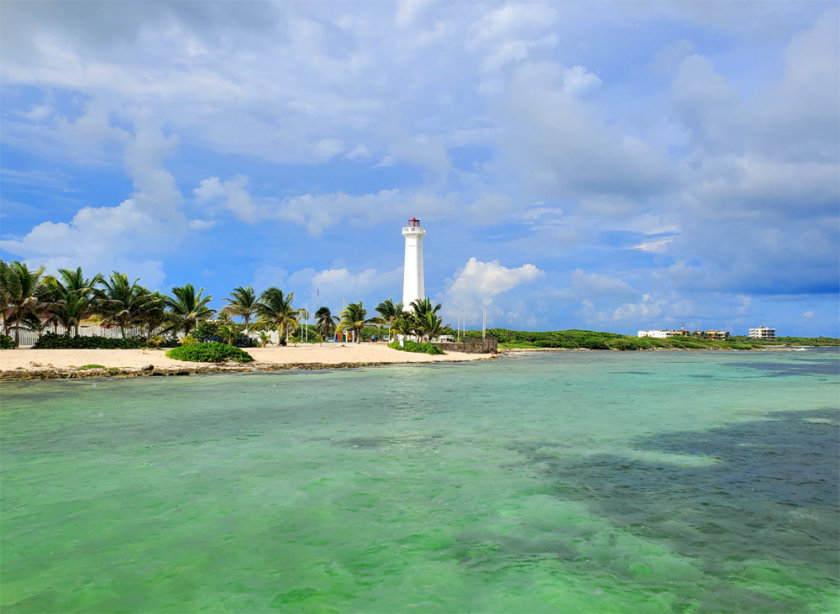 8. Xpujil
Xpujil is a town in the state of Campeche that is known for its proximity to the wonderful Calakmul, a UNESCO World Heritage Site that features one of the largest and most important Mayan cities in Mexico.
It has over 6,000 structures, including pyramids, palaces, temples and stelae. It is also surrounded by a biosphere reserve that hosts diverse flora and fauna.
I'm pretty excited for this one because Calakmul is my favorite archeological site in Mexico, and it has always been difficult to access. But now thanks to the new Xpujil station, it's going to be much easier!❤️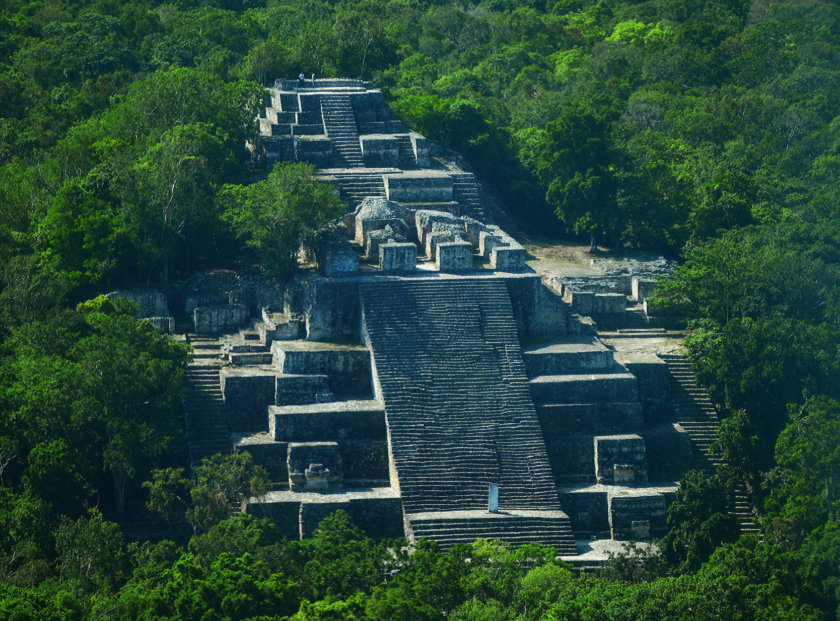 9. Tenosique
Tenosique is a town in Tabasco that is known for its traditional dance called "La Pochó", which involves colorful costumes and masks.
This dance, which dates back to the pre-Hispanic times, is a remarkable feature of the Tenosique Carnival that takes place in late January.
It is also close to the Usumacinta River, which forms part of the border with Guatemala.
10. Palenque
Palenque is the starting point of the Maya Train in Chiapas.
Palenque is a UNESCO World Heritage Site that features one of the most impressive Mayan archaeological complexes in Mexico. It is also surrounded by lush rainforest that hosts diverse wildlife.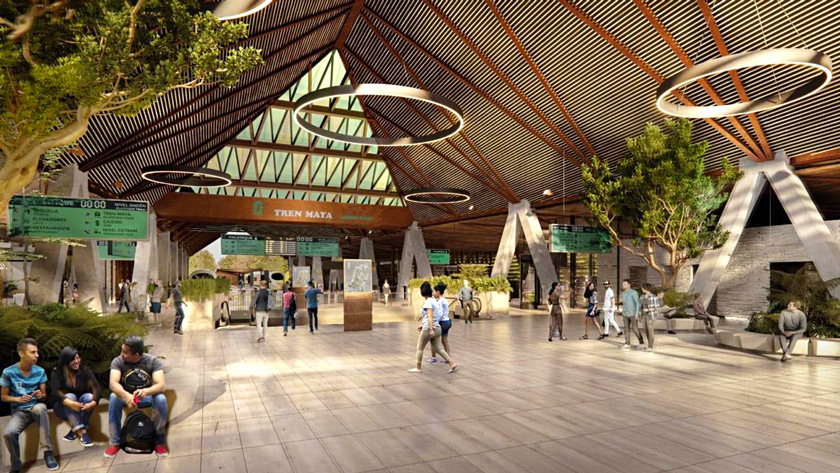 11. Edzna
Edzna was one of the major cities in the region and had a close relationship with Calakmul.
You can admire the main pyramid of Edzna, which has a unique five-story structure with a temple on top and a staircase flanked by masks of the rain god Chaac.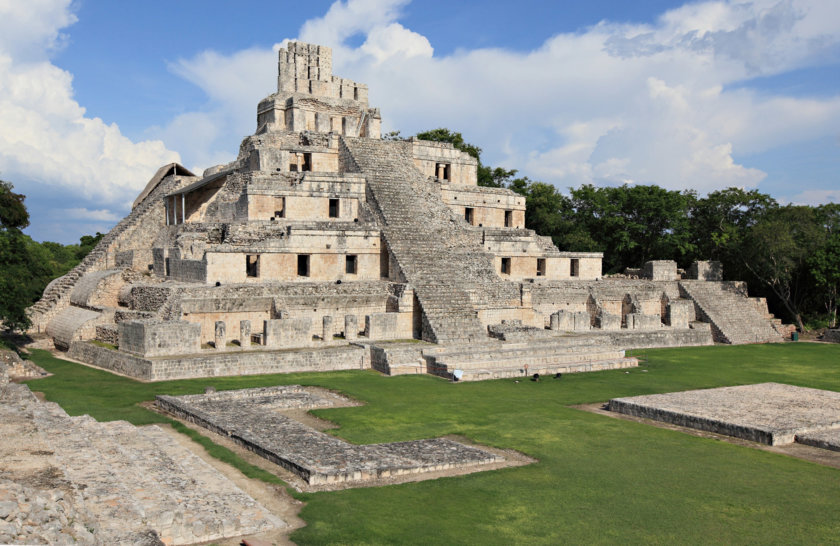 12. Campeche
San Francisco de Campeche is the capital city of Campeche state. Campeche is a UNESCO World Heritage Site that preserves its colonial architecture and fortifications.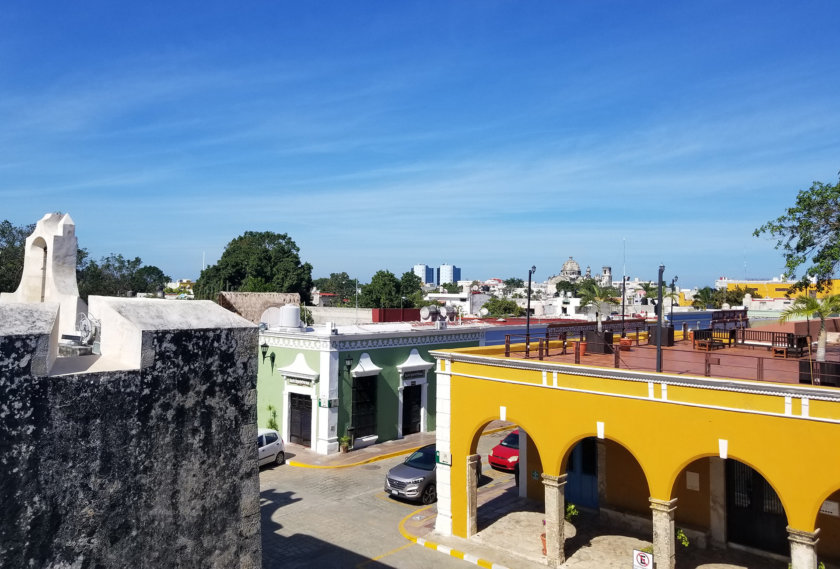 13. Mérida
Mérida is the capital and largest city of the state of Yucatán, and a cultural and historical center of the Yucatán Peninsula.
From Mérida, you can also take a day trip to the Ruta Puuc, a circuit of five Mayan archaeological sites that showcase the distinctive Puuc style of architecture and sculpture.
The most famous and impressive of these sites is Uxmal, a UNESCO World Heritage Site that features the Pyramid of the Magician, the Governor's Palace and the Nunnery Quadrangle
The initial plan was to put a station direcly in Mérida, but it was modified and now Mérida-Teya station (see map here) will be located about 10 km from Mérida.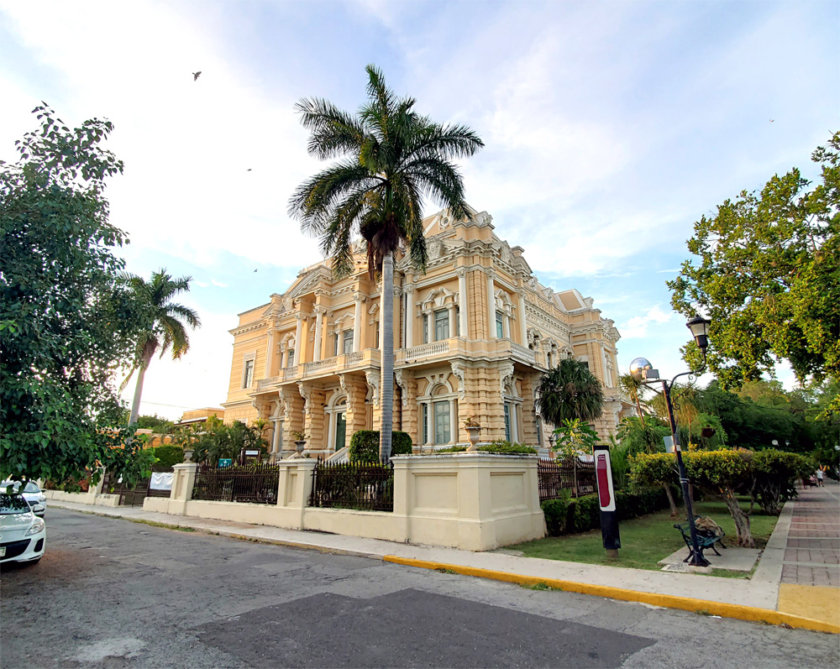 14. Izamal
Izamal is a colonial town in Yucatán that is known for its yellow buildings and its large Franciscan convent, Convento de San Francisco de Padua.
Izamal also has several Mayan pyramids, like Kinich Kakmó and Iztamatul, that are integrated into the urban landscape. It is considered a Pueblo Mágico (Magical Town) by the Mexican government.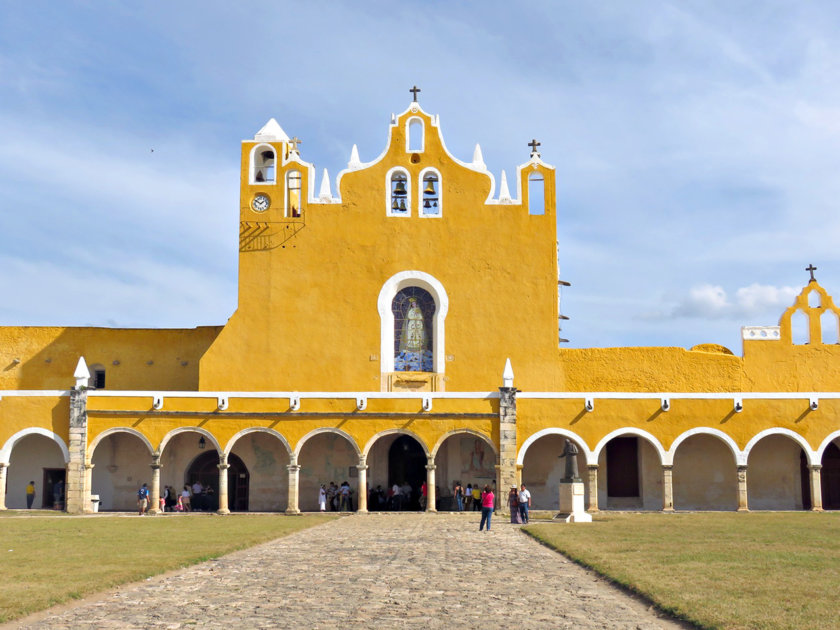 15. Chichen Itza
Chichen Itza, a UNESCO World Heritage Site and a New Wonder of the World, is Mexico's most iconic and visited Mayan site.
It features the famous Pyramid of Kukulkan, the Temple of the Warriors, the Mesoamerican Ballcourt and the Observatory.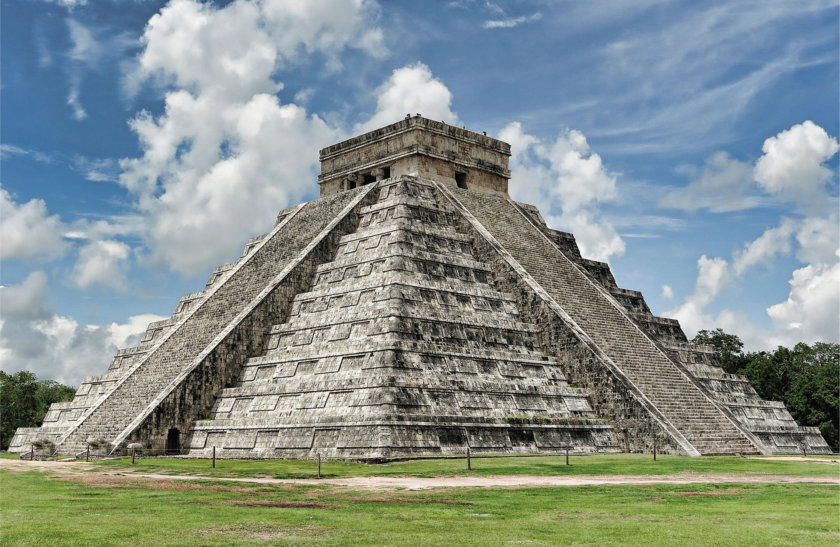 A colonial town in Yucatán that is known for its cenotes (the most famous being Ik Kil and Suytun) and its proximity to Chichén Itzá.
From Valladolid, you can also visit the ancien mayan city of Ek Balam, home to the Acropolis, a six-level structure that measures 524 ft in length, 223 ft in width and 104 ft in height. It is one of the largest and most impressive Mayan buildings in the region!
 Another attraction of Ek Balam is the Cenote Xcanche, a stunning natural pool surrounded by lush vegetation and rock formations, where you can swim and relax after exploring the ruins.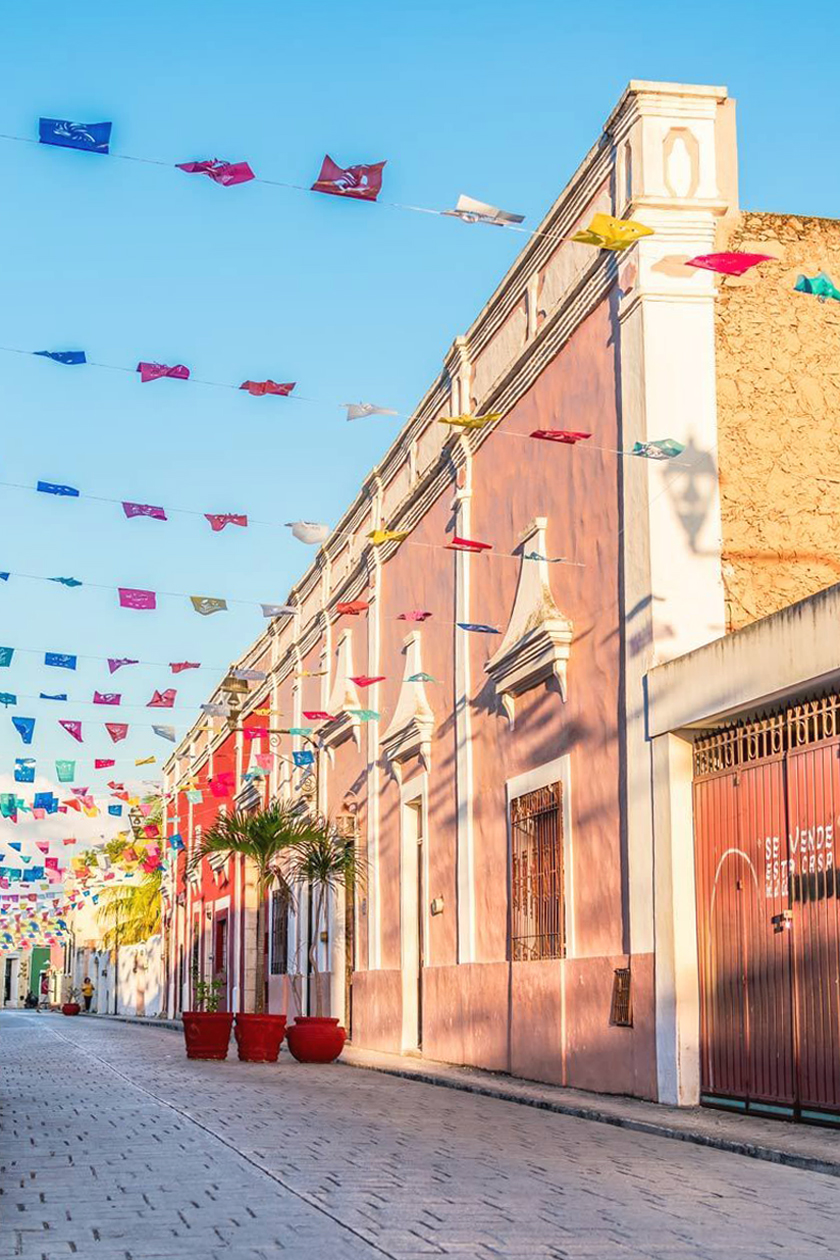 The Mayan Train Map
Here you can see the full map of the Maya Train's route, with all the stations and stops marked.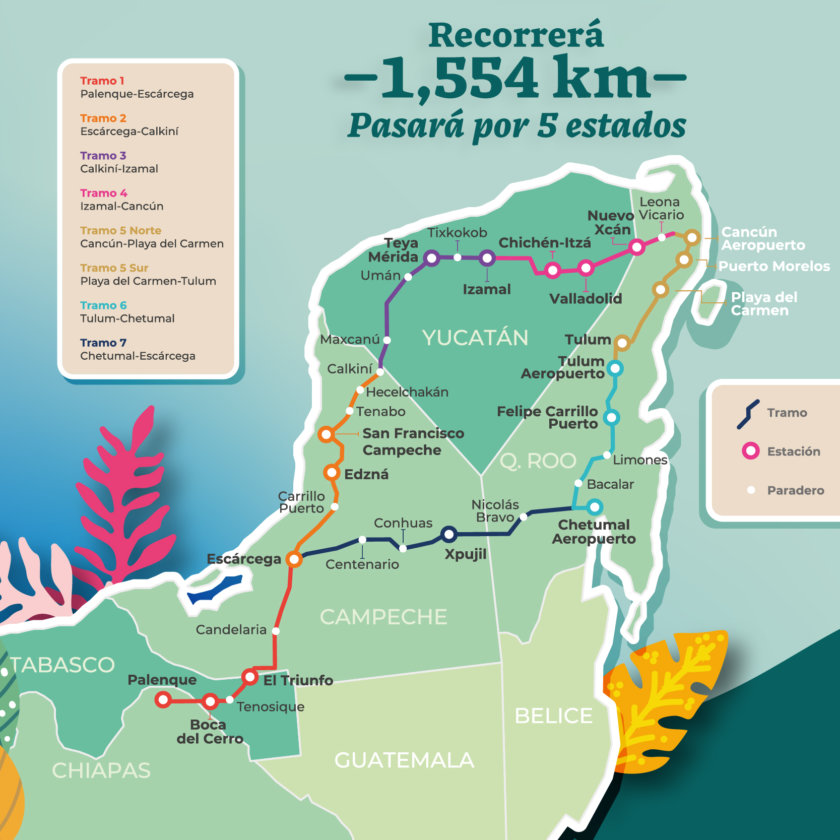 The Complementary Projects around the Maya Train
Along with the Maya Train, there are significant complementary projects that are ongoing, such as the Nichupté bridge (Cancun), 6 new hotels and 2 ecological parks!
The six Tren Maya Hotels will be located close to archaeological sites, facilitating their access:
Palenque, Chiapas
Edzná, Campeche
Uxmal, Yucatán
Chichén Itzá, Yucatán (it will be the 1st one to open)
Tulum, Quintana Roo
Calakmul, Campeche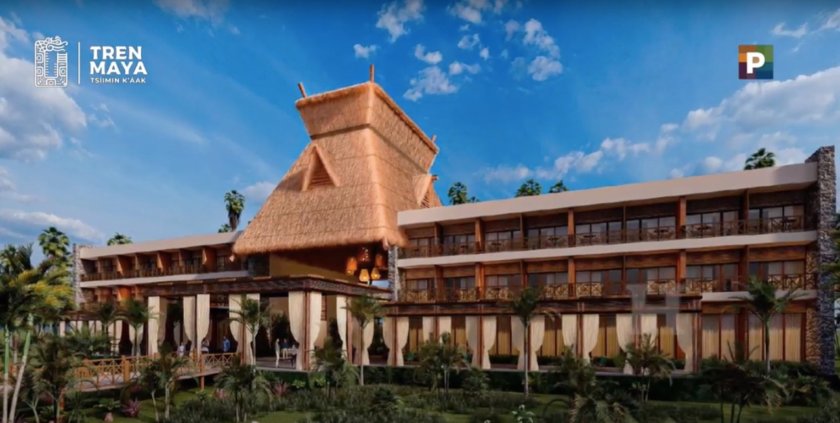 Other frequent questions about the Maya Train
How accessible is the Maya Train for people with disabilities?
The flat floor facilitates the movement of passengers with limited mobility.
The train also features storage areas for wheelchairs and accessible toilets.
How fast will the train go?
The Maya Train can reach a speed of 160 km/h (99mph)
How long will it take to travel from Merida to Cancun on the Mayan Train?
It will only take one hour and 30 minutes by train, instead of the current four hours by car.
My Opinion on the Tren Maya
Like any other project, the Train Maya has its advantages and disadvantages. However, I think it is overall a positive initiative that will provide more accessibility to many amazing sites that were hard to reach before quickly.
I wish it will encourage people to venture beyond the popular destinations of Cancun, Tulum and Playa del Carmen, because there is so much more to see and experience in Mexico!
Another interesting aspect is that it will also be a great alternative for those who do not want to rent a car but still wish to explore the peninsula's diversity in depth.
So, are you excited to experience the Maya Train on your next Mexico adventure?
Book your trip now and save money!
You're traveling in Mexico? These articles will help you!
Discover all my articles about Mexico: All my articles to help you plan your trip to Mexico are listed there.
You're using Pinterest? Here is the picture to pin!