Insider's Guide to the Upcoming Tulum Airport
Have you heard about the new Tulum Airport project?
Tulum is a dream destination for many travelers, thanks to its stunning beaches, ancient Mayan ruins, and hip restaurants. But currently, the nearest airport to Tulum is Cancun International Airport (CUN), which is about 1h30 away by car.
That's about to change!
To help you understand why this is a big deal, I have created this comprehensive guide about the current and future situation of Tulum Airport.
In this guide, you will find all the available information about the new airport, such as its location, opening date, capacity, and design. You will also learn how it will impact the Riviera Maya region and its connection to another major project: the Mayan Train (Tren Maya).
So, how will the new Tulum Airport transform your travel experience?
Let's find out!
1. The Current Situation
Before we delve into the details about the new Tulum Airport, let's take a look at the current scenario.
The Cancun International Airport (CUN) is currently the closest airport to Tulum.
Located about 1h30 north of Tulum, it serves as a gateway for most tourists heading to the Riviera Maya region. This airport is bustling, handling approximately 26 million passengers a year and ranks second in Mexico in terms of passenger traffic, after Mexico City.
Cancun Airport connects to several international destinations, including direct flights from major cities like New York, Miami, Los Angeles, Toronto, Madrid, Paris, and London, among others.
Once you land at Cancun Airport, you have several options to reach Tulum: private transfers, shared shuttles, buses, taxis, and rental cars.
Private transfers are the most comfortable and convenient to get to your hotel – Book your transfer here!
Buses are economical but might take longer due to multiple stops – Check out the ADO bus website here!
Taxis are available but negotiate the fare before starting the trip to avoid surprises
Renting a car gives you the most freedom but remember to check Mexican driving rules and insurance requirements – Find your car here!

2. The Tulum International Airport Project
While the journey from Cancun to Tulum is beautiful, there's good news for those looking for a more direct route.
To cater to the increasing number of visitors to Tulum and further develop the Riviera Maya region, a plan to build a new international airport in Tulum has been proposed.
Officially named Aeropuerto Internacional Felipe Carrillo Puerto, this airport project is set to change the travel dynamics in the region.
The airport's initial phase will have the capacity for about 5.5 million annual passengers and up to 32 000 air operations each year.
It will include 13 positions for both domestic and international commercial aircraft, and a platform for general and executive aviation with 28 positions. Moreover, there will be a hangar with 12 extra spaces for executive planes.
They also announced the construction of a 6.5 miles (10.5 km) commercial and service corridor that will connect Federal Highway 307 and the New Tulum International Airport.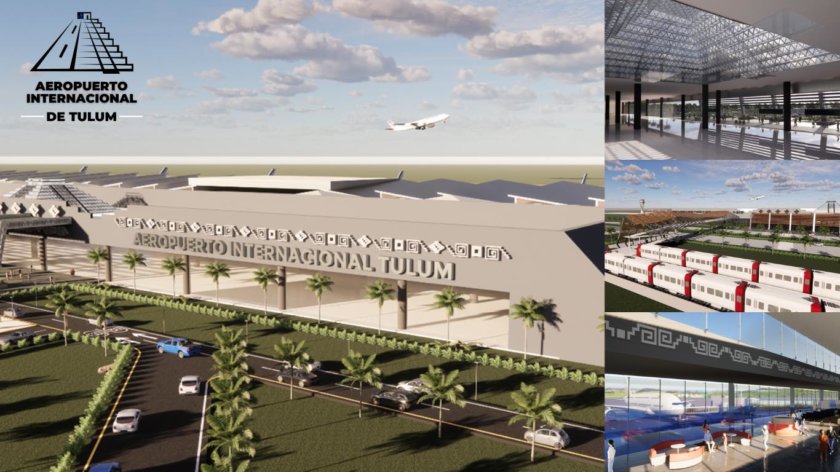 When is the opening date of the airport?
Though the exact opening date is yet to be confirmed, it is expected to be operational by 2024.

Where will it be located?
The proposed site for the airport is approximately 15 kilometers west of Tulum.
This location will make the airport easily accessible from Tulum, significantly reducing the travel time compared to Cancun Airport for the tourists going to Tulum, Puerto Aventuras, Akumal, Xel-Há, Cobá, Bacalar, Mahahual and Chetumal.
3. Tulum Airport and the Mayan Train Project
One essential factor to consider with the establishment of the new Tulum Airport is its strategic relationship with the Mayan Train Project, expected for December 2023.
As you can see on the official map below, the Mayan Train, also known as "Tren Maya", will traverse the states of Quintana Roo, Yucatan, Campeche, Chiapas, and Tabasco, connecting significant tourist destinations such as Cancun, Playa Del Carmen, Tulum, Bacalar, and Palenque.
The combination of the Tulum Airport and the Mayan Train offers a promising scenario for tourism in the region. Tourists will have the option to fly directly into Tulum, enjoy its unique offerings, and then board the Maya Train to discover other parts of the Yucatan Peninsula.



Conclusion: Challenges and Opportunities
Every new project of such scale comes with its own set of challenges and opportunities. The Tulum International Airport is no exception.
One of the main challenges will likely be to manage the environmental impact, given the pristine natural beauty of the region. There will also be social implications to consider, with potential impacts on the local community.
On the other hand, the new airport presents numerous opportunities: it is expected to boost tourism, stimulate local economy, and create jobs.
Moreover, with more direct access to this beautiful area, it will significantly enhance the travel experience for international and domestic tourists alike. Actually, the new airport will not only make Tulum more accessible but also open up opportunities for the exploration of surrounding destinations.
With the Tulum Airport operational and the integration of the Mayan Train project, visitors will be able to plan more flexible and diverse itineraries.
You're traveling in Mexico? These articles will help you!
Discover all my articles about Mexico: All my articles to help you plan your trip to Mexico are listed there.
You're using Pinterest? Here is the picture to pin!