Things to do in Aguascalientes (Mexico): The 15 Best Places to Visit
So you've decided to visit Aguascalientes on your next trip?
Great choice!
Aguascalientes City is the capital and largest city of the state of Aguascalientes in central Mexico. It's a vibrant and modern city that combines its rich colonial heritage with its industrial and cultural development.
It's the birthplace of some of Mexico's most renowned artists, such as José Guadalupe Posada who created La Catrina, a iconic character in the Day of the Dead celebrations.
But Aguascalientes City is not only about history and culture. It's also a city that knows how to have fun, especially during its famous Feria de San Marcos, which is one of the largest and most popular fairs in Mexico. The fair attracts millions of visitors every year who come to enjoy the music, food, rides, and art exhibitions.
To help you discover this amazing city, I have prepared a guide of the Top 15 things to do in Aguascalientes, highlighting all must-see attractions and places to visit.
Besides the attractions, you will also discover how to travel to Aguascalientes, how long to stay and my top picks of hotels for every budget.
So, what are the best things to do in Aguascalientes? Where to Stay?
Let's find out!
1. Explore the Historic Center of Aguascalientes City
Aguascalientes may not be the biggest city in Mexico, but it boasts a rich cultural and historical heritage, best appreciated in its Historic Center. Whether you're a fan of architecture, history, or simply enjoy strolling through picturesque streets, you should not miss out on a visit here.
Immerse yourself in the city's rich history by starting your trip in the Historic Center of Aguascalientes City. It's a must-visit!
Plaza de la Patria: Your exploration of the Historic Center should start at the Plaza de la Patria, the main square and the heart of Aguascalientes. This bustling square is surrounded by several impressive buildings, each with its unique architectural style and historical significance.
Letras de Aguascalientes:  These large and colorful letters spelling out the city's name are a popular attraction, and an iconic spot for a photo. They represent the city's identity and provide a colorful backdrop for your travel memories.
Teatro Morelos: it is one of the most important historical sites in Aguascalientes. This theatre played a significant role in the country's history, as it was the site of the second convention that drafted Mexico's constitution.
Palacio Municipal (City Hall) and Palacio de Gobierno (Government Palace): two architectural gems that house the city's government offices. The Palacio de Gobierno, in particular, is known for its remarkable mural depicting the city's history.
Jardin de San Marcos: this park was established in 1842 and is a symbol of the city. It has an iron kiosk, four fountains, and many bronze statues that show aspects of the local culture.
My Advice
Stop by the
Atencion al Visitante
, the city's tourist office, where you can get helpful information for your trip. The lady was very kind and gave me a
map with the main attractions of Aguascalientes
.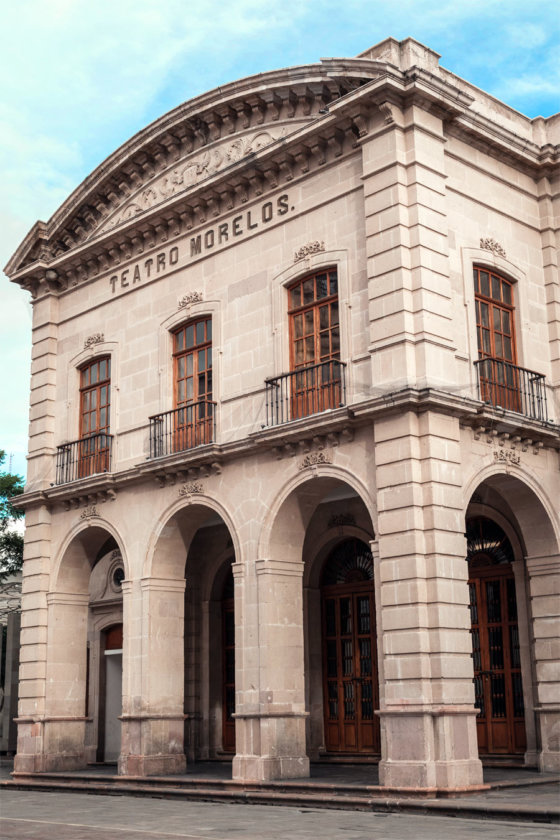 2. Take the Touristic Tramway
Another great way to visit Aguascalientes is by taking a ride on the Tourist Tramway. This guided tour offers a unique and fun way to discover the city's historic center, especially if you are a first-time visitor!
Departing in front of Plaza de la Patria (click here to see on map), you'll pass by many important sites, and the guide will give you interesting details about the city's history and culture.
Tickets can be purchased directly on the tramway
I would suggest getting them beforehand during the Feria San Marcos, since there is a lot of tourist influx right in the historic center.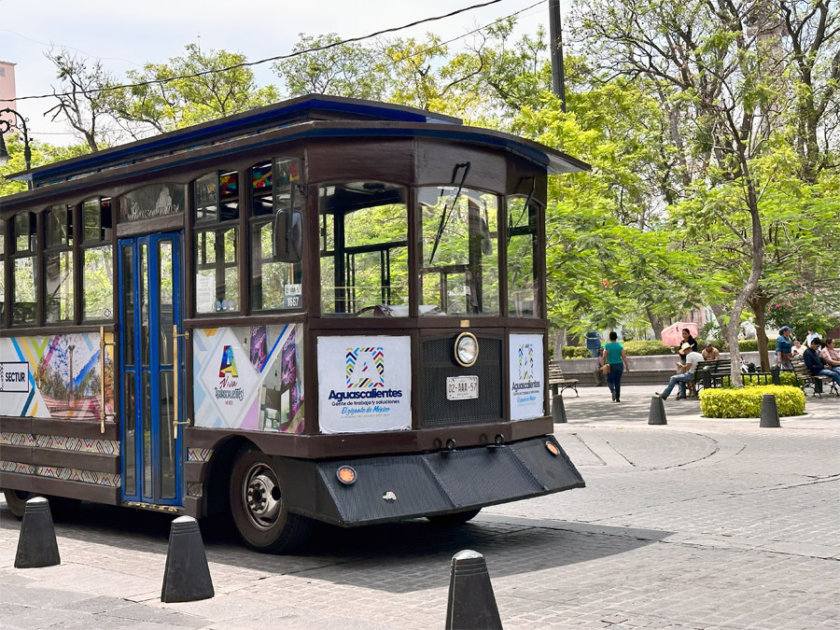 3. Visit the José Guadalupe Posada Museum
While in Aguascalientes, you shouldn't miss the opportunity to visit the José Guadalupe Posada Museum.
It is dedicated to the renowned Mexican artist José Guadalupe Posada, often referred to as the "father of Mexican modern art", who was born in Aguascalientes.
Before visiting the museum, I only knew he was famous for his creation of La Catrina, the emblematic skeleton lady that symbolizes the Day of the Dead.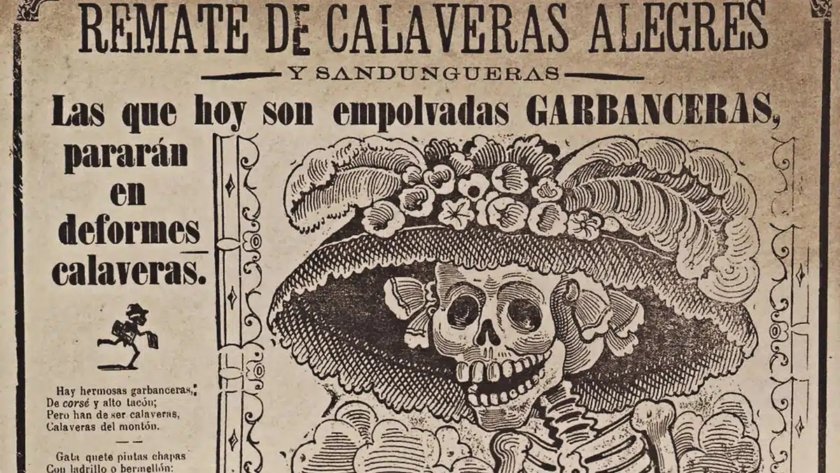 I really enjoyed the expo because it showed me not only the rest of Posada's work (prints, drawings, publications), but also the social and historical context that is essential to understand his art.
I definitely recommend stopping by the souvenir shop of the museum.
They have many items related to Posada's work (magnets, books, mugs, etc.).
I bought the Catrina and, my new favorite print, Calavera de Francisco I. Madero – one of the key figures of the Mexican revolution, with interesting details, like the clothes of a humble peasant, and a bottle of alcohol.
He did not have a drinking problem, the bottle of "Aguardiente de Parras" was a nod to his family's big maguey plantation and distillery operation.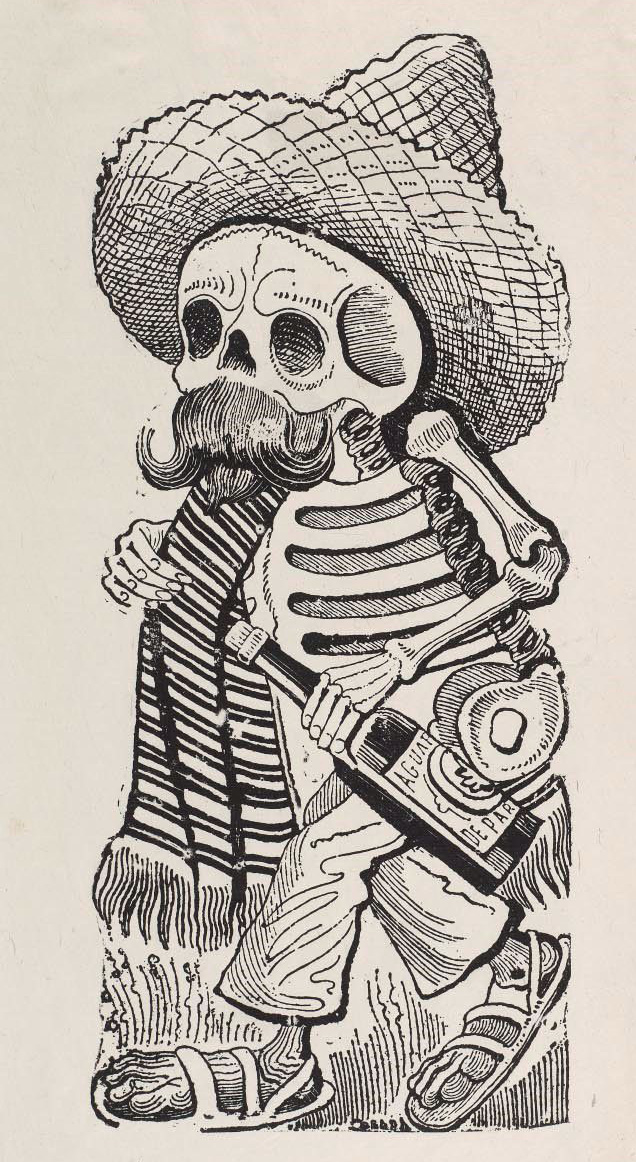 Instead of the coffee shop of the museum, I suggest going to Xocolatl Mexica (just across Jardin del Encino), where you can taste different organic Mexican chocolate items.
They have the best chocolate tamales (20 pesos) I've tasted in my life, and the prices are surprisingly fair for the quality.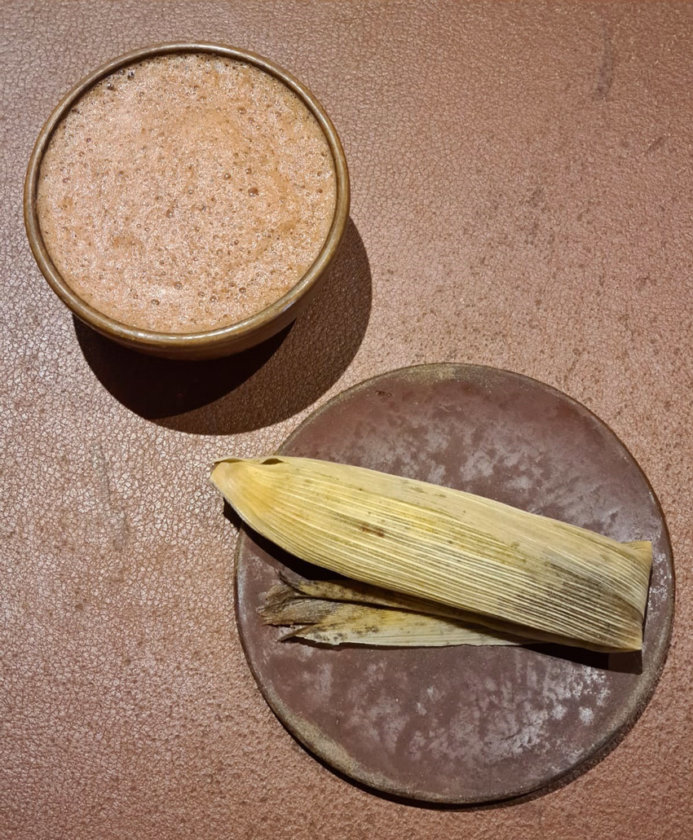 4. Visit the National Museum of Death
If you're looking to explore a unique facet of Mexican culture, then a visit to the National Museum of Death should be on your itinerary.
This museum, dedicated to the theme of death, is a reflection of Mexico's unique relationship with mortality, where death is seen as a part of life to be accepted and even celebrated, rather than feared.
It presents the cult of the death in the pre-Hispanic world, in the colonial times and in the Mexican popular culture through more than 2000 pieces of art.
The exhibits encompass a wide range of mediums, including paintings, sculptures, engravings, and handicrafts, each depicting death in their unique ways.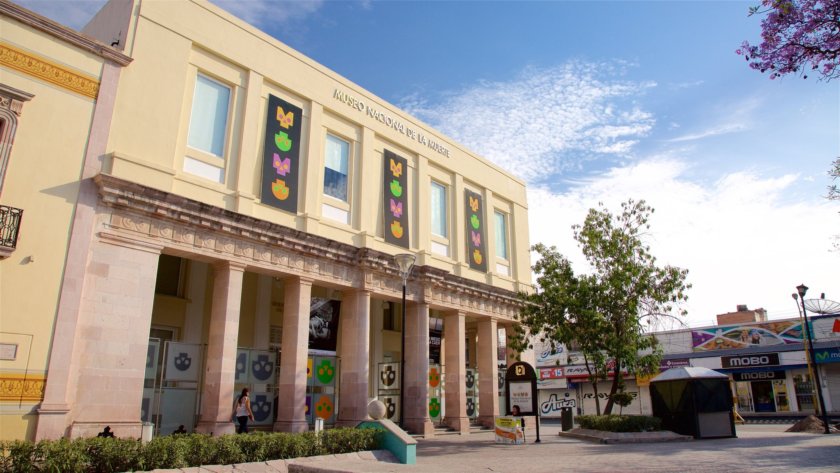 5. Explore the Regional History Museum
Located in a beautifully restored 1908 building, the museum presents an exhibit around the history and culture of Aguascalientes, from prehistoric times to the present day.
To be honest, I thought the exhibit is pretty short (for the 75 pesos fee entrance), but I really loved the structure and especially the entrance courtyard.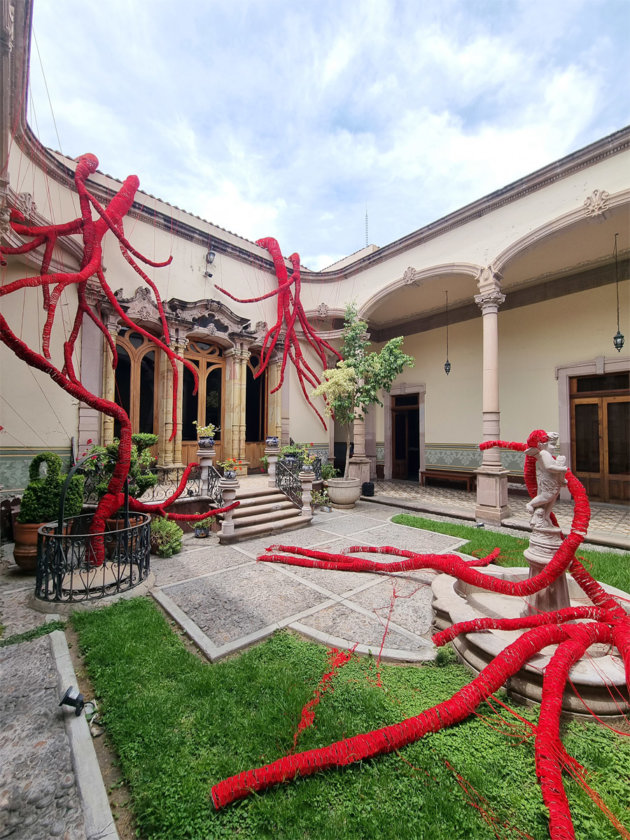 6. The National Museum of Contemporary Art
The Museo de Arte Contemporáneo No. 8 is a free museum that houses an impressive collection of contemporary artworks from across Mexico, with a particular focus on artists from Aguascalientes.
It features 3 temporary exhibition halls which change every six months to showcase different national and international contemporary art exhibits. It also has a permanent room dedicated to the art of Enrique Guzmán Villagómez, a Jalisco artist.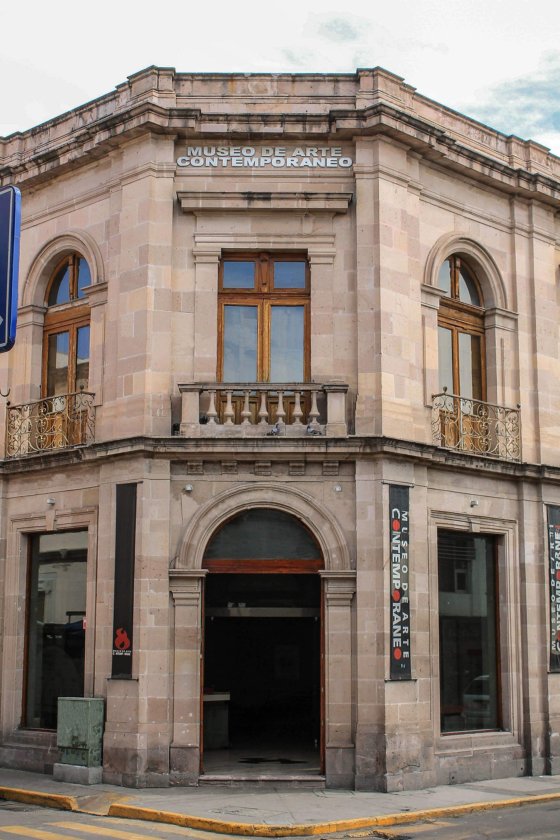 7. Visit the Museo de Aguascalientes
The Museo de Aguascalientes, housed in a beautiful 1903 building that is a work of art in its own right, is an unmissable attraction for art lovers.
It is dedicated to preserving and promoting the rich artistic heritage of Aguascalientes and Mexico as a whole. You can admire some of the most beautiful work of famous local artists like Jesús F. Contreras, Francisco Díaz de León, Gabriel Fernández Ledesma and Saturnino Herrán.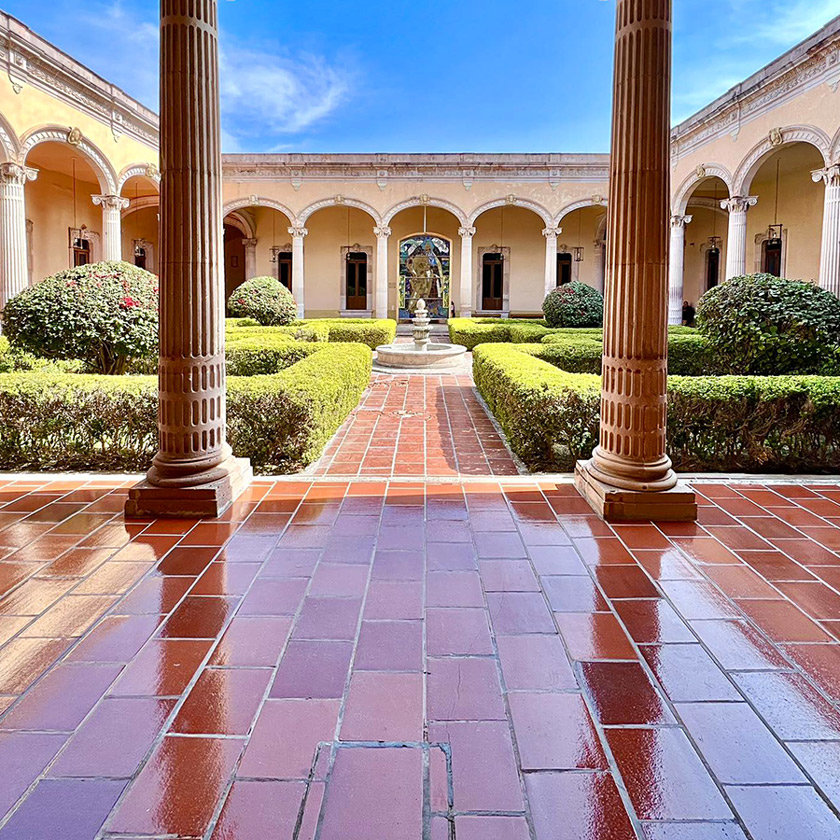 8. Plaza de las Tres Centurias
A place that truly brings the history of Aguascalientes to life is the Plaza de las Tres Centurias.
This public square is a celebration of three centuries of local history, with architectural elements and exhibits representing different periods in time.
The plaza is built on the site of the former Aguascalientes railway station, which was an important hub for the region's economy. Many of the original railway buildings and structures, including the locomotive repair shop and a steam engine, have been preserved and are now part of the plaza's attractions.
In addition to the historical exhibits, the plaza is also a vibrant cultural center that hosts a variety of events throughout the year, from concerts and dance performances to art exhibitions and craft fairs. There's always something exciting happening here, making it a must-visit spot for both locals and tourists.
Also located on the plaza is the Museo Espacio, a must-see in Aguascalientes for contemporary art enthusiasts. The museum's exhibitions focus on innovative, thought-provoking works, often exploring social, political, and cultural themes.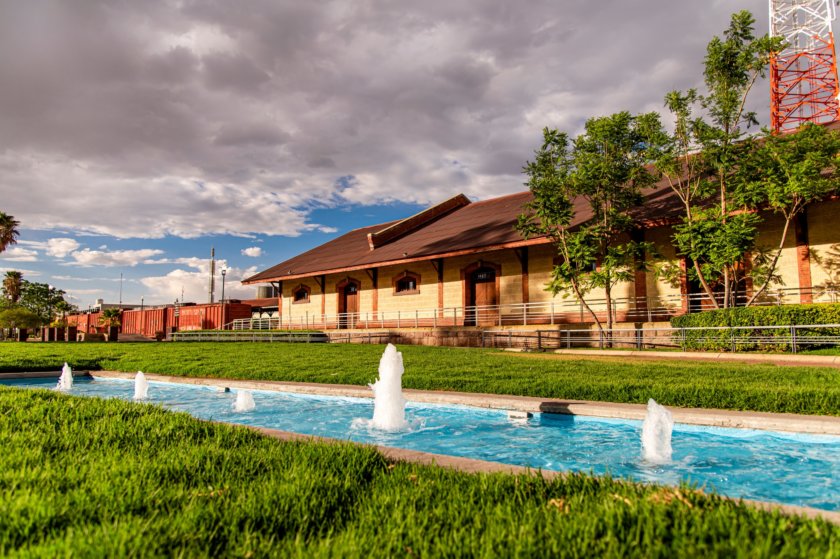 9. San Marcos Fair (Feria San Marcos)
If you're lucky enough to be in Aguascalientes between the middle of April and the beginning of May, you must not miss the San Marcos Fair!
One of the most important cultural and recreational events in Mexico, the fair attracts millions of visitors from all over the country and the world.
The origins of the fair date back to the 19th century, and it has grown exponentially over the years to become a grand extravaganza with colorful parades, live music performances, rodeos, art exhibitions, and a host of other activities.
Local artisans and vendors set up stalls selling a variety of goods, from traditional crafts and souvenirs to delicious local cuisine. It's a fantastic place to sample some of Aguascalientes' best dishes, such as enchiladas, birria, and the local specialty, lechón al horno (roast suckling pig).
My Advice
The
San Marcos Fair
is a massive event, and it can get quite crowded, especially on weekends.
Plan your visit accordingly and book your hotel in advance!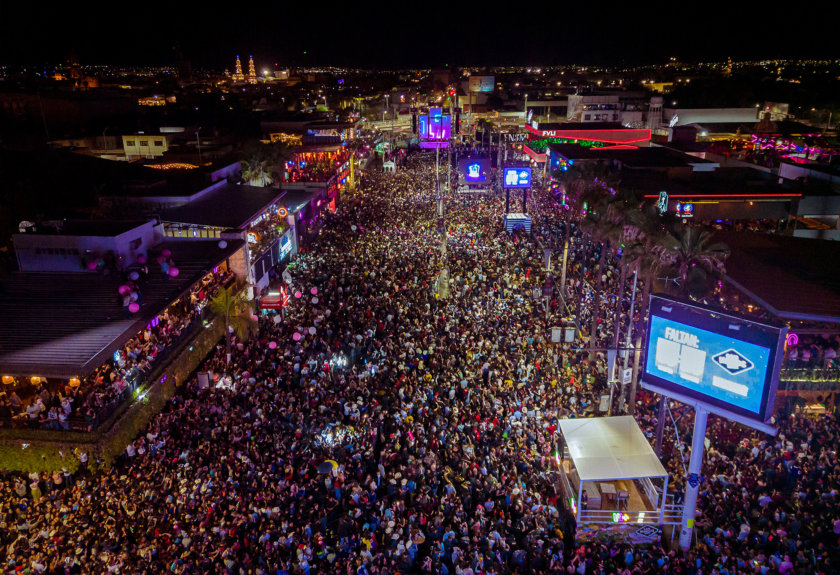 10. Festival Cultural de Calaveras
For a deep dive into the unique Mexican celebration of life and death, plan your visit around the Festival Cultural de Calaveras, held at the end of October through early November.
This vibrant festival is part of Mexico's Dia de los Muertos (Day of the Dead) celebrations, but Aguascalientes gives it a unique twist.
The festival is dedicated to local artist José Guadalupe Posada, the creator of the famous Catrina (that I already mentioned above), a dapper skeleton woman who has become a symbol of Mexican Day of the Dead celebrations.
During the festival, the streets of Aguascalientes are filled with parades, concerts, exhibitions, and open-air theater performances. One of the highlights is the Calaveras parade (desfile de Calaveras), where thousands of participants, dressed as Catrinas and other skeletal figures, march through the city.
Local artisans also display their intricate "calacas" (skeleton figurines) and "altares de muertos" (altars to the dead), adding to the vibrant atmosphere. Food lovers will enjoy the special dishes prepared for the occasion, such as pan de muerto (bread of the dead) and sugar skulls.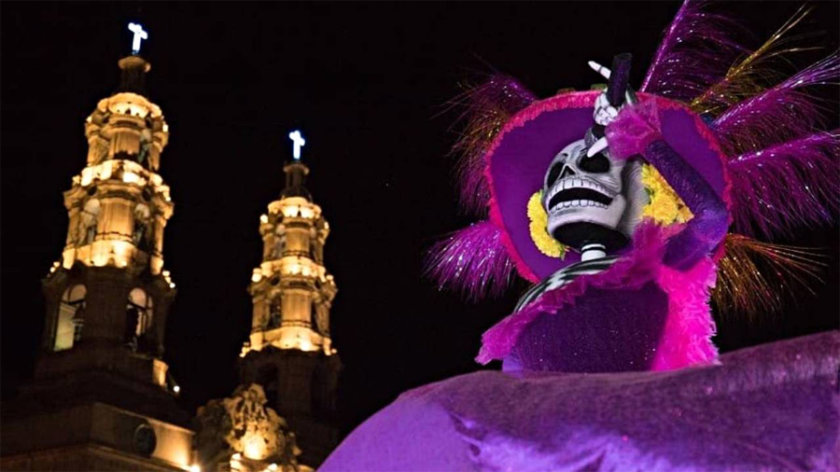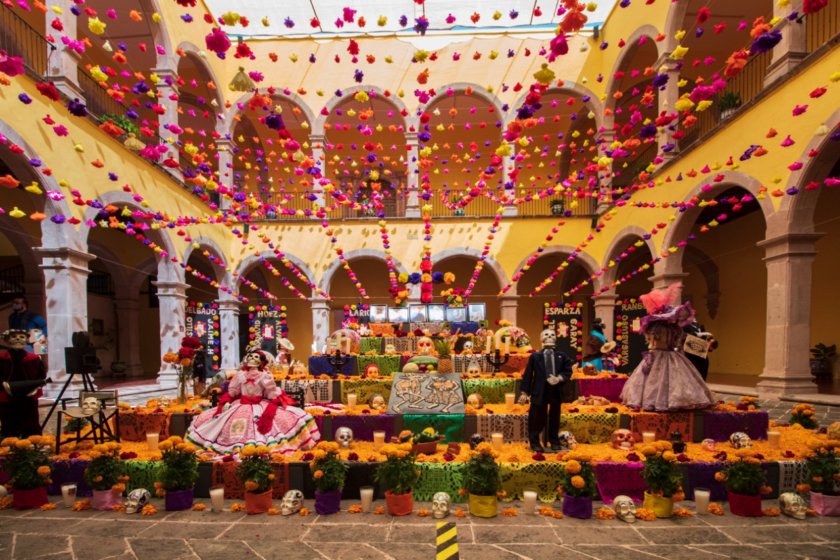 11. Shop for Local Crafts and Souvenirs
From traditional Mexican handicrafts to modern designs, there is something to suit all tastes and budgets.
I suggest you drop by the Mercado Terán, a traditional market that has been in existence since 1880.
You can also buy local sweets or "dulces", such as cajeta de guayaba (guava paste with goat's milk caramel).
Another excellent place to find local crafts is the Feria de San Marcos. During the fair, artisans from Aguascalientes and the surrounding areas display their goods, offering a vast range of handcrafted items. It's a great place to find unique pieces of art, traditional clothing, leather goods, and more.
Remember to also explore the local shops in the historic center, many of which sell high-quality Mexican crafts and souvenirs.

12. Outdoor Fun
If you like outdoor adventures, Aguascalientes has plenty to offer!
The Sierra Fría is a stunning mountain range with pine forests, beautiful waterfalls, intriguing caves, and abundant wildlife.
It is a perfect destination for hiking, mountain biking, or even horseback riding. Many local agencies offer horseback or ATV tours that can help you explore the best of Sierra Fría.
My Advice
If you plan to visit the Sierra Fría
, remember to pack appropriately. Even though Aguascalientes has a warm climate, the
temperature in the mountains can drop significantly
.
So, bring warm clothes, sturdy shoes, and plenty of water. Also, it's advisable to start your hike early to maximize daylight hours. 
The Parque de Aventura Boca de Túnel is a natural park, built around a stunning river canyon
It offers adventure sports and activities such as zip-lining, rappelling, rock climbing, hiking, and camping. The park's main attraction is its namesake tunnel, a natural formation through which the river flows.
13. Visit the Wineries
Aguascalientes is a growing wine region, with a number of wineries producing excellent vintages.
A visit to a winery not only provides the opportunity to taste local wines but also to learn about the wine-making process, walk through the vineyards and meet the people behind these unique creations.
I had been to Aguascalientes many times, but I was unaware of its wine-producing region until my last visit.
Some local friends recommended Vinícola Santa Elena, Viña Las Cruces, Bodegas Origen and Vinícola el Aguaje.
I picked Vinícola Santa Elena because E'lan, the restaurant on site, looked good. And it was a great choice: the service was excellent, with a nice view of the vineyard and live music, and the food was delicious.
I'm a big fan of Mexican wines, but I usually prefer more full-bodied ones, so they were not strong enough for me. But they were perfect for enjoying a nice day outside.
My Advice
 When visiting a winery, make sure to book your visit in advance as many wineries require reservations for tours and tastings.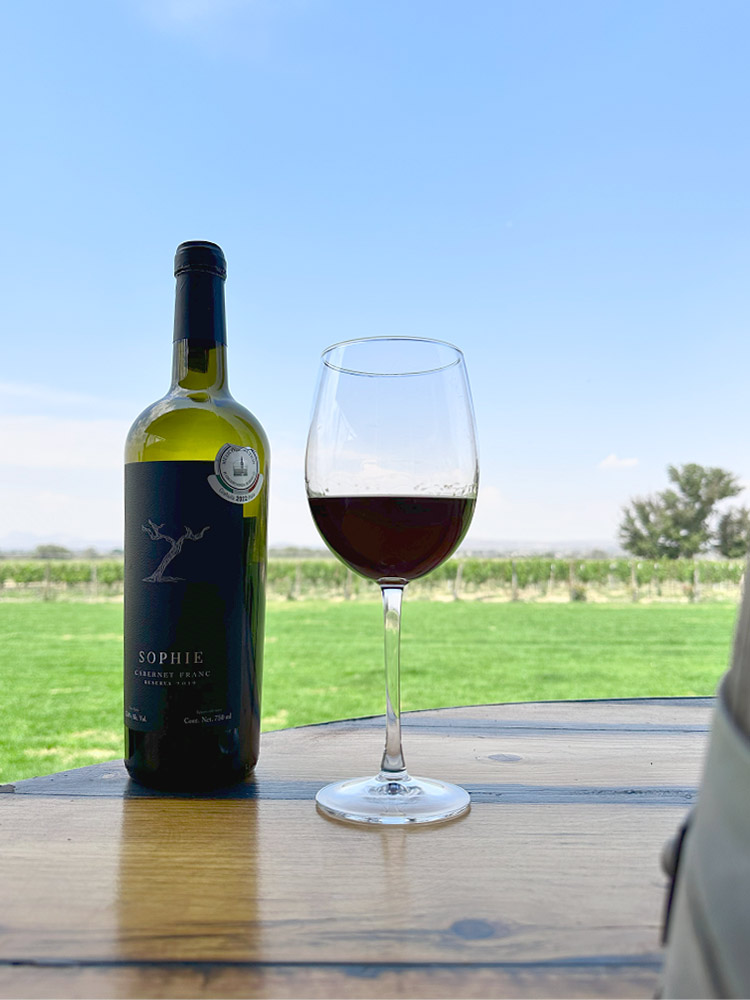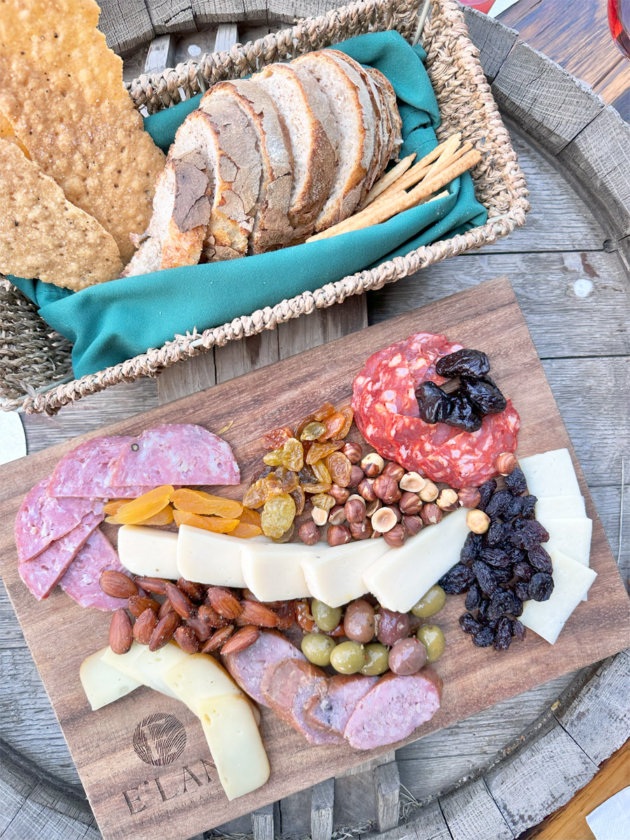 14. Visit the Magical Towns of Asientos, Calvillo and San José de Gracia
Aguascalientes is surrounded by several "Pueblos Mágicos" or "Magical Towns", a designation given by the Mexican tourism department to towns that offer unique cultural, historical, or natural attractions.
Asientos is one of these magical towns and it's definitely worth a visit. You can explore its historic center with beautiful colonial architecture, visit the Sanctuary of Our Lady of Guadalupe, and go inside the ancient silver mines. It's a quiet place where you can enjoy the slow pace of life and the beautiful surroundings.
Calvillo is another magical town known for its production of guava, a tropical fruit. Visit the Parish of Our Lord of the Salitre, a beautiful church with an impressive dome, and the Main Square with the kiosk. Don't miss the chance to try some guava sweets!
San José de Gracia is a picturesque town known for its dam, Presa Plutarco Elías Calles, also known as "La Codorniz". Here, you can enjoy boat rides, fishing, and even swim in the reservoir. The town is also home to the majestic Cristo Roto, a massive open-armed Christ statue located on a small island in the middle of the reservoir.
Pabellón de Hidalgo is a town with a rich history and culture. You can visit the Museum of the Insurgency, where you can learn about the events of the Mexican War of Independence and see murals depicting the last two centuries of Mexico's history. You can also admire the colonial architecture of the town, especially the main square and the parish church of San Blas. Don't forget to try some of the local delicacies, such as cheese, bread, and sweets.
Voyage Tips - Advice
Remember, it's always a good idea to carry some cash, as smaller towns may not have many ATM machines or accept credit cards.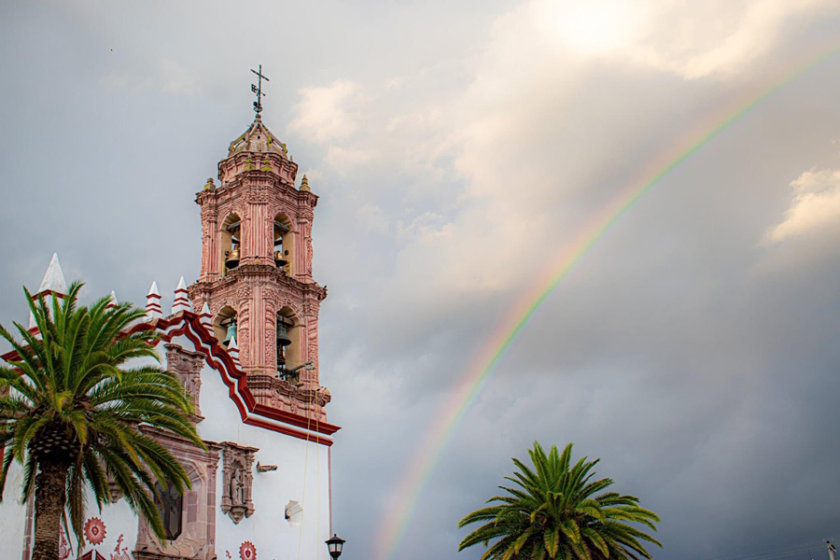 15. Enjoy the Family-Friendly Attractions of Aguascalientes
There are several family-friendly attractions in Aguascalientes that will keep both kids and adults entertained.
The Museo Descubre (Discover Museum), is an interactive science and technology museum that is perfect for kids. The museum is divided into several sections, including a dinosaur exhibit, a planetarium, and an interactive science room. There are many hands-on exhibits, which make learning fun for kids of all ages.
Another fantastic place to take kids in Aguascalientes is the Parque Rodolfo Landeros. This large park offers plenty of open space for kids to run and play, and it's also home to a zoo with a wide variety of animals. The park also features a lake with playgrounds, and picnic areas.
Where to stay in Aguascalientes
Posada Del Carmen Aguascalientes: this charming hotel offers cozy and colorful rooms with cable TV and private bathroom. From 45$ per night, breakfast not included. Strong points: the central location, the friendly staff, the free parking. This is my choice for a budget stay in Aguascalientes!
Hotel Francia Aguascalientes: Located in the heart of Aguascalientes, this elegant hotel was built in 1915! Spacious and comfortable rooms, very clean, great value for money. From 60$ per night. Strong points: the colonial style, the central location close to everything.
Hotel Quality Inn Aguascalientes: this is my favorite hotel in downtown Aguascalientes. Located next to the Plaza de la Patria and the cathedral, this modern hotel offers bright and clean rooms. From 70$ per night, breakfast included. Strong points: the convenient location, the fitness center, the free airport shuttle.
Quinta Real Aguascalientes: Located in a former bullfighting arena, this chic hotel offers exquisite and romantic rooms with antique furniture and marble bathroom. From 80$ per night. Strong points: the beautiful garden and architecture, the gourmet restaurant. This is my choice for a romantic stay in Aguascalientes!
Fiesta Americana Aguascalientes: Located near the San Marcos Fairgrounds, this 5* hotel offers elegant and cozy rooms with balcony. From 95 $ per night. Strong points: the outdoor pool, the spa, the restaurant with regional cuisine.
My Advice
If you don't have a car to get around Aguascalientes, it's a good idea to stay in a hotel in downtown, it will save you a lot of hassle!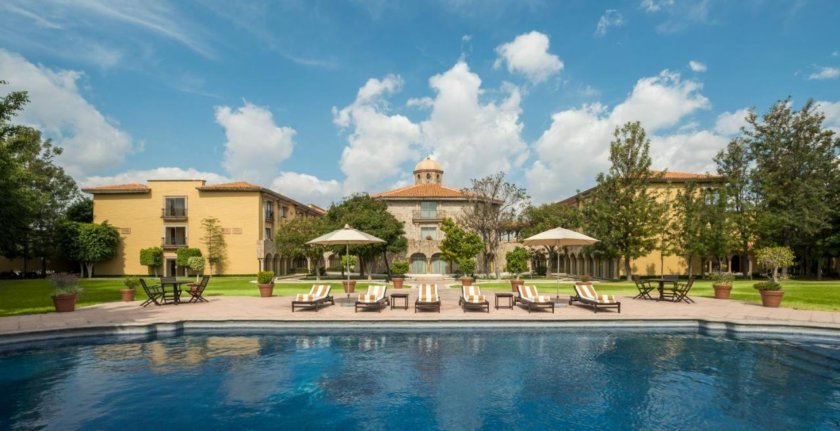 How to Get to Aguascalientes
Reaching Aguascalientes is quite straightforward. Here are all the details you need to know to travel there by air, bus and car:
By air
The Aguascalientes International Airport (Lic. Jesús Terán Peredo International Airport) operates numerous national and international flights daily.
It's serviced by several airlines with direct flights from Mexico City, Puerto Vallarta, Monterrey, Tijuana, and several US cities such as Dallas and Houston.
To find a cheap flight to Aguascalientes as well as the best domestic flights in Mexico, I recommend using our flight comparison tool in partnership with Skyscanner. It is guaranteed to get you the best price!
My Advice
Once at the airport, you can take a taxi or arrange for a shuttle service to reach the city center. It's about a 30-minute drive from the airport to downtown Aguascalientes.
By car
Finally, if you're driving to Aguascalientes, it's well connected by highways with major cities such as Mexico City (540 km), Guadalajara (224 km), and Monterrey (563 km).
A car will come in handy since Aguascalientes is a large city with long distances to cover!
To rent a car, personally, I always use Rentalcars.com, for a few reasons:
You can easily compare the rental cars prices between all the agencies: for sure the easiest way to find the best rate!
Cancellation is often offered free of charge: no need to worry if you change your mind
Rentalcars offers full insurance coverage at a lower price than the rental companies, so it's an instant saving with no effort
Simply click on the green button to find your rental car at the best price:
By bus
If you're traveling by bus, Aguascalientes is well connected with many major cities in Mexico, including Mexico City (6h30) and Guadalajara (3h)
The main bus station in Aguascalientes, Central Camionera de Aguascalientes, is located about 15 minutes from the city center, and taxis or local buses can get you into the heart of the city from there.
My Advice
Make sure you pick a direct bus to Aguascalientes, because some of them take much longer since they are not direct.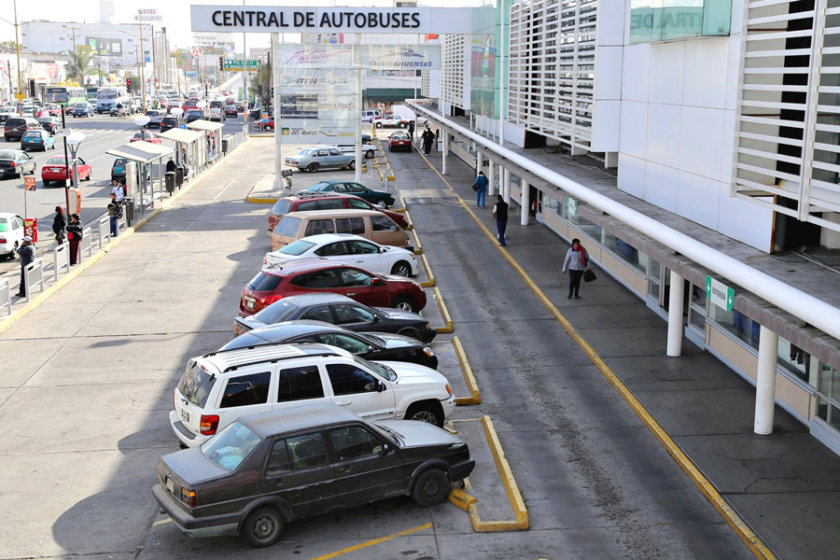 How Long to Stay in Aguascalientes?
The ideal length of stay in Aguascalientes depends on what you want to see and do.
A 3-day trip to Aguascalientes is usually enough to explore the city's main attractions, but if you want to visit the surrounding towns and participate in more activities, you might want to stay for a week or more.
My Advice
 If you have some time, I would definitely suggest to make a
trip to Zacatecas
, located about 1h30 from Aguascalientes.
The historic center is a wonderful place to explore for a half day or a day: admire the stunning catedral de Zacatecas, visit Mina El Eden, a former silver mine, ride the Teleferico, a cable car that takes you to the majestic Cerro de la Bufa, a mountain with historical monuments and lookout points.
Book your trip now and save money!
You're traveling in Mexico? These articles will help you!
Discover all my articles about Mexico: All my articles to help you plan your trip to Mexico are listed there.
You're using Pinterest? Here is the picture to pin!