Restaurants and street food in Playa del Carmen
There are many restaurants in Playa del Carmen, for all budgets.
I am going to share with you my list (I admit it's quite subjective, as the choice is very difficult!) of the 19 best places to eat, classified by categories: breakfast, lunch-dinner, dessert, cheap eats, and where to drink (with or without alcohol).
I also recommend you to read my Definitive Guide to Playa del Carmen to discover all the best activities to do and places to visit.
Breakfast
1. Cueva del Chango
La Cueva del Chango is a restaurant with a nice garden, with a rustic and tropical ambiance. It is open all day, and is a good place to have a Mexican breakfast in Playa del Carmen.
I recommend the chilaquiles (148 pesos) -honestly one of the best I tasted in my 5 years in Mexico! -, the huevos rancheros (134 pesos) or the huevos motuleños (135 pesos) with fried plantain.
There is always a little wait, but it's worth it.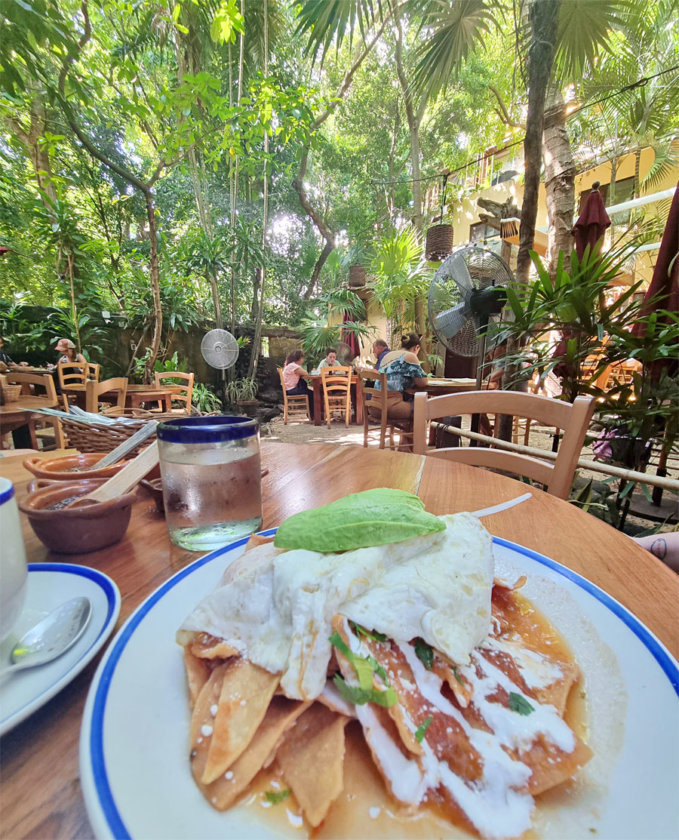 2. Chez Celine
Chez Celine is a french bakery and cafe known by all the regulars of Playa del Carmen.
It is the ideal place when you want a coffee with pastries (the almond croissant is delicious), a quiche or a crêpe. There are also vegan and vegetarian options.
3. Choux Choux Cafe
Here you can still find French quality like Chez Celine, but with a more relaxed atmosphere with a tropical touch. ChouxChoux Cafe is one of my favorite places in Playa del Carmen to start the day.
The coffee and smoothies are very good, and the salmon eggs benedict (130 pesos) are excellent.
Open for breakfast and lunch until 4pm.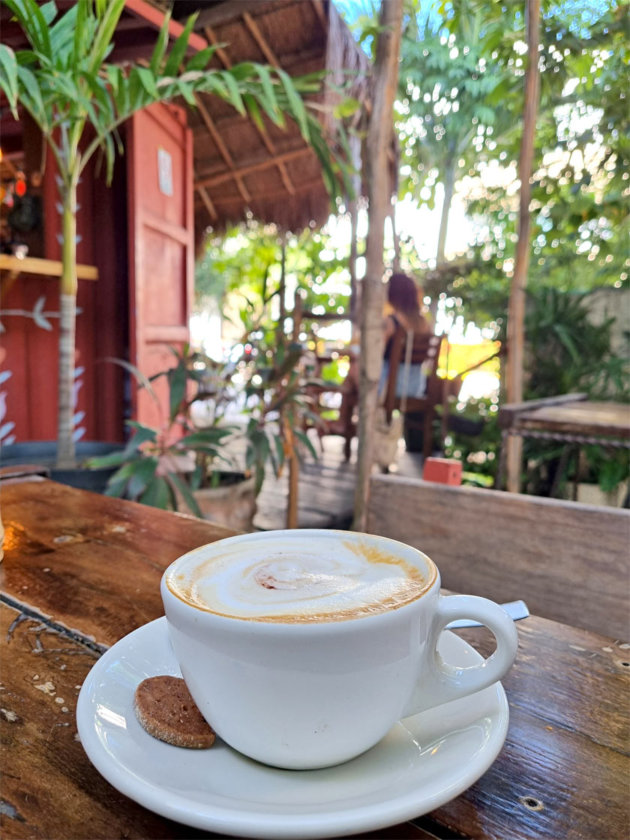 4. Le P'tit Shoux
P'tit Shoux is the little brother of Choux Choux, and opened on a very non-touristy part of Quinta Avenida.
I went there after walking from Playa Esmeralda under the sun and it was a perfect refuge to rest in the shade, in a bohemian-hippie, colorful atmosphere.
I recommend the ham, cheese and poached egg crepe (100 pesos) and if you are a sweet tooth, I suggest the vanilla milkshake (65 pesos) which is huge and very good.
Open from 7am to 5.30pm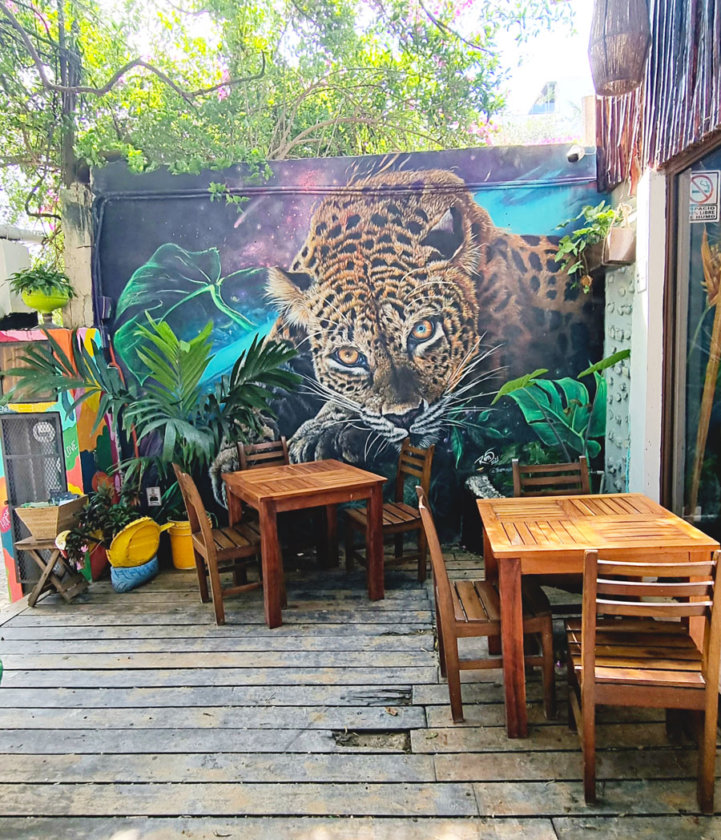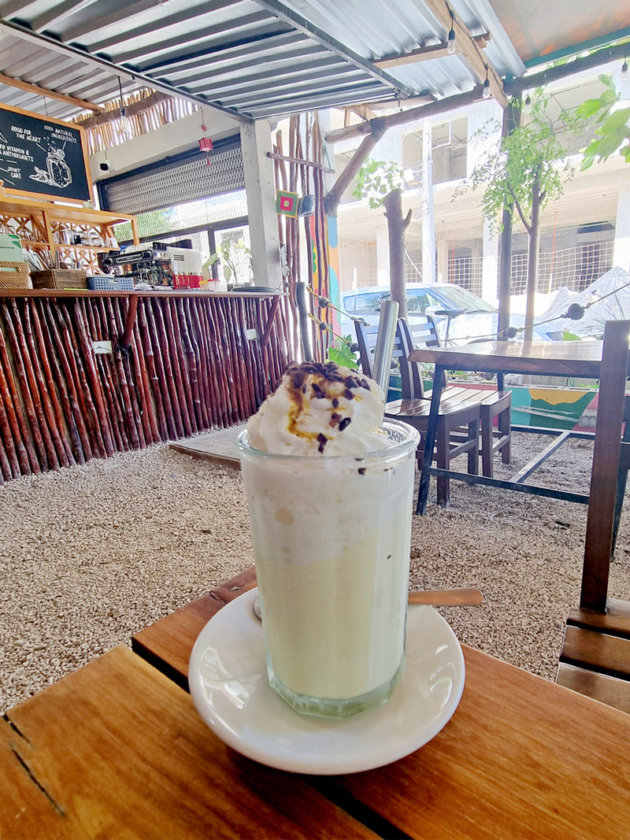 Lunch/Diner
5. La Tarraya
This restaurant on the beach offers a little bit of everything, personally I liked the fish filet (90 pesos).
It is very nice to eat with live music, feet in the sand and a view on the sea (it is possible to rent deckchairs for 250-300 pesos)
By the way, the prices at La Tarraya are very reasonable for Playa del Carmen, especially on the beach!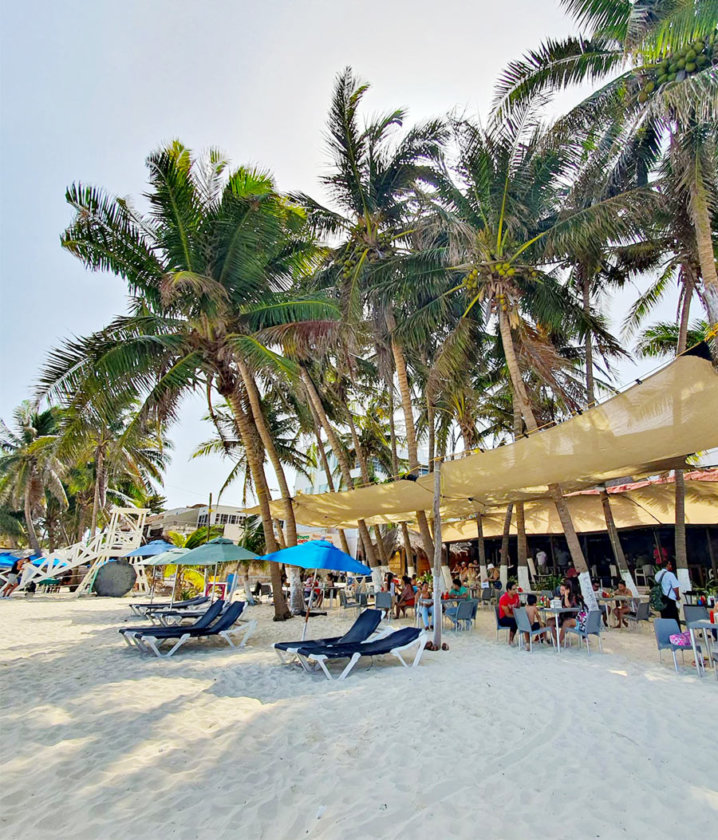 6. Cheester
I stumbled across Cheester while waiting for my Airbnb host to come and open up…and what a nice surprise: the portions are huge so you can easily share with 2.
I ordered a delicious pasta (240 pesos) that I couldn't finish and got doggy bad for a second meal. It's worth it!
4 years later, I went back there and it was still the same: very good prices and big portions that could fit for 2 people (unless you are very hungry).
The only problem is that they don't sell alcohol and I would have liked a small glass of wine.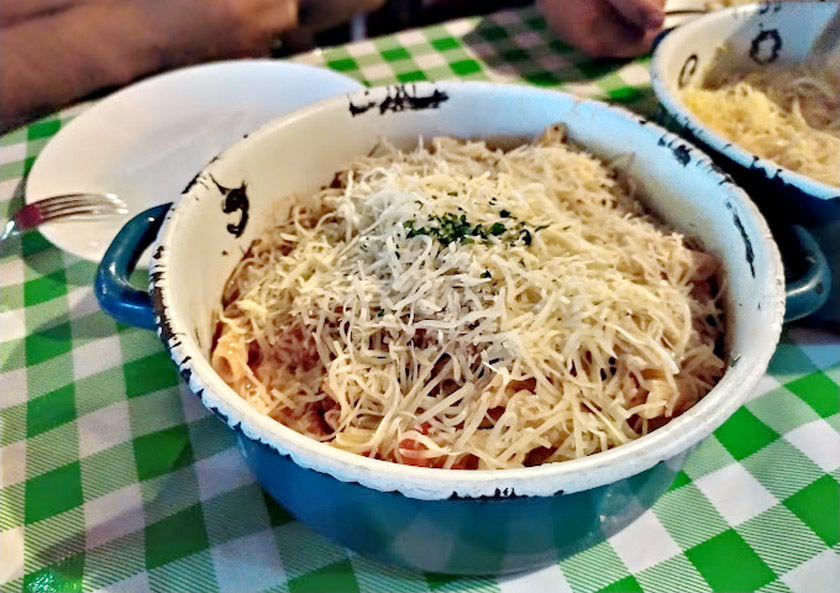 7. El Calambrillo
El Calambrillo is charming little seafood restaurant with terrace and very good service located in a quiet part of Quinta Avenida: tostadas, tacos, quesadillas, etc (60-195 pesos) and 3×2 on cocktails.
I went back several times to have a great lunch without the chaos of the tourist area.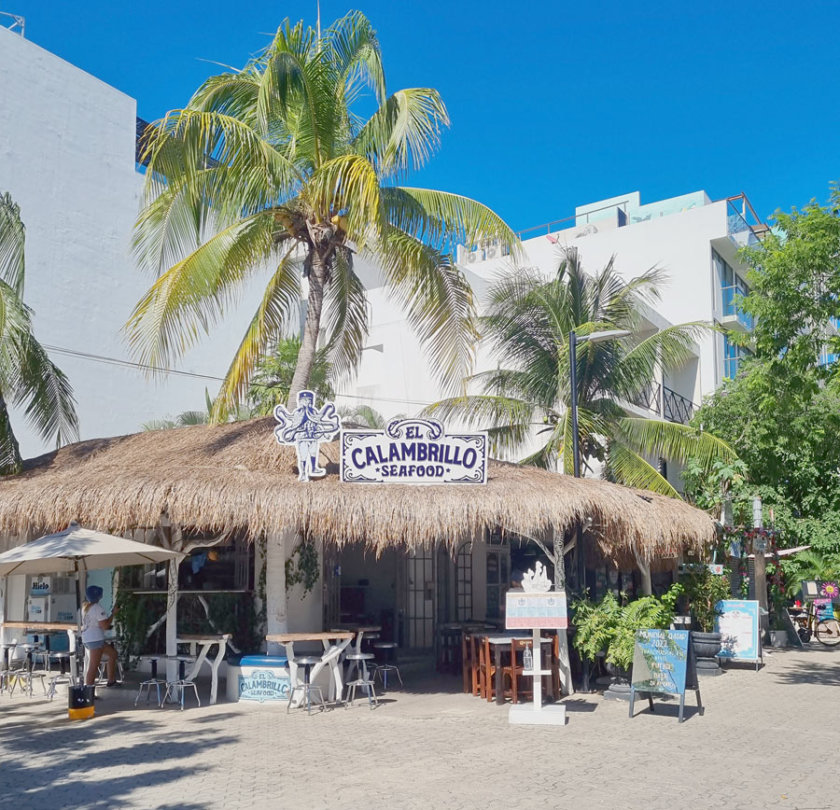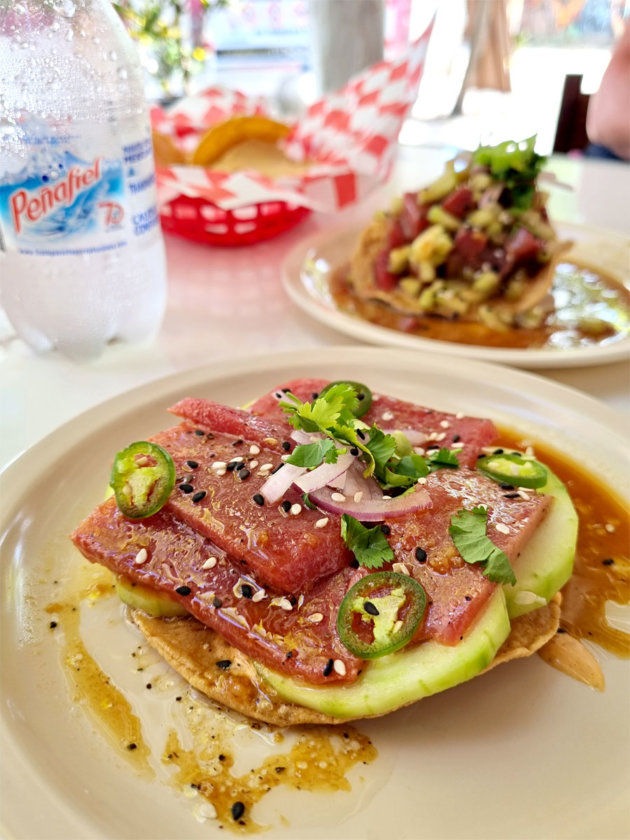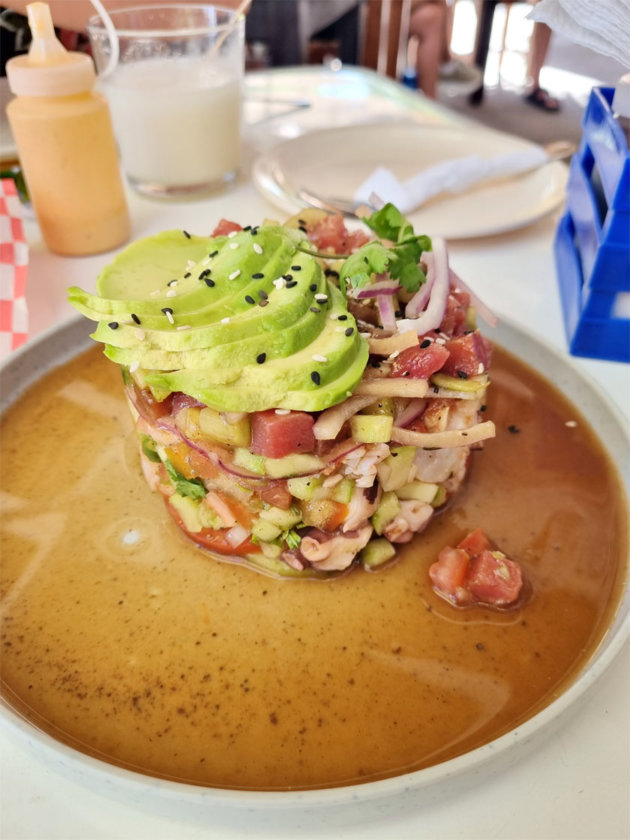 8. Alux
Alux is the ideal restaurant if you are looking for a chic and romantic experience in Playa del Carmen.
It is located in a beautiful cave with a cenote, illuminated to create a unique, and somewhat mysterious atmosphere.
Open only for dinner, starting at 6 pm. Don't forget to book in advance on OpenTable and also take the opportunity to look through their full menu.
Dessert
9. Ah Cacao
The coffee here is good and you can find all types of chocolate.
You have to try their chocolate tamale (49 pesos) and there are very good cold drinks like the Mayan Chocolate (72 pesos).
It's also my favorite place to work with my laptop because they have free wifi and air conditioning – there are several branches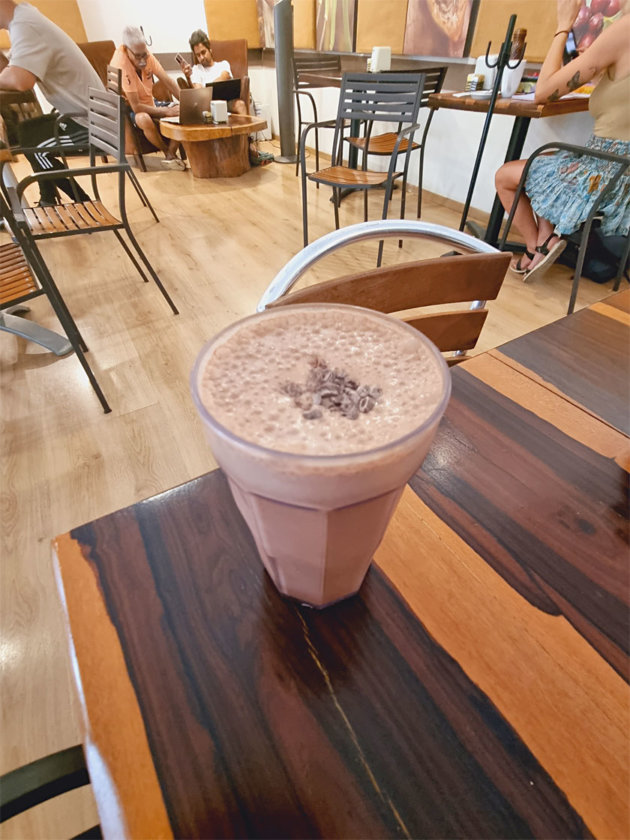 10. Lali
Lali is small oasis with a tea room atmosphere (which is not very common in Playa del Carmen): infusions, special coffees (rose, lavender) and a delicious chocolate cake (big piece at 90 pesos).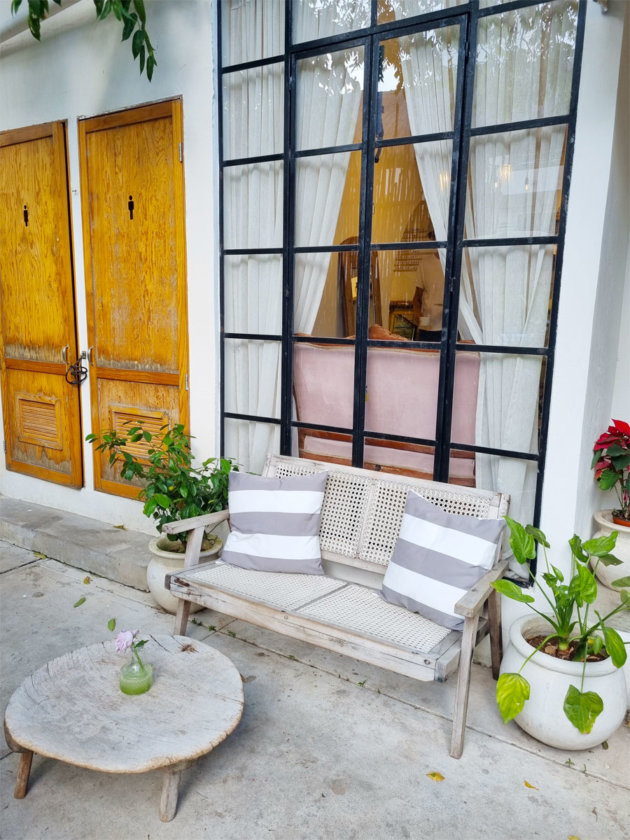 11. Marquesitas
The marquesita was invented in the state of Yucatan and has become so popular that it can be found in the neighbouring states including Quintana Roo where Playa del Carmen is located.
It is a kind of thin and crispy pancake, rolled like a taco, which can be found in the street or in the plazas, mainly at night.
The classic would be a sweet and salty flavor with cheese (ex: nutella and cheese) but there is something for everyone: jam, condensed milk, cajeta (caramel), etc.
For me, this is the classic vacation dessert!
I recommend the one located on the corner of Calle 6 Norte & 10 Avenida Norte, right next to the Oxxo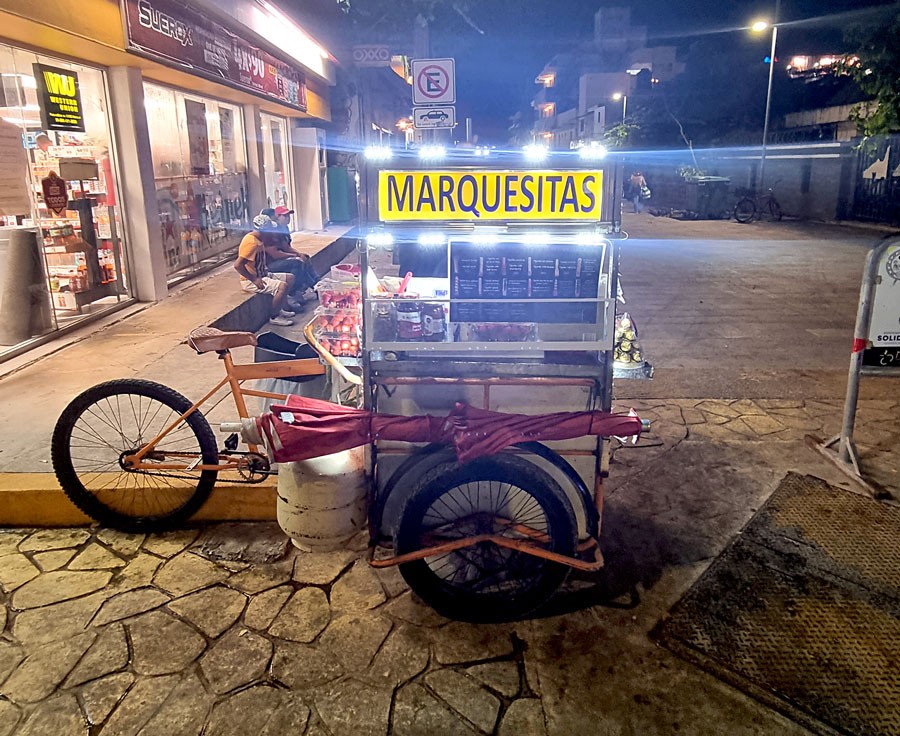 Cheap eats
12. Tacos
Tacos are the emblem of Mexican street food and are the best option for cheap eats in Playa del Carmen!
My favorites are the tacos al pastor from Tacos El Ñero (20 pesos a taco) and the carnitas tacos from Carnitas Teresita (30 pesos a taco). El Fogón is also a great option with lots of variety and generous portions.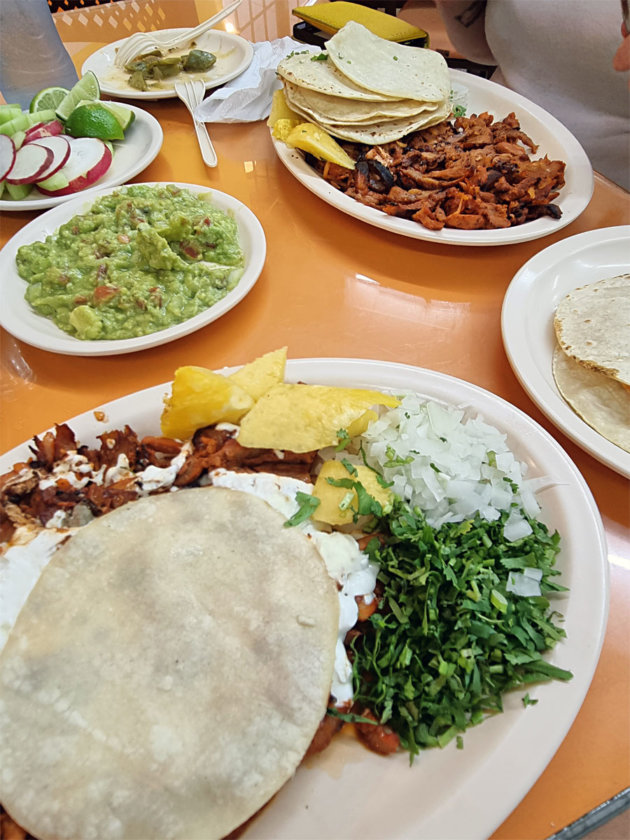 13. Elotes
Elotes are another important Mexican street food. It is corn on a stick, roasted or boiled, with mayonnaise, salt, chili powder, lime juice and cotija cheese.
There is also the "esquites" version, in which the kernels are boiled and served in a cup.
At night you can find them on Benito Juarez Avenue, there is also a very good one on the corner of Calle 2 Nte and Avenida 15 – around 40 pesos.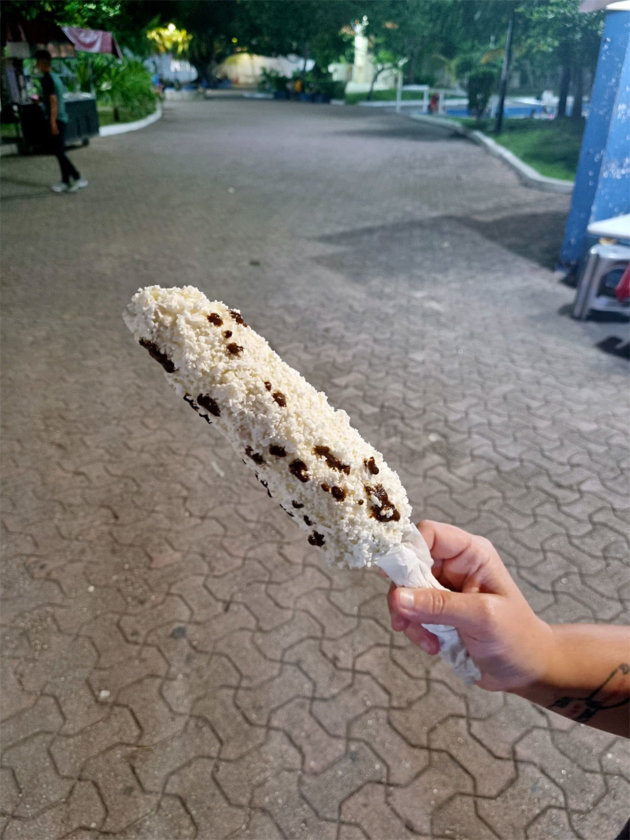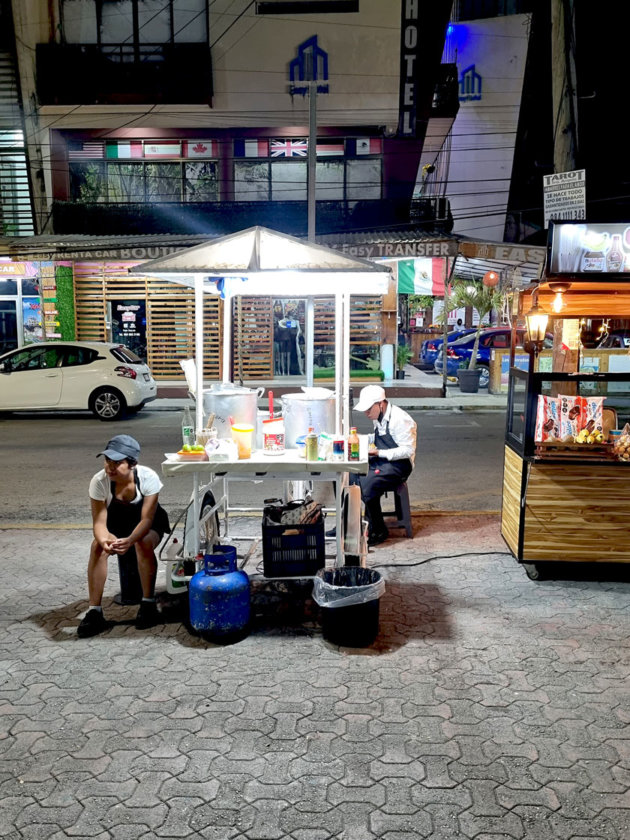 14. Los Machacados
Los Machacados is a restaurant offers Yucatecan dishes at an affordable price. Salbutes, empanadas, panuchos for 18 pesos, a very good sopa de lima for around 60 pesos or a good machacado for 40 pesos – I love their coconut machacado!
15. Antojitos Sandra
Antojitos Sandra is a good and cheap place to eat in Playa del Carmen, with generous portions of tamales and empanadas.
16. Asadero El Pollo
Asadero el Pollo is the perfect place to eat delicious grilled chicken at local price. 
I went there because it was always full (locals, no tourists) when I passed by and, yes, it was delicious and at an excellent price. Only 90 pesos for a half chicken and 140 pesos for the whole chicken, with tortillas, rice, sauce and onions.
A pretty sweet deal for Playa del Carmen!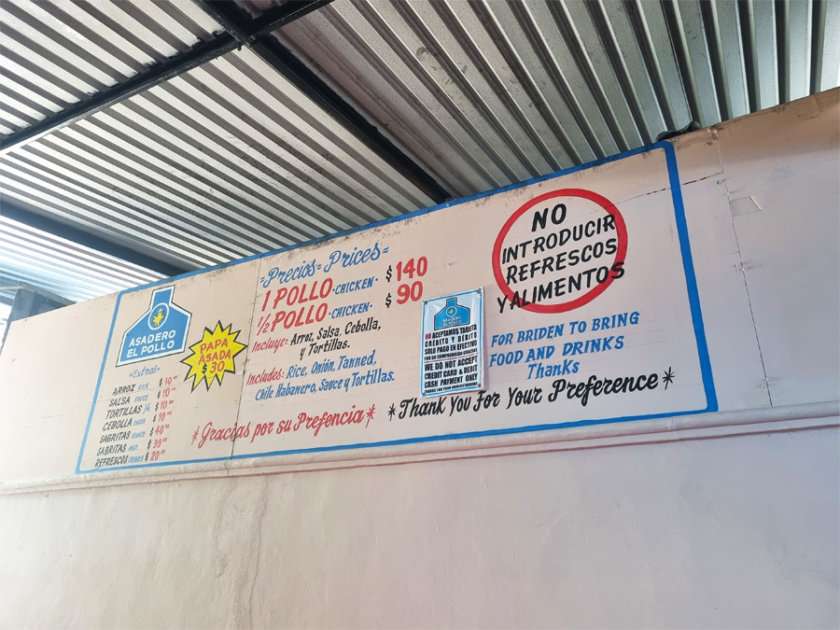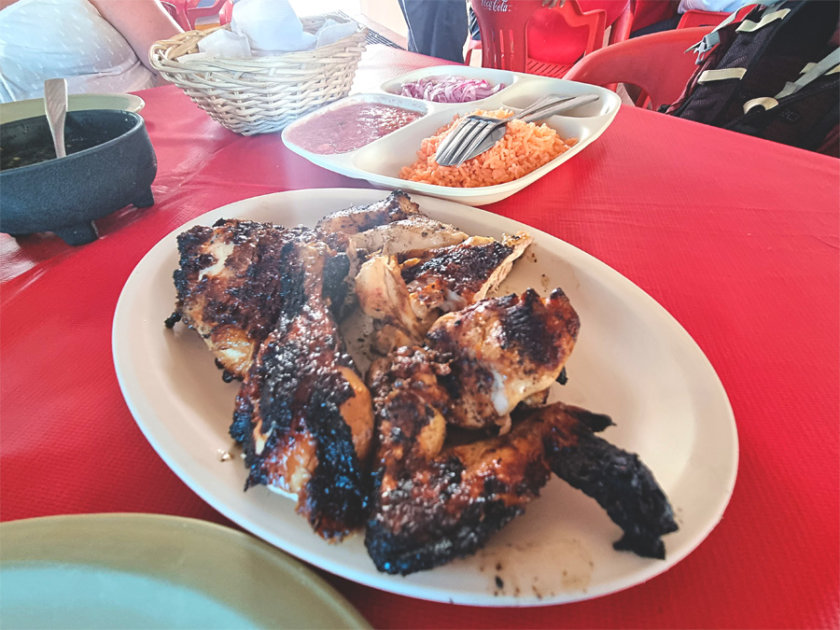 Where to drink (with or without alcohol)
17. Cocolandia
Cocolandia is located a stone's throw from Calambrillo. It is the ideal place to go after a walk in the sun or the beach, because they sell very cold and delicious coconuts (79 pesos), as well as all kinds of smoothies and juices.
They have a nice terrace and good service.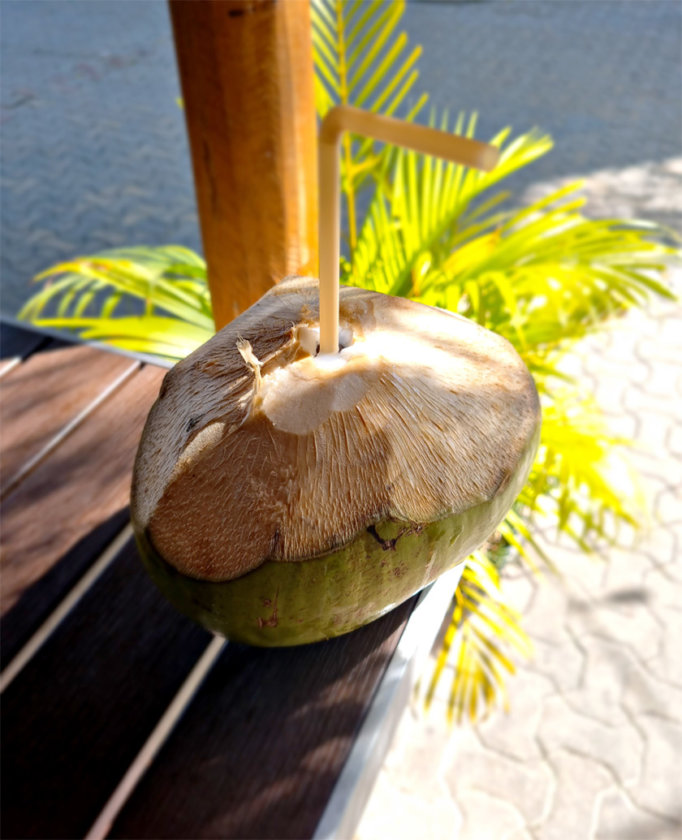 18. Karen's
I'm not a big fan of Quinta Avenida because of its high prices and its ultra-touristy side, where people talk to me directly in $usd instead of pesos, which is the national currency!
But when I saw the 2 for 1 promotion on cocktails at Karen's,, a very colorful restaurant a few steps from the ADO bus station, I couldn't resist the exceptional price.
So we ordered 2 margaritas, and I was convinced that they were going to dilute them with water considering the price, but not at all!
They were very good and yes, I can confirm that they had enough alcohol because I definitely felt tipsy 😄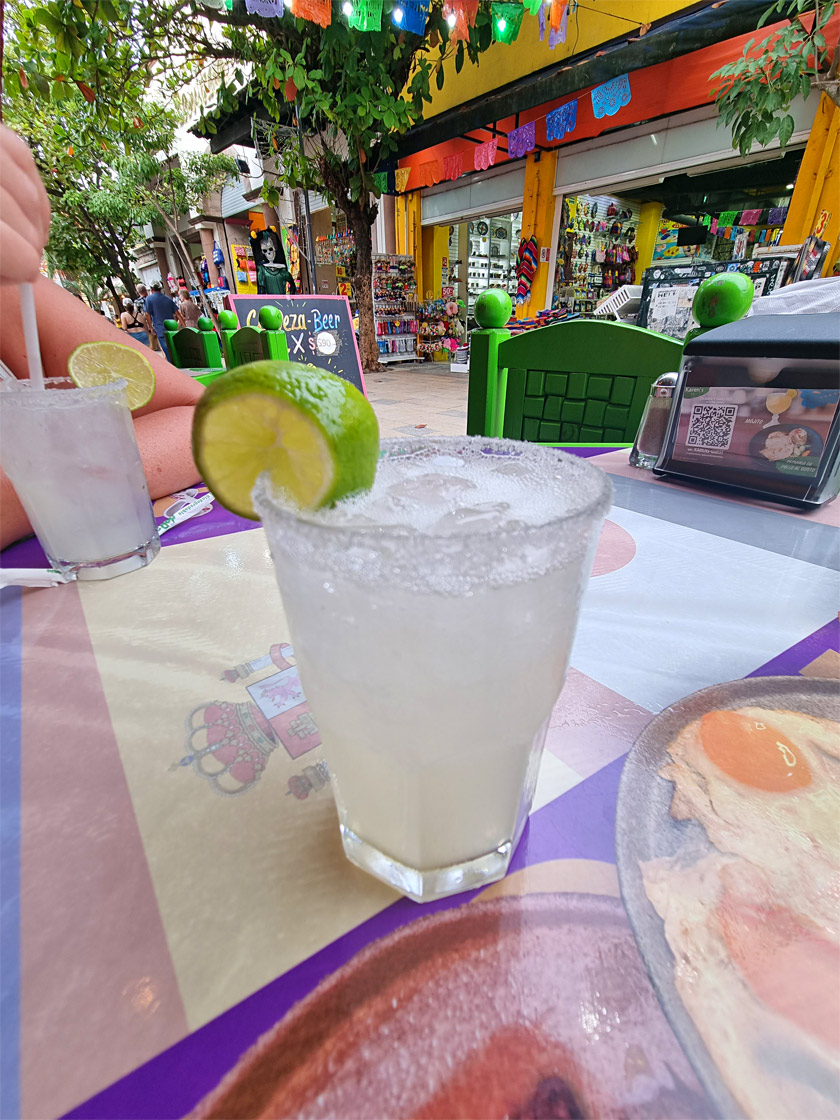 19. The Lost Tiki
When I was a child in Montreal, my parents often took me to a tiki restaurant where I admired the incredible decoration and dreamed of faraway places while the adults sipped a cocktail in a pineapple or coconut.
Today, I am still fascinated by the tiki culture with its kitsch and colorful personality. So I was very happy to see that The Lost Tiki was just a block away from my hotel!
The cocktails are very good and not too sweet, presented of course in tiki mugs as we like them, and there are also several good options to eat (small dishes).
The bathroom is full of old school tiki pictures.
The only thing I didn't like was that the music wasn't tiki (or exotic) so it didn't help you get in the mood.
There is another tiki bar in Playa del Carmen called The Freaky Tiki that I didn't have time to visit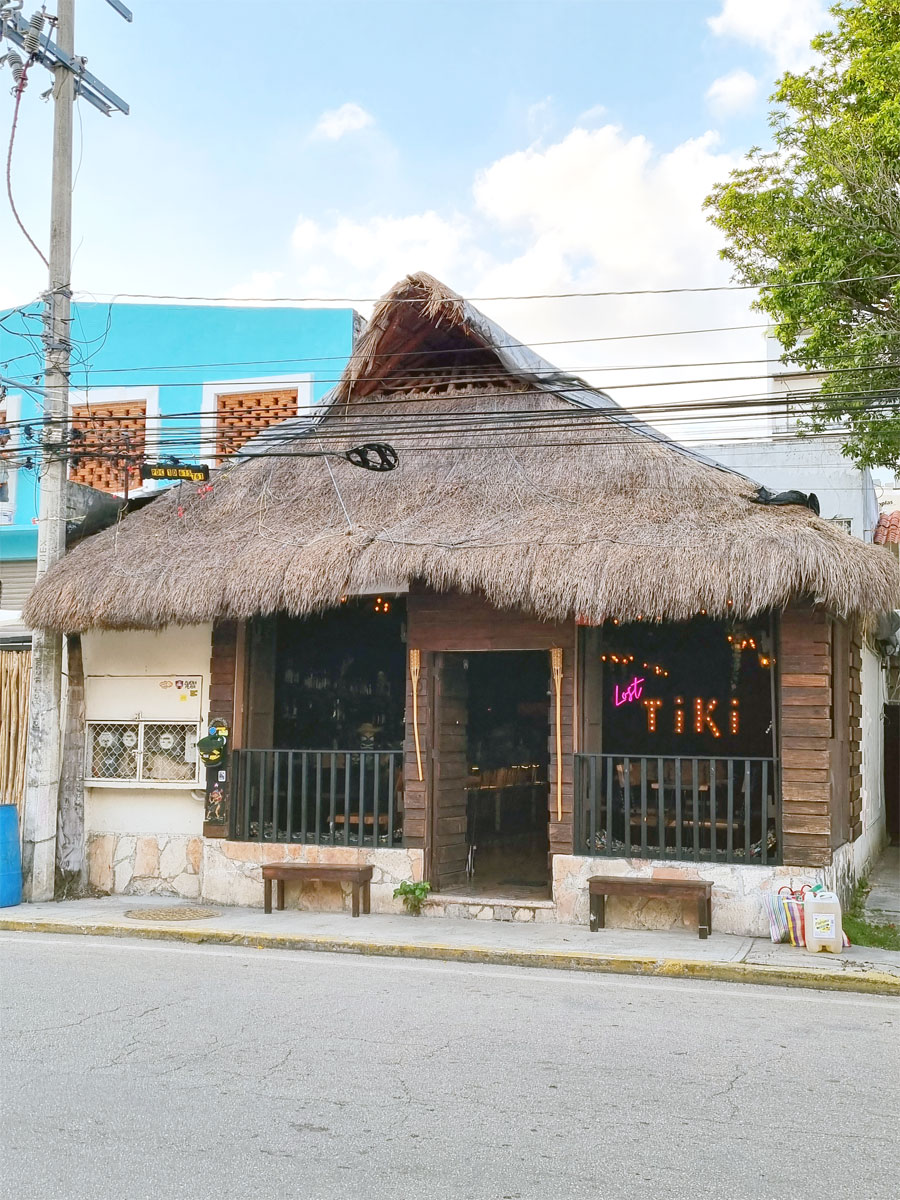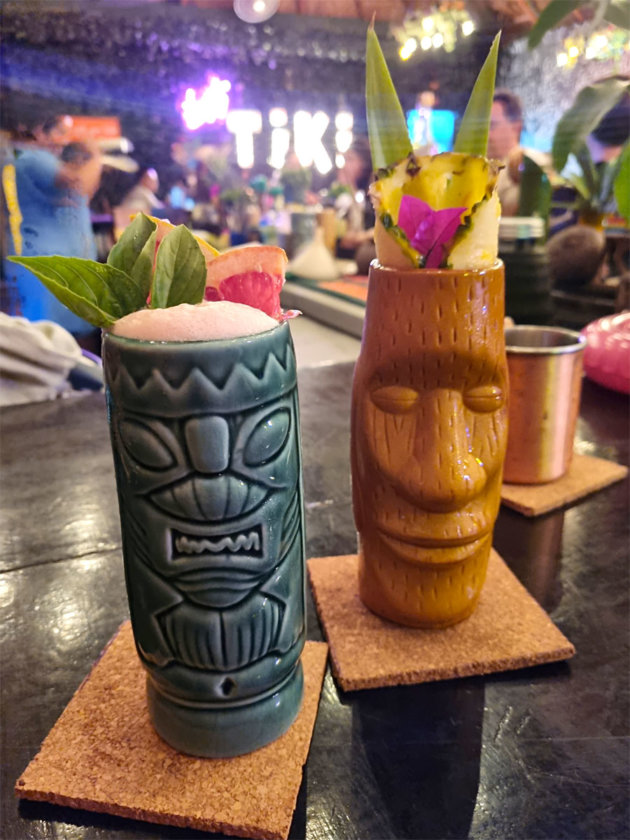 If you have any other suggestions for a good restaurant in Playa del Carmen, please share them with me 😋.
And remember that prices can change at any time – the prices shared in this article are what I paid at the time of my visit.
Where to sleep in Playa del Carmen?
Che Playa Hostel & Bar Adults Only: great hostel to meet other travelers and party, with a rooftop terrace that has a bar and a small pool, with several offered activities. Clean, with good wifi and a great welcome. From only 13 $usd for the dormitory or 37 $usd for a private room!
Hotel Lunata: a charming hotel with hacienda style decoration, which is hidden on Quinta Avenida, very close to the beach. Quiet, with a garden, rooms with balcony, and has very friendly service. From only 82 $usd per night!
Porto Playa Condo Beach Club: here you will find a spacious apartment ideal for a family, with fully equipped kitchen, living room and terrace. The hotel has a large swimming pool, a gym and a restaurant, starting at 172 $usd per night!
The Reef Playacar Resort & Spa: located on the beautiful beach of Playacar, just a few minutes from Fifth Avenue. Ideal for a romantic stay, with a beautiful tropical garden, two pools, a gym and a spa. 200 $usd with the "all inclusive" formula.
Hotel Xcaret Mexico All Parks All Fun Inclusive: it is definitely the best hotel in Playa del Carmen! Ideal for couples and families with children as this luxury hotel offers an exceptional package including meals and access to its parks (Xcaret, Xplor, Xplor Fuego, Xenses, Xoximilco, Xel-Ha and Xenote). Starting at 860 $usd per night, all inclusive.
How to get to Playa del Carmen by plane?
You first have to fly to Cancún because there is no airport in Playa del Carmen.
It is a large airport that receives many flights from Europe and North America, with the major known companies (Air Transat, Air Canada, Iberia, Aeromexico, Interjet, KLM, etc.). It will be very easy to find tickets at the date that suits you.
To find a cheap flight to Cancun as well as the best domestic flights in Mexico, I recommend using our flight comparison tool in partnership with Skyscanner. It is guaranteed to get you the best price!
Rent a car in Playa del Carmen
Renting a car is for sure the best way to explore Mexico and make the most of your stay!
While it's not super useful to visit the city, having a car is a must to discover the rest of the country.
To rent a car, personally, I always use Rentalcars.com, for a few reasons:
You can easily compare the rental cars prices between all the agencies: for sure the easiest way to find the best rate!
Cancellation is often offered free of charge: no need to worry if you change your mind
Rentalcars offers full insurance coverage at a lower price than the rental companies, so it's an instant saving with no effort
Simply click on the green button to find your rental car at the best price:
Book your trip now and save money!
You're traveling in Mexico? These articles will help you!
Discover all my articles about Mexico: All my articles to help you plan your trip to Mexico are listed there.
You're using Pinterest? Here is the picture to pin!