Monte Albán:

A Must-Visit Attraction in Oaxaca
You're planning a trip to Oaxaca and would like to explore its rich cultural heritage?
Then you should definitely visit Monte Albán, one of the most important archaeological sites in the country!
This site may not as famous as other archaeological zones in Mexico, such as Chichen Itzá and Teotihuacan, but it is equally significant. It was the first city of Mesoamerica and the Zapotec civilization's capital.
Located in Oaxaca Valley, it was carved out of the mountain and occupied by Olmecs,  Zapotecs and Mixtecs for 1,500 years until 850 A.D.
With its fascinating history and well-preserved ruins, Monte Albán offers a unique insight into the lives of those ancient civilizations.
In this ultimate guide, I will provide you with all the information you need to plan your visit to Monte Albán, from the best time to go, to must-see attractions and nearby points of interest.
You will also find a list of the best hotels to stay in Oaxaca. 
So, let's dive in and explore this incredible site!
1. Planning Your Visit to Monte Albán
To make the most of your trip to Monte Albán, it's essential to plan your visit well!
Best Time to Visit Monte Albán
The ideal time to visit Monte Albán is during the dry season, which runs from November to April. The weather is generally mild and pleasant, with less chance of rain disrupting your visit.
I suggest you go to Monte Alban early in the morning, so you can avoid the heat and the crowds.
Keep in mind that Sunday might be a busy day at Monte Alban, as local tourists can enter the site for free.
The last time I was there at the beginning of the Easter vacations, the two parking lots were completely full and people had to park all along the road!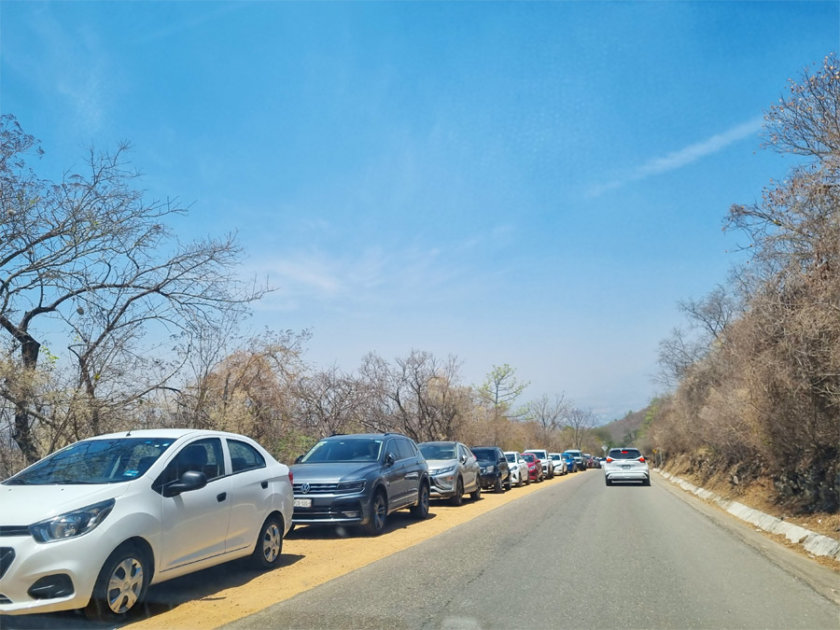 Booking Tickets and Tours
You can purchase tickets to Monte Albán directly at the entrance or book guided tours online in advance.
I recommend booking a guided tour to get the most out of your visit, as it will provide you with expert insights into the site's history and significance. You can find a variety of tour options online that combine a visit to Monte Albán with other nearby attractions.
My Advice
Make sure to book your tour at least a few days in advance, as popular options can sell out quickly.
This is my personal selection of the best tours of Monte Alban (to book the tour you want, just click on the link):
Entry Fee and What's Included
The entry fee for Monte Albán is 90 Mexican Pesos per person. Children under 13 enter free. This covers access to the entire archaeological site, including the main plaza, temples, tombs, and the on-site museum located in the entrance.
The tickets can be purchased at the ticket office by paying in cash or at the machines (very easy to use) with a credit card
If you want to hire a guide without booking a tour, it will cost you around 1000 pesos (group of max 9 people – you can share a guide with other visitors). Other languages than Spanish/English will be more expensive and guides may be more difficult to find since there are few of them on site (ex: French, German, Italian, etc.)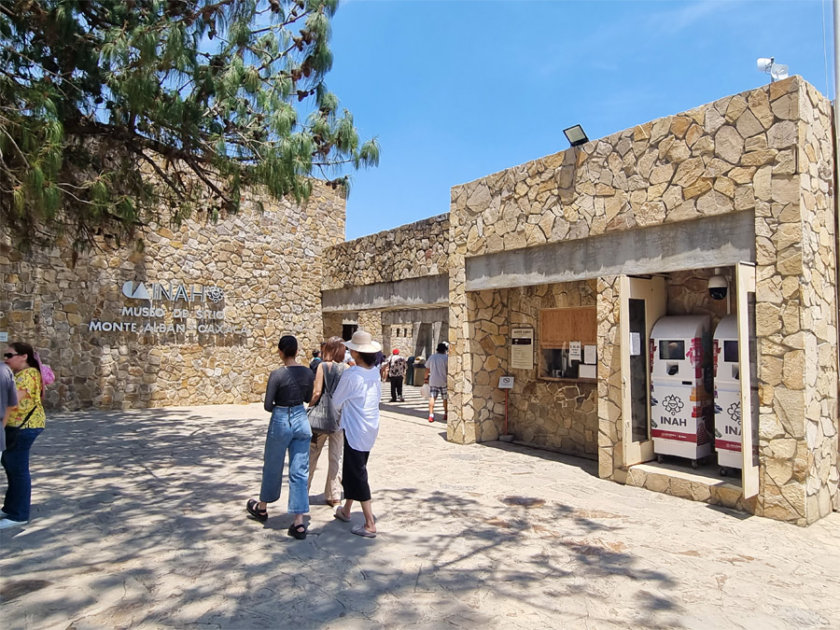 What to Wear and Bring
When visiting Monte Albán, it's essential to wear comfortable clothing and sturdy shoes suitable for walking on uneven terrain. The site is located at a high altitude (6,400 ft) so the sun can be quite intense.
This is very important because the sun is strong and there is almost no shade in Monte Alban: make sure to wear a hat and sunscreen for protection. Bring a water bottle to stay hydrated. Luckily, I found a hat for sale at the entrance!
Don't forget your camera to capture the stunning views and impressive ruins, and some cash for the guide and the souvenirs.
Opening hours
Monte Alban opens daily from 9am to 3:30pm
2. Exploring Monte Albán
Monte Albán is spread over a large area on a hilltop overlooking the city of Oaxaca.
The site is divided into several zones, with the main plaza being the central focus.
Surrounding the plaza, you'll find various temples, palaces, and tombs that once formed the heart of the ancient city.
There's also a museum on-site where you can learn more about the history and culture of the Zapotec and Mixtec civilizations through a collection of 650 artefacts and the treasure from Tomb 7, discovered by the achaeologist Alfonso Caso in 1932.
Must-See Structures and Historical Significance
Some of the most important structures at Monte Albán include:
Great Plaza: it is a large rectangular place surrounded by four platforms and two temples on the south side. It was used for religious, political and social activities from about the 8th century BCE to the 16th century CE. It also contains many carved stone monuments that depict rulers, captives and hieroglyphs.
Building J: This unique arrowhead-shaped building is believed to have served as an astronomical observatory. The structure features numerous engraved stone slabs that are thought to represent celestial events or conquered territories.
Ball Court: Monte Alban has several ball courts where the Mesoamerican ball game was played. The main ball court is located in the central plaza and dates from the Classic Period (150-650 CE). It has carved stone panels that depict scenes of sacrifice and war.
Los Danzantes: A series of carved stone slabs known as "The Dancers" depict human figures in various poses. Originally believed to represent dancers, recent research suggests they may depict captive rulers or sacrificial victims.
System IV: This complex includes a large sunken patio surrounded by a platform and several rooms. It's believed to have been a residential area for Monte Albán's elite.
My tip
Make sure you go up to the
top of Plataforma Sur
! It is the highest point in Monte Albán (40m) and offers a stunning view of the plaza and the mountains around it.
You can capture amazing photos from there. 😉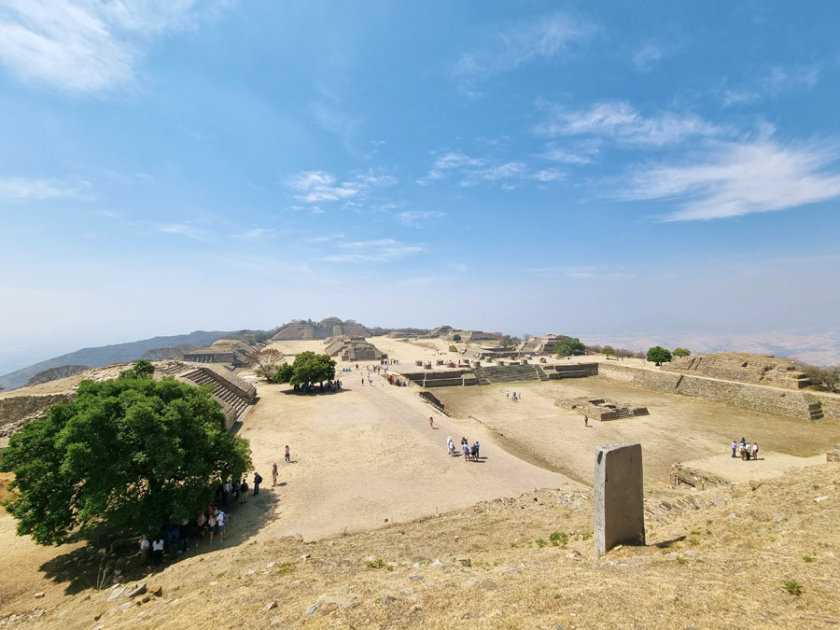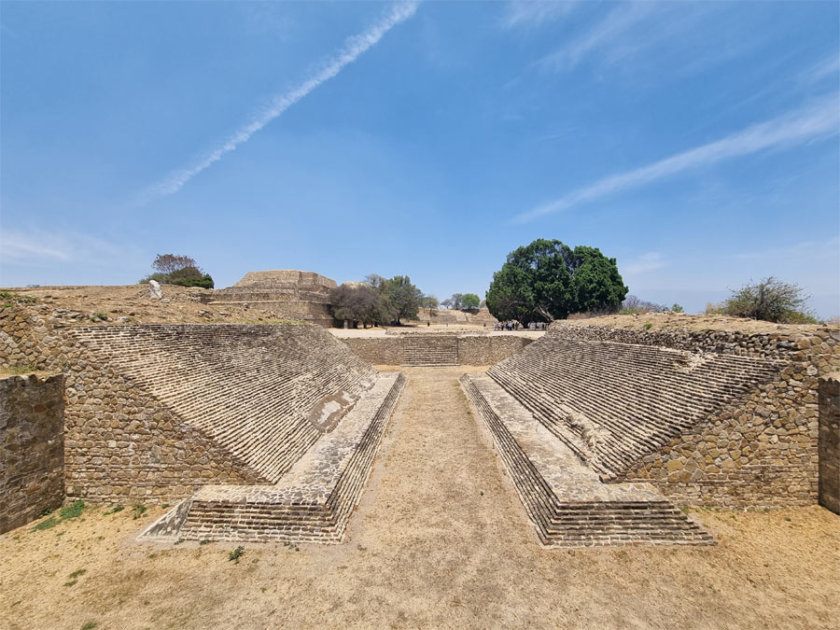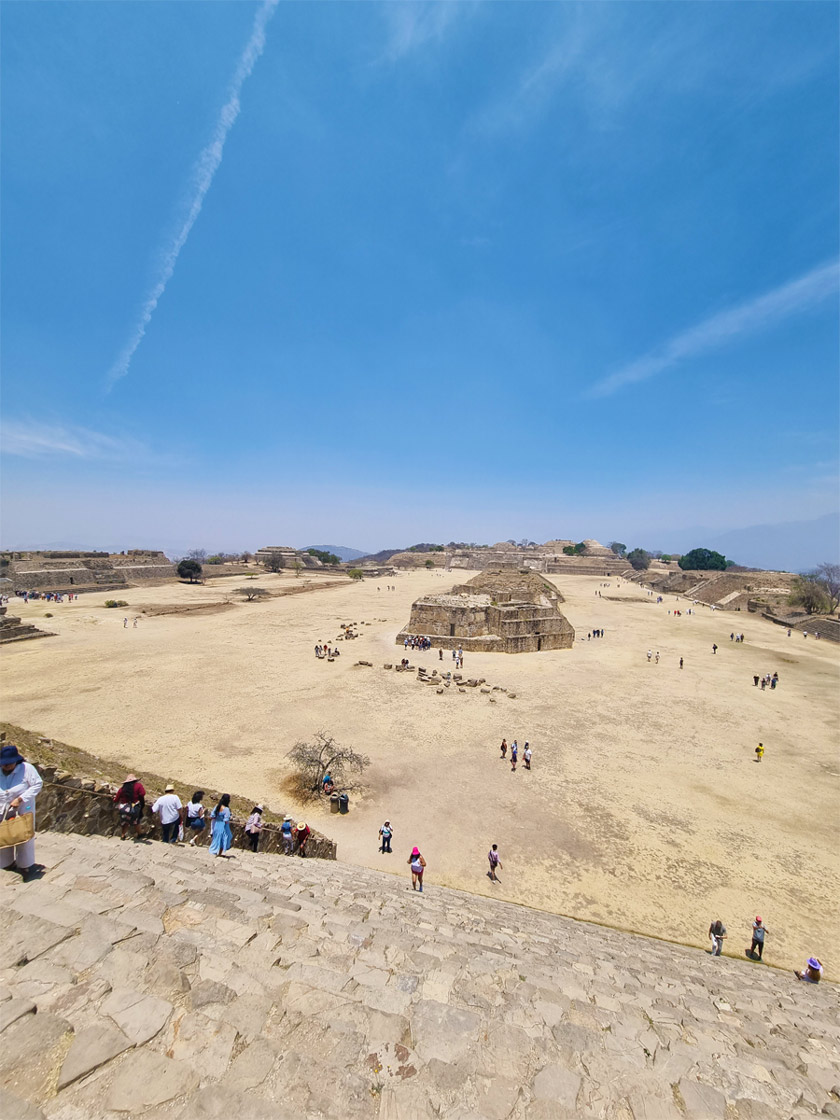 Interesting Facts and Stories About Monte Albán
Monte Albán was inhabited for over 1,300 years, from around 500 BCE to 850 CE. It was one of the longest-lasting Mesoamerican cities in history.
The site was initially founded by the Zapotecs and later taken over by the Mixtecs, who added their own architectural and artistic contributions.
Monte Albán was one of the first places in Mesoamerica to develop a system of writing and a calendar, showcasing its early cultural and technological advancements.
At its peak, Monte Albán had a population of around 25,000 people and was one of the largest and most influential cities in Mesoamerica.
3. Hiring a Local Guide
When I visited Monte Albán, I chose to take a guided tour, and it was an incredible decision!
I have been twice to Monte Alban, two years apart, and my two guides were fantastic, sharing in-depth knowledge, captivating stories, and unique facts about the site that truly enriched my experience.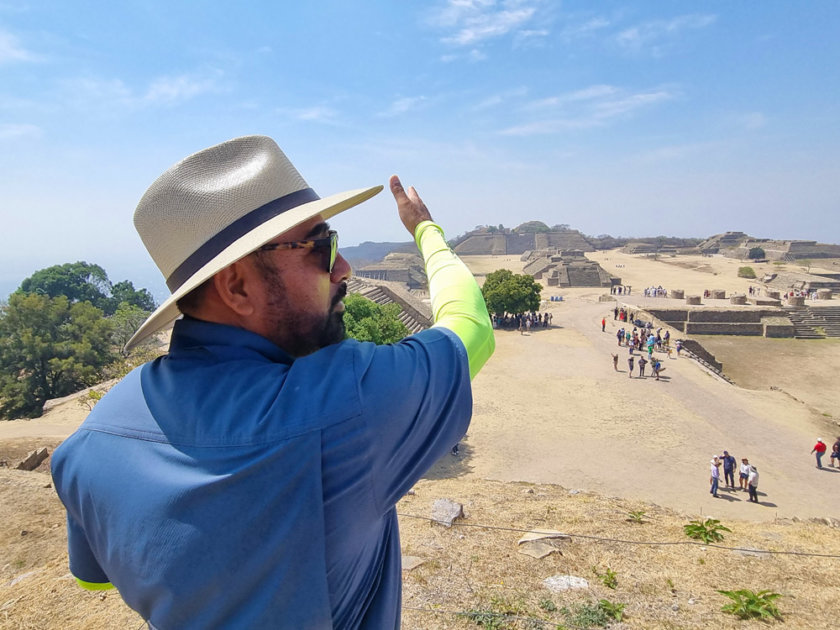 4. Nearby Attractions
If you're looking to explore more of the Oaxaca region, there are several other attractions worth visiting near Monte Albán:
Other Archaeological Sites and Attractions Aroung Oaxaca
Mitla: the 2nd most important archaeological site in Oaxaca (after Monte Alban). It is known for its intricate geometric mosaic patterns adorning the walls of its buildings. It was an important religious and ceremonial center for the Zapotec and Mixtec cultures.
Yagul: this ancient city features a well-preserved ball court, palace complex, and a unique natural rock formation known as "La Fortaleza." Yagul was inhabited by the Zapotecs and later the Mixtecs.
Museum of Oaxacan Cultures: the Museo de las Culturas de Oaxaca showcases the region's rich history, including artifacts from Monte Albán and other archaeological sites.
Hierve el Agua: This natural wonder is located about 70 kilometers from Oaxaca City and features amazing petrified waterfalls and mineral-rich pools. These stunning formations were created over thousands of years by mineral-rich water seeping from the mountain and depositing minerals on the cliffside. You definitely don't want to miss it!
Interesting Villages and Attractions Around Oaxaca
San Bartolo Coyotepec: Just 15 kilometers from Oaxaca City, this charming village is famous for its unique black pottery, known as "barro negro." Visiting local workshops and witnessing artisans crafting these beautiful pieces is a must-do experience while in the area.
Teotitlán del Valle: This village, about 25 kilometers from Oaxaca City, is known for its vibrant handwoven rugs and textiles. Using traditional techniques passed down through generations, local weavers create stunning pieces with intricate designs and bright colors. It's a great place to pick up a unique souvenir and support local artisans.
Santa María del Tule: Located about 9 kilometers from Oaxaca City, Santa María del Tule is home to the famous Arbol del Tule, which is one of the world's oldest and largest trees. This Montezuma cypress is over 2,000 years old and has a massive trunk with a circumference of over 40 meters. The village itself is also charming and worth exploring.
San Martín Tilcajete: This village, situated about 23 kilometers from Oaxaca City, is well-known for its painted wooden carvings called "alebrijes." Local artisans create these whimsical, fantastical creatures using copal wood, and then they are intricately painted with vibrant colors and detailed patterns.
Local Markets
After a day of exploring Monte Albán, be sure to sample some of the delicious local cuisine. Oaxaca is renowned for its culinary delights, and there are numerous restaurants and markets where you can try traditional dishes such as mole, tlayudas, and mezcal.
Oaxaca's Central Market (Mercado Benito Juárez): this bustling market is the perfect place to sample a variety of local foods and purchase souvenirs. I loved exploring the vibrant stalls filled with colorful textiles, traditional clothing, beautiful handicrafts, and delicious local foods. Don't miss the chance to sample Oaxacan cheese called quesillo and make sure to bring a reusable bag for your purchases. A trip to Mercado Benito Juárez is an authentic and unforgettable experience!
Mercado 20 de Noviembre: it is definitely one of my favorite places in Oaxaca! The market is famous for its Pasillo de Humo, or "Hall of Smoke," where you can find mouthwatering, freshly grilled meats and vegetables. The lively atmosphere and the tantalizing smells of sizzling food are simply unforgettable. I recommend trying the local specialties like cecina, tasajo, and chorizo, and don't forget to pick up some handmade tortillas to complete your meal.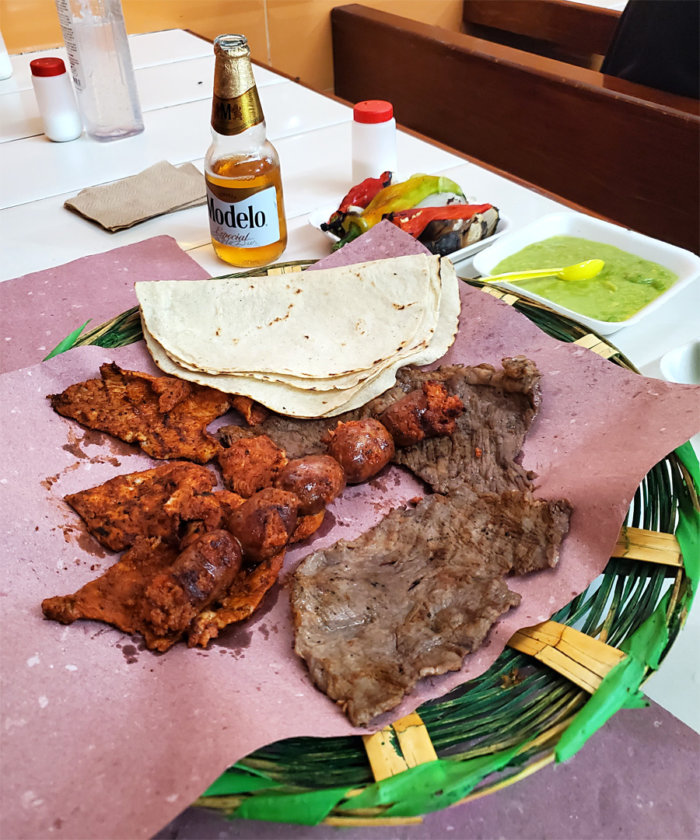 Mercado de Tlacolula (on Sunday): one of my favorite experiences was visiting the Mercado de Tlacolula, about 30 kilometers from Oaxaca City. It is one of the oldest and most vibrant markets in the region. I was blown away by the wide range of goods, from fresh produce and local delicacies to handmade crafts and textiles. To make the most of your visit, I suggest arriving early to beat the crowds. And trust me, you don't want to miss out on the delicious street food. You can book your visit to the traditional Tlacolula Market from Oaxaca here! ❤️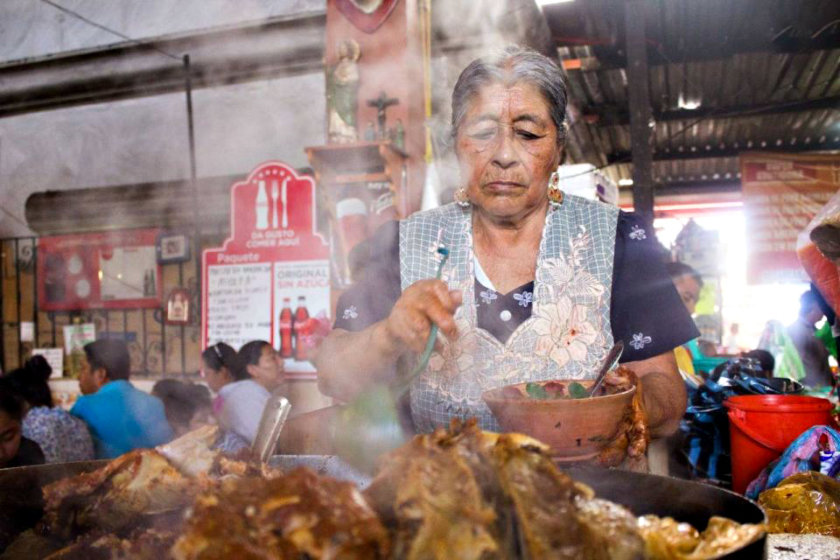 Conclusion: Experience Monte Albán's Cultural Significance Firsthand
Monte Albán is an incredible testament to Mexico's rich cultural heritage and a must-visit destination for anyone interested in exploring the country's history.
With its well-preserved ruins, fascinating stories, and breathtaking views, a visit to Monte Albán is sure to be a memorable experience.
By following the tips and recommendations in this guide, you'll be well-prepared to plan your visit and make the most of your time at this remarkable archaeological site. Don't miss the opportunity to experience the magic of Monte Albán firsthand – it's truly a journey worth taking!
Additional Tips for Your Monte Albán Adventure
To ensure your visit to Monte Albán is as enjoyable and fulfilling as possible, here are a few more tips and suggestions to keep in mind:
Stay hydrated: Oaxaca's climate can be hot and dry, especially during the summer months. Be sure to bring plenty of water with you to stay hydrated during your visit to Monte Albán.
Protect yourself from the sun: Wear sunscreen, sunglasses, and a hat to shield yourself from the sun's rays, particularly during the hottest parts of the day.
Wear comfortable shoes: Monte Albán's terrain can be uneven, with many steps and slopes to navigate. Wearing comfortable, sturdy shoes will help you explore the site safely and comfortably.
Respect the site's rules: Remember that Monte Albán is an important cultural heritage site. Follow any posted rules, and avoid climbing on or touching the structures to help preserve them for future generations.
Arrive early: I recommend you to get there as soon as it opens at 9 am. You will have plenty of time to wander around and take the best pictures before the tour buses arrive (around 10 am). So, do yourself a favor and set your alarm early – you won't regret it!
How to Get to Monte Alban from Oaxaca
Getting to Monte Albán from Oaxaca City is quite simple. There are a few options to choose from:
1. Bus: take the bus in front of the Rivera del Angel hotel, it goes directly to Monte Alban (departures every 30 min, from 8 am to 3:30 pm). This is the most budget-friendly option.
2. Taxi: a cab from the zocalo should cost aroung 150 pesos (20 min)
3. Monte Alban or this tour of Monte Alban and the Handicraft Villages for a complete cultural immersion.
4. Private Car: it is very easy to get to Monte Alban from Oaxaca by car. It only takes about 20 minutes to drive from the city center to the archaeological site. The road is well-paved and signposted.
You can enjoy the scenic views of the Oaxaca Valley along the way!
Renting a car is for sure the best way to explore Oaxaca and make the most of your stay!
While it's not super useful to visit the city, having a car is a must to discover the rest of the country.
To rent a car, personally, I always use Rentalcars.com, for a few reasons:
You can easily compare the rental cars prices between all the agencies: for sure the easiest way to find the best rate!
Cancellation is often offered free of charge: no need to worry if you change your mind
Rentalcars offers full insurance coverage at a lower price than the rental companies, so it's an instant saving with no effort
Simply click on the green button to find your rental car at the best price:
There is a large parking lot near the entrance and there is a second one a bit further. Both are free.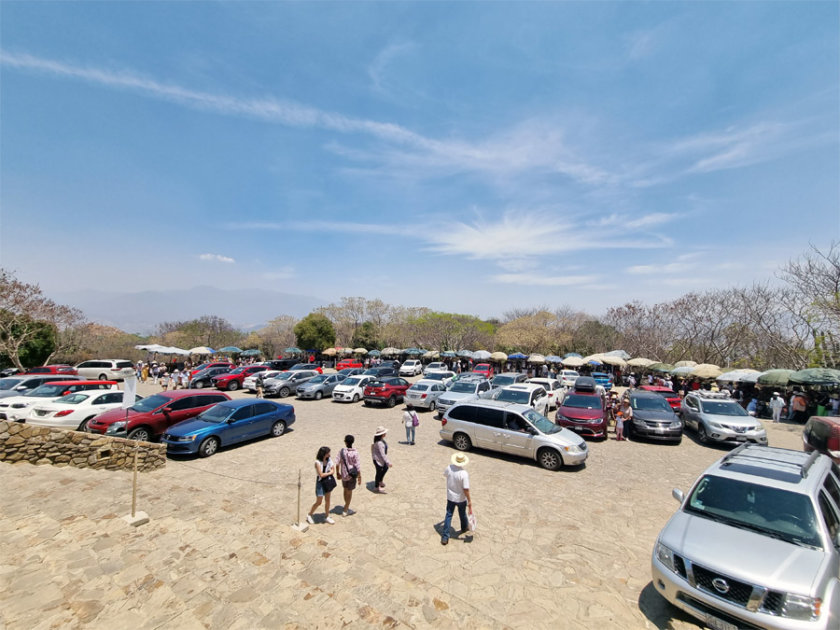 Where to stay in Oaxaca
Andaina Hostel: Located in the heart of Oaxaca, only 300 meters from Santo Domingo Church and 800 meters from the Zocalo. Cozy and colorful dormitory or private room with shared bathroom, from 16 $usd per night, breakfast included. Strong points: the friendly atmosphere, the rooftop terrace, the free activities and tours. This is my choice for a budget-friendly hotel in Oaxaca!
Casa Barroco: Elegant room with balcony, just a few steps from the main square in a listed colonial house, with two beautiful patios, from 89 $usd per night. Strong points: the beautiful colonial-style building, the charming garden, the helpful staff.
Casa de Sierra Azul: Located in the historic center of Oaxaca, 200 meters from Santo Domingo Church and 600 meters from the Zocalo. Classic and cozy room with private bathroom, from 140$ usd per night. Strong points: the central location, the bicycles available for guests, the free parking, the delicious breakfast.

Quinta Real Oaxaca: Located in a former convent from the 16th century, 500 meters from Santo Domingo Church and 700 meters from the Zocalo. Elegant room and romantic atmosphere, from 260 $usd per night. Strong points: the stunning architecture, the outdoor pool, the gourmet restaurant. This is my choice for a luxury stay in Oaxaca!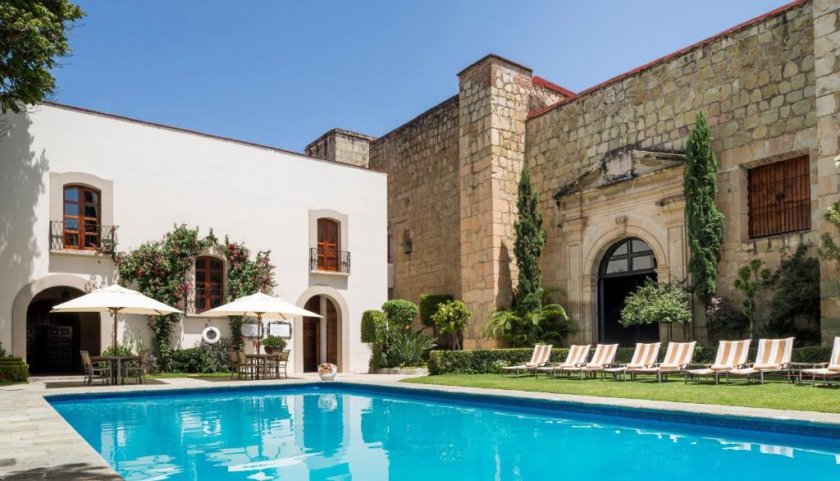 How to find a cheap flight to Oaxaca
Oaxaca airport is also known as Xoxocotlán International Airport. The airport handles domestic and international flights to destinations such as Mexico City, Tijuana, Guadalajara, Dallas/Fort Worth, Los Angeles, Cancun, Merida, Guatemala City and more.
To find a cheap flight to Oaxaca as well as the best domestic flights in Mexico, I recommend using our flight comparison tool in partnership with Skyscanner. It is guaranteed to get you the best price!
Book your trip now and save money!
You're traveling in Mexico? These articles will help you!
Discover all my articles about Mexico: All my articles to help you plan your trip to Mexico are listed there.
You're using Pinterest? Here is the picture to pin!