Weekend in Mexico City: The Best Itinerary for 2 days + Where to Stay
You're planning to spend 2 days in Mexico City and you're looking for the best things to do?

You're at the right place!
In order to help you plan your stay, I have prepared for you this 2-day itinerary in Mexico City.
During your trip, you will discover all must-see attractions of the city such as the Cathedral of Mexico, the Palace of fine arts or the archaeological site of Teotihuacan.
Whether you're into history, culture, art, food, or design, you will for sure find plenty of attractions and experiences to enjoy during your 2 days in Mexico City!
In addition to the best places to visit and activities for each stage of your itinerary, I will also give you all my best tips and accommodation suggestions depending on your budget.
So, what are the best places to visit in Mexico City in 2 days? Where to stay?

Let's find out!
Day 1: Historic Center, Roma and Condesa
Morning: Explore the Historic Center
Let's start your 2 days in Mexico City by exploring its Historic Center, a UNESCO World Heritage site that boasts a rich history and stunning architecture.
You can enjoy the panoramic view of the city from the observation deck of the Latin American Tower (Torre Latinoamericana).
It is one of the tallest and most iconic buildings in the city. You can also visit the museum and the restaurant on the top floors. – Get your tickets for the viewpoint (click here)
The Palace of Fine Arts is just a step away from the Latin American Tower. This iconic building of Mexico City was completed in 1934 and it blends different styles such as Art Nouveau and Art Deco.
Follow the pedestrian street Francisco I. Madero and make sure you take a picture of the Casa de los Azulejos, a beautiful tiled building.
You will arrive to the Zocalo (Plaza de la Constitución), one of the largest public squares in the world!
This bustling plaza is surrounded by some of Mexico City's most important landmarks: the National Palace with murals of Diego Rivera, the Metropolitan Cathedral, biggest and oldest cathedral in Latin America, and the Templo Mayor, the ruins of the main temple of the Aztec empire.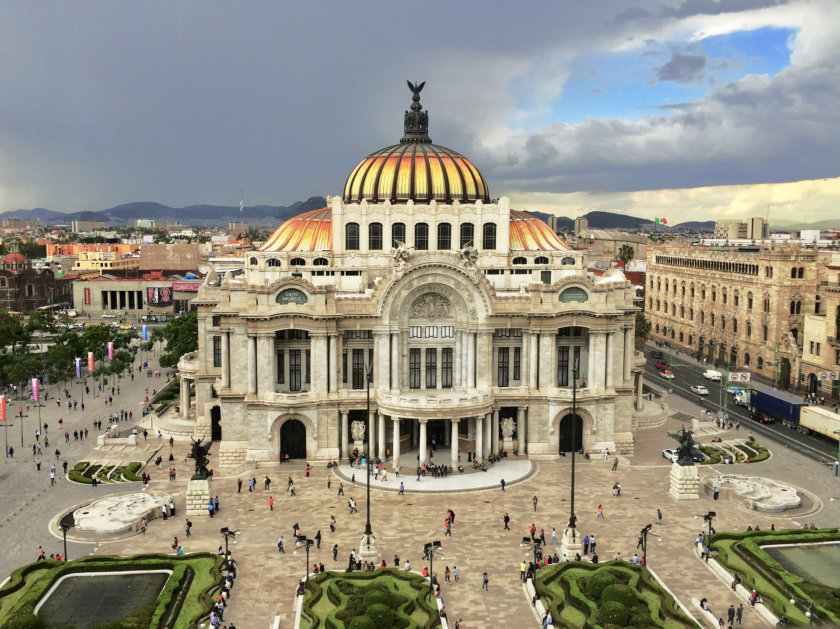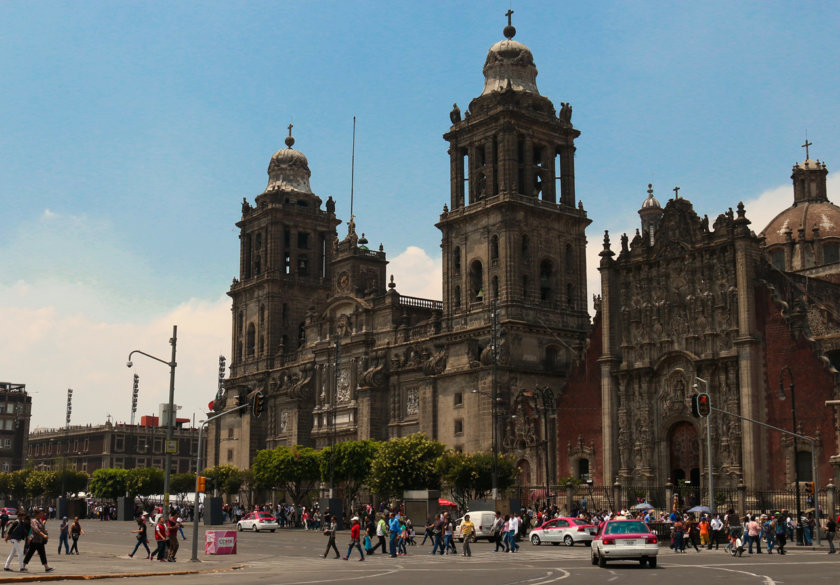 Evening: Explore the Roma and Condesa Neighborhoods
After exploring Mexico City's history in the morning, experience its modern culture in the hip neighborhoods of Roma and Condesa.
Start your evening in Colonia Condesa with a stroll through Parque México and Parque España, two lovely parks. Enjoy the peaceful vibe, watch street performers, or relax on a bench.
Then, head to colonia Roma and admire the Art Deco buildings from the early 20th century around Calle Jalapa, Plaza Luis Cabrera, Plaza Rio de Janeiro.
Look for colorful street art on the walls and alleys. Many artists have left their mark on the neighborhoods, creating a beautiful and changing outdoor gallery.

Both Roma and Condesa also have art galleries and cultural centers with contemporary Mexican art and culture. For shoppers, they both have trendy boutiques with clothing, accessories, home goods, and artisanal products. Browse these shops and find the items made by local designers.
They have a great food scene, with many dining options for every taste and budget. Whether you want a cozy coffee shop, a lively beer garden, or a chic cocktail bar, you'll find the perfect place to chill and enjoy the nightlife.
You'll have a memorable night in one of the most vibrant and diverse areas of Mexico City!


Day 2: Teotihuacan and Lucha Libre
Morning: Explore the Ancient Ruins of Teotihuacan
On the second day of your 48-hour itinerary in Mexico City, visit Teotihuacan, a UNESCO World Heritage site.
Located just 30 miles northeast of the capital, this ancient Mesoamerican city is known for its well-preserved pyramids, temples, and plazas.
What to See at Teotihuacan:
The Pyramid of the Sun: This is the third-largest pyramid in the world and the largest at Teotihuacan.
The Pyramid of the Moon: Though smaller than the Pyramid of the Sun, the Pyramid of the Moon is still an impressive structure. It's located at the northern end of the Calzada de los Muertos
The Calzada de los Muertos (Avenue of the Dead): This is the main thoroughfare of Teotihuacan, lined with ancient temples and residential compounds. Walking along the Avenue of the Dead is an excellent way to immerse yourself in the site's history.
Additionally, don't miss the Palace of Quetzalpapálotl and the Temple of the Feathered Serpent. These are two of the most well-preserved structures at Teotihuacan and offer a glimpse into the lives of the city's elite.
Tips for Visiting Teotihuacan:
Wear comfortable shoes: You'll be doing a lot of walking and climbing, so make sure to wear shoes that are suitable for the terrain.
Bring water and snacks: There are limited facilities at Teotihuacan, so it's a good idea to bring your own refreshments.
Protect yourself from the sun: The site offers little shade, so be prepared with sunscreen, a hat, and sunglasses.
To make the most of your day, you should arrive at Teotihuacan early.
Plan your visit: there's a lot to see at Teotihuacan, so arrive early to beat the crowds and be strategic with your time.
Getting to Teotihuacan:
 You can either take a guided tour from Mexico City or opt for public transportation.
My favorite tour includes pick up from your hotel, early access and guided tour of Teotihuacan, and tastings of  tequila, mezcal, and other traditionnal liquors. You need to book it here:
My advice
F
or
the ultimate experience, you can take the hot air balloon flight over Teotihuacan with hotel pick up, coffee, buffet breakfast, toast, and flight certificate.
Book it here:
If you choose public transportation, head to the Autobuses del Norte station in Mexico City. Buses to Teotihuacan run regularly from this station, and the journey takes around an hour. Remember to purchase round-trip tickets to save time and hassle later in the day.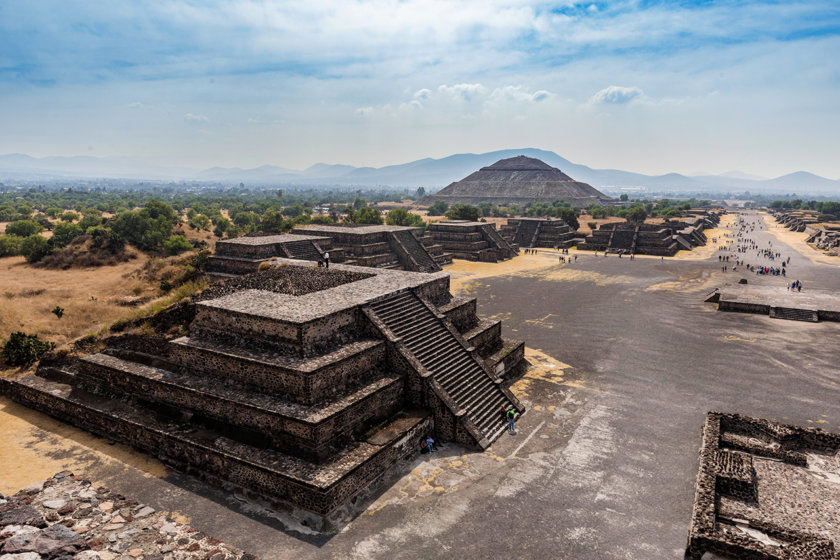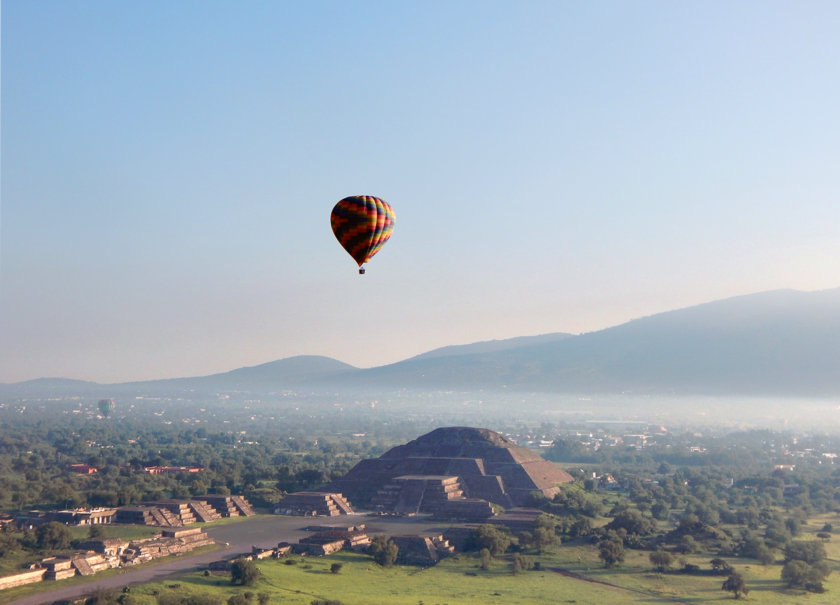 Evening: Experience the Thrill of Lucha Libre
After a half-day of exploring Teotihuacan, it's time to head back to Mexico City where you can rest at your hotel, have lunch or just take a walk.
For an unforgettable evening, you should attend a lucha libre fight.
Lucha libre is a form of professional wrestling that originated in Mexico and is characterized by colorful masks, high-flying maneuvers, and a unique blend of athleticism and theatrics.
What to Expect at a Lucha Libre Fight
Lucha libre is known for its energetic atmosphere and passionate fans. Here's what you can expect during your night at the fights:
Exciting matches: Lucha libre fights are fast-paced and action-packed, with wrestlers performing impressive acrobatic moves and engaging in dramatic storytelling.
Colorful masks and costumes: One of the trademarks of lucha libre is the vibrant masks and outfits worn by the wrestlers. These costumes often reflect the wrestler's persona and can be quite elaborate.
Crowd participation: Audience members are encouraged to cheer, boo (to say it politely😆…), and chant throughout the event, making for an electrifying atmosphere.
Attending a lucha libre fight is a truly unique experience and a great way to cap off your 2-day trip to Mexico City!
Where to Watch Lucha Libre in Mexico City
The best place to catch a lucha libre match in Mexico City is at the Arena Mexico, the largest and most famous lucha libre venue in the country. The arena hosts weekly fights, typically on Tuesday, Friday, and Sunday evenings.
Popular events can sell out, so it's a good idea to secure your tickets online (click here) to chose the best seats but be aware that you will have to pick up your tickets at one of the Ticketmaster locations.
In my experience, it's best to go to the Juarez outlet and NOT at the Roma Norte box office (Calle Tabasco) because no one understands what time they open and they never respect the schedule on the door.
My advice
To live the
full lucha libre experience
(and to
avoid the hassle
of picking up the tickets!🥴), I can't recommend enough this tour.
It takes you first to a traditional cantina for a drink, where you will learn about the lucha's history and social context. Then you will see the show from the best seats, with a beer!

Extra Tips for Your 2-Day Mexico City Itinerary
Now that you have a solid plan for your 48h in Mexico City, here are some additional tips to ensure your trip goes smoothly:
Stay safe: While Mexico City is generally safe for tourists, it's always wise to take precautions. Keep your belongings secure, avoid displaying valuables, and stick to well-traveled areas. I have been living in Mexico City for almost 5 years and nothing bad has ever happened to me.
Try local cuisine: Don't miss the chance to sample authentic Mexican food during your visit. Look for street food vendors and local markets to find delicious and affordable options. You can also book a food tour in Mexico City (click here)!
Respect local customs and traditions: Be mindful of local customs and traditions while exploring the city. Dress modestly when visiting religious sites and always ask for permission before taking photos of people.
My advice
If you're looking for
more adventures in Mexico City
, take a look at my articles:
Where to Stay for Your 2 Days in Mexico City
Hostel Mundo Joven Catedral(historic center): one of the best hostels in Mexico City. Clean dorms and rooms, amazing rooftop terrace with bar, great atmosphere and an exceptional view over the cathedral and the Zocalo, starting at 15$usd for a dorm and 32 $usd for a private room!
Hotel Villa Condesa(Condesa): if you are looking for a romantic hotel in Mexico City, this is a little oasis in the heart of La Condesa. It is an elegant house with small green terraces and tastefully decorated rooms. Rooms are spacious, breakfast is very good and the service is particularly attentive. Around 160$usd per night!
Casa Goliana(Roma Norte): high-end hotel with the best value for money in its category, located in an early 20th century house, typical of the Roma area. Rooftop terrace, comfortable rooms, very attentive staff, and good breakfasts. Around 190$usd per night
Four Seasons Hotel Mexico City (Juarez): this 5 star hotel is one of the best hotels in Mexico City, ideal for a business trip or a romantic stay. Located on Paseo de la Reforma between Colonia Juarez and Roma Norte. A large indoor garden, gym, swimming pool, spa, restaurant, and bar, Around 640$usd per night!
Rent a car in Mexico City
Renting a car is for sure the best way to explore Mexico and make the most of your stay!
While it's not super useful to visit the city, having a car is a must to discover the rest of the country.
To rent a car, personally, I always use Rentalcars.com, for a few reasons:
You can easily compare the rental cars prices between all the agencies: for sure the easiest way to find the best rate!
Cancellation is often offered free of charge: no need to worry if you change your mind
Rentalcars offers full insurance coverage at a lower price than the rental companies, so it's an instant saving with no effort
Simply click on the green button to find your rental car at the best price:
How to find the best price for your flight ticket
Mexico City Airport officially named Benito-Juárez International Airport receives a lot of national and international flights. It is the most important airport in Latin America!
To save money on flight tickets, you can use our flight comparator for Mexico, in partnership with Skyscanner: it's the guarantee to pay the best price for your international and domestic flights!
Book your trip now and save money!
You're traveling in Mexico? These articles will help you!
Discover all my articles about Mexico: All my articles to help you plan your trip to Mexico are listed there.
You're using Pinterest? Here is the picture to pin!