What to see and do in Sayulita (Mexico) + Where to stay?
Sayulita is a hippie-chic surfer town and a must-see destination in the state of Nayarit because of its white sand beaches and its proximity to Puerto Vallarta.
To make sure you wont miss anything on your next trip, I have prepared for you my guide to Sayulita with the best places to visit, the best surf spots, and all the activities you can do.
I've also included my restaurant and hotel recommendations for all budgets, as well as all the practical information needed regarding money, safety and how to get there.
You will also find all my tips to cheaply travel to Sayulita!
So, what do in Sayulita, where to sleep?
Must-see attractions in Sayulita and its surrounding area
1. Exploring the town
Sayulita is a charming town that is very pleasant to stroll around. You can visit the main square, with its colorful letters (a classic in Mexico!), which is always lively!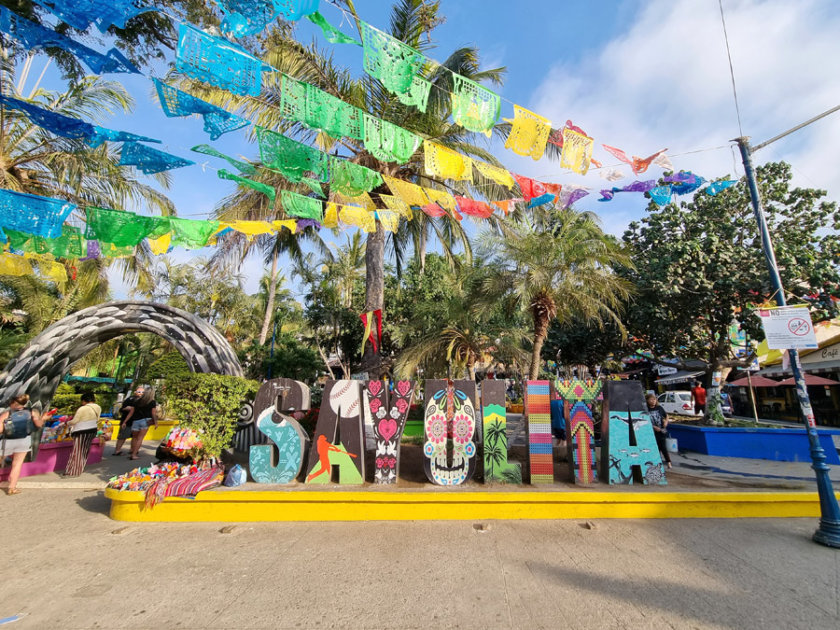 Nearby is THE place to take photos in Sayulita: the Calle Delfines, which is the famous street that you see everywhere on Instagram full of colorful papel picado.
To avoid the crowd, go in the morning, when it's quiet, to take your photo 😉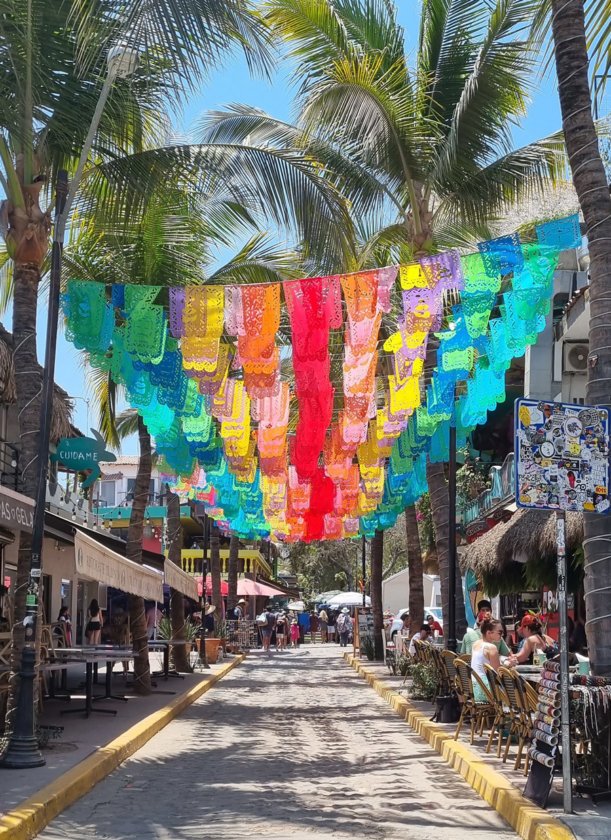 You find nice stores, cafes and restaurants with terraces everywhere!

You can also go a little bit away from the center and walk through the El Palmar Avenue which is much quieter. If you then turn left along the street Marias Islands you will arrive at Playa Norte, a practically empty beach.
Keep your eyes open because there are all kinds of colorful things (and people) to see throughout Sayulita.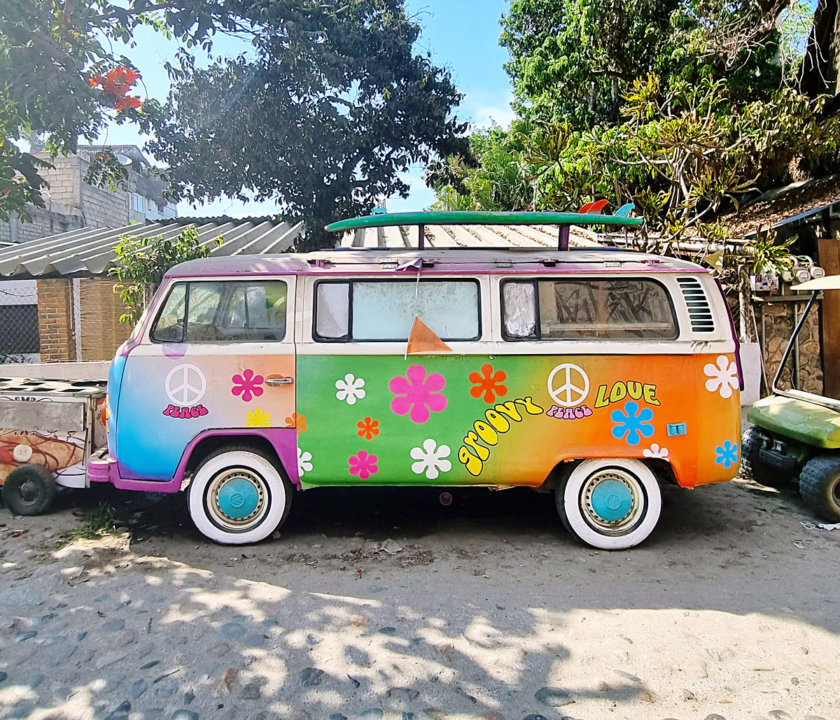 2. Street art
Murals are a very important part of Mexican culture and there are some great examples of street art in Sayulita.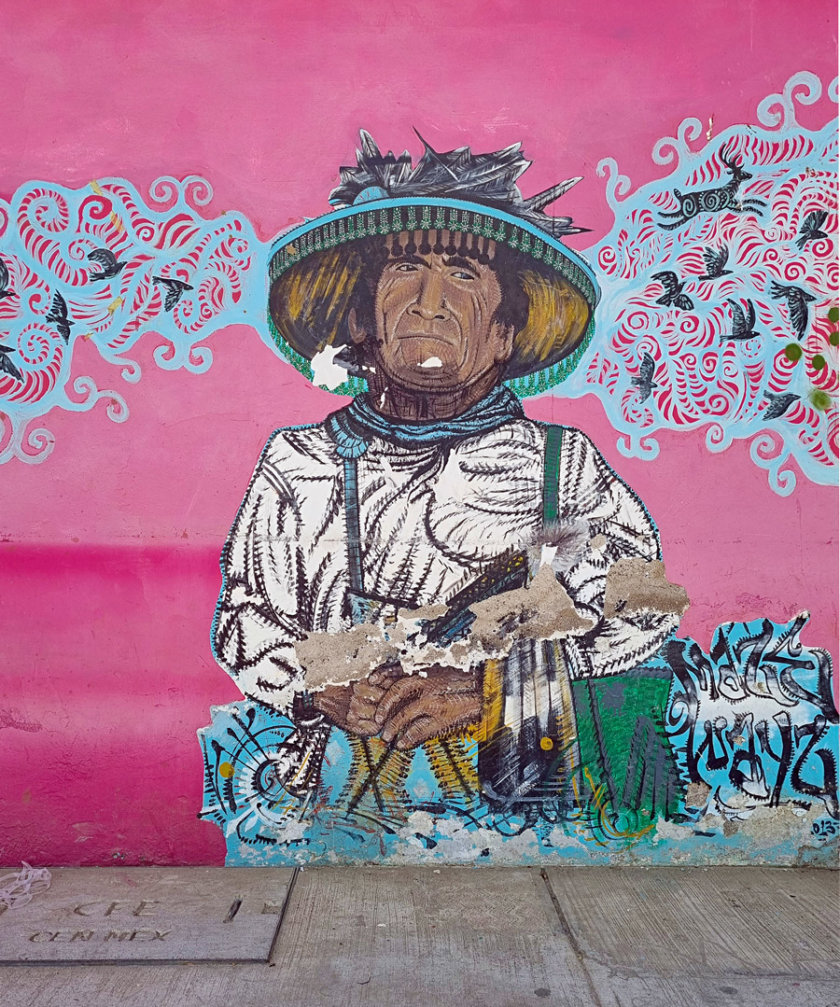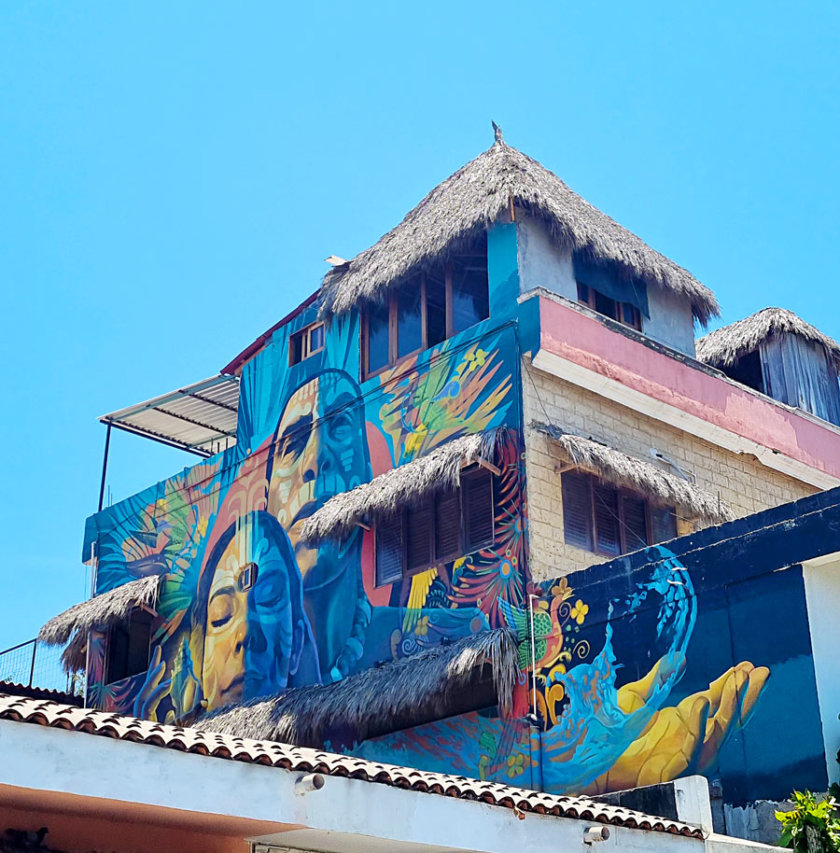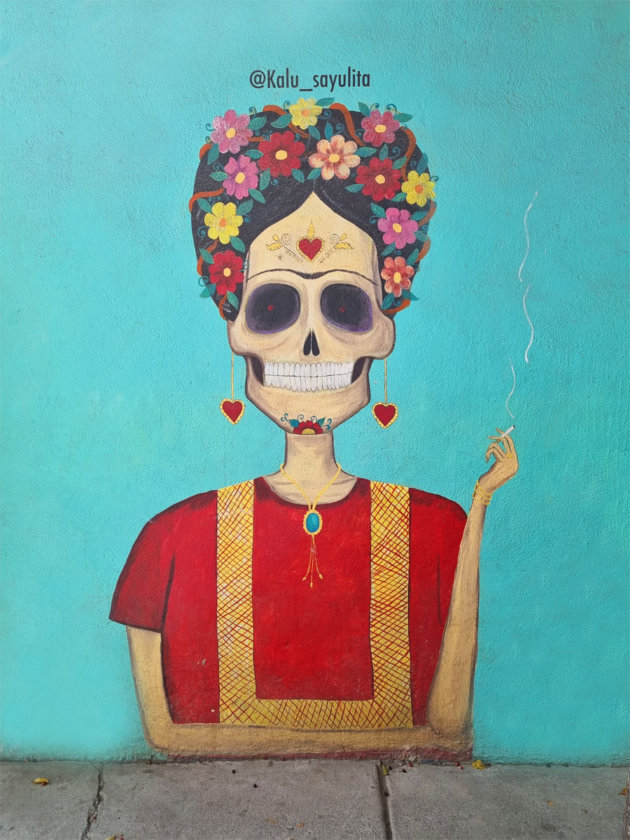 3. Take a surfing lesson
Of course, this is the best activity to do in Sayulita!
Sayulita has become an important surfing destination in Mexico, for all levels and all types of boards (long board, short board, paddle board).
The best time of the year to surf in Sayulita is from December to April because the waves coming in from the north are constant. So you can be sure to get the most out of it!
For beginners:
May is ideal as the waves are smaller, but otherwise the left side of Sayulita's main beach is a good option all year round with its sandbar.
You can also go further out to Playa El Anclote in Punta Mita or Litibu.
For those with an intermediate/advanced level:
Advanced surfers can enjoy lefts and rights up to 4m
There are many options in and around Sayulita: the right side of Sayulita's main beach, San Pancho (for shortboards), La Lancha in Punta Mita, Punta Burros, Veneros, etc.
My advice
You can find several
surf schools in Sayulita
, but you will quickly realize that
WildMex
is THE reference in the area, with several branches, courses, board rentals, and surf camps.
You can book directly with them here: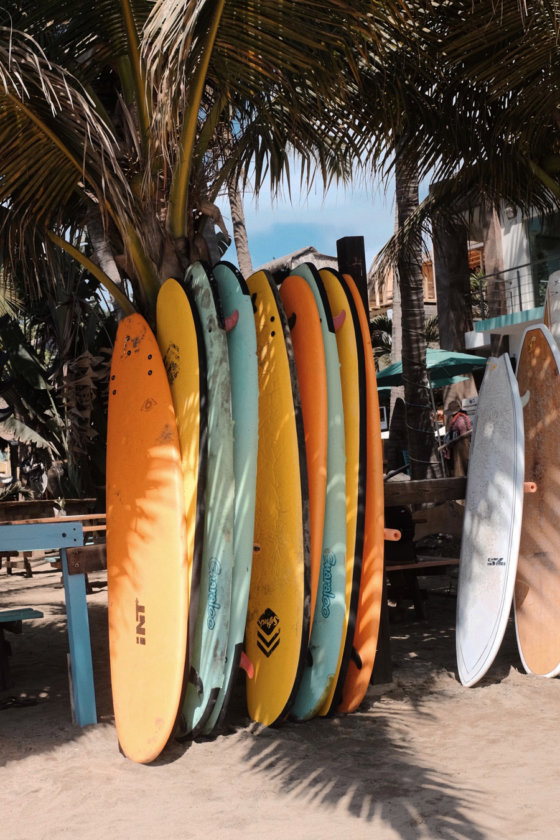 4. Sayulita's main beach
It is a long, clean beach and a great spot for families with bars, restaurants, lounge chairs and umbrellas, and surfboard rentals. If you are making a trip to Sayulita with kids, this is a great place to stay as everything is close by.
Sayulita beach is easily accessible from Calle Marlin, Calle Delfines or even Calle Gaviota.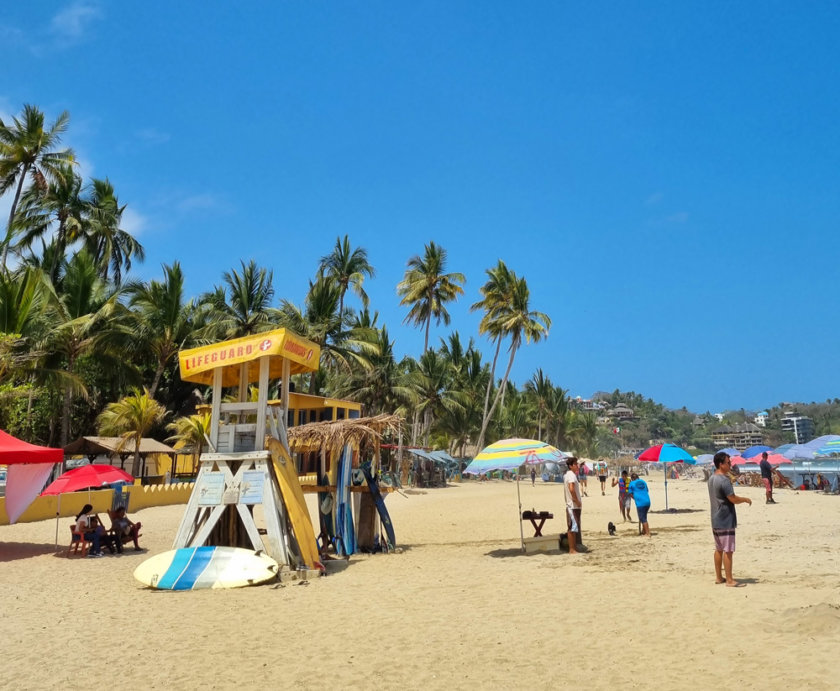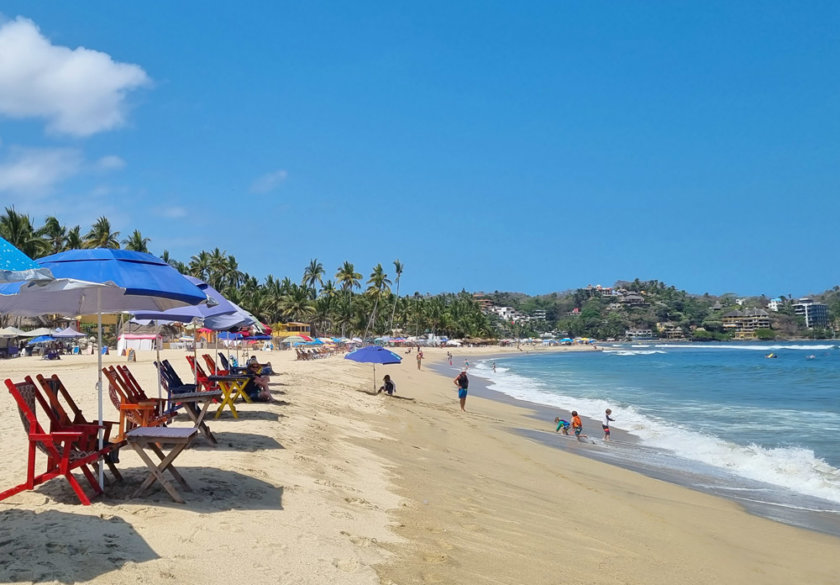 If you prefer a quieter beach, you can always walk to Playa Norte which is right next door; to the right, if you're facing the ocean.
To be honest, I don't think that's its official name (I don't even know if it has a name, since it's just an extension of the main beach), but the locals told me that's what they call it, so I'll do the same!
Personally, instead of walking along the sand, I got there by walking down Avenida el Palmar and then turning onto Islas Marias street. There is almost no one there! Just a few couples taking their morning walk with their dog and 2-3 lonely people coming to sunbathe.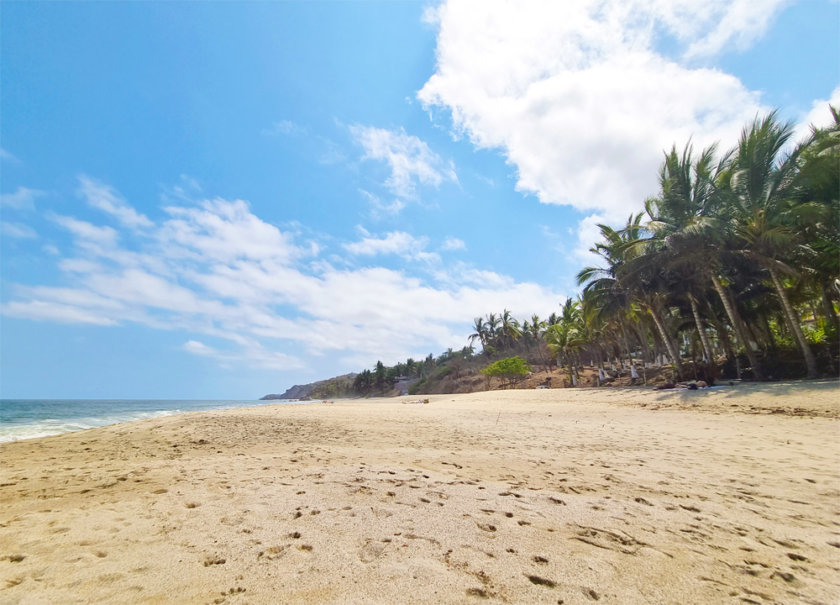 5. Malpaso Beach
If you're feeling like an explorer, I recommend you go to Playa Malpaso!😍 Personally, it took me a bit of time to figure out which way to go because you can't see the entrance from Playa Norte.
But in the end it's very simple (20 min in total), here I'll explain to you how to do it:
First go to the end of Playa Norte (here)
You will see the entrance of a house and some rocks, you have to climb over the rocks to get behind it. You can't go along the beach because the tide is dangerous!
Take the path that goes up and through the jungle. After about 10 minutes you will come to a small abandoned hut.
Go down the path, you will quickly see that it splits in two.
From there, don't take the path down (to the left) as it takes you to Playa Las Cuevas, which is a very small beach that is surrounded by large rocks that block access to Playa Malpaso. Of course, if you want, you can also go down to see it, but you will have to go back up to get to Malpaso.
So take the other path (to the right) and eventually you will reach Playa Malpaso.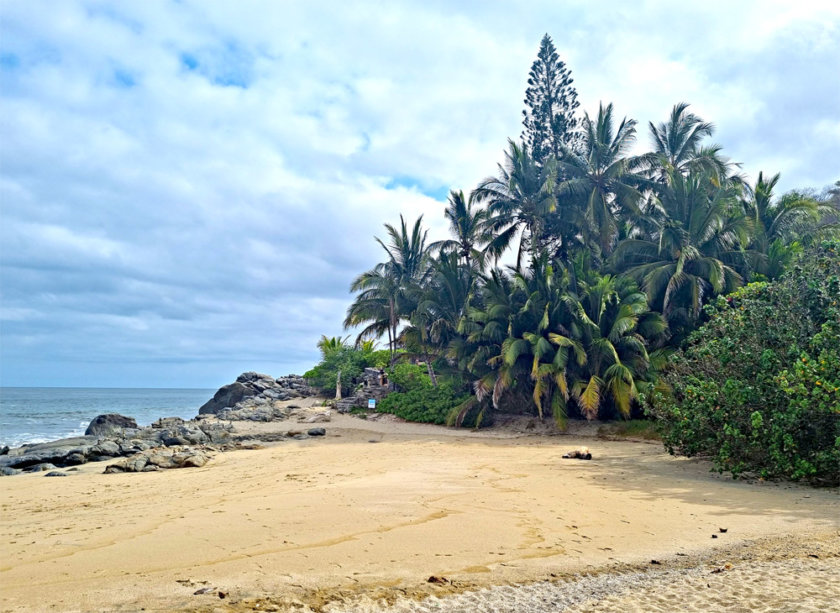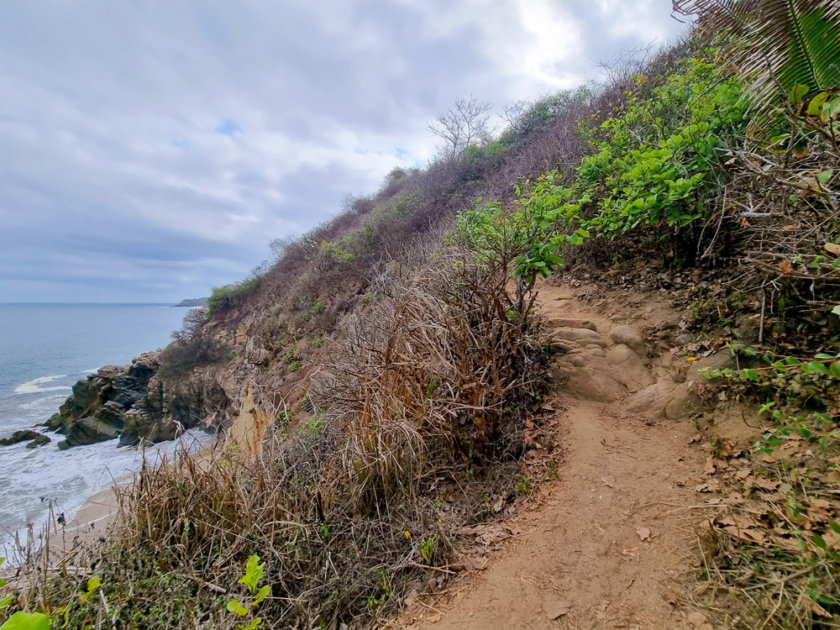 It is an almost empty golden sand beach, surrounded by lush vegetation.
Be aware that the waves are quite strong as it is a very long beach with an open sea (it is not a bay), so I didn't swim but I loved being able to walk around.
My personal recommendation is to avoid leaving valuables unattended (e.g. cell phones) like you might do in any other beach.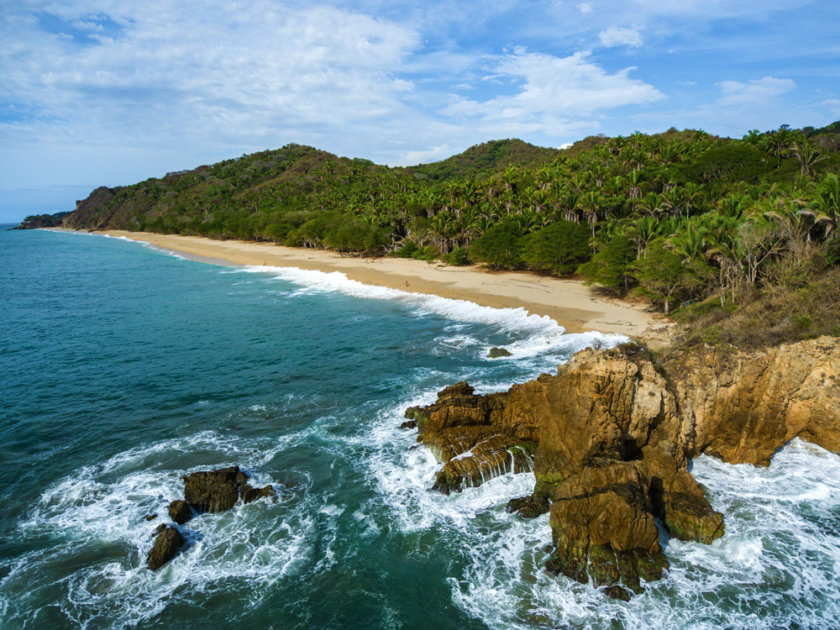 6. Los Muertos Beach
It's one of the nicest beaches in Sayulita! Clean, small, and a great place where you can swim since the waves are not very strong.
Many people arrive with their towels or beach chairs, but you can also rent chairs with umbrellas. You can even order cocktails from the staff at the entrance.
Location Playa de los Muertos- If you are in downtown Sayulita, instead of driving, you can walk down Pescadores Street. It's a nice walk, facing the ocean, and allows you to see a different part of Sayulita.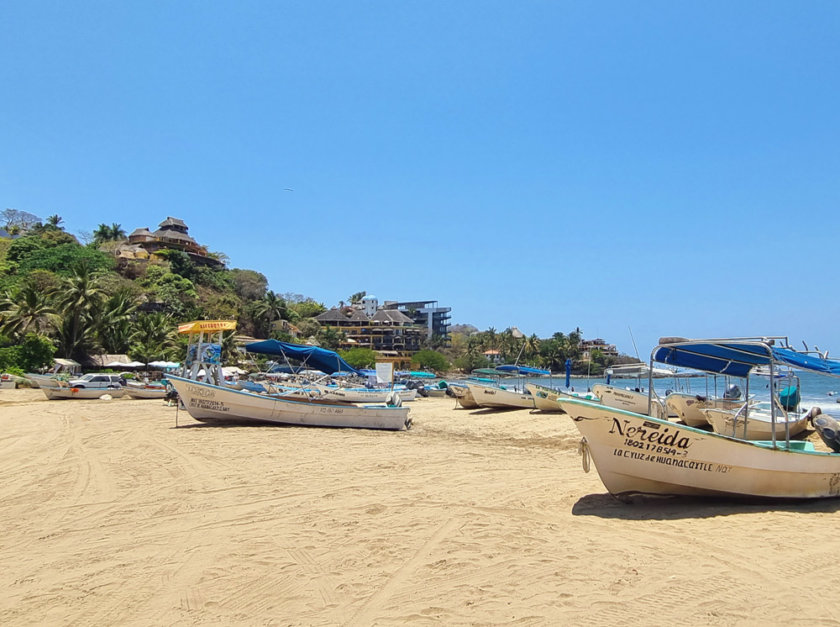 When you see Sayulita's colorful cemetery, you're just a stone's throw away from the beach. Just cross it and you're at the entrance. That's why it's called "Playa de los Muertos".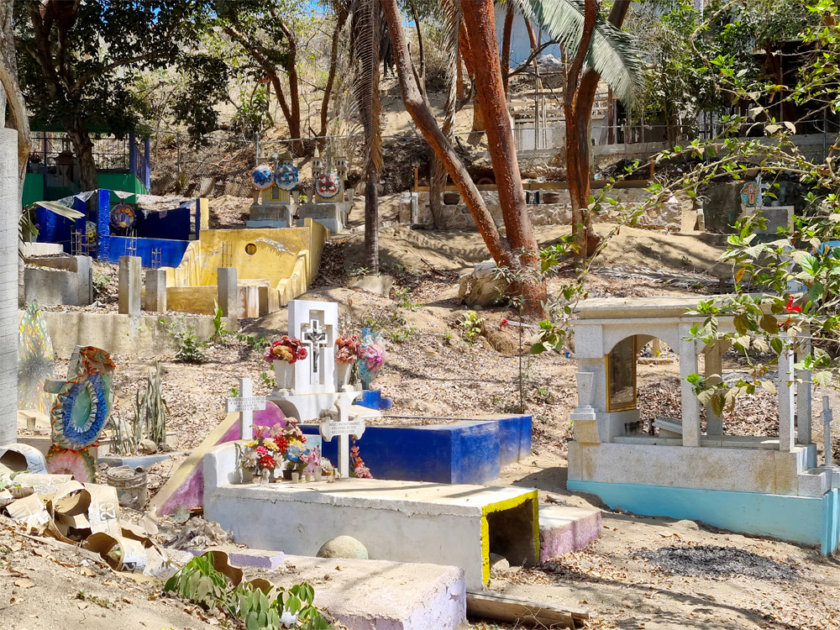 My advice
If you go in the morning, especially during the week, it's quiet. But since the beach is small, it can get crowded pretty quickly.
If you want to avoid the noise, then you can go to Playa Carricitos which is not far away. There are no available amenities, so bring water, maybe snacks, your towel, and you'll be good to go. Otherwise it is a very beautiful, wild and secluded beach!
7. Discover Mexican handicrafts
There are many nice stores in Sayulita selling all kinds of objects, clothes, and souvenirs.
I love Mexican handicrafts, so when I find something I love, I buy it without hesitation!
But since I've been living in Mexico for a few years now I also know that some places abuse on prices, especially in destinations that receive many international travellers.
And yes, unfortunately, this is also the case in Sayulita, so my best advice is to go to Artesanías Mexicanas Leo!
Sure, it's not a fancy Tulum-style store with palo santo incense at the entrance, but you're greeted by a friendly Mexican mom (her son dressed as Spiderman was studying behind the counter 😊). Here, you can find various handmade items at good prices (especially mugs, plates, etc.).
You can also go to the handicraft market which is practically in front of Organi-k (here). It is a nice and colorful market where you can find many souvenirs, including Huichol handicrafts.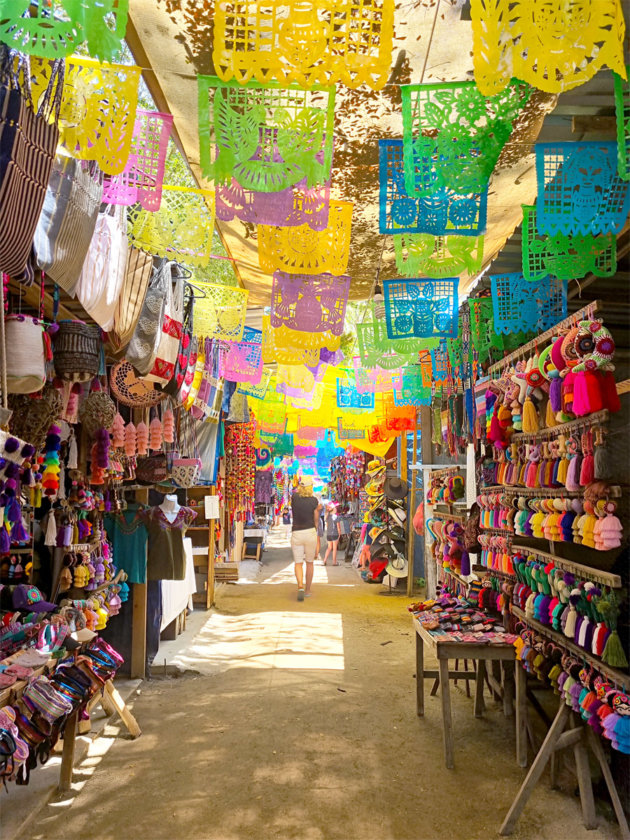 8. Rancho Mi Chaparrita
If you like adrenaline, Rancho Mi Chaparrita is a must-do in Sayulita. They offer several activities, but I would suggest the following:
The zipline tour – Book it here
It is a 2 km jungle tour with 13 zip lines and 4 suspension bridges at 125 m high
The activity includes pick up from your hotel in Sayulita, water, tequila tasting and access to the ranch pool
This is a very safe activity with professional guides who provide all the necessary equipment (gloves, harnesses, helmets).
Children from 5 years old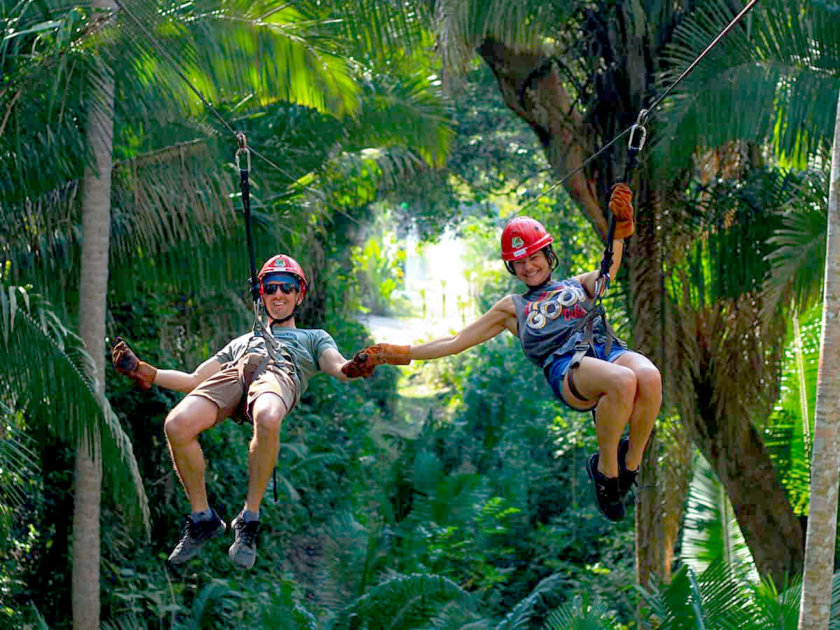 The ATV Tour – Book it here
This 2 hour ATV tour of Sayulita takes you up to Cerro La Loca with its beautiful panoramic views, and then back to town along the beach before ending with a tequila tasting.
Activity includes pick up in downtown Sayulita, water and tequila tasting
Driver s must be 18 years old or older,  and rear passengers must be 6 years old or older
My tip: this tour is very popular, so book early to secure your spot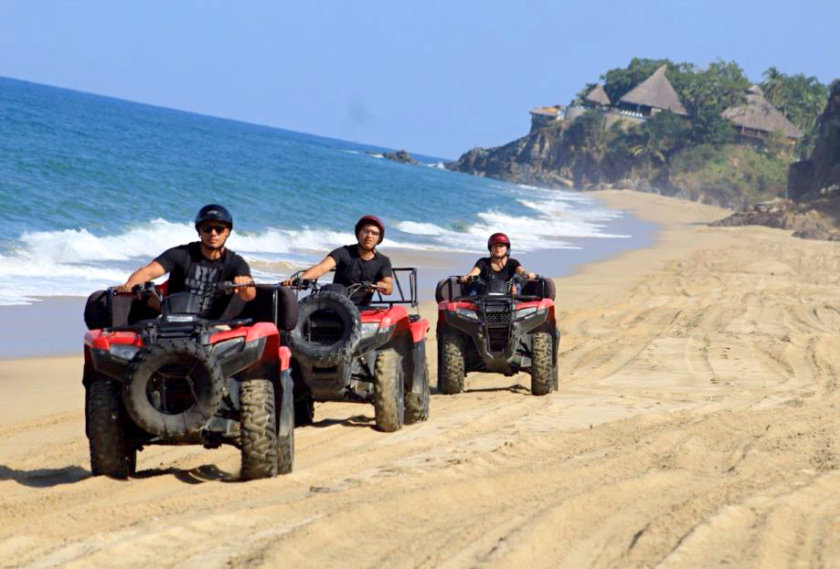 9. Cerro del Mono
The Cerro del Mono reserve (sometimes called Cerro Los Monos) is a must-see in Sayulita for those who like hiking.
It's about a 3h-3h30 hike (round trip in total) in dense vegetation to reach a lookout point that offers breathtaking views over the Punta de Mita Peninsula.
Of course, in the rainy season, the view is even more impressive because everything is completely green.
Departure from the main square of Higuera Blanca, a pretty coastal town 15-20 minutes drive from Sayulita
Moderate difficulty: trails are marked, but sometimes you have to climb over rocks, the terrain is steep
Bring plenty of water and snacks!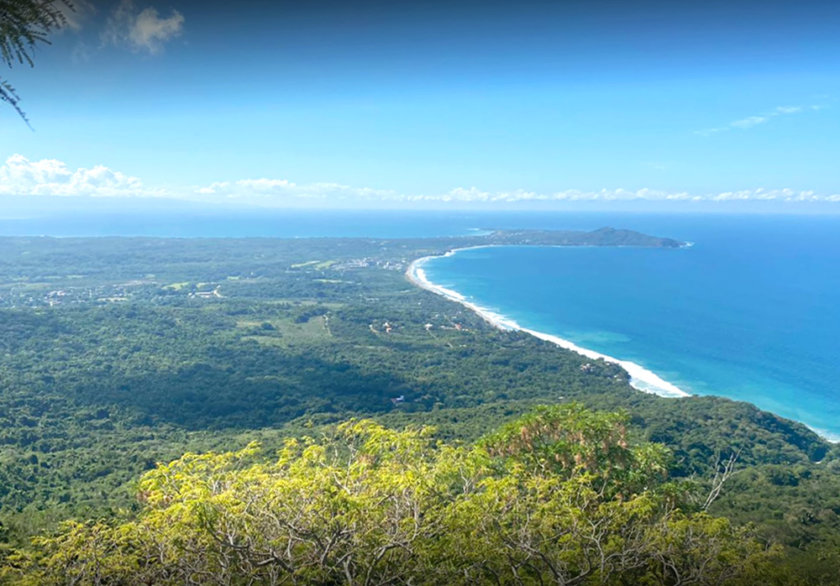 10. La Lancha Beach
Playa La Lancha, in Punta Mita, is a very popular beach with surfers, and travellers looking for a beach that is a bit hidden.
It is indeed a famous beach, but never crowded (and rarely has families) due to its access, which can be a bit tricky.
We walked past the entrance three times without seeing it. 😂
Here's how to get to Playa La Lancha:
You have to get here, 25 minutes from downtown Sayulita. As a landmark on the road, you will see a gas station and an Oxxo. The entrance is right in front of the WildMex surf school.
The Oxxo is great for water and snacks, and WildMex is great for renting a surfboard if you don't have your own.
There is parking at the trailhead, but you can also leave your car in the Oxxo parking lot. Just be careful crossing the road on foot.
Then take the small dirt road for about 10-15 minutes.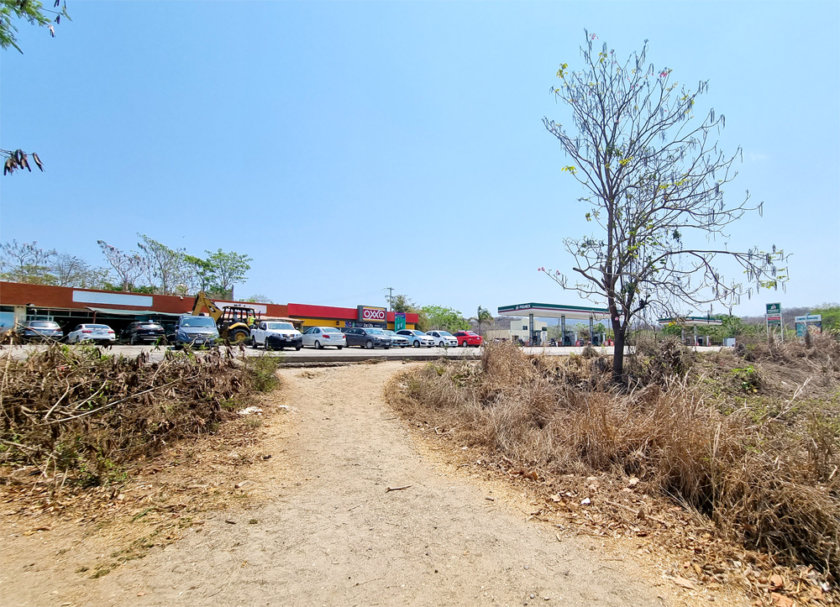 My advice
I recommend
going only in the dry season
, because in the rainy season the road is very muddy and slippery, and sometimes even impassable.
I saw some signs saying to watch out for crocodiles (which I didn't take seriously), and looking at my drone footage, I actually saw two crocodiles in the lagoon.
So in the middle of the rainy season, when everything is flooded, I personally wouldn't risk it! 😅
I had read that there was absolutely nothing on this beach, but it's not true anymore as there is a small beach club (in the background), reserved only for guests of the four Seasons Punta Mita hotel
There was also a gentleman renting some chairs and umbrellas (300 pesos for the day – it is quite convenient as there is no shade!), it was Saturday though so I don't know if he is there all week.
Anyway, even though it was a weekend afternoon, the beach was very quiet. what is certain is that it is one of the most beautiful beaches in Nayarit!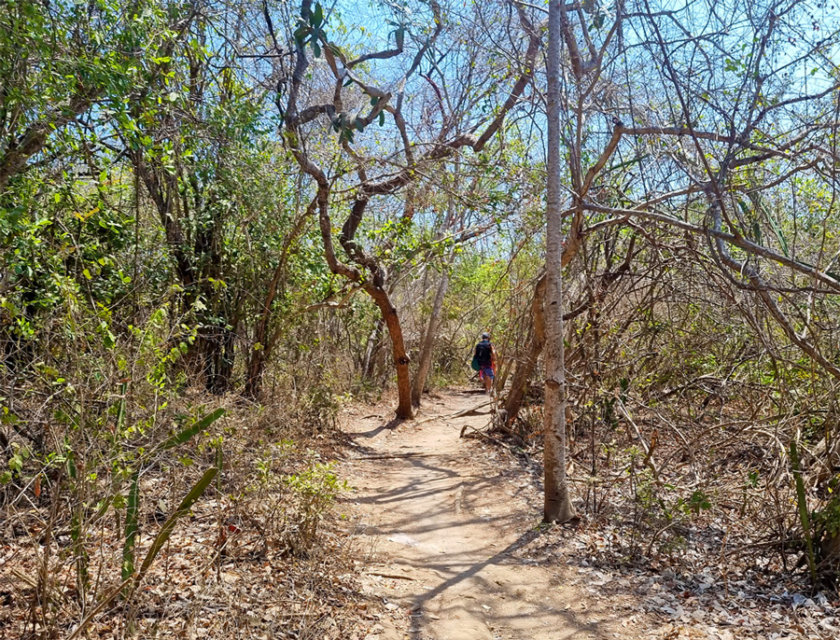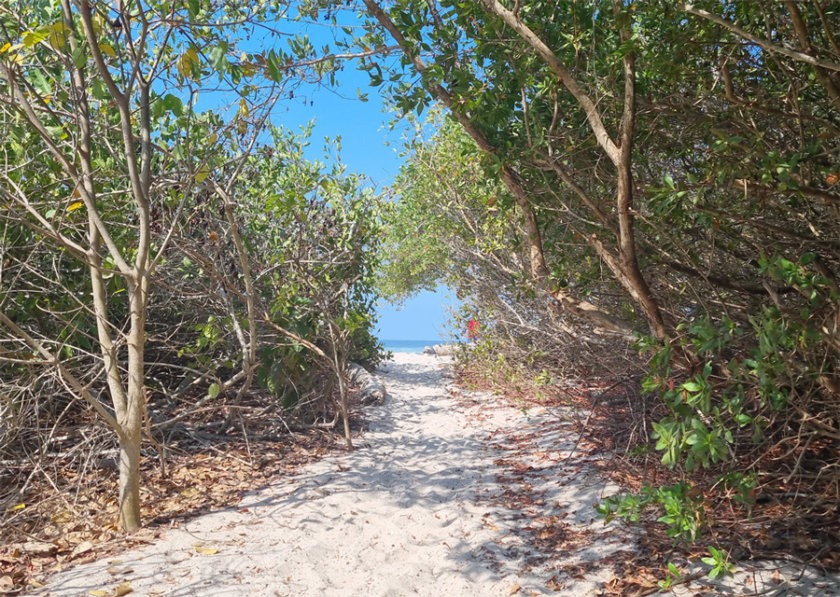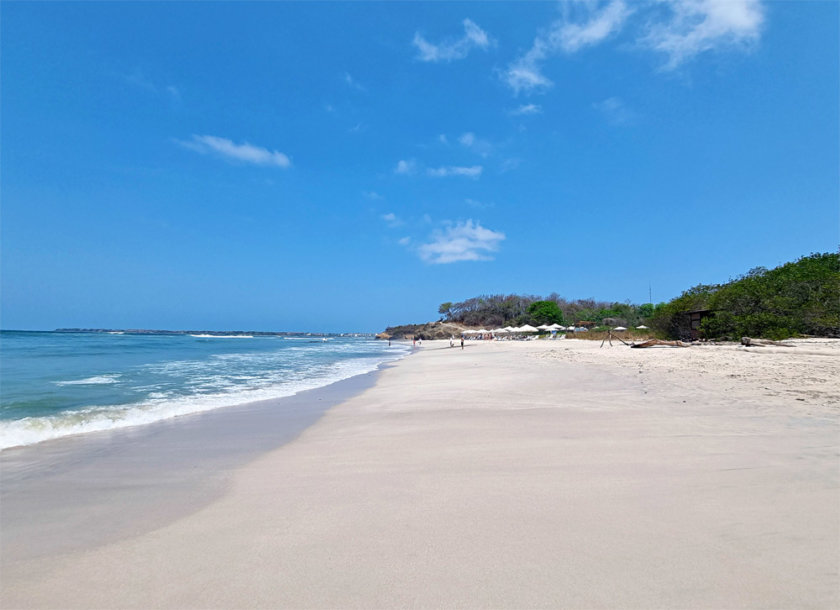 11. Take a horseback ride
Another way to explore the Sayulita area is to book a horseback ride that takes you through the town of Higuera Blanca, the jungle and the beautiful Playa Litibu, one of the most beautiful beaches in Nayarit, in the company of a cowboy!
You can book this tour by clicking on the button below: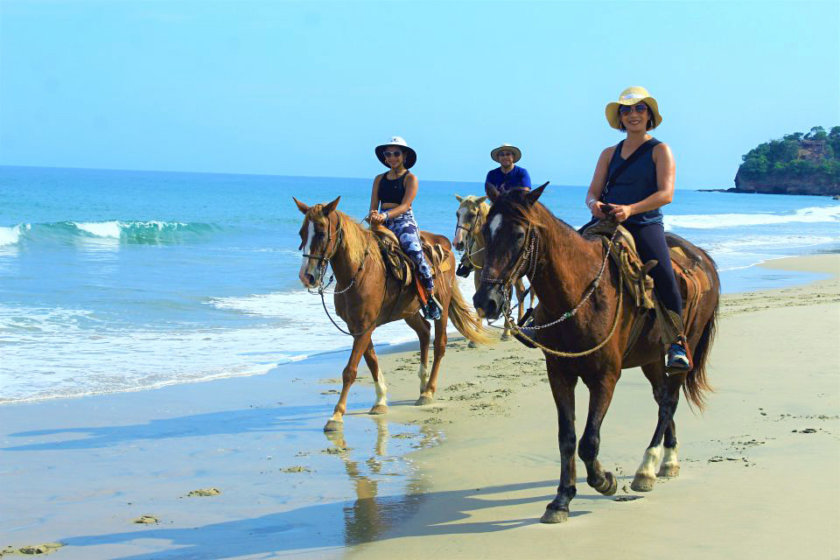 12. Los Ayala
30 km from Sayulita is the town of Los Ayala, a family resort with several beautiful natural sites.
You can visit, for example:
Playa El Beso (or Playa Frideras) which is reached by walking along a jungle trail from Playa Los Alaya (from here)
Tortugas Beach which is located in front of an estuary where thousands of turtles come to reproduce every year
Coral Island and Crab Island are ecological reserves that are home to numerous species of birds and turtles. In addition, their proximity to the Guayabitos coral reef makes them an ideal place for snorkeling.
Playa del Toro: a beautiful beach with no waves and clear waters, reached by a nice hike (it takes about 1 hour to reach the viewpoint – you better be in shape!). Bring water as there is none on site!
And I also suggest you go to a seafood restaurant, such as Mariscos Pineda.
13. Whale watching
One of the best things to do in Mexico is whale watching, and the good news is that there are whales in Sayulita!
From mid-December to late March/early April, whales can be seen feeding, breeding, and giving birth in the warm waters of Banderas Bay: mostly humpback whales, but also gray whales, blue whales, and sperm whales.
There are all kinds of whale watching tours, some of which also include snorkeling or scuba diving, or even a visit to the Marietas Islands.
And as for the dolphins, you can see them all year round, even from Sayulita's main beach if you're lucky 😉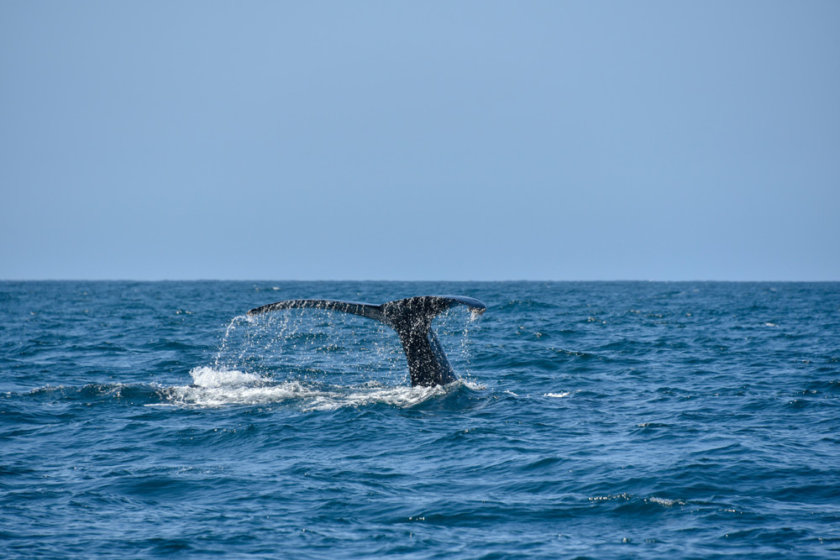 14. The Altavista archaeological site
One of the "off the beaten path" tours offered by Sayulita agencies is a visit to petroglyphs and a natural pool, but you can also go on your own.
An hour from Sayulita is the town of Chacala, which is home to the Alta Vista archaeological site, where there are 50 petroglyphs said to have been drawn by the Tecoxquines some 2000 years before our era.
In addition to its cultural and archaeological importance, the site is now considered a sacred place by the Huichol who come to leave offerings.
There is also a natural pool with clear waters among the rocks known as "La Pila del Rey" or "El Santuario". This is a unique place, which can only be reached by a 2 hour hike. And keep your eyes open because you will probably see some monkeys.
15. San Pancho
San Pancho – or San Francisco – is a quiet little beach town with restaurants, colorful murals, cultural centers, art galleries, charming cafes and yoga classes. Playa San Pancho is a long, beautiful beach, ideal for experienced surfers to take a leisurely stroll and watch the sunset.
You can also go further afield to Playa Las Clavelinas and Playa El Barro. The guided tour (3h) to the Lo de Perla Garden is also worthwhile in San Pancho: it allows you to discover this oasis in the jungle that houses a rich ecosystem, and ends with its collection of 70 species of orchids endemic to Nayarit!
Where to eat and drink in San Pancho:
Where to stay in San Pancho:
How to get to San Pancho:
It is less than 15 minutes away by car, but you can also walk along a path that runs along the coast (1h30 one way), passing by Playa Norte and Playa Malpaso
If you are coming from Puerto Vallarta, you can also take this tour to San Pancho and Sayulita to see it all in 1 day
My advice
If you feel like exploring the coastal villages of Nayarit, I also recommend a trip to Lo de Marcos, just 15 min away from San Pancho and 25 min away from Sayulita!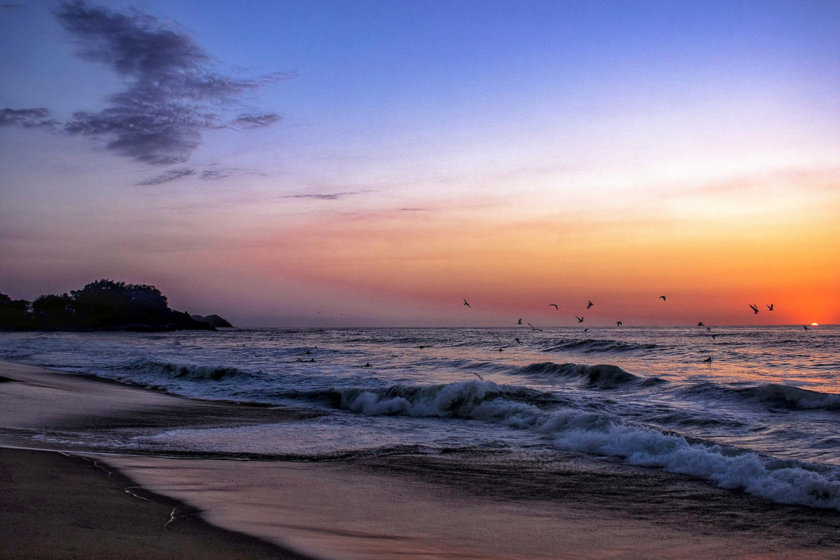 16. Marietas Islands
The Marietas Islands are some of the most beautiful places to see in Sayulita and are even one of Mexico's most beautiful destinations!
It is an archipelago of volcanic origin composed of the islands of Larga and Redonda, the islets of El Morro and La Corbeteña and the La Ampolla and Los Morros Cuates rocks.
Surprising but true: the beautiful Playa Escondida, also called Playa El Amor, was created by the explosion of a bomb when the archipelago was a military zone.
Fortunately, since the 1960s, after international pressure, the government finally declared it a national park and it is now home to an important biodiversity (coral reef, turtles, dolphins, whales, several species of birds and tropical fish).
Since 2016, access is limited to 650 people per day and 116 for Playa Escondida, and only from Wednesday to Sunday. That is why it is very important to book in advance. How to visit the Marietas Islands from Sayulita:
This is a very touristic place in Mexico, so there are tours departing from Sayulita, Puerto Vallarta, Nuevo Vallarta, Bucerías and Punta Mita.
Whatever your starting point, make sure that Playa Escondida is included, as this is not always the case. It is more expensive (because of the permit) and you can only be on the beach for 30 minutes in total, but it is still worth it!
To pay less, you can also go directly to Punta Mita to book your tour. However, it is better to go 1 or 2 days in advance, otherwise there might not be any more room.
You have to know how to swim, even if a life jacket is provided!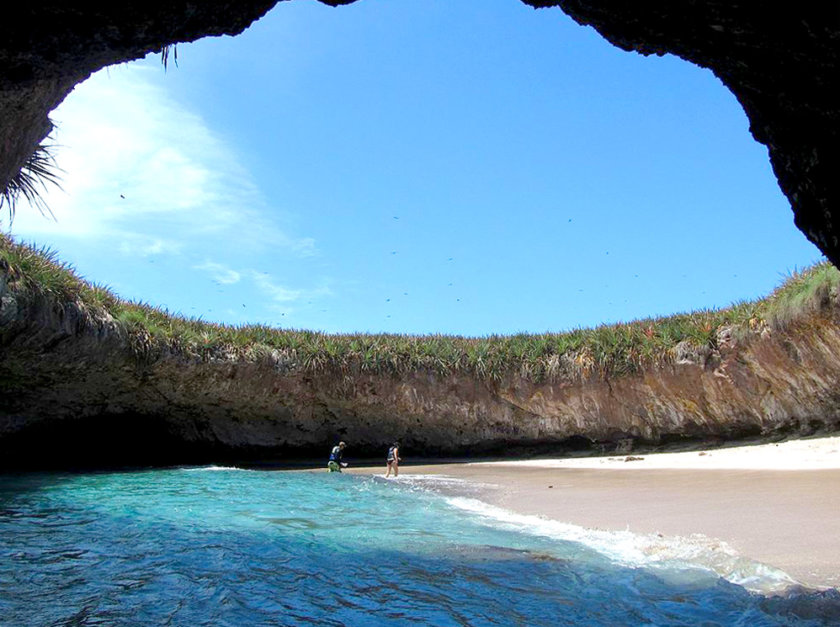 Where to eat and drink in Sayulita
For breakfast, Organi-k offers good fruit bowls, açaí bowls, smoothies, fresh juices, toast, etc. They also have poke bowls and salads.

In another style, there is also the Café Miscelanea. There is a small terrace, but I preferred to walk right in to enjoy the air conditioning. 🥵
They have several breakfast and brunch options (eggs, yogurt, pancakes, avocado toast, chilaquiles, sandwiches, etc.) but reading the menu I was especially surprised by their different cold brews (coconut brew, mojito brew, caramel almond, etc.)
PS: the wifi is good, it's probably the best cafe in Sayulita to work with your laptop. If you are looking for a place to work with wifi, you can also go to Sayulita Co-work which offers daily, weekly and monthly rates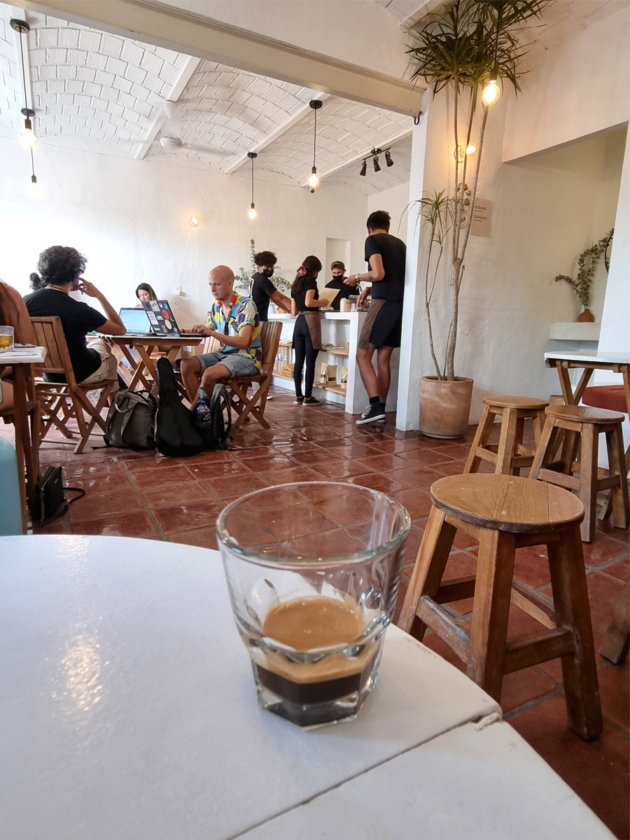 They say the best pizzas in Sayulita are at La Rustica. The prices are a bit steep, but the food is very good and the service excellent.
I also tried La Rustica in Punta Mita (30 minutes from Sayulita) which is larger and has a nice ocean view, and my experience was perfect!
A guarantee of quality in both cases. For the best tacos al pastor in Sayulita, I recommend El Tal Ivan. There are two branches, and I tried the one across from the main plaza, right next to the Yambak, where we were having a few beers.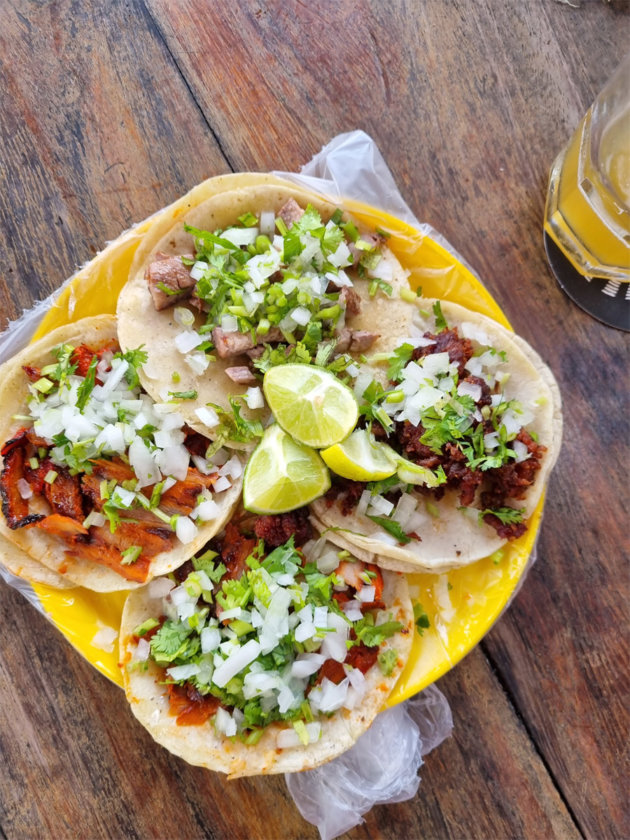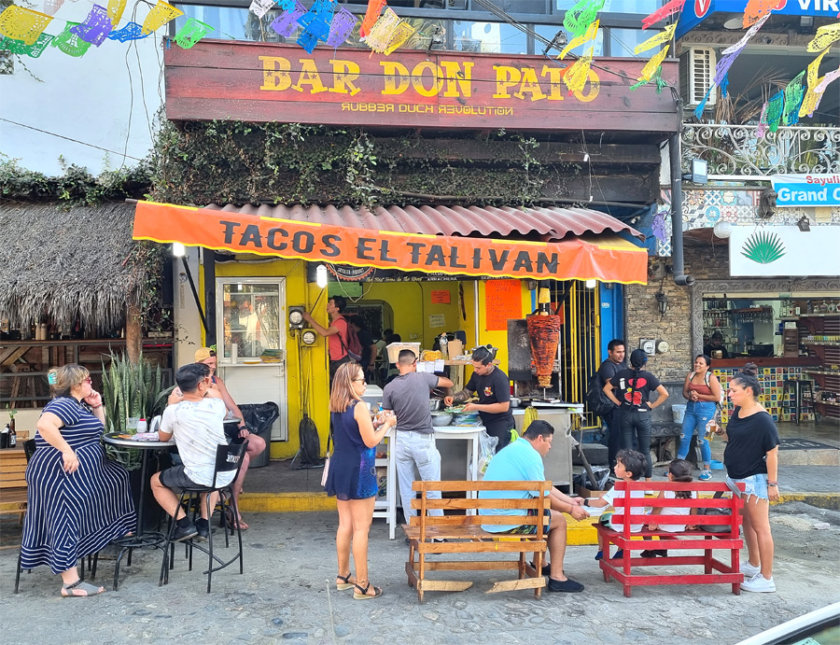 Mary's is a small, colorful restaurant with good service and large portions that opens right at breakfast. They have fajitas, enchiladas, salads, fish, guacamole, but I always go back specifically for the shrimp tacos which are excellent!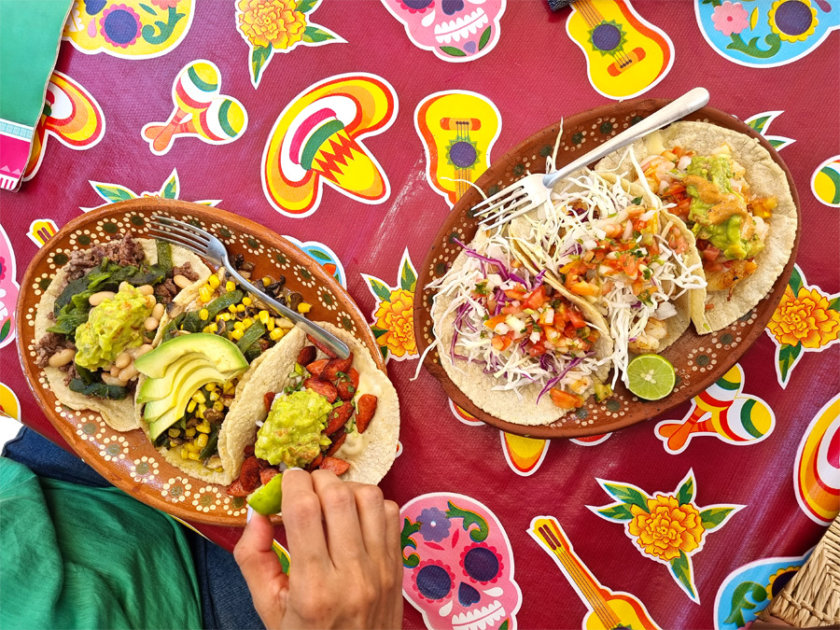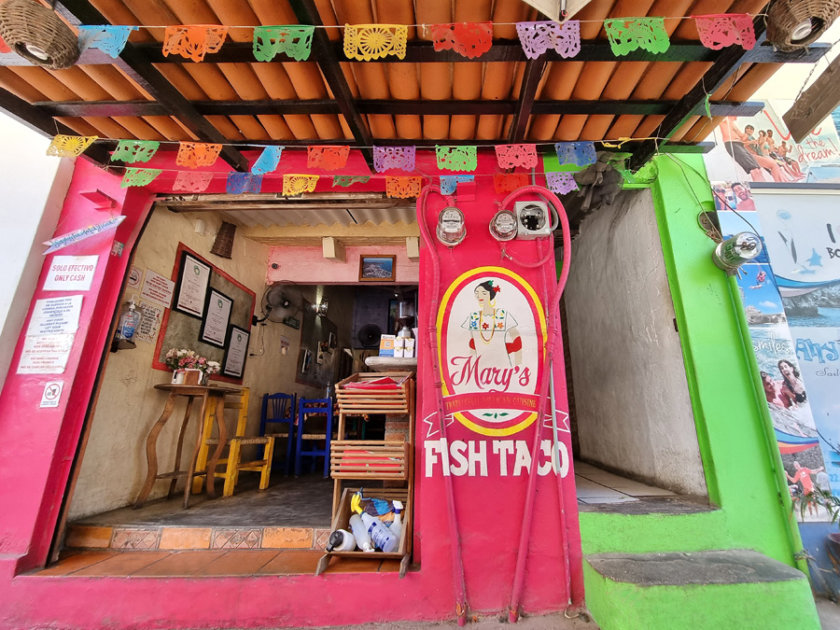 For a good beer in Sayulita, you have to go to Yambak which offers about ten craft beer options brewed right there. My favourites were La Ticla (Hazy IPA) and Stoners Point (IPA). Prices are around 40 pesos for 6 oz and 80 pesos for 14 oz.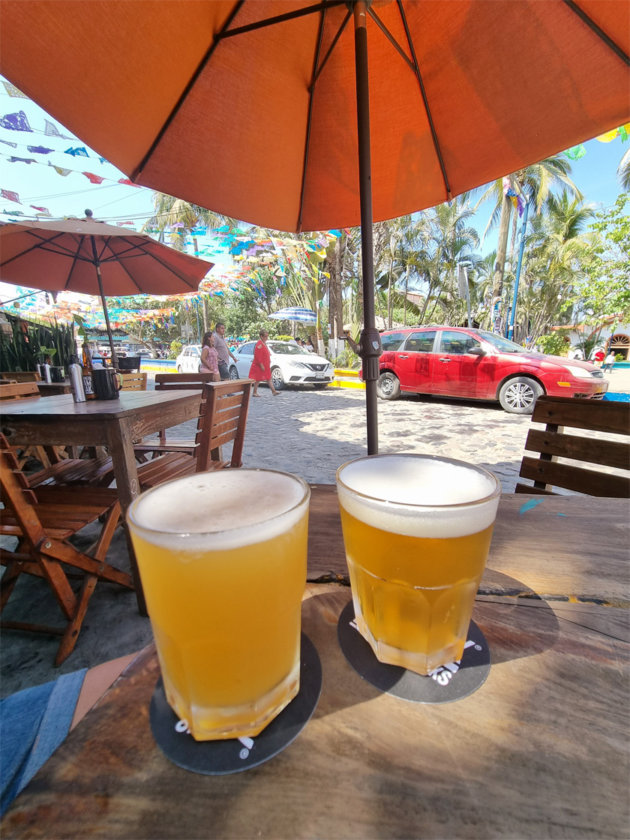 In addition to Yambak, I especially liked El Break that it is located on Sayulita's main beach. With a relaxed atmosphere with palm trees and wooden tables, they have happy hour with 2×1 from 4pm to 6pm (except weekends). The margarita is especially good!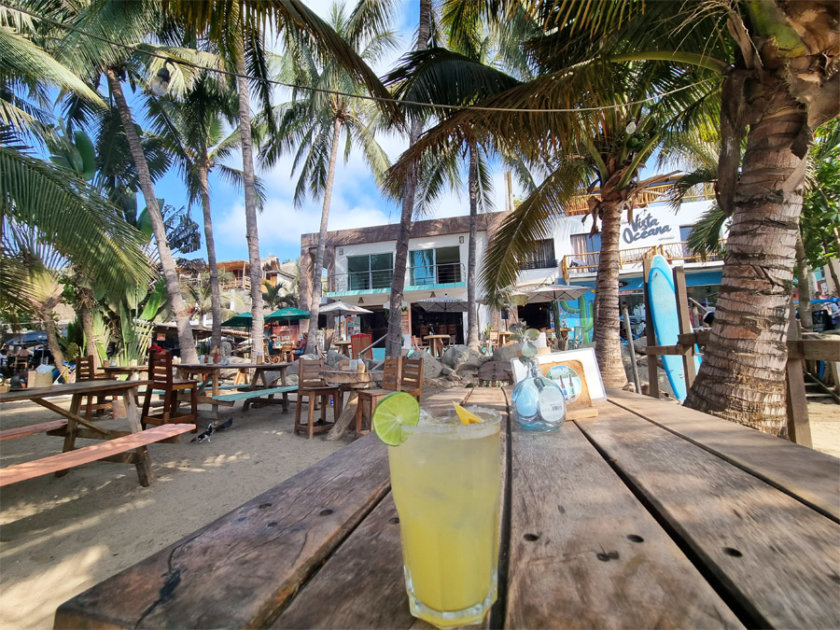 Last suggestion: The Garden is a bar in the Selina hotel. There was a great atmosphere when I went and on Wednesdays it's salsa and bachata night.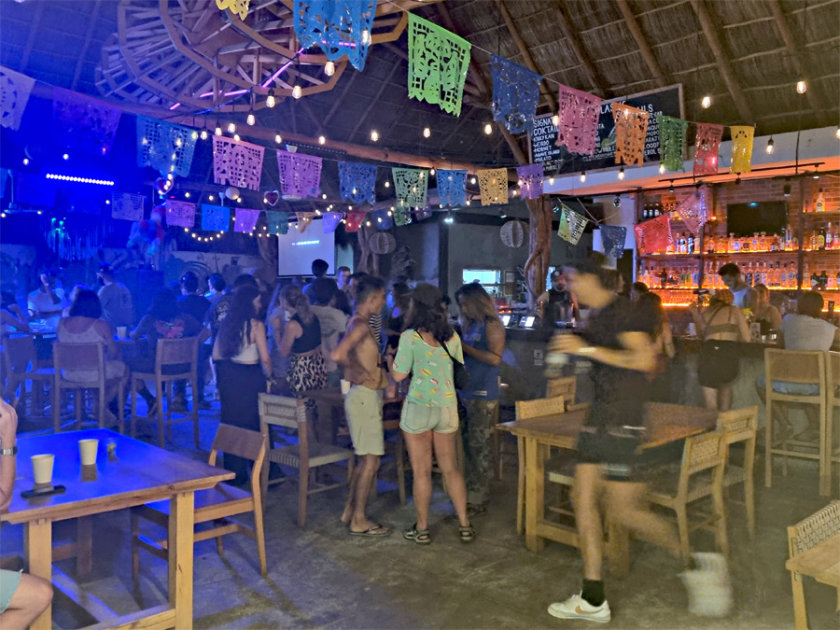 Where to stay in Sayulita – the best hotels
My advice
If you want to know all my suggestions for hotels for different budgets, here is my full article: The 6 best hotels in Sayulita!
Traveling cheap to Sayulita: My Tips
Here are all my tips for enjoying Sayulita on a budget:
Sleep cheap in Sayulita
It's easy to blow your budget on lodging. Fortunately, there are some good solutions:
La Redonda Sayulita Hostel: the best choice for cheap lodging in Sayulita if you like to party. Close to the beach, with great atmosphere and nice common areas, around 20$usd only for a dorm room!
My Sister's House : a women-only hostel that is very well located in the center of Sayulita. Quiet, with yoga classes and other activities. Around 25$usd for a dorm or 70 $usd for a room
Playa Azul Sayulita: a room with two double beds at a very good price, with a swimming pool. It is close to the beach and even closer to downtown. Ideal if you are traveling with children in Sayulita! Around 80 $usd per night for 4 people!
Eating cheap in Sayulita
Purillo: open for breakfast.
El Itacate: perfect for eating on a budget in Sayulita, but be careful the place fills up quickly!
El Rinconcito: for their shrimp tacos.
Elote stand: street food is always the best way to eat on a budget in Mexico!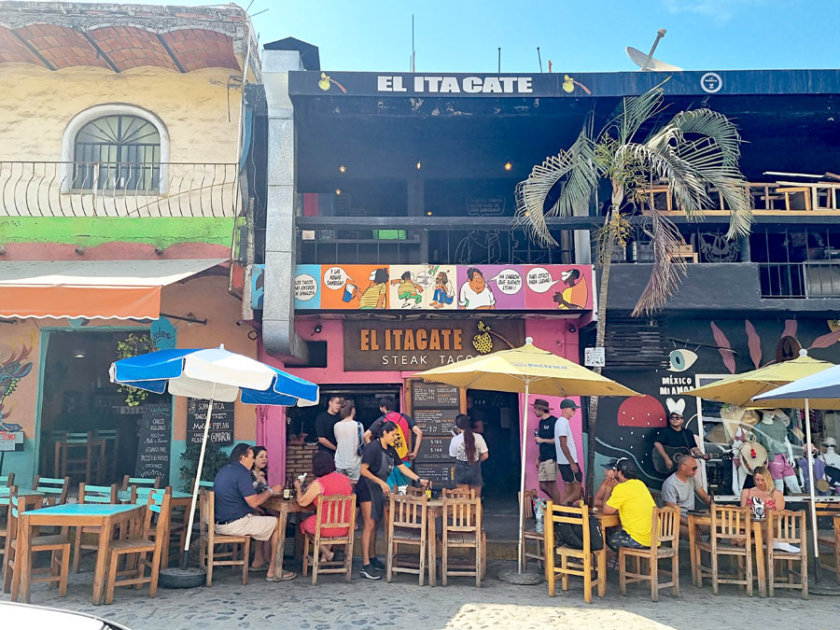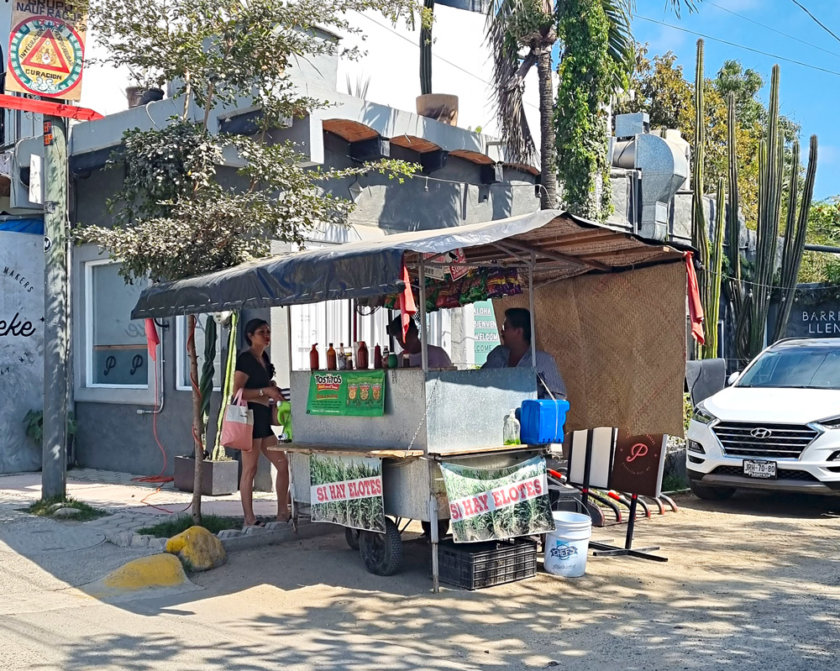 Where to buy food in Sayulita
Like everywhere else, the best way to save money in Sayulita is to cook so you don't always have to go to a restaurant.
Since it is a small town and there is not a lot of space, there is no big supermarket, but there are "tiendas" or "minisuper" with a little bit of everything, including fruits and vegetables.
There are several on Avenida Revolución and elsewhere in downtown Sayulita, such as Minisuper Don Rodolfo and Abarotes and Perfumeria Guadalajara.
There's also the Sayulita Farmers Market every Friday from 10am to 2pm, from November all way the through April – Market Facebook Page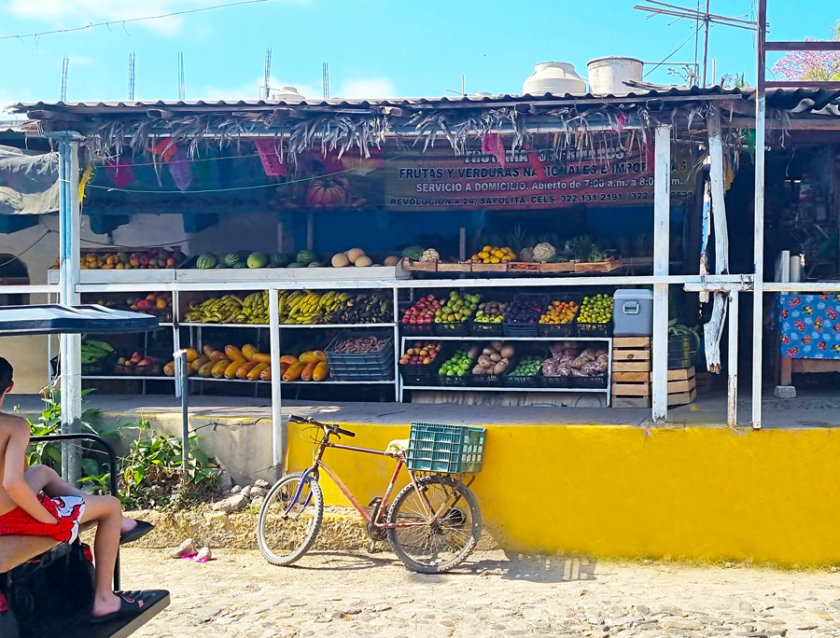 Other tips
Unless you already have US dollars ($usd), always pay in Mexican pesos, otherwise you will lose money. That's why I advise you to withdraw money from an ATM in pesos if your account is not already in $USD (I tell you more about it below, in the money section)
If you are going to take a cab, always check the price before getting into the car!
Choose your travel dates wisely: there are more expensive periods to avoid, such as Christmas and New Year's, as well as the famous Spring Break (usually between the end of March and the beginning of April).
How many days do you need in Sayulita
Many people spend a day in Sayulita from Puerto Vallarta.
But you can also stay 2 to 3 days or even a week because it is a destination with a good atmosphere, known for its beaches and walks. I have noticed that many travelers come to Sayulita for several weeks or even months!
What to do in Sayulita in one day
If you have 1 day in Sayulita you can walk around the downtown streets, around the main square, to see the stores and colorful murals.
Head to the beach. If the main beach is too crowded, walk to Playa Norte or Playa Los Muertos.
Of course, Sayulita is one of the best surfing spots in Mexico! You can rent a board or take a surf lesson.
If you prefer to sit on the beach, there are several restaurants, bars (ex: Bar La Isla), and beach clubs with lounge chairs and umbrellas available (ex: Coco's Beach Club or Las Sirenas).
If you don't want to worry about transportation, you can also book a day tour to Sayulita with pick-up at your hotel in Puerto Vallarta.
The tour lasts all day, in an air-conditioned van, and includes a stop in San Pancho, a small town known for its beautiful beaches, including a tequila tasting, 2 hours of free time in Sayulita, with provided surf boards (1 hour).
This tour can be easily booked here:
Getting around Sayulita
Downtown Sayulita is easily accessible by foot, so in my opinion, walking is really the best way to get around.
If you have a car: leave it in a guarded parking lot (it costs about 150 pesos during the day /100 pesos at night). As there are few parking spaces on the street it is better to take it as little as possible, it is more practical!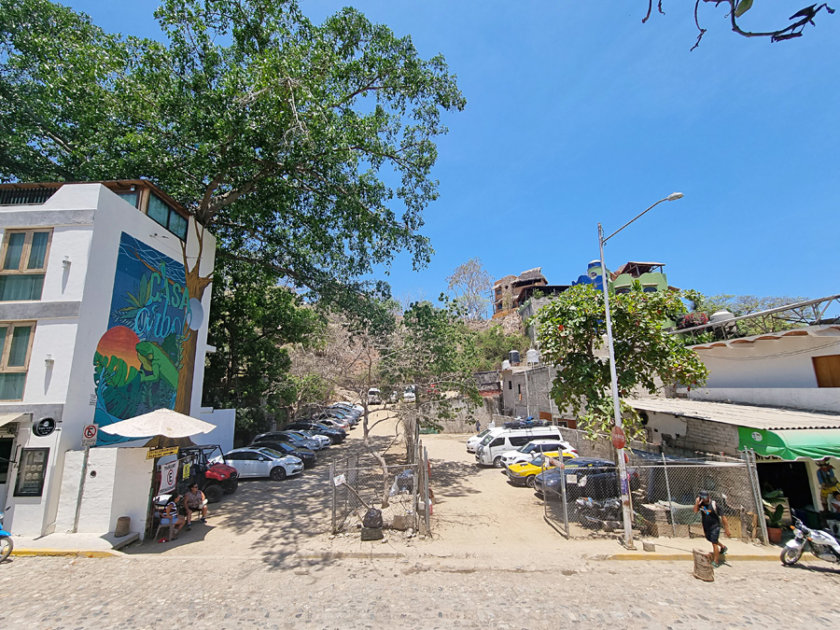 Electric golf carts are quite popular in Sayulita, probably due to the lack of on-street parking.
On average, a golf cart in Sayulita costs $45usd (4 spaces) or $55usd (6 spaces) for 24 hours.
Also to consider in the budget: the security deposit – starting at $300usd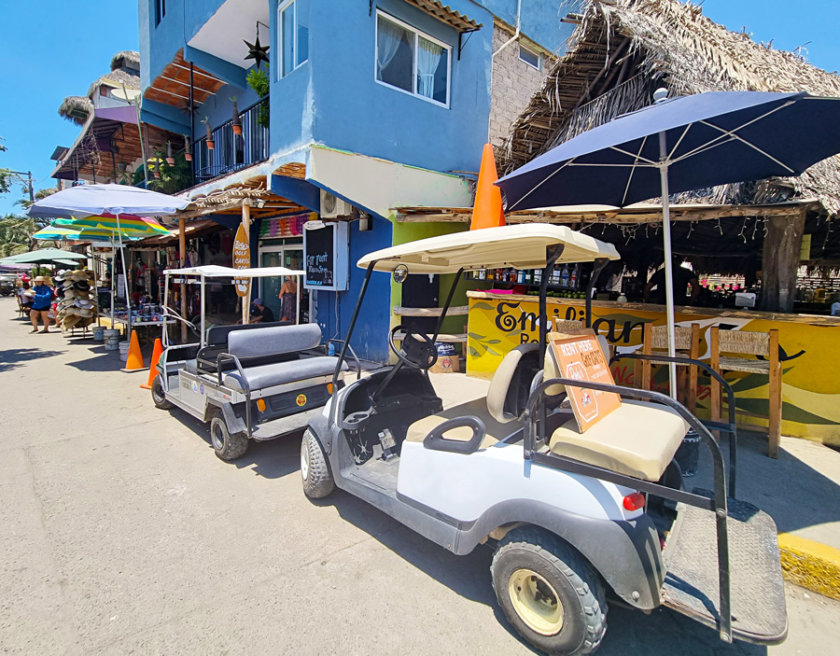 Money in Sayulita
They accept cards in some places, but not all, so it is very useful to have cash!
There are several ATMs on the street, most with $USD and only a few with pesos. It is convenient for them to charge with dollars, but it is NOT convenient for you (unless you have a US$ account). It is always better to pay with pesos, so I advise you to withdraw in an ATM with pesos.
There is one ATM here for example, where I withdrew and I had no problem. If you prefer to withdraw at a bank instead of an ATM, you can go to Interbank. As far as I know, it is the only bank in Sayulita.
My advice
In Sayulita and anywhere else in Mexico, when withdrawing money from an ATM, accept the commission (you have no choice), but refuse the exchange rate they offer (if you have an account in another currency, of course). You will always get a better rate that way.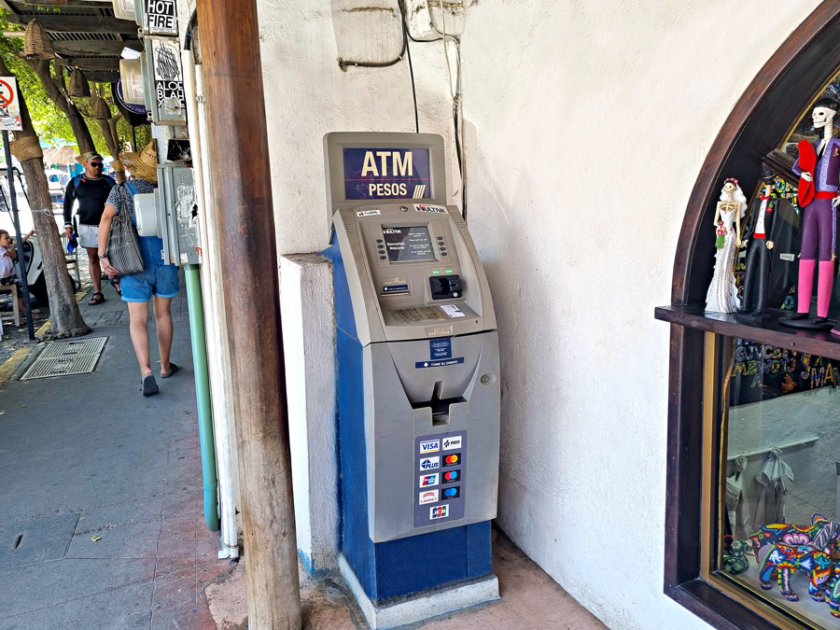 Where is Sayulita located
Sayulita is located on the southern coast of the state of Nayarit, and is part of the large tourist area of Banderas Bay, one of the largest bays in Mexico and the world, where Puerto Vallarta is also located.
You can reach Sayulita from Puerto Vallarta (where the nearest airport is located) or from Nuevo Vallarta. Many travelers also fly from Guadalajara.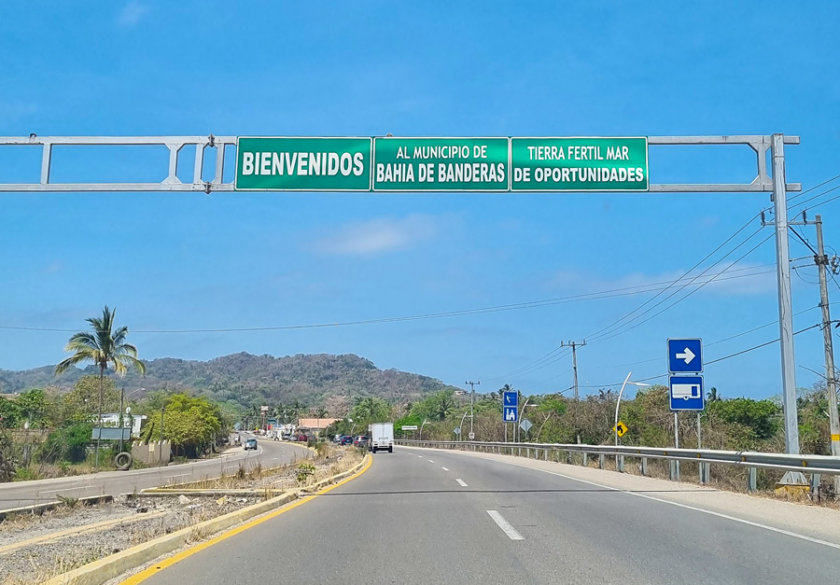 How to get to Sayulita by car
From Puerto Vallarta, it takes approximately 1 hour on the Puerto Vallarta-Tepic 200 Highway
From Guadalajara, it is 4 hours by highway via Guadalajara – Tepic/Lib. Nogales/Mexico 15D
My advice regarding the car in Sayulita:
You will have to pick up your car in Puerto Vallarta, Nuevo Vallarta or Guadalajara, as there is no car rental agency in Sayulita.
One of the great advantages of the car is that you can stop along the way, for example in Bucerías, Higuera Blanca, Punta Mita, Lo de Marcos or San Pancho
The road is not very wide and is two-way. Sometimes there are many curves in the road and everyone is in a hurry to get to the beach, so be careful and don't go too fast!
Parking in Sayulita can be quite complicated, so it is best to book a hotel with parking or check if there is a public parking lot nearby (about 150 pesos per day /100 pesos per night)
Renting a car is for sure the best way to explore Mexico and make the most of your stay!
While it's not super useful to visit the city, having a car is a must to discover the rest of the country.
To rent a car, personally, I always use Rentalcars.com, for a few reasons:
You can easily compare the rental cars prices between all the agencies: for sure the easiest way to find the best rate!
Cancellation is often offered free of charge: no need to worry if you change your mind
Rentalcars offers full insurance coverage at a lower price than the rental companies, so it's an instant saving with no effort
Simply click on the green button to find your rental car at the best price: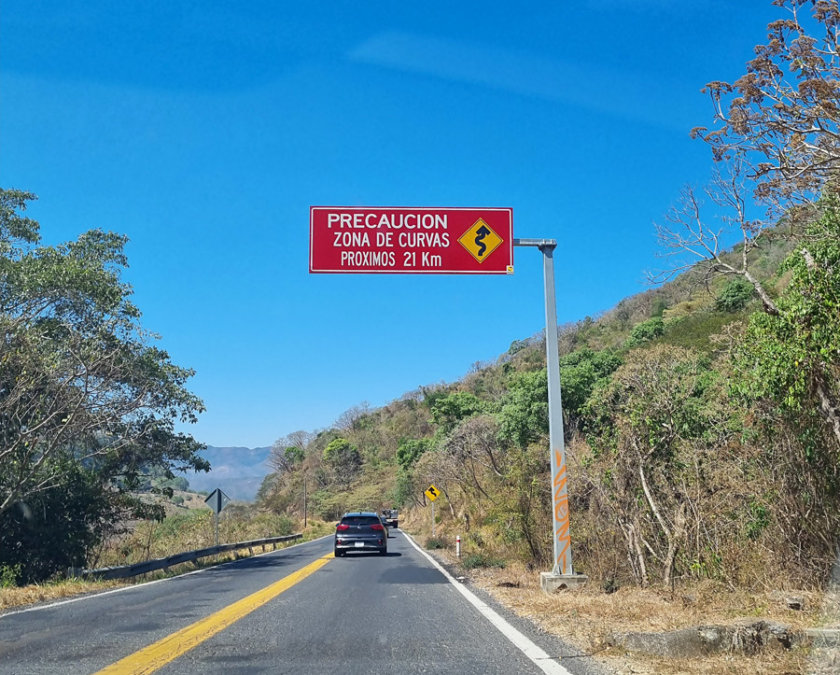 How to get to Sayulita by public transportation
From Puerto Vallarta
Compostela buses (green and white) run between Puerto Vallarta and Sayulita. Please note:
They run every 15-20 minutes from 6am to 10pm
Make sure it says "Sayulita" on the windshield because Compostela buses have different destinations
The bus ticket costs about 40 pesos from Puerto Vallarta (downtown and airport). This is the cheapest option to get to Sayulita.
From the Puerto Vallarta airport: exit the airport, cross the highway over the pedestrian bridge and you will arrive at the bus stop.
From downtown Puerto Vallarta: in front of the Walmart parking lot (here) there are several buses with different destinations. On the left is the bus to Sayulita. There is a person who runs the buses, so you can ask him if you are not sure.
From Nuevo Vallarta: the bus to Sayulita passes in front of the MEGA Soriana
From Guadalajara
I recommend the bus company Vallarta Plus (ticket 615-680 pesos – it is cheaper to buy it online before arriving).
From the Zapopan bus terminal: several departures from 7am to 8pm, 3 hours travel time.
From Tlaquepaque bus terminal: several departures from 6h to 19h, travel time 4 hours.
There is also the Primera Plus bus company: 1 bus per day from Guadalajara terminal, departure at 7:20 am with arrival at 12:20 pm (5h), tickets are 715 pesos.
From Punta Mita
Take a bus in the direction of Bucerías. Get off at the entrance of Bucerías, cross the road and take another bus that says "Sayulita" (white and green).
How to get to Sayulita by cab
From the Puerto Vallarta airport you can:
–Take an official airport cab (about 2000 pesos). Several advantages: you can pay by credit card, or in cash pesos or $usd
–Take a cab on the street (about 1000 pesos): when crossing the pedestrian bridge, stop for a cab next to the bus stop. Make sure you have pesos (get them at the airport if necessary).
–Take an Uber: it is cheaper than a cab, but Uber is in serious conflict with official cabs and cannot enter the airport grounds. Anyway, it is not an option I recommend as there are not many drivers.
Finding a cheap plane ticket to Puerto Vallarta
To visit Sayulita it is necessary to arrive at the Licenciado Gustavo Díaz Ordaz International Airport in Puerto Vallarta. This is a large airport that receives many domestic and international flights.
You can easily find a direct flight to Puerto Vallarta from many destinations such as Montreal, Toronto, London, Madrid and countless cities in the United States. I also suggest you compare prices with flights passing through Mexico City.
To find a cheap flight to Puerto Vallarta, as well as the best domestic flights in Mexico, I recommend using our flight comparator in collaboration with Skyscanner – it's the guarantee for you to get the best price!
My opinion about Sayulita
I had read that it was a small alternative surf town. Yes and no… it's not exactly true.
I mean, it probably was a few years ago, but its easy access from Puerto Vallarta makes it a pretty touristy town (depending on the season).
The good thing is that it has everything: restaurants, bars, pharmacies, ATMs, souvenirs, clothing stores, so it is a perfect destination for a trip to Mexico with kids or friends looking to party.
As soon as you get out of downtown, it's pretty quiet, like Playa Norte, Playa Carricitos, and even Playa Los Muertos which I mentioned in this article – everyone can experience Sayulita in their own way!
I really enjoyed seeing this diversity of travelers: national and international families, old school hippies, retirees, young (and not so young) who came to take the best photos for Instagram.
When to go to Sayulita? What is the temperature like?
The best time of year to visit Sayulita is from December to April, as it is in dry season, when it rains much less and the temperature is more pleasant. This is also the high tourist season.
Another good option is the month of May: it is still not extremely hot and humid, there are fewer tourists and the waves are small, so they are perfect for beginner surfers.
The wet or rainy season runs from June to October, with temperatures ranging from 27 to 32ºC. From the end of August to the end of September, the town is almost empty of tourists, as it is very hot and humid.
This can also be an advantage, but most places are also closed (restaurants, stores, etc.).
How dangerous is Sayulita?
Sayulita is very safe, even for a woman traveling alone, because everyone knows each other.
This is probably one of the reasons why the little town attracts many solo travelers, families and retirees, in addition to its proximity to Puerto Vallarta.
In Sayulita and anywhere else in Mexico: stay away from drugs, always keep an eye on your belongings, don't walk at night on the streets with little traffic, and you'll be fine!
Book your trip now and save money!
You're traveling in Mexico? These articles will help you!
Discover all my articles about Mexico: All my articles to help you plan your trip to Mexico are listed there.
You're using Pinterest? Here is the picture to pin!