What to do in Coyoacán, Frida Kahlo's neighborhood in Mexico City
Coyoacan is a gem in the capital.
This neighborhood, where Frida Kahlo and Diego Rivera's blue house stands, has a bohemian flair, with its winding alleys, cozy plazas, elegant houses and colorful flowers.
It is peaceful on weekdays, but vibrant on weekends, when it draws families, lovers and friends who seek to have fun on a terrace.
Here's the ultimate guide to Coyoacán, in which I show you the best attractions, activities, eateries, bars and hotels for all budgets in this charming place you cannot miss in Mexico City.
So, are you ready to discover Coyoacan in Mexico City? Let's go!
What to see and do in Coyoacán
1. San Antonio de Padua Church
The Chapel of San Antonio de Padua or Templo de San Antonio Panzacola is a stunning 17th century baroque church that sits next to the Puente de Altillo, a stone bridge over the Magdalena River.
This chapel has been the gateway to Coyoacán for centuries, as it lies on Francisco Sosa Street, which links it to the charming San Ángel neighborhood.
It is a perfect place to start your adventure in Coyoacán!

2. Francisco Sosa Street
Coyoacán is not complete without a walk on Francisco Sosa Street. ❤️
It is a tranquil street with gorgeous (and pricey) colonial houses, cafes with secret gardens, art galleries and cultural centers that welcome you for free.


3. Frida Kahlo Museum
The Frida Kahlo Museum is the highlight of Coyoacán.
It is the Casa Azul (Blue House), named for its blue walls, and it is a historic house-museum that celebrates the life and work of Mexican painter Frida Kahlo.
She was born, grew up and lived in this house with her husband, muralist Diego Rivera, and died here in 1954. Her ashes are in an urn on her bed.
You can admire Frida's, Diego's and other artists' work, as well as various objects that belonged to the couple (art, photos, pre-Hispanic artifacts, etc.).
You can also explore the different rooms of their house, preserved as they were.
My advice
To visit Frida Kahlo's house, it is mandatory to buy tickets online in advance: the seats are limited and sell out quickly!  
Here is the summary table of the available tickets. To book, you can click directly on the ticket name of your choice: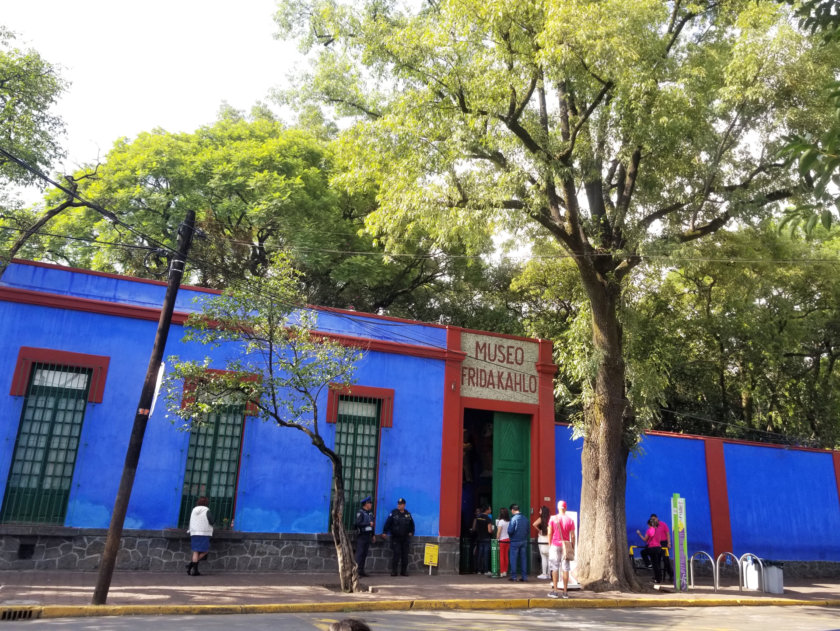 4. Celebrating the Day of the Dead
I'm really fascinated by Mexico' s popular culture so when I heard there was a new Day of the Dead activity in Coyoacan, of course I went running to book it.
It is an activity that allows you to discover the colorful universe of this great traditional Mexican celebration with music, projections, mezcal, pan de muerto, hot chocolate, and all year round!
Besides being interactive, I found it very informative and fun.
We were 3 adults, and we loved it, and now I want to go back with my 2 nieces! For me, it's one of the best things to do in Coyoacan, with family or friends.
You can book your Day of the Dead experience in Mexico here:

5. Casa de Cultura Jesus Reyes de Heroles
Coyoacan has many cultural centers, but the Casa de Cultura Jesus Reyes de Heroles is a standout.
It is a stunning 19th century building with a spacious green patio, a cozy cafe with terrace "Casa Aurelia" (the breakfasts are delicious) and three art galleries "Alfredo Ramos", "Guillermo Kahlo" and "Miguel Alvarez Acosta".
Address: Francisco Sosa 202, Coyoacán. Monday to Sunday, from 8 am to 6 pm. Admission is free.



6. Plaza Santa Catarina
Coyoacán has a lovely spot on Francisco Sosa street: Plaza Santa Catarina with its greenery and yellow church.
The chapel survived the Reform War and the Cristero War, but lost many treasures.
However, it still has a 17th century painting of the Virgin of Guadalupe, a 17th century wooden confessional, a 16th century statue of St. Catherine of Siena and a bronze and gold tabernacle.

7. Plaza and Jardín Hidalgo
Jardín Hidalgo is the heart of Coyoacán. It is the most popular square in Mexico City after the Zocalo.
Besides trees, lovely fountains and benches to relax, you will see:
The Municipal House, also known as Casa de Cortes, which was the home of the first government
The Centennial Garden with the Fountain of the Coyotes, a bustling plaza on weekends
Monument to Miguel Hidalgo y Costilla, one of the heroes of the Mexican independence movement

8. Church and Ex-Convent of San Juan Bautista
This church is a historic treasure, built by Franciscans and Dominicans since the 16th century. It is one of the oldest in the capital, but has changed a lot over the years.
Behind the simple Herrerian facade of bare walls, a Baroque interior awaits you, with golden altars, side chapels and paintings by the Catalan artist Juan Fabregat.
But don't miss the hidden gem of this place: its cloister. Few visitors venture to see it, maybe because they don't know it's there!
You just have to go through the side door, instead of the main exit, to find a lovely green cloister, full of plants and a fountain in the middle.
There is also a small cafe, nothing fancy, but perfect to sit and enjoy this peaceful oasis in the heart of Coyoacán. It is the best place to relax.


9. Museum of Popular Cultures
You can't miss the Museo de Culturas Populares (Museum of Popular Cultures), right by Jardín Hidalgo.
I finally visited this museum after living in Mexico City for five years and wandering around Coyoacán many times. I didn't know what to expect, but I was blown away! It displays the variety and beauty of Mexico's popular cultures: traditions, customs and crafts.
In my opinion, it is one of the best places in Mexico City to admire the incredible artisan work of Mexico, along with the Museo de Arte Popular (MAP) in the center.
It would be a shame not to go!
Admission 20 pesos
open from 11:00 am to 6:00 pm from Tuesday to Thursday and from 11:00 am to 7:00 pm from Friday to Sunday


10. Coyoacán Market
Experience the color, flavor and tradition of Coyoacán market (Mercado 89). You can savor delicious Mexican food, shop for handmade crafts, typical sweets, piñatas and more.
And if you are a fan of Frida Kahlo, you will find many souvenirs of the famous painter at very low prices: key chains, postcards, t-shirts, etc., much cheaper than in the Casa Azul or in the stalls outside. 😉


11. Jardín Allende
Across the street from the market is Jardín Allende, a lovely park where artists show their paintings. On weekends, you can see older people dancing… and it's so cute!

12. The National Sound Archive (FONCA )
On Francisco Sosa Street is a historic building where Octavio Paz, winner of the Nobel Prize for Literature, lived and which now hosts the Fonoteca Nacional.
It is a library that preserves and shares the country's sound heritage: official speeches, interviews, folk music, etc. You can even hear the voices of famous people like Gandhi or Einstein.
There is also a "sound garden", a space with trees and an audio system that lets you enjoy the space with concert music, compositions and poetic works. The program varies every month.
This is definitely an activity to do in Coyoacán if you want to dive into Mexican culture.
Address: Francisco Sosa 383, Coyoacán.
The sound garden is open from Tuesday to Friday, from 12h to 14h.
Admission is free. Web page

13. National Watercolor Museum
Visit the Museo Nacional de la Acuarela, the first museum in the world devoted to watercolor.
It was founded by painter and watercolorist Alfredo Guati Rojo Cárdenas to celebrate and preserve different types of artistic expression, especially watercolor techniques, and you can see many exhibitions here for free.
There is also a quaint cafeteria in the museum.
Address: 88 Salvador Novo Street, Coyoacán. Monday to Sunday, from 10 am to 6 pm. Admission is free. Web page

14. Viveros de Coyoacan
Explore the green oasis of Mexico City: Viveros de Coyoacán.
It covers 39 hectares and has some 20 species of trees (eucalyptus, ash, plum, acacia, pine, elm, cedar, nopal, etc.) that are used for planting or replanting in various parts of the capital.
It is estimated that since its creation, some 2 million trees have been grown for these purposes.
With more than 2 km of trails, it is a perfect place to walk or run, enjoying a peaceful place in the capital. Watch out: there are lots of squirrels!
Address: Progreso 1, Coyoacán. Every day from 6 am to 6 pm. Admission is free.

15. Museo Casa de León Trotsky
Visit the Trotsky House-Museum, the final home of Lev Davidovich Bronstein, or Leon Trotsky.
The exiled Russian revolutionary and politician was invited in 1937 by Mexican President Lázaro Cárdenas, who gave him political asylum. He and his wife, Natalia Sedova, moved in with Frida Kahlo and Diego Rivera.
He had an affair with Frida, which caused a lot of trouble between the couple, so he moved to a nearby house in 1939. There he was killed in 1940 by an agent of Stalin.
In the museum, you can see his house, and how well guarded it was! – with various objects that belonged to him, family photos, you will learn more about his life as a revolutionary. His ashes and his wife's are here.
The building also has exhibition rooms and a bookstore of left-wing literature.
Address: Río Churubusco 410, Coyoacán. Tuesday to Sunday, 10 am to 5 pm.
Admission: 50 pesos for Mexicans or 70 pesos for foreigners.

16. Plaza de la Conchita
Explore the Plaza de la Conchita or "Inmaculada Concepción", a few blocks from the main square.
It has the oldest Christian building in New Spain. It is a place of great historical significance for the capital, and for the country.
It was built in the 16th century by the conquistador Hernán Cortés and it hosted one of the first masses in the area. Excavations in 2013 revealed that it was built on a Toltec ceremonial site.
The church is in the Tequitqui style, a blend of baroque architecture and indigenous elements. After several years of restoration (very well done!) it has opened to the public and you can join mass on Sundays at 10h30.
I strongly recommend Avellaneda (Higuera 40-A, La Concepción, Coyoacán) near the plaza, a cozy place to have a coffee!
Across the street is Frida Kahlo Park, dedicated to the artist. There is a life-size bronze statue of Frida wearing the traditional outfit of Tehuantepec (Oaxaca).

17. The National Museum of Interventions
Learn about the history of Mexico at the National Museum of Interventions.
It is in the former convent of Churubusco (16th century) and shows the history of the convent and the different foreign invasions since Mexico's independence in 1821, through 10 rooms: Spain (1829), France (1838-1839, 1862-1867) and the United States (1846-1848, 1914, 1916).
Address: 20 de Agosto s/n, Coyoacán. Tuesday to Sunday, from 10 am to 4 pm. Admission 85 pesos. Web page

18. Anahuacalli Museum
Marvel at the Anahuacalli Museum, a building shaped like a Mesoamerican pyramid, made with black volcanic stone.
It was designed by Diego Rivera to display his collection of pre-Hispanic art. It is one of the most impressive collections in Mexico, with many artifacts from the Teotihuacan, Olmec, Toltec, Nahua, Zapotec and northwestern Mexican cultures.
There are also 2,500 pieces of folk art from different regions of the country: Guanajuato, Oaxaca, Morelos, Zacatecas, Chiapas, Puebla and Veracruz.
On one of the floors there are also 16 sketches of murals by Diego Rivera. The museum's terrace offers a fascinating view of the Pedregal, a lava flow that creates a unique landscape.
Address: Museo 150, Coyoacán. Tue-Sun 11h-17h30. Admission 80 pesos for nationals and 100 pesos for foreigners. Web page

19. Azteca Stadium
Visit the Estadio Azteca, one of the most legendary stadiums in the world, and a must-see in Coyoacan (far from the tourist area) for all soccer lovers.
Built in 1966 to fit up to 100,000 fans, it is the only stadium in the world that can claim to have hosted 2 FIFA World Cup finals, the 1970 (Italy – Brazil with Pelé) and 1986 (Germany – Argentina with Maradona).
To watch a game of the Mexico City team (Club América) or the Mexican national team, you can check the stadium's official website.
You can also join a guided tour of the stadium that will show you the players' hallway, the press room, the locker room and other areas.
It is also a fun activity to do in Mexico City with kids, as there is a game room, a zip line and a mini soccer field.
Address: Calz. de Tlalpan 3465, Coyoacán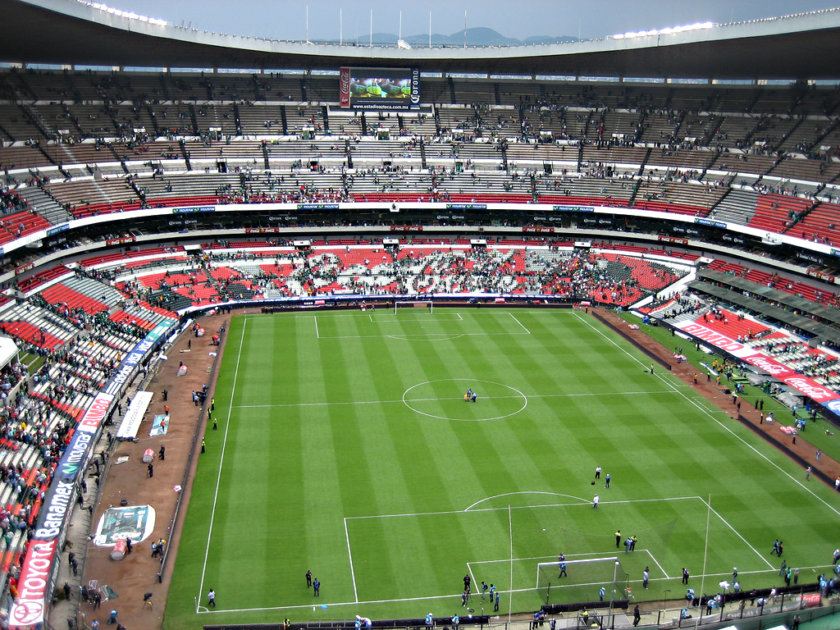 20. San Angel
Enjoy the beauty and history of San Angel, Coyoacan's lovely neighbor!
The green Plaza San Jacinto is full of quality cafes and restaurants. The El Carmen museum, in a former 17th-century monastery, is a must-see.
The neighborhood also has galleries, an art market on Saturdays, and the former homes of Diego Rivera and Frida Kahlo, turned into a museum.
If you want to visit both neighborhoods in one day, I recommend you start in San Angel, which is smaller, and then explore Coyoacan.
My advice
To discover all the amazing attractions, here is my ultimate guide to San Angel in Mexico City!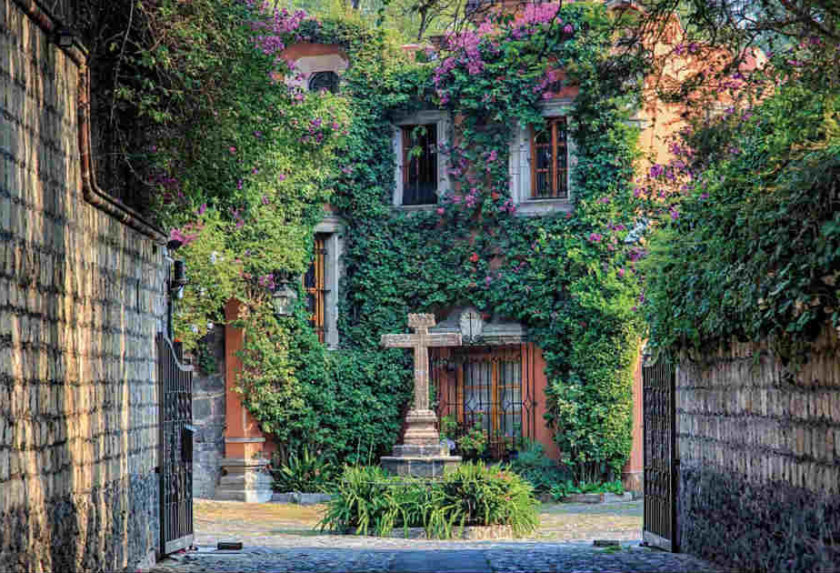 Where to stay to visit Coyoacán?
La Casita de Coyoacan: a cozy house on a peaceful street near Frida's House. The breakfast is delicious and the rooftop terrace is perfect for relaxing. It is the best place for a budget night in Coyoacan, an expensive neighborhood, starting at only 56 $usd per night!
Casa Moctezuma: if you have more money, I suggest this place for couples. It is a renovated Coyoacan mansion. Duplexes and apartments, with living room and kitchen, lovely garden and bikes for guests. From only 116 $usd!
H21 Hospedaje Boutique: the best choice for a luxury stay in Coyoacan. In the center of the neighborhood, close to the main square, it is a small and exclusive hotel with modern studios, high-quality bedding, kingsize beds and terrace or balcony. From 138 $usd per night
You can also stay in another neighborhood to be closer to the other tourist attractions of Mexico City:
Hostel Mundo Joven Catedral (historic center): one of the best hostels in Mexico City. Clean dorms and rooms, amazing rooftop terrace with bar, great atmosphere and an exceptional view over the cathedral and the Zocalo, starting at 15$usd for a dorm and 32 $usd for a private room!
Hotel Villa Condesa (Condesa): if you are looking for a romantic hotel in Mexico City, this is a little oasis in the heart of La Condesa. It is an elegant house with small green terraces and tastefully decorated rooms. Rooms are spacious, breakfast is very good and the service is particularly attentive. Around 160$usd per night!
Casa Goliana (Roma Norte): high-end hotel with the best value for money in its category, located in an early 20th century house, typical of the Roma area. Rooftop terrace, comfortable rooms, very attentive staff, and good breakfasts. Around 190$usd per night
Four Seasons Hotel Mexico City (Juarez): this 5 star hotel is one of the best hotels in Mexico City, ideal for a business trip or a romantic stay. Located on Paseo de la Reforma between Colonia Juarez and Roma Norte. A large indoor garden, gym, swimming pool, spa, restaurant, and bar, Around 640$usd per night!
How to visit Coyoacán?
Coyoacán's downtown is safe during the day and you can explore it by yourself easily.
But if you prefer to avoid hassle and transportation, the best option is this tour with hotel pick up. It includes Coyoacán with Frida Kahlo's house, and the trajinera ride on Xochimilco's canals!
You can book it here:
If you want a fast tour of Coyoacan, Estación Mexico has free walking tours (Free Walking Tours) for 1h30-2h in the center. They leave every day at 11h and 15h, from the Viveros-Derechos Humanos metro station.
Where to eat and drink in Coyoacán?
Visit Café El Jarocho, a classic coffee shop in Coyoacán since the 1950s, with many branches in the city. No chairs or tables here, but always a queue for this tasty coffee from Veracruz.
For a cheap meal, try Tostadas de Coyoacán, a market stand near Parque Allende, with yummy tostadas for 30-40 pesos. I loved the cochinita and tuna ones.
If you can spend more, go to Mesón Antigua Santa Catarina (Jardín Sta Catarina 6, Coyoacán) where I hid from the rain. Head to the top floor, with a nice view of the Santa Catarina square. They serve typical Mexican food at fair prices for Coyoacán, the service was slow but kind.
For a drink in Coyoacán, I recommend Mezcalero (Caballo Calco 14, Coyoacán). Close to Jardín Hidalgo, it is a restaurant-bar with a terrace, great service, amazing mezcal cocktails, and a young vibe where you can chat without yelling (because of the music).
Book your plane ticket at the best price
Mexico City Airport, also known as Benito-Juárez International Airport, handles many national and international flights. It is the main airport in Latin America!
To save money on flight tickets, you can use our flight comparison tool for Mexico, powered by Skyscanner: it's the best way to get the lowest price for your flights within and outside Mexico!
Rent a car in Mexico City
Renting a car is for sure the best way to explore Mexico and make the most of your stay!
While it's not super useful to visit the city, having a car is a must to discover the rest of the country.
To rent a car, personally, I always use Rentalcars.com, for a few reasons:
You can easily compare the rental cars prices between all the agencies: for sure the easiest way to find the best rate!
Cancellation is often offered free of charge: no need to worry if you change your mind
Rentalcars offers full insurance coverage at a lower price than the rental companies, so it's an instant saving with no effort
Simply click on the green button to find your rental car at the best price:
How to get to Coyoacan by public transport?
There are different ways to reach Coyoacan's center (I clarify, because Coyoacan is very large).
Here are the options by metro:
Take metro line 3 (green), get off at Viveros-Derechos Humanos station + take the bus to downtown Coyoacán (5 min)
Take metro line 3 (green), get off at Viveros-Derechos Humanos station + walk 30 min (first through Universidad to Capilla de San Antonio de Padua, then down Francisco Sosa street to Jardín Hidalgo)
Take metro line 3 (green), get off at Coyoacán station + take a bus to the center of Coyoacán (10 min)
Take metro line 2 (blue) and get off at General Anaya station + take the exit to 20 de Agosto street + take the bus to downtown Coyoacan (5 to 10 min)
Tourist map of Coyoacán
Here is a map with all the highlights of Coyoacán and places to see and eat.
Book your trip now and save money!
You're traveling in Mexico? These articles will help you!
Discover all my articles about Mexico: All my articles to help you plan your trip to Mexico are listed there.
You're using Pinterest? Here is the picture to pin!