How to Spend One Day in Mexico City (Things to do + Itinerary)
You're planning to spend one day in Mexico City?
Great idea!
In order to help you plan your stay, I have prepared for you the perfect itinerary to visit Mexico City in 1 day.

This vibrant city offers a rich blend of history, culture, art, cuisine and nightlife.
So if you only have one day to visit Mexico City, you might feel overwhelmed by the size and diversity of this metropolis. After all, it's the capital and largest city of Mexico, and one of the most populous and influential cities in the world!
But no worries: I live in Mexico and I am here to help!
As someone who has lived here for years, I know how hard it can be to decide what to show my friends and family. That's why I have written this article: the perfect one-day itinerary in Mexico City.
Here, you will find the best things to do during your 24 hours in Mexico City, my best tips to make the most of your visits and my suggestions of accommodation for all budgets.
Let's plan your visit!
Morning: Explore the Historic Center
Start your 1 day trip to Mexico City with a spectacular view of the city from the Latin American Tower (Torre Latinoamericana), one of the highest and most emblematic buildings in the city.
You can admire the cityscape and its landmarks from the observation deck. You can also check out the museum and the restaurant on the upper floors.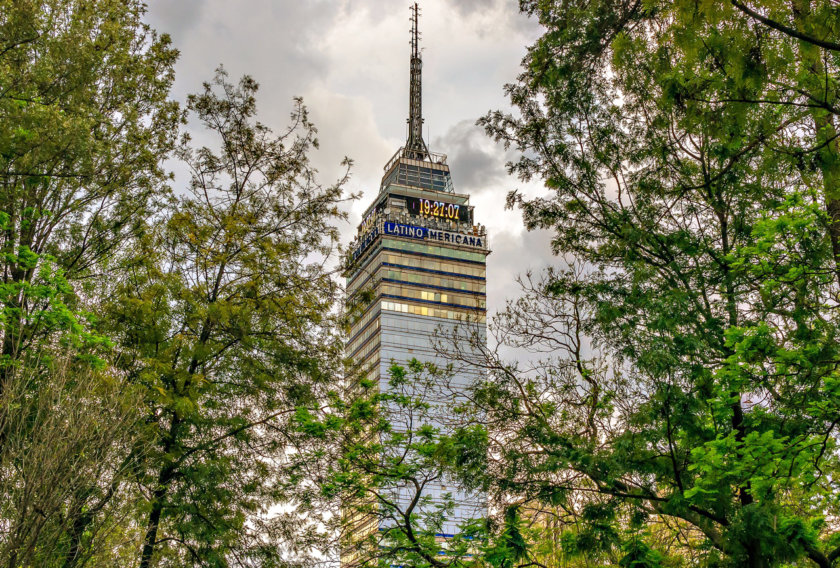 The Palace of Fine Arts will be only a few steps away
It's simply one of the most beautiful buildings in Mexico City. It was built in 1934 and it combines different styles such as Art Nouveau and Art Deco.
It hosts various cultural events such as concerts, ballets, operas, and exhibitions. You can admire its exterior, its interior, and its murals by famous artists such as Diego Rivera, David Alfaro Siqueiros, and José Clemente Orozco.
My advice
Some people say that the best way to photograph the building is from the Don Porfirio Café in the
Sears Tower's 8th floor
.
However, you need to pay for the pleasure of the view and the café is always crowded. I like the free option better: go to the 9th floor and look for the big window on the right that gives you a stunning view of the Palace of Fine Arts.😉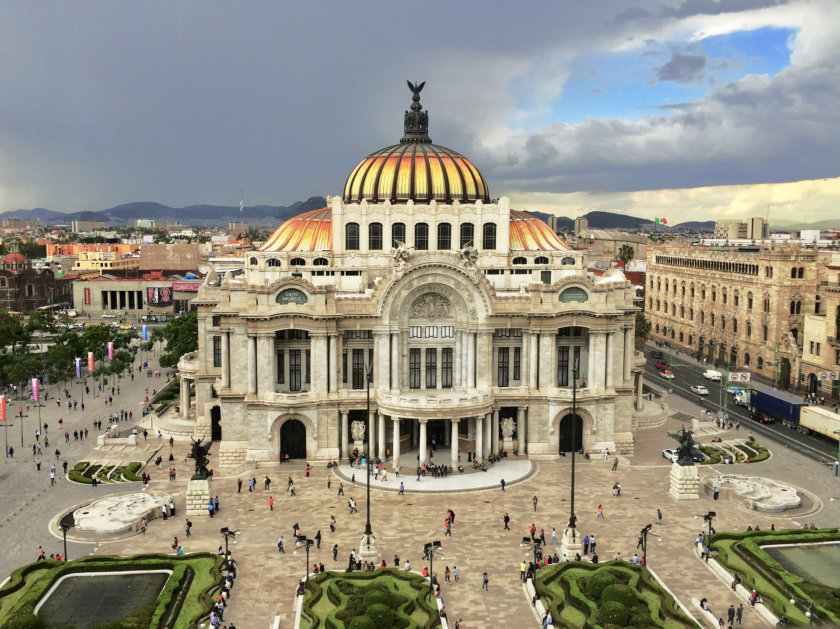 Next, walk along the pedestrian street Francisco I. Madero and don't forget to snap a photo of the Casa de los Azulejos, a stunning tiled building.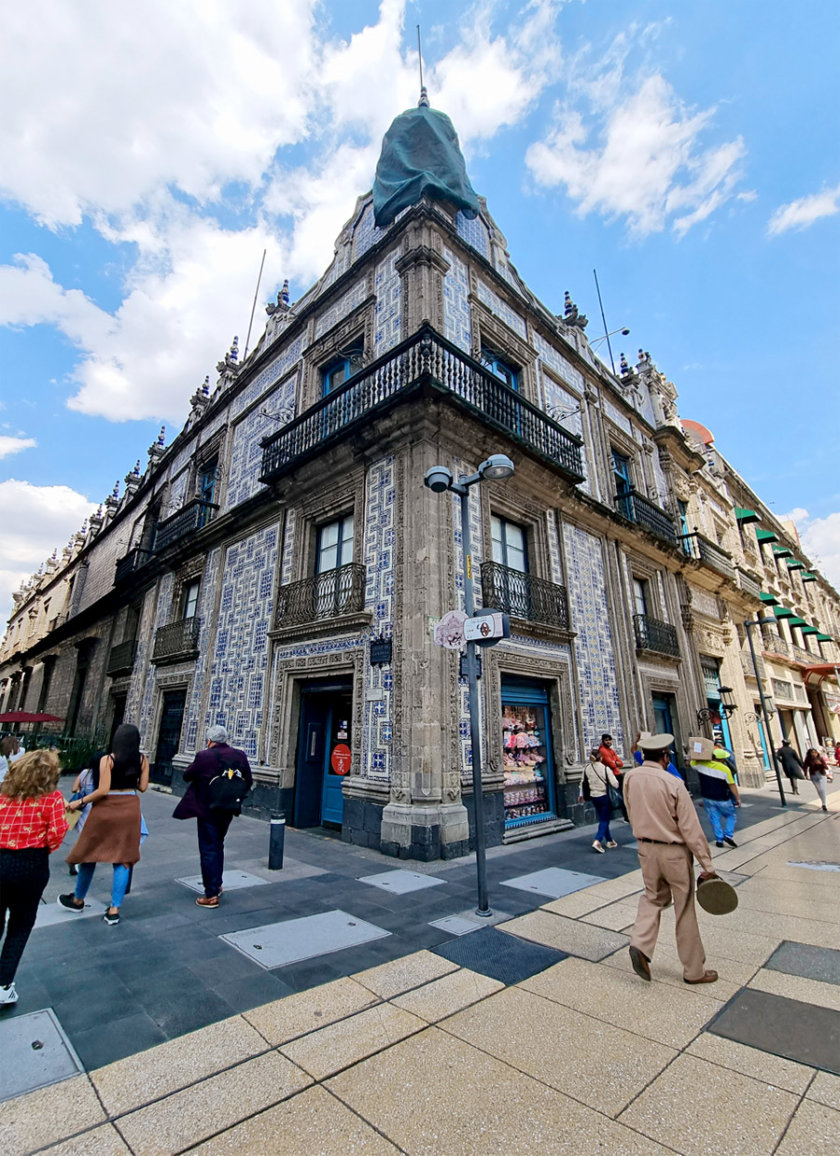 The street leads to the Zocalo, the main square and the center of the city. Here you will find some of the most significant monuments and attractions of Mexico City, such as:
The Cathedral: The biggest and oldest cathedral in Latin America, built on top of an Aztec temple. You can appreciate its magnificent facade, its decorated interior and its crypts. Admission is free, but I recommend you visit the cathedral's bell towers (30 pesos) to enjoy a panoramic view of the square.
The Templo Mayor: The ruins of the main temple of the Aztec empire, where you can see the foundations, sculptures and offerings that were discovered during excavations. You can also visit the museum that displays some of the artifacts and explains the history and culture of the Aztecs.
The National Palace: The seat of the federal government and a symbol of national identity. You can see the murals by Diego Rivera that depict the history of Mexico from pre-Hispanic times to the revolution.You can also visit some of the rooms and halls that showcase works by other Mexican artists.
These sites are not only impressive but also rich in history and culture. You will learn a lot about Mexico's past and present as you explore them. You should also take some time to admire the architecture and atmosphere of the square, which is always lively and colorful.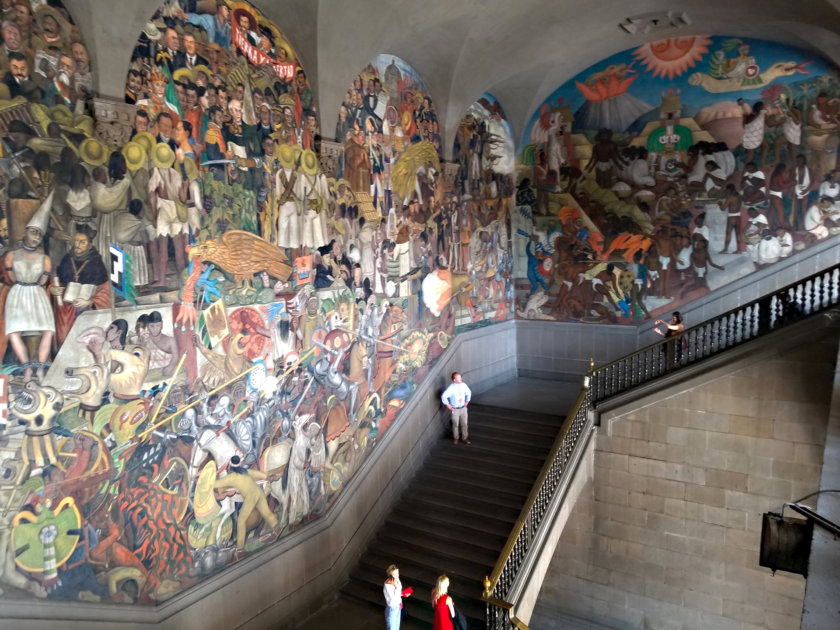 Afternoon: Taste the Local Flavors
It should be lunchtime by now, sowe have several options for you depending on your cravings and budget. All walking within the area!
Tacos de Canasta Los Especiales: For a really traditional snack this would be my pick. The place may look humble on the outside but this is a classic among the mexicans. Tacos de canasta are a type of tacos that are prepared with soft tortillas and different fillings, such as chicharron, potato, beans, or chicken. They are called tacos de canasta (basket tacos) because they are kept warm and moist in a basket lined with paper and cloth. You'll pay around 1 usd for 2 tacos.
La Burra Blanca del 56: Have you heard about pulque before? It´s a traditional fermented drink that goes back to prehispanic times. It has a thick and milky texture and a sour taste that can be flavored with different fruits or spices. Nowadays, pulque is experiencing a revival among young people and tourists who appreciate its cultural and historical value. You wanna give it a go? Try it here. It's an alcoholic drink, so don't let its sweetness deceive you, drink with moderation.
Cafe De Tacuba: A restaurant that offers traditional Mexican cuisine in a historic and charming setting. You can enjoy dishes such as enchiladas, chilaquiles, mole, or pozole, as well as desserts, coffee, and hot chocolate. The restaurant is located in a colonial building that dates back to the 17th century and that has been decorated with paintings, murals, and antiques. The service is friendly and attentive and the atmosphere is cozy and lively. A meal for two costs around 500 pesos (about 45 USD).
Azul Historico: A restaurant that offers contemporary Mexican cuisine in a stunning and elegant setting. You can enjoy dishes such as duck carnitas, huitlacoche crepes, or cacao mole, as well as cocktails, wines, and beers. The restaurant is located in a 17th century mansion that has been renovated and that features a courtyard with a giant laurel tree and hanging lamps. The service is professional and courteous and the atmosphere is romantic and sophisticated. A meal for two costs around 1600 pesos (about 80 USD).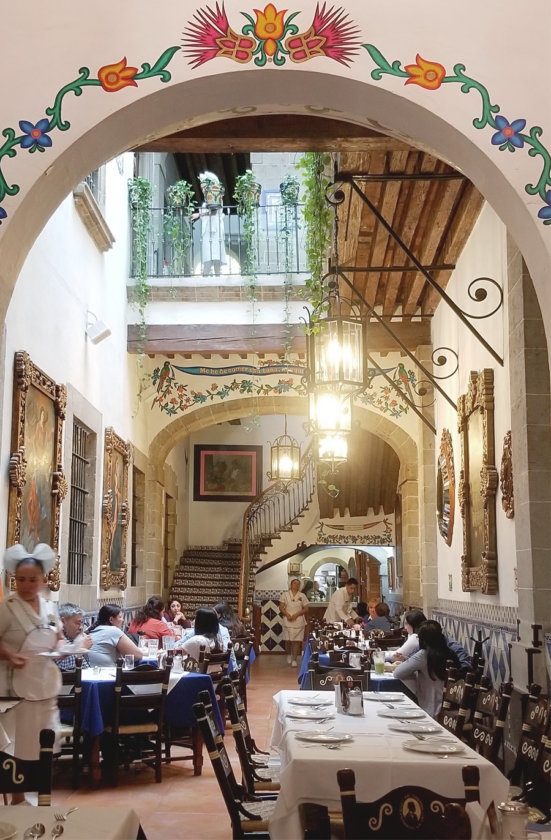 Evening: Explore the Neighborhoods and the Nightlife
In the afternoon, explore Roma and Condesa, two of the most charming and trendy neighborhoods in Mexico City.
You can easily spend a few hours walking along the tree-lined streets, admiring the colorful street art, Art Deco and Art Nouveau buildings, and relaxing in the scenic parks.
Some of the must-see spots in Roma and Condesa are: Alvaro Obregón street, Plaza Luis Cabrera, Cibeles Fountain, Jardín Pushkin, Avenida Amsterdam, Parque México, Plaza Río de Janeiro and Parque España.
You can try some traditional Mexican cuisine at Fonda Fina, or Páramo for delicious drinks and bites in a vibrant atmosphere, two of the many restaurants in the area.
Enjoy some drinks at one of the many bars and pubs in the area, such as Limantour, a cocktail bar that ranks almong the best in the world or La Nacional, a mezcal bar that showcases different producers from around Mexico.
Join a Food Tour
 Mexico City is a gastronomic paradise, where you can discover the Mexican cuisine, recognized as
Unesco's intangible cultural heritage.
I recommend you this street food bike tour that will make you discover the neighborhoods of Roma, Condesa and Chapultepec park, tasting the best street food (tlacoyos, tamales, churros and more). Plus, the guides are very nice!
Book the tour here: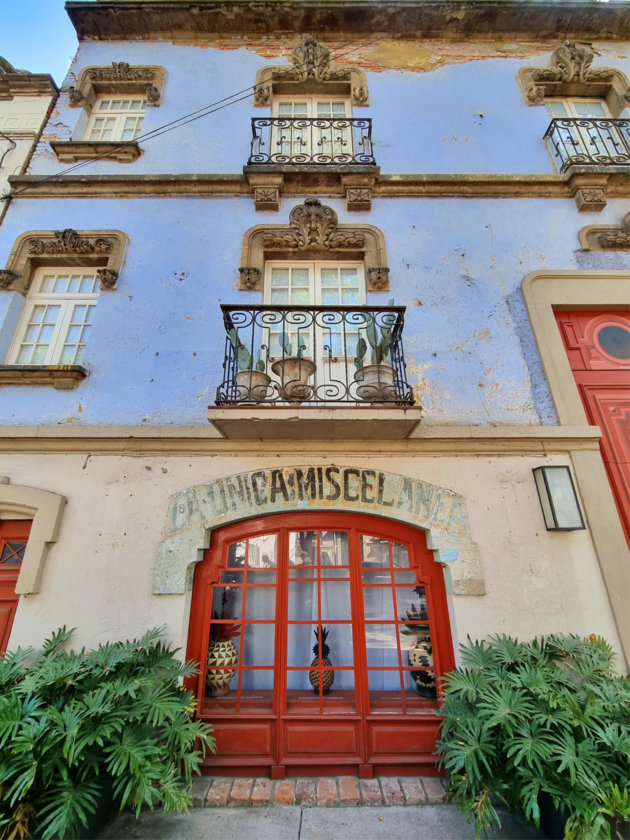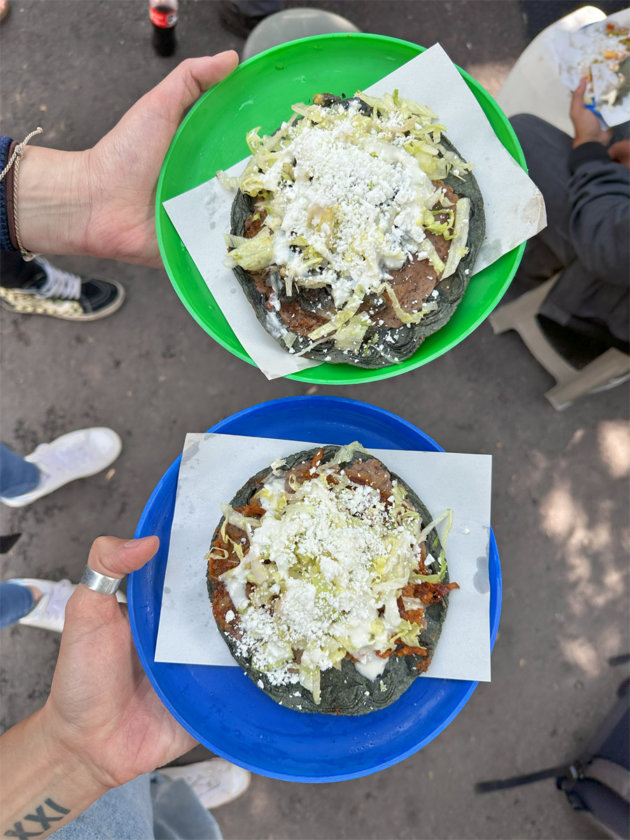 Where to stay in Mexico City
Hostel Mundo Joven Catedral (historic center): one of the best hostels in Mexico City. Clean dorms and rooms, amazing rooftop terrace with bar, great atmosphere and an exceptional view over the cathedral and the Zocalo, starting at 15$usd for a dorm and 32 $usd for a private room!
Hotel Villa Condesa (Condesa): if you are looking for a romantic hotel in Mexico City, this is a little oasis in the heart of La Condesa. It is an elegant house with small green terraces and tastefully decorated rooms. Rooms are spacious, breakfast is very good and the service is particularly attentive. Around 160$usd per night!
Casa Goliana (Roma Norte): high-end hotel with the best value for money in its category, located in an early 20th century house, typical of the Roma area. Rooftop terrace, comfortable rooms, very attentive staff, and good breakfasts. Around 190$usd per night
Four Seasons Hotel Mexico City (Juarez): this 5 star hotel is one of the best hotels in Mexico City, ideal for a business trip or a romantic stay. Located on Paseo de la Reforma between Colonia Juarez and Roma Norte. A large indoor garden, gym, swimming pool, spa, restaurant, and bar, Around 640$usd per night!
Planning to stay longer in Mexico City?
If you're looking for more adventures in Mexico City, take a look at my articles:
Rent a car in Mexico City
Renting a car is for sure the best way to explore Mexico and make the most of your stay!
While it's not super useful to visit the city, having a car is a must to discover the rest of the country.
To rent a car, personally, I always use Rentalcars.com, for a few reasons:
You can easily compare the rental cars prices between all the agencies: for sure the easiest way to find the best rate!
Cancellation is often offered free of charge: no need to worry if you change your mind
Rentalcars offers full insurance coverage at a lower price than the rental companies, so it's an instant saving with no effort
Simply click on the green button to find your rental car at the best price:
How to find the best price for your flight ticket
Mexico City Airport officially named Benito-Juárez International Airport receives a lot of national and international flights. It is the most important airport in Latin America!
To save money on flight tickets, you can use our flight comparator for Mexico, in partnership with Skyscanner: it's the guarantee to pay the best price for your international and domestic flights!
Book your trip now and save money!
You're traveling in Mexico? These articles will help you!
Discover all my articles about Mexico: All my articles to help you plan your trip to Mexico are listed there.
You're using Pinterest? Here is the picture to pin!