A Guide to Mexico's Best Cruise Destinations
Mexico is an unrivalled cruise destination with each port offering its own distinctive flair. Cruise Mexico and you can experience the charm of the Pacific, relaxed Caribbean destinations, or the beautiful landscapes of Baja California.
This cruising destination offers a mixture of Mayan history, natural beauty, wildlife and unbeatable marine megafauna. It's one of the best places for whale and dolphin watching in the world and is also home to striking deserts just waiting to be hiked, lush rainforests and more. Here are the Best places to go on a Mexico cruise:
Baja California (Sea of Cortez)
What makes the Sea of Cortez Special?
The Sea of Cortez is included in almost every Baja California cruise and rightly so. This marine paradise was nicknamed "the world's aquarium" by Jacques Cousteau and is perfect for nature-loving cruisers. Home to more than 900 fish species and around 2000 other species of marine life, the Sea of Cortez is paradise for marine life fans. It's also an exciting and diverse destination for Mexico cruises.
What can you see and do at the Sea of Cortez?
Whilst you could spend your entire cruise in the water admiring what lies beneath, you can also enjoy a range of land-based activities at the Sea of Cortez. This diverse area is known for its volcanic landscapes, wildlife encounters (in the water and on land) and panoramic views.
When is the best time to cruise the Sea of Cortez?
The best time to visit depends on your cruising interests.
If you are interested in whale watching in Mexico, December to April are the best months to visit. The Westward small cruise ship is a good choice for snorkelling with whale sharks and grey whale encounters. This cruise ship offers 5-12 day trips for just 8 guests at a time.
January to April is the high season for Sea of Cortez tourism and July to September are the hottest months. If you can tolerate the heat though, the summer is great for spotting elephant seals, iguanas, blue-footed boobies, turtles and lizards. Autumn is also good for wildlife spotting – with the added bonus of less heat.
How do you get to the Sea of Cortez?
Sea of Cortez cruises generally depart from La Paz or San Jose del Cabo. You can reach both destinations by air, arriving at Manuel Marquez de Leon International Airport or Los Cabos International Airport.
There are regular domestic and international connections from both airports.
1. Bay of Loreto National Park
Go cruising the Bay of Loreto National Park and you'll be rewarding with stunning white-sand beaches peppered with abandoned ruins.
You can go kayaking among the islands within the park, getting up close to the local birdlife, or go scuba diving to explore the abundant marine life. There's a seal colony and whales visit the bay in season. Loreto Bay boasts a variety of species found nowhere else on Earth, making it a real nature-lover's paradise.

2. Bahia Agua Verde
This destination offers a charming combination of culture and rugged landscapes, with mule rides thrown into the mix.
Guides from the local fishing village of Puerto Agua Verde can take you up into the Sierra de la Giganta mountains where you can capture heart-stopping views of turquoise waters framed by red rocks and tall cacti. It's the iconic Mexican scene.
3. Bahia Magdalena
If you plan on cruising Mexico, you mustn't miss a visit to Bahia Magdalena.
This Pacific location is visited from January to March each year, when you can spot huge gray whales and their young. These huge and approachable whales visit the area as part of their annual migration from Alaska, using the sheltered bay for calving.
4. Ensenada Grande
The beach at Ensenada Grande is rated as one of the top twelve beaches in the world! As well as the chance to visit the beautiful beach, you can go snorkelling with a wide variety of marine life or head into the arroyos (dry creeks) for trekking.

5. Isla San Francisco
Another marine life hotspot, the crescent-shaped bay at Isla San Francisco offers the chance to snorkel with octopus, rays, vibrant fish and more.
You can spot numerous pelicans sitting proud along the rocky coastline, plus plenty of cacti for typical Mexican landscapes photographs.
6. Isla Espiritu Santo
This is a perfect destination to set off in a kayak and explore secluded coves away from anyone else. If you've packed your hiking boots, you can also explore the island on foot in search of Brown pelicans, Great Blue herons, Blue-Footed boobies and numerous other special birds.

7. Los Islotes
This rocky outcrop of Isla Espiritu Santo is famous for its resident sea lion colony, so don't miss your chance to visit these cheeky characters. You can take a boat to Los Islotes, where you'll be swimming with the playful sea lions pups in-between admiring every colour of fish imaginable.
8. Cabo Pulmo National Park
Tucked away in the south of Baja California, this national park is a fantastic example of successful conservation. It is a must-do to be inspired by the local efforts to protect the beautiful reef there. You can go scuba diving amongst health sea fans and huge schools of fish. If you're lucky you might even see a humpback whale.

9. Cabo San Lucas
Cabo San Lucas is the busiest tourist destination in Baja California and is a bustling city that was once a tiny fishing village. It's a great place to explore or use as a base for tours to see grey and humpback whales during the winter months.
Be sure to stroll along the coast or take a boat ride to capture your best picture of the much-photographed Arch of Cabo. The pretty marina is another top choice for capturing those idyllic cruising memories.

10. San Jose del Cabo
If you're after a lively city with a fun atmosphere, San Jose del Cabo is for you. This busy city has a range of bars and restaurants to explore as the sun goes down and the nightlife begins.
11. La Paz
This capital city of Baja California, is a wonderful mix of old world charm and a cosmopolitan city. Even if you're there for just one night, there is plenty to see and do.
If you venture through the streets of La Paz you'll likely find yourself at the 18th century cathedral and main plaza. You can also pick up handcrafted authentic Mexican souvenirs at a range of shops. When you've had your fill of La Paz, why not head inland and hike the local desert.
A hop into the water will see you snorkeling with sea lions at La Paz. If you visit from November to late January you can even go swimming with whale sharks.
12. Loreto
Loreto is a great cruise stop-off for exploring a range of Colonial buildings or heading into the water yet again; to explore the Bay of Loreto National Park.
The waters between La Paz and Loreto are teeming with marine life. You can spot a broad range of  birds including frigate birds and boobies, plus whales, dolphins, marlin, rays and more.
13. Puerto Vallarta
Lying south of Baja California, Puerto Vallarta is a popular choice for cruises, thanks to having over 25 miles of pristine beaches and a range of watersports.
The cobblestone center is ideal for lazy days exploring and the ornate Nuestra Señora de Guadalupe church is well worth visiting. Be sure to also walk the beachside promenade of El Malecón, known for its collection of contemporary sculptures.
When you're done with walking, there are boutiques, restaurants, bars and a lively nightlife scene to discover. You can access the tropical forests of Sierra Madre from Puerto Vallarta, where you can go zip lining, hiking or join a canopy tour.
There's also a dramatic coastline to explore, plus the Los Arcos Marine Park. Dotted with islands, caves, arches and reefs, this marine park offers fantastic snorkelling.

Yucatan
What makes the Yucatan Peninsula Special?
If you're into history, a Yucatan Peninsula cruise is a great choice. This unique destination has plenty of Mayan history to immerse yourself in, plus lots of outdoor activities and world-class beaches.
What can you see and do at the Yucatan Peninsula?
When is the best time to cruise the Yucatan Peninsula?
For the best weather and calm waters, visit during the high season of December to March. For lower prices and fewer crowds, November and early December are good times to visit.
How do you get to the Yucatan Peninsula?
Cruises to the Yucatan Peninsula depart from a variety of US ports, including:
Mobile, Alabama
Galveston, Texas
New Orleans, Louisiana
Fort Lauderdale & Tampa, Florida
Each of these departure points can be reached from their respective airports:
Mobile Regional Airport
Scholes International Airport, Galveston
Louis Armstrong New Orleans International Airport
Fort Lauderdale – Hollywood International Airport
Tampa International Airport
14. Cozumel
This Mexican island sits in the turquoise Caribbean Sea and is a family-friendly cruise destination. Visit there and you can stroll along Cozumel's renowned beaches or enjoy some of the best diving and snorkelling at the Mesoamerican reef.
For a unique underwater experience, be sure to visit MUSA. This underwater museum hosts an array of sculptures slowly being colonised by marine life.
For a taste of Mayan culture, nearby San Gervasio offers a collection of Mayan ruins.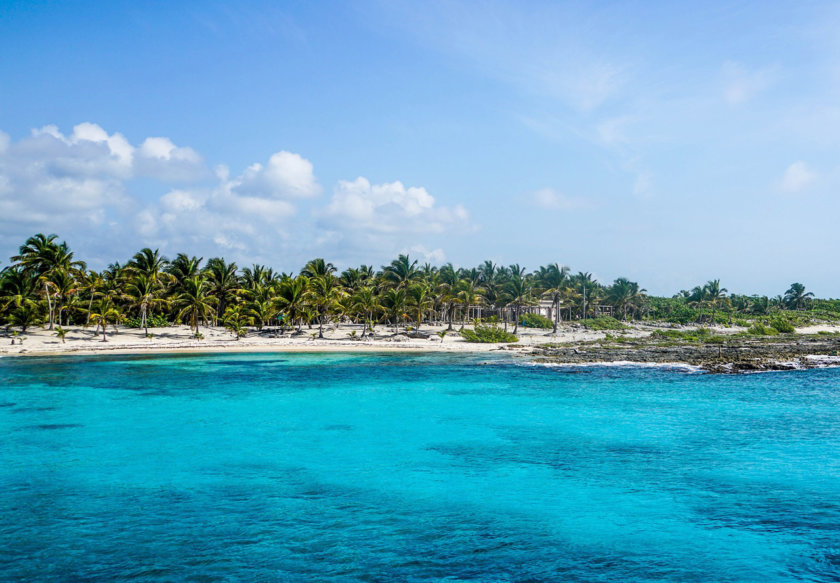 15. Costa Maya
Sitting on the Caribbean coast, Costa Maya is well off the beaten path. There are Mayan ruins to explore, snorkelling, biking, paddle boarding and wildlife activities well away from the crowds. If you keep your eyes peeled you might even see a jaguar.
It's an ideal destination for some peace and quiet, plus the chance to visit Chacchoben, an ancient city dating back to the 4th century AD.

16. Progreso
A newer port than others, Progreso offers many shore excursions. You can go cave snorkelling, hiking, fishing, caving or riding in a dune buggy, to name but a few options.
Whichever activities you choose, leave plenty of time to immerse in Mayan history at Dzibilchaltun, Uxmal, or ​Chichen Itza, which was voted one of the New 7 Wonders of the World. 

This article was written by divers and writers at LiveAboard.com
You want to rent a car in Mexico?
Renting a car is for sure the best way to explore Mexico and make the most of your stay!
While it's not super useful to visit the city, having a car is a must to discover the rest of the country.
To rent a car, personally, I always use Rentalcars.com, for a few reasons:
You can easily compare the rental cars prices between all the agencies: for sure the easiest way to find the best rate!
Cancellation is often offered free of charge: no need to worry if you change your mind
Rentalcars offers full insurance coverage at a lower price than the rental companies, so it's an instant saving with no effort
Simply click on the green button to find your rental car at the best price:
How to find the best price for your flight ticket
To save money on flight tickets, you can use our flight comparator for Mexico, in partnership with Skyscanner: it's the guarantee to pay the best price for your international and domestic flights!
Book your trip now and save money!
You're traveling in Mexico? These articles will help you!
Discover all my articles about Mexico: All my articles to help you plan your trip to Mexico are listed there.
You're using Pinterest? Here's the picture to pin!