The Top Best Dive Sites in Mexico
Mexico has long been known as one of the world's best dive destinations, catering for just about every diver preference. This vibrant country offers colourful reef diving, world-class whale watching, and encounters with numerous species of sharks.
There is something for new and experienced divers to enjoy, plus a range of shore and liveaboard diving options.
No matter which area you choose, you're bound to find a dive area you want to return to time and again.
Here are the Top 11 places to dive in Mexico:
Revillagigedo Islands
Also known as the Socorro Islands, the Revillagigedo Islands sit off the top of Baja California and are a premier Mexico liveaboard diving destination. Made up of four islands; Socorro Island, Clarion, Roca Partida and San Benedicto, this remote destination is renowned for incredible megafauna diving.
Dive there and you'll be surrounded by a variety of shark and whale species, plus friendly giant manta rays.
Who is the diving suitable for?
Being remote and wild, this destination is only accessible by Mexico liveaboard diving and is best suited to experienced divers. The currents can be strong and the area is washed by big waves. That being said, some Socorro Islands liveaboards do offer dive safaris for less experienced divers.
When is the best time to visit?
The best time to visit depends on your marine life preferences:
Whale sharks can be seen during November/December
Thousands of humpbacks visit during the winter season until April
Bottlenose dolphins can be seen from January to March
Giant Pacific manta rays can be seen all year
It is also worth considering your dive preferences and comfort at sea:
November to May offers the calmest seas
November has the warmest water temperature: 28 °C
February's water temperature is a little cooler: 21 °C
The water temperature rises again by May: 25 °C
How do you get to the Revillagigedo Islands?
Soccoro Islands dive cruises depart from two ports; Cabo San Lucas and San Jose del Cabo. Both cities are in the state of Baja California. The closest international airport is Los Cabos International Airport.
1. Socorro Island
Socorro Island is a striking volcanic island, easily recognisable by its barren landscape. The island's surface is broken by small craters, lava domes and lava flows. As the largest of the Revillagigedo Islands, it is well-known and regularly visited by dive liveaboards.
Socorro doesn't offer coral reef diving, so don't expect colourful dives. Instead, it is all about ocean giants. Dive there and you can see bottlenose dolphins, humpback whales, and numerous manta rays.
You can also see plenty of sharks. Silky, Galapagos, whitetips and silvertip sharks are regularly seen at Socorro Island. You will also have the chance to see schooling hammerhead sharks.
2. San Benedicto Island
The most popular island for manta ray encounters, San Benedicto won't disappoint. There is a famous manta cleaning station at The Boiler dive site, where you can get up close with Giant Pacific manta rays.
These graceful rays have wing span up to 8 meters across and are known for being friendly, passing divers at close range. Dive at San Benedicto and you're likely to see many of these mantas.
Whilst the manta rays are the main highlight, the underwater pinnacles in themselves make for beautiful diving.
3. Roca Partida
Roca Partida, the smallest of the Revillagigedo Islands, has a pinnacle that attracts large schools of tuna and jacks. Be sure to search the pinnacle crevices for small species and spend time at the caves filled with sharks.
This diverse ecosystem is well worth visiting. You'll even have the chance to see schooling hammerhead sharks.
4. Clarion Island
Made up of three volcanic peaks, Clarion Island is a little different from the other Revillagigedo Islands. It has its own angelfish, the Clarion Angelfish, which can often be seen cleaning the larger pelagic species.
Visit there from January to April and you'll likely see humpback whales passing by. There is a resident pod of playful bottlenose dolphins to meet, and the dive sites are full of schooling fish. You'll also likely see turtles, silvertip sharks and maybe even an orca or two.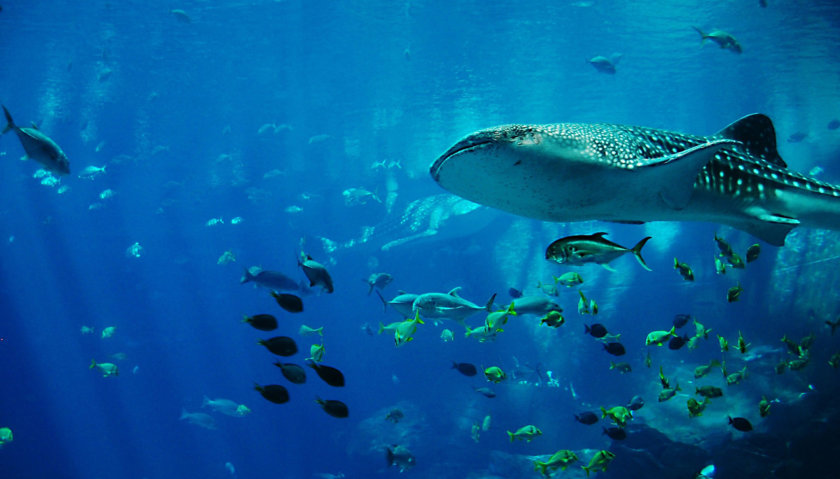 Sea of Cortez
The Sea of Cortez is another popular Mexico scuba diving destination, especially for whale fans. There are two main areas for diving; La Paz and Cabo Pulmo. Between them they offer exceptional whale watching opportunities, plus diving with hammerhead sharks and sea lions.
The Sea of Cortez also offers one of the few coral reefs in the area and the chance to see schooling mobula rays.
Who is the diving suitable for?
This dive destination is generally quite calm, though does get washed by some big waves. Each dive operator has their own minimum experience level to dive the area, so make sure you check beforehand.
When is the best time to visit?
The best time to visit depends on what you want to see and your dive preferences:
Most liveaboards visit the Sea of Cortez July to October, though shore diving is possible all year
Sea lions are present all year, though playful juveniles can be seen during August and September
Whale sharks can be spotted with juveniles September to November
July to December offers the best Sea of Cortez water visibility and warmest water: 27 °C
Visit in the winter months (December to April) to see humpback whales, blue whales, and mobula rays
Grey whales are most commonly seen during January to March
How do you get to the Sea of Cortez?
Liveaboards to the Sea of Cortez depart from both Cabo San Lucas and also Puerto Peñasco. The closest airport to Cabo San Lucas is Los Cabos International Airport. Puerto Peñasco is in the state of Sonora and the Puerto Peñasco Airport does receive some flights. That being said, most tourists fly into Yuma International Airport in Arizone, 180km from Puerto Peñasco. 
5. La Paz
La Paz, the capital city of Baja California, is a tranquil town and the gateway to the Sea of  Cortez. A mecca for large pelagics, it gives you great opportunities to see schooling hammerhead sharks, sea lions and whales.
Los Islotes is home to a colony of over 200 Californian Brown sea lions and shallow diving suitable for all. There is also wreck diving in the area, plus underwater caves and seamounts to explore. Expect to see huge schools of fish whilst you dive, if you can tear yourself away from the playful sea lions.
6. Cabo Pulmo
The Cabo Pulmo National Park is home to the oldest reef on the west coast of North America, which is now a staggering 20,000 years old. This destination offers coral reef diving with vibrant colours and more than 6000 marine species.
It is a great sheltered spot for underwater photography and has excellent water visibility. There are plenty of macro species to find, including seahorses, and yet you can also spot sharks and humpback whales.
Schooling mobulas are a real Cabo Pulmo dive highlight and are often seen. You can visit sea lions at Isla San Pedro and spot turtles on the reef. If you're really lucky, you may even see a passing sperm whale.
Baja California
7. Guadalupe Island
Guadalupe is all about cage diving with great white sharks in crystal-clear blue water, and is unmissable. This epic Mexico dive destination is high on many divers wish lists and understandably so.
A small and remote volcanic island, Guadalupe is a biosphere reserve and is only accessible by liveaboard diving. There is minimal chumming allowed at this special island, ensuring the natural behaviours and environment of the sharks are preserved.
Guadalupe is especially sought after as a cage diving destination thanks to the relatively warm water and great visibility:
Water temperature during shark season: 19 to 22 °C
Visibility ranges from 42 to 50 meters 
Who is the diving suitable for? 
You don't need to have any dive experience to join a shark cage diving safari at Guadalupe.
When is the best time to visit?
 When you want to visit depends on which of the 200+ known sharks you'd like to spend time with:
Energetic male sharks visit during July and August
Huge females arrive in October and November
How do you get to Guadalupe Island?
The Unified Port of San Diego is the main departure point for Guadalupe Island liveaboards. San Diego's international airport is the Lindbergh Field Airport.
Yucatan Peninsula
The Yucatan Peninsula is a diverse dive destination, offering everything from whale sharks and bull sharks to crystal-clear cenote diving and vibrant coral reefs.
Who is the diving suitable for?
 There are a variety of dives for all experience levels and marine life preferences. Diving is  available year-round.
When is the best time to visit?
Visit from May to November for uncrowded Cozumel dive sites
Bull sharks are commonly found off Playa del Carmen from November to March
Water temperature is on average 25 to 28 °C
Isla Mujeres hosts numerous whale sharks June to September
How to get to the Yucatan Peninsula
 Among the airports in the Yucatan region, there is one at Cancun and also at Cozumel.
Islas Mujeres is usually accessed by ferry from Puerto Juarez, north of Cancun.
Playa del Carmen's closest airport is Cancun. This destination is also accessible by ferry from Cozumel.
MUSA is at Isla Mujares off the coast of Cancun. There are a variety of MUSA tours that depart from Cancun and Isla Mujeres.
Cozumel can be reached from Cancun or Cozumel airports. It is also accessible by ferry from Cancun
8. Islas Mujeres
Isla Mujeres is home to one of the most reliable whale shark aggregations in the world. Hundreds of whale sharks gather there from June to September each year, and you can go swimming with them.
Whilst visiting Isla Mujeres, be sure to also spend time exploring the colourful coral reefs and shipwrecks in the area. Shark Cave is an isolated dive site that regularly hosts blacktips, grey reef and nurse sharks.
9. Playa del Carmen
Playa del Carmen is renowned for bull shark diving. From November to March, this area hosts large female bull sharks that arrive to breed and you can go diving with them.
Once you've had your fill of bull shark encounters, be sure to also check out the reefs in the area. The waters are clear and the reefs are teeming with life. You can dive from boat or shore, depending on your preference.
A trip to dive the glassy Mexican cenotes is also well worth it if you're visiting Playa del Carmen. These natural sinkholes are well-known in the Yucatan dive scene and offer unique diving.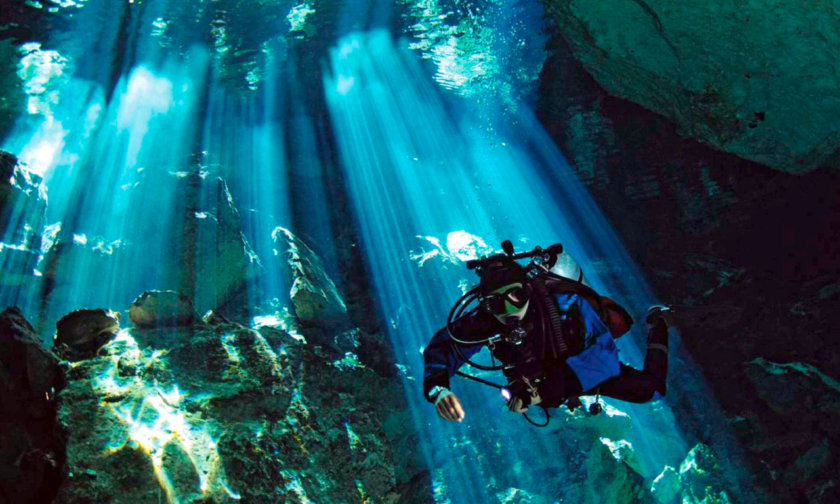 10. MUSA
For an entirely different dive experience, visit MUSA. Located next to Cancun, this underwater museum of contemporary art offers unusual photographic opportunities.
The museum is made up of over 450 life-size sculptures and is a fascinating area to dive. The waters are clear and you'll pass over and between sculptures slowly being taken over by nature.
Schools of fish can be seen swimming amongst the artwork, the sculpture faces are encrusted with corals, and the sandy bottom adds the perfect finishing touch.
11. Cozumel
If you're looking for more adventurous year-round diving, Cozumel is the perfect destination for diving in the Caribbean. This beautiful island offers some of the fastest drift dives in the world and is famous for its wall dives.
The reef around Cozumel is part of the Mesoamerican reef system and is protected by the Cozumel Reefs National Park. This means the reef is exceptionally healthy and is home to hundreds of fish species.
As well as deep wall dives for advanced divers, there are easier dives for new divers to enjoy. All in all, this is a great destination for sunshine, diving and strolling along white-sand beaches.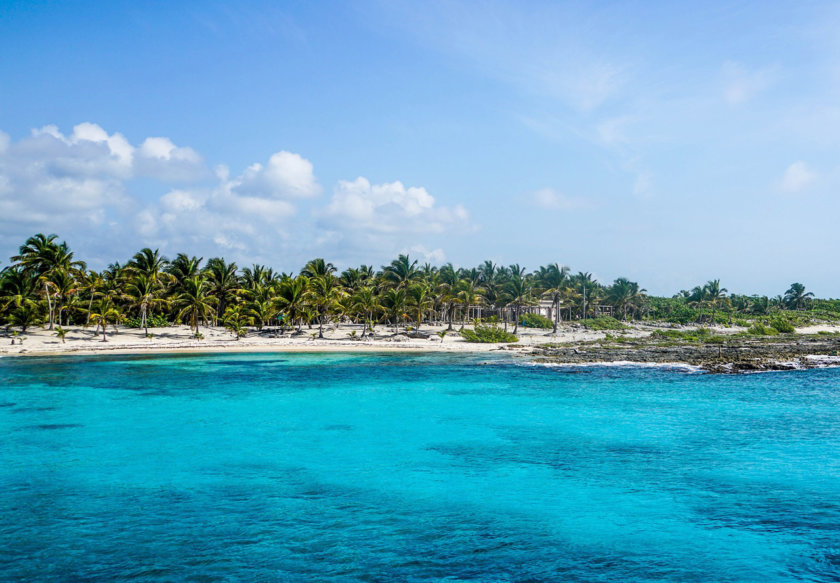 This article was written by divers and writers at LiveAboard.com
You want to rent a car in Mexico?
Renting a car is for sure the best way to explore Mexico and make the most of your stay!
While it's not super useful to visit the city, having a car is a must to discover the rest of the country.
To rent a car, personally, I always use Rentalcars.com, for a few reasons:
You can easily compare the rental cars prices between all the agencies: for sure the easiest way to find the best rate!
Cancellation is often offered free of charge: no need to worry if you change your mind
Rentalcars offers full insurance coverage at a lower price than the rental companies, so it's an instant saving with no effort
Simply click on the green button to find your rental car at the best price:
How to find the best price for your flight ticket
To save money on flight tickets, you can use our flight comparator for Mexico, in partnership with Skyscanner: it's the guarantee to pay the best price for your international and domestic flights!
Book your trip now and save money!
You're traveling in Mexico? These articles will help you!
Discover all my articles about Mexico: All my articles to help you plan your trip to Mexico are listed there.
You're using Pinterest? Here's the picture to pin!